Cinderella and the Four Knights: Episode 4
Ha-won certainly has her work cut out for her with her first mission – who knew it'd be so hard to get boys to eat food? Luckily, Ha-won has never been one to let a little adversity stop her, though she's starting to realize that there's more going on than just sibling rivalry. The bigger issue is, how do you turn strangers into relatives when they've never known what it is to be a family?

EPISODE 4 RECAP
Ha-won makes a grab for her school outfit and finds herself in Hyun-min's arms. Holding her close, Hyun-min murmurs that she's becoming more and more interesting, and slowly leans in for a knee-melting kiss. AHHH!
The camera fades as the two smooch… and Hyun-min wakes up making kissy faces at the ceiling. HAH, that was all Hyun-min's dream?! To make matters worse, he finds Ha-won standing over his bed, telling him to rise and shine.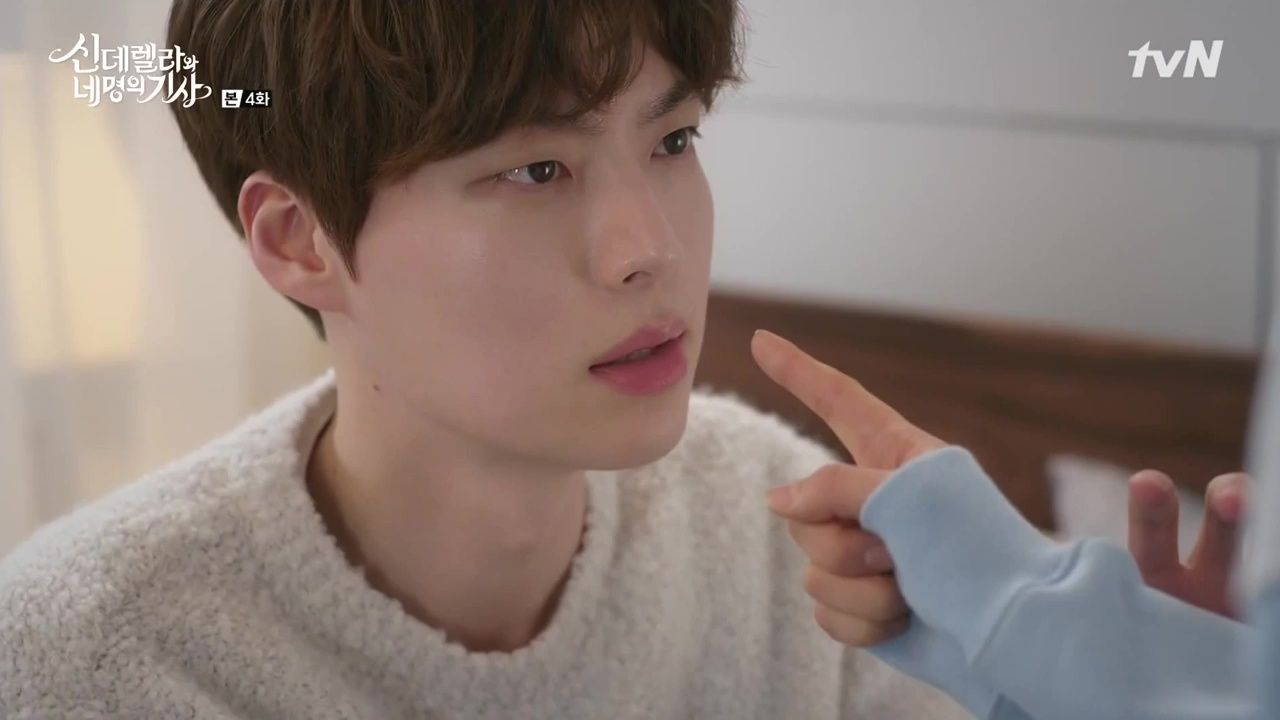 Ha-won invites Hyun-min to eat breakfast, but he answers that he doesn't eat meals at home. When she persists, he tries to pull her into bed for some cuddles (yes please!), but she flings off his arm and commands him to come eat, emphasizing her "Hurry it up!" with firm finger point.
Hyun-min falls back into bed and remembers last night, when he went in for that kiss. (Oh, so that did happen.) Except in reality, he got maybe an inch away before Ha-won kneed his shin pretty hard and scampered out.
At her workstation, Hye-ji recalls last night as well, when Ji-woon had gotten up close and personal outside Sky House. From her point of view, all she saw was Ji-woon and not Hyun-min with Ha-won. Hye-ji had asked Ji-woon if he would answer her question instead of Hyun-min, and Ji-woon had agreed, pulling her away.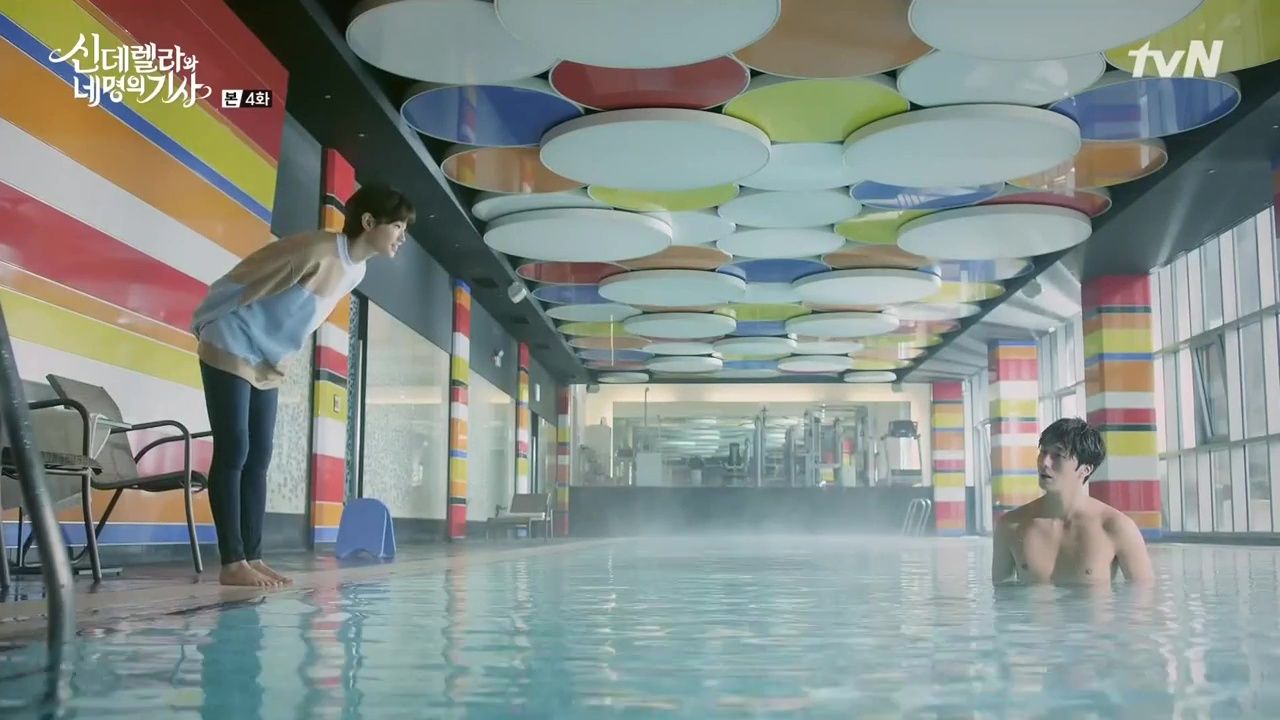 Ji-woon also thinks about seeing his cousin and Ha-won last night while working off his frustration on a treadmill. Not sure if the shirt stripping was necessary, but it's definitely appreciated…
Ha-won looks for Ji-woon, remembering that her first assignment from Grandpa Kang is to get the cousins to eat a meal together. Bemoaning that it's harder to find these boys than it is to get them to eat together, Ha-won searches the grounds, eventually making her way to the indoor pool.
As Ha-won pokes around, Ji-woon suddenly pops up from the water. Ignoring his trademark "Get lost," Ha-won asks Ji-woon to come out and eat together. Ji-woon nonchalantly answers that he's not wearing a swimsuit right now, so does she still want him to get out? Rawr!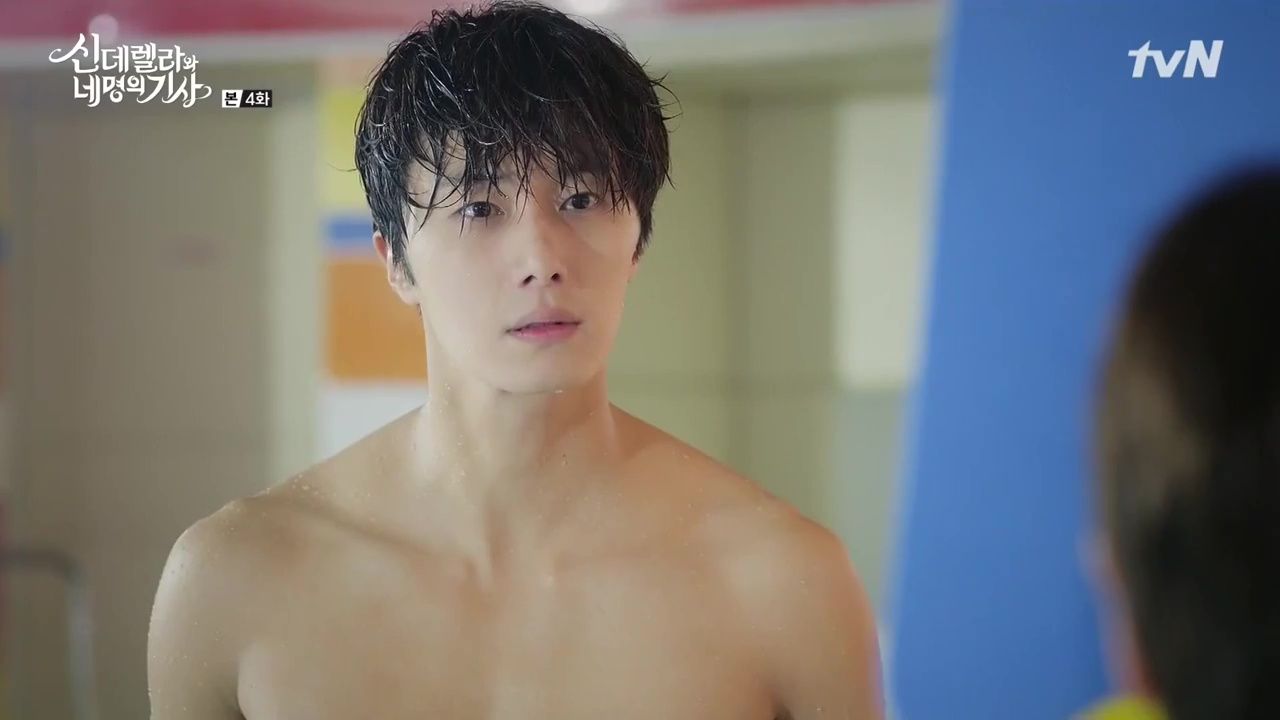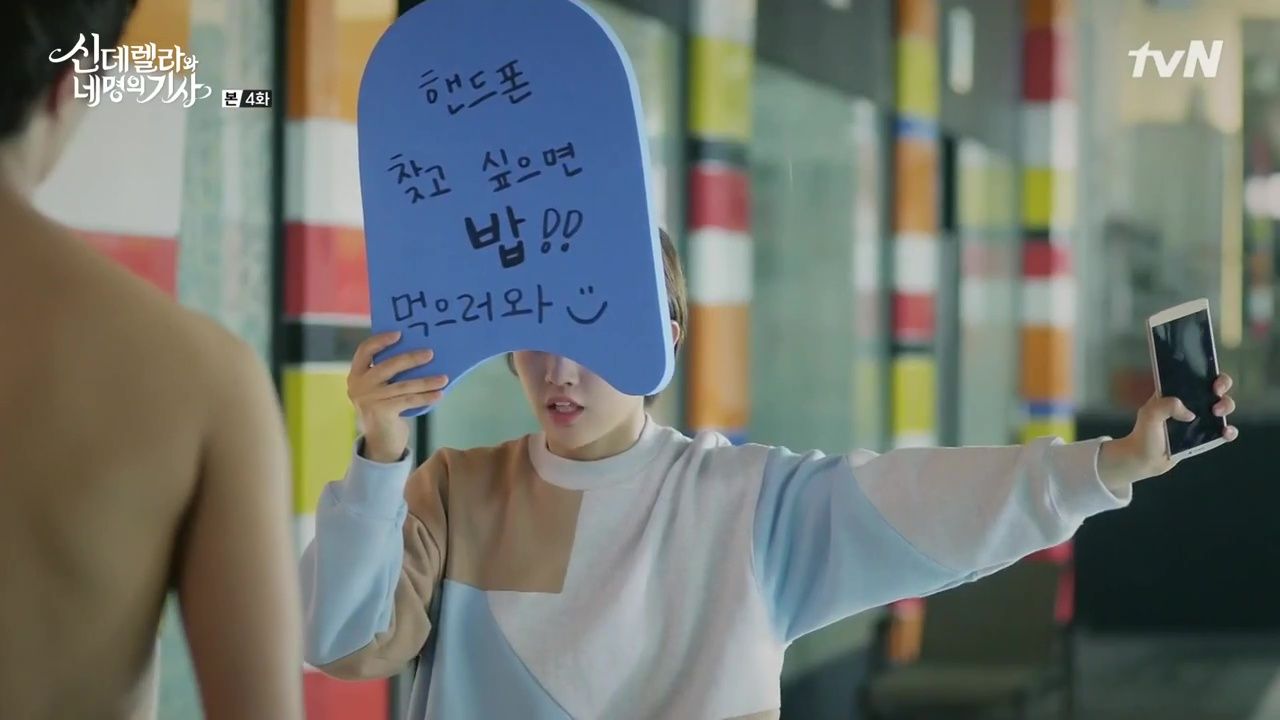 His question has the intended effect, and Ha-won flees. Ji-woon (who is in fact wearing a suit) climbs out to dry off, except Ha-won comes back, hiding her face behind a pool paddle and clutching Ji-woon's phone. She's written on the paddle, "If you want your phone back, come and eat!"
Still thinking Ji-woon's naked, Ha-won holds his phone over the water to prevent him from coming closer. Shouting for him to come eat, she runs out, leaving behind an exasperated Ji-woon.
Tracking down the third cousin, Ha-won finds Seo-woo in his personal recording studio, and sweetly flails her arms to get his attention. She invites him to eat with her and he seems open to the idea.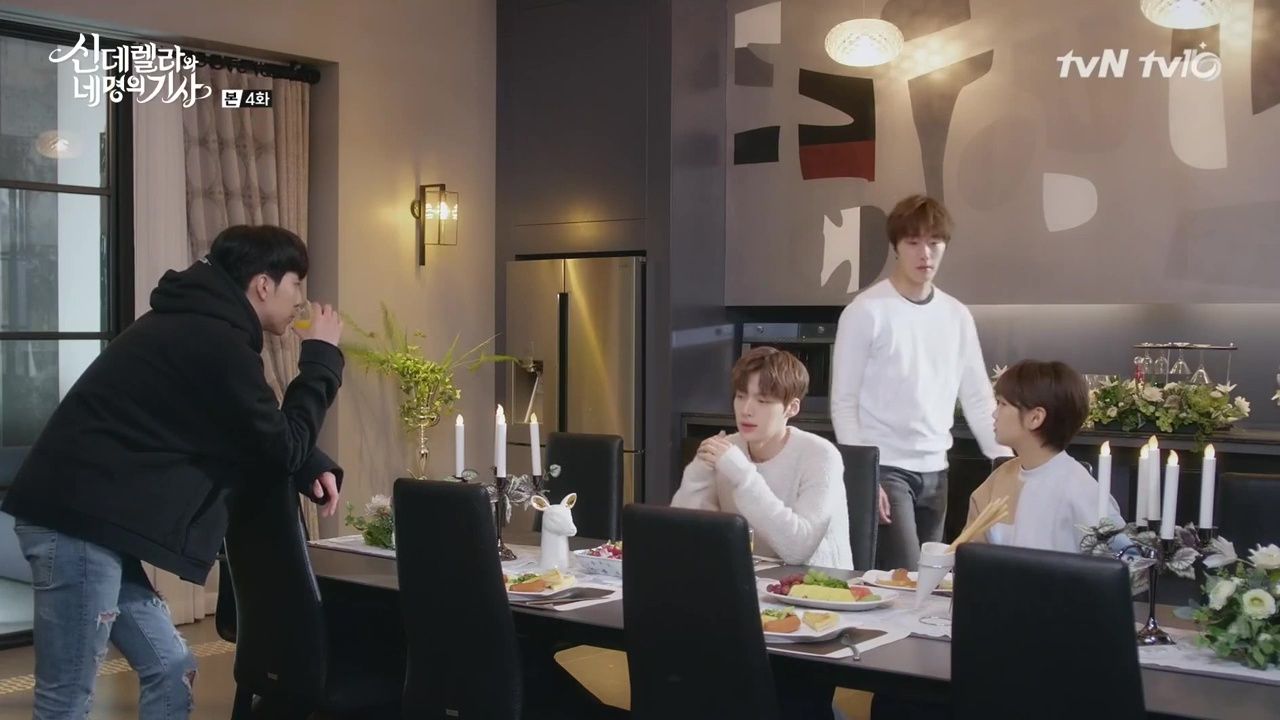 Ha-won charms the housekeeper into letting her help make breakfast and sits down at a table set for four, waiting for the Kang cousins. Hyun-min joins her first and uses the opportunity to try for some hand-holding which, of course, gets shot down.
Seo-woo arrives next, asking why Ha-won invited him when she knew Hyun-min would be here – a sentiment Hyun-min agrees with. Ha-won says she wanted everyone to eat together, since they are family after all. Ji-woon, entering the room last, interrupts her, "Who are you calling family?"
Ji-woon demands his phone back, but Ha-won answers that she'll give it back after they eat, not understanding why everyone is refusing to share a meal. She asks what's so tough about a family eating together.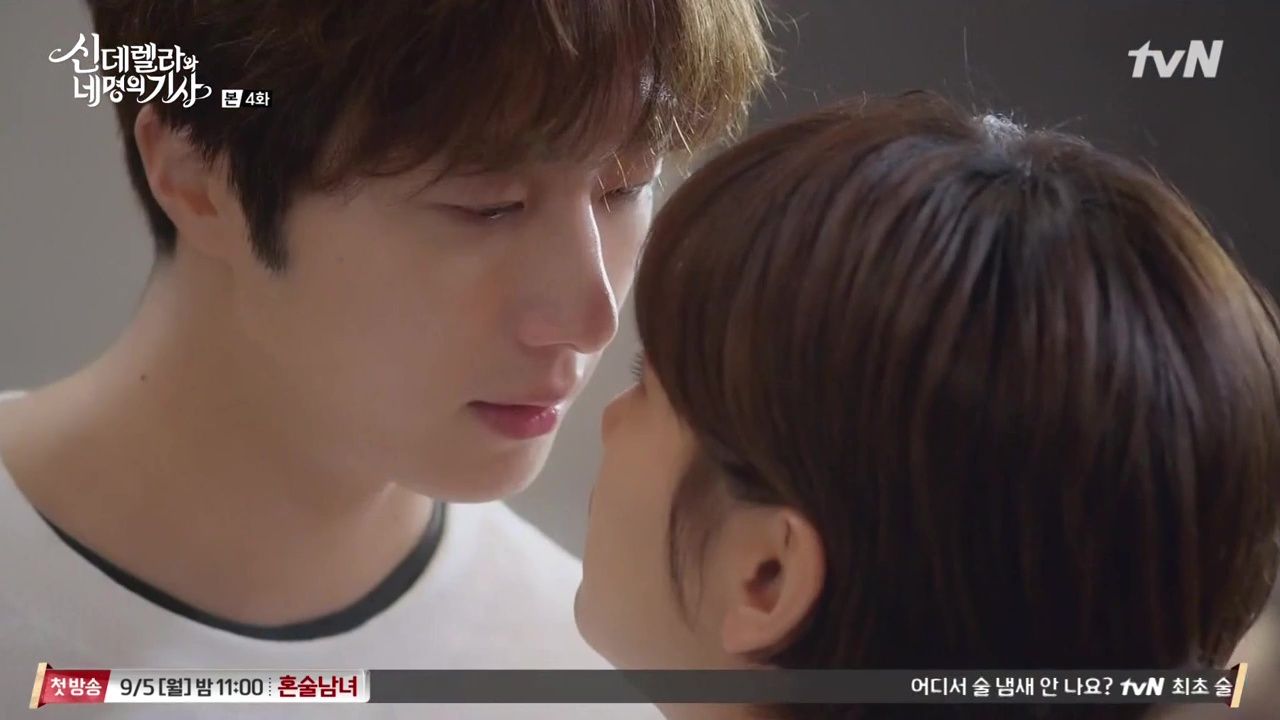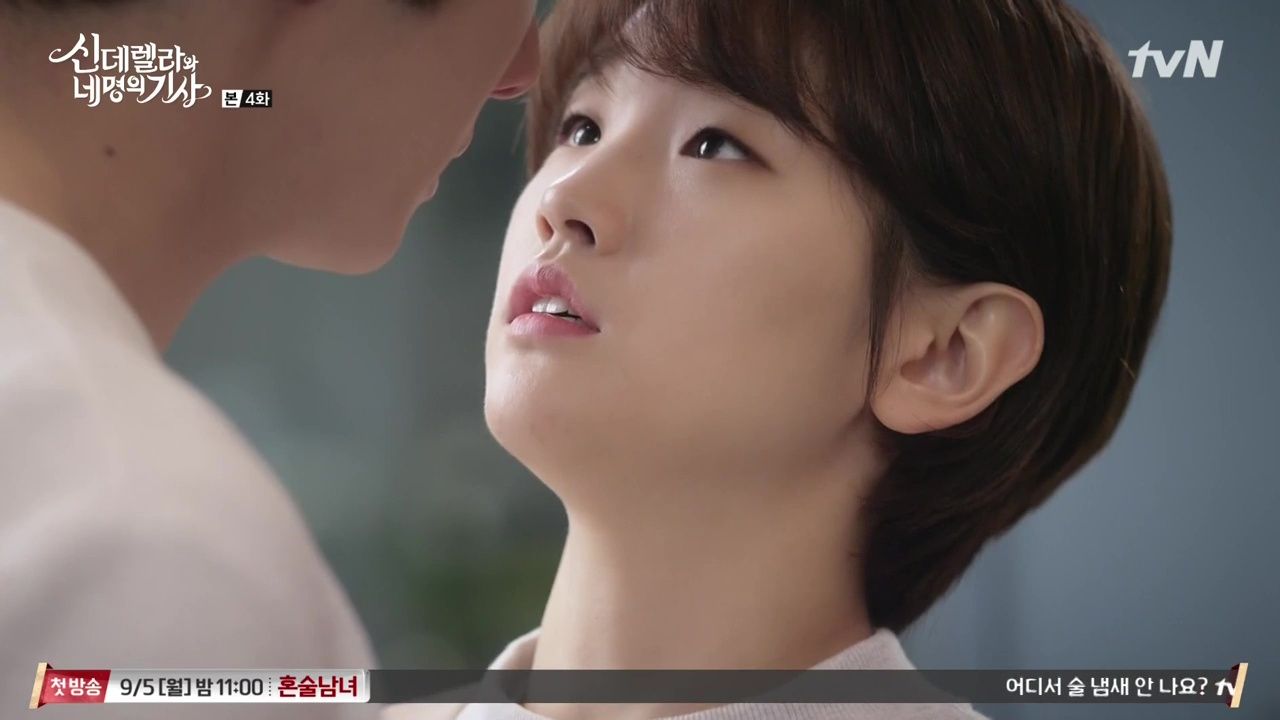 Ji-woon agrees that sure, eating with family is nice. However, the only thing the three of them have in common is their address. Other than that, they might as well be strangers.
Hyun-min leaves saying he'll do anything she asks, but draws the line here: It's no fun eating when it's not just the two of them. Seo-woo also departs, advising her not to worry about it too much, since none of them are that close.
Ha-won is left with Ji-woon, who holds out his hand for his phone. Fed up, Ha-won asks how he can value a phone more than his family. In response, Ji-woon wraps an arm around her and pulls her in suuuper close. Ha-won stares up at him, but Ji-woon just grabs his phone out of her hand, telling her not to mess around. He walks off, and a baffled Ha-won plops down in her seat, wondering why this is so difficult.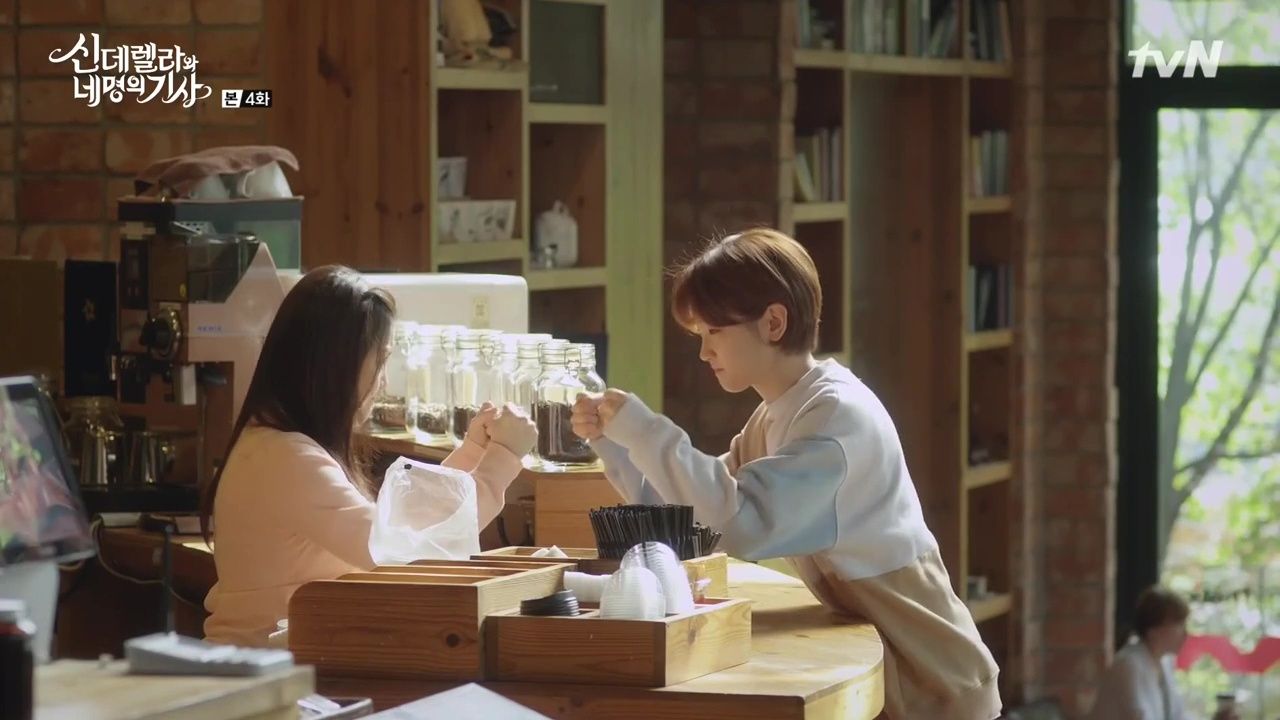 Bodyguard Lee reports Ha-won's progress (or rather lack of progress) to Grandpa Kang. Grandpa merely laughs, saying she's getting quite an introduction to Sky House. Lee worries that the one week deadline is asking too much of Ha-won, but Grandpa Kang has faith in her, curious as to how she's going to accomplish her mission.
Ha-won visits her barista friend, seeking advice about how to get the cousins to share a meal. Ha-won's friend informs her that her mission might as well be mission impossible, since it's well known that the Kang cousins have never gotten along. She encourages Ha-won though, saying that the boys are no match for her indomitable will power.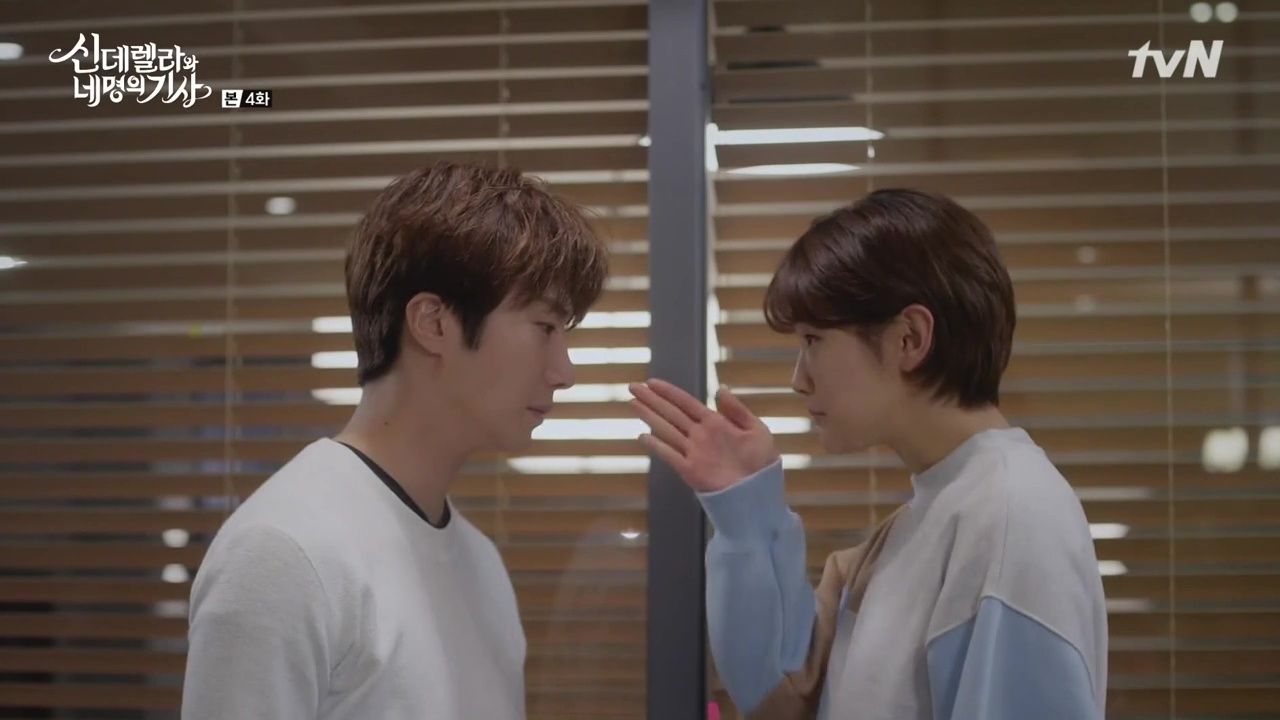 Getting down to business, Ha-won writes out her plan to get the boys to eat together, starting with Step One: catch them off guard. Heh, this leads to Ha-won literally springing a game of dibi dibi dip (Korean version of rock paper scissors) on Hyun-min. She wins, and requests that they eat together.
Ha-won plays another game with Seo-woo and wins as well, but when she tries a similar tactic with Ji-woon, he just blows straight past her with yet another "Get lost." I'm starting to think there's a drinking game in here somewhere.
Sadly, in spite of her wins, no one shows up for dinner. Bodyguard Lee remarks that her plan was unsuccessful, but Ha-won is undeterred, deciding that she'll just have to move on to Step Two.
Cut to a makeshift dinner table set out in front of the cousin's doors. Ha-won did her homework, finding out each of the cousin's favorite foods and setting them up where she can waft the smell towards their rooms.
Sure enough, boys will be boys, and it doesn't take long for all three to follow their noses out into the hall. Stomachs growling, they stare plaintively at the smorgasbord of food as Ha-won innocently asks if they want some. Hee, Bodyguard Lee is stuffing his face while the cousins watch. That is just mean.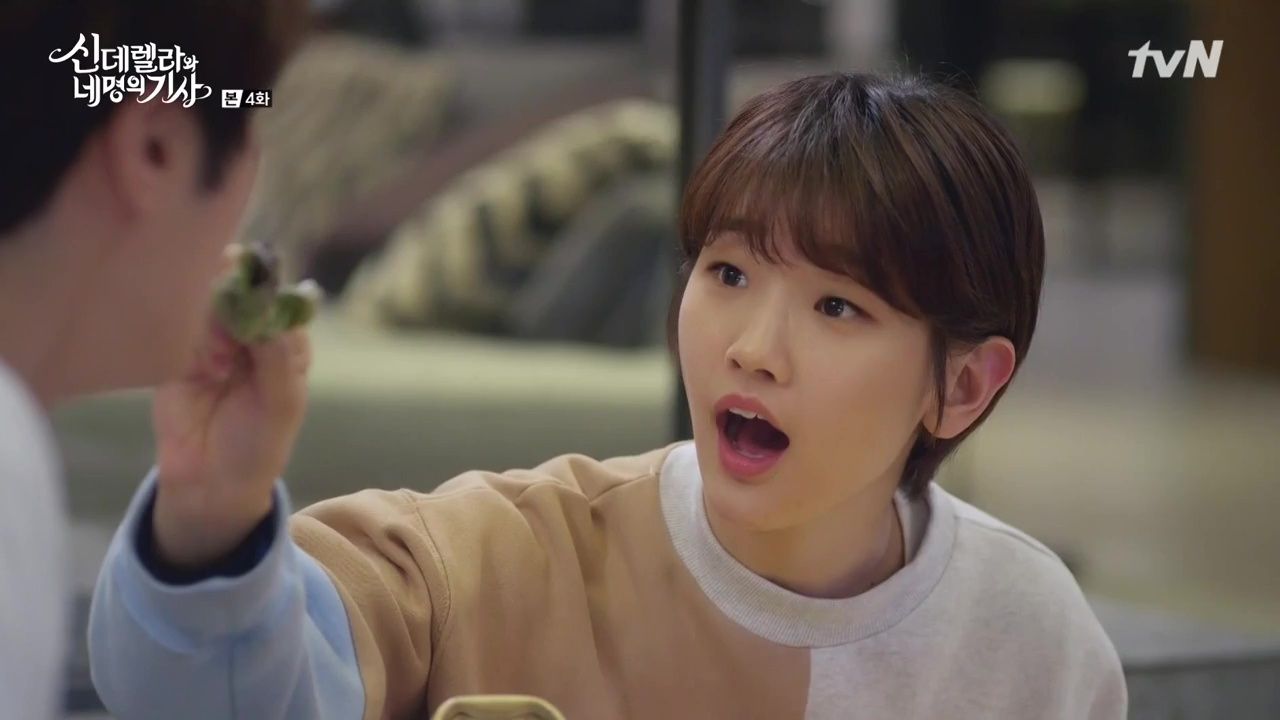 After a few longing stares, both Seo-woo and Hyun-min are able to turn away with great difficulty, though Hyun-min does whack Bodyguard Lee as he munches on his favorite lamb chops. Ji-woon is left transfixed by the food and unable to stop himself from walking over to the table.
Ha-won eagerly prepares a lettuce wrap for Ji-woon and almost gets it into his mouth, but he comes to his senses at the last moment and mutters a weak "Get lost," before sadly turning away.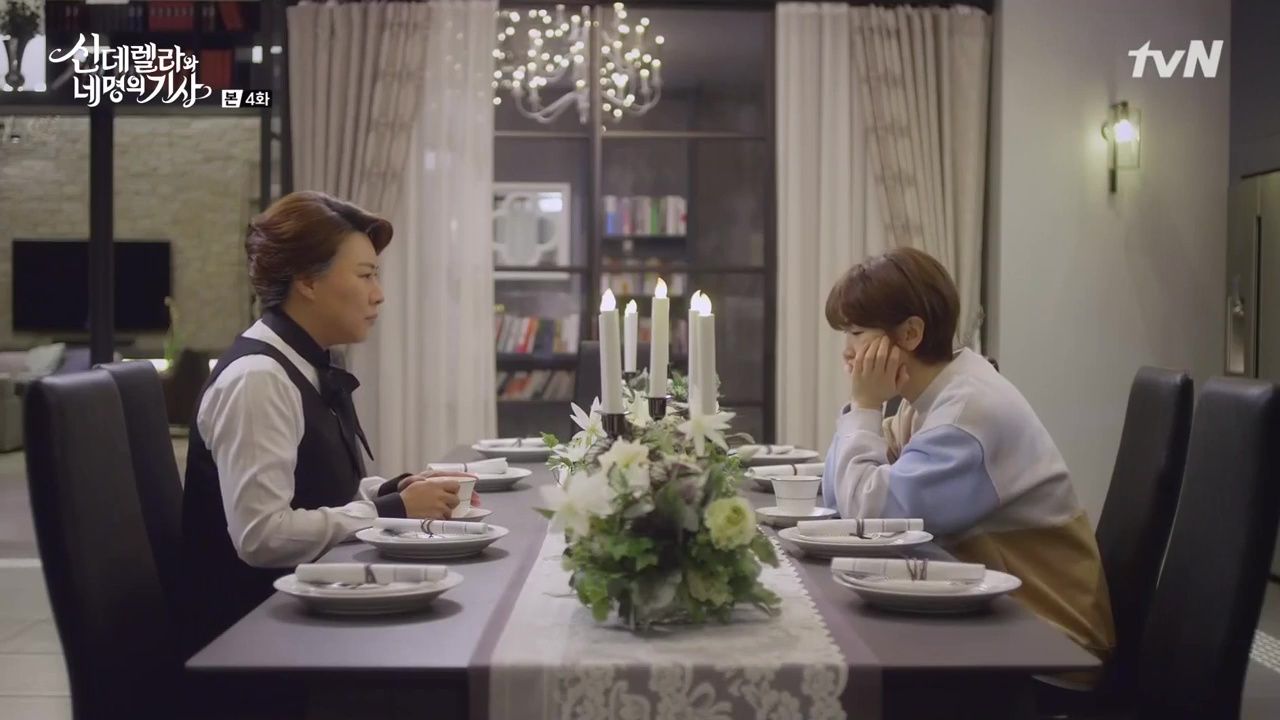 Ha-won laments her failure with the housekeeper, at a loss for how to get the boys to eat together. The housekeeper shares her knowledge of the cousins' history, revealing that Hyun-min's father passed away early and his mother was out all the time, so Grandpa Kang sent Hyun-min to study abroad when he was just ten years old. She muses that he grew up eating alone, so he probably finds it uncomfortable to eat with others.
The woman also notes that the artistic Seo-woo is constantly concerned about his celebrity image, so he doesn't eat very much, worried that he'll get bloated. Intrigued, Ha-won asks about Ji-woon, but the housekeeper says she doesn't know much since Ji-woon only started living here a year ago. She points out that the boys have a lot of material wealth, but they're still quite pitiful.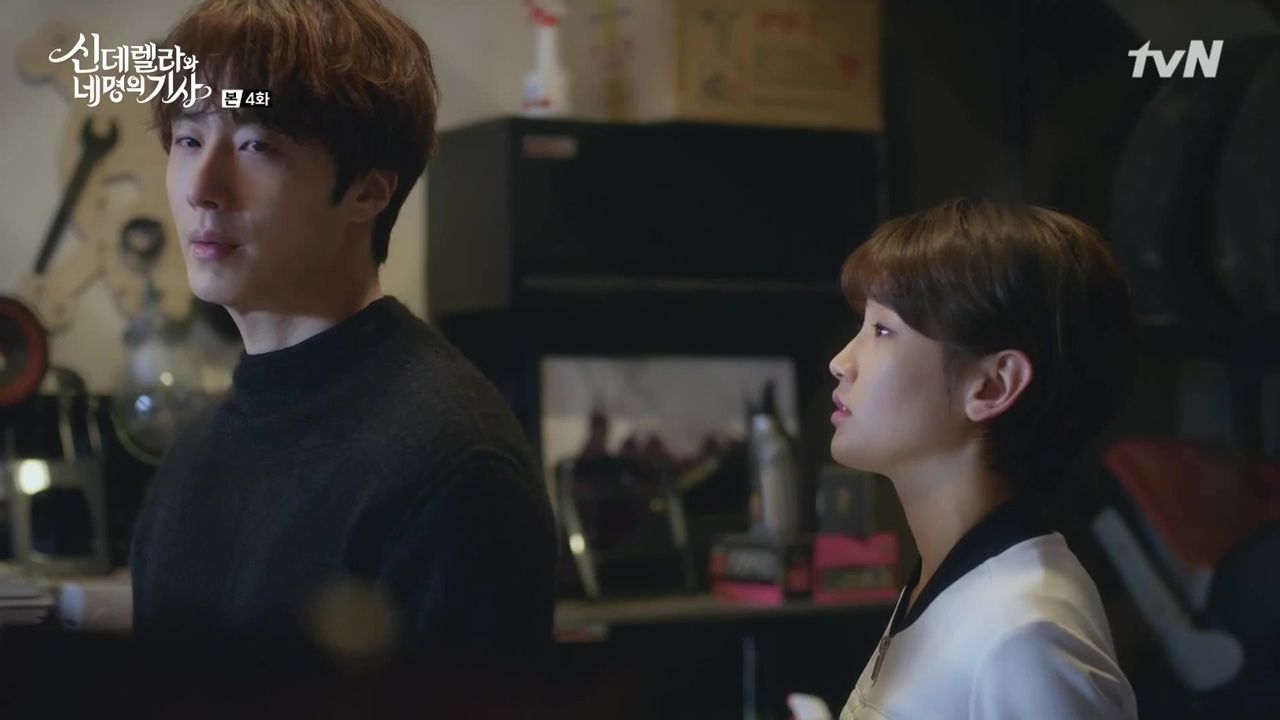 Ha-won goes in search of Ji-woon, slipping into his secret garage. She accidentally knocks his box of mementos and Ji-woon arrives to find her straightening it. Grabbing the box away, he again tells her to "Get lost." Ha-won asks if he's so upset that she moved into Sky House, and Ji-woon responds that it was her choice to move here, but she should stay away from him.
Ha-won wonders if that was a threat, saying that kind of thing doesn't work on her — and since she's determined do her job, she won't leave him alone. Ji-woon snaps at her to play at making a family somewhere else.
Ha-won: "Have you ever once considered this place your home? Have you ever once considered accepting the people living here as your family? All you care about are you own feelings, so you don't care if you end up hurting other people, right? You won't get a family just by staying in this dark place by yourself."
Her words seem to hit their mark, and she leaves after thanking him for retrieving her fallen bouquet from the river the other day.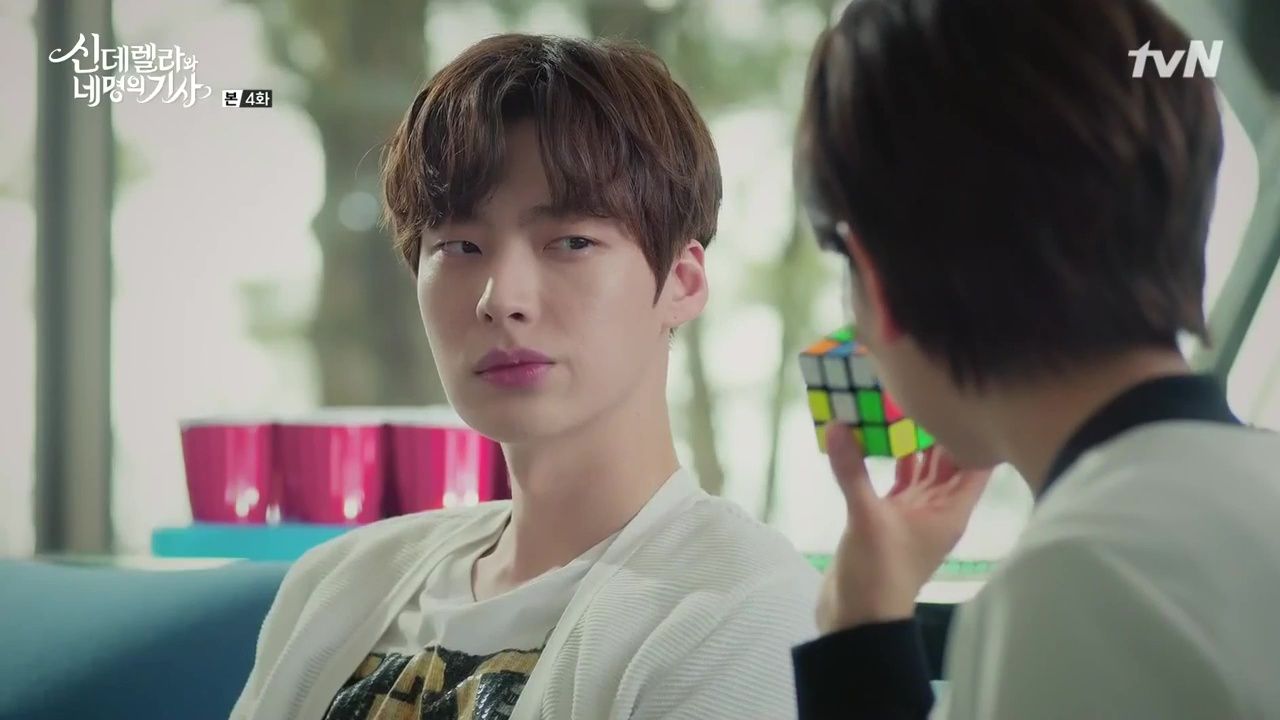 Ha-won finds Hyun-min playing a "game," which is actually a complicated looking math formula. He imperiously asks if she thought all there was to him was chasing girls, to which she replies yes, she sure did. Heh.
Ha-won finds a Rubik's Cube and challenges him that if she completes it in under two minutes, Hyun-min will grant her a wish. She fails, and when she complains, Hyun-min snatches it from her and completes it in 8 seconds flat. Wow.
Elsewhere on the grounds, Ji-woon mulls over Ha-won words, thinking back on the multiple times he'd said hurtful things to her, only worrying about his own problems. His brooding is interrupted by a call from Hye-ji, and he leaves to go meet her.
Ha-won's stepmom and stepsister are moping at home, wracking their brains over how Ha-won could have gotten herself invited into the coveted Sky House. Stepmom suggests that she's probably just there as a dishwasher or something, but Stepsister whines that a simple dishwasher wouldn't get invited to work by the Chairman himself.
Hyun-min is out at lunch with this week's girlfriend, but he can't enjoy himself as all the girl's mannerisms start to annoy him. Clearly thinking about Ha-won, he tells his date to eat her food with more gusto and asks if she can throw a punch.
Bored by the girl's answers, he breaks up with her and leaves to call Ha-won out to play. He entices her by saying he knows how to get his cousins to eat a meal together.
Determined to find out what's going on, Stepsister heads over to Sky House (wearing a… disguise?), just in time to see Hyun-min arrive and pick up Ha-won in his fancy sports car.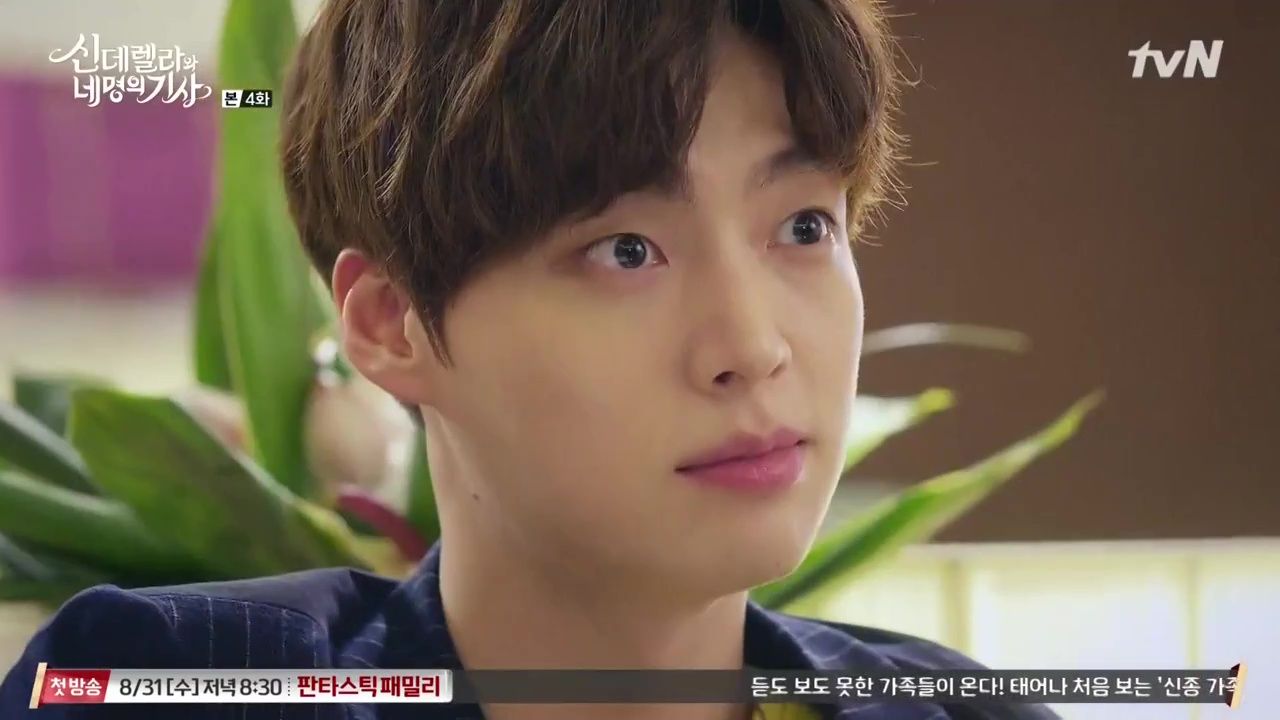 Hyun-min takes Ha-won out to a clothes store so she can dress up pretty. Ha-won asks if all rich guys like pretending that they're in Pretty Woman. Pfft. He assures her that looking nice will help, and she reluctantly heads into the dressing room to start Plan Three: make their hearts race.
We get a pretty montage of Ha-won trying on different outfits with Hyun-min judging her selections. She finally finds a dress that he approves of, and when her stomach growls, he grabs her hand to take her for food, promising to tell her how to convince his cousins to eat together.
After they leave the store, Stepsister, who had been following them, "sneaks" up to the saleswoman and asks for the same dress that Hyun-min just bought Ha-won. Her jaw drops to see that it cost over $5,000.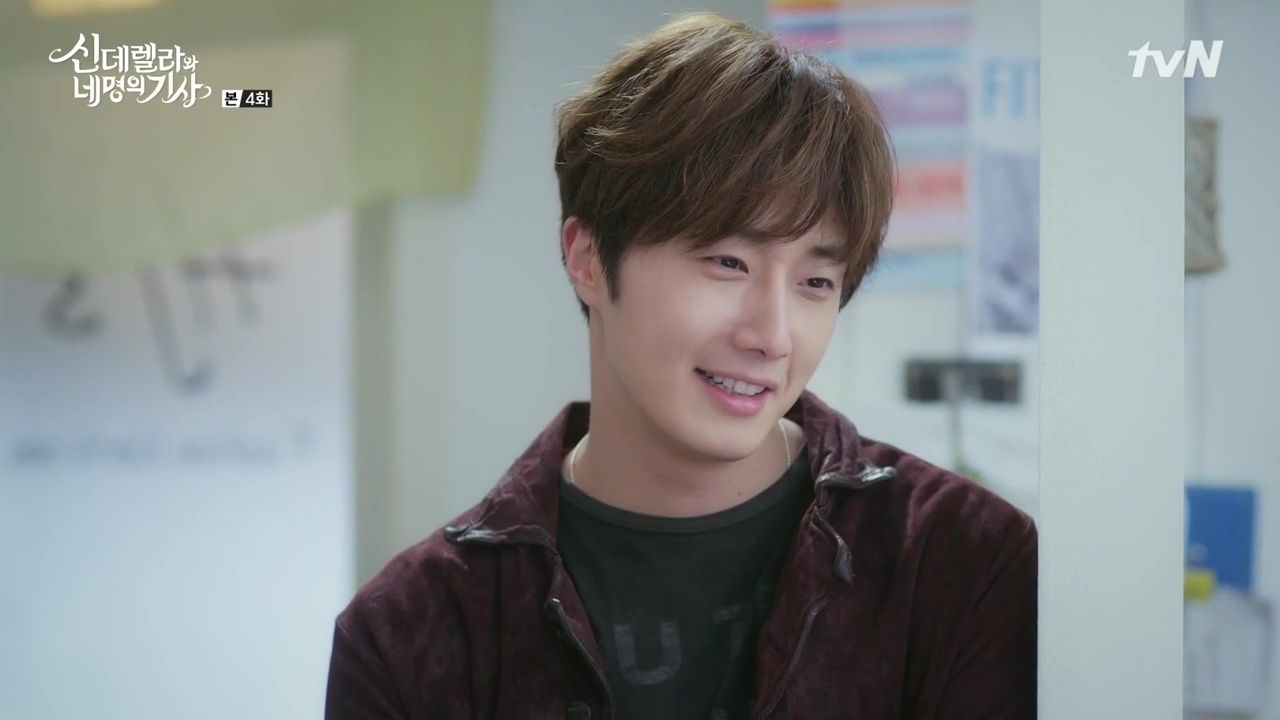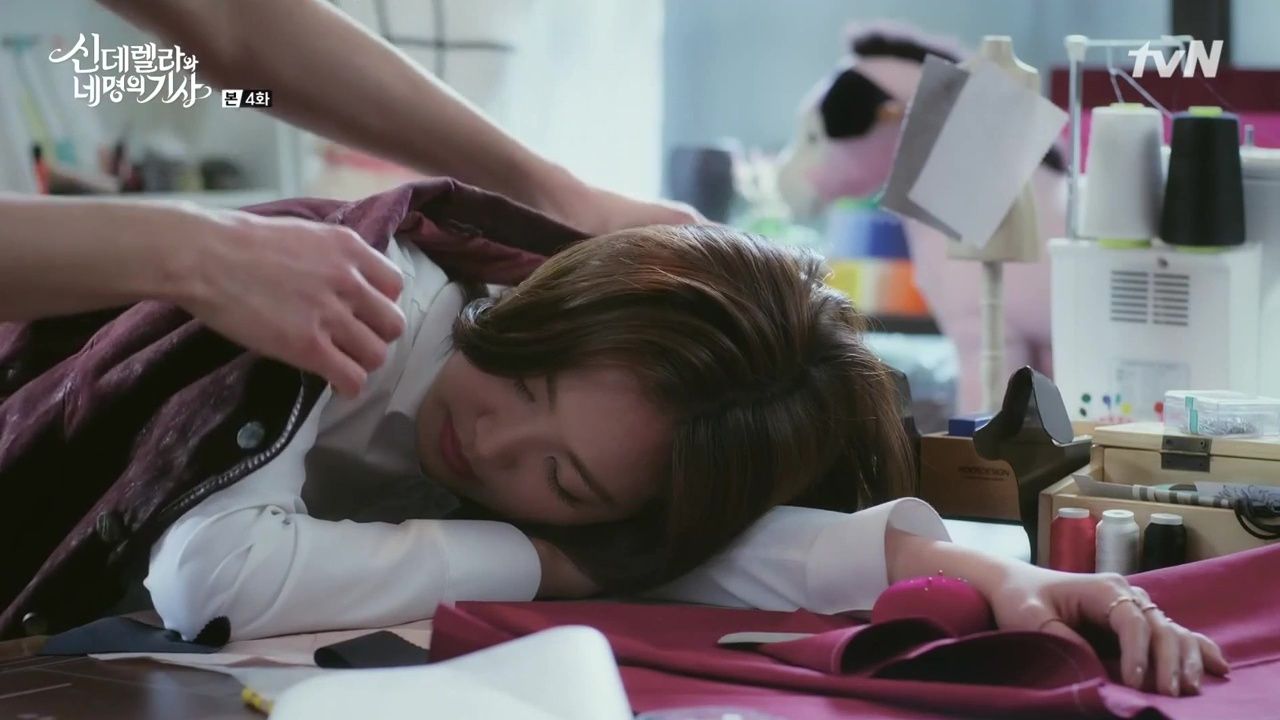 Ji-woon arrives at Hye-ji's workshop and smiles tenderly to see that she's fallen asleep at her desk. He drapes his jacket over her and flashes back to when he'd first moved to Sky House. He'd been hiding on the grounds, head in his arms when someone draped a jacket over him. Ji-woon had raised his head in time to see Hye-ji's retreating figure.
In the present, Hye-ji wakes up to find Ji-woon standing guard while she slept. She asks him to answer her question about Hyun-min now, but he cajoles her into getting food first, promising to tell her after.
Ji-woon takes Hye-ji out to an expensive restaurant, the two of them bantering comfortably over who will pay. Hye-ji comments that she's glad Ji-woon is her friend and not her oppa, so she can talk to him comfortably. Ouch, friend zoning at its finest.
Looks like the cousins at least share a similar taste in restaurants, because Hyun-min arrives with Ha-won in tow, having picked this spot as well. Hyun-min immediately wants to leave, but Ha-won encourages him to stay, wanting the two couples to get along.
Cue the most awkward dinner ever as the four sit around the table in silence. Hye-ji tries to make small talk with Ha-won, but Hyun-min turns everything she says into a rub against Hye-ji, reinforcing that Ha-won is his fiancée, and making Hye-ji out to be the jealous ex.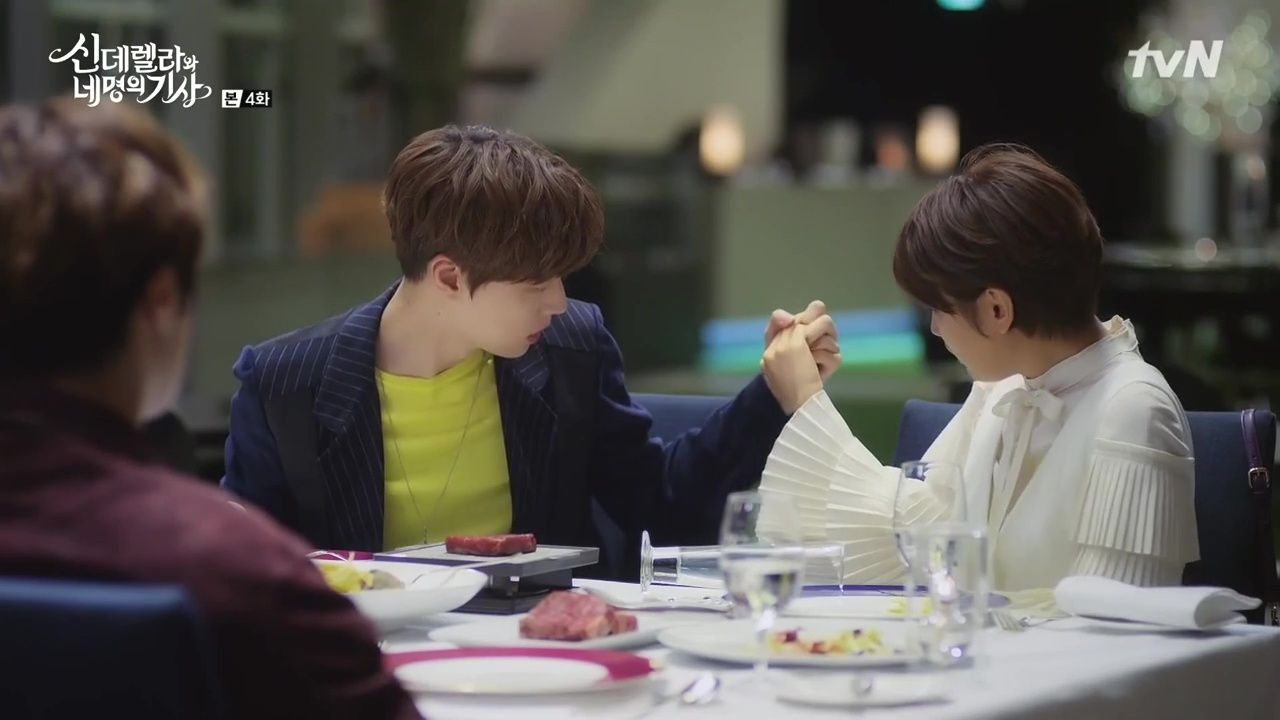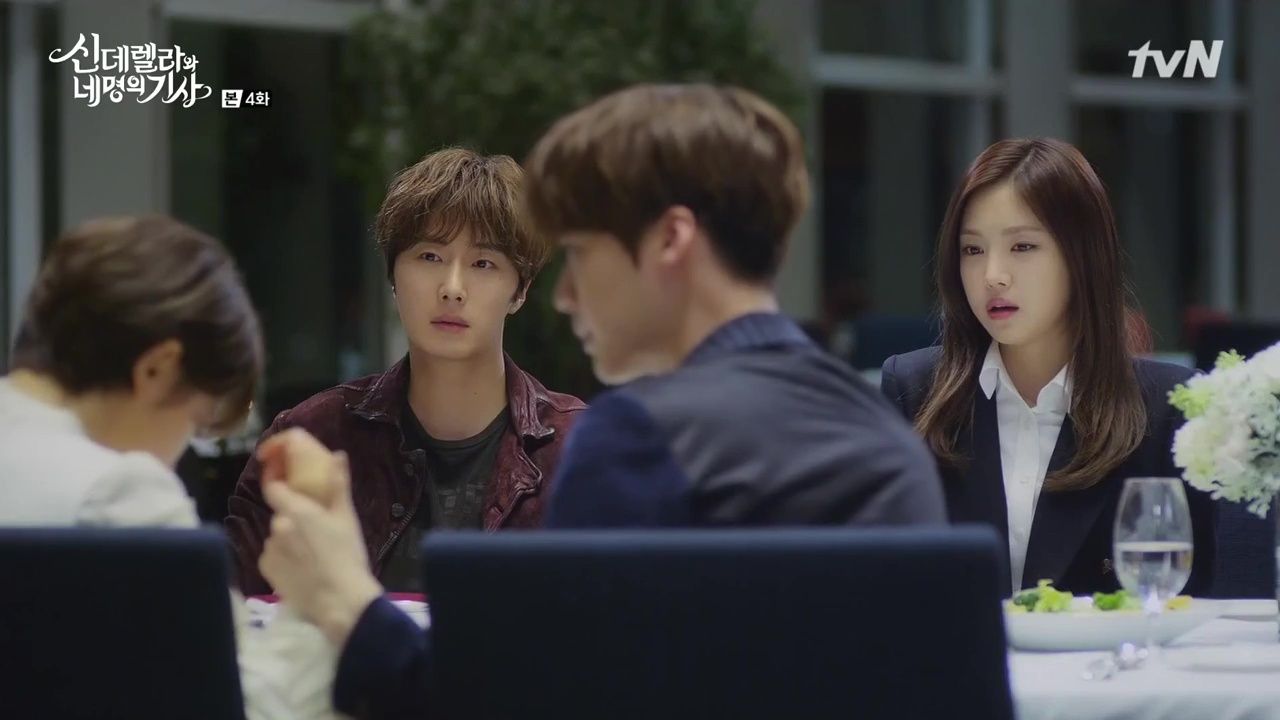 Dinner arrives, and when Ha-won reaches across the table, her arm gets too close to an open skillet where meat is grilling. Hyun-min pushes her hand away from the heat, but in the process knocks over her glass, spilling the orange drink all over her dress.
Ha-won laments over the expensive clothes, and Hyun-min argues back that he can just buy her more, much more concerned that she didn't hurt herself. Awww. His obvious care for her is apparent to the others, and Hye-ji clenches her fist in pain/anger, something that Ji-woon notices.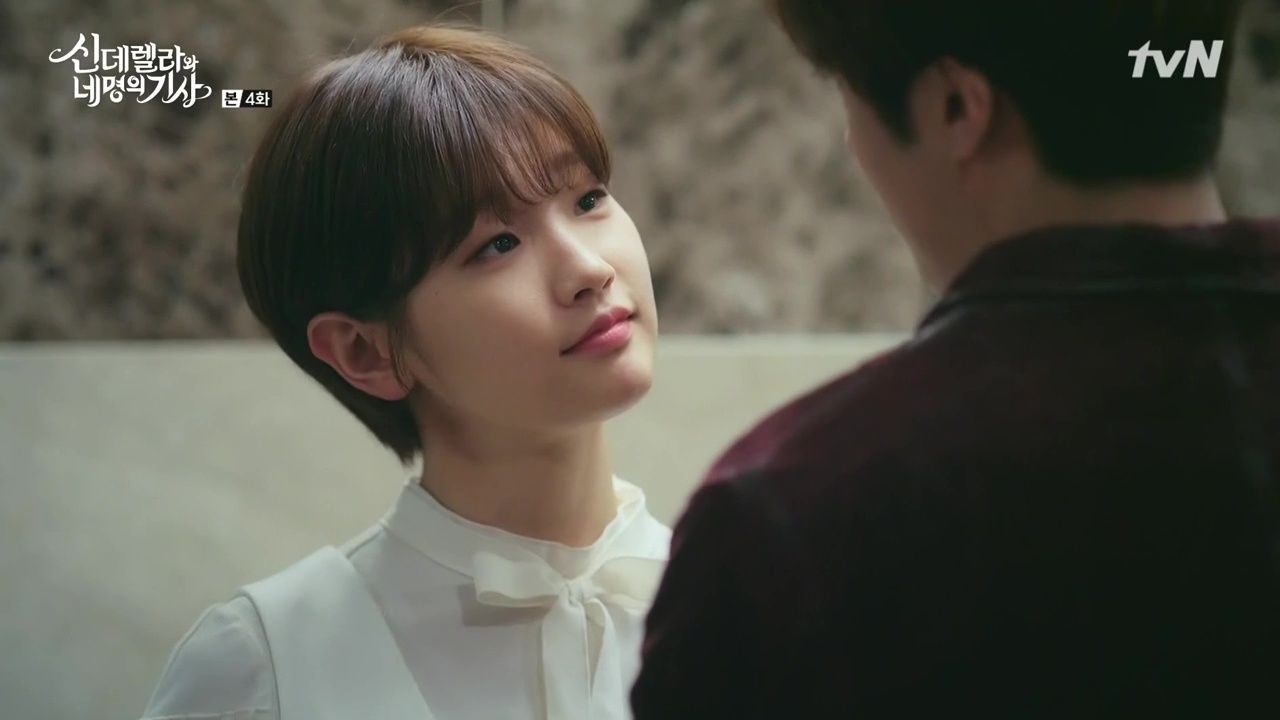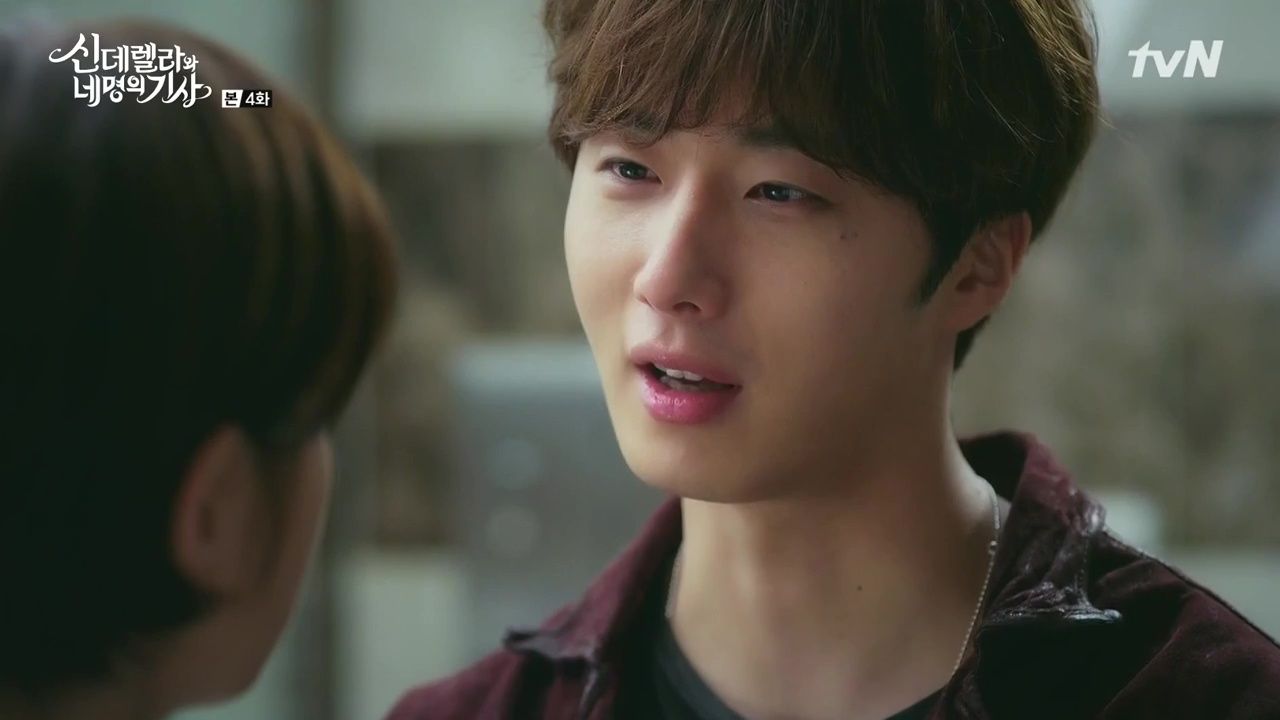 Ha-won excuses herself to the restroom where she tries in vain to clean her dress. She's interrupted by Ji-woon who let's himself into the ladies restroom, asking her if it makes her so happy to have Hyun-min buy things for her.
Ha-won sighs, asking if he's starting with that again. Ji-woon says that he can do that for her too, calling her pathetic if this was her only purpose in coming to Sky House. Ha-won just smiles, saying that she doesn't have such shallow objectives. This gives Ji-woon pause, and he admits that maybe he did underestimate her, appreciating her honesty.
Ha-won agrees, asserting that she has much higher goals: She's going to turn the three cousins into a family.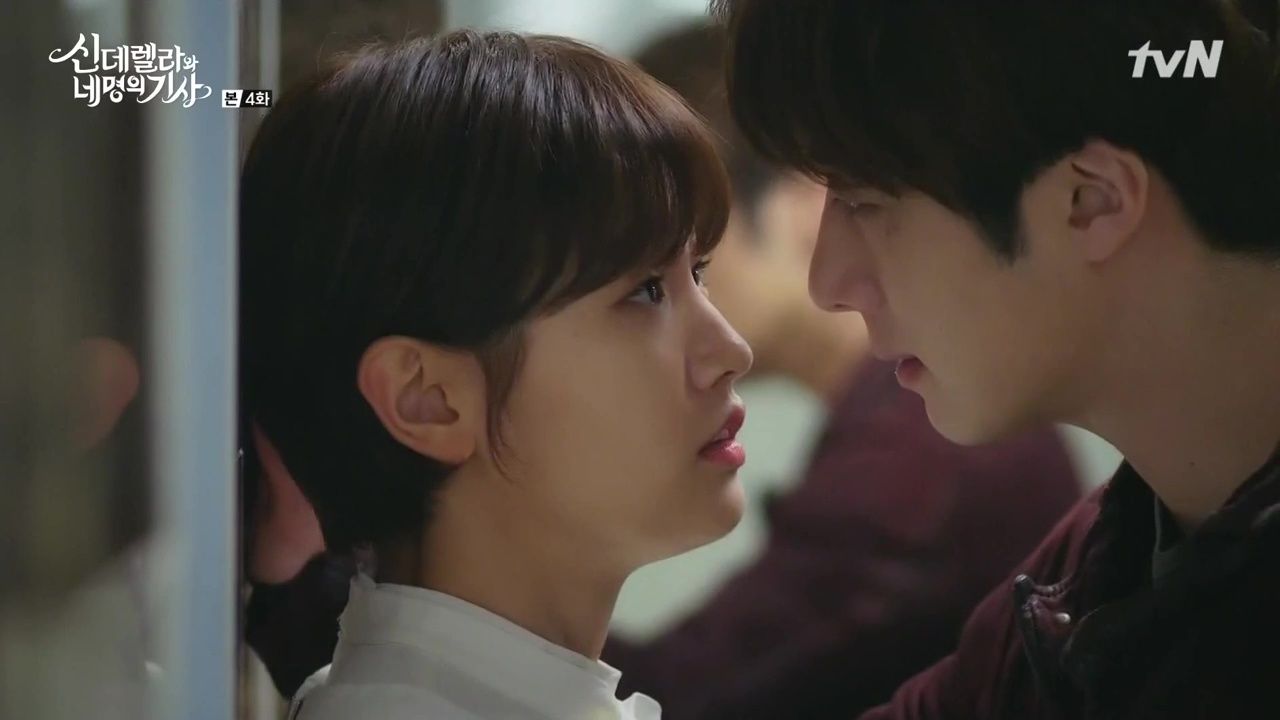 Ji-woon take issue with the word "family," warning her against using it again. Undaunted, Ha-won insists that she'll make them a fam—…
Ji-woon interrupts her mid-sentence, pushing her up against the bathroom wall and leaning close. Oh damn, that was hot.
Inches from her face, Ji-woon tells Ha-won that there's only so much of her messing around that he can take, then walks off, his bad boy coat flapping behind him. After he leaves, Ha-won remembers to breathe and moans that this is the part-time job from hell.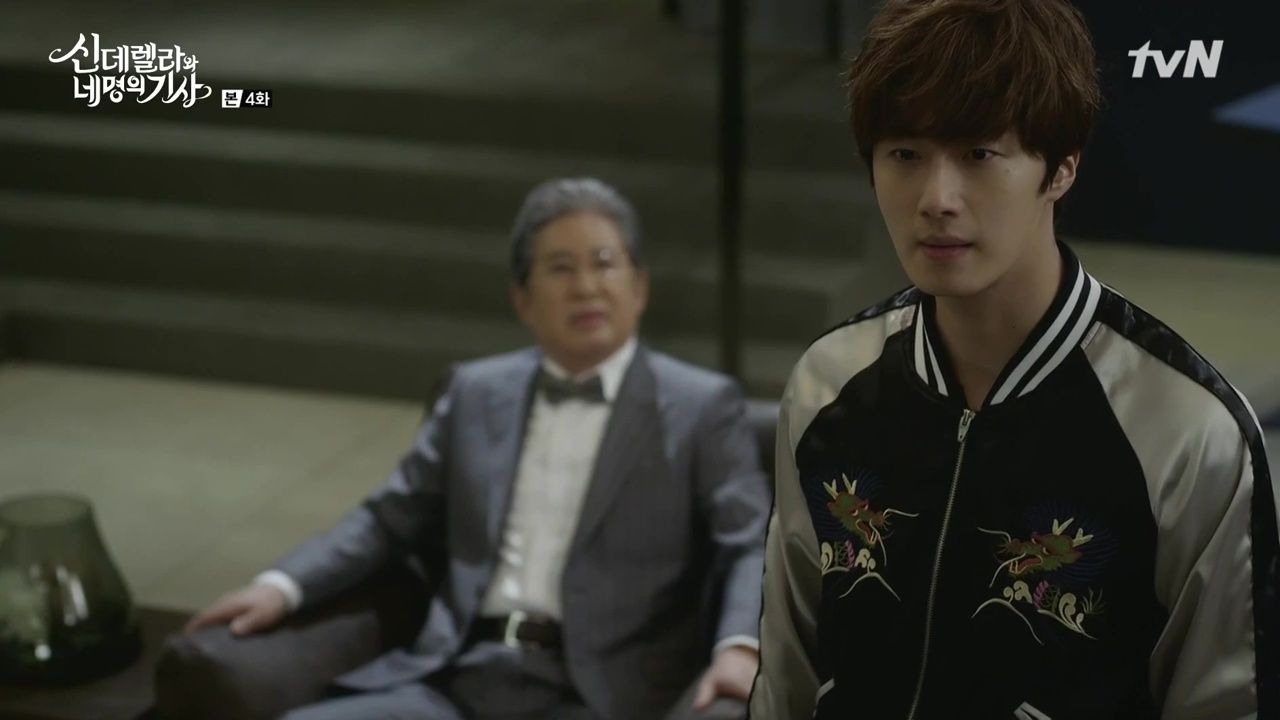 Walking down the hall, Ji-woon recalls the first time Grandpa Kang had brought him to Sky House. He'd told him to sever all ties with his old life, saying that Ji-woon will just become someone for his friends to mooch off. Ji-woon refused to cut off his family, but Grandpa told him that this is his family now; Han Ji-woon is dead.
Still in the flashback, Ji-woon had left Grandpa's office and overheard Hyun-min and his mother discussing the arrival of the new cousin (Ji-woon). Hyun-min's mother had warned that even if Grandpa brought that kid in, it doesn't make him family, telling Hyun-min to protect his place as heir. Hyun-min had answered that he has no family, and added that Ji-woon wouldn't even last a day in this world. Well, that's just sad for both of you.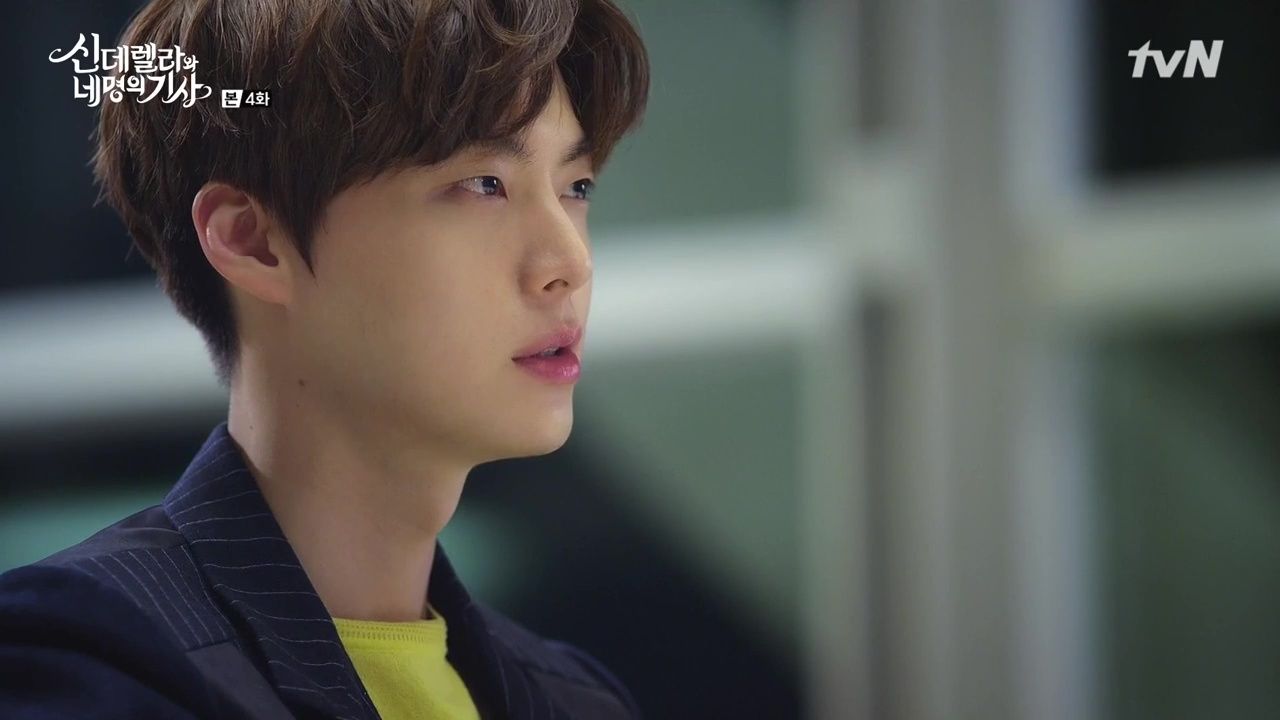 Back in the present, Hye-ji and Hyun-min are alone at the table. Hye-ji finally gets a chance to ask Hyun-min her question, wanting to know if he was the one who brought Ha-won into Sky House. Hyun-min affirms it, saying of course he would bring his own fiancée to live with him, and that Ha-won is different from all the other girls. Unable to take anymore, Hye-ji leaves the table.
Hyun-min is not unaffected by her exit, but he puts his mask back on when Ji-woon returns to the table. Demanding to know what Hyun-min said to Hye-ji, Ji-woon accuses him of being an expert at causing her pain. Hyun-min fires back that Ji-woon is an expert in healing that pain. Touché.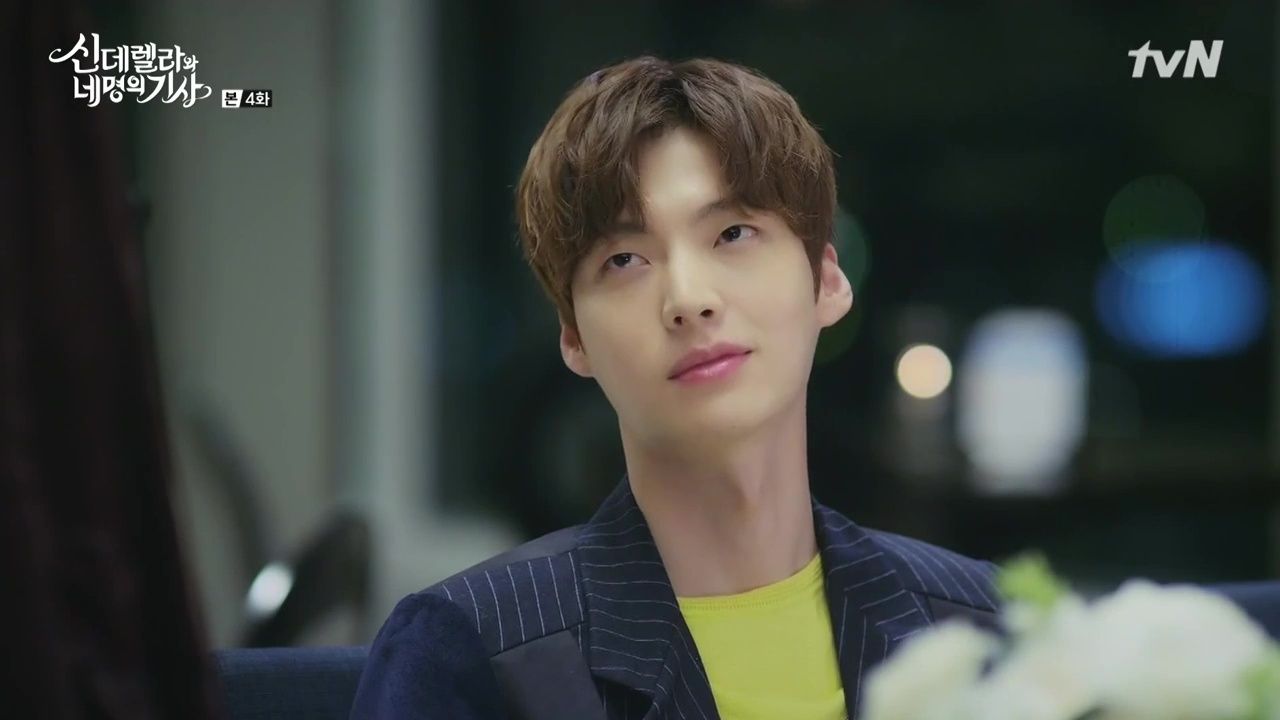 Ji-woon notes that Hyun-min seems to still think of Hye-ji as his woman, but Hyun-min states that he never has. When Ji-woon asks if he sincerely means that, Hyun-min just sighs that he doesn't care for sincerity; once you start caring about something, you obsess over it, so why would he do that to himself?
Ji-woon sees Ha-won returning from the bathroom and asks Hyun-min if he really doesn't care about anything. Hyun-min retorts that it just takes the fun out of life.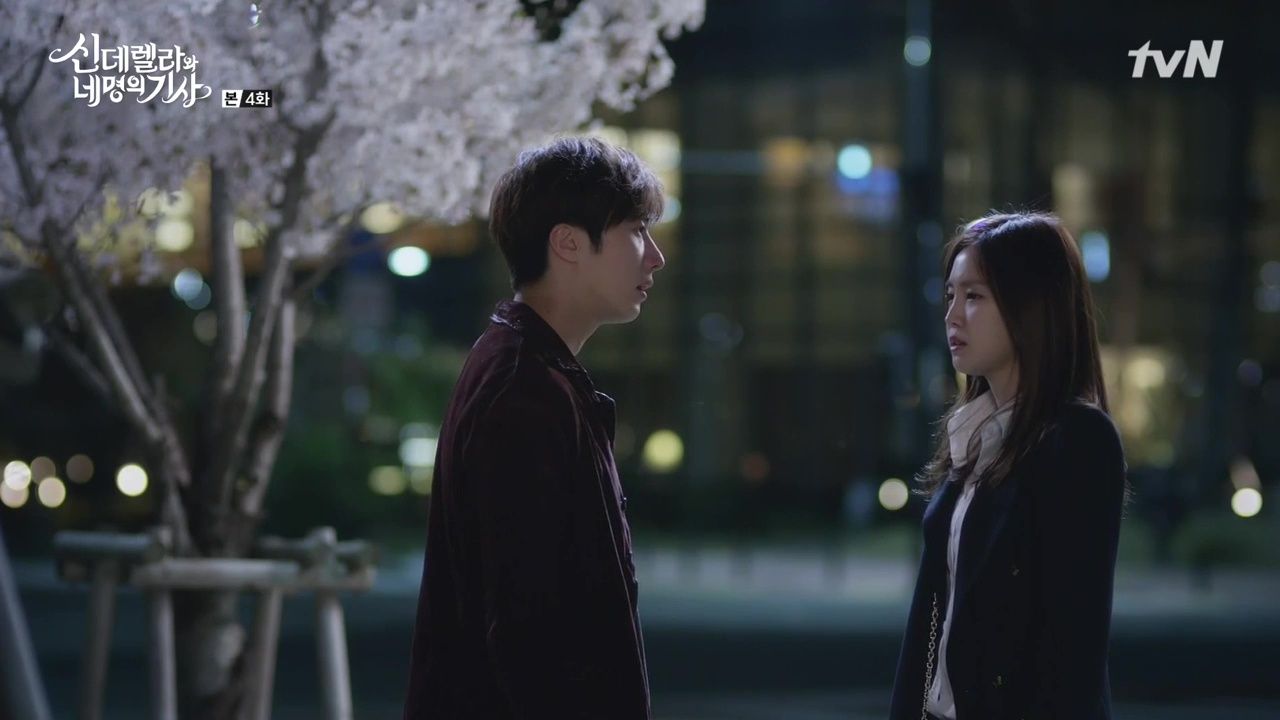 Having left the restaurant, Ji-woon searches for Hye-ji, who is currently walking listlessly across a street, ignoring the Don't Walk signal. Ji-woon finds her just in time to see a truck of doom bearing down on her. Running into the street, Ji-woon whips her out of the way just in time.
Safe on the sidewalk, Ji-woon yells at Hye-ji that if she keeps going on like this, then the only one who'll be hurt is her. Hye-ji responds that she doesn't want much, she just wants that girl gone from Hyun-min's side. Ugh.
Ha-won and Hyun-min leave the restaurant, and Ha-won asks if Hyun-min truly does like Hye-ji, guessing that he probably took Ha-won to the wedding because of Hye-ji, not Grandpa Kang. Hyun-min deflects with a little flirting, and Ha-won drops the subject.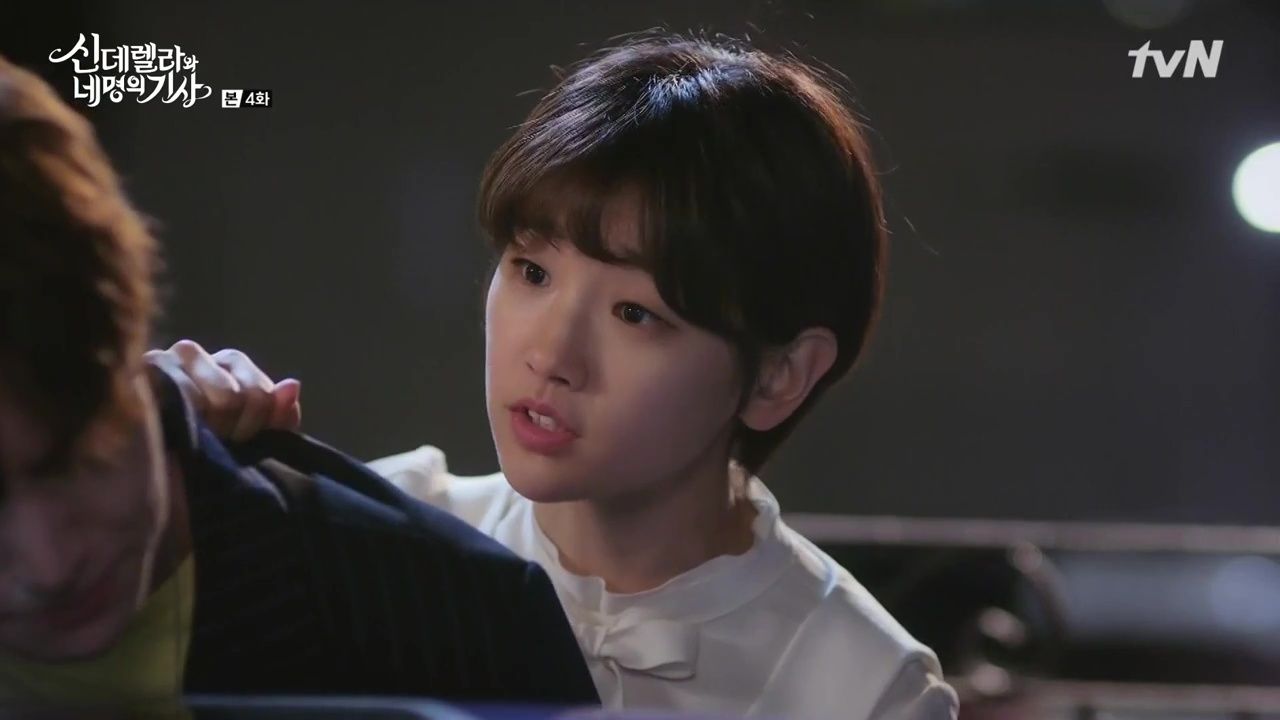 Hyun-min drives Ha-won to a house, telling her that it's hers. He says that she has no chance of succeeding and she can live here when she inevitably gets kicked out of Sky House. Ha-won takes offense to the fact that he's already decided her fate, but Hyun-min answers that since he's going to date her soon, he has a right to be involved in her life. I'm sure that logic works somewhere in the world.
They exit the car and Hyun-min gushes about what a great provider he is, putting his arm around Ha-won. Rolling her eyes, she twists his arm back and pushes him up against the car. As Hyun-min winces, Ha-won reminds him that she has no intention of dating him, and warns him against pulling anther stunt like this. She gets back in the car and Hyun-min whines that nothing seems to work with this girl.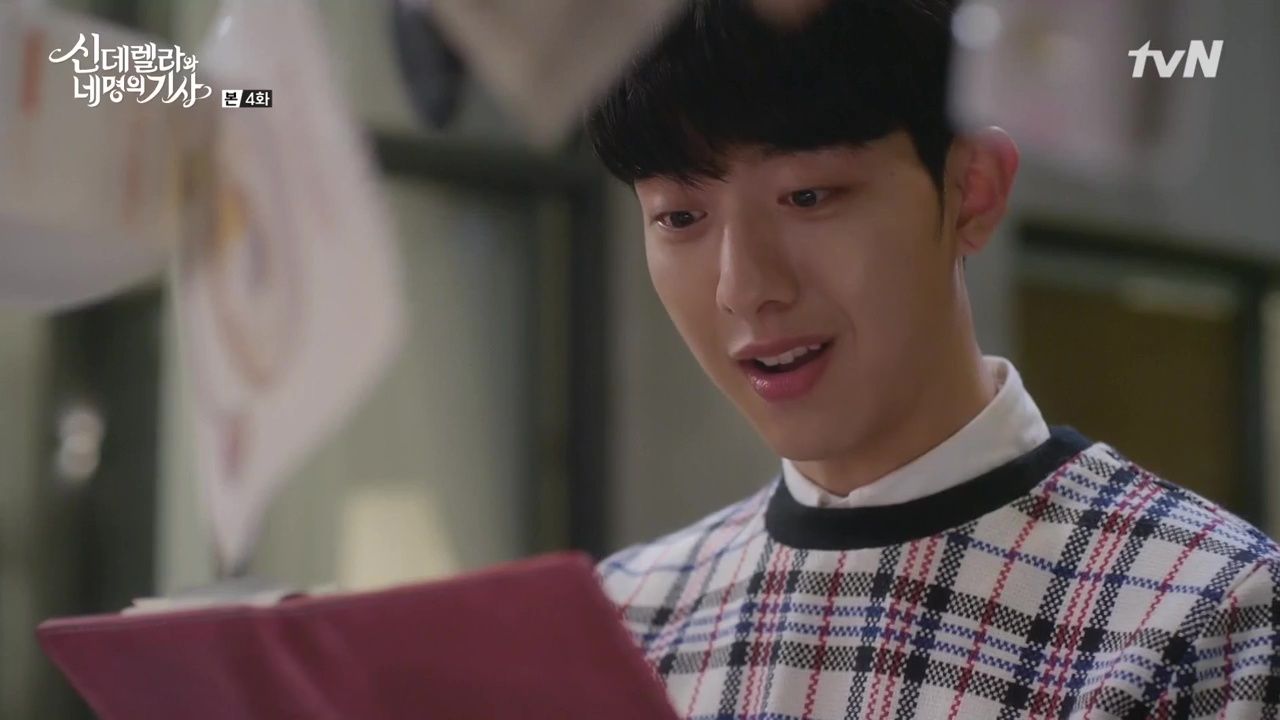 Back at the house, Ha-won is at her wit's end as to how to get the boys to eat together. As a last ditch attempt, she sends out a group message for them to meet her in the courtyard in an hour, saying this will be her last attempt to get them to share a meal. In response, the boys all leave the chatroom one by one.
Taking a break from composing, Seo-woo sees a drying line outside Ha-won's room. It looks like she's hung up all her belongings that fell into the water a few days ago. Curious, Seo-woo snoops a bit and, looking at a drying calendar page, realizes that today is her birthday.
Bodyguard Lee finds Seo-woo riffling through some cupboards looking for party supplies. Seo-woo shares his discovery and Lee's face falls when he admits that he didn't know about Ha-won's birthday either.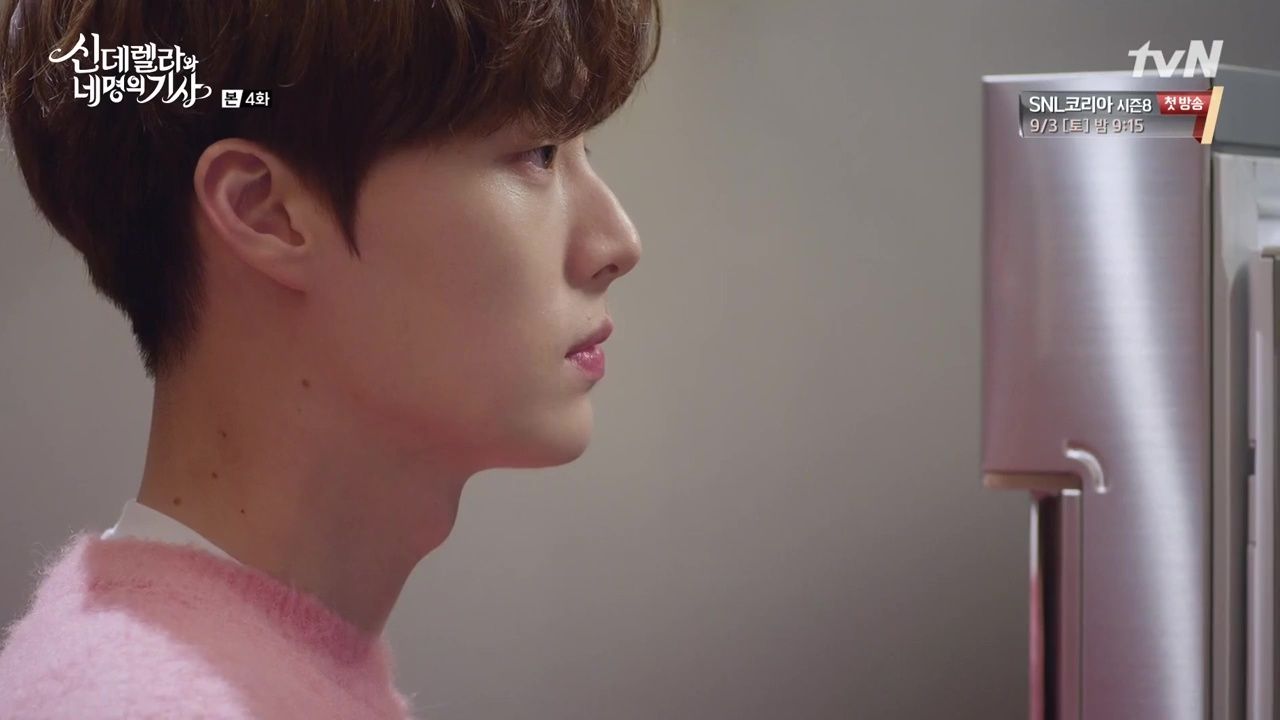 Ji-woon does some more brooding, thinking about the times that Hyun-min told him he would never be a threat in the family, and Hye-ji's wish that Ha-won would leave Hyun-min's side.
Coming to a decision, Ji-woon finds Hyun-min in the kitchen as he's getting a drink out of the fridge. Symbolically taking the drink out of Hyun-min's hand and saying that he wants it, Ji-woon continues snatching Hyun-min's beverages until Hyun-min confronts him.
Ji-woon asks if Hyun-min is sure that he doesn't care about anything, inviting his cousin to come to the courtyard if he wants to see something interesting.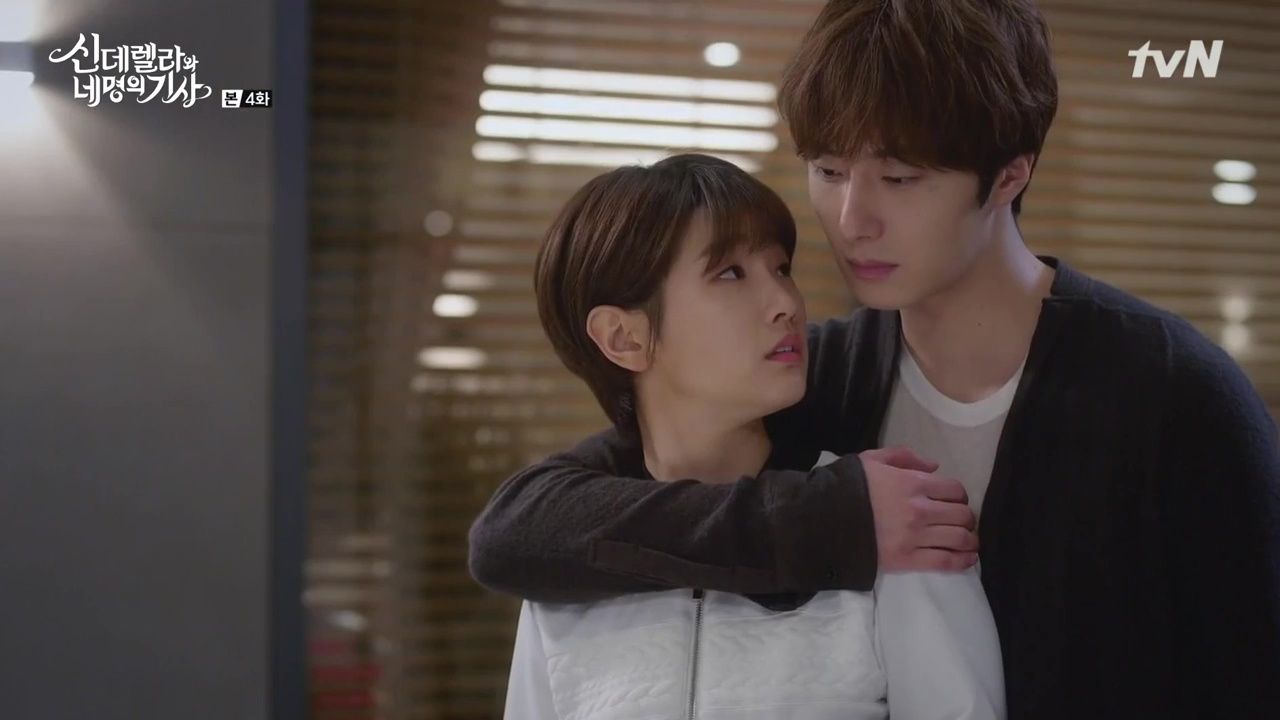 Seo-woo and Bodyguard Lee finish setting up a spread on the table in the courtyard. Seo-woo is about to text his cousins to come join when he sees Ha-won coming. The two quickly cover the table with a sheet and skedaddle.
Ha-won enters and pauses when she sees the sheet. As she looks at it, someone comes up behind her and wraps her in a half back hug. Ha-won snaps at Hyun-min, reminding him not to touch her, but then she turns and realizes it's not Hyun-min with his arm around her, but Ji-woon.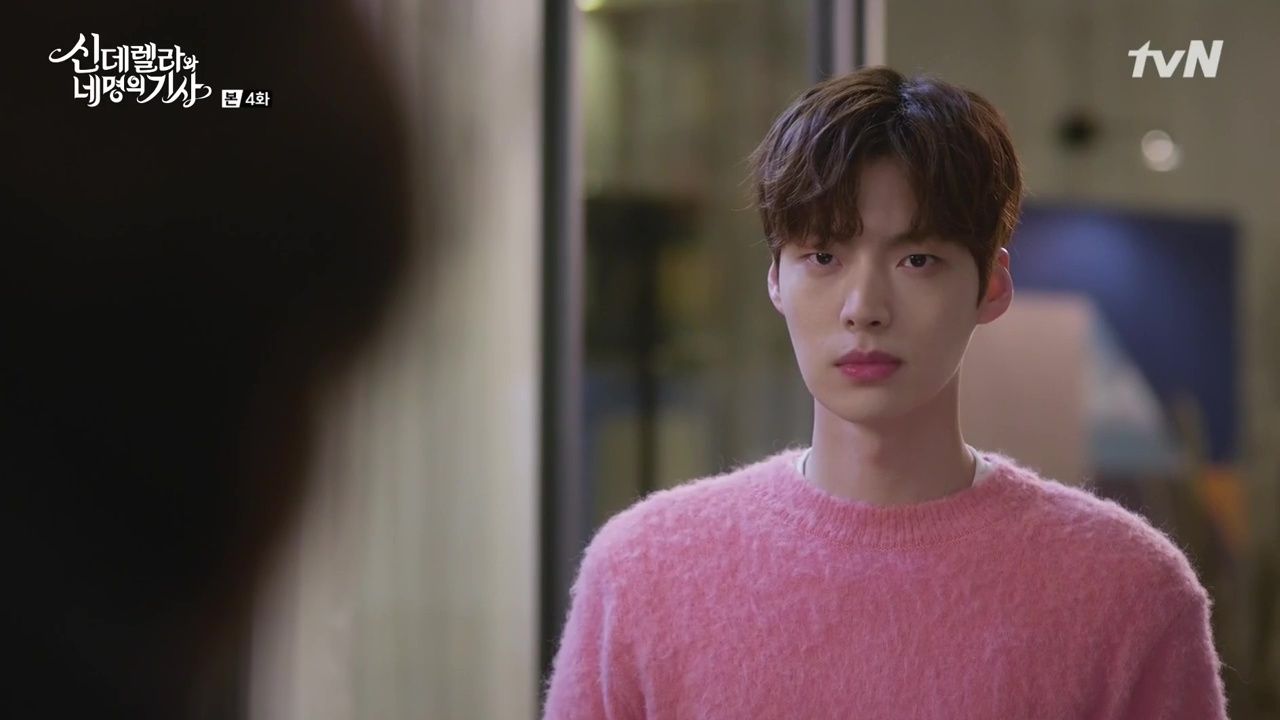 Ji-woon asks softly why she belongs to Kang Hyun-min of all people. Ha-won is frozen in shock, and Ji-woon turns her around to see Hyun-min staring at the two of them.
Hyun-min forces a smile and inquires whatever the heck Ji-woon is doing. Ji-woon answers that he's going to try and steal his fiancée. This finally gets a reaction out of Hyun-min, who angrily grabs Ji-woon by his shirt, yanking him away from Ha-won.
Ha-won pushes the two boys apart, yelling at them to stop. Ji-woon and Hyun-min square off, and Ha-won stares at both of them while fireworks go off in the background.

COMMENTS
Well, the gauntlet has been thrown. No more circling around each other, Ji-woon has issued his challenge: protect your stuff or I'm going to steal it. Granted, this pretty much makes Ha-won the prize in a battle of wills, which is not cool, but I can appreciate the different take on the stereotypical "two guys fighting over a girl" routine. So many times it's the two guys who fall for the girl and become enemies that I kind of like the switch that this time, it's two enemies who will use the girl as an excuse to fight. They needed something to finally spark their confrontation and Ha-won is the perfect trophy. If you can get over the objectification, it's rather clever plot-wise.
Unfortunately, this scenario really does not bode well for Ha-won, as she's essentially just become the shiny toy in Ji-woon and Hyun-min's game of tug-of-war. Combine that with Grandpa's "no dating" commandment and these boys' determination to include her in their love lives spells nothing but trouble. Not to mention the hurt she'll feel if she does fall for one of them when they're just using her to stick it to each other. On the bright side, I think there are some serious feelings already starting to emerge for both cousins towards Ha-won. Clearly Hyun-min is already wavering since he's now dreaming about smoochin' her, and for all Ji-woon's "get lost" lines, her words have gotten some very emotional reactions out of him (both good and bad). I think it's definitely interesting that while Hye-ji was already there between the cousins, it was Ha-won's arrival that finally pushed their rivalry into the open.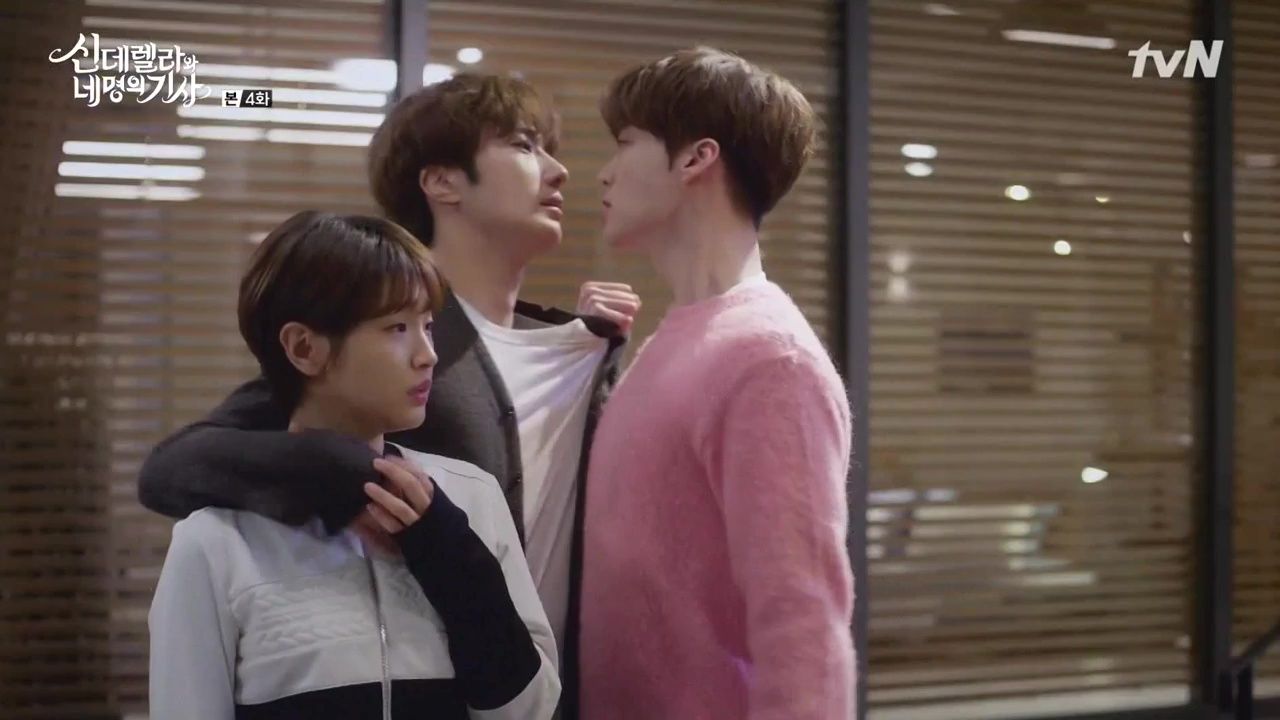 I know that everyone has really disliked Hye-ji for the first few episodes, but I have to say I didn't have a problem with her… until now. Before today's episode, I saw her as being a bit clingy to Hyun-min, but I wasn't ready to condemn her without more backstory since there was obviously quite some history there. I could easily imagine a scenario where Hye-ji wasn't pursuing Hyun-min just for her own benefit, but also to keep reminding Hyun-min of who he used to be. However, that possibility flew out the window when Hye-ji said that her one wish was for Ha-won to leave Hyun-min's side. That was not being supportive, that was pure jealousy without considering Ha-won's feelings, or even Hyun-min's. She's drifting over into the typical "If I can't have him, no one can" territory. Right now, Hye-ji is ranking just above Stepmom and Stepsis, but she certainly has the potential to become worse than both of them if she keeps going down the selfish obsession path.
I really enjoyed this episode's focus on food and how it ties in with the most basic of family moments: sharing a meal. Eating with family is a warm and safe feeling, something that we grow up with, which forms the basis for a lot of childhood memories. Personally, I know the toughest waves of homesickness in my life have arisen from missing my mom's cooking, or a smell that brought back memories of the kitchen. Watching this episode, it really hit me that these guys don't have any of it, and that must feel so lonely. Especially Hyun-min, who grew up eating alone and now isn't even comfortable sharing a meal with others. It reminded me a lot of Flower Boy Ramyun Shop and how everyone kept saying that Chi-soo had no smell, because he didn't have experience with a home cooked meal. I think Grandpa Kang made a great call in assigning this as Ha-won's first mission, since eating together is the perfect base point to start a family. I just hope that Ha-won has a few more tricks up her sleeve besides rock-paper-scissors. I'm open to any suggestions that involve more Hyun-min kisses, Ji-woon stripping, and invasion of personal space…

RELATED POSTS
Tags: Ahn Jae-hyun, Cinderella and the Four Knights, featured, Jung Il-woo, Lee Jung-shin, Park So-dam