Hit thriller Signal writer Kim Eun-hee announces next project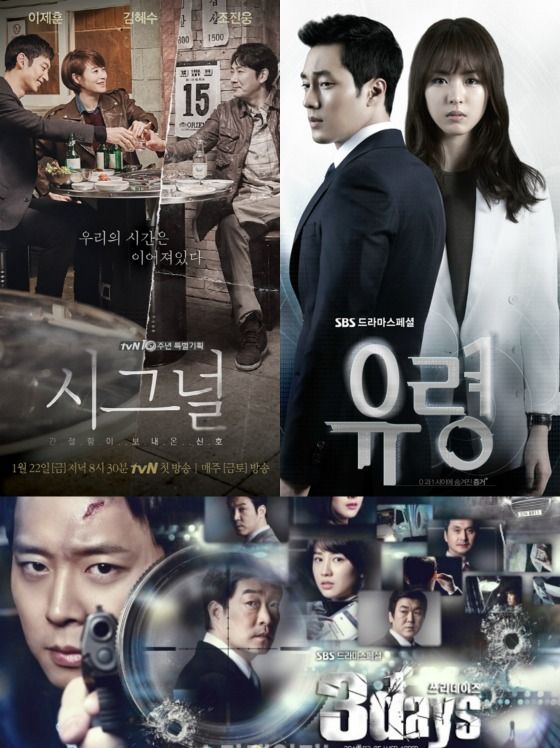 The writer of tvN's hit crime drama Signal, Kim Eun-hee, revealed that she has started writing her next project. There were some rumors that she would be making a second season of Signal, but she has now stated that she is doing an altogether fresh project. At the 5th World Women Economic Forum this past Wednesday, during the "Balance" panel, she announced that she was currently in the stages of working on a synopsis for a historical drama. When asked for specifics, she said, "Like always [in my dramas], a lot of people will probably die. I think it will be ready by next year."
Kim Eun-hee is renowned for creating deep complex characters and suspenseful plot sequences. Her specialty is the thriller genre, but she's mixed it with a couple different elements in the past. For Sign, she tackled the forensic medical setting. In Ghost, she made cyber security and people staring at computer screens interesting by adding complicated government conspiracies. She also created Three Days, which was about the potential assassination of the president. Her most recent time-warp crime thriller Signal, despite being on a cable network, reached double-digit ratings and finished at 12.6 percent. It was for this drama that she was awarded the Best Screenplay at the Baeksang Arts Awards, Best Writer at the APAN Star Awards. The series also picked up multiple awards at tvN's first 10-year anniversary award ceremony.
She and her husband, PD Jang Hang-joon, are a known power couple in the Korean entertainment industry. He is primarily a director, and has collaborated several times with his wife on various drama projects. For instance, they did Sign, Harvest Villa, and Ghost together. Variety program Infinite Challenge's 2016 short film Muhan Company, which featured Lee Je-hoon and G-Dragon, was also a husband-wife collaboration. Proud of his wife's work, PD Jang also gave his two cents about Kim Eun-hee's current project-in-progress: "It is something on a completely different level, something we've never seen in sageuk before."
At a clarifying interview with IS Plus, writer Kim said that the writing wasn't going as smoothly as she wanted. "It's not organized yet, so I can't reveal anything definite now. Nothing has been decided except for that it will be a historical drama. My goal is to have it ready by next year, but it's not going to be easy. When I have something more concrete, I will let you know." I just want to say, writer-nim, thank you for the update and for giving us another reason why 2017 can't come soon enough.
Signal writer Kim Eun-hee's new sageuk is in the works, and hopefully we'll get to see it next year.
Via IS Plus, Chosun Sports
RELATED POSTS
Tags: Ghost, Sign, Signal, Three Days