Beans of Wisdom: 30 going on 30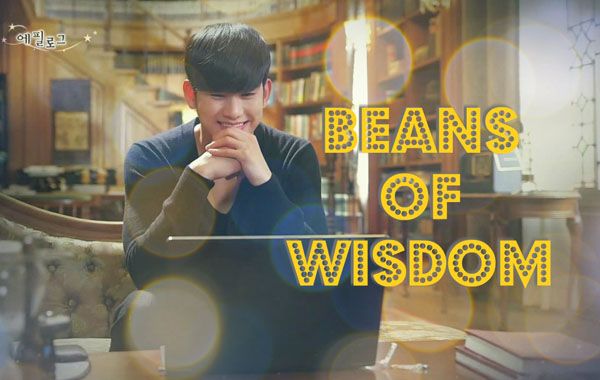 This week in Beans of Wisdom…
jm shares in "Strong Woman Do Bong-soon: Episode 5" comment #6.2.1:
What I enjoy about this show and the discussion page is I get to consider what it might be like for women of petite statue to navigate the world. I have the exact opposite problem. While she might be encouraged to play into the assumption that she is weak and powerless, I am encouraged to be almost gender-less given my height. Both societal expectations reinforce a false division between femininity and strength. I do think/hope the show is trying to subvert that assumption i.e. the CEO seeing her as a sexy woman in part because she is strong.
While the-basketcase feels for our reluctant heroine in comment #16:
I feel so sorry for Bong-Soon.

You know, she never chose to have this strength given to her, and she is always only characterized because of it. I don't blame her for hiding it from everyone, because once people know of her powers that is the only thing people see in her. I find it so hypocritical that Secretary Gong is so scared, and low-key hates her, because he totally agreed to fight her, even when she warned him MULTIPLE times, and even gave him a helmet. It's kind of his fault he got hurt (even though he was unaware of the extent of her power). Those guys she beat up, are actual THUGS, she was saving someone when they beat her up. I don't really feel sorry for their predicament, even though Secretary Gong does (ugh) because they are BAD GUYS. We love her because she uses her powers for good usually, but using those powers is difficult for her, which the comedy of the show underplays. For the viewers she is defending good guys, but for her she is violently hurting people, and that weighs on her soul.

I just felt so sorry for her when that clip of her in the club leaked. I could just feel her anguish of people finding out about her powers, and the being put on display like some kind of "freak" in a circus.

Our beautiful hero on the other hand, sees her power, but also notices her spunky and quirky personality as well, as likes both those aspects. Her awesome bestie also sees her personality, which is great!

It kind of makes me realize why she cries at superhero movies (or at least why I think she cries). There a famous quote "with great power comes great responsibility." You know, not everyone with superpowers has the luxury to become a superhero. Captain America, Spiderman, the Flash, Wonder Woman all were privileged enough to be in situations were they could use their superpowers to fight crime and hurt people under the cape of "hero," escaping the consequences of hurting people that "normal people have to deal with." For Bong-soon, she lived in a family were her superpowers were not treated as gifts, but as a curse, and was never allowed to develop or become a "superhero." If you remember in the first episode, when the show described her lineage, one of the first ancestors was essentially a superhero protecting Korea from enemy invaders and crushing boulders (so awesome). Never treated like the superhero that she is, and being more of a cursed child, no wonder Bong-soon feels kind of like a freak, even though she is absolutely amazing. I think she see's the lonely and dark side of having powers that cause real physical harm, and the pain it causes to those superhero's, and so she cries because she emphasizes with their suffering.
Mizminnie reacts to a scene in "Strong Woman Do Bong-soon: Episode 6." In comment #12, she writes:
No matter how strong you are, in my eyes, you're still a fragile woman. …URGH. REALLY????

I know SHE found it romantic, but NO …just no! That is not romantic, that is some wannabe Macho-Bullshit.

Really. I just can't with this …. He constantly berates her, treats her like she is stupid, talks over her and orders her around. And seeing her playing the simpering little girl everytime [Gook-doo] is close really frustrates me. Because she makes herself LESS in order for him to like her. Sure …he does not know better, because she has never told him about her superpowers. But it is quite clear that BS thinks he would not like her that way, if he knew the REAL her. He seemingly can't even see her as a capable, smart, confidant woman because that is not part of his worldview … and that sentence basically proves it.

Thankfully we are apparently now getting to the part of the show where [Bong-soon] starts to slowly think differently, judging from the way she reacted and looked at [Min-hyuk] when he said he wanted to help her use her powers for good.

I like how this show has established from the beginning that MH has no pseudo-Alpha-Male hangups. That he is completely secure in his very own kind of manhood (and has also NO PROBLEM about people guessing he is gay and only balking at that when that means BS will not see him in a romantic light).
Fancying BS with all her strength, thinking her sexy not DESPITE but BECAUSE of it … is so great. She never had to hide herself from him …and he completely accepts her for who she is.
And that THAT is the man you should be going for … ..
Dramabird:
Yes! Rather than belittling, he empowers her to be better (like giving her books to study, and adorable desk to study at).

I think this show is really interesting with the way it compared various levels of misogyny and belittling of women.

At the extreme end, we have the kidnapper. His objection of women is so extreme they literally exist only to meet his needs and reflect how he desires to shape them (thin dolls, controlling their food). He robs them of voice and agency.

In the middle are the other macho men who look down on woman and think it is okay to take advantage of their strength to coerce woman into doing what they want. Even mom to some extent is the inverse of this, cowing men to do what she wants because she is stronger (with the walnut business money).

Then you have GD. He is a nice guy who uses his strength to help the "little" woman. The fundamental problem is that he buys into the prevailing thinking about women that only sees them as small weak and helpless. No matter the truth, BS will always be "fragile" to him. She projects herself around him as that way because she overheard him say that is the way he likes women to be. His identity is somewhat dependent on relating to women in a certain way. As other commentators pointed out, he often talks over BS and imposes his view on her (even if he is actually entirely off base because he doesn't know the truth).

BS is conflicted because she likes GD, but she must always hide who she truly is (devalue her true self and be embarrassed by it). Even as she secretly earns to embrace this aspect of herself and use it to help others.

That's what makes MH awesome. He is confident in his own identity. He knows who she is and admires it. He even likes the idea his future potential daughters being strong like her. (I think BS's dad might have been the same). He also acts as a catalyst to help her become a better self (but not in a way that imposes his own vision, but rather one that embraces hers).

I hope BS comes to realize that she doesn't have to be shaped by someone else's ideas to be worthy of love and relationship (no matter how well intended those ideas are) and learns to be value herself and be valued for her true self.
In "Tomorrow With You: Episode 11" comment #4.3, ar writes:
That scene when SoJoon was crying and saying Marin is his only family. oof! I cried too.

In the beginning knowing the future was fun and it seems like "well, why wouldn't you want to know the future? I'd be curious?". But man…knowing the future is much worse than not knowing at all. Sometimes, I'm like "well, if the future is making you miserable, stop visiting it and stop making these dumb decisions in trying to fiddle around with it". But for me, the future is something that is vague and intangible. But for SJ, the future is as real and tangible and possibly set as the present. MR's looming death is as real as if she is dying during the present.

And if a higher power had bestowed on you the power to visit the future, there must be a reason and wouldn't the reason be to change the future?
And yoonjaepuppylove continues the same thoughts in "Tomorrow With You: Episode 12" comment #5:
I think that the major reason that So Joon struggles with choosing between the future and the present and attempting to change the future is because of his parents' death. Since he blames himself for his parents' death, he is trying to prevent the same thing happening to his remaining family (Ajusshi and Ma Rin). His obsession with the future is a very natural coping mechanism for the fact that he doesn't have to ability to change the past/his parent's death. So, I can definitely understand his behavior. After losing your parents in such a traumatic manner, it honestly would be strange if he wasn't affected by it and was completely rational with his time-traveling related decisions. That being said, I love that Ma Rin challenges So Joon to get past his fear of the future and live in the present – it illustrates just how wonderfully she complements him as his wife.
misspeppermimi asks in comment #11:
Do you think we find So Joon so infuriating because we are mostly women or is his denseness universal?Are thete men out there thinking he is right? He misses so many signs and it just touches something in me that reminds me of so many men in my life. I eel the same way about Ye Hua from Eternal Love. I don't even know what I'm asking. Maybe I'm just projecting out of pure frustration
Mil replies:
I am a guy. I wont say that I agree with him, but I can understand his behaviors and way of thinking. It is something complex to judge characters easily.
riarallahssi:
I always find it surprising to hear from guys on dramabeans. I have this image in my head that we're mostly fan girls here.

In any case, I guess it's natural for So Joon to be consumed by fixing everything using his time travelling power. Weren't men evolved as natural protectors and providers? I mean they hunted and the classic career woman farmed. But really, I think it's desperation that's making So Joon less rational. He's just desperately trying to save Marin's life to the point of forgetting that she needs him in the present. He was as confused about it as shown in the last few minutes of the drama.
Mil:
Yes, I generally agree with you.

He is so desperate, especially when Ki Doong said whether he wants the short term happiness while hurting her for the rest of her life; Or break up now and believe she will move on soon without worrying about him.

That's why in his perspective, it is not two different women even though Ma Rin insists that she is the one who can be touched, and not someone talked something nonsense(while she has yet to know what will really happen).
Thanks for this thread, beanies. It's always nice to get a different perspective on kdramas!
Imbuk talks about our heroine in comment #26:
Anyway, I love ma rin. It got me in the gut when she told she didn't remember the way she lived before she got married. Because, its so true of a lot of relationships. You feel like your life revolves around them and you wonder how you managed to live before you met them. And suddenly, the unthinkable happens and you have to go back to the way you lived and while you were content the way you were back then (that is, before you met them) but now you feel clueless, miserable and in a dark place. Adjusting to your life post you end things with that person is like the hardest thing ever. I am glad that our OTP didn't go through that and I would have flipped a table if anything similar to this had happened in this drama. Thank god, ma rin is just so awesome that she figured it out and set her mother on him (LOL) to bring things into perspective for him. How refreshing is it to see a drama heroine who takes her happiness and her fate into her own hands? You go, girl!
Yumi asks in "Go Ah-sung livens up the company meeting in Radiant Office posters" (#4):
Isn't it a little weird that they are all trying to kill themselves and end up in the same office.

Is I possible they are all dead and the office is limbo? Or is it just a pecular office with a high percentage of suicidal people employed?
ET:
So the Boss From Hell is really The Boss From Hell?

Definitely the workplace can't be heaven. In heaven, we should all be lying on satin clouds and strumming harps. I won't begrudge an occasional appearance of a shirtless Ha Suk Jin though.
Fay asks about Oh Dae-hwan's character in "Radiant Office: Episode 2" comment #17.1.1.1:
But they made him a 30 yr old, like seriously? the guy is a 38 yr old in real life.
redfox:
people are rarely older than 30, superiors just have gray hair, but they are all actually 30. Chaebol grandpas are 30. everyone is 30. they get hit by truck of doom by 30 and still keep living and being 30 after 3 years of treatment or 6 years of coma.
Miranda writes about our "villain" in "Chief Kim: Episode 15" comment #2.1.1.1.2:
It amuses me that Yul is 98% shark-like perfection: he's smart, he dresses well, he's ruthless, he works the hierarchy like a pro, he's attractive, he's successful, he's ambitious… It's understandable that most people would encounter him, test him a few times and quickly decide he's way too dangerous to mess with. That's what Director Jo, her underlings and the rest of the company experience whenever they go up against him, and after they've lost to him a couple of times they decide he's out of their league.

But Sung Ryong and Ha Kyung have managed to find that 2% of Yul that isn't armor-plated, and they are working that angle like crazy. And Yul LIKES being messed with in a new and novel way, because it's a challenge that fits well with his competitive spirit. He's found a playmate and doesn't want to give that up. In some ways, it's like arranging playdates with a kid who is intimidating – it's not completely the kid's fault he's born with natural advantages that translate into bullying, but you have to keep trying until you find that one alternate-energy kid who gels with the bully and de-escalates everything. Sung Ryong is apparently that kid.

With most actors, the flipping between perfection and schoolyard would've looked like schizophrenia. It's a credit to Junho that it's coming across more like "work hard, play hard", because sparring with Sung Ryong does appear to be one of the only ways Yul knows how to play.
While Liina shares additional background info in "Rebel: Thief Who Stole the People: Episode 14." She writes in comment #16:
I do love how witty the writer of this drama is with integrating parts of the Hong Gil-dong tale in the drama. How he twists them and how he/she plays his/her little word games.
For example the whole general thing. Firstly the writer seems to primarily use the Jeongju version of the story, which I haven't read – sadly I do know only the 24 pages Seoul version, but I know about some of the differences between some of the versions – which is considered the most socialcritical one. In the Jeongju version it is actually young Gil-dong dream to become a general, which he can't because of his standing.
Secondly the Mighty Child which is called Aegijangsu in Korea. Aegi means child and jangsu comes from the chinese characters ??, which means something like highest commander, high general. In the drama child Gil-dong doesn't want to be the aegijangsu but he wants to become a peddler. Of course one of the korean words for peddler is — jangsu!

In the Tale of Hong Gil-dong (and I think this is something that is the same in all old text versions) Gil-dong's band of thieves is called Hwal Bin Dang 活貧黨 Hwal: living; working; bin: poor; dang: organization = The organization that lives for the poor (people). The Gibang that Gil-dong is buying is named Hwal Bin Jeong. Both Hwalbin but a different chinese character resulting in a total different meaning…
In comment #4.3 of "Introverted Boss: Episode 16 (Final)," AnyDramaWillDo talks about how the drama could've been better:
Perhaps the most disappointing aspect of the show was that it had the opportunity to make a real statement about mental illness that could have had a positive impact, but just ended up in a muddled mess that made no sense.

Hwan Ki had crippling social anxiety and the attempts to "fix" him could have showed both how he could overcome the negative aspects of his condition while teaching those around him to accept him for himself ( the show did this for the most part, but never really confronted it as a mental illness). Ji Soo self-harmed and attempted suicide, which could have been a way to illustrate depression and the importance of seeking treatment. Perhaps most important, Ji Hye seemed strong on the outside and revealing her deeper struggles could have highlighted realities about suicide since many people seem "normal" even while battling suicidal thoughts.

Instead, these characters' struggles with mental illness stayed one-dimensional, or, even worse, were twisted to reinforce some negative stereotypes about these issues. For example, Ji Soo just got better after letting go of her obsession with Woo Il. So, shouldn't all people who self-harm just be able to get over it? NO! That is exactly the wrong message. Ji Soo needed professional help. Making it seem as if her problems were easy to solve perpetuates the idea that mental illness is just "in the head".

Even the notion that Ji Hye's suicide was unexpected and uncharacteristic could have been used to demonstrate that suicide does not conform to stereotypes. Not every family who experiences suicide finds out "why" – sometimes there is no "why" that makes sense. The show missed the opportunity to explore the impact of suicide (though they did touch on it) in a way that could have had a positive impact, especially since suicide is a difficult topic in Korea.
kpopcrazymuggle shares her success story and love of kdramas in "Open Thread #491" comment #10:
Happiness is when you get a friend hooked on K-dramas! In that spirit, its been a good couple of weeks. I got my friend to watch Page turner at a sleepover which made her willing to give a full-length drama a try. I thought I'd suggest Solomon's perjury/age of youth, you know baby-steps. But she was intrigued by Goblin's storyline and well… Gong Yoo just made my task so much easier :D. I am happy to report she's slowly making her way through Signal and is more than eager to watch Coffee Prince.
I thought I'd share this in a community that would understand the simple joy of having someone who you can get you gushing/squeeing at your laptop screen while watching content in a language thats not even spoken in your country. But it was not suee-worthy moments that k-dramas provide that actually got her hooked, it was the fact that we ended up having quite a few philosophical discussions after watch Goblin. Case in point was when Butterfly God/Dok Hwa tells are lovely duo that he merely asks humans questions and you are free to answer it the way you choose. Kinda like Dumbledore's famous quote about our choices reflecting who we are. This and many other poignant scenes in this drama made it special for me in spite of its varied flaws. This for me is the reason I watch K-dramas over serials from my country (India). The issues tackled are varied enough that you get light-fluff for times when you want to de-stress, moving renditions of youth and challenges they face to dramas that can get you thinking about human nature and spirituality! And then of course the trope filled dramas that I love to hate on cause its so much fun!
P.S Next couple of weeks look to be a hectic work-wise. Any suggestions on short run time dramas? I've just picked up Thumping Spike and would welcome any suggestions Happy Weekend <3
Dramakichi talks about the tone of recent comment threads in #25:
HAPPY FRIDAY EVERYONE!!! TGIF!!! Very rarely do I post anything, mostly just lurk. Just wanna say I am SUPER THANKFUL for DB. I don't really have anyone to chat with about dramas, so I REALLY appreciate coming to DB and reading the recaps (which really help me understand the nuances of the storyline that often get lost in translation) and the comments. Some of you commenters are so quick-witted and funny! And thank you so much to the recappers who take the time (and lots of it) to watch, rewatch, make gifs, and write the recaps – where would we be without you???!!! Fighting!

Can I just say something, though? I've noticed recently that sometimes the commenters get snarky and sound salty – and are (what I interpret as) easily offended when they don't agree with others' comments. So when they respond, it's almost like a verbal attack. Not sure if that's just because these are new people to DB and/or if they are coming over from other sites or blogs where that is more common and more acceptable…

But treating people civilly and respectfully is what makes DB special. It's a place where drama lovers around the world can come and comment and share their likes, dislikes, and feelings about dramas. And we all just need to agree to disagree. And that is OKAY. We all have different tastes, different beliefs, different experiences that affect and color our responses to different dramas and subject material. So we just need to please be mindful of that when commenting and sharing. Say what you want to say without being rude and insulting. That way we can keep DB the special place it is for everyone (except the trolls, of course, but thankfully those are kept to a minimum here…)

I hope I didn't offend anyone… I suppose I'll find out soon enough…

Thanks for reading. And again, SO thankful to DB and the DB community! Hope you all have a happy and blessed weekend!
Bad Cheese Cheddar:
A global community is a hard thing. Yes, the global soup kitchen is wonderful, but all the ingredients don't think the same. It is a hard line to walk to have a discussion that doesn't offend anyone in a global setting. What I like about DB is that we can have a discussion about anything and we work it out and continue to be friends.

From what I read people are working it out on their own and still able to continue on. That is friendship. If one party says something that offends another (intentional or not) they work it out together then they can continue on. Otherwise, how do we learn and accept others?

We all have different backgrounds, we all react differently. Something may make me laugh but offend someone else. I guess it is a form of freedom of speech.

I don't disagree but I find nothing wrong with snarky if used correctly. Many anime characters use snarky humor.
Sera The Ms Temper:
I dont know about anyone else, I am very grateful to be a part of the community here. My level of maturity keeps growing honestly – throughout these years I learnt how to communicate better with ppl, to respect ppl's opinion etc.

Not only that, as the non-English speaker, I keep learning many new words as well. -bonus part
Dramakichi:
And I think that's what we all hope, Sera, that we all mature and grow, become more self-aware, more mindful of what we say and how we say things and how those things can affect others. It often happens that people mean/intend to say one thing, but the way it's interpreted (for a variety of reasons) can be something entirely different. One thing I remember from a training class (and funny enough, I can't remember which training class it was) – KNOW YOUR IMPACT! We should always try to be mindful of what we say because people interpret and understand things differently.

And you're absolutely right on something else – the English language is very difficult. Even "native" speakers often can't/don't speak proper English. So that, too, impacts the message people try to get across.

One other thing I've really noticed with how (American) society has changed in general – people are often so easily offended these days and when they are, rather than discussing, taking the time to try to understand/listen (even if they don't agree) the other side, they are quick to label the others "haters" because they don't agree. Just because people don't agree doesn't mean they are "haters." Again – it goes back to people understanding that people have other beliefs, other experiences, other ideals, so we will never ALWAYS agree. And again, that is OKAY. The world would be a very boring, vanilla place if everyone thought and believed the same thing. God made each of us special – individuals with our own individual, distinct personalities. Again, just because people disagree doesn't make them "haters." They just have a difference of opinion. That's all. People need to get thicker skins and realize that just because others may not agree with you doesn't mean they "hate" you or what you think or what you say. They just have a difference of opinion.

As in the other thread below, people need to learn to comment without making the comments so personal and not attack others on a personal level. People/Commenters shouldn't have to resort to personal attacks just to make a point. If hurting, insulting, and attacking others is needed to make a point, then maybe making the point is not worth the price…
There's a longer discussion on trolling and dealing with hate comments here.
We appreciate it when beanies keep a cool head in the face of provoking threads. Thank you for powering through and not giving up on the chance for great drama discussion.
RELATED POSTS
Tags: Beans of Wisdom