Dr. Champ: Episode 3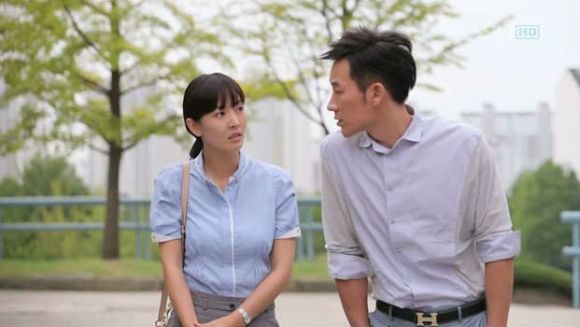 Kyaaaa! Save for one moment of pure fangirl moment, this episode served mostly as an emotional one as it added more dimensions to all the characters in the drama. I wouldn't say it was completely frustrating to experience more tension between Jo Min Ki and Kim So Yeon, but I find solace in the fact that his role is merely a cameo and that he should be hurrying off to work on Flames of Ambition.
The interview begins, and Do Wook immediately targets Yeon Woo with, "I guess you had nowhere else to go to have applied to such a dump as this."
When Do Wook and Jeong Ho Chang reach Yeon Woo to question her, Jeong is surprised to see a doctor of her high caliber applying for Taereung Village, and that she left Hankook Medical Center. She's about to explain why she left when suddenly a nurse bursts into the room. There's an emergency patient.
That patient is none other than Ji Heon, whose leg pains caused him to fall during practice. This is an excellent time to test the applicants and so Do Wook takes everyone over to examine Ji Heon. Imagine the surprise on Ji Heon and Yeon Woo's faces as they recognize each other.
Yeon Woo hangs back as the other doctors ask the history of his injury. But Ji Heon just says, "I was told it was a life or death matter." He turns to Yeon Woo: "What was it again?"
Everyone's attention turns to her as she explains that he was suffering from compartment syndrome, where his leg muscles were basically rotting. Jeong protests that she has an advantage in this "test" because she knew the patient's case already. Yeon Woo denies that Ji Heon is her own patient – she just happened to be at the right place at the right time and that's how she knew of his injury.
Ji Heon pipes up that Yeon Woo saved his life – "She's a really talented doctor. She's my life's savior!" Yeon Woo wants nothing more than for him to shut up, but Ji Heon thinks he's helping the situation. Do Wook starts grilling Yeon Woo on her choice of procedure – particularly the fact that she performed surgery in a judo arena where it wasn't sterilized, and Ji Heon could have gotten an infection that resulted in his death. Ji Heon is all, "But I didn't die!!" He's her one defendant in the room full of men, except his enthusiasm makes him seem a little weird to the other applicants.
The interview over, Yeon Woo sighs about her "good" luck in meeting both Ji Heon and Do Wook in one place. Ji Heon comes by and proudly notes that if she gets the job, it's all because of him. She asks him to stop butting into other people's business (especially since he does it in such an embarrassing way), and he thinks she's still mad at him for the condom. Ha!
Back in the interview room, Jeong informs Do Wook that one of the applicants is actually the son-in-law of the director – if he gets hired it would be very beneficial to them. Do Wook cocks an eyebrow up in interest and takes a closer look at this particular applicant's resume.
At home, Yeon Woo is suffering from an illness called "waiting" – she begs her phone to ring, but it remains silent. I'm surprised she didn't check to see if her voice mail was working. She finally gives up hope that she'll ever get a response and starts to pack a suitcase full of clothes. Suddenly her phone goes riiiiiing!
Yeon Woo: Hello?
In Woo: It's me, Seo In Woo.
Yeon Woo: (disappointed) You have the wrong number.
In Woo: (confused) Huh? That's strange. Isn't this Prosecutor Ma Hye Ri's cell phone?
Yeon Woo: (pissed off) I told you it's not! (hangs up)
Oh I'm sorry – did your ear drums just break? 'Cause that was me going *SQUEEAAAAAAAAAAAAAL!!!!!*
Yeon Woo goes to visit her mother's salon. She drops off a packet of money and then announces that that will be the last of it. She's going away on an extended vacation. Mi Ja thinks that Yeon Woo just doesn't want to pay back the debt and is running away, but Yeon Woo says that it's because she can't find a job. Mi Ja is frustrated – now both her children are officially failures. But just then, Yeon Woo's phone rings.
Do Wook: This is Taereung National Village's Medical Director Lee Do Wook. Please come to the athlete's medical department tomorrow morning by 8.
Yahoo!
Jeong isn't too pleased with Do Wook's selection, but when he is told that the son-in-law might tattle-tale on every single little thing that happens in the hospital, and that he would be more trouble than his worth, Jeong has no choice but to agree. So Do Wook goes off to greet Yeon Woo and introduce her to the staff as the new orthopedic physician.
One of the nurses is quite tactless and has a voice that's louder than she thinks; she "whispers" to another wondering why Do Wook is limping, which makes him stop in his tracks. He turns to face her – he doesn't like people talking behind his back. So she flat out asks him, "What happened to your legs?"
Do Wook replies, "I'm curious as to why Ms. Pi Jung Hwa has sprayed on strong perfume before a treatment, but I don't ask. And why is that? Because asking such things like that isn't very polite."
Shot down! Aaand his sad history is left for another day…
Yeon Woo privately asks Do Wook why he hired her; he had said before that only a person who was shot in the head would ever hire her. Do Wook replies that she's not really the perfect candidate in his mind – but she's the closest one to it. Though unsettled, Yeon Woo is eager to get back to work.
Her first patient is Nam Hyun Hee, a star fencing athlete. However, Yeon Woo doesn't know that: she asks Nam Hyun Hee to repeat her name several times (spelling it wrong too), and asking what sport she plays. The nurse is aghast to see that Yeon Woo is so ignorant of the sports world and immediately tells everyone. Of course, they're all amazed when Hyun Hee comes out of the room completely amused by the new doctor – Yeon Woo had told her to stop playing with swords so that she wouldn't get stabbed again.
Do Wook is examining the gold medalist and archer Park So Hyun, who's complaining of general fatigue and pain. Do Wook suspects that the girl may be lovesick, so he asks to see her cellphone. As she takes it out, his hands wrap around hers for a moment, as if to test her. The coach catches this and is suspicious, so Do Wook flips through the photos in her phone. Most of them are sel-ca pictures from three months ago to the present time. Do Wook notes that she's lost weight, but her face and hands look swollen – has she been on diuretics?
The coach denies that she's on them, but a fearful look on So Hyun's face suggests otherwise. She had been taking them secretly so that she could become more attractive, but if she were caught she would have been suspended as an athlete for three years.
Ji Heon is back at practice, but his leg affects his ability to keep up with the other team members. While sparring with team leader Taek Woo, Ji Heon gets kicked in the shins and sent falling down on the mats. Unable to deal with the pain, he calls for a bathroom break and hops in to check his injury.
Coach Oh Jung Dae can tell that something is up and follows him to the bathroom. Ji Heon makes up the excuse that he's totally fine (he just couldn't pee), but after practice he goes to see the doctor…who is none other than Yeon Woo!
Ji Heon is so proud that she got in – because really, it was all thanks to him – but gets yelled at when she finds out he hadn't been resting like she had told him to. He tells her that it's harder for him to not exercise than it is to just exercise. As she does an ultrasound on his injury, she tells him, "I had a goldfish when I was younger, and one day there was a cut on its tail. I didn't think much of it because it was still swimming fine. But that goldfish… what do you think happened to it in the end?"
It DIED. I think.
Now on to Hee Young and her background – she's followed by her ex-husband, who nags her about being such a great coach but a horrible wife who wouldn't even cook him dinner. Hee Young faces him, "Are we divorced because of that (one reason)?" Oooh – sounds like he cheated on her?!
As she drives back to Taereung Village, she spots Do Wook and Yeon Woo leaving together and driving off in her car. Now, now – too early to get jealous of anything.
Yeon Woo drives to a hotel, where she and Do Wook would be meeting a guest for lunch. Of course, the guest just had to be Professor Seo.
Seo is surprised to see that Do Wook hired Yeon Woo of all people. The air is tense as Yeon Woo sits uncomfortably while Seo insults her. He says that he has one additional condition in regards to a deal between Taereung and Hankook Medical Center: Do Wook must fire Yeon Woo. If not, the contract is canceled.
Yeon Woo points out that Seo is being an asshole over nothing – it's not like the family filed a malpractice suit. But Seo points out that she accused him of malpractice – and apparently that's all it takes to get on his black list forever. Yeon Woo leaves the lunch meeting, and Do Wook limps after her – he had set up the meeting in hopes that the two of them could sort out their matters. If they wait any longer, things could turn out a lot worse. Yeon Woo knows – well, assumes – that Do Wook is going to fire her anyways, so she thanks him for having hired her. He knew her whole story at Hankook Medical Center, and yet hired her when no one else would, thus making her feel like there was someone on her side.
Back at the gym, Ji Heon is clearly not listening to Yeon Woo since he's back at lifting weights. The assistant coach informs Coach Oh that Ji Heon should be resting per doctor's orders, so Oh sends Ji Heon home. Ji Heon insists that he can continue training, as he clearly doesn't want to be cut off, but Coach Oh won't let him stay. It's no use to try and get in shape when his body's not even at its best.
Ji Heon returns to his dorm late, and with his eyes closed, Sang Bong tells Ji Heon that he doesn't really care what he does – as long as the lights are off by 11pm and he does not have to talk to him as much as possible. What a crappy roommate.
Just as Ji Heon gets to bed, he starts getting text messages from Yoo Ri. She sends him a mysterious text thanking him for everything, but it increases his worry. He rushes back out…only to find her squatting outside his building and in need of him to pick her up – her legs are cramping. His reaction is:
She heard he was feeling sick, so she came by to give him a medicinal candy.
Just then, Ji Heon gets a call from a friend that sends him rushing over to a karaoke bar. He searches all the private rooms until he finally finds the one where his sister-in-law is. He drags her out, but her male guest is drunk and ready for a fight – how dare Ji Heon just barge in there and take his girl away? He lunges for Ji Heon, who sidesteps, and crashes into the wall.
The man makes such a ruckus about Ji Heon hitting him that they all end up at the police station. He insists that his sister will determine whether his injury was self-inflicted or done by Ji Heon when she finally arrives… and it's Yeon Woo. The man is Kyung Woo, her older brother.
Embarrassed to see each other, Yeon Woo and Ji Heon avert their eyes. Yeon Woo quickly says that her brother's injury is self-inflicted, which causes him to get mad at her for not helping him get some money out of it.
Outside, Yeon Woo asks him how his business is going; he must have so much free time to come up to Seoul and party. He starts talking big and tells her not to worry – soon enough he will set up a hospital just for her. Yeon Woo wants none of that – she just wants him to stop getting into debt. Kyung Woo is offended that she must be looking down on him, and reminds her that she's not too great herself – after all, a bunch of doctors turned their backs on her.
They leave, bitter with each other, and that's when Ji Heon and his sister-in-law come out of the station. He's pissed that she's leaving Yi Reum alone at night and lied about her job at the super mart. His brother wouldn't be too happy to know she was doing this. However, she throws it right back at him – if Ji Heon hadn't caused his death, she wouldn't be in the situation right now.
Yeon Woo overhears this part of the conversation, and because it's so personal she quickly leaves.
Ji Heon promises that once he leaves Taereung Village – which is soon – he will give her everything he owns, and that should help support her and Yi Reum.
Yeon Woo and Ji Heon wait together by the bus stop. It's awkward, as both don't really want to address the pink elephant in the room (of their personal relations bringing them down to the police station) but can't really help it. Ji Heon thanks her for her statement, but she shrugs it off, saying that situations like that with her brother arise often. He tries to reassure her that Kyung Woo will grow up once he's married, but Kyung Woo is actually divorced.
Ji Heon wraps his sweater around Yeon Woo, who's under dressed for the chilly night, and manage to catch a cab. Ji Heon squeezes in and asks the driver to take them to Taereung Village first, and then to her home. He doesn't have money, so can Yeon Woo pay for it? But it's a longer way home for her to go to Taereung first, and then home! They squabble for a bit, but get the driver moving.
Ji Heon insists that he must get to Taereung in an hour, since he has practice in the morning. He's a role model, and must set a good example – despite her orders to rest. That sparks a thought in Yeon Woo's mind, and she asks what should she do if she were to spend all her effort exercising but can't beat her opponent who is so much stronger than she and even cheats. He advises that there is no solution except to strengthen up and match her opponent. Yeon Woo feels like this means she will lose (her battle to Professor Seo), but Ji Heon replies, "No, you win. Cheaters fail. There's a referee."
Problem is, in Yeon Woo's battle, there is no referee.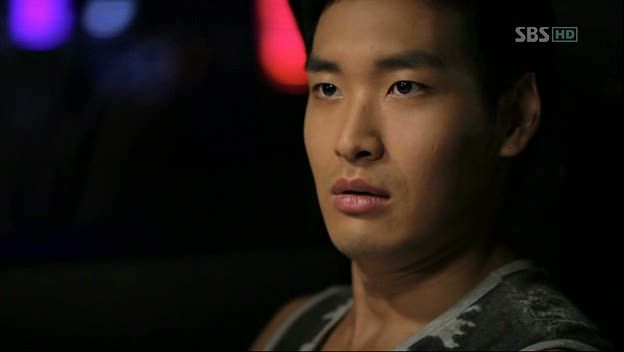 His words are encouraging though, so when the driver asks where they want him to go first, Yeon Woo says they'll drop Ji Heon off first at Taereung Village. The driver makes a sharp U-turn, causing Yeon Woo to fall on his lap. Instead of looking happy, Ji Heon stiffens, uncomfortable with the sudden closeness. I think he's understanding and realizing the depth of his feelings for her.
The next morning, Coach Oh punishes the team with fifty laps around the track. One of the members was out late last night, and so he will have to stand by and watch as everyone else suffers. Ji Heon is apologetic and guilty, while all the others hate him. Exhausted after the run, Taek Woo grabs Ji Heon's collar and yells at him for going out late. Ji Heon apologizes (with a touch of rebelliousness) to Taek Woo. Sang Bong advises that Ji Heon just leave if he's going to continue making trouble.
Ji Heon: You're just the same – always rebuking others. It wasn't enough to chase out Director Wang last time? Why – is it too embarrassing to hear when you caused the trouble?
POW! Sang Bong punches Ji Heon and Woo Ram and another team mate have to hold back the two from escalating the fight. Sang Bong angrily says that he doesn't care for punks who can't get their act together after leaving the village five years ago. Apparently, Ji Heon had left of his own accord last time – and that same worry is pressing on Coach Oh's mind. He wants to look for a possible replacement in case something happens wtih Ji Heon.
As for Hee Young – she times her swimmers on their laps, and Yoo Ri is disappointingly off her game today. In fact, Yoo Ri is off her game 361 days a year, but today, it's all because of Mr. Cute Butt, a.k.a. Ji Heon.
After practice, Hee Young tells her star swimmer Eun Suk to get ready for a special event for Taereung athletes and Hankook Medical Center. She'll be accompanying him, and even though he may not like these formalities, it's required because of his star status.
Yeon Woo arrives at work to formally say her goodbyes, since she knows she has to leave for the benefit of Taereung. However, Do Wook asks that she stay for the afternoon; he has an errand to run and can't leave the medical department unattended. She can leave after she finishes up her examinations. Heh heh heh…
Of course, once she's done Do Wook calls her up and says that he needs her to bring over some important documents that he had left behind. And of course – he's at the event!
Hankook Medical Center's director Young Hae Jung and Professor Seo are chit chatting with Do Wook when they spot Eun Suk. That brings Do Wook face to face with Hee Young. He ignores her completely, and even when she asks that he not be so harsh to her, he doesn't care. As for Professor Seo, he's pleased that Yeon Woo isn't around because that means Do Wook really did fire her.
Meanwhile, Yeon Woo arrives at the event and guess who sees her first? It's jerk boyfriend Han Ki Young! Yeon Woo immediately mutters, "Hey Han Ki Young, can you leave me alone and get lost?!" Han Ki Young tries to make peace with her by saying that he gave her a very good recommendation when someone went to look for him regarding her. (Methinks it's Do Wook.) But Yeon Woo doesn't really care. She spots Do Wook and brings over the papers. Unfortunately, that brings her in contact with Professor Seo. Again.
Do Wook orders her to sit down and then informs Director Young that he has one more condition to add to their contract as well: Fire Dr. Seo.
Aaaand we have our referee!
Comments:
I just wanted to highlight this particular scene in the taxi cab. Just how often do you usually see the car from the back? Usually the camera is affixed in the front and you can see their faces, but this particular scene shows off the car from the back, so you could see that they were driving forward, but you couldn't tell where they were going. (Not to mention, you could also see that the driver wasn't exactly staying in the lane lines…) It works almost like a metaphor about these two – they're hurtling forward, but they can't see their destination.
That's kind of how I feel like with this drama – I can't tell what the end purpose is for all the other characters except for Ji Heon (whose goal is to win a gold medal). I'm fine with it though, and I think that's a testament to the writer of this drama who has managed to keep my level of interest up while not really developing the plot. Everything seems to be tightly written in this episode, and I particularly loved how Yeon Woo's brother was introduced. At first, one thinks that he's just a Regular Joe that Ji Heon got involved with, but it turns out that it's a very small world for him and Yeon Woo. It might be a little too coincidental that these two keep bumping into each other, but I think that's the writer's way of strengthening the possible connection that Ji Heon and Yeon Woo will have.
On that note, Jung Gyu Woon is a delight. He's got the funniest and most expressive face that makes him really suit this role as a lovable dork. Uhm Tae Woong… is just looking broody. Aside from his cocked eyebrow – which he raises so well! – there's not much else to him. He's only interesting when he speaks, and it's not very often.
In terms of tone (and I'm sure comparisons have already been made), this drama feels a lot like Coffee House in that the focus of the drama is the development of Seung Yeon and Jin Soo. Here, it's the development of Ji Heon and Yeon Woo. I think Ji Heon is far more complicated than he seems, because it seems like he just may leave Taereung again once he gets the money, and he will give up his gold medal dreams like before. The drama is also tightly written, like Prosecutor Princess, in that it seems like there will always be a new case that will present another difficulty for Yeon Woo to deal with, but it won't drag out for very long (like in I Am Legend).
But most importantly, the question to ask is – will Professor Seo be found out, and fired?! 😀
RELATED POSTS
Tags: Cha Ye-ryun, Dr. Champ, featured, Jung Kyeo-woon, Kim So-yeon, Uhm Tae-woong