Dr. Champ: Episode 4
I want that cow robe!
The fourth episode could easily be named "Truths unleashed": all the secrets we've concealed and that have been concealed from us, will slap our faces. Jealousy, longing, regret; this drama captured my heart by portraying so naturally such painfully human feelings. And it has cute comic moments to boot!
SONG OF THE DAY
불독맨션 (aka Bulldog Mansion) – Summer Rain [Download]
Audio clip: Adobe Flash Player (version 9 or above) is required to play this audio clip. Download the latest version here. You also need to have JavaScript enabled in your browser.
Episode 4 recap
Okay, I have to say this: I don't wanna sound like a teenage fangirl, but Do Wook's expression while almost commanding Dr. Seo to be fired was EPIC. Everyone's shocked – why would he ask for this? Do Wook explains that Dr. Seo caused a big accident that was settled with money. Unexpected thing is, he claims to have talked with the father of the patient, convincing him that if he sued the hospital, he would receive a bigger sum. Furthermore, as a civil suit would take too long, they're thinking of taking it to the police showing an envelope (presumably with all the documents that prove his malpractice) to make them sure that he's being serious about this.
Take that, Doctor Terror.
The Director wants to postpone the matter – why can't they talk about this later? That won't do, Do Wook notices that there are a lot of reporters there, he can give them the front-page news right away. Finding herself between the Devil and the deep blue sea, the Hospital Director complies – Dr. Seo must leave them. NOW. Everyone's happily in the same boat, minus Doctor Terror who warns them: "Just wait and see".
After the reunion, a surprised Yeon Woo wonders why he changed his mind, wasn't he supposed to fire her? Well, not exactly, that was something she said, not him. HA! Do Wook's awesomeness goes beyond my belief as he gives Yeon Woo that mysterious envelope and commands her to memorize the information inside it. But wait! Wasn't it supposed to contain nothing more than proof and legal details? Why should she memorize that? She opens it only to find the athletes' profiles. Aw, Do Wook, you're fantastic!
As they're going out the complex, Do Wook sees both Hee Young's hubby wooing some woman and Hee Young herself walking towards that spot. Conflicted, he tells her that he has something urgent to say, in order to prevent her from seeing the scene. The problem is that he has nothing really important to say, so he makes up an excuse – he'll get the coaches together for dinner, when she'll have time? She is a bit puzzled, that was all? Do Wook goes a step further and, since he's unable to understand what's happening between her and that loser, he can't refrain himself from asking the latter's whereabouts. She gets nervous and invites him to have dinner with them, if he's so curious, and goes away.
That night, Ji Heon is talking with his nephew when Yoo Ri sits by his side, expressing all her jealousy. Is the nephew number 1 in speed dial? She should be there! Ji Heon has more delicate problems to handle; the director isn't even greeting him, still angry about his irresponsible behavior that night.
Yeon Woo, unconsciously, is starting to develop a huge crush on Do Wook (one that I attribute more to thankfulness than love-love), while remembering his words when he acted as her referee. You know? Like a teenager, playing with the bedspreads, smiling foolishly… Aw.
The next morning, at Taereung, the judokas are informed that SBC will film Sang Bong, so they have to train regularly. Ji Heon, still grounded, has to take care of minimal tasks like the cones or refreshments. Somewhat ashamed, he wants to avoid the cameras, he can't allow to be taken (and recorded!) as a lowly assistant. Suddenly, Yeon Woo shows up to tell him that she has the clothes he lent her and would like to give them back. He senses that she's particularly happy this morning, something she attributes to her referee.
Yeon Woo goes to work, where Do Wook invites her to have some coffee while he tests her to see if she has memorized the profiles he gave her as homework, but she barely knows the boxing team. As they're talking, blood results from athlete Gun Young come in – he has liver failure, he'll have to leave Taereung immediately or he could die otherwise.
Meanwhile, Yeon Woo is checking athlete Min Ki, who desperately wants a note to rest for two weeks. She says it's unnecessary and it's also illegal to write a fake doctor's note, so there's no way she'll do it.
Next!
Now it's judo's coach turn, who isn't exactly there because he's hurt. What could it be? Apparently, he told Yeon Woo not to call Ji Heon out at night, no matter how much she likes him. Totally pissed, she storms out and goes to Ji Heon to demand an explanation; she's now suspected of having an intimate relationship with him! He doesn't understand, he didn't say those things to the coach. Anyway, she wants him to take full responsibility and clear her from those rumors. She can't believe what happened; she should've known he wasn't trustworthy when she saw that condom.
While discussing about that, the coaching team appears giving her the chance to tell them it was all a misunderstanding. Jung Dae agrees and apologizes for the mess his guys created (Sang Bong, Taek Woo, the coach). But the question remains unanswered, why did they meet that night? At first, Ji Heon doesn't want to tell the true story behind his family matters, but the confuse situation forces him to do it: he was late because he received a phone call telling him about his sister-in-law's job. Jung Dae understands and leaves, while Taek Woo tells him that he should've told him and all this mess would've been prevented. So… it was him, huh? The one that spread the rumors?
Yeon Woo is deeply touched by Ji Heon's honest gesture, he had no need to tell them the backstage of his private life.
After clearing her name, Yeon Woo is taken by Do Wook to the coaches' reunion. He informs them that all he wants to do are complete medical check-ups to every single one of the athletes. Jung Dae refuses, it's competition season and everyone's busy. Do Wook knows best – there won't be a competition over the next two weeks. Information is power, right? Archery and swimming agree right away.
We get another awkward elevator scene, and this time it includes our two doctors plus Hee Young. Yeah, a pair of scissors wouldn't be useful to cut the atmosphere, something more in the line of a chainsaw would do. Do Wook is surprised, he never thought Hee Young would agree so easily to the check up. She just did it for ol' times' sake. Given that they had a good past relationship, and that he's also doing it for the athletes health, why would she refuse?
At the National Village, Ji Heon goes for medical advice. Yeon Woo, under her breath, asks when they'll go out for dinner. Ji Heon suggests last time's restaurant, but she's not so keen on the idea for obvious reasons.
Do Wook wants to confirm Gun Young's departure from the boxing team, only to be informed by the coach that he hasn't even told him that he had liver failure. What's more, since this morning he's been missing, which means that he could be in problems, maybe in real danger of death.
Knowing that the person behind the rumors was Taek Woo, Ji Heon bumps into Sang Bong to apologize for thinking bad of him. Sang Bong smiles bitterly, he didn't believe his excuse, and tells him that those words he spoke to slide away from his punishment will make his bro and sister-in-law ashamed – he knows his brother, he wouldn't let her do that. Ji Heon fills in the blanks: his brother is dead.
Gun Young can't be found anywhere, and everyone's worried. They keep on looking for him, until Do Wook finally finds him in the old boxing room, apparently fainted. Fact is, he wasn't unconscious, just lying there, hiding and wishing he was dead: his career is over, and his future looks dim and pointless. Not only he'll have to leave his dreams of a bright life at Taereung, where he had a job he loved and a place to sleep and eat; now he'll even need a liver transplant. Being an orphan, the chances of getting a donor are scarce. The coach feels his words as if they were daggers directed to his heart – they had a father-son relationship, why is he saying those harsh things? In tears, they give each other the most meaningful hug.
As he sees Gun Young leaving, Do Wook feels remorseful for having ruined an athlete's career. What he did was the right thing, but he can't help seeing this kid leaving as a heartbreaking solution.
With all the turmoil, Yeon Woo forgot that she had an appointment with Ji Heon, who's waiting for her in a pub drinking just water. She's driving Dr. Lee home, while talking about what she felt that night at the medical center, completely unaware of the hour or her pre-scheduled dinner plans. She admits not understanding the athlete's position, if he was in such a desperate life-or-death situation, he should've left without engaging all of them in that melodrama. Their chat is interrupted by Ji Heon's call, who is pretty upset with her for not showing up. He urges her to go; he'll wait no matter how late it is.
Hm, it is indeed late, and Yeon Woo goes directly home where she finds… Ji Heon! The pub closed and he's feeling a little bit flustered because she stood him up. After all, the one who suggested going out was her. Whatever, she doesn't care, she's sorry and all, but they can go out for dinner another time. Noticing that she's being serious about cancelling, he puts his characteristic puppy face and says he's hungry (so cute).
And that's how we get a ramen scene! So, she's inviting him for dinner, but the twist is… he's cooking! What follows is too hilarious for words, and I know I won't do justice to this totally winning turn of events. They clumsily try to handle the hot pot, which ends up strewing its content on Ji Heon's *ehem* sensitive zone. He goes to the bathroom to cool down the affected area while she insists on entering and taking a look to see if he's burnt or something – she's a doctor, he shouldn't be embarrassed. He forbids her to enter, and after somehow easing his pain, he goes out bare-chested. Now, it's her turn not to be embarrassed, wasn't she a doctor? They agree to wait for his clothes to be dry, and in the meantime, they can have that elusive dinner.
As they talk about the incident at Taereung, Ji Heon quickly catches her soft tone every time she mentions Do Wook. She admits thinking that her career was over, until Dr. Lee helped her, giving her a job. That must mean that he was her referee, right? Our boy isn't so slow, after all. Jealous much? He corrects her, she isn't working there thanks to Dr. Lee, she's there thanks to him.
Yeon Woo: Okay, it's all because of you. Satisfied?

Ji Heon: Receiving all these compliments… I like it.
A-do-ra-ble.
They make a ramen toast, for the national athlete and the national athlete's doctor.
It's clear that Do Wook hasn't forgotten the loser hubby of his past love, so he goes to confront him. He's seen him with that ordinary girl, isn't he concerned? If his wife happens to find about his affair, things could get nasty. Hubby sees that Do Wook hasn't received the memo that informed that Hee Young was divorced, so he tells him – they could even re-start where they left many years ago.
Do Wook now is nostalgic and his heart must be racing at 300 m/h, as he remembers when he was at the hospital (seemingly after whatever caused his leg to be like that): while he desperately begged her to get lost, she told him that she was sorry and that she wouldn't come back, he would've done the same for her. Whoa, don't wanna be prejudiced (maybe she had a reason for this?), but this chick really turned her back on him.
On the bright side, Ji Heon got back to training and wants to thank Yeon Woo for her outstanding medical job. He's prepared a national team coat with her name printed on the back as a gift. They retake their habit of discussing awkward moments they spent together (before it was the condom, now it's his ramen-ized zone), until Do Wook passes by. Yeon Woo leaves Ji Heon, showing where her priorities are.
The day was too good to be true… Sigh. Problems are about to arise, a fencer was caught for doping because of Yeon Woo's prescription (the one in episode 3). The nurses don't know the precise details on this, but the situation is indeed grave; he had to forfeit a gold medal and is super Hulk levels angry.
Yeon Woo is so shocked that she can't gather the strength to enter the room where she'll have to face the consequencies for her acts. Do Wook is by her side, and opens the door for her.
The committee is waiting for ya, darling.
Please, my dear kaedejun, tell me that our Dr. Kim will find a way to explain what has happened!
Personal Comments
Hm. First, a nitpicky comment about something that's been bugging me. I'll admit knowing absolutely nothing about medical teams or even medicine, but shouldn't Yeon Woo know at least what can or can't she prescribe for an athlete? I mean, there must be lists of non approved stuff that can give problems to athletes who take them. I really hope we get some explanation once she discusses this with the committee and/or Do Wook. I'm not asking for super serious realism, just some logic…?
If we forget the diehard medical details, how delightful is this drama? It's so simple, right? The same things that caught my eyes when I started watching, are still there. These people are so real, with a past that haunts them in this present (which isn't that bright either). The part that I feared would drag it down, everything related with sports and the athletes' lifes, is actually a medium to portray the human side and ways of seeing life of the main characters.
We got to see much more of Dr. Lee, and now I'm pleasantly confirming that his character isn't entirely a House – this version has the heart the other lacks. He's not sad and bitter, riding a high horse of "I know best"; he's super talented but empathetic too, while still being humorous. He worries about his environment; look how he reacted after he had to dismiss the boxer or after seeing Hee Young's ex with another woman. He tried to give them a chance to solve their problems by themselves, not butting into their lives but giving his honest advice. Granted, with the ex he was a little more violent, but they clearly have a past, so I was surprised of how coolly he managed the situation.
Talking about her, I wish that Hee Young stopped being a staring angst device and gave us a little more sparkling chemistry with, actually, life itself. She's always wandering around with her emo attitude and no clear goal.
I want to see more of Sang Bong and Ji Heon's past too. The former seems to have known Ji Heon's brother, but not so much, since he wasn't aware of his death. Then, what happened? Why did Ji Heon leave the team years ago? I also want to see them growing as (albeit bickering) friends. Is it too much to ask? A girl can dream, right?
Lastly, the question that inevitably will pop up is, who's the lead? Can I say that I don't care? I just love the pre love-angst too much to let the drama reduce itself to a "romantic triangle". Yeon Woo is developing some kind of attraction towards Do Wook, but it's the typical "I respect you so much that you're the current sun in my solar system" work related crush, so anything could come up from that side. In the meantime, the stronger private life bond is growing alongside Ji Heon, so I wouldn't be surprised if he was the one for her. I can't say for sure, and I don't wanna spend too much time analyzing this – I want to see how their relationship flows without being on board anyone's "ship".
Could this drama's inherent simplicity become a liability in the future, one that crosses the thin line between delightfully quiet and boring? I just hope that they can keep up the overall positive atmosphere without falling into unnecessary angst or similar tropes.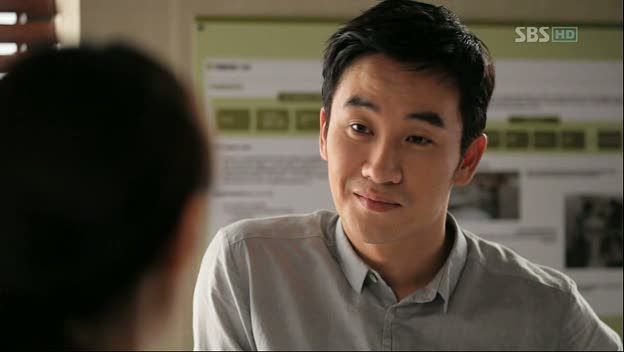 You're such a tender-hearted cutie-pie, too!
RELATED POSTS
Tags: Cha Ye-ryun, Dr. Champ, featured, Jung Kyeo-woon, Kim So-yeon, Uhm Tae-woong