Me Too, Flower: Episode 7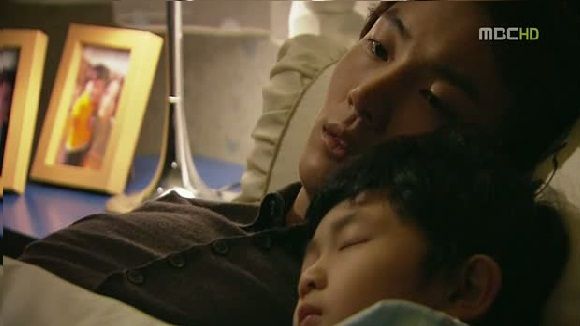 Ah, noble idiot syndrome. It's a standard crutch that our heroes like to lean on to prove to viewers how sacrificial and pure they are. Too bad it's also one of the most infuriating sicknesses that has ever plagued k-drama land. It's a close second behind cancer. Fortunately, it hasn't hit our hero too hard…yet.
SONG OF THE DAY
Me Too, Flower OST – "꿈을 꾼다" (Dreaming) [ Download ]
Audio clip: Adobe Flash Player (version 9 or above) is required to play this audio clip. Download the latest version here. You also need to have JavaScript enabled in your browser.
Episode 7
Hwa Young advises Jae Hee to stop playing around with girls like Bong Sun and Dal. She's going to find him a girl who matches his status, which just reinforces the age difference between the two actors. She sounds like a crazy mother-in-law…only she wants him for herself. Eck.
He assures her that he won't marry until Ah In is grown up. Hwa Young smiles at his declaration, like a slave owner after tying his favorite servant to a ball and chain and throwing him in the dungeon. Obsessive possessive is her second name.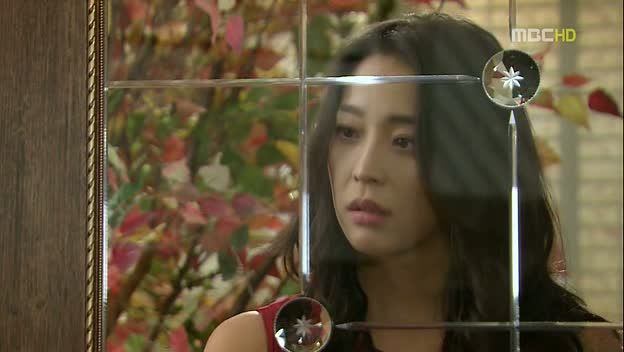 She later gets a call that some business venture went awry, and she runs to open the door to Jae Hee's apartment. It's locked, however, and her eyes widen in surprise. Slight reality check.
Jae Hee watches her from inside and slowly steps forward to open the door. She cautiously looks up at him and says that the company's supplies have been cut off. The reason is unknown so Jae Hee asks her to book him a flight overseas to figure out what happened.
As Bong Sun and Maru head out for patrol, they hear the parking garage boss grumbling about Jae Hee's sudden vacation. This makes Bong Sun stop in her tracks while Maru shakes his head in disapproval. The boss should just fire that lazy butt. Bong Sun jumps to Jae Hee's defense and orders him in the car. Hehe.
Later that week, Bong Sun asks the boss to refrain from parking in the police lot; they have an event. He agrees, and then goes on about how free he feels without that punk Jae Hee around. Apparently, his vacation has turned to sick leave which worries Bong Sun. She continues to mull over this information while chomping down on a chocolate bar. Stress eating: a figure-ruining enemy in disguise.
Suddenly, a mob of girls with huge signs run across the street. Shrieks of "Pink Chicken" pique Bong Sun's interest and she makes Maru stop the car. She runs into the crowd and yells that she's a police officer; if they don't move she'll have to arrest them. Puhaha. She even begs the foreign fans to move in Japanese.
The door opens to reveal Pink and Bong Sun falls down from her excitement. The other girls step all over her as they follow Pink elsewhere. Maru helps Bong Sun up and comments on how ugly and short that guy is. Kek. The meta-reference is golden. He continues to tear down his alter ego: He has no charm and his stage name is super corny. What kind of man is named Pink? Bong Sun tells him to shut up and chases after Pink.
Afterwards, Bong Sun stuffs her face with more sweets. Maru tells her to slow down; she's going to get sick. He says that he thinks he knows why she's acting like this but Bong Sun doesn't hear his explanation. She jumps out of the car to throw up, and Maru pouts — what does she like about that idiot Jae Hee anyway?
The days pass and Bong Sun continues to overeat. Maru eventually tells her to just go find Jae Hee — isn't his address on the police report from the diamond bag incident? She perks up and ends up skulking around the handbag factory. She meets Mr. Bae who invites her inside after she says that she's looking for Jae Hee.
Mr. Bae gives her a cup of tea and asks if she's Jae Hee's girlfriend. This flusters her and she murmurs no. Her head snaps back up when Mr. Bae comments that this is the first time a girl has come looking for Jae Hee, and a slight smile plays on her lips. She remarks that Jae Hee must have worked here after his parents passed away, which surprises Mr. Bae. He told her that too?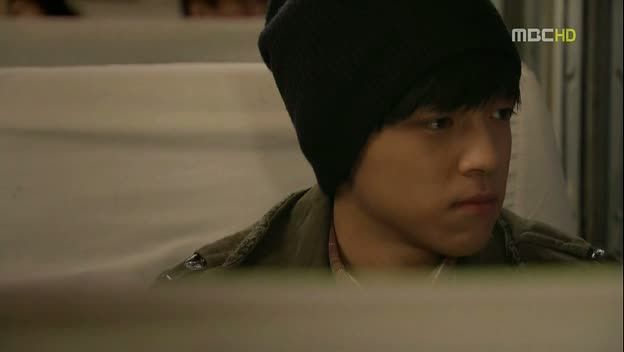 Mr. Bae reveals that Jae Hee lost his parents in a car accident. Apparently he lived a comfortable life, but after the accident, a relative took over his father's company and Jae Hee was left with his old house. But he didn't keep the house. 13-year-old Jae Hee found a homeless man on the street and gave him a make-over. He took the bum to a real estate agent and sold the house.
He took the money and came to Seoul to work. When Mr. Bae learned of this story, he had scolded Jae Hee for engaging in fraud, but Jae Hee had replied that his decision seemed like the right thing to do at that time. To him, selling the house was necessary. Bong Sun smiles at the frank Seo Jae Hee answer, which doesn't go unnoticed by Mr. Bae.
She asks if Jae Hee is sick, but Mr. Bae says he's out of town on a business trip. Mr. Bae frets over the fact that tomorrow is Jae Hee's birthday but has nobody to cook seaweed soup for him.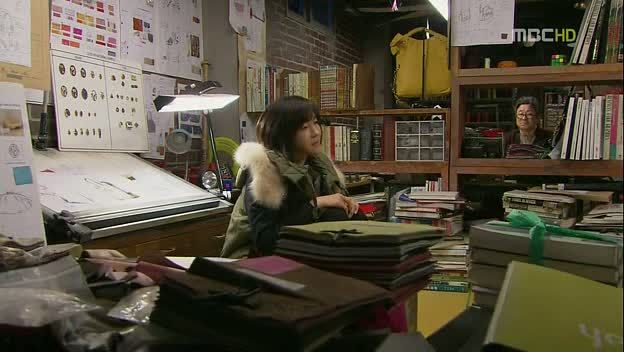 Bong Sun explores Jae Hee's room, and various thoughts circle around in her head.
"I had felt that you and I have a lot in common. It's hard to point out everything that makes us alike, but I do know one thing. I want to know more about you. I asked Ahjusshi to tell me more about you, and he replied that you're selfish and inclined to do everything your way. You never let go of a challenge because you believe anything is possible. You're still immature and naïve. But those qualities about you make me happy for some strange reason."
Her reflection is interrupted by a phone call from Jae Hee, which makes her look around in surprise. She's now at the bus stop and a fictional Jae Hee approaches her on his bike. He reminds her that they have never exchanged phone numbers, so she must have gotten his from the police report. Aw. It's stalkerish in a cute way.
Jae Hee's words shake Bong Sun out of her illusion and she sits heavily down on the bench. She tells herself that she's overstepping her boundaries. They're strangers who don't even know each other's phone numbers, remember? I thought it was established that you weren't strangers when you two made out…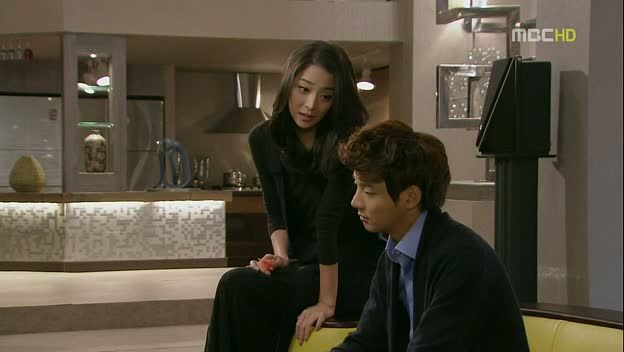 Jae Hee comes back from his trip and Hwa Young tries to open the door to his apartment again. It's locked again and she halfheartedly rings the doorbell. He comes to the door and pauses before letting her in. You're sick of her already, aren't ya?
He says that everything was taken care of and she nods in approval. She asks if he's still angry at her for the stolen bag stunt, and when he doesn't respond, she says that the success of the marketing tactic is more important than anything. He tells her that she's still in the wrong; if she continues to act like this, he'll leave.
She hastily apologizes and hands over a leaf as a sign of peace.
The next morning, Bong Sun and Maru take care of a car accident involving a drunken man, and freezes when she sees Jae Hee on the sidewalk. He comments on how cute she looks in yellow. She quickly gets into the car and Jae Hee follows suit. (This isn't a dream, right? I might throw something if it is…)
When he requests a lunch date, she turns him down by saying that they're not close enough to eat a meal together. They don't even have each other's phone numbers. He casually pulls out his phone and asks for her number, which renders her "We're strangers" excuse obsolete.
Jae Hee brings Bong Sun to an expensive restaurant, but Bong Sun, who worries over the prices, insists that she wants Korean food. They walk towards an upscale barbeque place, but Bong Sun freaks out again and they end up eating ramyun outside.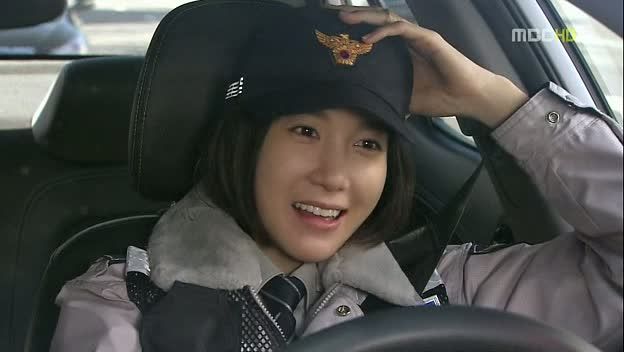 As she eats, he tells her that he missed her and that she should wait for him after work later. She asks why and he replies that he wants to see her. He says it bluntly without the usual cheesiness and Bong Sun stares at him in surprise.
She tries to reject his offer by saying that he only wants to play mind games. Jae Hee eventually wears her down and promises not to stand her up. Oppa will come if she waits patiently. She leaves in a huff, but lets out a huge grin as she drives around the neighborhood with Maru. Aw. She's so cute.
A nervous Maru asks what's wrong with her. Why is she smiling like that? It's scary. A car cuts them off, but Bong Sun announces that she'll let the guy go today. Maru inches a little farther away from her in fear.
Jae Hee tries to get his job back and even kneels on the ground to beg forgiveness. The boss urges him to get out but falls silent when a regular customer comes up to them wanting Jae Hee, and only Jae Hee, to park her car. Operation Fire The Punk Terminated. His colleague enviously comments on how popular Jae Hee is with the ladies. You have no idea, friend.
Dal has a photo shoot in front of Dr. Park's office, and he enthusiastically greets her. She rolls her eyes and tells him to shove off; she's busy. He immediately corrects her manner of speech and threatens to kick them off his property. She thinks he's lying and then remembers that he knows how to contact Jae Hee. He offers her a deal: If she eats lunch with him, he'll call Jae Hee. He doesn't have anyone to lunch with today and he hates eating alone. Aw. He's such a lonely, eccentric man.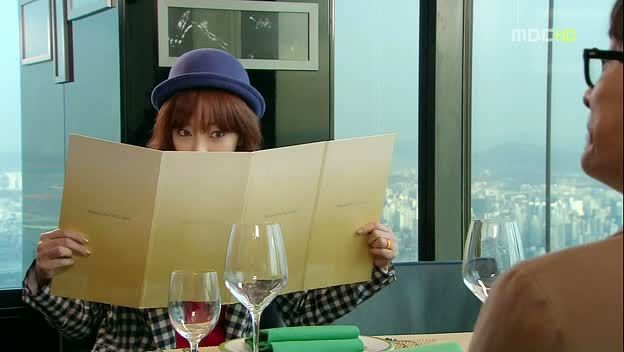 She tells him that she doesn't eat out unless the food is gourmet, which makes him smirk. They end up at a posh restaurant and Dal hides how impressed she is by saying she's on a diet and needs a vegetarian meal. Dr. Park calls the waiter over and tells Dal to specify exactly what she wants. She shifts nervously and blurts that she wants the most delicious thing that's not on the menu. Lol. You are so bad at acting rich.
She asks if he really owns his own building and he replies that he has no need to lie to a 24-year-old little girl. She replies that she wants to know because she doesn't like to associate with anyone whose salary is under 300 million won a year.
He asks if those men like to associate themselves with girls like her. If they're that rich, this means that they are educated and studied abroad. These men are probably from wealthy families and have parents who value girls by the level of education, family background, manners, and career path. Too bad Dal lacks in every department. Ouch.
She rushes out after calling him a pervert. In the elevator down, she reminisces about her old life. She used to be the privileged daughter of a rich man. She had her own chauffeur and lived in a house with a beautiful garden. Knowledge? Upbringing? She'll just buy them. A man stares at her and Dal yells at him. What is he looking at? Is she that pretty? Lol. She's sassy even when she cries.
Jae Hee gets ready to meet Bong Sun, but a call from Hwa Young throws off his plans. Ah In is sick and his regular doctor can't be reached; she's taking him to the hospital. Jae Hee rushes out and neglects to call Bong Sun to cancel their plans. He meets them in the emergency room as Bong Sun waits for hours in the police station.
The doctors think Ah In has meningitis and informs Hwa Young and Jae Hee that they'll need to run some tests. A needle is injected into Ah In's back to extract a sample of fluid, which is when Jae Hee gets a call from Bong Sun. He swallows his guilt as he turns off his phone and comforts a distraught Hwa Young. He later sends a short text to Bong Sun explaining that something came up.
Fortunately, Ah In's condition isn't too severe and his treatment is a success. Jae Hee finds Hwa Young sleeping on the couch and he covers her with a blanket. He returns to Ah In's side and tears up when Ah In calls for his dad in his sleep…only Ah In never knew his dad. Shouldn't he be calling out for his mom?
The following day, Maru runs up to Bong Sun and informs her that Jae Hee came to work and he looks completely normal. She shrugs her shoulders and indifferently says she saw him in the morning. She assures Maru that she didn't wait that long yesterday, so he can stop with the excessive concern. But her cool front melts as soon as Jae Hee shows up at the station.
They head outside where Jae Hee shortly apologizes for skipping out on her yesterday. He moves to leave but Bong Sun blocks him and asks if that's all he has to say. His guilt bubbles over and he blurts out that he's sorry for ever bothering her. He won't annoy her from now on. She quickly yells that he doesn't bother her because she likes him. Yay for heroines who make the first move!
Her confession kills Jae Hee inside but he puts on a stoic face and tells her to forget about a penniless, good-for-nothing loser like himself. She scrambles to inform him that she's poor too; her salary isn't that great and the house she lives in isn't even hers. Besides, she likes him, not his assets.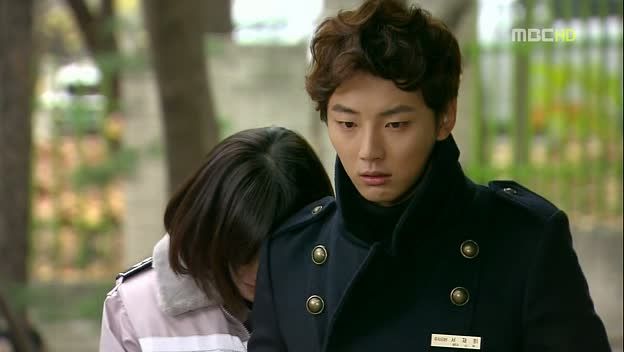 Jae Hee tries to walk away again but Bong Sun grabs onto his arm. She pleads for him to stop acting like this and eventually succumbs to tears. He hesitates for a moment but wrenches his arm from her grasp and leaves Bong Sun crying on the ground.
After work, Bong Sun drags herself to Dr. Park's office, where he lets her cry on his shoulder.
They head inside for a cup of tea and he teases her about how ugly she looked when she cried. She glares at him and he goes on to say that he's not mature enough to pretend nothing happened. Still, he has a better personality than the guy that made her cry, right? He urges her to move on. She's too good for him anyway.
She asks if Dr. Park could beat up the other guy for her, and he says no. He'd give the man a consultation. He wants to make money, not go to jail. Hah. How can Jo Minki be so annoying and likeable at the same time? He goes to say that he's jealous. What kind of man could make Bong Sun hurt so much? She asks if he wants to date her then. He immediately nods. Ah! We're heading into slightly creepy territory now.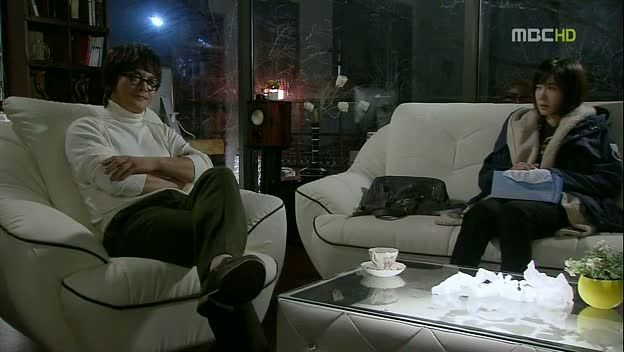 She scoffs (thankfully) and says that they'd break up in a short while anyway. It seems that she's not meant to be in a relationship. He starts to ask about her bond with her father, but Bong Sun cuts him off. Why does he make her talk all the time? What about him?
Thus begins a Lifetime movie about Dr. Park's life. He opens up by saying he grew up in a house with servants calling him "master." He studied economics in Thailand and enjoyed every privilege he was given. But one day he woke up and realized that he hated his life. Every aspect of it, including marriage, was carefully planned by other people. He had no control over anything.
This suffocation made him turn to drinking and taking drugs. Eventually, everyone left him, including his wife. His addiction led to therapy, and now he's a psychiatrist himself.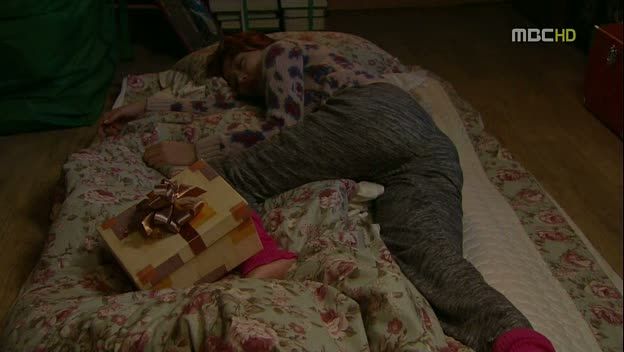 She asks if he's happy now. He pauses and then replies that happiness isn't that hard to achieve. Happiness can be things like sunlight in the morning. She just has to stop and catch the little moments first.
Bong Sun reflects on his words at home, and then heads downstairs to throw a gift at Dal's sleeping body. Aw, yeah. They'll be sharing bibimbap and ice cream soon enough.
Store girl aka Young Hee (I finally found out her name!) calls Bong Sun to tell her that she scored tickets to Pink Chicken's concert. It's fishy but Bong Sun drags herself to the handbag boutique to meet Young Hee anyway. As she walks outside, she sees Jae Hee joking around with his co-workers, which prompts her to think that maybe his rejection is a good thing in disguise. She can find someone better than him; if not, she'll just spend the rest of her life watching Pink Chicken.
Young Hee tells Bong Sun that she'll hand over the tickets with one condition: help her cousin pass the police exam. He failed again. Which means he's not cut out for this job…but okay. Bong Sun grudgingly agrees but fails to get the tickets because a customer walks into the store. The woman wants to return a bag that she bought three months ago, with a scratch on it. Young Hee calmly tells her that she cannot return the bag.
Hwa Young arrives to resolve the situation but the customer doesn't calm down. She demands Young Hee to apologize for her insolence and Young Hee complies. Bong Sun's temper flares and she drags her friend up.
She begins to yell at the customer; she doesn't know how rich and important the woman is, but she has no right to treat other people like that. Young Hee might be a lowly store employee to her, but she's a precious daughter at home. Just accept her apology. Her outburst causes the woman to slap Bong Sun and Hwa Young finally steps in. Hwa Young tells Bong Sun to calm down. If she continues, Young Hee might get fired.
Bong Sun swallows her anger and turns to leave, but the client-from-hell now demands that Bong Sun kneel and grovel for forgiveness. This provokes Jae Hee, who had been watching everything from afar. He steps up and tells the woman to stop embarrassing herself and for Bong Sun to leave. This makes Hwa Young's jealousy flare, and she turns to Bong Sun and shrieks at her to apologize.
Comments:
Our side characters finally get a small chance to shine and they're both developing at a nice pace. I like Seo Hyo Rim and Jo Minki so I don't really find myself annoyed by either of them, but I understand that they might annoy some other people. At least we finally get some insight to their backgrounds and Dal's obsession with getting rich quick is kind of explained.
She acts like a bratty princess because she was treated like one while growing up and Mom's tendency to baby her doesn't help either. This doesn't give her a right to be snobby and she has a long way to go before growing up, seeing as how she hates working hard and wants other people to do things for her.
But she's also aware that she's superficial. Dr. Park's words about the pickiness of the parents of a chaebol man cut her because she knows that he's right. She is an ill-mannered gold digger, which is hardly the shining career a monster-in-law would approve of. Her conversation with Dr. Park is interesting though, because it highlights the obsession people have for education and background.
Assets are nothing when you're unhappy with your life, which is what Dr. Park fought with when he spiraled into his addictions. He found himself questioning who he was, which ties into the revolving theme of figuring out out what makes up an identity. Am I defined by my job? Family connections? These things are important on paper and in materialistic exchanges, but they have nothing to do with happiness and love.
Bong Sun backpedals on her initial claim that she's too good for Jae Hee when she realizes that she's on the verge of losing him. All of a sudden, his penniless status doesn't matter, which makes Jae Hee's noble idiocy ineffective at pushing her away.
I know he's giving Bong Sun an out because he doesn't want to burden her with his "baggage" and my heart cries for his dilemma, which has no easy way out. Gah. Still. Jae Hee, I'm frustrated by your sucky treatment of Bong Sun. How's about you start being honest about your life before embarking on a relationship with her?
You kiss her, invite her to dinner, and then insist the next day that she leave you because she's too good for you? What girl in her right mind would just accept that without some heartbreak? This game of push and pull is getting tiresome and it completely screws with Bong Sun, who's already in a delicate emotional state as it is.
Hopefully he'll wake up soon and accept that he deserves happiness. Ah In and Hwa Young may seem pitiful to him, but I think he underestimates their ability to live happily without a father figure. Granted, Hwa Young isn't going to let him go that easily and I won't be surprised if she guilt-trips him into staying with her. But she can tell that her hold on him is slipping so we're in for some crazy antics from her.
RELATED POSTS
Tags: featured, Han Go-eun, Lee Jia, Me Too Flower, Seo Hyo-rim, Yoon Shi-yoon