Operation Proposal cast photos and teaser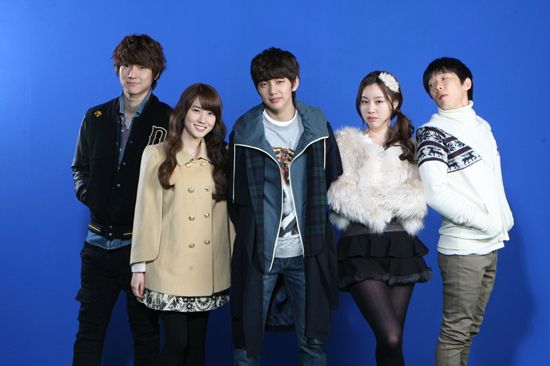 Yet another show a week out from premiere: the fantasy youth melodrama Operation Proposal starring Yoo Seung-ho and Park Eun-bin has released some cast photos as well as a teaser. The remake of the Japanese Proposal Daisakusen is getting ready to launch on the new cable network TV Chosun, and has made a last-minute scheduling change to go from a Monday-Tuesday timeslot to a Wednesday-Thursday one. It wasn't in direct contention for the 10 o'clock hour against Dream High 2 (and neither is Shut Up Flower Band which is slated for the 11 o'clock hour) but I have a feeling that given the same target audience, three shows in one night might seem like too much to expect, even from diehard fans.
Yoo Seung-ho and Park Eun-bin play best friends since childhood, and when they grow up the hero belatedly realizes that he loves her… on the day she's preparing to marry another man (played by Lee Hyun-jin). That's pretty much the definition of terrible timing. He then gets a chance to go back in time to make it right and get the girl. Between this and the Rooftop Prince headed to the future, I'm up to my ears in time-traveling heroes bending time and space to get to their first loves. Ever hear the phrase Get over it ? But then… I guess we'd be all out of dramas, and then where would we be?
The cast photos feature the leads with Kim Ye-won (Romance Town, Flower Boy Ramyun Shop) who plays the heroine's best friend (she undergoes the most change due to our hero's decision to alter history), along with Park Young-seo (Queen Seon-deok, far right) and newbie Go Kyung-po (far left) who play the hero's buddies. The teaser features Yoo Seung-ho being adorable… and I'm pretty sure other stuff happens. The song choice makes the whole thing feel off somehow, though I think if you play it on mute it's okay. I don't know how that bodes for the drama proper, but maybe it's a fluke teaser thing? What the hell, I'm in a hopeful mood today.
Operation Proposal premieres Wednesday February 8 on TV Chosun.
Via My Daily
RELATED POSTS
Tags: cable programs, Operation Proposal, Park Eun-bin, Yoo Seung-ho