Running Man: Episode 76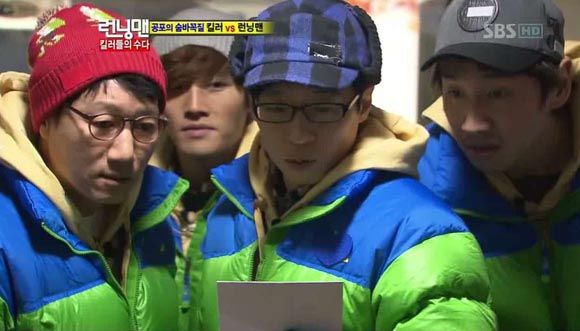 This week on Running Man, we've got four, yes FOUR killers on the loose. Their objective – catch the Running Man. Will the cast catch on to the killers' mission or find themselves eliminated without a trace? It's the Killers vs. Running Man episode and there's more testosterone in this hour and a half than this girl can handle. (Fans self)
EPISODE 76. Broadcast on January 8, 2011.
On a bright, clear day, a mysterious man dressed in black walks into a secret location somewhere in Yeosu. He's our first killer, or guest, who sets his eyes on a briefcase lying on the table. He, Joo Sang-wook (TEN, Giant), waits like a cool cat for our other guests while sipping coffee.
Not long afterwards, another killer appears sporting stylish shades. Say hello to Lee Chun-hee (Take Care of Us, Captain), and the two guests make eye contact. Will some kind of epic face-off erupt between these two?
Nope. Just a lot of awkward bowing and polite greetings, and they settle the age issue straight away to appropriately address each other (Sang-wook is the hyung).
Our third killer, Kim Sung-soo (Bad Love) walks in with great bravado, and suddenly stops short at the sight of the others. Methinks that he thought he was the only guest today.
Then there's our final killer, Ji Jin-hee (Take Care of Us, Captain, Dong Yi), who breezes in with leisure. He's definitely the most relaxed out of the bunch as the mat-hyung, or more like a mob boss. Heh, I already love him – in the behind-the-scenes stuff from Dong Yi, he's got this mischievous attitude mixed in with a laid-back confidence that makes me think he'll perfectly fit in variety. Jin-hee oppa, I'm glad you're here!
The briefcase carries the mission card inside: Eliminate all the Running Men before they complete their mission. You'll also get two chances to wrangle in two members to utilize as your spies. Sound like an awesome mission… only they scratch their heads, and Sang-wook asks, confused, "…What does that mean?"
Jo PD steps in to explain the rules for our guests since none of them can put the pieces together. Aww – do big-time actors not watch Running Man?
Jin-hee nominates using one of the three 'regular' spies (Jae-suk, Haha, and Jong-kook) and have their second lackey think that they're the only accomplice. The others just stare blankly back at him – clueless – to which Jin-hee asks if they don't get it. Oh dear – I'm already worried about this crew.
They straighten out the rest of the details, and Jin-hee is seriously is the scene-stealer here: busy drinking his tea whilst half-listening (Sung-soo: "Hyung, make sure that you eat before filming starts."), and when they decide to break into pairs according to height, he comments, "I'm the shortest."
Hahaha – and the captions indicate the pairs as "Tall Height Team" and "Average Height Team". With that, they're finally off.
Meanwhile, our cast is picked up at Yeosu airport by our handy maknae FD dressed as a tour guide today. On the bus, they're given their first mission: find the appropriate merchant and buy an item within 30 minutes or you're out.
I especially enjoy how Kwang-soo's item, (밴댕이 젓갈) salted large-eyed herring, is an adianoeta when Jae-suk tells him to think of Jong-kook. It works as both a sarcastic comment about his eyes or used figuratively, as narrow-minded. Hee.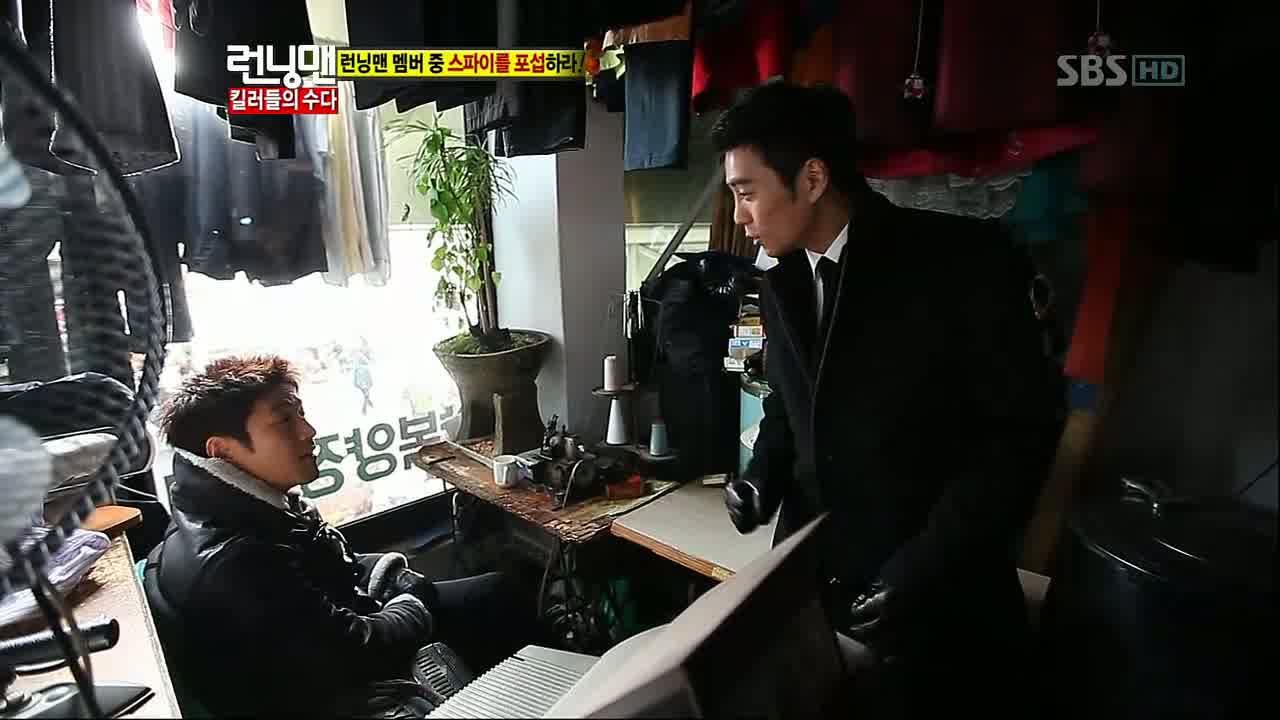 Jin-hee and Sang-wook scour the market to position themselves in an ideal stakeout spot before the cast arrives. But it turns out their location isn't exactly the most hoppin' section of the place and Sang-wook wonders if they'll be here for hours after everyone leaves, just waiting for someone to turn up.
I love that Sang-wook is a chatterbox, talking up a storm to his sunbae (maybe to prevent any awkward tension like before?) and helping himself to a snack.
Then there's our cast members who comb the place to find their items and relieved when they finally meet them. The added soundtrack (usually played on other shows when they reunite family members) cracks me up, as if they've waited their entire lives for this moment.
One by one, the Running Man return to the bus except for Gary and Kwang-soo, both of whom the killers spot when they stumble into the vicinity. Marking them as their targets, they head out to enlist their first spy.
They've got to be quick though because the boys are buying their items – who will they choose? Why it's Kwang-soo of course, dragging him to a corner as Kwang-soo's visibly shocked face tries to comprehend the situation. Kwang-soo lights up when he hears the word 'spy,' not that it did much for him last time.
Should Kwang-soo reveal his identity, he's out and Sang-wook adds that their relationship is done for as well. No bromance? Tsk, tsk. In any case, Kwang-soo happily skips back to the bus, just in time. He even sends Jin-hee a heart via text in gratitude. It breaks my heart that he's just a pawn this time too – but he's so excited that it's adorable.
Man, Jong-kook – can't you go one week without figuring out the mission to a T? He points out that the task was far too easy, and that the guests could have been keeping an eye out for them. Thankfully for the guests (and Kwang-soo), the others sweep his suspicions under the rug.
Time for our second "Tall Height" killers team to move in as they drive to our second location, Odong Island. I'm thinking Chun-hee is definitely NOT secret agent material – you won't see this guy on Ethan Hunt's team anytime soon.
Um, no – you can't run out undetected in that patch of bamboo dressed in all-black, and finding dark places might help without the shades. Heh, you haven't changed one bit from your Family Outing days, Chun-hee.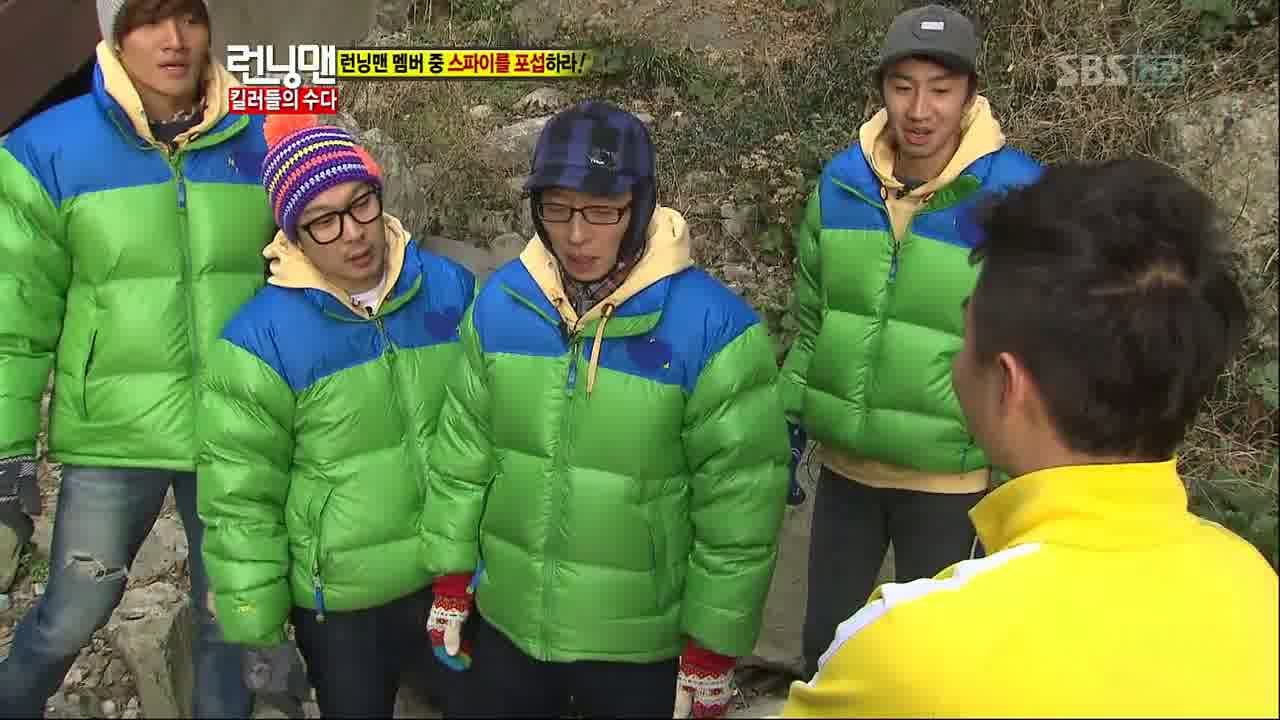 The fake mission here is to find the Running Man selling camellia tea within 45 minutes and the cast are like, "Wait… aren't WE Running Man?" Hehehe, and the maknae FD sweats at his flub.
It's a front, however, because it's an odd or even game with jacks and the members have to correctly call out which. Jae-suk guesses right (with Kwang-soo's help), which forces the others who've followed to find a different location to complete their mission.
Now with some time to kill, Jae-suk makes friends with the RM staff member, drinking in the beautiful landscape. Cut to our Average Height killers also munching on a red bean-filled snack.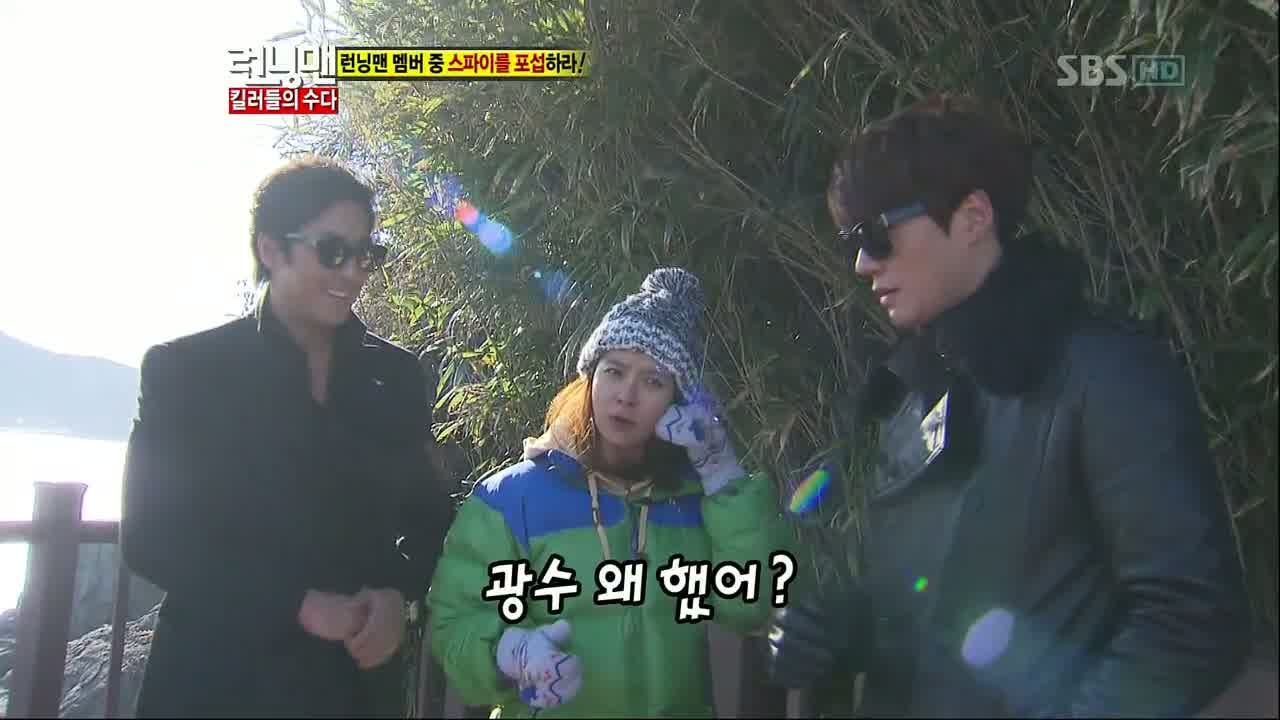 Ji-hyo spots a staff member and runs down the stairs… straight into the arms of Sung-soo and Chun-hee. As soon as she recognizes Sung-soo, she goes in for a hug. Apparently it's been 10 years since they've last worked together (they filmed a CF back in 2001).
She insists that she's alone and they give her an ultimatum: she can be a spy or be eliminated. She hesitates for a moment, and they reach to pull off her name tag when she pipes, "I'll do it! I'll do it!" Ever the Ace, she's puzzled when they tell her that Kwang-soo is the other spy – the others will know that he's not alone. Um well, crap.
Jin-hee is pleased to hear of their choice and asks in the car, "It's Ji-ho, right?" Sang-wook corrects him with a chuckle, mentioning that the flub will probably be broadcasted. It might help learning the names of your minions, Jin-hee, hehe.
Our killers gear up at the final mission location, tying a bell to their shoes. YES!! Traditional Hide-and-Seek is back! The hyungs tell Chun-hee to lure in Jong-kook, and he has this priceless look of terror on his face. The reel of getting dragged around by Jong-kook in Family Outing probably proves that he's not the best man for the job. Chun-hee: "Should we just give up on Jong-kook?"
They strategize how to use the sound of the bells to their advantage and Chun-hee tells them they should stomp around in them. His slightly-better-spy hyungs berate him that they'll just run away.
Here, the Running Man must evade their seekers by finding the computers which reveal the clues to an unknown item. The problem is that none of them are particularly tech-savvy, and there are a vast number of computers in the building – how are they to track down the right ones?
Our cast gets to work while one spy, Kwang-soo, purposefully inputs the wrong password without notice. The four killers emerge to hunt down the Running Man cast who are alerted at the sound of the bells.
Jin-hee and Sang-wook zero in on a couple of VJs and within five minutes of the start of the mission, track down Haha and Gary. When Jae-suk comes to investigate the commotion, they shoo him away and he bolts, avoiding Jin-hee by a few seconds.
The other four implement Kwang-soo as their lookout (to a cheeky 'tsk' response), and they all flip out when Sung-soo and Chun-hee run into the room – an ironic twist of Jong-kook's earlier statement: "Don't be afraid!" Sung-soo zooms past Ji-hyo to dive straight for the boys, chasing them down the hall.
Chun-hee, why you gotta break my heart? He gets outrun by Ji-hyo and Suk-jin (…really?!) and proves yet again to be a terrible ninja of sorts by being noticed by Suk-jin right away. Wait… can you NOT take down Big Nose Hyung either, even with Ji-hyo's help?
Chun-hee finally(!) manages to rip off his name tag before Sung-soo arrives a moment later, and breathes heavily, all energy spent.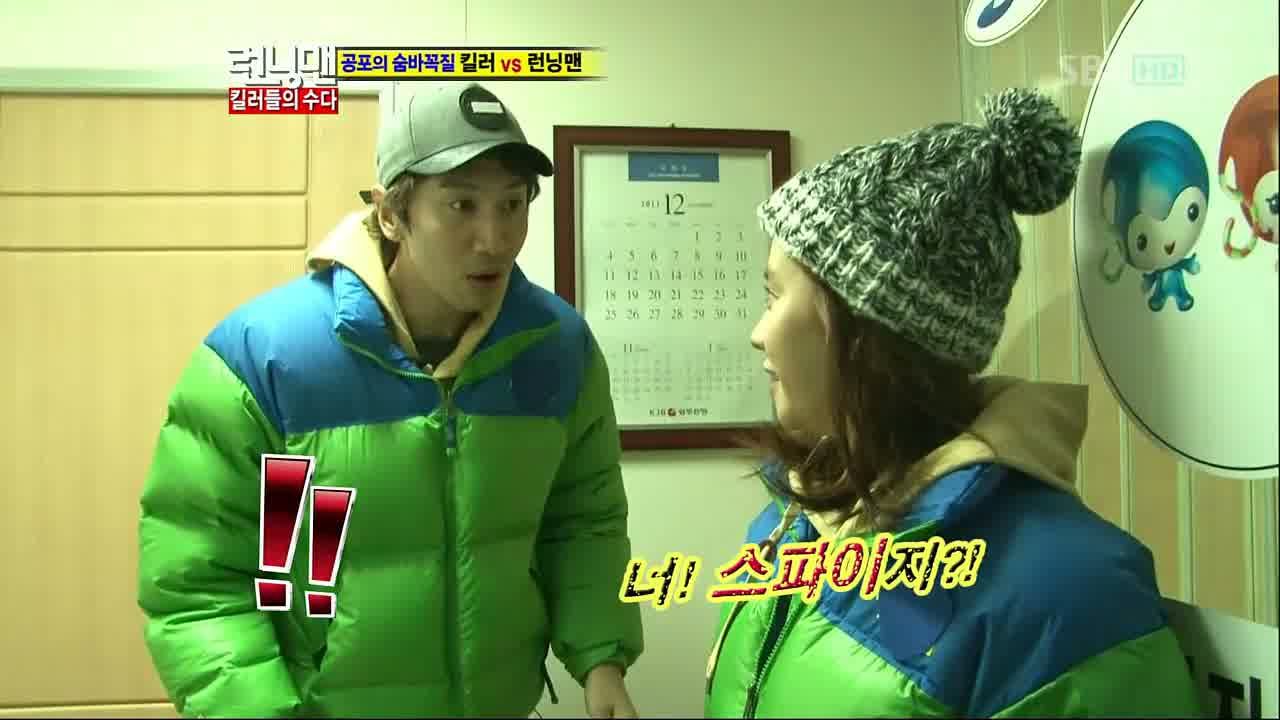 The other half of the Easy Brothers panics when Ji-hyo confronts him about being a spy. They're soon joined by all four killers and once Kwang-soo realizes the truth, he jokingly calls Ji-hyo a wily fox. Can't blame a girl for being good at what she does, Kwang-soo!
Meanwhile, Haha is hard at work in one of the rooms when he discovers the first hint (a string of consonants like ㄴ-ㅇ or N – O), and surprise! – Chun-hee's out.
And we see him completely stunned, mouthing silently, "…Me?" just mere feet away from Gary, who's equally confused, since some of the members haven't seen the other pair of guests.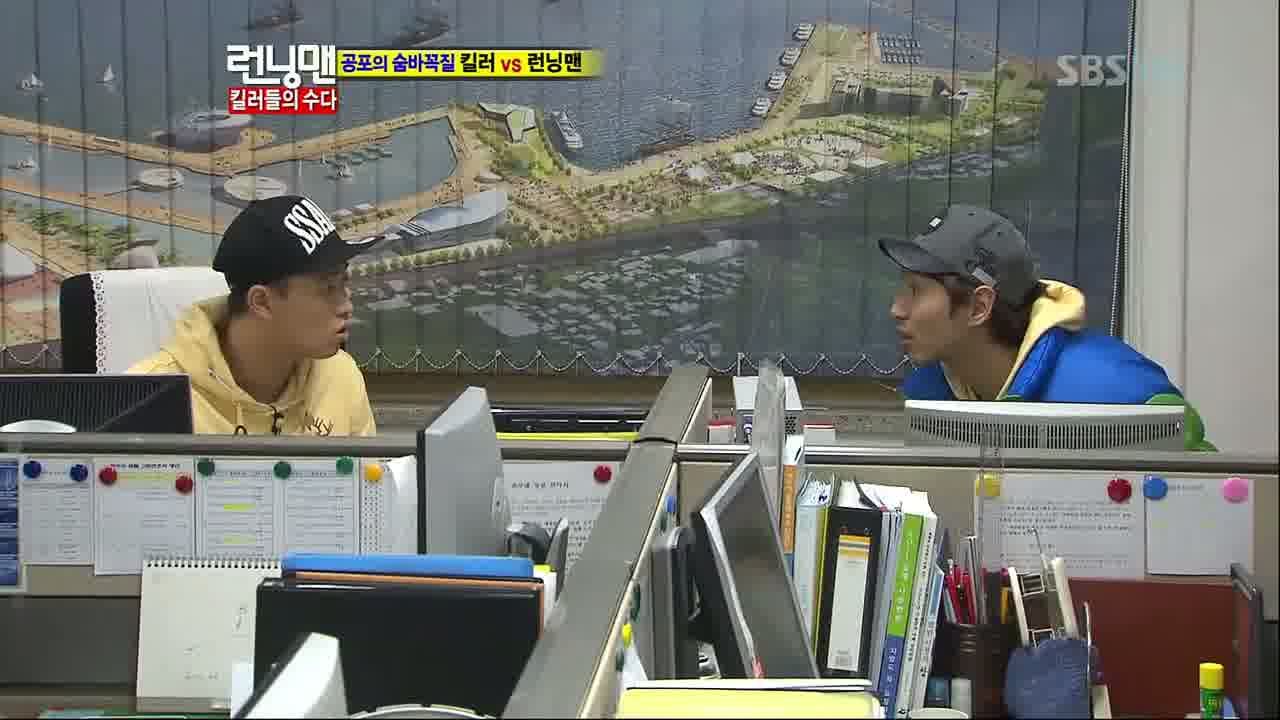 Sang-wook correctly deduces that the monitors must not only contain the hints but also their names. And at the same time, Haha walkie-talkies the same information to the Running Man.
The sound of the bells alerts them and Gary zips to the same desk he hid under earlier, but this time he's with Kwang-soo who directs Sang-wook into the room and straight for Gary's hiding place. So Gary's eliminated too.
Jong-kook informs Kwang-soo on his current location and Haha catches up to his hyung, telling him that something is off with Kwang-soo – he's been in the game for too long. So Jong-kook instructs Haha to close the door when he comes in.
The door opens – but it's Jin-hee, and Jong-kook greets him politely, questioning him about how he tracked them down. Which is when he asks, "Huh, where did [Haha] go?" Long gone, buddy…long gone.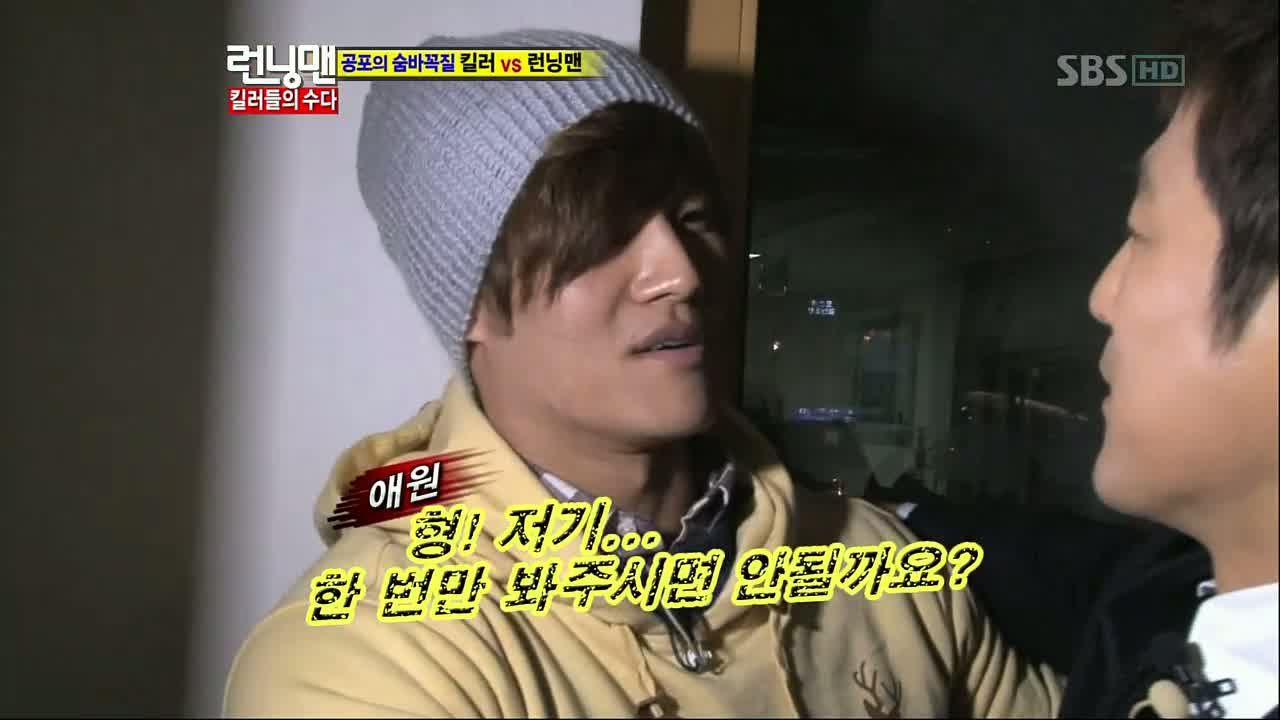 Not wanting to waste another minute, Jin-hee tells him that everyone's already eliminated and the gears start working in Jong-kook's head: "Hyung, can't you let me off just this once?" Did you just… beg, Spartakooks?
Jin-hee laughs heartily in response, and Jong-kook uses the distracted moment to flee his pursuer.
Sang-wook and Jin-hee corner Jae-suk when they hear his walkie-talkie sound, and Jae-suk is legitimately confused. But it doesn't take him long to put the pieces together as Sung-soo walks in and Kwang-soo doesn't flinch at the sight of the three remaining killers.
In another moment of distraction, Yooruce Willis escapes his captors, and in a rush, ends up in a women's lounge area. But it's a temporary safe space because Sang-wook enlists the help of a female staff member to open the door. Sigh, I can't say I blame you – if Sang-wook winked and smiled at me, I'd have done the same. Suffice it to say, Jae-suk's out… and so is Kwang-soo. HA!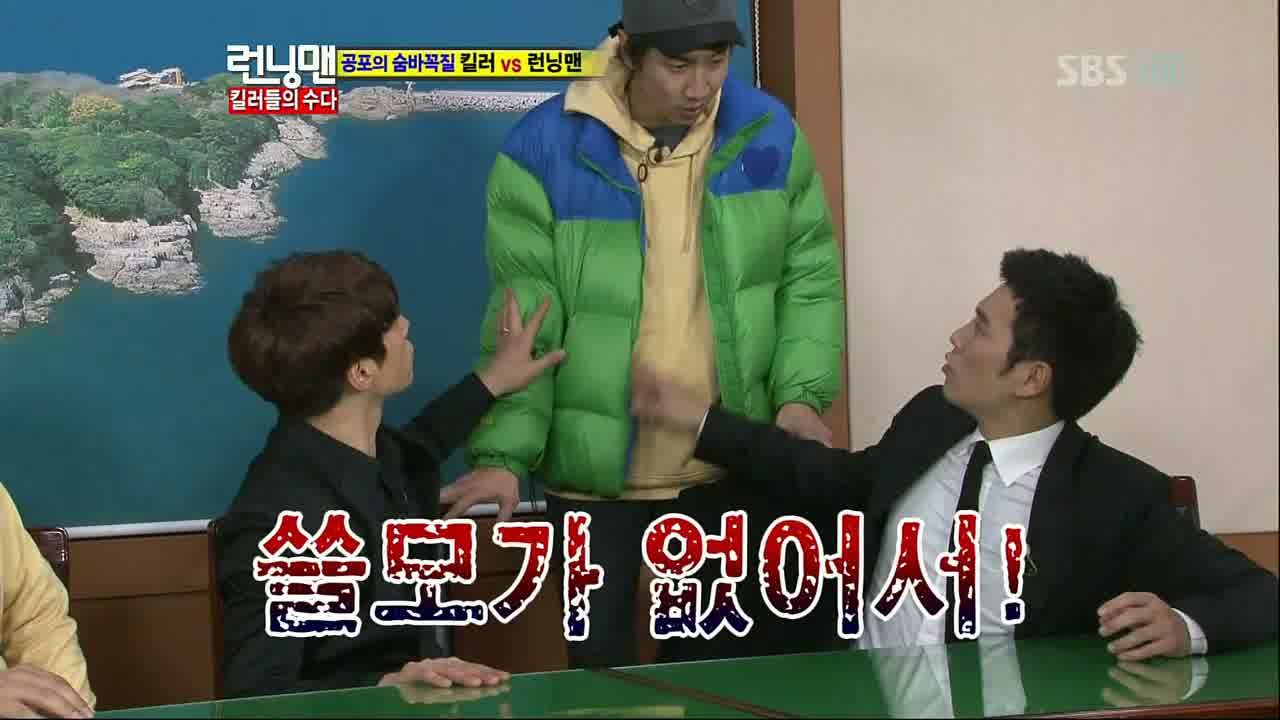 The captioned proverb tells us in a nutshell: once you've reached the limit of your usefulness, you're unceremoniously thrown to the dogs, which is only confirmed when he arrives in jail.
Then there's the added analogy of Family Outing : Running Man :: Chun-hee : Kwang-soo. Their character images on their shows really are the same – who knew?
Oh yes, and I should also note that thanks to Haroro who found the second clue, Sang-wook's in jail too.
Speaking of whom, he's busy with Ji-hyo putting the clues together. Now only two killers are left to hunt down the remaining three Running Man.
Just then, in a fantastic sequence, Sung-soo runs up the stairs to chase Haha and rips off Ji-hyo's name tag, and Jin-hee catches Haha on the next floor, eliminating him with ease. The fate of the Running Man are left within Jong-kook's hands.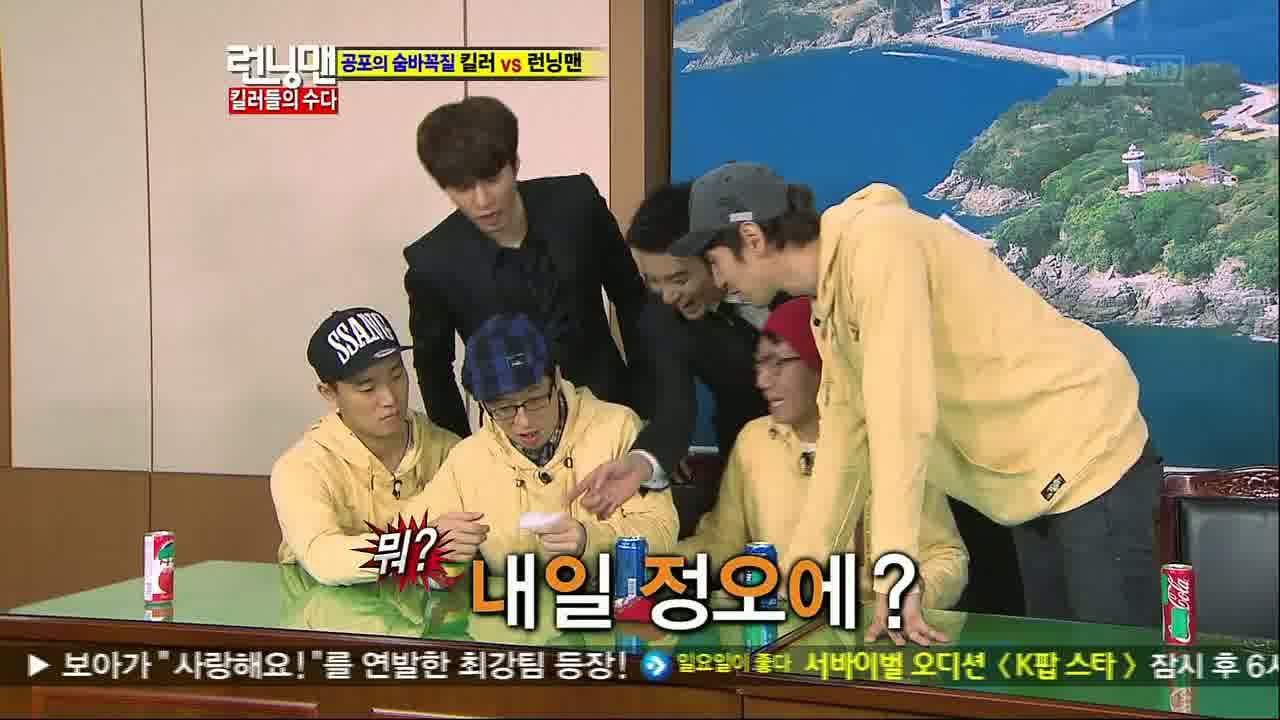 In jail, the eliminated attempt to figure out the consonant clue. Gary guesses "tomorrow" out of the first word, and Jae-suk has a breakthrough: "Midday tomorrow…" It's too bad that Ji-hyo walks in, telling them the correct phrase ("Don't announce my death to my enemies") and they try shift the blame of mistranslation to someone else.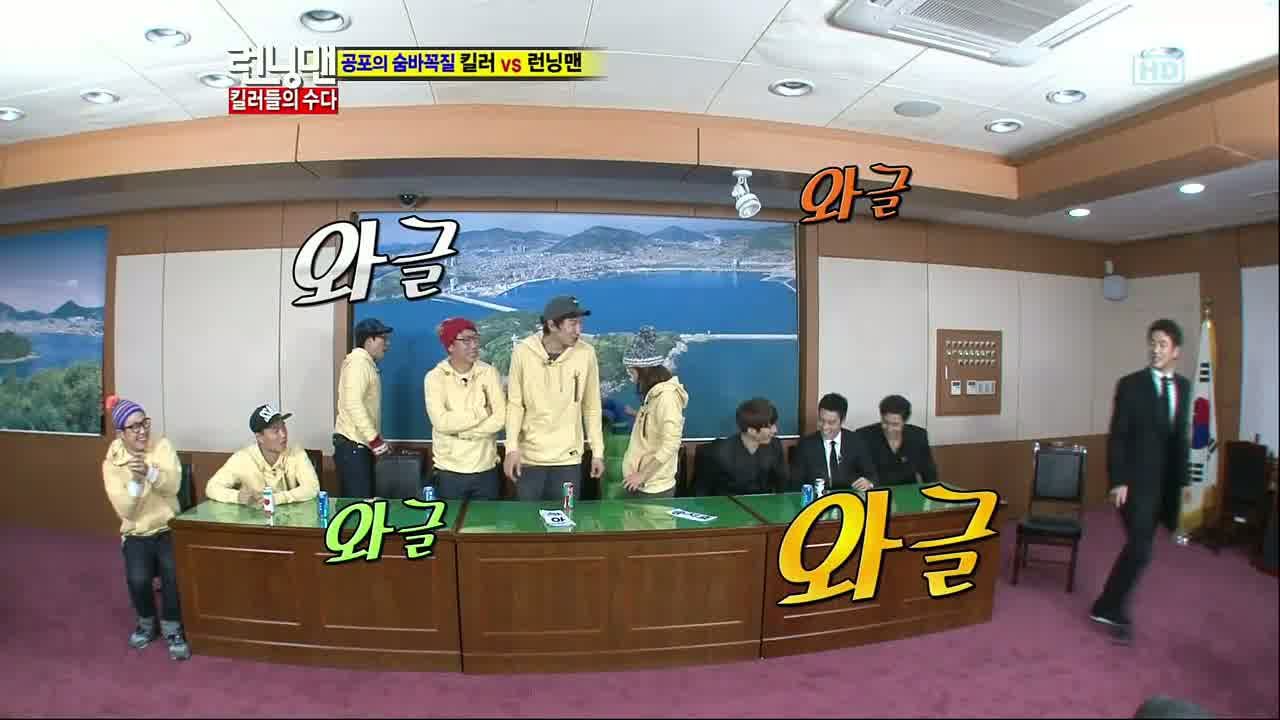 Sung-soo and Jin-hee drop by to deliver Haha, who is flabbergasted to hear about the two spies bit. The others are then left speechless and thoroughly amused when Jin-hee regales them with the tale of how he almost tagged out Jong-kook, but then he pleaded to be let off.
They joke lightheartedly about how tearing off the name tags of the killers is moot (and Jin-hee shows off another one under his coat) and the speakers blare once again – Sung-soo's out. How convenient that he should visit! So he quietly takes a seat next his other jailmates.
It's a battle between Jin-hee vs. Jong-kook, and when Jin-hee turns his back for a moment, Jong-kook darts for the door, evading capture again. What the – hold on a sec, Jin-hee – aren't you like 40? How is it that you can run so fast?
Now armed with a new tactic, Jin-hee proceeds to turn off the monitors to trick Jong-kook into thinking that either (1) he's already tried them or (2) someone else has. So as the final Running Man scours to find the last monitor, the lone killer works to turn them off.
Both of them are unaware, however, that the four hints reveal the unknown artifact, the Golden Turtle Ship, and it's an automatic elimination for all of our killers once it's found.
Jong-kook ends up in the room which contains the last hint, checking one monitor after another, and Jin-hee crawls in, and locks the door. How will this battle end?
Everyone waits anxiously in jail, placing bets on the victor until the door opens and both men walk in, their expressions unclear. Then Jin-hee reaches in his pocket… and pulls out Jong-kook's name tag.
In a flashback, we see that Jin-hee had snuck up on Jong-kook who froze in place, allowing the perfect opportunity to eliminate him. He earns the guests awesome prizes (OMG, me wants that Hanwoo beef set) and makes sure that the staff doesn't leave anything out. Heehee.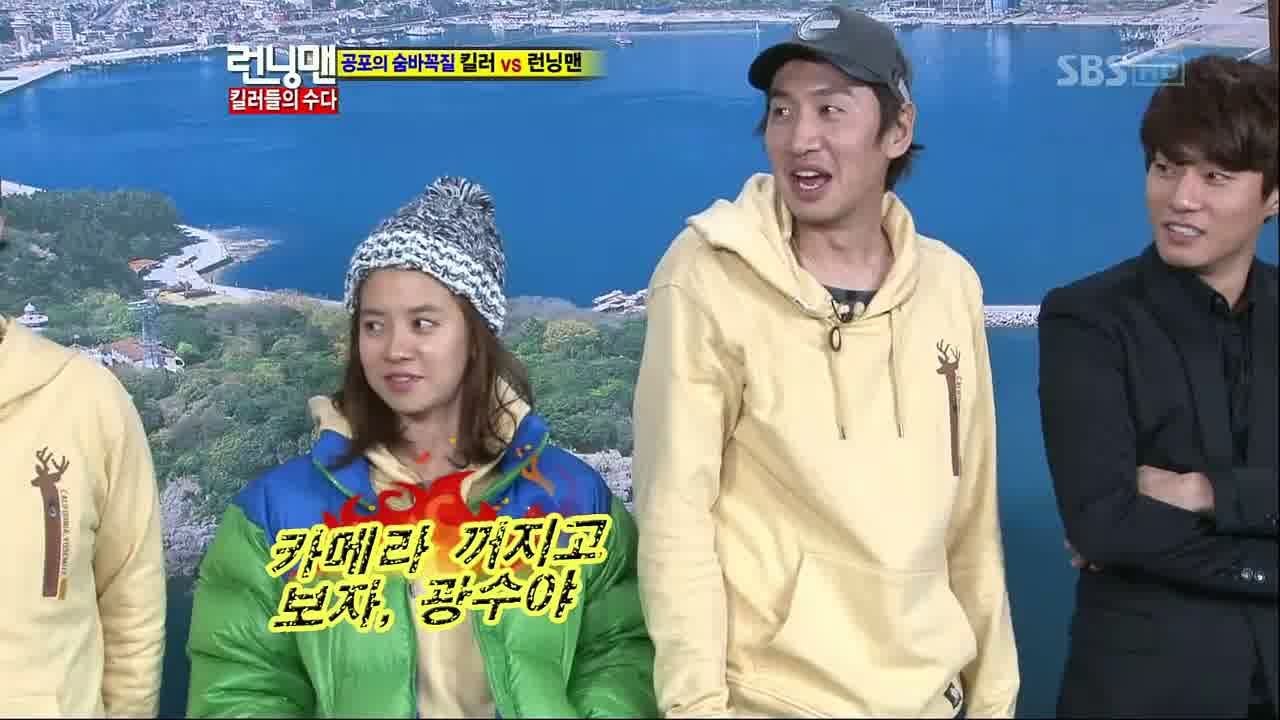 Lastly, Jong-kook warns, "Kwang-soo, come see me after the cameras stop rolling."
*gulp*

RELATED POSTS
Tags: featured, Haha, Ji Jin-hee, Ji Suk-jin, Joo Sang-wook, Kang Gary, Kim Jong-kook, Kim Sung-soo, Lee Chun-hee, Lee Kwang-soo, Running Man, Song Ji-hyo, Yoo Jae-suk