Running Man: Episode 79
To find the criminal mastermind behind this week's mystery, our cast will have to piece their clues together on an eerie ship before they go missing themselves. It's so chock full of secrecy, deception, and intrigue that every turn will leave you with more questions than answers.
EPISODE 79. Broadcast on January 29, 2012.
Late in the night, a messenger drops off a mysterious envelope in front of our members' doors. One by one, they open their cards to read their message: You've been invited to a treasure ship stationed in Busan. Find and claim the treasure for your own.
Jae-suk is suspicious, with memories from Hong Kong still fresh in his mind. "That's it? There isn't anything else?" He's got a point– the cast has every right to be wary of the nefarious RM staff and whatever they've got up their sleeves.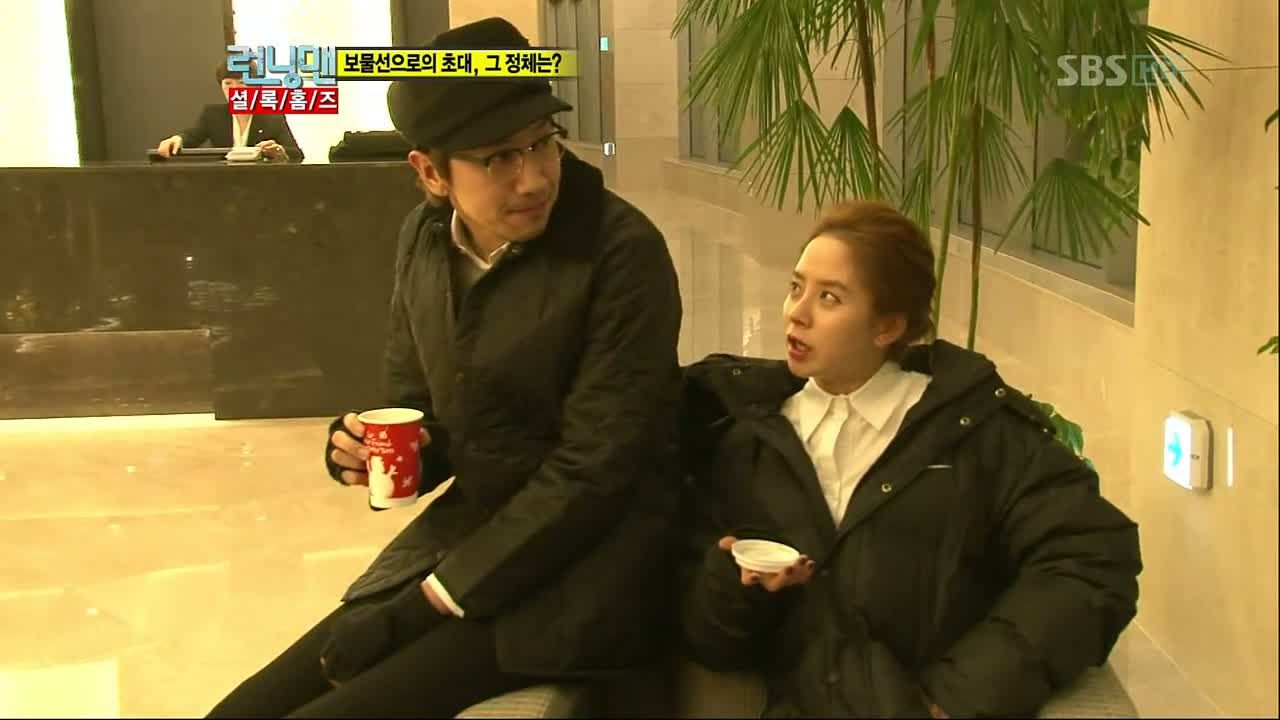 Morning. Kwang-soo's the first to arrive, followed by Ji-hyo. She teases him about his bloated face, to which he admits to eating instant ramen the previous night. The rest of the tired members file into the lobby, and it's off to the airport. Convenient that Gimpo airport is just a few minutes via moving walkway away from the hotel which both amazes the cast and myself.
They're greeted by a row of car keys once they arrive and lightning quick Gary marches in front. He runs to find his car and the captions read that once one of them starts running, so does everyone else. Hee – because they all press their keys to find their cars simultaneously, it's a chorus of car horns. Unable to tell the sounds apart, Kwang-soo wails, "One at a time!"
Driving to the harbor, each of the members attempt to figure out today's mission: every member for themselves? Team against team? But at the waterfront, we quickly find that this ain't your ordinary tugboat mystery – it's a cruise ship adventure.
Surprisingly, Kwang-soo pulls in first and is greeted by our maknae Dong-wan FD/butler. Now decked out in Sherlock-esque capes (Jae-suk's is green, hehe), they sail towards the grand ship. Gary: "Can we fly in these?" Pfft – look who's still misses his former superhero status.
Kwang-soo's sent up to the sixth floor and hey look; it's the gagman quartet who performed a sketch at the 2011 SBS Entertainment Awards. They ask for his invitation as soon as he gets off. He hasn't got it on his person and is denied entry. Oof, so much for being first. But don't worry – Gary didn't bring his along either.
The ones who DID bring their invitations onboard are busy eating a delectable brunch. While they chow down, the gagman quartet (How & Chow) join them. The 'dog' performs a trick and receives a belly rub as his reward (and it looks like the gag is that others forcibly pet him). Jae-suk gets reined too, and he shows off his famous 'Grasshopper Dance.'
Seriously, Suk-jin? You've been carrying around that trophy of yours? But something's strange because once he pulls it out of his bag; he finds the trophy case empty. The Running Man radar goes on full alert. Thus Case #0: Find the trophy, begins.
Accusations start flying. It's serious at first, but it just turns into a game of finger-pointing for kicks, and Suk-jin asks, "Is [the trophy] pure gold?" The PD confirms that it's a bit more expensive than the ones given out at the actual award ceremony, and Jae-suk scoffs how that's possible.
Naturally, that shifts the suspicion to him, the Daesang winner that night – is he upset that the missing trophy was better than his? HA –then Gary pipes if they should even bother tracking it down, and the others join in if that was why they were sent down to Busan.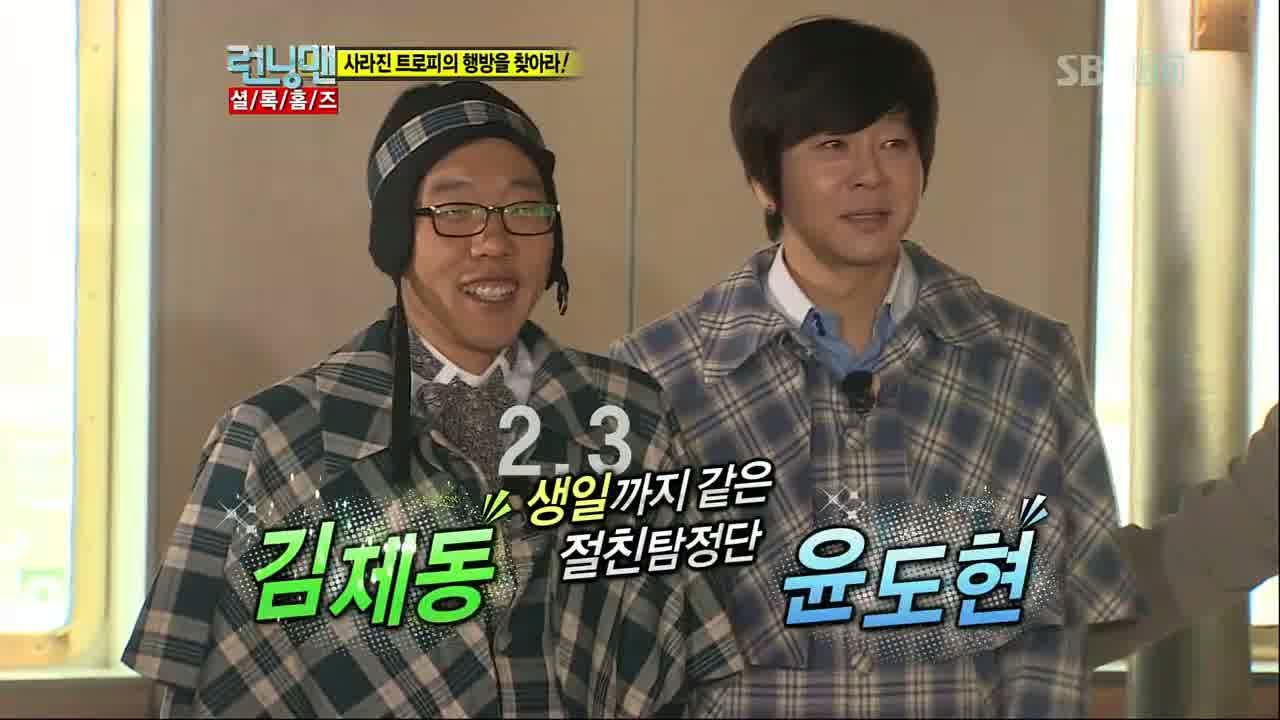 Calm down, fellas. You've got some help – meet today's guests: singer Yoon Do-hyun and emcee Kim Jae-dong. Woah, how are these guys good buddies? And they share the same birthday?
In any case, I'm unconvinced that they'll be much help as Do-hyun starts reading off the how-to-be-like-Sherlock-Holmes and barely stammers it out. The self-declared brilliant detective announces that he's already found the missing trophy, and identifies the thief as the dog. Nice save, buddy.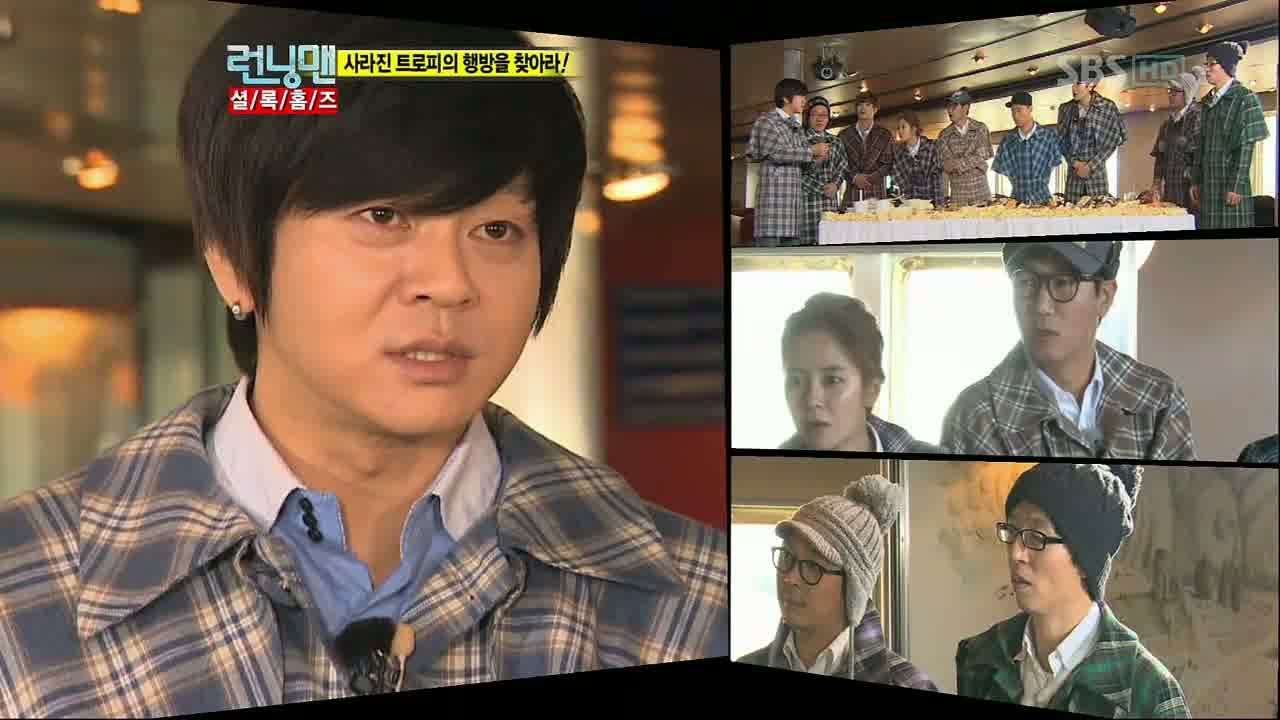 Our nine Running Man Sherlocks are debriefed on the real case – a sapphire has gone missing and it's their job to recover the item using clues scattered throughout the ship. And as a reward, they'll be rewarded handsomely. Each person is sent off to different starting places. What clues will await them there?
Their first hint reminds them that only one of them will be able to claim the recovered treasure and tagged with a warning: Trust no one. Armed with their name tags and their brains – they head out.
Jae-suk boasts that he'll use his 4D vision and his IQ of 250 to search the ship from top to bottom, and Haha snerks in response. Not five seconds later, does he call on the Powers that Be to turn back time. Then Jae-suk declares his catchphrase as Space Controller. No grasp on reality, these two.
Meanwhile, in another part of the ship Kwang-soo tries to weasel Jae-dong into an alliance, but this man is sharper than he looks. And also lazier than he seems as he lies on the bed, telling Kwang-soo that he's got a wild card to play.
Just then, disaster strikes – Suk-jin is being dragged away and all that remains is a mysterious card that reads '2.3'.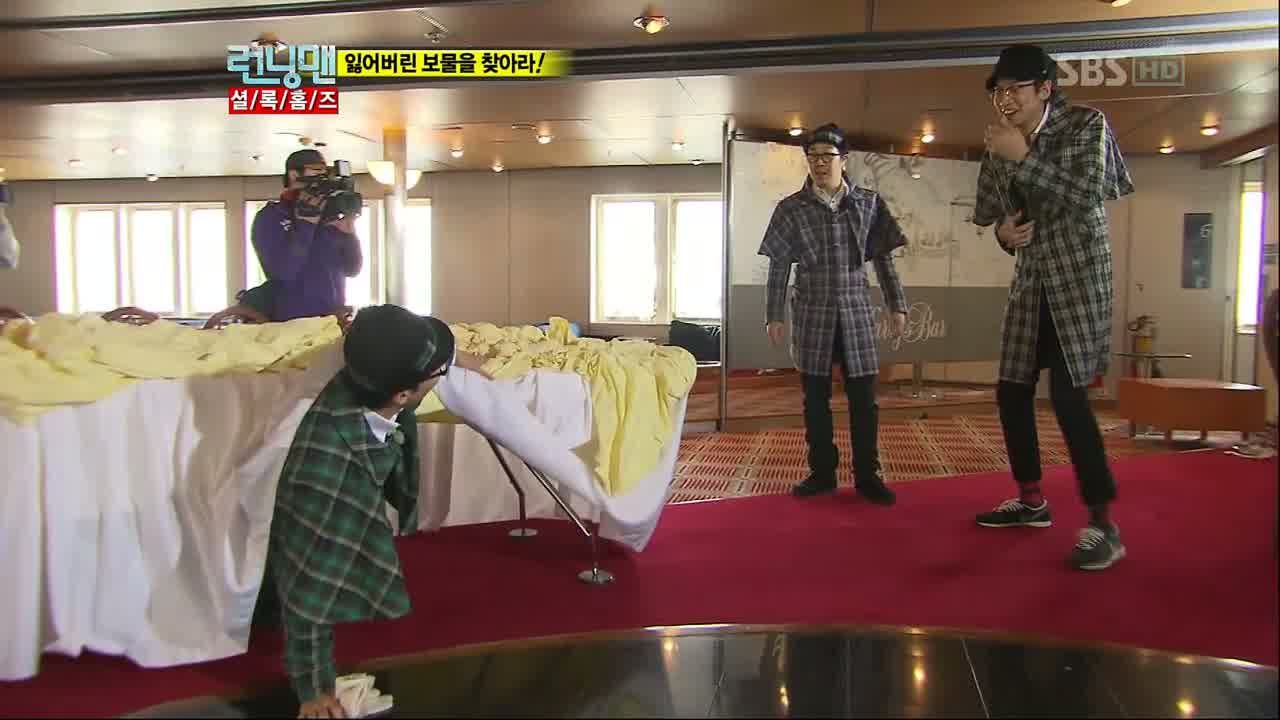 Kwang-soo runs to share the news to his hyungs, Jae-suk and Haha, who are busy playing a mix of hide-and-seek and Red light/Green light. They take curious note that Jae-dong wasn't surprised at all… How odd, indeed.
While the others start to suspect our guests, Jae-suk finds one of the hidden green cards and slips it into his pocket. Once out of sight, he reads, '704. 1° piano' and in his logic, searches Room 704 but turns up nothing. Which is when we learn that all of our clues point toward a storage room on the first floor.
Haha discovers another card and follows the How & Chow. They lead him down the corridor by Room 704 that Jae-suk missed, down to the first floor. Chow pulls at the door, and Haha's jaw drops… and the speakers blare his elimination.
All this is witnessed by Kwang-soo who flies up the stairs, but the men in black are in hot pursuit. And THAT chase is seen by Ji-hyo. Another card remains, "The thief is amongst you." Aha, so the plot thickens…
By chance, Jae-suk discovers both black cards, now realizing that another clue about the criminal is revealed with every member's elimination. Jae-suk: "This is like the Dog of the Baskers." Er, you mean the Hound of the Baskervilles.
His thoughts linger to the wandering How & Chow crew roaming the corridors. The same thought pops in Ji-hyo's brain, following the duo a few steps behind. A voice cries out down the hall and she slips into a cabin. Just when she thinks she's safe, she opens it… and there's Do-hyun. And then she slams it in his face. BAHAHAHA.
She accuses him has a villian, his relaxed attitude suspicious to her. She's convinced that there are no green cards, that is, until she discovers one herself. A Polaroid picture of girl group T-ARA? Um, anyone else lost? Aha – they're mouthing the clue to us, "First floor storage room."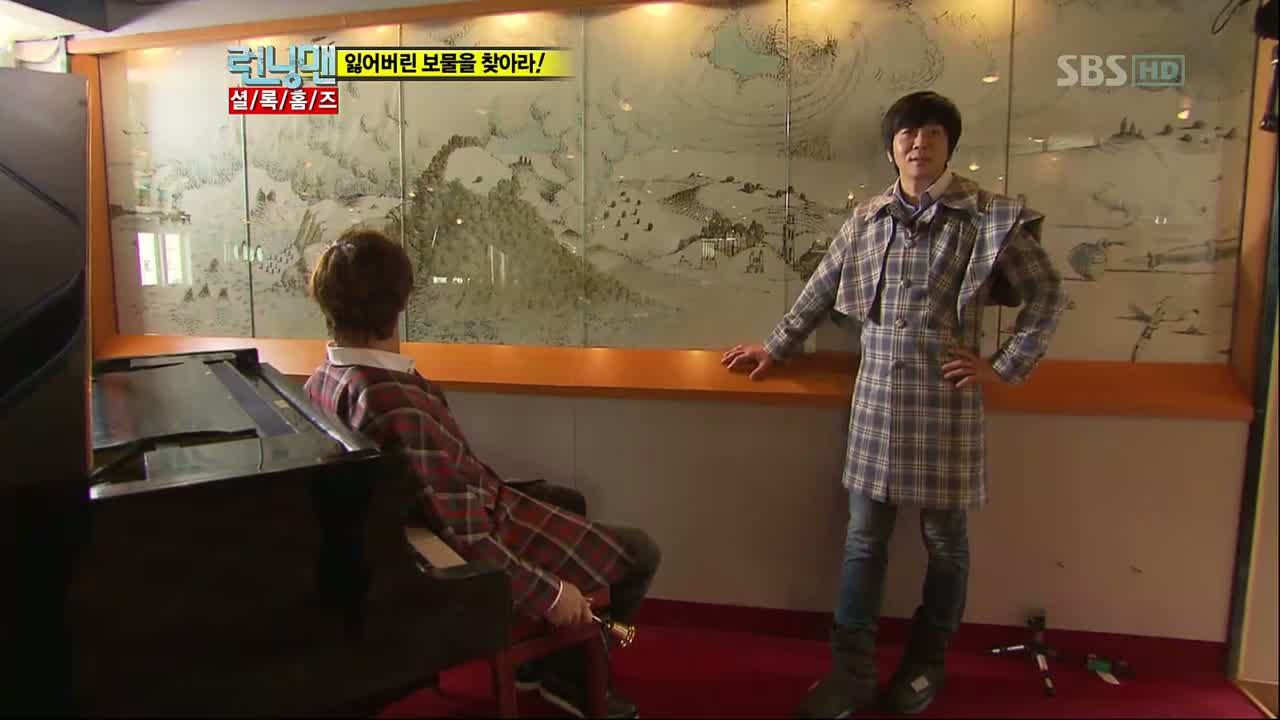 This mystery has got the members on high alert – Jong-kook asks Do-hyun if the bell is for him (jong = bell), and then Gary sings a pop song. Jong-kook flares up at Do-hyun for sitting at the piano, having heard the ominous melodious music throughout the ship before someone's elimination . It turns out to be a whole mess of suspicion on all parties.
In the ballroom, Jae-suk cautiously asks why Do-hyun showed up today, and he says that he's the guest singer. Then he sings, "Find the thief who wants to steal the treasure. That guy is closer than you think…"
The reappearance of the How & Chow pair raises eyebrows again: Ji-hyo wonders if they give away the members' positions and Jae-suk notes that everyone who follows them is mysteriously goes missing. Jae-dong follows the How & Chow duo towards that fateful Room 704 with Jae-suk right behind him…
No surprise here – both men are eliminated. Shortly afterwards, Gary is too with a lone book and '474466558' left behind.
Jong-kook rifles through the lockers to discover two more photo clues. He meets Do-hyun upstairs, cautious to reveal his cards. So you've been talking to those men in black, have you Do-hyun? Don't worry – I think Spartakooks can wrestle the needed information instead.
Jong-kook reaches towards Do-hyun's back, assured that his strange behavior clearly marks him as the thief… but the name tag is clean. What the?! And now there were two…
Another message is left, this time as 'Crystal.'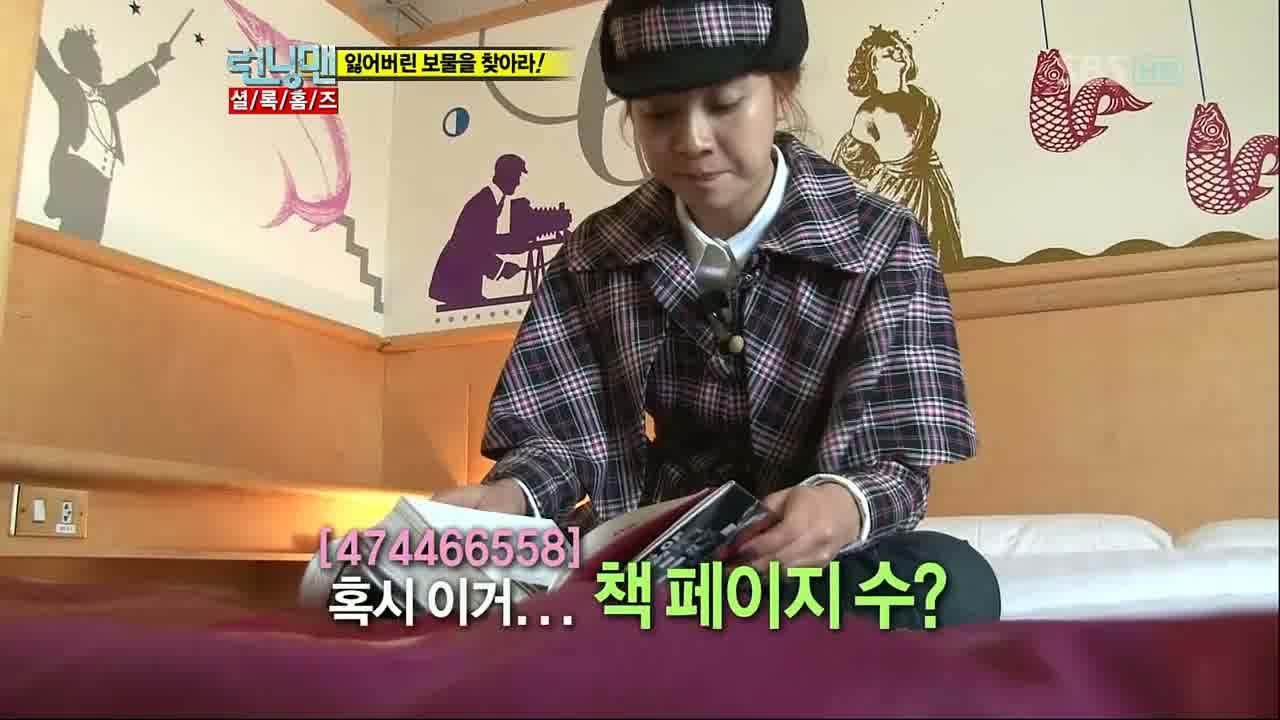 You don't call her the Ace for nothing. Ji-hyo's been busy cracking the number code from earlier. It came with a volume of Sherlock Holmes' Adventures and she breaks the sequence to page numbers. The pages themselves don't give off any obvious clues, until Jong-kook notices the first character on each page: Ji. Suk. You know where it's going.
The pieces start to fall into place: the golden bell (A reference to the show of the same name. Big Nose Hyung was an MC.), '203' was his room number, his wife's name is Crystal… Ji Suk-jin.
Now we get our explanation: He'd met with Mr. PD one week prior, elated that his day to shine has finally arrived. His original plan was to eliminate Jong-kook in the beginning and save his fellow Easy Brother until the end. Suk-jin offers himself up to be eliminated first to distract his castmates, citing that no one would be surprised. Sad, but true.
Teehee – Gary's Lol Lols had been promoted (demoted?) as Suk-jin bodyguards. That piano music? Just Do-hyun trying to lure the others in. The rest of the members were too busy placing blame on each other that the lack of Suk-jin's broadcast slipped their notice.
Then what about our two suspicious guests? Ah, they'd been bickering when the others saw them group together from afar. Because Jae-dong put up a front that he figured everything out, Do-hyun acted in suit. When it worked brilliantly, Do-hyun said, "Ah, so this is how you're supposed to do it. Act like you know….it's a battle of wits!"
Then these two were basically having a showdown between who was the better pianist, unaware that their playing coincided with the member's eliminations. Haha opened the door to reveal Suk-jin and Kwang-soo saw the events unfold before his eyes.
Which is exactly when Jae-dong was teasing Spartakooks with a song right before the speakers announced. Suk-jin followed the both Jae-dong and Jae-suk into Room 704, and then searched for Gary. He'd explained to Gary about how he was Arsène Lupin and they were Sherlock Holmes. Gary: "I don't know much about that…" You telling us you don't read much Gary?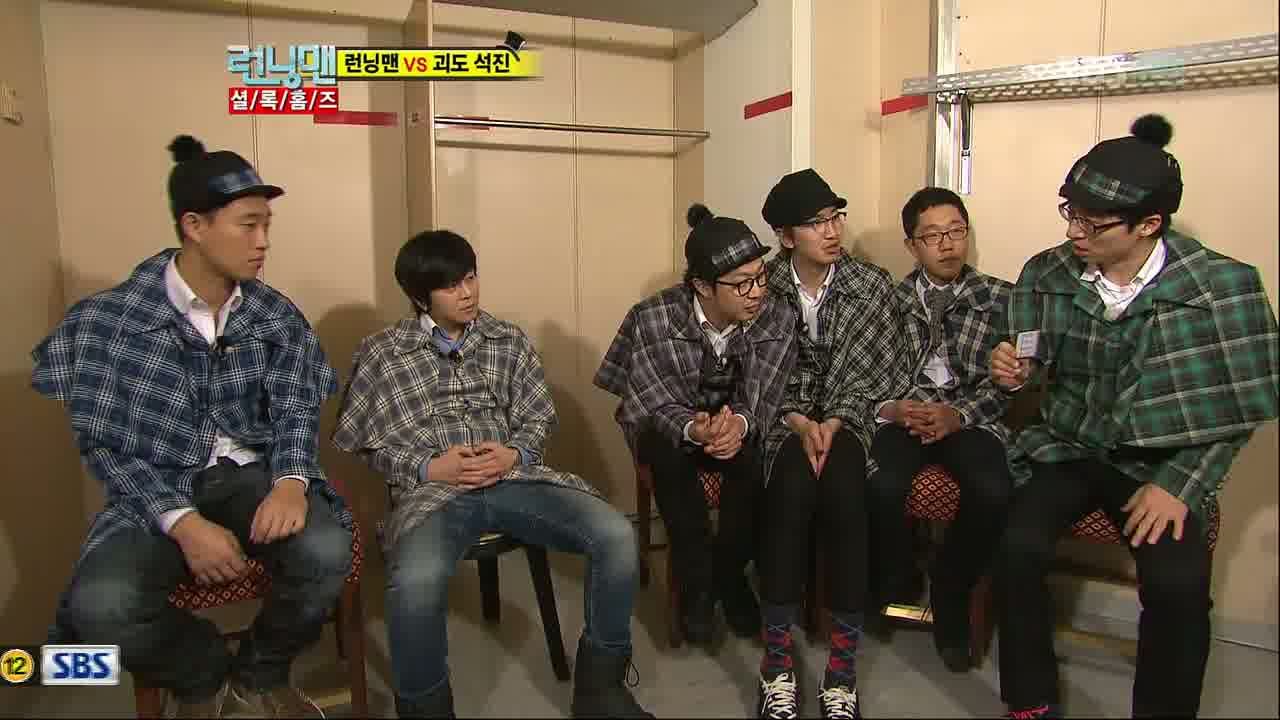 Meanwhile, Do-hyun found a clue that would lead him to the treasure's location, but he met Jong-kook on his way there. So you can see from their stunned expression to hear that Jong-kook had eliminated him when Do-hyun recounted the tale in jail. They ask if he knew who the criminal was, which he didn't, and they tell him that he's in for a surprise when the episode airs.
There's one more confused fella in this group – Gary, who's the only one in the dark about the treasure's location. Then they pretend that it's all a hidden camera prank on Do-hyun ("You just want me to leave so it's more entertaining without me?"), and they press even further, that the jail is the treasure location. And Gary mouths if this is true.
Do-hyun asks where Suk-jin is, still unable to put two and two together. HEEE – this is classic – you just cannot make this stuff up.
On the other end of the ship, Mung Ji-hyo is still trying to figure out Jong-kook's brilliant cryptic cracking abilities (Jong-kook tells her she could've solved it if she didn't dog-ear her pages). They resolve to hunt down the treasure first and head downstairs to the storage room…
And before Suk-jin, who has been waiting for them, can hide, Jong-kook spots him. The Lol Lols manage to pin Jong-kook, and Suk-jin reaches for Jong-kook's back. But Ji-hyo charges in to grab Suk-jin.
They take a quick break, which is when Jong-kook learns of an interesting caveat: the Lol Lols can't rip off his name tag. Which means… Ji-hyo holds back the two Lol Lols and it's a one on one battle between Big Nose Hyung and Spartakooks. But it's no surprise that Jong-kook overpowers Suk-jin, securing the victory for SpartAce.
As their reward, they receive the sapphire and brand spankin' new name tags that boast them as the rightful Sherlocks they are.
RELATED POSTS
Tags: featured, Haha, Ji Suk-jin, Kang Gary, Kim Jong-kook, Lee Kwang-soo, Running Man, Song Ji-hyo, Yoo Jae-suk