Flower Boy Next Door: Episode 9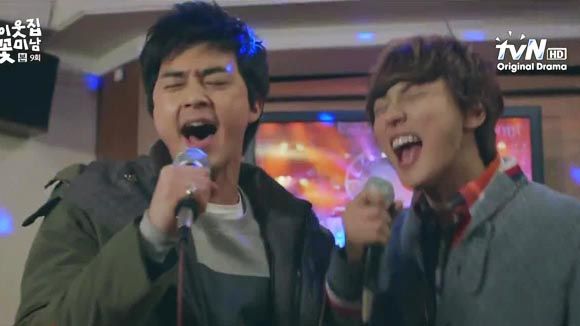 Absence may make the heart grow fonder, but it also brings a lot of heartache—and nobody's even left yet. That's the theme in today's episode, where the tide starts to shift and roles move around a little: Enrique eases up on the pushing and Dok-mi gets some breathing room to process that. In the end, it turns out we all just want to be wanted.
SONG OF THE DAY
Roy Kim, Jung Joon-young – "먼지가 되어" (Become dust), which was used in this episode. [ Download ]
Audio clip: Adobe Flash Player (version 9 or above) is required to play this audio clip. Download the latest version here. You also need to have JavaScript enabled in your browser.

EPISODE 9: "I love what I know. I know what I love."
Enrique's taken aback at Seo-young's sudden decision to return to Spain, but his hyung doesn't even bat an eyelash and gives her a terse goodbye before driving away. Ouch, that's pretty cold. Here I'd thought Tae-joon had been refusing to consider a relationship with her because of Enrique, but now I'm back to wondering if he just doesn't like her.
Seo-young holds it together to wave him goodbye, then admits to Enrique that it hurts sending away your first love. Ackkkk. What a thing to say to the guy whose first love YOU were. I don't hate Seo-young, but she is so egocentric that I can't really work up much empathy, either.
She walks off, and despite Dok-mi's earlier words that it's not Enrique's duty to always be her shoulder to cry on, she tells him now to follow and comfort Seo-young. After all, she asked him to go with him, which means she wants him to stay with her.
Enrique says he's of no help right now and she wants to be alone. Then he turns that around on Dok-mi, asking whether she's ever asked someone to stay in her moment of need. She should give it a try: "There's somebody who'd really like hearing you say that, who'd like it so much it would send him flying off into the universe." I'm not entirely certain whether he means Jin-rak or himself.
Dok-mi bids him a polite goodbye, which sparks his temper—she's always just saying goodbye, so impersonally. Frustrated, he asks, "Can't you be a little sad? 'It would be nice having you around longer. Your meddling caused me no end of trouble, but I'll think of you sometimes.' Can't you say something like that? Even if it's just to be polite, you could say it."
She replies, "I'll… think of you sometimes."
Dok-mi heads back home and peers over across the way, just as Enrique enters his hyung's apartment. She snaps the curtains shut before he can see her and hurriedly grabs a pin to fasten them shut, pricking herself and drawing blood.
Enrique looks out his windows at her closed curtains. Seo-young surprises him by showing up, and she guesses that Dok-mi was the woman he'd mentioned vaguely earlier, when he was ranting about the woman who turned his internet keywords into trash.
He denies that there's anything between them, but then complains that all Dok-mi had to say was bye. He pouts at the idea that she could care less about him leaving.
Seo-young asks if he'll be able to leave after all, but he barrels on to say that he probably should, as soon as possible.
Aw, Jin-rak looks over the newest character designs by Dong-hoon, his now-partner, and grudgingly admits that they're good. Even better than his own, in fact. He grumps that at least he'll still be fully in charge of writing the story, though.
Ryu's menu for today's cooking lesson is fondue, and the neighbors gather in the kitchen. Enrique's absence goes noted, and Dok-mi casts a sad-looking gaze at his empty spot… only to have him come by anyway, bearing wine and his usual cheery attitude.
Enrique tells the group he's leaving soon, and at least they react as you might expect, exclaiming that it's a shame and that he should stay longer. They drink a toast, and after a little prodding (okay, a ton) by Enrique, Dok-mi drinks as well. And drinks. And drinks.
Soon the whole party is tipsy and in good spirits, and Enrique gives her a big hug and says encouragingly, "You have to live well. Come out into the world, okay?"
Then it's off to the noraebang, and they all head off in good spirits. Even Dok-mi goes, tottering along tipsily.
Jin-rak pulls Do-hwi aside to ask how she knows his real name. He finds her voice familiar somehow, and wonders if she knows him from before. Did she get a complete facial reconstruction? Lose a ton of weight or something? Heh.
When Do-hwi lurches forward, he instinctively claps two hands over his mouth protectively, which hilariously do nothing to allay the misunderstanding when Enrique spots them looking cozy. From his angle it's a definite kiss, and he gapes in shock. How could he? What about Dok-mi? Two-timing beast! LOL.
Enrique begs him to reconsider carefully, because he can't get between these two ex-friends in a sordid love triangle. Jin-rak swears up and down that he doesn't like Do-hwi in the least and that they weren't kissing, although his explanation sounds a lot like a lame excuse: "That wasn't even a kiss! I didn't even open my mouth!"
Since Enrique's leaving soon, he urges Jin-rak to straighten everything out (and dump Do-hwi, heh) and look after Dok-mi. He begs earnestly like this would be the biggest favor—and that strikes Jin-rak as mighty odd. His expression suddenly growing serious, Jin-rak notes that he's quite out of line and overreacting: "I'll act not because of your request, but with my heart and my sincerity."
He adds in a hard voice that Enrique had better not show up in front of Dok-mi anymore. Ooh. Something just changed in the air between them.
Then Jin-rak takes up the mike to bellow his song… and Enrique grabs another mike to join him. Omo, is this… a sing-off?
They belt out "Becoming Dust," a rock classic by Kim Gwang-seok (which was turned into a dueling duet for Superstar K 4). First it's Enrique getting the better of Jin-rak, who finds himself shoved to the side, and then Jin-rak comes back and shoves Enrique aside, and there's a lot of elbows and shoving going on. The oneupsmanship leads them to get more and more aggro, until they end in a rock banshee wail-off. HA.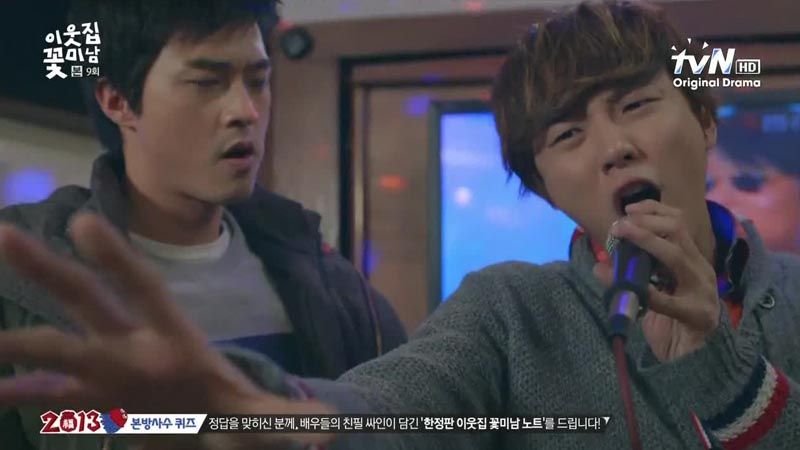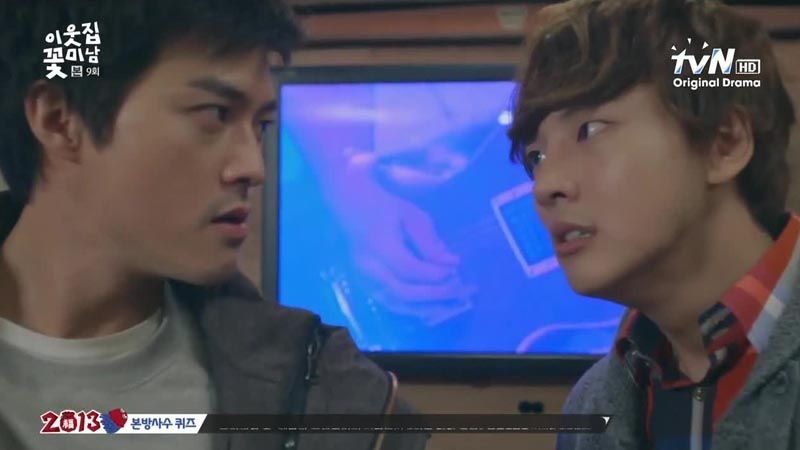 Dok-mi looks like she's enjoying herself, then stumbles on home afterward while the two boys look on in concern. Jin-rak sticks by her side while Enrique makes sure to keep Do-hwi from interfering. He tries to remind her that their mutual first love is why their friendship went sour in the first place, and urges her to let this crush go so she can reconcile with her friend.
Do-hwi barks that you can't put time limits on love, citing that her online shopping mall runs 24/7. Ha. She scrambles for a better reason and blurts that Dok-mi likes Enrique! Yeah! She totally said so!
I don't think he believes it, though for a long moment it sure looks like he wants to. Still, Enrique promised to butt out, so Do-hwi should too.
He gives her an idea to help her reconciliation efforts, though, and proposes throwing Dok-mi a party. She loves the idea, or at least the part that includes Jin-rak showing up. Man, she is like a dog with a bone. You can't accuse her of getting distracted from her goal.
Then Seo-young shows up, and to Enrique's bewilderment, the two style mavens instantly recognize a kindred spirit and gasp in admiration of each other's clothes. Pfft. Now this is a pairing that makes sense.
Enrique chuckles to himself to think how Dok-mi would look wearing that kind of clothing… then visualizes a trendily dressed version of her (waving and pouting at him) and realizes she'd look good. He shakes his head of the disturbing thought.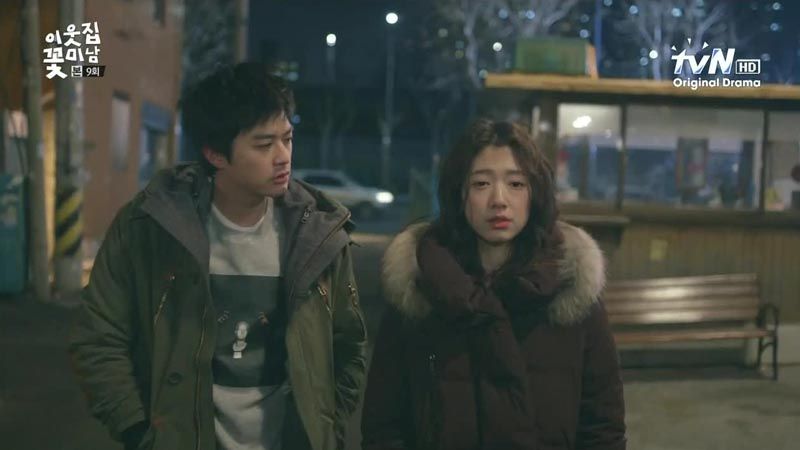 Jin-rak walks Dok-mi home, and she's sobered up by the time they reach their building. As they pass the security guard's booth, she relates the story of the first time she was there, when she was apartment-hunting. She'd seen a hat-shaped mark on the wall, and when the security guard entered he had hung his hat right over it. He'd been there long enough that his hat left a mark, and it made her think, I want to live here.
Jin-rak asks, "There are traces of us here too in this neighborhood, on this road, don't you think?"
They arrive at their own doors, and Jin-rak speaks up while he's got the moment to say that he hates winter. The other three seasons of the year, Dok-mi leaves her windows open, and he can smell her cooking in the air and feel her presence nearby.
Jin-rak: "It feels like you're right next to me. I just want to be with you for a long time. Then like that hat mark, my traces might remain. All you have to do is stay there, just like now."
That's so sadly sweet. Just like Jin-rak.
That night, they all settle down to work in their respective homes, as Dok-mi looks up at the tree Enrique painted on her ceiling. Enrique starts working on a photo collage, while Jin-rak writes the story of his hero deciding to leave traces of himself for his Rapunzel. There in his latest drawing is a security guard station, with a hat-shaped imprint in the wall.
Enrique sits in on one last meeting about his newest game, and tries to scramble for reasons that the project needs him to stick around. He hits upon one and practically giggles to himself while trying to complain that it's suuuuuch a pain but he'll have to bite the bullet and remain here. Only to have his highly efficient staff assure him that they've got everything under control. He pouts.
Do-hwi orders her minions to prepare the party, wearing a rather cruel look on her face as she vows to use the occasion as a reason to "send her off for good." Yeesh. I know she can't mean to kill her, but it sure sounds like Kill her. Then Seo-young drops by as invited and Do-hwi's all smiles again.
Enrique drops by Dok-mi's door to hang a bag on the knob and slip a folded-airplane note in her mail slot. Then he makes a BIG to-do shouting to Jin-rak's door that he's heeeeeeeere, hyuuuuuuuung!, it's ENRIQUE! Ha. Dok-mi hears the commotion from inside (how could she not?) but Enrique is dragged off soon enough.
Jin-rak takes him for a last meal together at Ryu's cafe, where another customer happens to butt into his conversation (and then out, just as suddenly). She's wearing a panda hat just like Enrique's, and he compliments her for her fashion sense. Ha, he would.
That's where they are when all the boys simultaneously receive Do-hwi's video invitation to her party. Dok-mi gets the same invitation, as well as a heartfelt (sounding) text asking her to come to the party so they can have an honest talk about what happened back then.
Dok-mi's softening toward Dok-mi with the overtures, which frankly makes me think this is ultimately going to be terrible. Eep!
To help Jin-rak's courting of Dok-mi, Enrique urges him to try wearing a different style to the party, and presents… a photo of Tae-joon. Hehe. He also gives him the advice on how to appeal to Dok-mi more by knocking on her door and drawing her out, letting her see the world. His voice grows wistful as he adds that Jin-rak should occasionally acknowledge that he knows her pain, assure her that he won't ignore her, and send her signals asking, Can't you come a little closer?
Jin-rak gives him a USB drive as his goodbye, tells him not to open it till he's in Spain.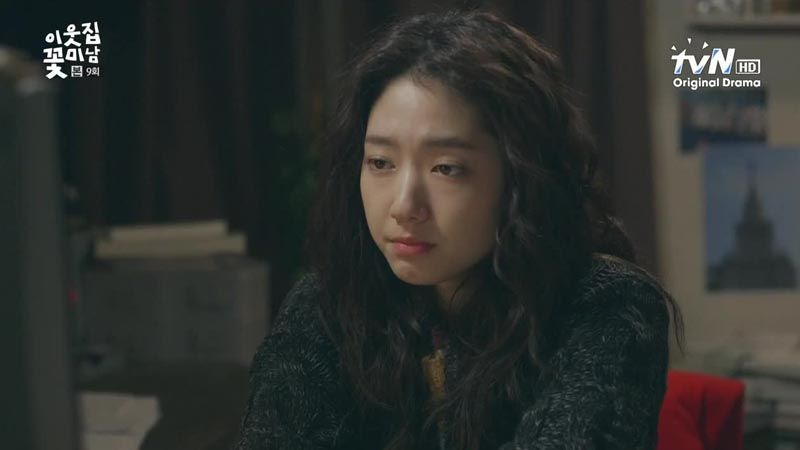 Dok-mi adds a new passage to her work in progress that night:
"Sometimes people who believed they'd just be passing each other by remain afterward in the heart. It isn't until after the separation that the depth and weight of the encounter is truly understood. That woman believes that life is the repetition of that belated realization."
The next morning, Jin-rak leaves another note on Dok-mi's milk carton. The drawing is the same as the last time, with the man making his proposal to the woman, with a bigger and bolder heart this time. The message reads, "The day of the party! I'll wait at 5."
Across the way, Enrique thinks of his airplane note and watches the clock, eagerly waiting some kind of activity at Dok-mi's window. He packs as he waits… and waits… and waits… his smile growing droopier by the minute.
Dok-mi has been working all night and misses both notes entirely, while the guys pop out periodically to send worried looks at her door and window. But she's bleary-eyed and exhausted, and goes straight from desk to sleeping bag.
Finally, Enrique's bag is packed and he can't stall any longer. Head hanging, he heads out with his suitcase behind Seo-young.
When Dok-mi finally wakes up, she finds both notes. Enrique's reads: "I'll wait at the window at 9 o'clock. I want to say goodbye with a wave and a smile! I made a game and left it outside your door. Do as the dice say!"
Rushing to the curtains, she finds his apartment empty. It's deflating, perhaps more than she knows. She looks at his window almost tearily, while Enrique trudges to the waiting taxi and takes one last look around. Flashbacks of their shared moments remind us—and her—of his promise to show her the world, how she lashed out at him, then how she told him she wanted to spare him pain, and how she said she'd think of him sometimes.
Dok-mi retrieves the bag from her doorknob and finds that Enrique has made a Chutes and Ladders type board game, using photos of them. She rolls the dice and starts to play. Aw, each space on the board is a plan to do something—to ride bikes at the Han River, to circle the city by bus, to go camping. That's so sweet; he wants to draw her out one small step at a time, but the game aspect also sort of reflects her tendency to experience life vicariously. It's like he's getting her to play first in theory, and then, hopefully, for real.
One square on the board is to go to a party, which reminds her of Do-hwi's invitation. She reads Jin-rak's note too, and seriously considers it.
Jin-rak does his best imitation of Tae-joon by dressing up in a suit ("But why do I look like a loser?"), but gets called in to the office by his screaming PD. He worries all the while, especially since he saw the milk carton gone and knows Dok-mi read his note. He can't be late for the party, not after he promised to wait for her.
He hardly focuses on the meeting at all, even when his PD is sarcastically congratulating him for dropping to one-star reviews. As if his accusations of plagiarism (of Enrique's game) weren't bad enough, he's also been too transparent about the bad guy in his webtoon—you know, that successful character from Spain.
Meanwhile, Enrique's at the airport, dragging his feet all the while. Seo-young mentions Do-hwi and Dok-mi's odd friendship, and wonders what was meant about "sending her off" at the party. There was something in the way Dok-mi said it, which reminds her of how they "sent off" one of their classmates at their high school graduation, which is basically a euphemism for a Carrie-like humiliation, it seems.
Enrique perks up—what does she mean? Details, details!
Then, they're approached by a familiar face—panda hat girl, here shyly admitting that she's actually Enrique's fan. He's happy to greet her, though confused to hear her refer to the Flower Boy Next Door webtoon that he happens to be featured in. It's news to his hears, but she informs him that it's the work of the manhwa writer who's embroiled in those plagiarism claims, who may have a prior record of fraud and who is definitely depicting Enrique unfavorably.
It's 5 o'clock by the time Jin-rak gets out of his meeting, and he takes off running. At the same time, Dok-mi heads over to Do-hwi's office, remembering the offer to talk about their past and clear the air between them.
Do-hwi's all smiles when Dok-mi arrives and welcomes her in… just as a figure appears behind her shoulder.
OMO. It's their old teacher. Oof, and goddamn. That's just cruel.

COMMENTS
Yiiikes. Well that just puts Do-hwi into a whole new category of hateful, doesn't it? Prior to this episode I'd mostly considered her an annoying but ultimately harmless presence. She was pretty mean in the past, but her role in the present was more irritating than anything, and despite the fact that her mere existence is painful to Dok-mi, I do think Dok-mi's stronger than she looks and able to handle that. In fact, she needs to in order to heal properly and move on.
Thus I was fine tolerating her antics, plus as comic fodder she was off looking ridiculous most of the time anyway. We have seen signs of a more pernicious nature brewing under the surface, but this is the first time they've really come out. And I am not amused. A bumbling idiot is one thing, but now she's gone into outright cruelty, and for what? The affections of (yet another) guy who doesn't like Do-hwi back, whom Dok-mi doesn't even like? Yeah, this girl learns nothing. You'd think that since she knows nothing, there'd be nowhere to go but up, but some souls are just closed to improvement. Sad truth of life.
I loved seeing Enrique's despondence in this episode, not because I enjoy his pain but because it echoes in Dok-mi's written passage about not understanding the depth of something until it's gone. I suppose one might wonder why he doesn't just stay and impose his presence when he's had no trouble doing that thus far, but there's a different in intent and depth of feeling. He's vulnerable this time, and clutching at straws for just one tiny, measly sign. Any sign. He's finally backed off enough to let Dok-mi have her say in things, which I like to see as well—you need to back off for the person to actually figure out how they feel, to distinguish whether what they're feeling when you leave is relief or disappointment.
And the poignant part is that Enrique's despondence is mirrored in Dok-mi's. Without him buzzing around all the time, she can feel the void of his absence, and it's lovely, in a melancholy sort of way, how they start missing each other before they've even left.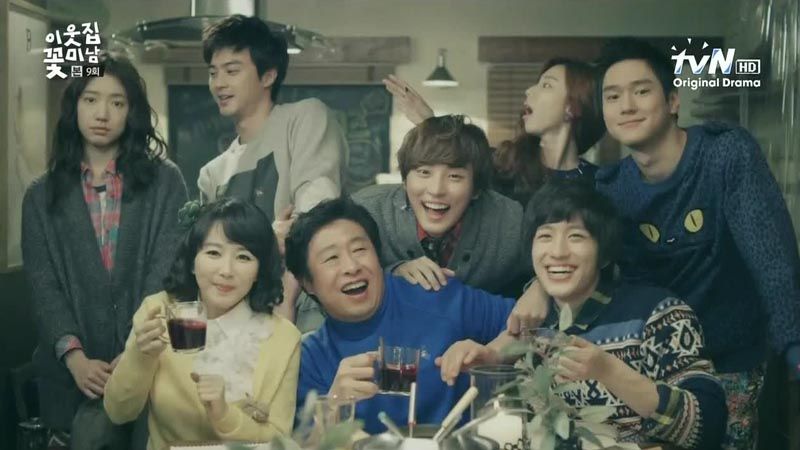 RELATED POSTS
Tags: featured, Flower Boy Next Door, Kim Ji-hoon, Park Shin-hye, Yoon Shi-yoon