Age of Feeling: Episode 14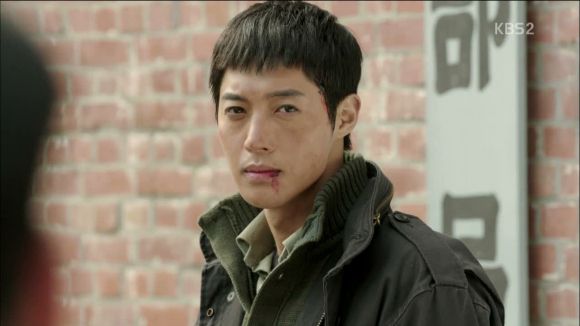 Our hero wins over the hearts of the people through a simple act of violence, though I'm sure the fact that they were already predisposed to love him certainly helped. While most of the gang politics tend to revolve around Jung-tae and the role he'll play in Shanghai's future, it's kind of funny just how oblivious he is to all the machinations going on around him. Eventually he'll have to pick a side, but which one remains to be seen. Oh oh! Maybe he can pick neither and just start his own gang. I vote to bring back the Dobi Family.
Ratings rose by a hair, but are mostly staying even at around the 9.7% mark. I wonder if next week will bring a meteoric rise in numbers, now that You From Another Star has wrapped.
SONG OF THE DAY
Nell – "Dear Genovese" [ Download ]
Audio clip: Adobe Flash Player (version 9 or above) is required to play this audio clip. Download the latest version here. You also need to have JavaScript enabled in your browser.

EPISODE 14 RECAP
Jung-tae and Jae-hwa's soon-to-be brawl is interrupted when Jae-hwa's notified of all the bedlam outside with the Bonus Police Brutality Day, causing him to run into the fray to start greasing police palms in order to save the frightened people of Bangsamtong. Aw.
Those who can start running toward the safety of the Red Cross clinic, including Ok-ryun. Jung-tae immediately runs to find her, and ends up taking on a large group of policemen single-handedly in order to protect her and the others.
The people cheer wildly as Jung-tae takes down their enemies, even when the captain of the regional police finally gets off his high horse to challenge Jung-tae.
It's another armed vs. unarmed fight, but Jung-tae still dominates while (thankfully) avoiding more stab wounds. Everyone's cheers are swiftly cut off when Jae-hwa emerges from the crowd and throws Jung-tae to the ground so that the police can finally restrain him.
Jae-hwa scolds the crowd like children for allowing the fight to happen, since the last thing they need is to get on the bad side of the law. He tells them all that it'll be on them if Jung-tae dies while in prison, and tries to do some damage control by helping the injured policemen.
When Jung-tae doesn't understand why he's being arrested, Jae-hwa meets him at eye level to explain their situation in choice words—they may be Korean, but they're not in Korea. They're refugees without a home country who mean nothing to the authorities, and since Jung-tae beat up those authorities, he's going to have to pay for it.
Jae-hwa then hands Jung-tae over to the police captain who lost the fight (and now holds a mean grudge), before telling him that he can do whatever he wants with Jung-tae.
Leader Seol acts like a complete tool when Jae-hwa confronts him over his orchestrated chaos as the latter demands that he keep to the promise they've held to for over twenty years regarding the official Police Brutality Days.
The points Jae-hwa brings up are valid, like how Leader Seol's revenue from Bangsamtong will decrease if there's no one left to live there after all this mayhem. But after Leader Seol smiles and mocks Jae-hwa, he turns dead serious as he pins the blame on him for putting Club Shanghai up as collateral in order to borrow money from Ilgookhwe's bank.
Jae-hwa seems to be considering whether it's worth it to just return the money to Ilgookhwe if it means getting Leader Seol to stop messing with his neighborhood, but all chances of that fly out the window when Leader Seol adds yet another condition: that he get a whopping seven percent of all the money coming out of Bangsamtong.
This is something Jae-hwa can't abide by, because he knows the old man is just acting out of greed. He swears that he'll pay Ilgookhwe back, even if it means selling his organs or splitting the management rights to Club Shanghai. He won't take Leader Seol's help, and makes sure to rub it in that his prized possession, Jung-tae, is now in federal custody.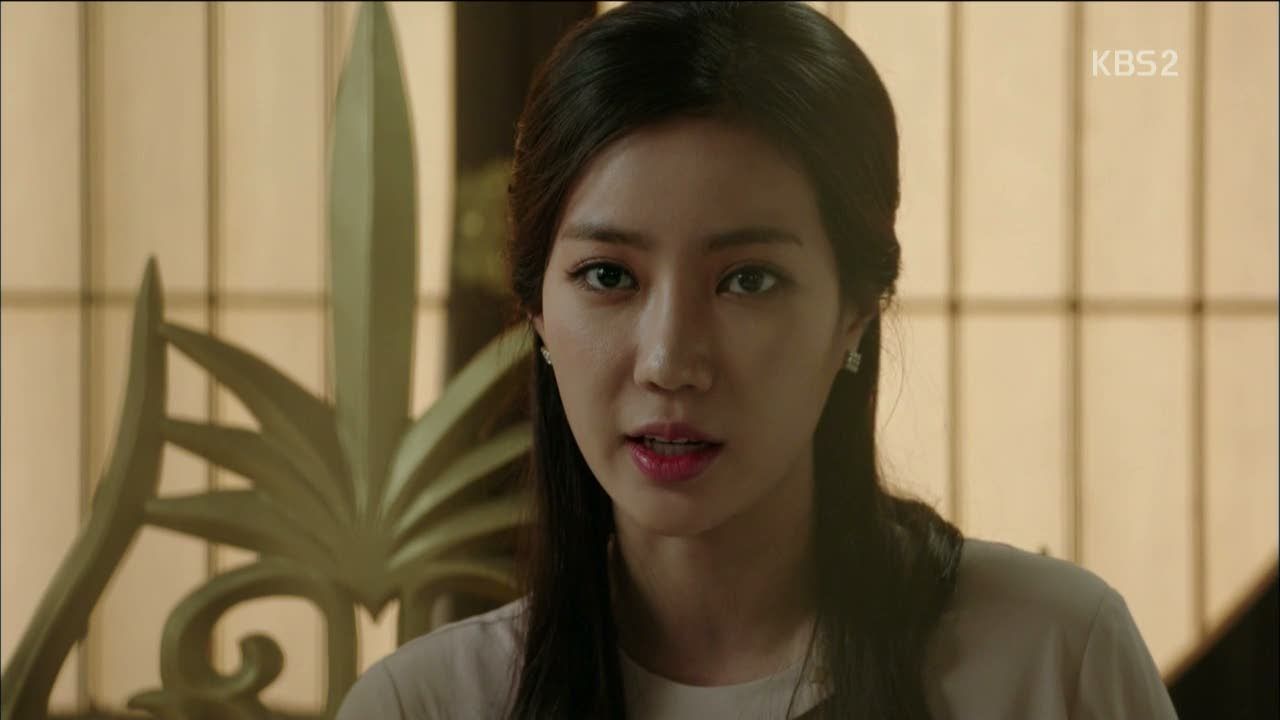 Kaya is apprised of all events concerning Hwangbang and Jung-tae's arrest, but sees it as a boon for Jung-tae, who became the new hero of Bangsamtong by fighting the authorities.
She's also sure that those who would back Jung-tae as Bangsamtong's new leader will start coming out of the woodwork, one by one.
Meanwhile, Jung-tae is mercilessly beaten in prison by the police captain he bested in their impromptu duel. After hitting Jung-tae enough to break his ribs, the captain sneers, "Did you want to be a hero?"
Jung-tae replies that he didn't do it to be a hero, he did it because he wanted to protect the people. And then, with conviction burning in his eyes he adds, "Now, I will protect them."
But then we see a softer, more jaded side to the captain as he reminds Jung-tae that they're both men without a country and therefore can't protect anything. Methinks Jung-tae will prove him very, very wrong.
Old Man Fly pulls together an impromptu committee consisting of Doctor Jung, Ok-ryun, and some of his men to figure out how they'll fundraise to get Jung-tae out of prison.
While they take to the streets to collect from the public, Ok-ryun gathers all the money she's saved to make a record for herself. She doesn't care about that dream anymore, and would rather use it to save the man she loves—so she asks So-so who to give the money to.
As it just so happens, Jae-hwa is now without a main singer for Club Shanghai's (re?)opening, and vows that he'll do whatever it takes to borrow enough money to make sure the club doesn't go down on his watch—even if he has to put the club up as collateral to get it.
So-so brings Ok-ryun to Club Shanghai, and endearingly calls Jae-hwa orabeoni, the olden term for oppa. So they know each other too? (To be fair, Bangsamtong is only so big.)
Baek-san tells Leader Seol about Jung-tae being tortured in prison, which the older man thinks is amusing, since Daddy Shin was once the same way. Because he lost his country, he came to Shanghai and took out his anger through fighting and getting beat up. And somehow that translated to him becoming the God of Shanghai.
But Baek-san again worries that Jung-tae will become like his father and won't bend to their will, to which Leader Seol proposes a grooming/brainwashing plan in order to make Jung-tae loyal to Hwangbang… somehow. I give up with these two, I'll wait to analyze them when they do something worth watching.
So-so and Ok-ryun hand over all the money she has to Jae-hwa in an effort to get him to spring Jung-tae. He all but scoffs at the paltry amount and stresses to them that Jung-tae beat up twenty-four police officers, not to mention the captain—it'll take a lot more than what any of them have to free him.
Since he's desperate for a singer though, Jae-hwa tells So-so to stand so he can give her the once over. He doesn't like what he sees and mutters, "Let's pretend this never happened." Ha.
But when Ok-ryun offers to do anything in her power to free Jung-tae, even sing and dance for the club, Jae-hwa doesn't give her the time of day. At least not until Doctor Jung shows up.
Jung-tae is thrown in a cell with fellow inmates after enduring more torture, though the inmates are more than happy to help their new hero. One of them even exclaims that watching him fight the authorities on their behalf was more exciting than when Sohn Kee-chung won the Olympic gold (in the 1936 Berlin Olympics).
Doctor Jung shows the Team Jung-tae supporters fundraising for his release to Jae-hwa, and explains how Jung-tae's one act of defiance roused the people of Bangsamtong to fight for him.
"You want to become the owner of Bangsamtong?" she asks Jae-hwa. "Then defeat Jung-tae. If not, you'll never become its owner." He then watches as Leader Seol donates a large amount to help Team Jung-tae's cause—partly to teach Jae-hwa a lesson, and partly because having a hero like Jung-tae can also help them in that regard.
Jae-hwa has a crisis of conscience over the new Cult of Jung-tae, because in his mind he's done much more for the people of Bangsamtong without even receiving a third of the praise and adoration they're giving Jung-tae.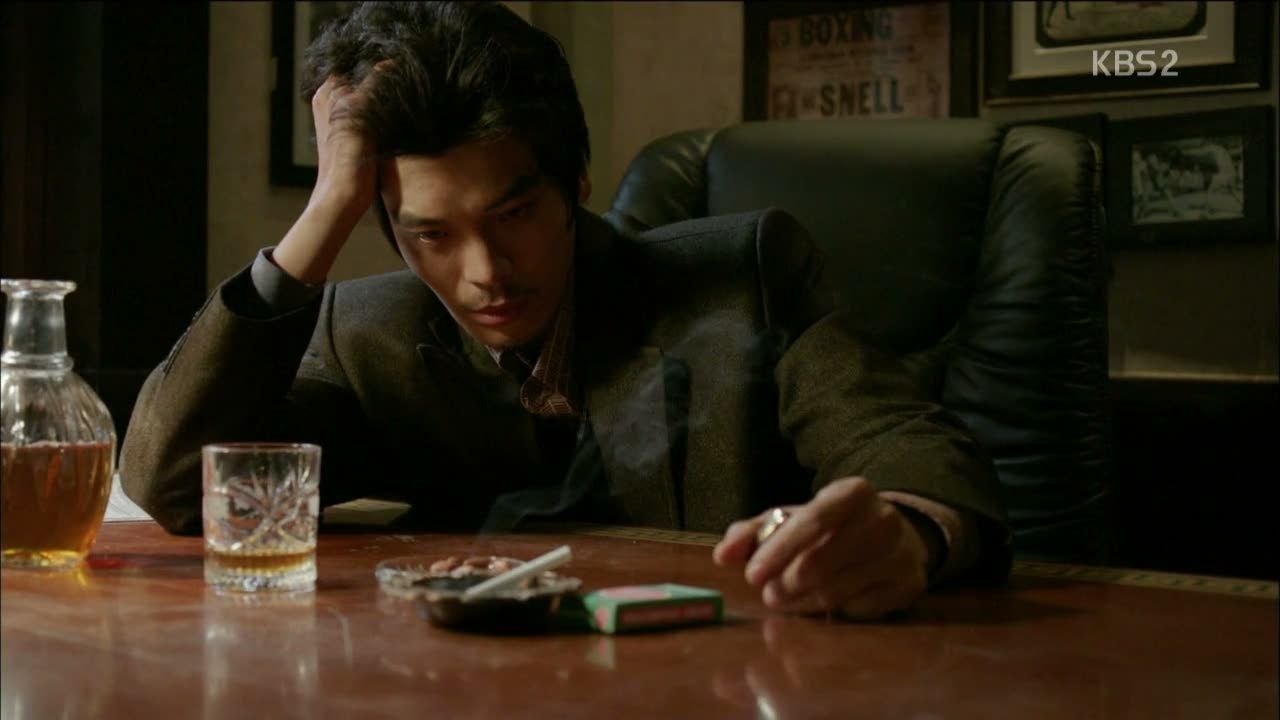 He's more rueful and envious than anything as he plays a game of "He loves me, he loves me not", only he's replaced flower petals with bar nuts and changed the game to "Kill him, let him live." Even though the last mystical bar nut indicates that Jae-hwa should let Jung-tae live, he squashes it between his fingers.
Jung-tae lies awake in his prison cell that night, thinking of the people of Bangsamtong. In his thoughts, he asks his father for advice on what he should do from now on.
He goes still when the prison door creaks open, and uses his spidey-sense to narrowly avoid a dagger that suddenly comes rushing toward his heart. His mysterious assailant flees as soon as Jung-tae knocks him away. Dafaq? Seriously, Jung-tae. Just move to the Bahamas.
Leader Seol seems to have arranged for Jung-tae's release and sounds all pleased with himself when he notes that a new leader of Shanghai will be born. Meanwhile, after collecting more borrowed money from Ilgookhwe's bank, Jae-hwa heads out the door… only to find the people of Bangsamtong standing outside to cheer for him. They were told that he was going to help with Jung-tae's release—but judging by Jae-hwa's face, that was not what he planned to do with his money.
However, he's always wanted appreciation and adoration, and that's exactly what the crowd is giving him. It's cute to see Jae-hwa totally cover for himself, now acting like he was totally going to save Jung-tae.
He also sneaks in a little PR for Club Shanghai while he's at it, which the crowd is more than happy to support now that Jae-hwa's their new hero. When Old Man Fly pats Jae-hwa on the back proudly and tells him "You really are the owner of Bangsamtong," you see his eyes light up. Aw. (Is there a chance he was behind Jung-tae's murder attempt?)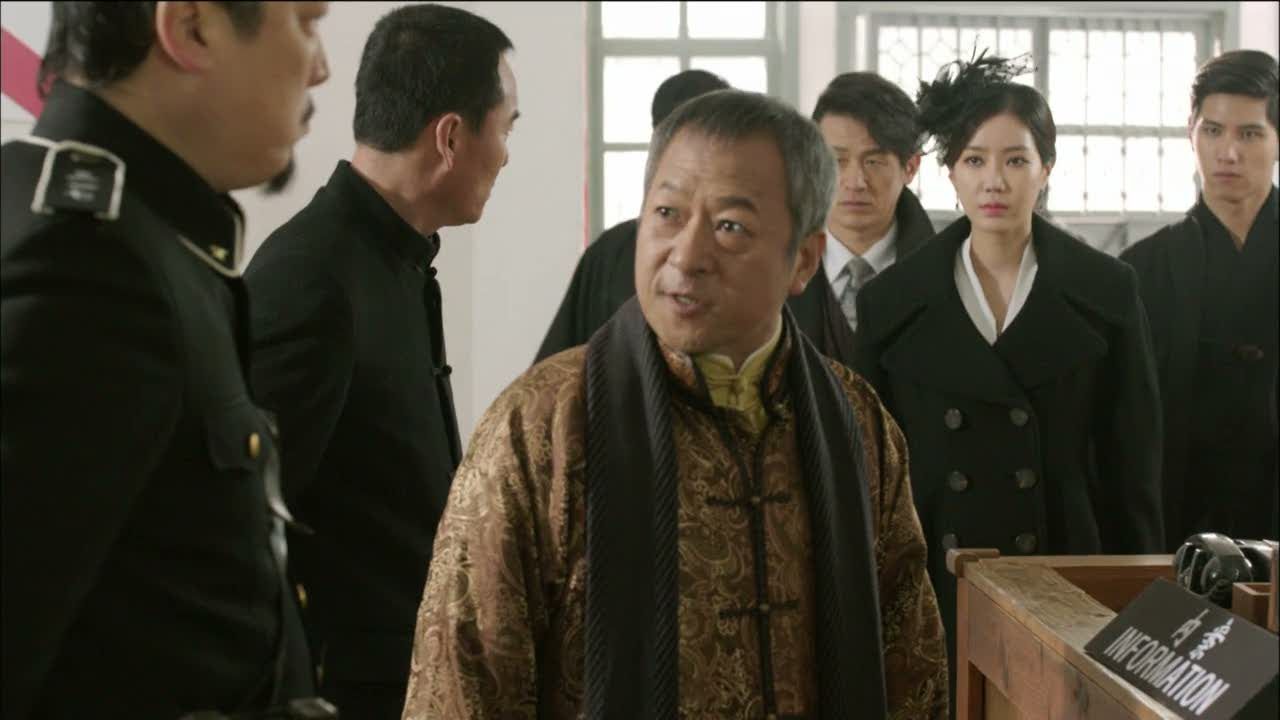 However, freeing Jung-tae is turning into another who-gets-the-body snafu, as Leader Seol makes it to the prison only to find out that someone else beat him to the punch. And no, it wasn't even Jae-hwa—it was Kaya.
Kaya enters the scene and comments that Leader Seol and Daddy Shin must've been close, to which the elder replies that they were dan geum ji gyo, meaning that they were sworn brothers with an eternal bond.
She seems to highly doubt that, and even insinuates that Hwangbang might've had something to do with Daddy Shin's murder—after all, aren't they all gangs that kill people? Baek-san looks like he wants to punch her face in, but Leader Seol stops him.
He knows Kaya wants to know Daddy Shin's cause of death and tells her that it came from twin sword wounds… much like the ones she carries. "If what you're saying is true, then I suppose people would say I killed him," Kaya replies, unshaken. "Is it not?" Leader Seol asks victoriously, before proving to everyone that Kaya and her minions were at the very same place where Daddy Shin died, right before she came to Shanghai.
This does shake her just a bit, but she covers for it by admitting the truth, that she did take his last breath. However, it was because he was already so badly beaten that he begged her to give him that one mercy.
Though Baek-san wants to peg her for murder, the law is on her side—she can claim just cause if her goal was simply to free him from pain. (Was assisted dying actually protected by law in the '30s, or did the show pull that from its bottom? I'm going to guess it's the latter.) She then claims that Daddy Shin was dying from internal wounds caused by someone else, and we all know who.
In order to deter Kaya from spilling the whole truth, Leader Seol dangles a carrot she can't refuse… by telling her that he knew her mother, and knows about her death. It's a sort-of-kind-of veiled threat for her to keep her mouth shut until they can awkwardly set up a date to discuss the details.
At last, Jung-tae is freed from prison. All the good people of Bangsamtong are there to greet him along with Ok-ryun, who immediately pulls him into a hug. I love how Old Man Fly is all, "Get a room!" before giving Jung-tae tofu, the mandatory post-prison food.
Jung-tae spots all the big players nearby: Jae-hwa, Kaya, and Leader Seol. The latter knows that Kaya suspects them for Daddy Shin's murder but doesn't have proof, and is confident that he can keep her quiet by telling her about her mother's death, which will turn her against Denkai and remove Ilgookhwe from Shanghai.
The thing is, Kaya knows very well that that's exactly what Leader Seol plans to do (minus the part where Denkai is involved). So she's prepared.
After Doctor Jung patches Jung-tae up and everyone else pays a visit, he's left alone with Ok-ryun. After he gently pulls her down to sit beside him, he wonders if she suffered because of him.
She just shakes her head as she says that it was only after she realized that the money she saved for four years wasn't even enough to see him for a day—and that the fact that there was nothing she could do for him was what made her suffer the most.
Jung-tae comforts her by telling her that she did all she had to do by just waiting for him before taking one of her hands in both of his. She takes it a step further by leaning forward to place a sweet (but brief) kiss on his cheek. D'aww, he looks so happy.
After reluctantly sending Doctor Jung off, Jae-hwa demands an apology from a man who bumped into him in passing. "Shouldn't you be the one to apologize?" the man asks as he turns around… it's Aoki(!!!).
I love that he is so not into Jae-hwa's little power play, even as he identifies him by sight as "the leader that the people of Bangsamtong turned their backs on." Ouch. Jae-hwa can't say anything further as Aoki flashes his business card/badge of importance from the Japanese government labeling him as director of their public affairs intelligence bureau. Double ouch.
Shinichi (who's been stalking about in Shanghai this episode) finally makes himself known to Jung-tae in order to draw him out for a fight. While Jung-tae thinks that everything Shinichi did before was a conspiracy to destroy the Dobi Gang (like Poong-cha's death), Shinichi's response is more along the lines of, Nope. I just wanted to kill you.
He's come to finish what he started, so he and Jung-tae start their 2983928th battle to the death.
Meanwhile, Kaya pays a visit to Leader Seol in order to learn what he knows about her mother. He keeps calling her mother by Denkai's family name, even though Kaya corrects him—her mother became Deguchi Ryoko, because she married Kaya's father. (Though I'm confused about how he chose to call her mother Denkai Ryoko, when Denkai's family surname is actually Doyama.)
Leader Seol's reaction to that is strange, as though he remembers Kaya's father but doesn't find him as important a topic as Kaya seems to, since she proudly reminds him that she is in fact Deguchi Shinjo's daughter. But she cuts to the chase: does he know who killed her mother?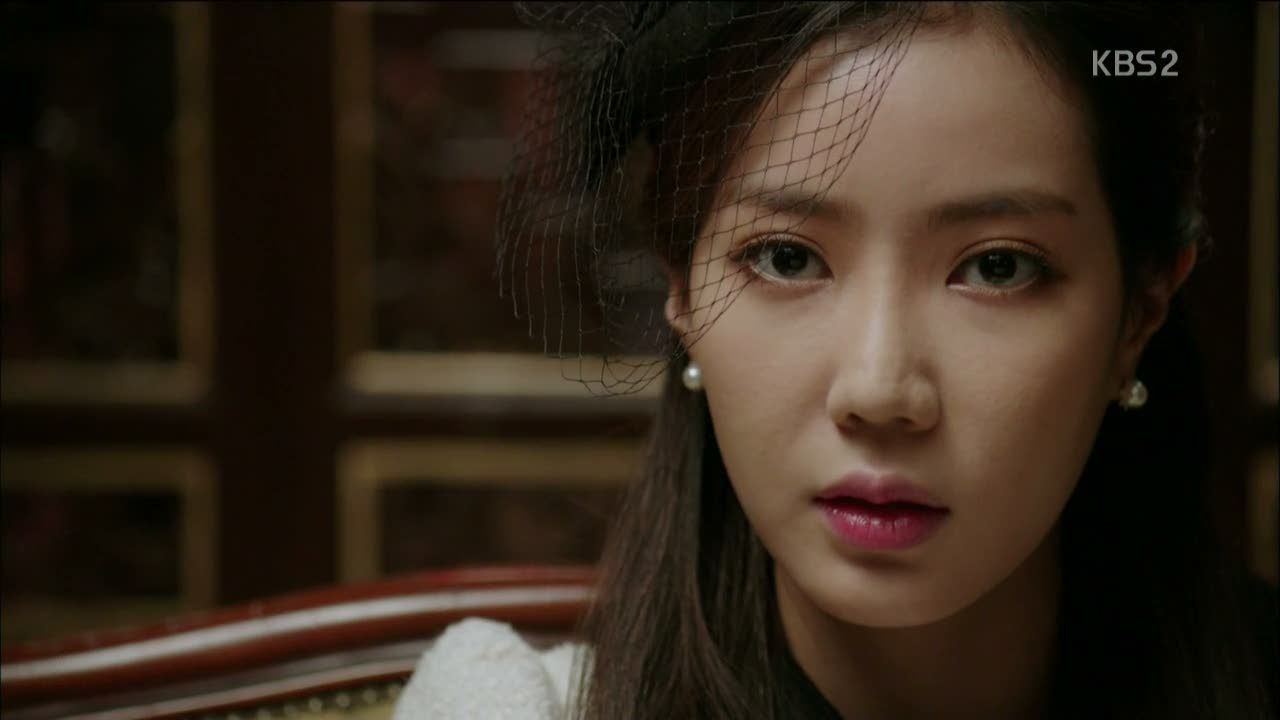 She threatens him with a duel if he's been misleading her, but he smiles as though he's just humoring her and starts off, "I'll tell you… now…"
But of course he doesn't, because Baek-san comes in at juuust that time to call Leader Seol away to tell him about Shinichi and Jung-tae's ongoing fight. In order to protect their golden ticket, Leader Seol sends Baek-san to help Jung-tae… along with Dokku. Hm. Was Dokku the one who told them about the fight in the first place?
During the mandatory mid-fight conversation break, Jung-tae asks Shinichi whether he's doing this for Kaya or Ilgookhwe—because Kaya has no interest in taking over Shanghai. Jung-tae: "If you care about Kaya, let her go. I beg you."
Since they've had this conversation before, Shinichi gives the same reply: "That's her decision." Jung-tae doesn't buy it, but he's also not in this just for her, since he's got to avenge Poong-cha. End mandatory mid-fight conversation break.
Baek-san intervenes right when Jung-tae's starting to wear down (he's always in some state of injury), and the ensuing greeting between him and Shinichi makes it seem like they go way back.
And though they have an old personal score left unsettled between them, Baek-san isn't here for that—he's here to protect Hwangbang's preciousssss, and forces Shinichi to fight as an agent of Ilgookhwe and not as an individual. Whoever loses has to leave Shanghai.
The epic showdown begins, with Shinichi wielding a wooden blade against Baek-san's hands of steel. It sounds like two gods are waging war, when really it's just Baek-san pulling out his signature blunt-force-kamehameha-tactic, the same one that killed Daddy Shin and left a mean-looking bruise on Jae-hwa.
Dokku sneaks up behind Jung-tae during the fight to prod him to really watch Baek-san make his move.
And as Jung-tae sees Shinichi spit up blood because of Baek-san's blow, he's instantly reminded of the marks left on his father's dead body, unique bruises which could only have come from Baek-san's hands… which means that Baek-san is his father's murderer.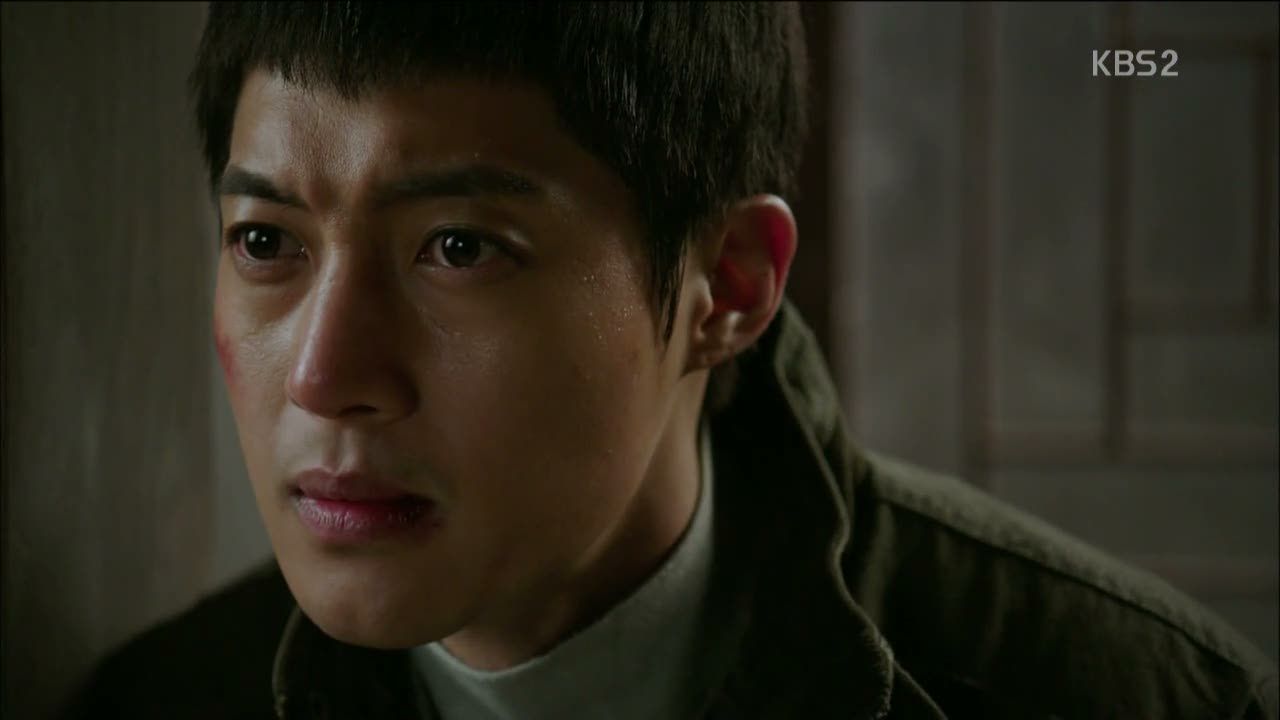 COMMENTS
I wish the show had been a little defter in handling the mystery of Daddy Shin's murder—in that I wish they had tried to make it a mystery. At this point I'm actually hoping that Baek-san is just a red herring, because otherwise it all feels too easy, doesn't it? I mean, at least we know Baek-san didn't kill Kaya's father, right? Maybe the mystery we have yet to learn is how Baek-san and Aka have the same very particular set of skills. (And I'm really just guessing at this point.)
This isn't one of those situations where we got to know a character only to suddenly find out he's the who in the whodunit, since we weren't given time and/or a reason to connect to Baek-san or to care about the murder as it relates to him. We also didn't really know Daddy Shin, the man he allegedly murdered. Our only anchoring point is Jung-tae, which is fine and all, but still not quite enough to set up a truly compelling, tension-fueled plot if the focus remains on his revenge—because when someone swears revenge in this show, they're literally just swearing to take their time.
I'm really hoping that doesn't happen, since suspense has never really been this show's strongest suit—or even one of its weaker, but still-pretty-watchable suits. For instance, we don't ever see Kaya actively seeking revenge (only once she had already found Daddy Shin), and the only reason why her mother was mentioned at all this episode is because the word was dropped in her lap without her having to do any mom-specific sleuthing. And then, when presented with her first lead in maybe ever—no matter how sure she was that Leader Seol wouldn't give her an answer—the best she could come up with was to ask the exact same question she's been asking for over five years: "Who killed my mother?" It's as if she's expecting someone to eventually just up and tell her the truth, even at her current (and alarmingly inefficient) rate of asking one person per calendar year.
Jae-hwa still continues to be a surprisingly interesting character, and I especially love him for being such an open book in a library of closed ones. We actually see him working toward one of the most simple goals out of anyone else's: that of becoming a leader loved by his people. And you know what? It totally works. I don't love everything he does, but I always get where he's coming from and why. And as much as I love Jung-tae, I kinda can't blame Jae-hwa for trying to oust him from the running—especially when he's been working decades for something Jung-tae can now take from him by virtue of his father being the Second Coming. 'Cause that's how business works.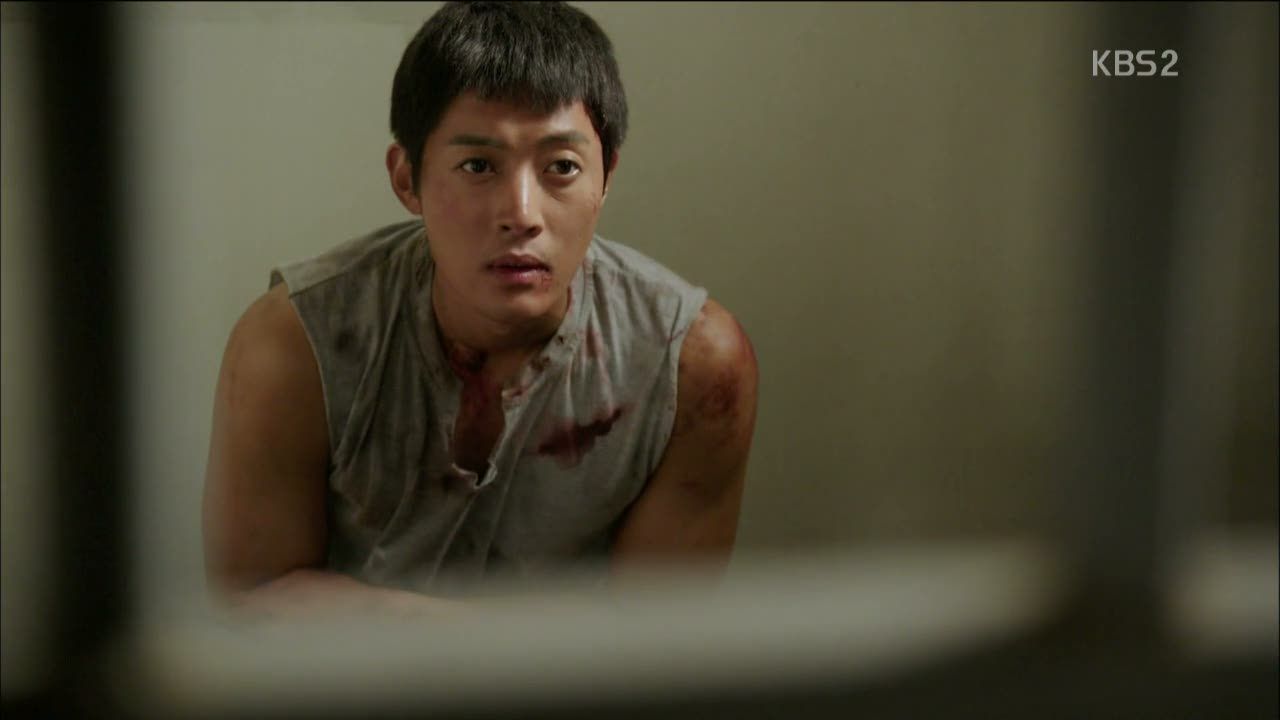 RELATED POSTS
Tags: Age of Feeling, featured, Im Soo-hyang, Jin Se-yeon, Kim Hyun-joong, Kim Jae-wook