Age of Feeling: Episode 16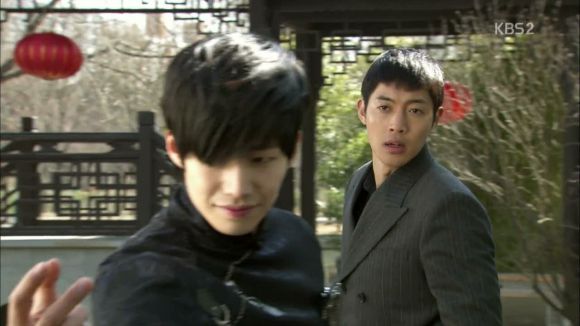 Remember that time everyone fought over the corpse of our hero's father? Now it's time to fight over the all-important club he left behind, which brings some new foes out of the woodwork, and some familiar ones too. That's right—one of our fan favorites has returned from the brink of the character disposal bin to pit himself against Jung-tae for the right to claim a pivotal piece of architecture in an epic battle that's bound to happen… at some point in time. For now, we wait.
Ratings-wise: Age of Feeling finally knows what first place feels like with 12.5%, which narrowly edged out new competitor Three Days at 11.1%, and Sly and Single Again at a more modest 8.9%.
SONG OF THE DAY
Rumble Fish – "Virulent Song (몹쓸 노래)" [ Download ]
Audio clip: Adobe Flash Player (version 9 or above) is required to play this audio clip. Download the latest version here. You also need to have JavaScript enabled in your browser.

EPISODE 16 RECAP
Ok-ryun and So-so are discovered by one of the thugs while Jung-tae and Jae-hwa are occupied fighting the rest, and can do nothing as the man starts dragging them toward the door.
Suddenly, a new player comes to the rescue: it's Il-hwa. I love that he gives a small smile and nod to the girls, polite as ever, before he joins the fray on Team Jung-tae's side.
After Team Jung-tae wins, Il-hwa and Jung-tae exchange a brotherly hug as a greeting, with Il-hwa wondering, "How long has it been?" (How long has it been?)
Il-hwa pointedly ignores Jae-hwa as he tells Jung-tae that he already stopped to pay respects to the late Daddy Shin. Apparently, he went to Leader Seol to ask that Club Shanghai to be entrusted to him, and the response the old man gave was that Club Shanghai was without an owner—meaning that it's a free-for-all for whoever has the stones to claim it.
Jung-tae asks whether this means that Il-hwa will fight to have Club Shanghai under his control, a question Il-hwa purposefully avoids. But Jung-tae won't give up and asks again, causing Il-hwa to put his hands on Jung-tae's shoulders in a reassuring, yet almost regretful way.
"I'll see you opening night," Il-hwa says. "Prepare yourself." Ack, so he is going to fight for ownership.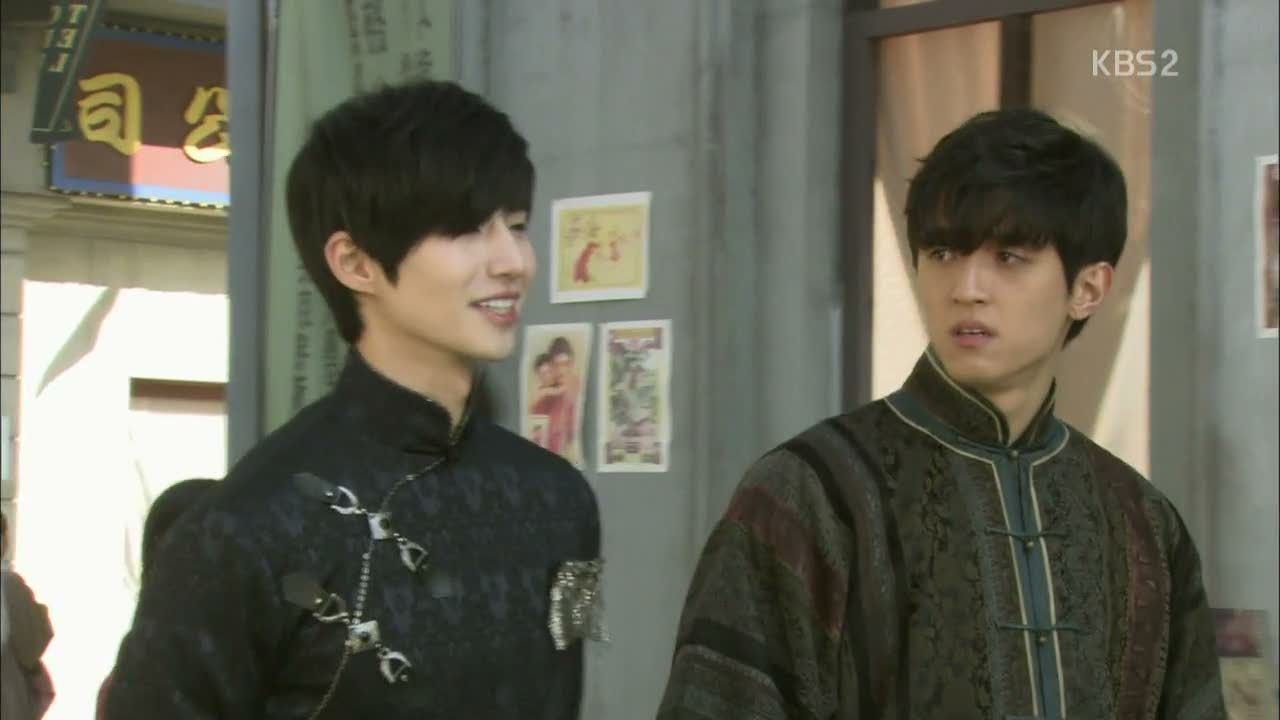 Il-hwa's lackey seems nervous about fighting over Club Shanghai, since it means they'll have to go head-to-head against Jung-tae, who's kinda sorta their friend.
But Il-hwa merely offers his usual Cheshire smile as he muses, "Shanghai, and the streets of Bangsamtong… Will it be a place for us to live, or for us to die?" I suppose since Ilgookhwe destroyed his home base and Il-hwa's just a wanderer, he's got as good a reason as any to want to find a new home. (Because finding an actual home that doesn't have to be conquered first is so passé.)
And finally, we get a legitimate flashback to the unspecified amount of time Jung-tae spent training under Il-hwa, replete with requisite montage music.
After actually besting Il-hwa in a fight, hardening his hands by punching hot coals, and doing shirtless pull-ups, Jung-tae had to say goodbye to Il-hwa, who inexplicably left to the faraway land of it-likely-doesn't-matterville. Welp, at least that explains some of the five year gap.
Jung-tae wakes up with a start after he encounters Il-hwa in his Dream Battle Arena, in much the way he mentally planned for his encounter with Baek-san. He must be nervous about going up against his savior/mentor.
Meanwhile, Il-hwa tells Leader Seol that he'll be facing off against Jung-tae on Club Shanghai's opening night, and it's almost funny how Leader Seol is just so bad at masking his emotions. He literally goes from the Comedy Mask (when he's happy about the upcoming fight) to the Tragedy Mask (when he's supposed to act like he's not happy about that).
At least Il-hwa seems to see through Leader Seol, though it's certainly not difficult with how obvious he's being. Il-hwa seems to be using a metaphor to describe how Leader Seol is dealing with Jung-tae, and compares the latter to an elephant that the cowardly hunter must stab from afar and wait until it dies. Obviously, Leader Seol is the cowardly hunter.
In the end, Leader Seol warns Il-hwa to go easy on Jung-tae, who's like a son to him. Il-hwa all but laughs that Jung-tae isn't the same as when he saw him in Shineuijoo, so he'll be bringing his A game to the fight.
He leaves Leader Seol wary and on edge before returning to his temporary home to find Jung-tae waiting for him. After a brief fight—which is just their way of saying hello—Jung-tae asks him if he's really serious about taking over Club Shanghai.
Il-hwa says that Jae-hwa is his real target, and seems almost disappointed when Jung-tae's response is: "He's the one I'm serving." To Il-hwa, Jae-hwa will always be Daddy Shin's dog, and therefore unworthy to run the club of his former master.
But he still offers Jung-tae some advice in his own cryptic way, because he's only been in Shanghai a day but has already read Jung-tae like a book. He even knows who Jung-tae is planning vengeance against, and warns him to be careful. Aw, I love friendly rivals.
Jung-tae and Jae-hwa powwow over how to handle the club's opening, since Leader Seol has made it into an open season for anyone who thinks he's strong enough to come and take the club for himself.
Instead of confronting Leader Seol directly, Jung-tae comes up with a plan to invite everyone but Hwangbang and bribe the Chilinbang elders generously. Leader Seol can't be obvious in sending his own people now that Jung-tae's his son, so he knows that Hwangbang will send secret agents instead.
Regardless, Jung-tae promises Jae-hwa that he'll take care of anyone who comes to claim the club, even if it means fighting his strong frenemy, Il-hwa. Jae-hwa marvels at Jung-tae's confidence to his face, but once he's alone he muses to himself that Jung-tae is still too naive to see the circumstances for what they really are.
Il-hwa doesn't seem to think the same way, since he comments to his lackey that Jung-tae may turn out to be a scarier foe than Hwangbang. Even so, his plan remains the same: to take over Club Shanghai.
With freshly-bought flowers for his girlfriend (he actually said the word!) in hand, Jung-tae is forced to face off against Jae-hwa's unruly lackeys, who want to establish the pecking order and do not want to call Jung-tae their hyung-nim.
I love that Jung-tae's so used to people wanting a piece of him that he's just over it. While he's beating down the boys, he also gives them instructions on how to handle all the unwanted guests who'll be coming to the club's opening.
…Because they won't come a minute before or a minute later. Seriously, this whole Battle For Club Shanghai is ridiculous—it's like an army marching up to an enemy encampment and going, "Hey, so, yeah. We'll just wait here to attack until you open your doors, if that works with you guys."
After Jung-tae firmly establishes that he's earned his hyung-nim title (and that Dokku hasn't), So-so filches the prettiest dress in the singers' dressing room for Ok-ryun to wear. She even drags Ok-ryun into the star singer's personal dressing room to help her get ready for her big night.
They're forced out when the star singer MEI LING (Kim Jae-kyung) shows up, and Ok-ryun is also forced to strip out of her fancy stolen dress when its bitchy owner comes to reclaim it.
After meeting again for the first time in a long time, Aoki takes Kaya out for a meal while he explains the political situation going on between China's chief military commander, Chiang Kai-shek, and the biggest branch of the Imperial Japanese Army, the Kwangtung Army. (The conflict between Japan and China would have been at its apex at this time, as it was in the years just before World War II.)
And as he puts it, Ilgookhwe is the (extra) sword of the Kwangtung Army, in effect there to pave the way for Japan's eventual domination. To that end, Aoki tells her that Ilgookhwe must gain control of Shanghai's economy, which means taking over Club Shanghai and a casino owned by Leader Seol.
Though Aoki's demeanor is nothing but friendly, his words aren't as he tells her that her life is on the line unless she starts producing some results. "Take over Club Shanghai first," he advises her. "Then you can seek revenge." If she does that, he promises to help her with her revenge.
However, Aoki decides to take matters into his own hands as a backup in case Kaya fails, by dragging up every bit of information on Jung-tae he can before the club's opening.
Ok-ryun's been feeling under the weather since the dress-stripping incident, and reluctantly volunteers to get a shot in the butt from Doctor Jung*. It's only after she's on the table with her pants down that Jung-tae walks in, causing her to scream in embarrassment and run away. (*Her name is now officially Sun Woo-jin, and though I have NO idea where I got Doctor Jung from, we're just gonna keep it that way for ease of use.)
Jung-tae has a literal non-reaction that's hilarious, because when So-so asks him if he saw Ok-ryun's naked butt, he's just like, "Yeah. Why?" So-so is in shock: "Did you really see it?" Jung-tae: "Yeah." Haha. He has no idea why that would be such a big deal, which is why it's so funny.
When Ok-ryun asks him about it later, he explains his dismissiveness as due to him seeing her naked when they were small. Hah. She plays coy by asking him if he's trying to ruin their future marriage (because he's already seen the goods), only for him to joke back that it's already too late.
Because Jung-tae was clueless about what kind of flowers to buy Ok-ryun, he asks her what kind of flowers she likes after handing her the half-trampled bouquet he saved from his earlier scuffle.
She gives him a list of flowers and their meanings, all of them tied to eternal love, and it's hilarious to watch Jung-tae try to just memorize the different names without getting the fact that she's just playing with him. D'aww.
Jung-tae stays up all night for a training montage, and concludes it by doing his pre-fight visualizations, this time trying to imagine how his fight with Il-hwa will go. In his mind, Jung-tae still loses. (Orrrr does he? It's hard to tell when everyone punches everyone else in the solar plexus and calls it a day.)
While Club Shanghai undergoes extensive preparations for its grand opening, Leader Seol rages over not getting an invite while continuing to rub unlit cigars all over his face. He's putting his hopes in Il-hwa to defeat Jung-tae, since their official dueling date is—wait for it—the club's opening night.
Old Man Fly decides to enlist one of his lackeys to help Jung-tae learn how to better fight against Il-hwa's Shaolin martial arts tactics. After Jung-tae stays up another whole night just practicing and learning, Old Man Fly wakes up to hang a funny lantern: "How can you learn to beat a Shaolin fighter of thirty years overnight?"
When Jung-tae refuses to give up, Old Man Fly recognizes his determination to win and says there is a way… but he'd have to be willing to sacrifice half his body, whatever that means. Jung-tae is willing to do it if it means he can defeat Il-hwa.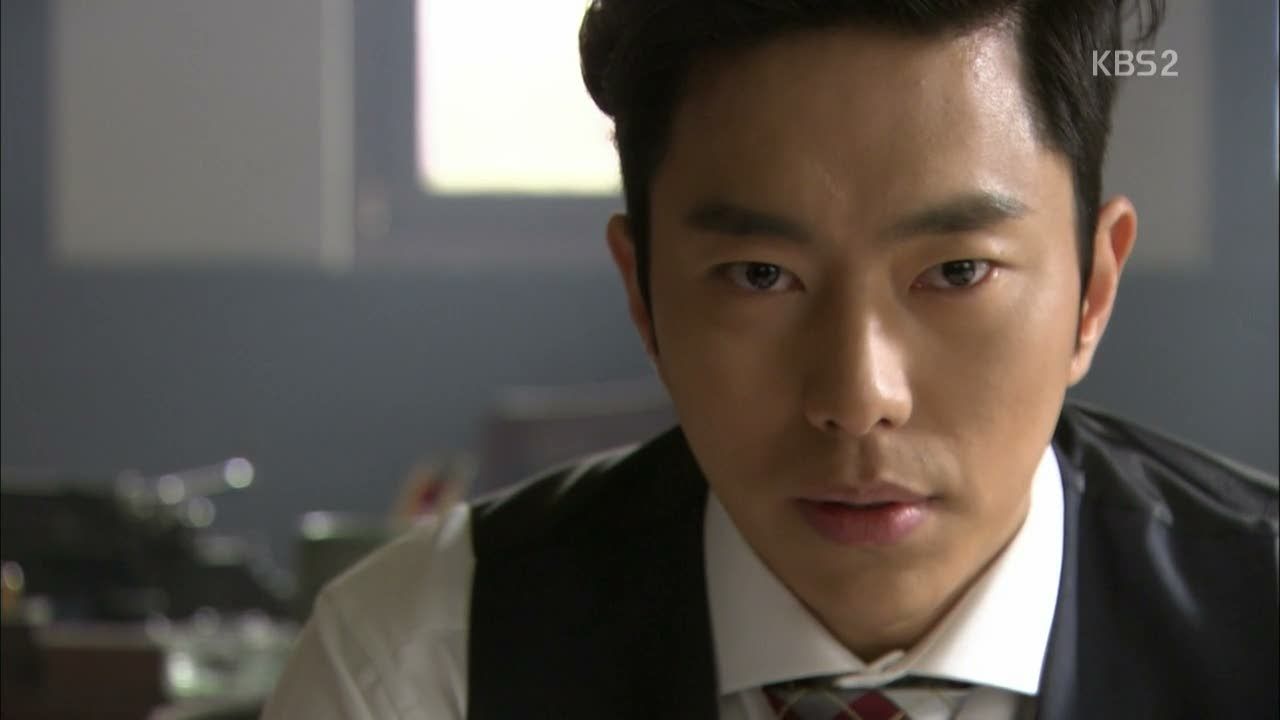 While dredging up information about all the VIPs set to attend Club Shanghai's grand opening, Aoki comes across an interesting bit of data regarding Ok-ryun.
Not only is she one of the escapees from that night he chased down (and killed) Ajusshi Choi, but she's also Jung-tae's girlfriend. Aoki finds this verrry interesting.
Jung-tae and Ok-ryun are ready to head to work, with both their heads firmly up in their own lovey-dovey clouds. Perhaps to get back at Jung-tae for sneaking an unintentional peek at her butt and acting like it was uber-normal, Ok-ryun coos to him in a baby voice about how she's sooo proud of him while she pats his bum. R-e-s-p-e-c-t.
He ends up chasing Ok-ryun out of the clinic playfully while Doctor Jung and So-so are left behind to shake their heads. Though Doctor Jung lies that she's not only going to the opening but working there, the truth is that Jae-hwa didn't send her an invite at all.
As Club Shanghai opens for the night, lead singer Mei Ling gives Ok-ryun and the girls a cheerful pep talk in Chinese backstage. Jae-hwa literally stages a fireworks show the second the club opens its doors. Man, this really is a grand opening for a club that was never really closed.
The fireworks can be seen through all of Bangsamtong, and while Old Man Fly sees them and prays to all the gods (including Jesus, whom he just recently found out about) that the club has many customers so it can have more human waste and corpses for him to clean up, Aoki just watches them through his office window.
Meanwhile, Kaya is content to just listen to the fireworks while Leader Seol cackles to himself that "It has finally begun." Il-hwa remains true to himself by meditating before the big fight, and seems to be in good spirits until Baek-san pays him a (surprise?) visit.
Lines and lines of guests pour out of their fancy cars and onto the red carpet leading into Club Shanghai, where Jae-hwa, Jung-tae, and all his men are there to greet them with ninety-degree bows. Even Doctor Jung even shows up sans invite, and sticks her nose up in the air when Jae-hwa offers her a cavalier wink.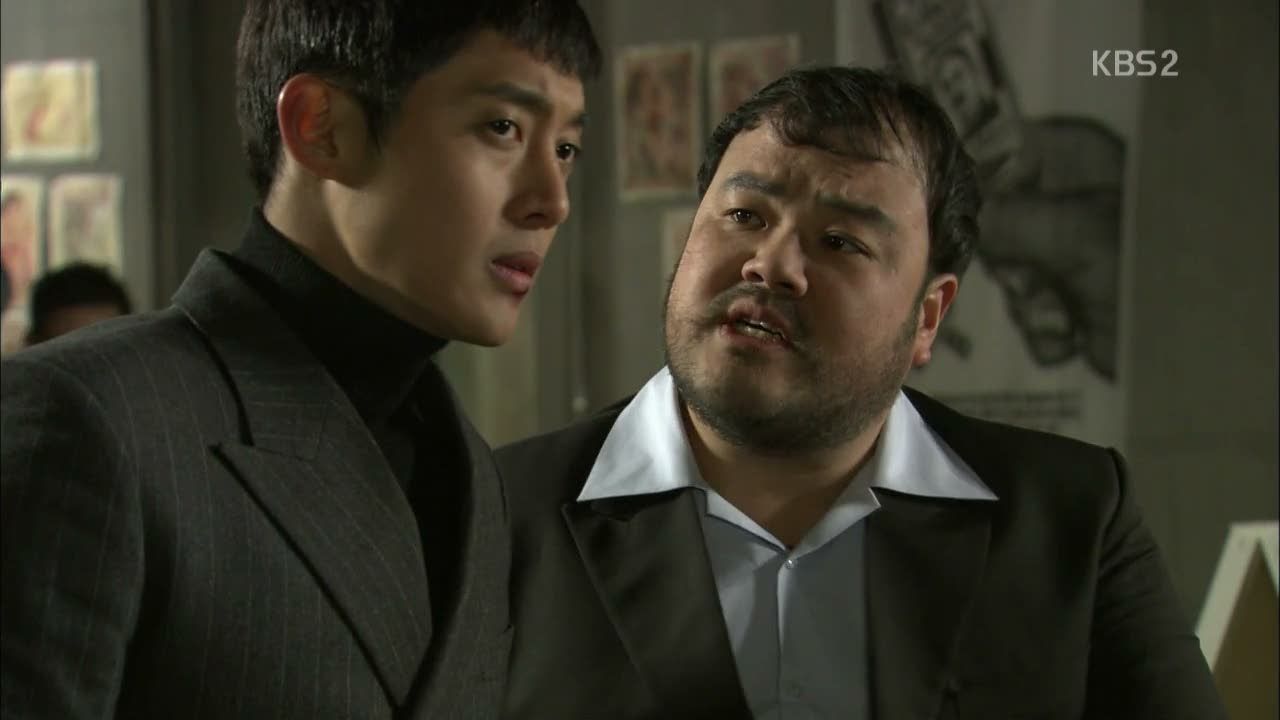 But Jung-tae soon notices a crowd of people standing across the street from the club, and when he asks about them, his fluffy lackey is all, "Oh, they're not here for the opening. They're here for your fight with Il-hwa!" Rumor got around quick. I wonder if Leader Seol had something to do with that.
When Aoki finally makes it to the opening, he shocks Dokku by acknowledging him as an agent of Kaya's. Dokku bows deeply, which I guess means that he's still working for Ilgookhwe and is in Jae-hwa's gang as an undercover spy.
After Mei Ling greets the crowd in Chinese, Japanese, and English, the lights come on and the party officially begins.
But Baek-san hasn't come to Il-hwa with good tidings, since he brings a message from Leader Seol: he wants control over Club Shanghai once Il-hwa takes it over, so that he can open an opium trading route.
Naturally this isn't advantageous for Il-hwa (considering that he'd be doing all the work for that crotchety old man's gain), but he's forced to more or less deal when Baek-san reveals that they know where Il-hwa's family is, the explicit threat being that Leader Seol will kill Il-hwa's family if he refuses. (This is… new, isn't it?)
Il-hwa loses his smile and his eyes go wide—he's been cornered. Baek-san leaves him with a final warning: he can't lose on purpose to Jung-tae, since that won't save his family. "You have to win at all costs or die trying."
Once he's gone, Il-hwa is left to think about his choices, which are pretty bleak: "I must win. After I win, I must survive."

COMMENTS
Welp, this was a wonderful hour of pure unadulterated filler if I've ever seen one. There is no reason for this episode to have taken as long as it did to get to a point it could've made in ten minutes or less, easily. Far be it from me to be against an episode using its time wisely to build up to a good cliffhanger, but this was so completely not that. There is a difference between delivering smaller episodic payoffs while creating an anticipatory atmosphere for the next episode and having every character literally wait around for an arbitrary date to come 'round, because that's the date where Everything That Will Ever Happen Will Happen.
It was a happy day when Daddy Shin's body was finally cremated and the ashes spread, because it meant everyone could stop fighting over the one thing that was suddenly injected with inglorious significance. But since we don't seem to have a firm grasp on the long-term goals regarding our core set of characters—in that revenge is a dish best served fifty years from now—what we get instead are just short-term distractions for everyone to focus all their time and energy on. Each goal is just a temporary creation which may tangentially serve what may be the overall plot, but in no world could anyone argue that it's done with any level of efficiency.
Daddy Shin's bodypalooza did not need the two episodes dedicated to it, especially when Jung-tae came to his own conclusions about his father absent of the behind the scenes coffin-snatching. Likewise, Club Shanghai is turning into the new corpse of Daddy Shin, in that it's become the new vogue thing for everyone to fight over. Obviously these characters need things to do or else we wouldn't have anything to watch, but so much of it lately feels exactly like they are just being given things to do for the sake of it, and not necessarily because their all-so-important tasks (which include waiting for more important things to happen later) are all that meaningful in the scheme of things. Whatever scheme that may be.
Despite all that, and especially despite the show's flimsy reasoning regarding Il-hwa's sudden reappearance, it's so good to have him back. Even if he's joining the herd in fighting over Club Shanghai, and even if his abrupt stake in the club's ownership comes a little late considering that he pretty much admitted to having had nothing else to do during his time as a wanderer, he makes scenes better simply by virtue of being in them. And while that doesn't make the battle for Daddy Shin's structural stand-in any more exciting to watch, at least we've got one more person in the mix to care about—which really, really matters after weeks spent stuck with Leader Seol and Baek-san as villainous sounding boards. Not just because they're the worst-… wait, never mind. It is just because they're the worst.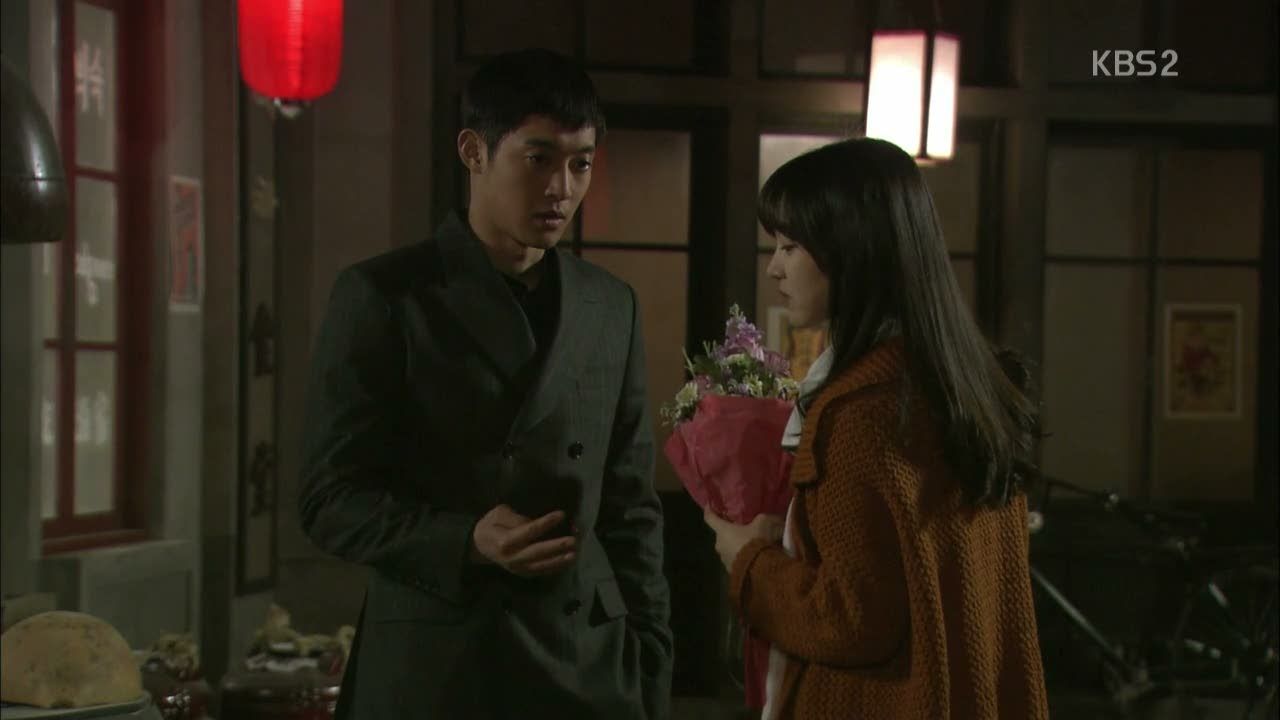 RELATED POSTS
Tags: Age of Feeling, featured, Im Soo-hyang, Jin Se-yeon, Kim Hyun-joong, Kim Jae-wook