Village: Secret of Achiara: Episode 12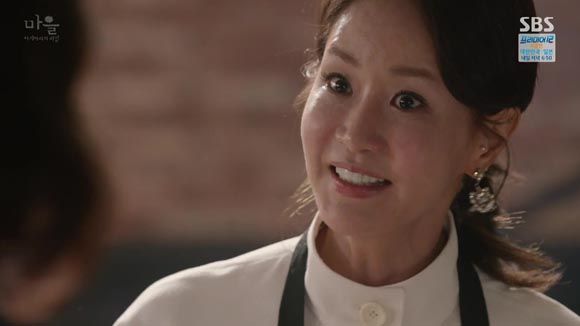 The delusion, it runs deep in this town. That certainly explains how the secrets have remained under wraps for so long—with this amount of willful ignorance going around, it's no wonder it's taken So-yoon this long to piece together the fragments of this mystery. Speaking of which, major secrets are revealed today, and they force the truth upon some people who've been doing their best to ignore it. Thing is, you can slap it away for only so long before the truth slaps right back.

SONG OF THE DAY
Casker – "얼룩" (Stain) [ Download ]
Audio clip: Adobe Flash Player (version 9 or above) is required to play this audio clip. Download the latest version here. You also need to have JavaScript enabled in your browser.

EPISODE 12: "A very old crime"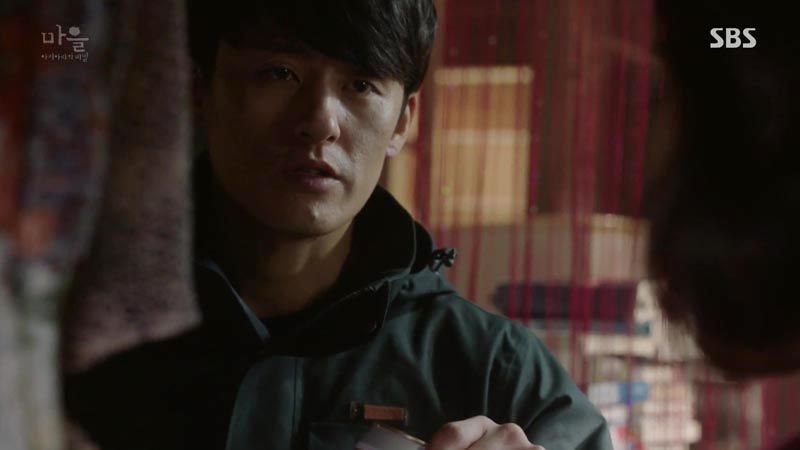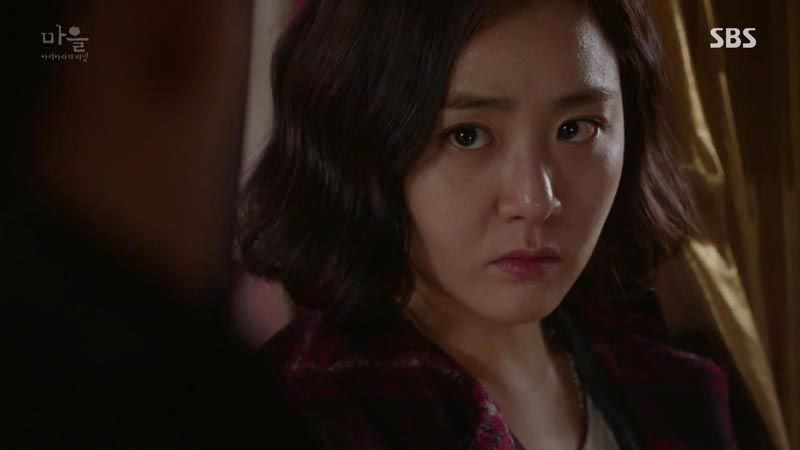 So-yoon sees the wall of photographs of herself in Agasshi's house, tensing when she hears the clacking of walnuts behind her. But when she turns to face Agasshi, he just hands her a beer and invites her to sit, unconcerned about her seeing his photo wall.
Woo-jae drops by the real estate broker's office, since the broker has offered him all the instant foods his last tenant left behind. Woo-jae accepts the noodles happily, then wonders at the pair of walnuts left behind. The broker explains that old Grandpa Kim left them behind, saying they were inedible.
Those words trigger a thought, and Woo-jae recalls Sergeant Han's information about the serial killer leaving walnuts in his victim's bodies. The shells were extra-thick, which kept them from rotting even as the bodies decomposed around them.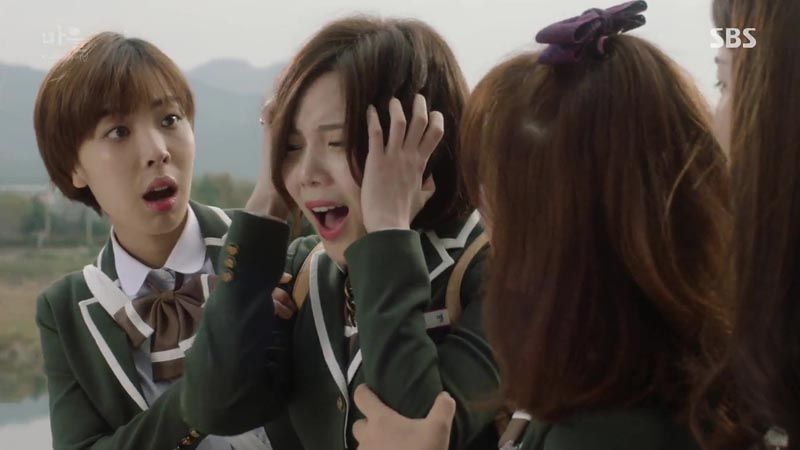 Ga-young walks along with her friends when suddenly, she clutches her head in pain, assaulted by a piercing sound. Nobody else hears it, and her friends hover worriedly as she wails in agony.
So-yoon asks about the photographs Agasshi took of her, saying that it feels like she's being surveilled. Agasshi apologizes, asking if she's angry with him and looking worried that Hye-jin might have been upset too. She notes how much he thought of Hye-jin, and asks if he was very curious when she disappeared two years ago.
Agasshi says no, because he assumed she'd gone to Canada to find her sister. She's surprised that her sister told him that, and he describes the day he'd come upon her in the field, waiting as usual. He'd joined her there, and she'd told him she planned to find her sister in Canada before she died. Hearing that brings tears to So-yoon's eyes.
Agasshi supposes that Hye-jin would have wanted her killer caught—he doesn't believe the news story about that ex-driver killing her over money. He points out that Hye-jin isn't someone who would have fought over money, and So-yoon sees his point.
Recalling Woo-jae's speculation that the killer would've had a strong reaction to news of Hye-jin's corpse being found, So-yoon asks how Agasshi felt when he heard about it. He clenches the walnuts in his hand and thinks back, explaining that he thought it might not be her, and that it made him very sad.
Woo-jae takes the walnuts to Detective Choi, confirming that they're the same kind used by the killer. Detective Choi is annoyed that the information leaked, but Woo-jae swears he's kept his mouth shut and is excited to have provided a clue.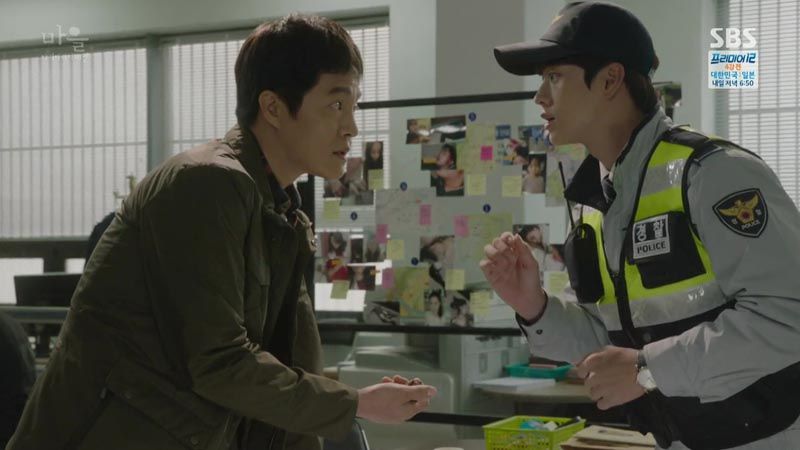 Detective Choi grumbles that it's not much of a clue, then leans in and mutters quietly for Woo-jae to find the source of the walnuts. They must have come from a tree unknown to most of the villagers (I'm presuming because the police don't know where they've come from either), so it's Woo-jae's job to find it.
Woo-jae accompanies Grandpa Kim on a hike into the woods to track down where he found the tree, but the old man says all the trees look the same to him. He picked them up thinking they were acorns, since there are no walnut trees in Achiara, but now can't recall where that was.
Despite his suspension, Sergeant Han is still working the case on his off-hours, and surreptitiously keeps watch on the mysterious Chairman Noh, the man suspected of being the illegal arms dealer who's pulling Assemblyman Seo's strings. Chairman Noh spots him and grumbles to Assemblyman Seo about it, wanting to "cut off the shoots" of the problem before it can grow. The assemblyman warns that messing with the police could backfire in his face.
There's clear tension between these two, who are aligned more out of necessity than anything, it seems. As he leaves the meeting, Assemblyman Seo complains about the chairmain being overly bloodthirsty, and mutters to himself that the better method is to pull up the roots of a problem, not cut off the shoots.
Ga-young and her mother go to the hospital to undergo hearing tests, which turn up nothing out of the ordinary. The doctor decrees her episode as a result of stress, nothing more.
It's a different story when So-yoon meets with Hye-jin's medical researcher, who thinks there's a good chance Ga-young may be ill. Fabry disease is transmitted via the X chromosome, so if a father carries it, a daughter will certainly have it.
So-yoon takes the results to Ga-young's mother to press her to get medical attention, but it's not received well at all. The suggestion comes as a shock to Mom, who is first in denial, then outraged at So-yoon's insistence. She slaps So-yoon for the affront, but So-yoon pleads with her to think of her child's health.
Woo-jae informs Sergeant Han about Hye-jin and Ga-young testing positively as sisters. Sergeant Han is disbelieving, having known Ga-young's mother for years and saying it's impossible for Ga-young's father, who was only in town for a few months before leaving forever, to have also fathered Hye-jin a decade before. But Woo-jae points out that the girls' father could be a different man entirely.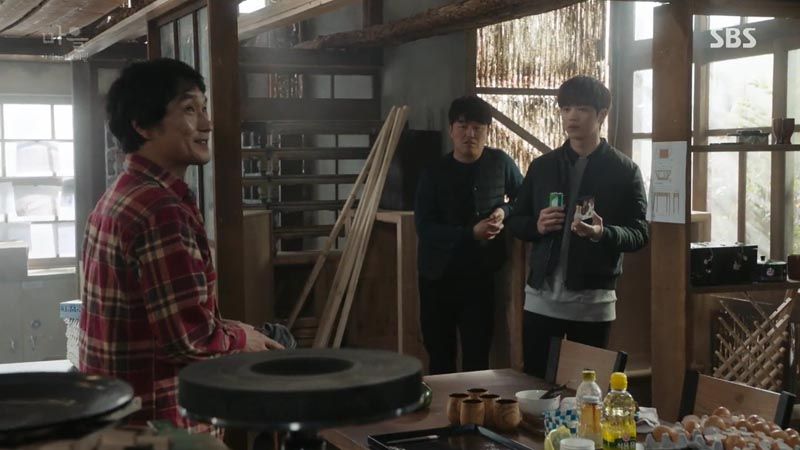 Sergeant Han has also made headway in identifying henchman of Chairman Noh, and takes Woo-jae with him on a delivery for the lumber factory where he's been working. Our creepy(?) carpenter ajusshi is there to accept the delivery, and Woo-jae admires the artwork in his workshop.
The carpenter tenses when Woo-jae mentions that both he and Sergeant Han are longtime village residents, but makes the excuse that he lived away from home for much of the time.
Ji-sook takes Yoo-na to a doctor in Seoul to discuss her visions, and Yoo-na insists they were neither hallucinations nor ghostly apparitions. It was simply Teacher Hye-jin, appearing before her like her little sister once did years ago, killed by her mother for not being a boy. Both had said the same thing: "Mom, save me."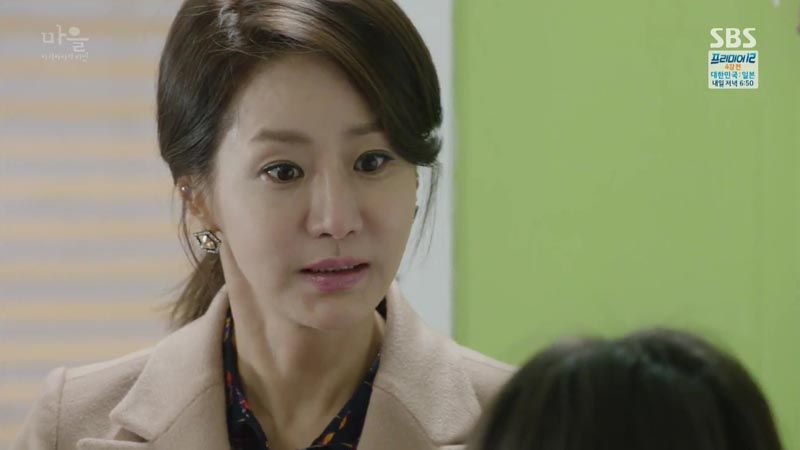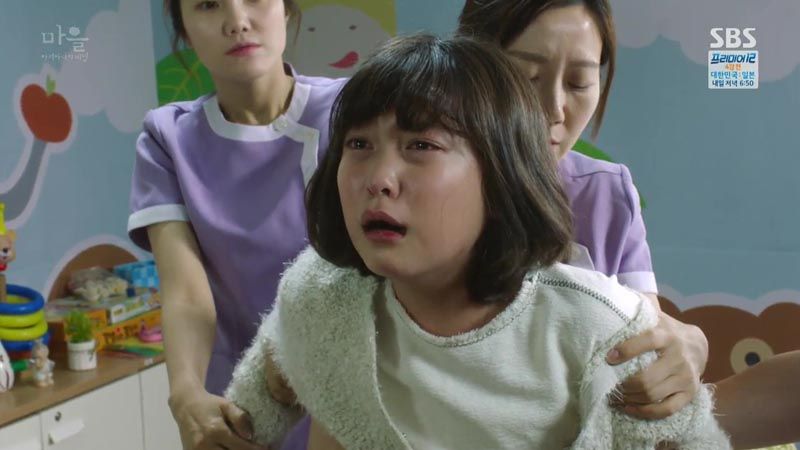 It becomes clear that she's meant to stay here against her will, until her condition is fixed. Yoo-na refuses, saying that she likes being able to see Hye-ijn, and tries to leave the room. A team of nurses restrains her, and when she begs her mother to help her, Ji-sook just tells the doctor to admit her to the hospital. "This is the only way," Ji-sook tells her, leaving her pleading in her wake.
Assemblyman Seo and Grandma are appalled to hear of it, demanding that Ji-sook bring Yoo-na back immediately. But Ji-sook puts her foot down, telling them the things she's hidden thus far: that Yoo-na was behind the funeral graffiti prank, and that she draws Hye-jin every night, trying to summon her. They have to cure Yoo-na, for her own sake.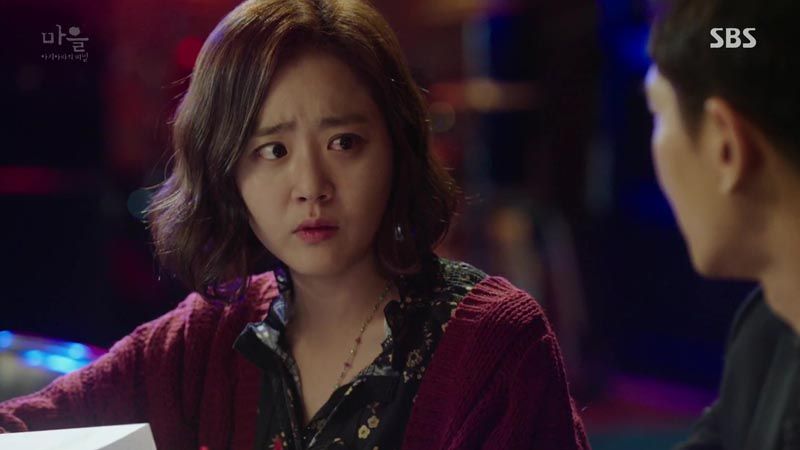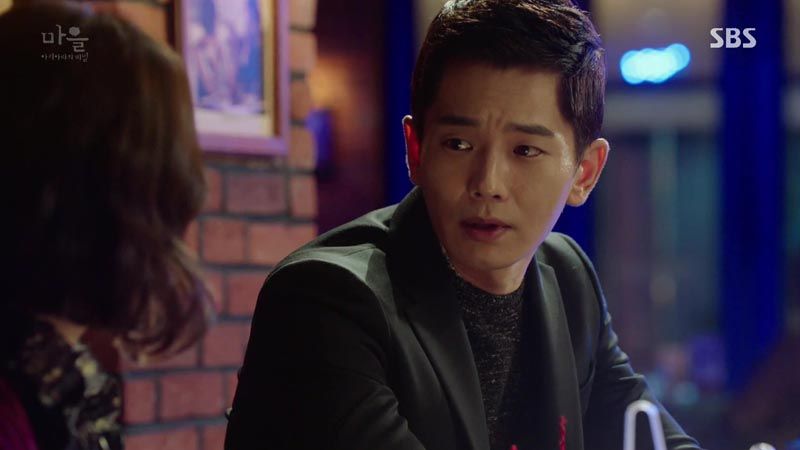 Ki-hyun hears of this and is upset, but Ji-sook's words have stopped the assemblyman and Grandma's protests. He tells So-yoon of it when meeting her that night, and also informs her that he had checked into the hospital records proving Madam Baengi's hysterectomy thirty years ago. He found it odd that the hospital would hang on to such old records, but before So-yoon can get too excited at the possibility that it could have been faked, he adds that he doesn't think Hye-jin is Madam Baengi's secret child. There have never been rumors of the kind, and the village was so small back then that it would have been impossible for a pregnancy to escape notice.
So-yoon tells Ki-hyun that she's made another discovery, this time about the blackmail Joo-hee was holding over his father. It's a recording of Assemblyman Seo ordering Hye-jin killed.
Ki-hyun puts his investigator on the trail immediately, instructing him to look into the assemblyman and Joo-hee's interactions.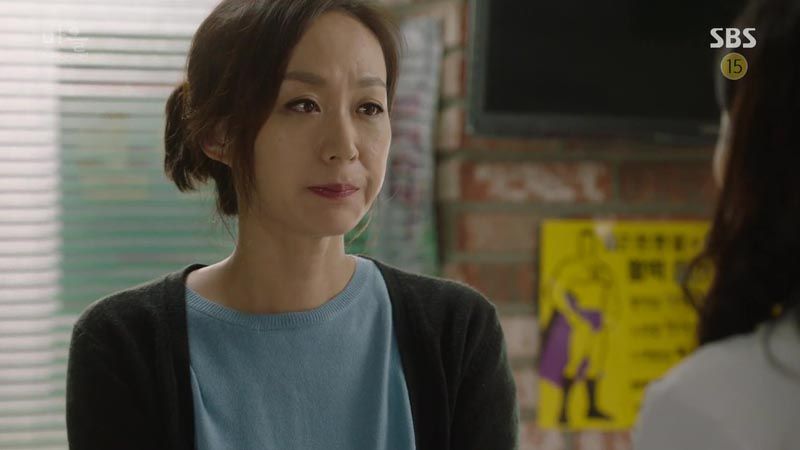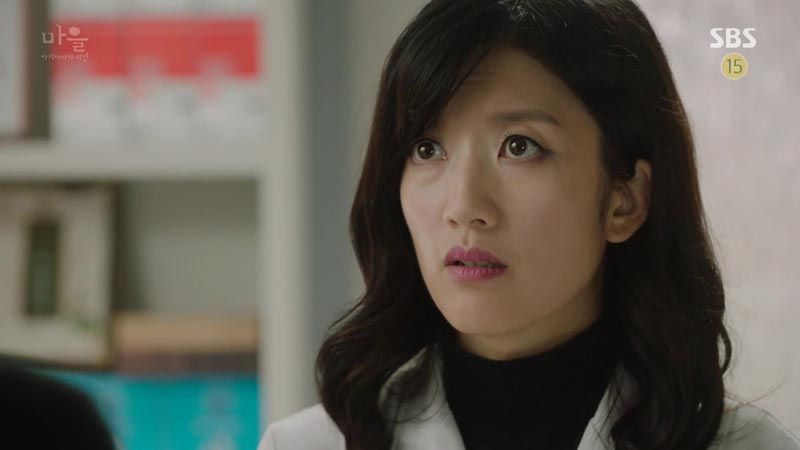 Ga-young's mother drops by the pharmacy looking haggard, and asks Joo-hee if she knew that Hye-jin had suffered from a serious illness. Surprised, Joo-hee demands the details.
Woo-jae returns to the woods in search of the walnut tree, which doesn't yield much until he hears the vague sound of clacking in the distance. He follows it until he comes upon Agasshi, sitting at the base of a tree. Both men are surprised to see the other here, and Woo-jae can't go around explaining his reasons, so he just says he'd been looking for a walnut tree.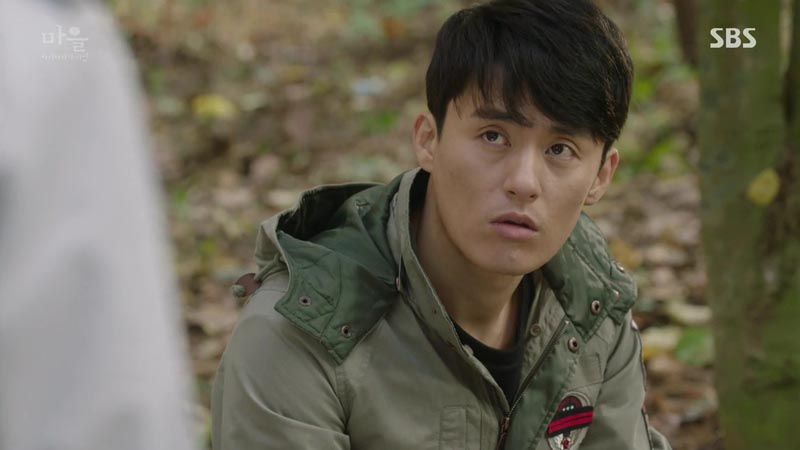 Agasshi points out that this is a special tree, having been planted and grafted carefully here by somebody. He extols the health properties of rolling them in the hands to relieve stress and offers them to Woo-jae to try.
Joo-hee shows up at Ji-sook's studio, upset to hear for the first time that Hye-jin had suffered a life-threatening illness, and even more upset that Ji-sook knew about it and did nothing. Ji-sook sneers that there was nothing for her to do, but Joo-hee accuses her of only being afraid of being kicked out of her family.
When Ji-sook says it's frightening to see Joo-hee pretend to feel pangs of conscience, Joo-hee retorts that at least she knows when it's appropriate to show it—unlike Ji-sook. "You're a monster!" she declares.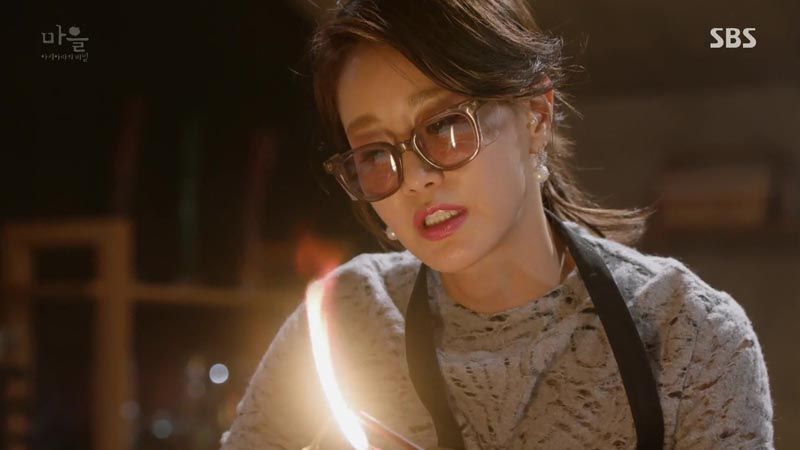 Ji-sook slaps her for that, saying, "You were a bug from the instant you were born!" Even so, she took care of Joo-hee for their mother's sake. Ji-sook calmly resumes her work, saying that she's going to start fresh: The culprit has been caught, she's going to fix Yoo-na, and she'll have a son to rely on. She sounds, frankly, delusional.
Sergeant Han drops by Ga-young's mother's restaurant for a drink, and also for some truth after all these years. He guesses that something happened to her "back then" and says gently that denying things won't make them untrue, reminding her that Ga-young's life hangs in the balance.
A flashback takes us to a rainy night in Achiara, when Sergeant Han had nearly run over Ga-young's mother in the road. She'd looked exhausted and traumatized, but had said she'd simply gotten lost and wandered the woods. He hadn't pressed her then, but he asks now, guessing there was more to it.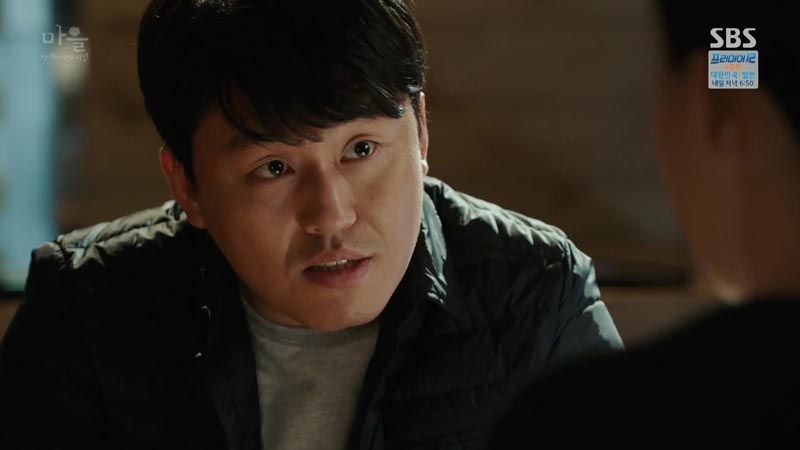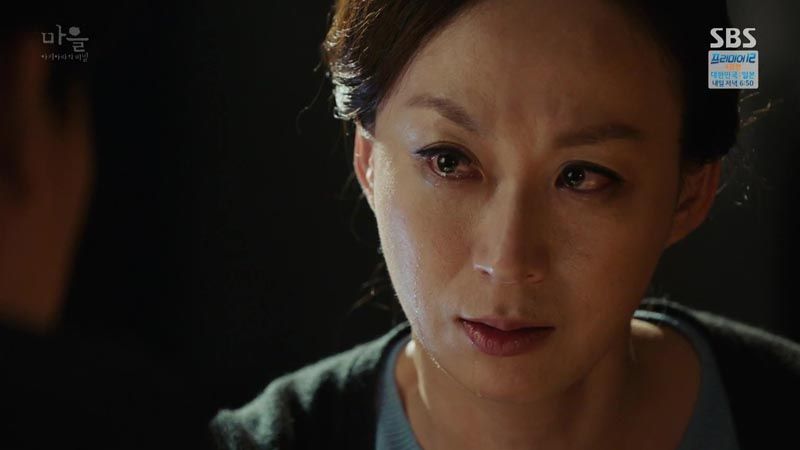 Ga-young's mother starts to cry, but says she and her child must survive here. Firmly, she declares, "That night, I lost my way in the mountains. That's all."
That night, So-yoon watches a news report of a woman who had abandoned a newborn in the park, whose husband and family hadn't even known she was pregnant. That makes her reconsider Madam Baengi's history, and she starts reading stories of similar cases, wondering how possible it is for people to not notice a pregnancy in their midst.
Woo-jae brings Detective Choi to the walnut tree, pointing out how carefully its caretaker planted it, and suspects that the killer lives in the area.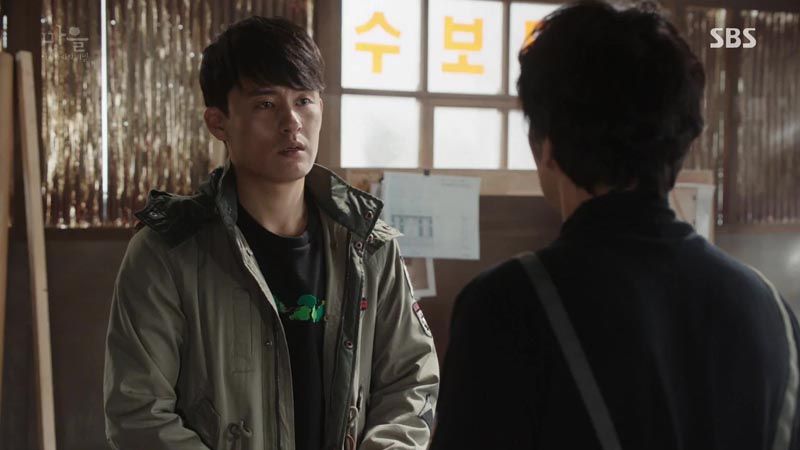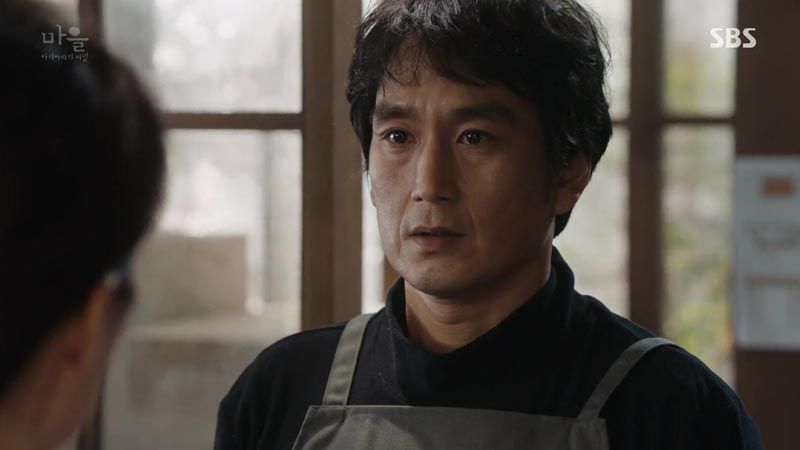 Thinking of So-yoon's comments about not liking that he took her photos secretly, Agasshi takes down his photo wall. Then he returns the envelope of money to the carpenter—money that he'd interpreted as hush money when given. He tells the carpenter, "The sister wants to catch the criminal who killed her unni."
The carpenter insists he didn't do anything like that, and Agasshi replies, "That's why I'm returning this."
Ga-young gives Gun-woo a new handkerchief to replace the one he'd used after she fell into the lake, and he advises her once again to go to the hospital. She tells him that she did, and was told it was only stress. She says wistfully that seeing his concern for her health, she wishes she could be sick all the time. He balks at that, but she assures him that she won't bother him anymore, and will be satisfied knowing that he'd be sad if she died.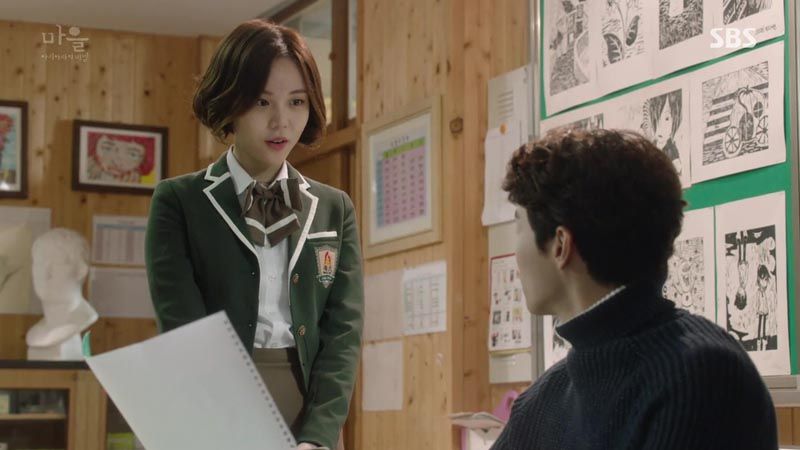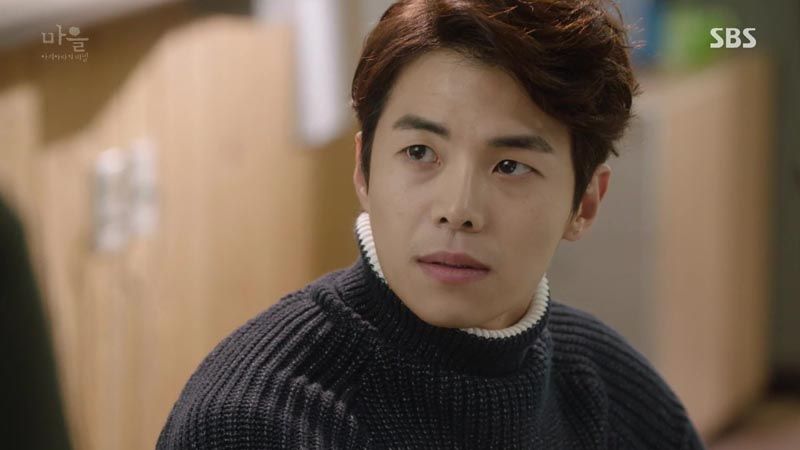 At the psychiatric hospital, Yoo-na goes along with the doctor's wishes and pretends that she's better now and doesn't see any visions, hoping it'll get her sent home. But the doctor wants to observe her longer, to her dismay.
That night, Ga-young gets caught in the rain on her way home, assuring her mother over the phone that she'll be fine. But with every clap of thunder, the piercing headache returns, sending her collapsing to the ground and wailing in pain. As she's huddled on the muddy ground, someone walks up to her—a man, dressed in a dark rain slicker.
So-yoon receives an unmarked text message, which turns out to be a video clip of Hye-jin in the field near Agasshi's shack. Notably, the timestamp is the latest of all the videos seen thus far, making this now the most recent image showing Hye-jin alive.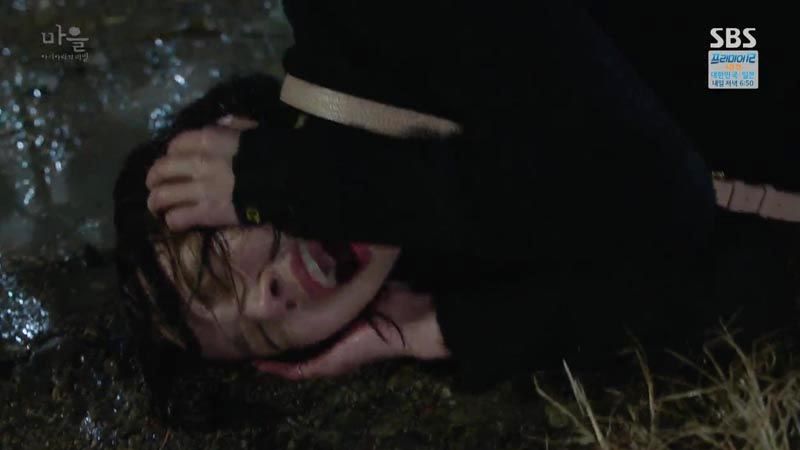 Ga-young's mother reports her disappearance to the police, spurring a search through the woods. Making things extra tense is that tonight is a rainy Wednesday, and the cops have to hope that this disappearance isn't related to the serial killer.
Ga-young's mother is beside herself with worry and has to be persuaded into returning home to wait. So-yoon tries to soothe her nerves while Mom sits in a state of shock, murmuring to herself that she should have done as Hye-jin wanted, but because she didn't listen, "that thing" is going to happen again.
So-yoon asks what she means, and Mom says that Hye-jin had asked her to catch a monster together. So-yoon asks urgently who the monster is, recalling how Hye-jin had said the monster would kill her, and presses Ga-young's mother for an answer. But Mom just says dully that there's no point, and her daughter might die.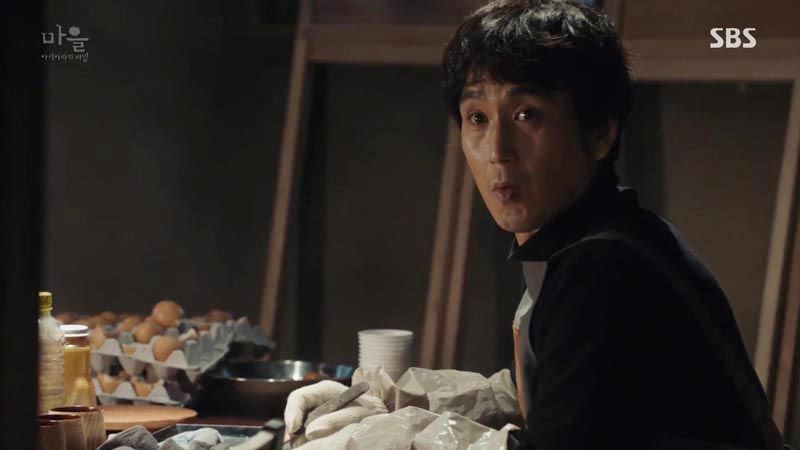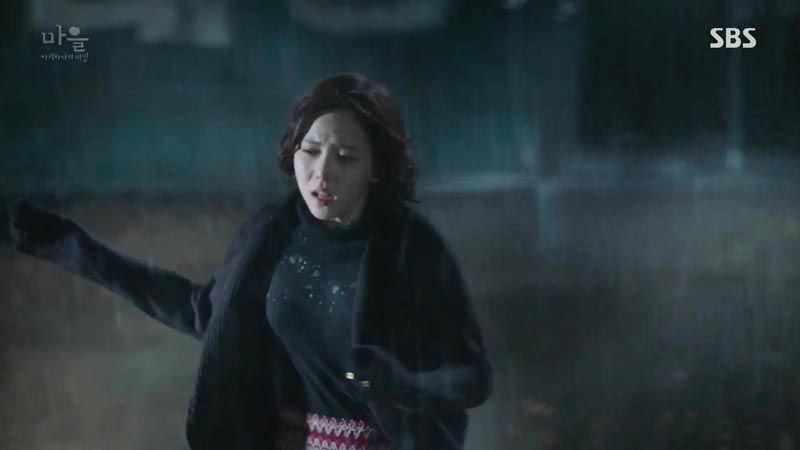 Ga-young awakens in the carpenter's workshop at the lumber mill, looking around fearfully as the man works nearby, whistling pleasantly. He notices that she's up and addresses her in a friendly tone, but she freaks out and bolts out of the building. But the rain and thunder take their toll again, and the headache returns. Ga-young collapses again.
Thankfully she's found by the search party before too long, and they rush her to the hospital. The application of an ice pack causes pain, and the doctors notice the blotches that have appeared on her legs. The doctor asks her mother whether she suffers from any other diseases, because they don't want to treat her with medication that may conflict with her preexisting condition. So So-yoon raises the possibility of Fabry disease and passes along the contact information of the researchers for follow-up information.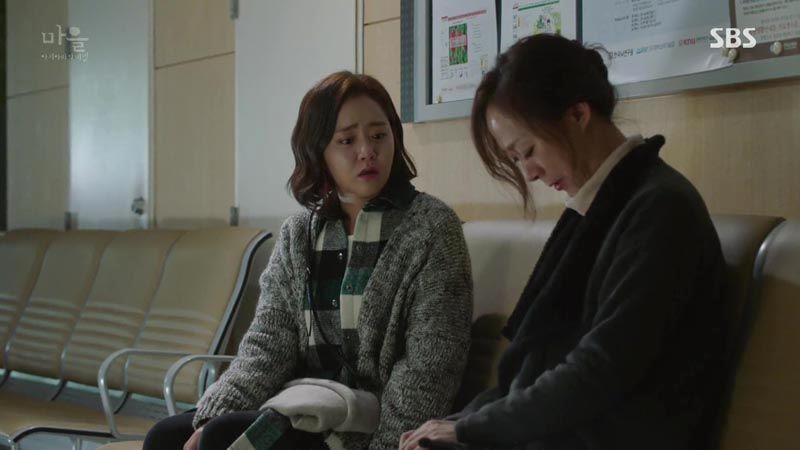 Ga-young's mother can't stay in denial anymore, and explains to So-yoon that her assault occurred in her first month of marriage. She hadn't reported it because while "something bad" would have gotten sympathetic reactions from the villagers, "something shameful" would only have subject her to scorn. So-yoon is appalled and starts to argue that there's nothing shameful about being a victim of rape, but Ga-young's mother says that's why her husband left her.
Still, she was fine just having Ga-young… until Hye-jin came along. Hye-jin had pressed her to team up to uncover the truth, arguing that the same thing that happened 30 years ago, and 17 years ago, could still be happening now. "We can stop him," she'd argued. But Ga-young's mother had stuck stubbornly to her denial, insisting nothing had happened to her.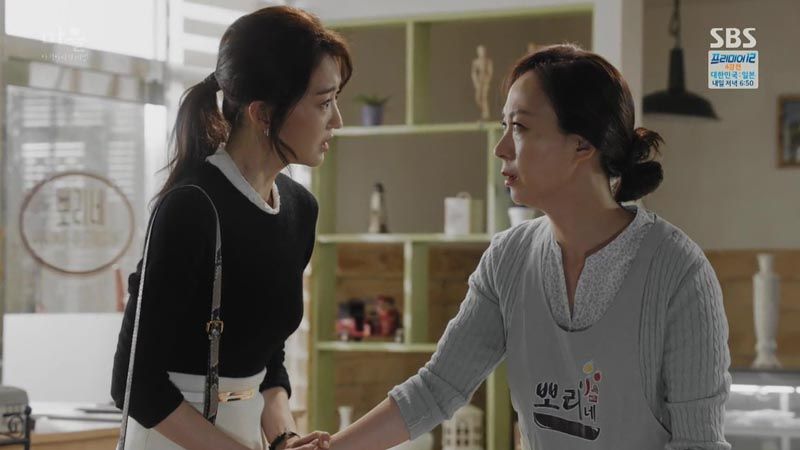 So-yoon asks how Hye-jin had found the monster, and Mom just mentions something about an unpleasant fishy smell and the sound of whistling. She supposes Hye-jin's birth mother told her who he was, but she doesn't know who that is. All she knows is that Hye-jin was dead-set on tracking down Ji-sook's mother, Madam Baengi.
Meanwhile, Yoo-na is stuck at the hospital under constant watch. During a group activity session, she causes a distraction and steals a doctor's cell phone, then slips away to pull the fire alarm.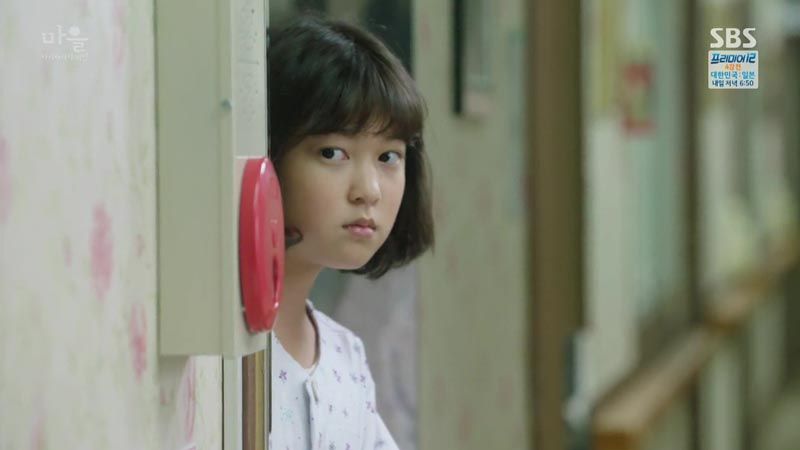 Woo-jae returns to Agasshi's shack to confront him about the latest video he sent So-yoon. Agasshi says he didn't turn them over before because he didn't know he'd had it, and the file had been saved elsewhere. It's difficult to tell whether he's lying or not, because he sounds completely matter-of-fact about how he just wanted to pass the video to So-yoon since her sister means so much to her.
While in the shack, Woo-jae notices the shelves of books, recalling something Detective Choi had said about the criminal using an internet used-books store as a front, as well as mention of an SB diary. Woo-jae takes note of a business card for a site called Romantic World and logs on later, which yields bondage and fetish imagery.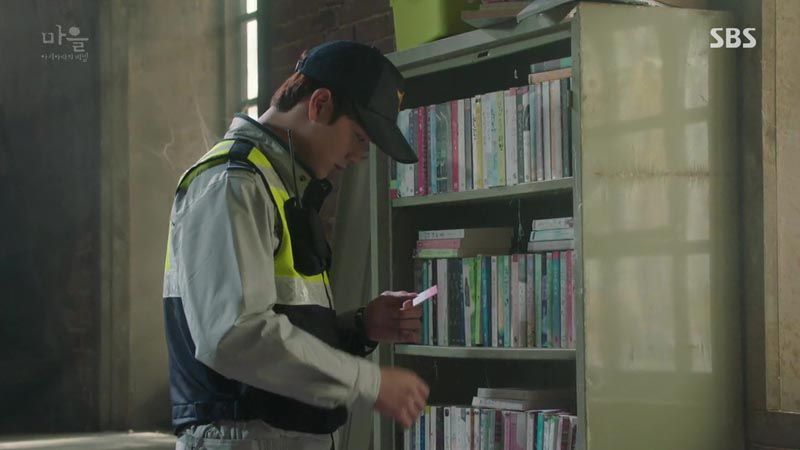 But then… a new window pops up. Over the image of a smiling face are the words (which we ought to recognize): "Attraction and revulsion. Joy and horror. Heaven and hell. In search of the secret to make her happy."
Ga-young is confirmed to have Fabry disease, to her mother's dismay. Gun-woo visits her in the hospital and she says once again that it's nice to be ill, since it prompts his concern.
So-yoon explains her new hunch to Ki-hyun, having researched stories of women who refuse to acknowledge their pregnancies and can go nine months without being detected by other people. It often manifests in the case of unwanted pregnancy—say, rape cases.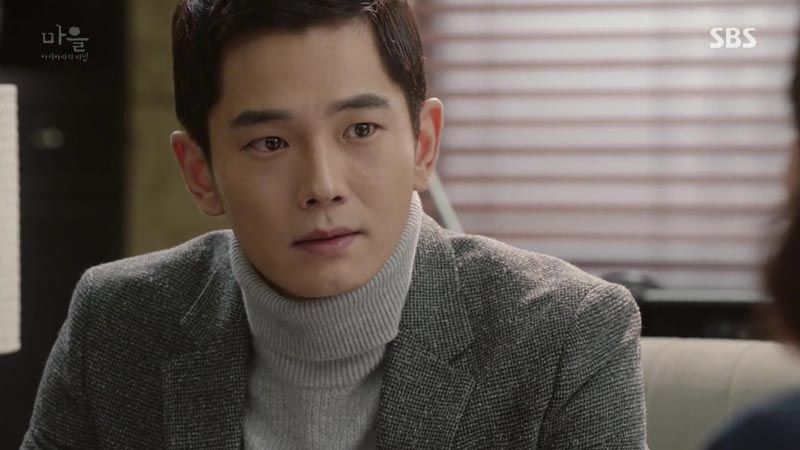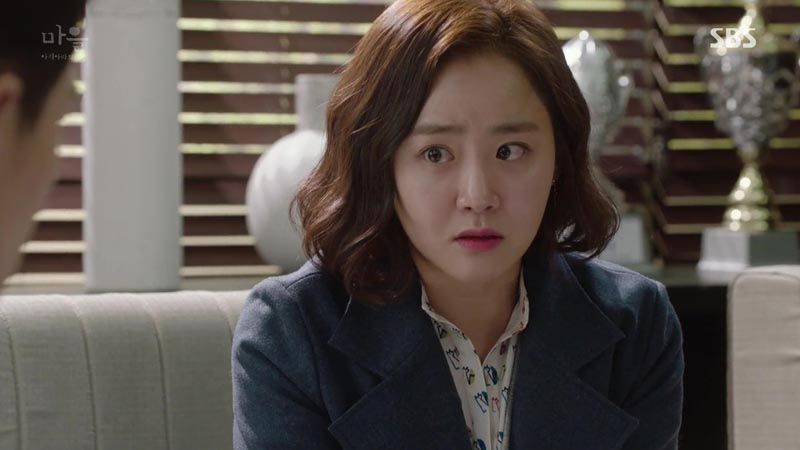 She tells Ki-hyun that the time capsule contained more than just his father's incriminating voice file—it also had a bloody piece of cloth and hair. She speculates that the reason it would have been blackmail to Assemblyman Seo is that it would have confirmed Hye-jin's blood relationship to his wife.
Just then, Yoo-na calls So-yoon, presumably having escaped the hospital. Ji-sook gets the call from the facility, but So-yoon shows up to assure her that Yoo-na is fine and currently in her oppa's care.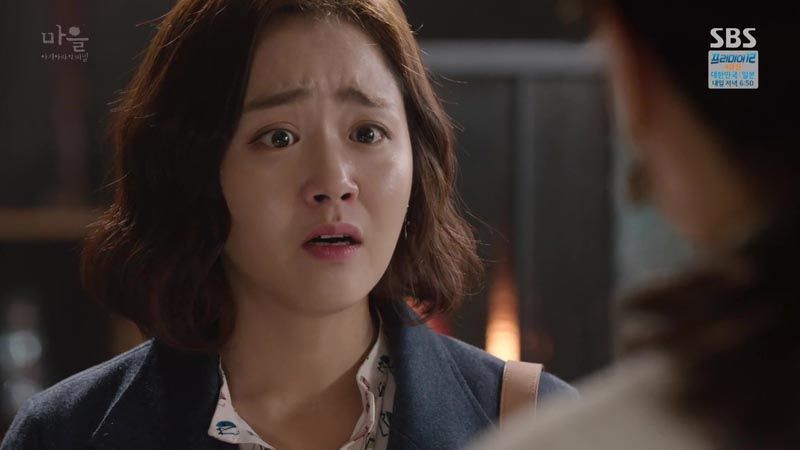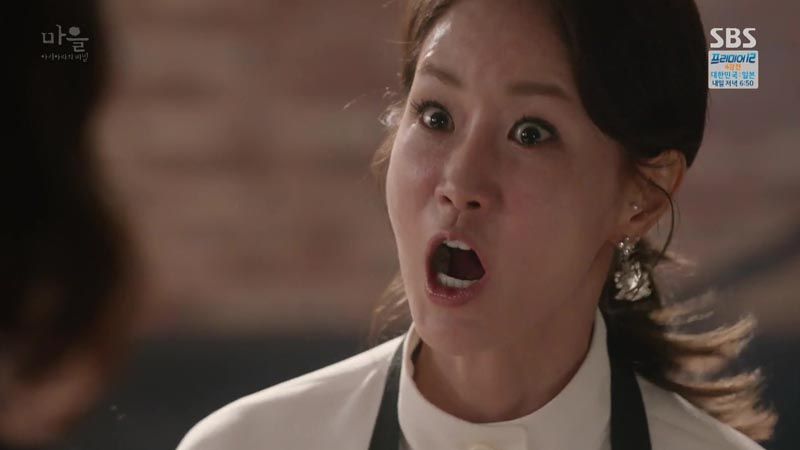 Ji-sook tries to throw So-yoon out, but So-yoon has a lot to say, confronting Ji-sook about the bloody brawl she engaged in with Hye-jin. She's deduced that Hye-jin provoked the fight deliberately, because she needed evidence to run that DNA test. Ji-sook's bravado slips as So-yoon hands over the results of the test, saying that it's proof they're sisters.
Ji-sook attempts to keep denying it, but So-yoon says that Ki-hyun wants the truth, and is currently with Yoo-na. It's entirely possible that they could test Yoo-na's DNA to confirm the story—so please, just share the truth.
And so, Ji-sook explains, somewhat hysterically, that the child was abhorrent to her mother. Mom didn't want to acknowledge her, so why should Ji-sook? What's so important about the blood tie? How could Hye-jin ruin her life over that? "I did nothing wrong," Ji-sook insists. "I'm the victim!" There's a manic gleam in her eye.
In the nursing home, Ji-sook's mother sits in her stupor… and then a hand reaches out for hers. It's Hye-jin, dressed in macabre black, and Mom flinches at the sight. She trembles as Hye-jin clasps her hand firmly, staring in horror, the sight of her daughter triggering traumatic thoughts.
Flashback. A young girl looks for her mother, and finds her sitting near a newborn baby—it's wailing and bloody, lying there ignored. Mom stares in detachment while the girl's eyes widen in horror. And that's the memory that wakes Joo-hee up in the middle of the night, gasping in shock.

COMMENTS
Aha, so it IS a serial rapist running amok, which accounts for why everyone's so keen to disavow the truth. Now that the mystery of Hye-jin's identity is solved, I almost feel let down by the simplicity of it—and then I feel guilty for being macabre and wanting something more shocking. Not that what happened isn't horrible, and maybe any truth would have felt anticlimactic after all the build-up we've had.
I'd wondered whether Ji-sook could have been the pregnant rape victim rather than her mother, which I actually think may have worked better than the way they have it (and by "better" I mean darker and more chilling). Hye-jin was supposed to be around 30 years old, while Ji-sook is in her mid-40s, so it could have been feasible. And I could see an argument for Ji-sook being so determined to rise out of poverty that she couldn't have a teenage pregnancy tainting her image now.
I still think her desperation and motivations work well in the current context (it just would've been more powerful the other way), and the actress really sells Ji-sook's single-mindedness and self-delusion; Shin Eun-kyung makes Ji-sook both steely and vulnerable in a convincing way. Somehow she makes Ji-sook seem both entirely human and monstrous—and every time she starts to seem too cold-blooded, we're shown a glimpse into her twisted rationale where she seems to be able to convince herself of anything, regardless of facts. Hence her manic "I'm the victim" speech.
Now, I suppose the remaining mystery mostly involves the carpenter ajusshi and Agasshi. There's the Chairman Noh storyline too, but frankly unless there are secret dead babies in his closet, I'm not sure I have a lot of interest in his background—sure, black market arms selling is bad, but it's not personal. And Village is, at its most compelling, a story of personal injustices; anytime we zoom out and look at the institutions or politics, it falls pretty flat.
I do hope that Agasshi's SD drug fixation provides a new kick to the story now that the Hye-jin birth story is explained, and also that the creepy whistling carpenter has a good story backing up what appears to be an impulse-driven raping streak. It's looking like the carpenter may be the serial rapist and Agasshi the serial killer, but what's the connection? Are they working together, or are they just two criminal minds who happened to bond over their respective urges? And is there yet another twist we've yet to uncover? (With four episodes left, I really hope there are more twists left.)
RELATED POSTS
Tags: featured, Moon Geun-young, Ohn Joo-wan, Shin Eun-kyung, Village: Secret of Achiara, Yook Sung-jae