News bites: April 21, 2008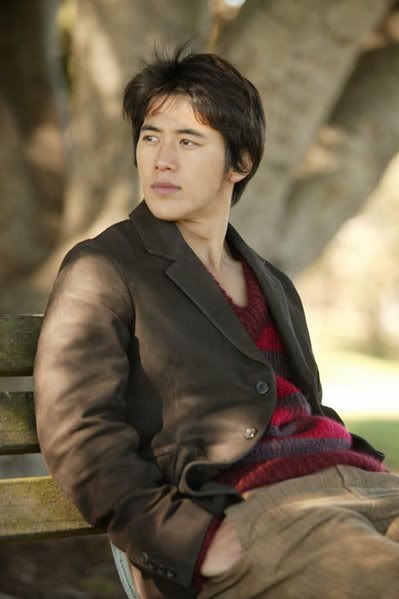 Phew, lots to talk about today:
Get ready to welcome Go Soo back from the military! He completes his mandatory service this week; he'll be released on the 25th and plans to have a fanmeeting that very day in Seoul. He gets back to work immediately in a play (read here) which premieres in May.
On Air, which is doing very well in the ratings, has its next batch of all-star cameos lined up. They've already featured Lee Hyori and Jeon Do Yeon, among others; now they'll feature Shin Dong Wook, Lee Dong Kyu, and comedian Kim Jae Dong. The series has been extended three episodes for a total of 23.
As for other extensions, On Air's timeslot competitor Who Are You? has been rumored to be extended by one episode to 17 total, and while I think this may be likely, I'm not ready to get excited until I see it confirmed somewhere outside the fan message board. (No offense to fans — they often have the earliest info, but I'd rather play it safe with an official statement.)
Chae Rim suffered an injury over the weekend while filming for her new series Rivals. In a scene where her character argues with Lee Jin Wook's bratty presidential-son character in a ramen restaurant, Chae Rim slipped on some fallen ramen on the ground and hit her hip on a sharp corner (of, I assume, a table). She was taken to the hospital, but no bones were broken and the injury appears to be manageable.
Choi Jin-yi, the lead singer of rock band Rumble Fish, is set to go solo with her first single "Brilliant Days" (she'd already recorded a song with the group MC The Max earlier this year). Wait, Rumble Fish is still together, right??
Singer-actor Lee Ji Hoon (Hello Miss, New Heart) takes his next role starring with Girls Generation pop star Yoon Ah in the upcoming KBS daily drama You're My Destiny. He's also set to release his sixth album (his first in four years) on May 13.
At the wrap party for their film I Feel Good on the 18th, stars Eugene (Three Dads, One Mom) and Lee Seon Kyun (Coffee Prince, White Tower) engaged in an impromptu mini song battle. While singing karaoke, the two were prodded on by continuous encores, so they complied and sang four or five songs. In the film, she plays an pop-singer idol; it also stars Lee Soo Kyung (Soulmate, Golden Age of Daughters-in-Law) and Lee Minki (Mixed-up Investigative Agency, Dal Ja's Spring), who were also in attendance, along with approximately 100 staff members.

SONG OF THE DAY
Rumble Fish – "으라차차" (eu-ra-cha-cha) [ Download ]
Audio clip: Adobe Flash Player (version 9 or above) is required to play this audio clip. Download the latest version here. You also need to have JavaScript enabled in your browser.
RELATED POSTS
Tags: Chae Rim, Eugene, Go Soo, Lee Ji-hoon, Lee Seon-kyun, On Air, Rivals, Who Are You? (MBC)