High Kick 2 fills out its new cast

Shin Se-kyung, Seo Shin-ae, Daniel Choi
I wasn't excited to hear about the upcoming Season 2 of family sitcom Unstoppable High Kick, which would cast an entirely new crop of actors (the only exception being veteran Lee Soon-jae, the grandpa of the original series, who will be in the second season as well).
But I may have to rethink it now that the rest of its cast has been announced, and among them are Thank You's precocious and adorable Seo Shin-ae, The World They Live In's endearing screw-up Daniel Choi, and up-and-comer Shin Se-kyung (most recently of Queen Seon-deok and Ogamdo).
The story has 19-year-old Shin Se-kyung and 10-year-old Seo Shin-ae playing sisters who, on account of their debt-ridden father, come to Seoul on the run. The two sisters enter Lee Soon-jae's household as maids, while Daniel Choi plays Lee Soon-jae's son.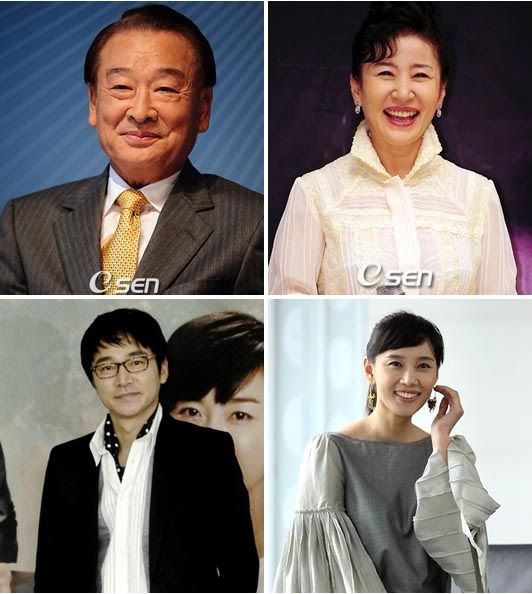 Grandpa and Grandma Lee Soon-jae, Kim Ja-ok;
Dad and Mom Kim Bo-seok, Oh Hyun-kyung
Aside from this plot twist, however, it seems like the rest of the format will echo the setup of the original High Kick, if not in cast members then at least in the structure of the family tree.
Lee Soon-jae once again plays the grandpa/patriarch, partnered by Kim Ja-ok, while Oh Hyun-kyung (First Wives Club) plays his daughter, who is married to Jung Bo-seok (La Dolce Vita). Daniel Choi is the younger, unmarried son.
Lee Soon-jae's grandson (son to Oh Hyun-kyung and Kim Bo-seok), played by newcomer Yoon Shi-yoon, anchors the younger generation, which is filled out by his friend, played by 19-year-old pop singer AJ; 24-year-old ex-Sugar pop singer Hwang Jung-eum as a bright, smart character; and Julien Kang (Dream) as her friend.

AJ, Hwang Jung-eum, Julien Kang
Sound confusing? If you've seen the original High Kick, it's probably not too hard visualizing the family relationships. If not, I'm sure it'll all become clearer when Unstoppable High Kick Season 2 premieres on September 7.
RELATED POSTS
Tags: Daniel Choi, High Kick Through the Roof, Jung Bo-seok, Lee Soon-jae, Oh Hyun-kyung, Seo Shin-ae, sequels, Shin Se-kyung, Unstoppable High Kick