Hon: Episode 1
I was hesitant to watch MBC's new series Hon because I'm a big wimp when it comes to horror, but I was curious enough to give it a shot. And I found that while it has its jumpy moments, it's not actually so scary that I can't watch it. The fright comes more from ambiance and mystery than from actual scary moments — which on a psychological level may be more nerve-racking than a slasher.
What Hon does well is creating a mood, making moments out of little details. It's very well-directed, confidently paced, and the music is downright fantastic — sometimes eerie, sometimes gentle, and often lovely.
SONG OF THE DAY
Mot – "Ghost" [ Download ]
Audio clip: Adobe Flash Player (version 9 or above) is required to play this audio clip. Download the latest version here. You also need to have JavaScript enabled in your browser.

EPISODE 1 RECAP
We open as a girl stumbles along, agitated, wiping her hands on her white shift, which grows bloodier the more she wipes. People shoot her alarmed glances as she passes, but she ignores them, arriving at an intersection. She relaxes a bit when she sees a man across the way and heads toward him, but her way is impeded by traffic.
As she waits for an opportunity to cross, a mysterious, blond-haired young man watches her, and follows holding a knife. She notices, and when she breaks into a run, so does he. The older man sees this and races along in pursuit, while the girl heads into a building — racing through darkened corridors — up staircases — outside — then up again. Her pursuer proceeds with frightening, persistent calm.
Finally, she bursts out onto a rooftop, where she is greeted by the comforting sight of that man, waiting with open arms and a pleasant smile. Feeling safe at last, she runs into his arms, and they share a moment of chemistry.
But suddenly an evil force takes over —
— she glares at him in a fury and leaps at him. Grabbing his throat, she chokes the life out of him. He fights her, gasping for breath.
After long moments, her grip slackens. The possessed gleam fades from her eyes.
In control of herself again, the girl pleads, "Kill me. There's a devil inside me."
She holds his hands to her own throat, and tries to force him to strangle her to death. He resists — tears fall — and her young pursuer arrives, looking aggrieved, and charges at them, knife raised…
And Hana awakens.
This has been a nightmare, and as she jolts awake, she is joined by her sister, Doo-na (who is seven minutes younger and, per Korean custom, calls Hana "unni" even though they're twins). The birth order also reflects their dynamic — Hana is the assured one, while Doo-na is more uncertain, often following her sister's lead. They have a close relationship and live with their mother.
At school, we get a glimpse of our blond pursuer from Hana's nightmare, but in real life he's the complete opposite of his dream persona. He's also not blond, and quiet, timid Shi-woo finds himself the target of some bullies, led by this asshole on the left, Joong-chan, who happens to be student body president. He has a mean streak a mile wide and no sense of compunction, and taunts Shi-woo by snatching his book — it's a study on criminal psychology written by Shin Ryu (who we will soon learn is the character played by Lee Seo-jin).
As Joong-chan humiliates Shi-woo in front of a growing crowd, Hana steps in and takes the book back.
Joong-chan doesn't take kindly to her interference, and grabs her face, growling menacingly that he doesn't have a sense of humor. Yeah, we kinda figured that out already. This moment is broken by the appearance of a teacher, and Joong-chan shoves Hana away, sending her sprawling to the ground.
She tries to talk to Shi-woo, but he doesn't respond. Sighing at his frustrating lack of social skills, she turns to go away with Doo-na, but he blurts out that he's cursed, so she shouldn't mess with him. His bad luck might rub off on her. His mother died giving birth to him, and on his ninth birthday, his father had a big accident and told him afterward that he'd better take care not to cause any more accidents.
Hana isn't scared by his story and tells him happy birthday, whenever it is, then heads off to gym class.
On her way to class, she overhears Joong-chan harassing a female student; he threatens her, and there's obviously something between them, a secret he holds over her that she has kept quiet. She stands up to him, and he slaps her. As she gets up, she looks up and sees Hana looking at her.
A short while later, gym session is interrupted by the sound of a violin playing. A student points up at the roof, and everyone looks up — it's the girl, standing on the ledge, playing her violin.
The students gasp and yell up to her to be careful, but she doesn't listen. She plays on, finally screeching to an ugly halt. She drops her bow over the ledge, then tosses her violin after it. It crashes to the ground.
And then, she whirls around and stops off the ledge, falling backward.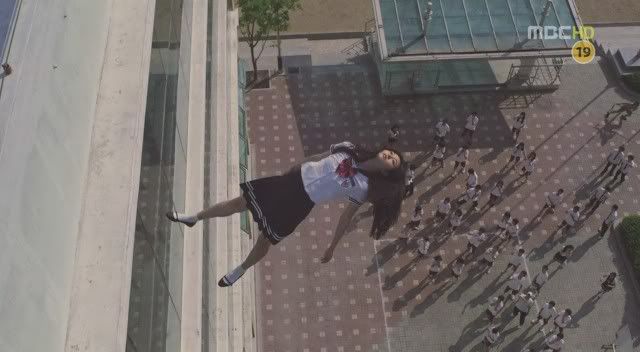 Time seems to slow as she hurtles toward the ground. Students look up in horror, and Hana locks eyes with the girl, who is headed almost directly on top of her.
At the last minute, Hana jerks away, and the girl crashes to the ground next to her. Blood splatters, and Hana again locks eyes with the girl as she dies. Hana faints.
This time, it's pretty clear that we're in a dream as Hana finds herself in a dark forest. A figure darts through the trees, and comes to face her — it's a little girl. She runs off, and Hana follows her out of the woods, along a dark highway, and to a burning house (orphanage?).
The girl runs right up to a barred window, where young children scream and cry, begging for help. The girl is powerless to help them, although she tries and is injured in the process.
The fire grows worse, and just as a beam is about to crash down on the young girl, Hana runs up and grabs her, taking her to safety. But while they remain out of harm's way, they have to look on as the children sob inside the locked room, about to burn.
When Hana awakens in the school infirmary, she fumbles for her shoes, finding one underneath the bed. She reaches to grab it — and little charred hands reach out from the darkness to grab her hand. She gasps in horror just moments before the burnt children drag her underneath the bed — and then wakes up again.
Unnerved, Hana washes up in the school bathroom, but soft, fleeting whispers sound in the air, letting us know she isn't alone. And she isn't.
The ghastly, whitened face of the dead girl — the student body vice president — drops down in front of her, freaking her out. When Doo-na finds her in the bathroom, Hana blinks and looks around — all is back to normal.
But the visions don't go away, and later that night, the dead girl reappears in the bathroom as Hana brushes her teeth. Again, Hana gasps in shock — but when she looks up at her sister, all is normal again.
But Hana is a resilient girl, and she doesn't dwell on the issue. The next day, she is entrusted to deliver a bouquet for her mother, who runs a florist shop. As she bikes through a neighborhood, she sees a troop of schoolchildren walking along, singing a children's song, and she smiles and sings along.
Only, when she passes them, they turn to stare at her with charred, blackened eyes.
Spooked, Hana stares in horror, not noticing an oncoming car. At the last moment, she swerves, and the car screeches to a stop before hitting her. She crashes to the ground.
The driver gets out to make sure she's okay, and now we meet Shin Ryu. She says she's fine, but asks about the children, only to look around and find that no children are nearby. At his confusion, she explains that she must have been seeing things again — she admits wryly that she's been seeing a lot of things lately.
Ryu suggests that if she keeps seeing them, perhaps there's a purpose behind it. There may be a reason they keep seeking her out — is she open to finding out what it is?
It's not until later that evening that we find out exactly who Shin Ryu is, when he appears on a television program as an expert in criminal psychology. Lately, there has been a killer on the loose who has been targeting young women with long hair (leading the twins' mother to suggest that Doo-na cut hers). As Ryu describes the criminal, we visit the houses of a few questionable characters, who are also watching the program:
First is this man, who turns out to be Joong-chan's father. He watches as Ryu explains that although they don't have an exact description of the culprit, they've managed to draw up a profile based on their data, and he believes the killer has begun to enjoy the process of killing. He seems nice on the outside, but Ryu classifies him as "a coward."
The father hears from his son that a girl has died at school, and asks, "Will this be a problem?" Joong-chan answers, "No. I'll take care of it, Father."
But he's not the only creepy guy watching, and the other lives alone in a room plastered in collages of guns, criminals, and other unsavory news clippings.
This is the room of Shi-woo, but in contrast to his reserved, shy demeanor at school, here he smiles chillingly as he watches the program, while his collection of knives gleams in the foreground.
But the program goes unwatched in Hana's house, because her mother leaves the stove unattended, and dinner flares up in a sudden blaze. Seeing the flames, Hana shrieks, and for a split second, as she registers the fire, she hears the voices of children in her head. Then she clutches her head and sinks to the ground.
Her mother and sister comfort her, knowing of her reaction to fire, and her mother apologizes.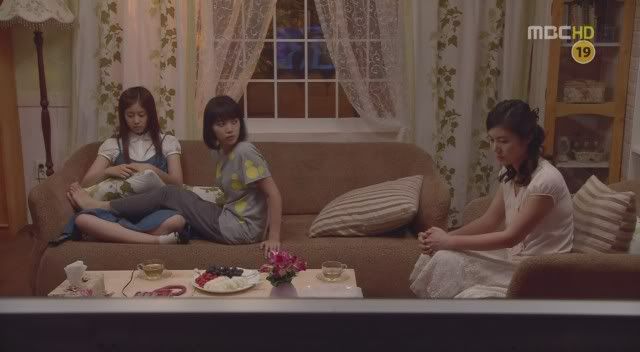 A bit later, calm now, Hana wonders why she has such a fear of fires. Noticeably, her mother and sister avert their eyes and avoid answering her question — I'm sure there's some trauma in her past, something her family is keeping from her.
Hana wonders if her mother believes in ghosts. Her mother dismisses the question, but Doo-na reminds them that Hana used to talk a lot of ghosts when they were kids, back in kindergarten. Too late, she sees her mother signaling for her to stop talking.
Hana doesn't see her mother's gesture, but wonders how Doo-na remembers kindergarten when she has no memory of it. Her mother looks away, and Hana asks, "I was adopted, right?"
That breaks the tension, because that's obviously not the issue. Her mother scoffs and sends them to bed.
Ryu comes home to find his girlfriend, Hye-won, waiting at his apartment. They have an easy, affectionate relationship, and she talks about his impressive appearance on the TV program. She wonders if he's wrong about the killer being a coward, though, because the latest victim wasn't exactly small — the girl was taller than 170cm and weighed over 60kg. If the killer was a coward, it could be difficult for him to kill a woman who fought.
Ryu swiftly takes the knife and holds it to Hye-won's throat, proving his point but scaring her in the process. He says that with the right situation, even a young teenager could easily kill someone bigger than himself. Hye-won does not find his demonstration appealing and is creeped out by his sudden flash of violence, even if it was just to prove a point.
At school, Shi-woo takes an interest in the dead girl's suicide location, and snaps photos of where she jumped and landed. He seems to spot something in one of the shots, but he's found by Joong-chan and his gang, who take his camera and demand to know why he's so interested in it. He merely answers, "Just because," but that doesn't satisfy them.
Hana sees the dead girl again in the middle of class, sitting a few seats away from her. Spooked, Hana tries to look away, but when she does look at the ghost, it's trying to tell her something. But Hana can't hear the words, which come out wispy and soft.
Noticing her inattention, the teacher sends her out to wash her face and get her focus back, so Hana heads out to the hallway — and sees the girl again. Wherever she turns, there she is (although thankfully, at least the girl looks alive this time, and not creepy and dead).
Recalling Shin Ryu's words that there might be a reason she keeps seeing these visions, she decides to see if there may be truth to that, and follows the girl. Seeing Hana's cooperation, the dead girl turns and leads her down the hall, up a staircase, and to the roof. Hana sees the girl standing where she had jumped, talking into a cell phone as though re-enacting her last moments. The girl says something, but again, Hana can't hear.
Hana approaches the spot and looks around the ground, dropping to her knees to look underneath a small space — and sees a cell phone. The dead girl's.
But just around the corner, one of Joong-chan's minions sees her — this can't be good. Thankfully, he's called away by a teacher and has to turn away.
Hana takes the phone, and starts to hear the girl's screaming voice. Brief visions show us the girl crying, being held down by the boys. Hana shouts into the air, "What do you want from me? What do you want me to do?"
Just then, a banging sounds. She looks over — it's the locker making the noise. Approaching nervously, she screws up her courage, then wrenches the door open.
Inside is Shi-woo, crouched in his underwear, beaten. Relieved, and also resigned, Hana tells him that he should fight back, but he reminds her that he can't fight or cause trouble because he's cursed.
Hana counters his claim, rattling off a litany of people who have died on her birthday. Does this mean she's also cursed?
Her words seem to get through to Shi-woo, who looks up at Hana, standing before of him, for a long, quiet moment.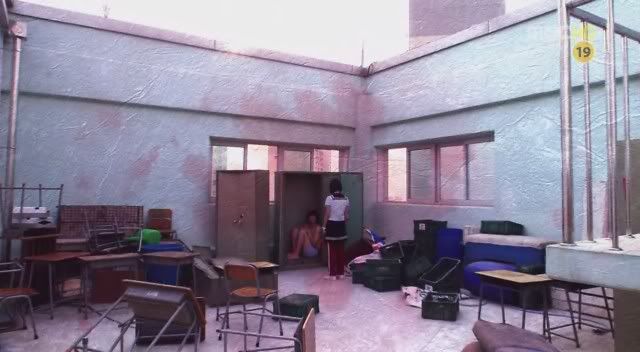 COMMENTS
There's a difficulty in recapping a story like this, because so much of the suspense relies upon what the individual viewer picks up — it's as much about perception as it is about reality (or, the reality within the drama, at least). So what may seem significant to me may pass someone else by, while someone else may pick up on something that I didn't notice.
All that said, a solid first episode. The story (so far) doesn't actually seem horrific — it's the strained atmosphere in those quiet, loaded moments that makes us tense up and expect something scary. I'm not even sure it required the 19+ designation, although I suppose for broadcast television it is a little creepy.
For example, we see very little blood in this episode, and no actual killing (although there is that one suicide). The fright sometimes comes in the simplest of moments — for instance, the image below, when Hana bends over her bathroom sink and we know there's no logical reason for a girl wearing a school uniform to be in this scene. Hana also knows, and freezes in shock, afraid to look up and confirm her fears.
For being a newbie who was selected through an audition process, Im Joo-eun, who plays Hana, is really good. I can see why they picked her; she has an it factor, an ability to command attention and a very expressive face and eyes. I think it's likely she'll come out of this drama a big star.
Lee Seo-jin has had little screen time (relatively) so far, but I think he looks fantastic and am glad to see him back in a contemporary drama. His character is professional and assured, but has shown a flash of creepiness as well, and I suspect we'll see that balance tilt more in the coming episodes.
Often, I find that the detractor in a horror television series is the special effects and makeup, because a drama doesn't have the time/money that movies do and I often find the effects cheesy. (For instance, Hometown of Legends sometimes went costumey, and I recall the awkward special effects of M.) But Hon keeps its effects simple, and they therefore pack a nice punch. Plus, like I said, the music is fantastic.
As a whole, nicely done.

RELATED POSTS
Tags: first episodes, Hon, Im Joo-eun, Lee Jin, Lee Seo-jin, Park Gun-il