Japan buys High Kick Through the Roof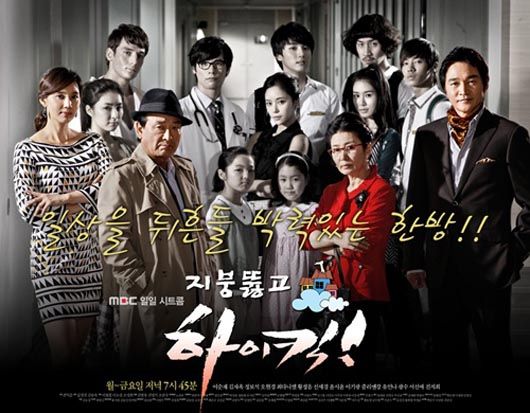 The new sitcom High Kick Through the Roof [지붕 뚫고 하이킥] hasn't even aired yet, and already it's been licensed for a Japanese broadcast. The production company, Green Snake Media, has sold the family sitcom to a subsidiary of Sony for a November broadcast on the So-net channel in Japan. The Korean broadcast will premiere next week.
They must be really confident in the series, based solely off the popularity of its predecessor, Unstoppable High Kick, which was a hit back in 2006 and 2007 and catapulted several young stars to fame. This is the first time that a Korean sitcom has been licensed for an overseas broadcast prior to airing, and Japan's run will commence before the Korean run is finished. (It's not the first time a drama series has been pre-sold, usually based on the strength of a star's name such as Choi Ji-woo, but sitcoms with their larger episode orders are another kettle of fish.)
The High Kick spinoff (or "High Kick 2") stars (in the older generation) veteran actors Lee Soon-jae, Kim Ja-ok, Oh Hyun-kyung, and Jung Bo-seok. Its younger generation is where most curiosity is directed, as people wonder who will be the breakout star of this round, like Jung Il-woo and Kim Bum were in the first. Those cast members include Shin Sae-kyung, Seo Shin-ae, and Hwang Jung-eum.
High Kick Through the Roof airs every weeknight (Monday through Friday) and premieres September 7.
Via DongA
RELATED POSTS