Smile: Episode 19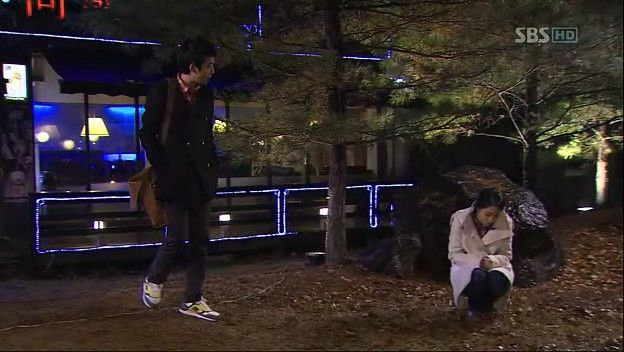 With Jung-in and Hyun-soo's relationship in bloom, the drama could have easily slowed down. But I think it's holding strong. The writer Moon Hee Jung (Last Scandal of My Life) does a clever job of keeping their honeymoon phase in check by adding in some light-hearted, fake to real sparring scenes.
And Director Lee Tae Gon (Last Scandal of My Life) does a beautiful job of showing their honest love for each other in the scene above, with a silent Jung-kyung and Han-se watching them walk away. The drama was mostly based on good comedic timing in the past but they are doing a stand up job of introducing more serious elements without losing out on the fun.
SONG OF THE DAY
Smile OST: Shin Ji – "잠도 못자요" (Can't Sleep) [ Download ]
Audio clip: Adobe Flash Player (version 9 or above) is required to play this audio clip. Download the latest version here. You also need to have JavaScript enabled in your browser.
As the new couple Jung-in and Hyun-soo enjoy their alone time, Geum-ja walks into catching them sharing an intimate moment. So Hyun-soo thinks quickly and comes up with an idea… for a HEADLOCK! It's brilliant and hilarious.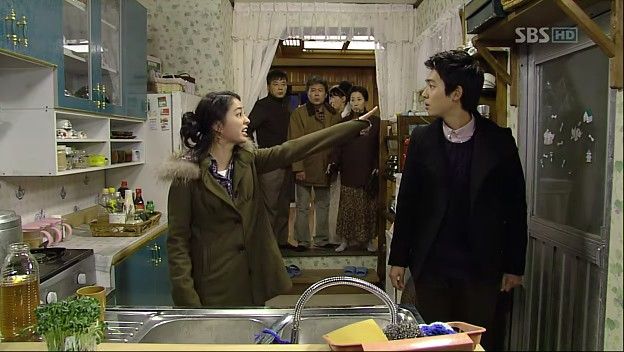 The two of them get into a nonsensical fight, with Hyun-soo accusing Jung-in of stealing his wallet. They start hurling insults at each other.
Jung-in: Why would I steal your wallet out of all things? When you don't even have any money!
Hyun-soo: What did you just say? Why don't I have any money? [A bit too sincerely…]
Jung-in: Did I lie? Do you have money? All you wear around is that dirty track suit.
Hyun-soo: How about you? When you look just like a frog.
Jung-in: What? Frog? Can you not see right because you have mismatched eyes? And look at your body. Why are you talking so much when all you have is flesh and bones?
Hyun-soo: You… you… Look at your swollen lips! It looks just like fish roe! [What he was eating when he only saw Jung-in's lips everywhere.]
The adults look on with shock and then distress, getting into a tiff of their own over their kid and eventually the house. Sung-joon tries to stop the fight but gets caught up and ends up spilling the truth about Hyun-soo's love for an old classmate. Hyun-soo and Jung-in start getting nervous when the conversation turns askew, and figure out a way to both run out of the house.
Outside, they first worry about each other, making sure that their physical fight didn't cause too much harm. But the faux argument has brought out enough that they have an actual fit, even moving into the you're not that skinny area. (Yikes! Don't go there Hyun-soo!) Thankfully, Grandpa Man-bok arrives just then and makes the couple head inside.
When Man-bok arrives, the adults do a 180 and pretend to have made up from their previous fight, all the while giving each other small jabs. Once he goes into his room, Jung-in and Hyun-soo go at it again before their parents separate them.
Sung-joon hangs out at Ji-soo's restaurant, "helping" her by counting the money from their opening. He even tries to steal a few dollars but Ji-soo catches him, telling him not to come to the store from now on. Sung-joon answers sheepishly, "I won't count it from now on" and reminds her that a lot of the girls come to the store to see him. When she says that she doesn't like that either, he continues with the delusion of her feelings for him.
Han-se shows up at the restaurant, not realizing that Jung-in is long gone. The 2 boys have a little chat. Han-se lies that he thought Jung-in was trying to marry him for his money, and claims that he was planning on getting back together with her when things quieted down. After hearing that Sung-joon knows about Jung-in's feelings towards Hyun-soo, Han-se decides to stick with him, "Hyung-nim, please be on me and Jung-in's side." All the while they're having this serious conversation, Ji-soo continues to clean the store, hoping to chase out the two shameless men.
Hyun-soo and Jung-in meet to continue their argument. When they run into each other in the livingroom, he even gives her a little shove to start things. She finds him outside, pumping iron. She then puckers her lips, saying that it's gotten swollen because of him. His anger quickly turns to timidity when her lips come toward his face.
When they hear Sung-joon lurking nearby, Jung-in hides under the deck, while Hyun-soo pretends to exercise. He tries to get rid of his dad, but Sung-joon is sick of listening to Geum-ja complain and sits down for a talk with this son. He starts to ask about Jung-kyung, and Jung-in starts to pull on Hyun-soo's pants and pinch his leg, sending them into a game of footsie (and handsie).
Han-se drops Ji-soo at her house, hoping for some alone with with Sung-joon. He tries to head into Ji-soo's place but she tells him not to come over anymore since she has a new roommate. Seeing Sung-joon get huffy, Han-se teases him on his choice of women. He denies the claim, saying that she's just his dong-saeng (younger sister) and goes into the car. They get into a conversation about women, with Sung-joon giving Han-se some brotherly advice.
Sung-joon: It's too late, Jung-in's heart's already left. Women are different from men. When it's done, it's done. They don't look back because they're practical beings. Don't you know? Men think about their past loves, but women are focused on their current love.
Back at the house, the Kang father/son pair are also talking about first love. Sung-joon thinks about his Julia (aka Joo-hee) and continues to bring up Jung-kyung, trying to connect with his son. When Jung-in hears Hyun-soo say, "One sided love is still love," she becomes dejected and stops pinching his legs.
When Sung-joon finally leaves, Hyun-soo immediately pulls out Jung-in. She is visibly upset and puts her head on his chest.
Hyun-soo: I'm sorry. You're upset, right?
Jung-in: Yes. If you call me fish roe one more time, I'm never going to give you a kiss.
Hyun-soo: OK. Isn't this more cushy than it looks?
Jung-in: Yeah. It's warm.
He gives her a hug.
We find Jung-kyung at Ji-soo's place, as her new roommate. She's asked Ji-soo to keep it a secret from her family for the time being. Meanwhile, Jung-in worries about her sister and tries to call her without luck. She leaves her a message.
Jung-in: Unni, it's me. Don't stay at the hospital and just come home. You may be uncomfortable when you're at home. But don't you know that I'm uncomfortable when you're not here? You're so mean. If you come home, I'll give you my mattress and won't call this my room either. So come. I'll wait for you.
Seeing Grandpa Man-bok's desire to see a matured Seo family, Geum-ja does all she can to keep that from happening. Early the next morning, Jung-kil wakes up for his job at the construction site. But Geum-ja is ready to lure him back to sleep. She leaves him a meal, has blankets on the floor, bring in an electric heater, and encourages him to take a short nap before heading off for work.
Taking a 10 minute power nap proves to be a bad idea, as Grandpa Man-bok finds him sleeping in the living room. Geum-ja still continues to tempt Jung-kil, this time with kimchi pancakes. But he knows that she's up to no good, and heads to work.
Hyun-soo and Jung-in try to share sweet moments together, but are continually thwarted by their family. She tries to feed him her home made egg roll, but they end up having to pretend fight when Geum-ja walks into the kitchen. Outside, Jung-in buttons Hyun-soo's shirt when Joo-hee sees them. They immediately go into fight mode and Jung-in switches her grip from one of love to rage.
After texting Hyun-soo to wear his red plaid shirt, she reveals her own red plaid shirt, proclaiming that slightly mismatched shirts make for the most stylish couple tees. (LOL!!) Hyun-soo tries to put his jacket back on in embarrassment, but she makes him take it off just as their coworkers come inside to see their matching shirts.
At a meeting, Han-se sits himself next to Jung-in and grabs onto her hand, asking about Hyun-soo's relationship with Jung-kyung. She tells him to keep quiet and digs her heels into his foot to make him let go of her hand. Hyun-soo is upset to see them together and lets Jung-in know it afterwards.
Hyun-soo: Don't play around during the meeting.
Jung-in: It's just that Han-se was saying weird things.
Hyun-soo: Whatever he says, just ignore him. He get excited and keeps going because you answer him every time.
Jung-in: Are you mad?
Hyun-soo: A little.
Jung-in: Should I just quit here? If it bothers you, I can just work on the make-up questionnaires.
Hyun-soo: Don't try to make me happy but do what you want. What I want to see is for you to be upright here, and not get pushed around by Lee Han-se.
Jung-in: Alright.
Seeing her look defeated, he perks her by suggesting they go on a date during the weekend.
At the dduk-bok-gi store, Joo-hee flips through a magazine while Ji-soo is hard at work alone. When she asks Joo-hee to take some orders, she gets livid and storms out of the restaurant. Geum-ja sees her leave and helps her with the store work, earning a bit of spending money. She immediately tattles on Joo-hee when returning home, prompting Grandpa Man-bok to have Kyung-soo help at the restaurant in the evening. He replies, "Who me? I don't go out in the dark often because I get scared." Then he brings up his previously used excuse, "I'm allergic to dduk-bok-gi" to try to get out of going.
Hyun-soo and Jung-in enjoy their walk back home, making fun of each other one minute and being serious the next, when they see the chief, Han Min-joon, waiting outside their house. Hyun-soo heads off to talk to him while Jung-in eagerly waits for his return.
Min-joon tells Hyun-soo about Jung-kyung's sabbatical from the hospital, and asks him to convince her to return. Hyun-soo retorts, "When I see Jung-kyung, I'll tell her to go back to the hospital. But it's not to send her back to you, but to do right as a friend."
Hyun-soo gives Jung-kyung a call, asking her to meet him. She hears his message but is hesitant to go. He waits for her at the cafe, calling her periodically. "You made me wait for 8 years, and you still make me wait for you after agreeing to be friends? Please come." Hearing his words, Jung-kyung runs off to see him. Han-se who had been waiting for her, follows.
Jung-in can't wait for Hyun-soo any longer and blithely heads over to the cafe. Noticing him sitting alone, her mood glooms and she crouches down to a squat. Jung-kyung runs to the cafe but sees her sister sitting to the side, waiting for Hyun-soo. Han-se chases after her and also sees Jung-in. The two of them can do nothing but watch the scene in front of them.
As they watch, Jung-in and Hyun-soo watch as well. But all they can see is each other. He comes out of the cafe and is surprised to see her crouched on the ground. They leave arm in arm, with Jung-in trying to convince Hyun-soo to buy her a drink. All the while, Jung-kyung and Han-se can only watch them walk away, as they are stopped by the red light in front of them.
The couple heads over to the fated po-cha (street food tent), where they had their first drink, and share in a little role play – with Jung-in as the calm girly girl and Hyun-soo as the tough manly man. But it's not their style, and Hyun-soo ends up spilling the soju to Jung-in's dismay. They enjoy a laugh together and take a trip down memory lane. At Jung-in's prodding, Hyun-soo talks about his girlfriend using the dreaded Kdrama staple, the flashback. Fortunately, it's used fairly amusingly here, almost in jest. (And any new viewers have a quick "what you've missed" for Jung-in and Hyun-soo's relationship.)
They end with the kiss flashback, which brings a smile to Jung-in's face.
Hyun-soo: What do you think about my girlfriend?
Jung-in: I think she likes you a lot.
Hyun-soo: How is that like, when she keeps butting me with her head, making me angry, and kissing me without permission?
Jung-in: I know because I'm a woman. I bet she's probably really regretting everything. I'm sure she's staying awake at night, thinking about how to make good memories so that he can forget about all the bad memories. So when you see your girlfriend, tell her that she'll be staying with you a lot longer than his first love. And that there's no need to be impatient.
Hyun-soo: Alright. I'll tell her.
Jung-in: OK. Should we have 1 more bottle of soju?
Hyun-soo: You tell my girlfriend also. To stop drinking so much soju!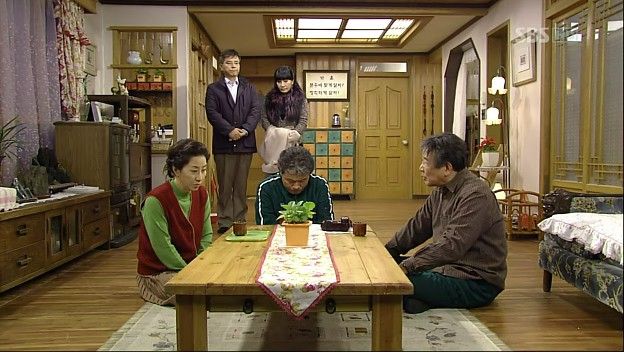 Back at home, the adults get into another argument. With Joo-hee asking for a new business that suits her better, like a cafe and Geum-ja sneers at her. Grandpa Man-bok is sick of their attitude and tells all 4 of them live upright because he'll be watching all of them.
Jung-in heads to the bathroom and receives a call from Han-se, telling her about Jung-kyung at the cafe. When she enters the po-cha, she sees Hyun-soo on the phone calling for Jung-kyung. And Jung-kyung is at the cafe, seemingly waiting for Hyun-soo to return.
She returns to the table and Hyun-soo tries to tell her again about meeting Jung-kyung. But she stops him from talking, not wanting to hear about her sister. On their way back home, Han-se sees the 2 of them flirting while walking back and stops them.
Han-se: Do you know where Jung-kyung nuna is? It seemed like she was waiting for you.
Jung-in and Hyun-soo look at each other, and she grabs his hand, letting him know that she's there for him and trusts him.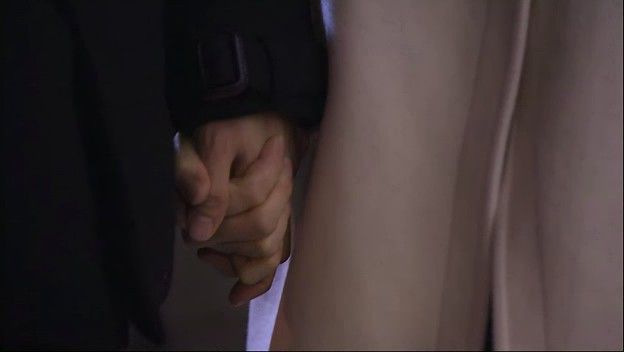 Comments
I'm continued to be amazed at how the the drama refuses to create misunderstanding between the couple to develop artificial angst. Even though Smile has time and time again proved me wrong, I still anticipate such trickery to rear its ugly head in the back of my mind (being indoctrinated through the years of living in kdrama land.) When Hyun-soo walked out of the cafe, I fully expected him to see Jung-kyung across the street, rather than see Jung-in sitting down on the floor. But they not only provide a nice surprise, but used the scene to quietly show us their makeup.
I also find their sometimes sheepish, sometimes aggressive nature to be true to life. It's endearing to see them they speak jibberjabber to each other, to lengthen the time that they spend together. But what I love the most of all is their desire to respect each other. I appreciated Hyun-soo's comment to Jung-in to make her own decisions based on her own mind and he continues to allow her to deal with Han-se without getting involved in front of her. Just as Jung-in allows Hyun-soo to deal with Jung-kyung without getting involved.
On the other hand, I am a bit confused about Jung-kyung's motivations. She seems to have become a different person from the beginning, starting out as a strong and capable doctor, chasing after her love without abandon. I do understand that she's been hurt and is trying to nurse her pain but I feel like it's such a change in character, from the feisty woman who refused to back down an inch from her crazy family to a timid one who's running away to solve her problems.
With the sole focus of the last few episodes on Jung-in and Hyun-soo, I'm ready to dive a bit deeper into the other characters. I would love for Lee Chun-hee to get a bit more screen time and look forward to seeing Sung-joon and Ji-soo develop a their story line bit more.
RELATED POSTS
Tags: Jung Kyung-ho, Lee Min-jung, Smile