2009 KBS Drama Awards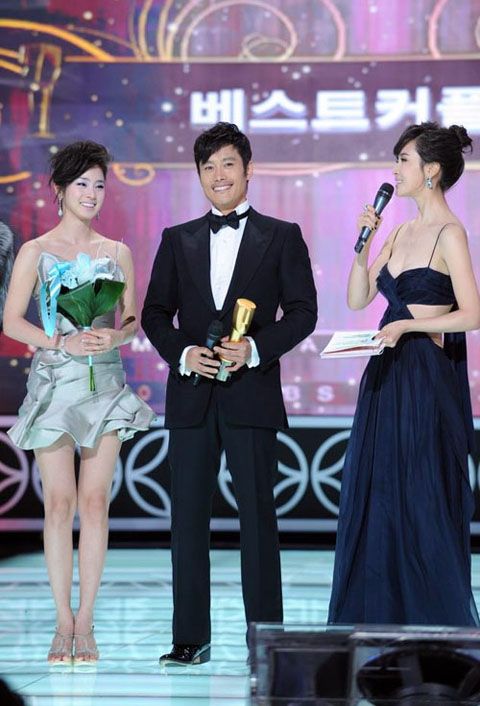 Last one!
The 2009 KBS Drama Awards were also held on December 31, and as with the other two station awards ceremonies, there weren't a lot of surprises, particularly with the Daesang, which went to Lee Byung-heon. (Lee was outstanding in IRIS, but I think he practically had the Daesang in the bag even before the drama aired — no way KBS was going to score a big star like him and not reward him. Refer to: Song Seung-heon's MBC Daesang last year.)
All of these awards ceremonies are essentially year-end parties where the broadcasters pat their big successes on the back. That's why most of the actors given awards were from hit shows, and also why there are few surprises. But of all the awards shows, KBS has the most varied list of winners, and is my personal favorite to look at and comment on, since I've seen most of the big shows represented. (Unlike SBS, where many of the winners were from shows I didn't care for, such as Wife's Temptation.)
There were, of course, a few puzzlers. I understand wanting to include Kim Tae-hee in the IRIS largesse, even though her acting itself wasn't outstanding — but her over Kim So-yeon? And I see why they would want to thank Kim Ah-joong for taking on a drama when she could have chosen to build her movie career instead. But how could you award Kim Ah-joong's acting in Accidental Couple and NOT give one to Hwang Jung-min, who was the largest single source of charm in that drama?
WINNERS LIST
Daesang: Lee Byung-heon (IRIS)
Top Excellence Awards:
Drama Series, Actor: Sohn Hyun-joo (Sons of Sol Pharmacy)
Drama Series, Actress: Chae Shi-ra (Iron Empress)
Excellence Awards:
Daily Series, Actor: Oh Man-seok (Everybody Cha Cha Cha)
Daily Series, Actress: Jo Ahn (Everybody Cha Cha Cha)
Miniseries, Actor: Ji Jin-hee (The Man Who Can't Get Married)
Miniseries, Actress: Kim Ah-joong (Accidental Couple)
Drama Series, Actor: Kim Seung-woo, Jung Jun-ho (IRIS)
Drama Series, Actress: Gu Hye-sun (Boys Before Flowers), Kim Tae-hee (IRIS)
One-Act Special, Actor: Kim Kyu-chul (Hometown of Legends)
One-Act Special, Actress: Kim Sung-eun (Hometown of Legends)
Supporting Actor: Yoon Joo-sang (Sons of Sol Pharmacy, IRIS), Choi Chul-ho (Iron Empress)
Supporting Actress: Moon Jung-hee (Iron Empress)
Actor, Youth: Park Chang-ik (Father's House)
Actress, Youth: Park Eun-bin (Iron Empress)
Newcomer Award, Actor: Lee Min-ho (Boys Before Flowers)
Newcomer Award, Actress: Kim So-eun (Boys Before Flowers)
Writer Award: Jo Jung-sun (Sons of Sol Pharmacy)
Popularity Award: Yoon Sang-hyun, Yoon Eun-hye (My Fair Lady),
Kim So-yeon (IRIS)
Lifetime Achievement: Yeo Woon-kye
Best Couple: Yoon Eun-hye, Yoon Sang-hyun (My Fair Lady)
Lee Byung-heon, Kim Tae-hee (IRIS)
Lee Pil-mo, Yoo Sun (Sons of Sol Pharmacy)
Lee Min-ho, Gu Hye-sun (Boys Before Flowers)
Netizens' Award, Actor: Lee Byung-heon (IRIS)
Netizens' Award, Actress: Gu Hye-sun (Boys Before Flowers)

No surprise here, and no contest: 1 big movie star + 1 of the station's biggest hits of the year = Daesang. Lee Byung-heon came with his IRIS co-star Kim Tae-hee on his arm. (Kim rarely looks bad, but I do think her makeup is overdone so that it washes her out. She looks a little zombie-like in the face.)

Did their IRIS buddies Jung Jun-ho and Kim Seung-woo color-coordinate on purpose?

I can't believe Kim Tae-hee won an acting award and Kim So-yeon didn't; maybe fans will agree, since Kim So-yeon was given the popularity award. Lee Da-hae didn't have a KBS show this year, but will be in their upcoming Chuno in the new year. Also, don't get me wrong — I think she looks stunning, as usual — but I HATE her dress. The side cutouts aren't particularly sexy or attractive, and she would have looked so classy and elegant if her dress didn't have them.

Chae Shi-ra played the title role in the long weekend sageuk Iron Empress, and was rewarded with a Top Excellence Award. She never seems to age, and looks amazing.

Ji Jin-hee's The Man Who Can't Get Married was a less-watched, sorta-disappointing show, but his comic antics netted him an Excellence award.

Choi Chul-ho has had a busy year! He had an MBC comedy (Queen of Housewives) and a KBS trendy (Partner), but it was his role in Iron Empress that got him an award here.

Kim Ah-joong (Accidental Couple) looks like a bride. I can't wait for the mermaid-shape dress to go out of fashion.

Yiiiikes. You know, I see what Yoon Eun-hye (My Fair Lady) was going for. She's known for her edgy, bold fashion style and no matter what she's wearing, whether it be chic or crazy, she holds herself tall. But this reminds me of the Oscars when Angelina Jolie went goth and everyone thought, "I know what she's doing, and I don't like it." I get what Yoon Eun-hye is doing here, and I don't like it.

She did, however, earn mention for being part of a Best Couple with Yoon Sang-hyun, her co-star in My Fair Lady. This did feel like the station's attempt to appease both actors given their mess of a drama, since neither star was included in the acting awards. At least Yoon Sang-hyun has his award for Queen of Housewives.

Lee Min-ho! The Boys Before Flowers star was given a newcomer award, and is looking cute and polished. (He has a tendency to look a little unpolished at awards shows — it's his inner dork showing, I'm sure — but tonight he's smooth and dapper.) Totally deserves the award.

Kim So-eun was also given a newcomer award, based on her well-received performances in not one but three KBS dramas — Boys Before Flowers, Iron Empress, and The Man Who Can't Get Married. She's definitely an up-and-comer to watch.

WTF? And also, sigh. Did Gu Hye-sun think that if she didn't come dressed as a schoolgirl, nobody would remember that she was in Boys Before Flowers? It's one thing to come in costume for a character, but when you're dressing for an awards show, this seems… bizarre. She's 25, which makes her a little old to be dressing as a high schooler outside of acting roles.

By all accounts, Kim Ji-suk's role in this year's production of Hometown of Legends was a mess of unintentional hilarity. (On the upside, he had a super-hit of a film with Take Off.) He wears his suit well, and does the no-tie look with casual confidence.

His fellow Hometown of Legends colleague Kim Sung-eun was given an award for her part. I think Kim is a good actress who hasn't yet gotten her big breakout role, though she's done well in supporting parts. I love the shape and flow of her red strapless number here.

How cute that Sohn Hyun-joo came with his co-stars from Sol Pharmacy, who played his brothers! (They are Ji Chang-wook, Han Sang-jin, and Lee Pil-mo.) Sohn has played a wide range of characters in his career — eccentrics, cranks, bastards — but his sweet, nice-guy turn in Sol Pharmacy was a joy to watch.

Here's another of their co-stars, Yoo Sun (Sons of Sol Pharmacy), aka Bokifer. I don't know where I'd wear it, but I want that dress. (That faux obi sash seems to be quite the thing these days, doesn't it?)

Yoo Hana was spunky Eun-ji in Sol Pharmacy, and comes in a rather voluminous gown. I can't decide if I like it, or if it makes her look like a mummy. A really pretty mummy.

That slit looks a little dangerous on the front of Jo Ahn's pink dress. She won an award, along with co-star Oh Man-seok, for Everybody Cha Cha Cha.

I had to double-check the credentials for Park Min-young, because why is she at the KBS show instead of the SBS one, which was on the same night? She did a KBS series last year, Hometown of Legends, but I'm sure nobody would have thought it odd for her to skip KBS since she actually headlined an SBS drama this year. Well, maybe it makes sense if you consider that said SBS drama (Ja Myung Go) had a painful run and was largely ignored at the SBS awards. (Ja Myung Go's Jung Kyung-ho did get an award, but that could have been more influenced by his current SBS gig, Smile.) Also: That dress is short!

Is it also interesting that Moon Chae-won chose KBS over SBS? She had supporting roles in dramas for both stations, and her SBS drama (Brilliant Legacy) was much more successful than her KBS one (My Fair Lady). All that speculation aside, I think Moon is developing a pretty nice fashion sense, and while I wouldn't call her a fashionista, she often shows up at awards shows and red carpets looking beautiful, youthful, and fresh. The pink looks great on her.

Moon Jung-hee won an award for a supporting role in Iron Empress. I like Moon a lot — she has a great warmth to her — but that dress! It's like she got caught up in sports bandages, then ran into a vat of hot pink dye.

Choi Myung-gil, left, just wrapped up the trendy drama Invincible Lee Pyeong-gang, while Choi Su-rin (who is really very underrated) had two KBS projects this year — Partner and the short special Kyung-sook, Kyung-sook's Father.

Ji Hyun-woo, also of Invincible Lee Pyeong-gang, doesn't look terribly excited to be here…

There's an appealing simplicity in the draping of Jang Hee-jin's (Hometown of Legends) clean, chic dress.

In contrast, Park Han-byul (Everybody Cha Cha Cha) has way too much going on with her dress. That bulky feathery (furry?) fringe, the voluminous vertically-striped skirt… it distracts one's attention away from her, which is too bad since she's lovely.

I think Lee Chae-young's (Iron Empress) dress could have been cute in theory… but in practice it looks a little sloppy and, uh, cheap?

For a while, Kim Hye-jin was known mostly as "Kim Tae-hee's friend," since she played the part as a fellow NSS agent in IRIS. Not really a fan of the super-high slit in an otherwise plain gown.

Park Eun-bin had roles in Iron Empress and MBC's Queen Seon-deok, and won this night for the former. At only 17 years old, that dress is a bit of a risk… but I actually like it a lot, after getting over the initial surprise. It has an old-fashioned charm to it, but it's not a costume and therefore feels new and different. The contrast with her youth is what, I suspect, makes it work (in my opinion). It's busy, but in an interesting way.

In contrast, Han Go-eun's (Great Family, which is upcoming) dress is busy, but NOT in an interesting way. Glittery, ruffly, tacky!
Via Arts News
RELATED POSTS
Tags: awards, Chae Shi-ra, Choi Chul-ho, Gu Hye-sun, Jeon Hye-bin, Ji Jin-hee, Jo Ahn, Jung Jun-ho, Kim Ah-joong, Kim Ji-suk, Kim Seung-woo, Kim So-eun, Kim So-yeon, Kim Sung-eun, Kim Tae-hee, Lee Byung-heon, Lee Da-hae, Lee Min-ho, Moon Chae-won, Moon Jung-hee, Oh Man-seok, Yoo Hana, Yoo Sun, Yoon Eun-hye, Yoon Sang-hyun