Sungkyunkwan Scandal: Episode 4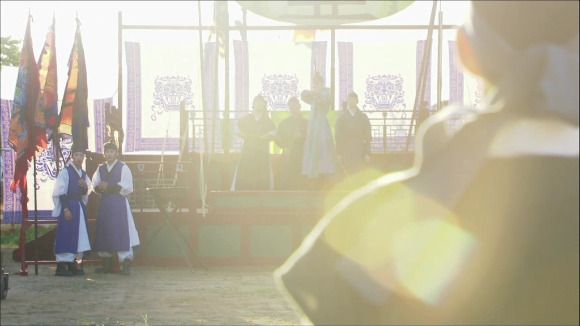 [Well, you asked, and you asked, and some of you cried…so here's red pill to answer your prayers and comfort your souls. Sungkyunkwan lovers of the world, rejoice! -GF]
Dear Micky Yoochun's acting coach,
You're doing a bang-up job. Please keep it up.
Love, red pill
SONG OF THE DAY
윤하 (Yoon-ha) – "My Song And…"
Audio clip: Adobe Flash Player (version 9 or above) is required to play this audio clip. Download the latest version here. You also need to have JavaScript enabled in your browser.
LESSON 4 RECAP
While somewhere across the campus Yoon-hee is asking Sun-joon to switch dorms, Jae-shin is being fussed over by his (only?) friend Yong-ha. Is he sick? That's the only logical explanation why the "mad horse" Jae-shin would've spent a night in the same room with Sun-joon, son of the leader of the Noron political faction. After all, Jae-shin abhors anyone who's a Noron. So why did Sun-joon get the a-okay to stay in the room?
Jae-shin hasn't given his consent to anything just yet; he wants to see how long Sun-joon can last in the room.
Yoon-hee naively believes that the only way the mini-war with In-soo will end is if Sun-joon moves to the west wing, where all the Noron boys live.
Sun-joon wants to know what's so wrong about following a simple principle. Sungkyunkwan (hereafter "SKK") is supposed to be a place of equality, where birth determines nothing, especially not who lives where. Yet he's being pressured to act against his principles by the majority and those with power.
The other students don't care about his sincere intentions, but it's mutual in that he doesn't care about them either. "What I care about is your opinion." (Swoon. Yes, I realize he doesn't like-like her yet, but I'm still swooning here. What can I say? I'm a total sap.)
But Yoon-hee doesn't have the leisure to consider anything other than survival. Her only desire is to make it through SKK in one piece; that's her principle, philosophy and wish. The glistening tears and the desperate earnestness render Sun-joon at a loss of words.
Seems In-soo's plan to get to Sun-joon through Yoon-hee will work.
The Red Messenger's latest red leaflet reads that the thief of the Geumdeungjisa is a corrupt subject of the nation, and the king who ignores the blood-stained truth is a coward. The Geumdeungjisa is a mysterious book that supposedly tells all about how the Norons tricked King Yeong-jo into bringing about the death of his son, Crown Prince Sado. [History lesson provided at the end of this recap.]
The king orders the war minister, Minister Ha, to capture the Red Messenger to settle the matter. How they expect to catch anyone with a police sketch that only shows the eyes is beyond me, but wanted posters are dutifully put up around the city and guards are posted at the gates to check the eyes of everyone entering the city.
Minister Ha wants Red at all costs before the king's private guards catch him first. He does have a lead: during the last chase, Red disappeared into banchon, the area around SKK (think Westwood near UCLA).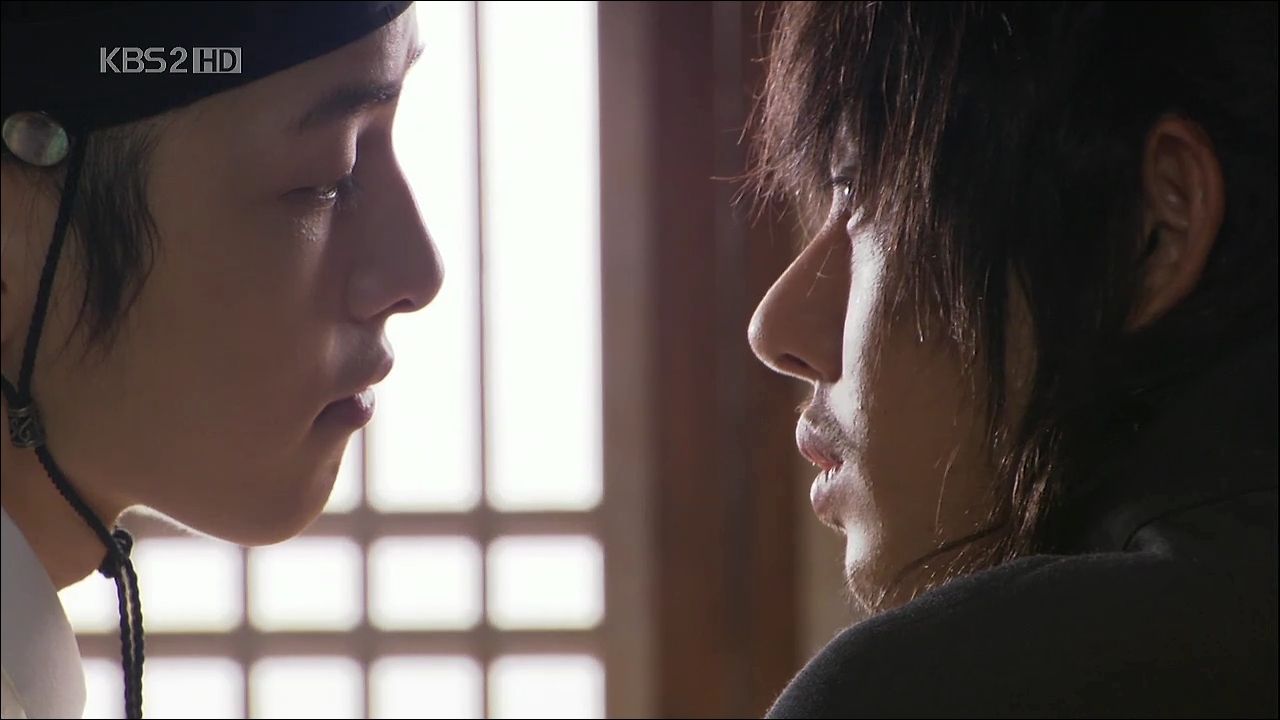 Yong-ha is still concerned about Jae-shin, but this time for a different reason. "Were you okay? Didn't you *hic* last night?" Hilariously, Jae-shin has this nervous disorder where he hiccups around anything and everything female (this is gonna be loads of fun later). Yong-ha expected him to show some kind of physical reaction to Yoon-hee, but the hiccups must be mental because Jae-shin believes there isn't a female for miles and therefore slept just fine.
Just as Jae-shin's about to take a swig of his liquor, Yong-ha stops him and reminds him that it's the first day of classes. If Jae-shin fails another class, he'll be kicked out of school. And Yong-ha for one won't let that happen. Lighten up, Jae-shin replies, this (seriousness) isn't like you.
Yes, Yong-ha, you're cutest when you're cheeky and smirky (though your serious look is pretty hot as well!).
It's time for the first lesson, and all the freshman (plus Jae-shin, who probably has to make up the class for failing it before) file towards the classroom. Do-hyun the super senior is the person to go to for the 411 on professors. Unfortunately, this is Professor Jung Yak-yong's first year of teaching so all Do-hyun has on him are rumors and nothing concrete.
Rumor has it that Professor Jung was fired from his last government job for corruption and taking bribes.
I don't know about corruption, but looks to me that Professor Jung will be that quirky professor who charms us as well as dispenses invaluable knowledge. Oddball professor that he is, he takes a chamber pot to his first class instead of books. The ever-serious Professor Yoo Chang-ik is appalled.
We see Jae-shin in proper school attire for the first time when Yoon-hee runs into him outside the classroom. Hilariously, he closes the door on Yoon-hee. Just wait until he starts mooning over her (I have my fingers crossed that this'll happen!).
Inside, there are exactly two seats left: one beside Sun-joon and one beside Jae-shin. It's a rock and a hard place, but it's telling that Yoon-hee would rather sit beside Jae-shin. Unfortunately for her, Jae-shin decides he'll take the class lying down. She's stuck sitting beside Sun-joon.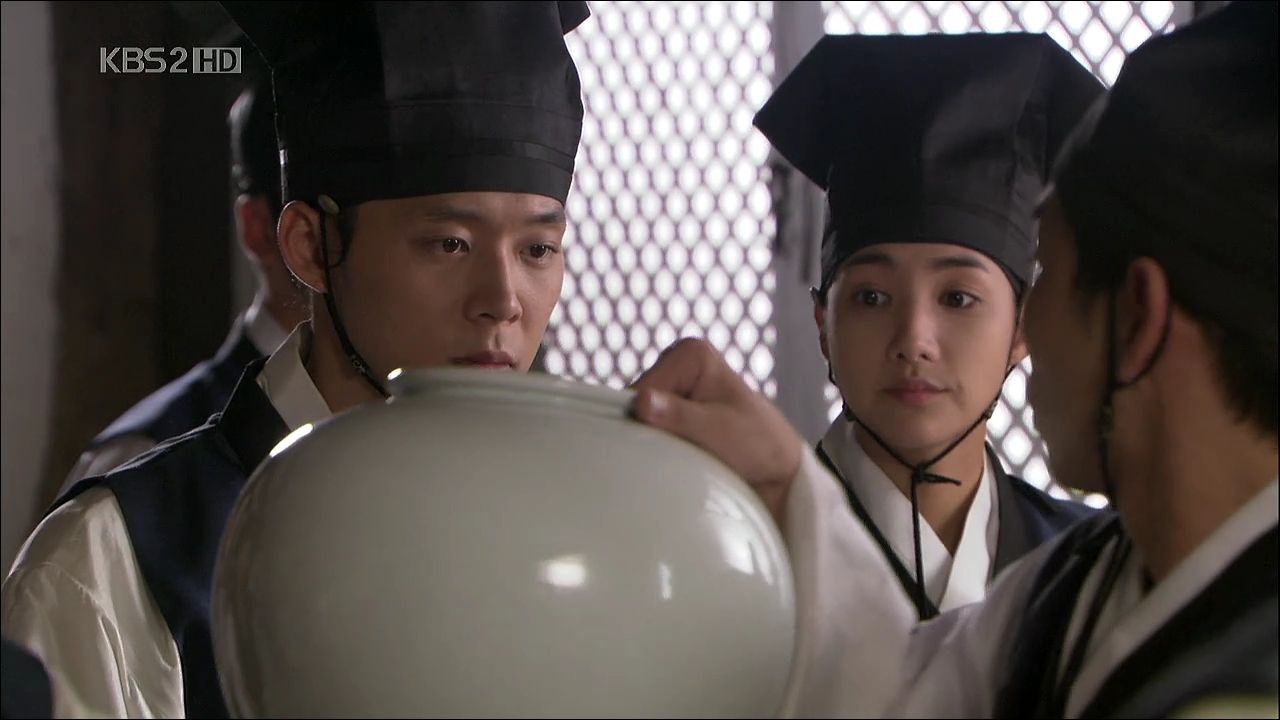 This class is about the Analects of Confucius. Students are graded pass/no-pass at the end of each class, five no-passes will result in failing the class, and three failures at SKK lead to expulsion and other dire consequences.
Enter the chamber pot. Or shall we call it "the bribery pot"? A small donation will result in an improved grade. On schedule, Sun-joon's forehead begins to wrinkle. Most students dump what coins or rings they have into the pot; Sun-joon and Yoon-hee pass on partaking.
Professor Jung collects quite a bit in his chamber pot. He claims the pot to be a widow's cruse and proceeds to… put on a magic show? He pulls different colored cloths from it, sets fire to it by snapping his fingers and produces fruit from it, much to the amazement of most of his class.
Except, of course, Sun-joon, who calls for a stop to all this foolishness. It's a waste of time. (Man, if I were his classmate, I'd instantly hate him…)
The other students clamor that the magic tricks are great fun while Sun-joon stays a stick in the mud. He asks if Professor Jung disregards the study of Confucianism and the classics because he is a believer of shilhak (practical learning). Professor Jung denies this and proceeds to smash the chamber pot on the floor (it's now empty – Woo-tak mutters, "My gold ring…").
There were lessons to be learned in what appeared to be foolishness: (1) A wise man is not limited in capacity. If he truly seeks truth, he should not be bound by his prejudices. How brave (of Sun-joon) to assume that Professor Jung hates the classics because he is well-informed of Western Learning. (2) A man of little education becomes easily stuck in his narrow-minded views and can become unnecessarily obstinate. Hence, one must study harder to better learn the truth. They must keep in mind that they're SKK students now and no longer the big fish on campus in a small pond.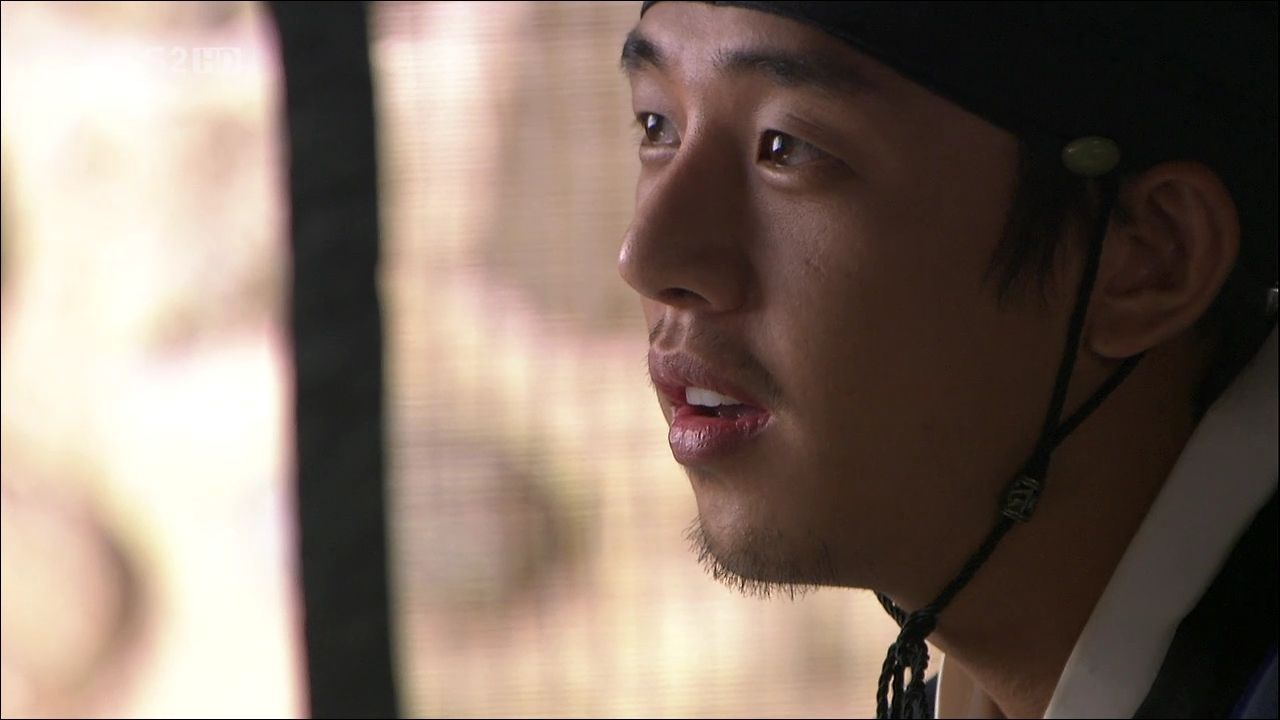 Jae-shin sits up, his face taking on an expression of respect.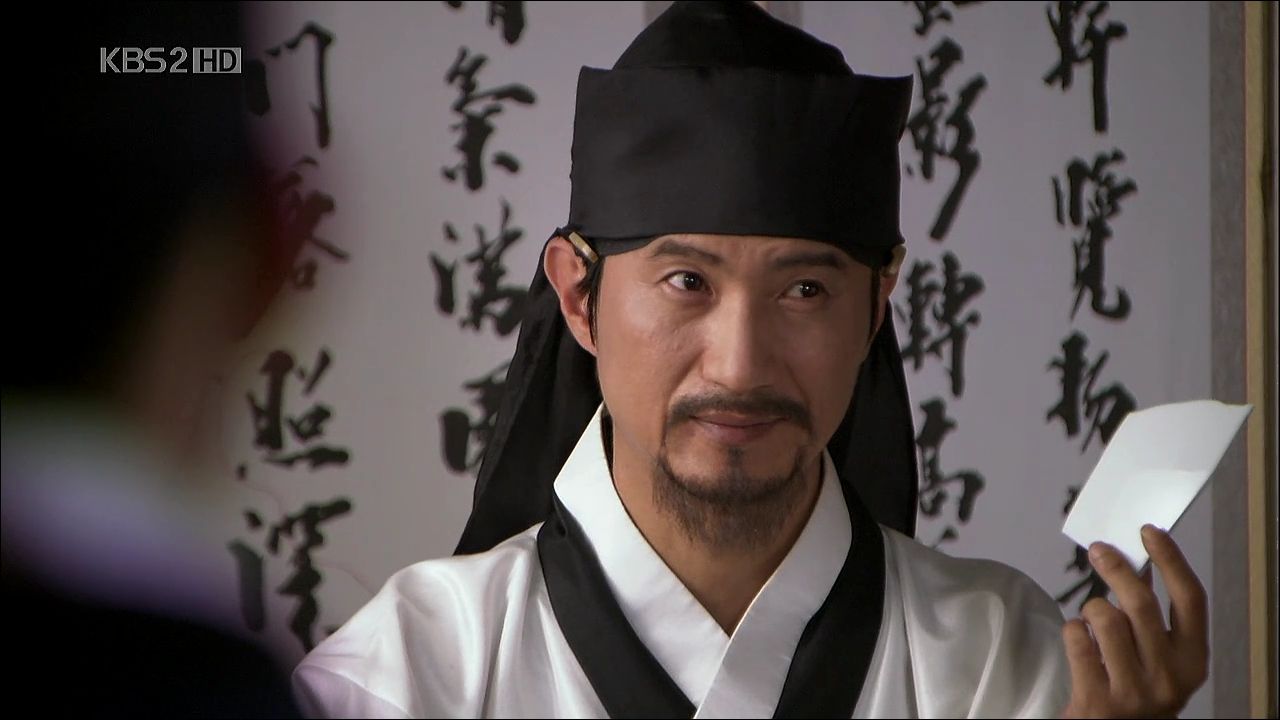 "Your education comes from the blood and sweat of the people. Study hard and repay the debt. There is such a thing as 'a better future for the people.' It's your duty to dream of a better Joseon. Please, let's earn our keep." Truly a wise man.
The only person who receives a pass for this particular lesson is Sun-joon. Reason being that the others happily enjoyed the magic show while Sun-joon was the only one who questioned the absurdity of the lesson. After all, wisdom is learned from the questions asked and not the answers. The world represented by the chamber pot no longer exists; in fact, a teacher is as useless as the pot. But one who questions will find the answers of his own accord. Like Sun-joon.
The Analects of Confucius are a record of the arguments between the inflexible Confucius and his smart students, all in an attempt to find a better world. Professor Jung suggests that they do the same.
Whether it's the 18th century or the 21st, it's never easy being the star pupil. Hae-won and Woo-tak sneeringly claim that Sun-joon's passing mark is due to his father's political influence (jealous much?) and we see Sun-joon lose his cool for the first time. He says that he should've used his father's influence to stop cowards like these two from getting into SKK and wasting the country's resources.
What could've ended up being a scuffle is stopped by Jae-shin's laser glare, which makes Hae-won cower. Is Jae-shin feeling newfound respect for Sun-joon? We'll have to wait and see to find out.
The other students decide to go drinking to celebrate their first day of classes and smooth things over between Sun-joon and the others. Sun-joon curtly declines the invite; he hates glossing over matters through drinking. The others drag Yoon-hee along, eager to begin a major Sun-joon gripe-fest.
Jae-shin calls Sun-joon out on his antisocial behavior. People come to SKK to hang out and form cliques, not to study. The "only I matter" and "holier than thou" attitude of Sun-joon's doesn't fit in at SKK.
Sun-joon astutely points out that by this reasoning, Jae-shin doesn't fit in at SKK either, which Jae-shin willingly admits is true. But the difference between them two is that Jae-shin can leave at any time while Sun-joon needs to forge political connections and make allies if he wants to be someone someday. That's what Norons do, and that's the real reason Sun-joon is at SKK.
In other words, Sun-joon needs to choose: either he's a human being or a Noron. According to Jae-shin logic, you can't be both.
Then Jae-shin really drives the point home: "In the end, you're no different from the other Noron guys you despise. So stop talking about equality between classes and pretending to be a human being. You'll confuse an idiot like me."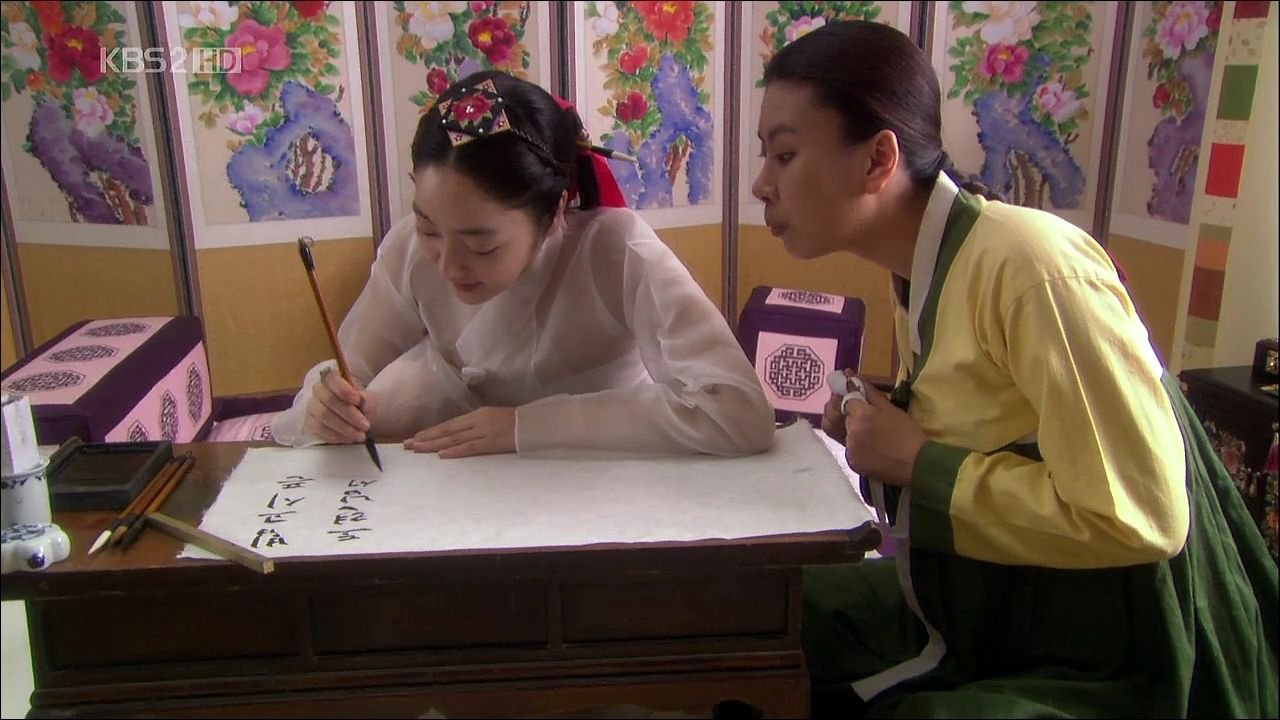 Time for some lightheartedness. In-soo's self-indulgent sister Hyo-eun has fallen hard for Sun-joon and tries to express herself in a love letter. But everything she writes comes off as either trite or desperate. On top of that, she's been pining and worrying so much, she's gained wrinkles! She now looks (gasp!) at least twenty.
At a bar in banchon, the freshmen are having fun drinking and reenacting the lesson. We have Do-hyun pretending to be Professor Jung and Hae-won attempting Sun-joon. In this little parody, Sun-joon gets a no-pass for being a presumptuous show-off. Do-hyun's magic trick is more up my alley: he makes Joseon boilermakers with red wine from Jindo (which I had in Korea and remember to be quite strong).
The first drink must be downed in one gulp (one shot!); apparently there's a legend that says if you can't drink it in one gulp, you'll end up getting kicked out of SKK. Gullible Yoon-hee chugs like no tomorrow.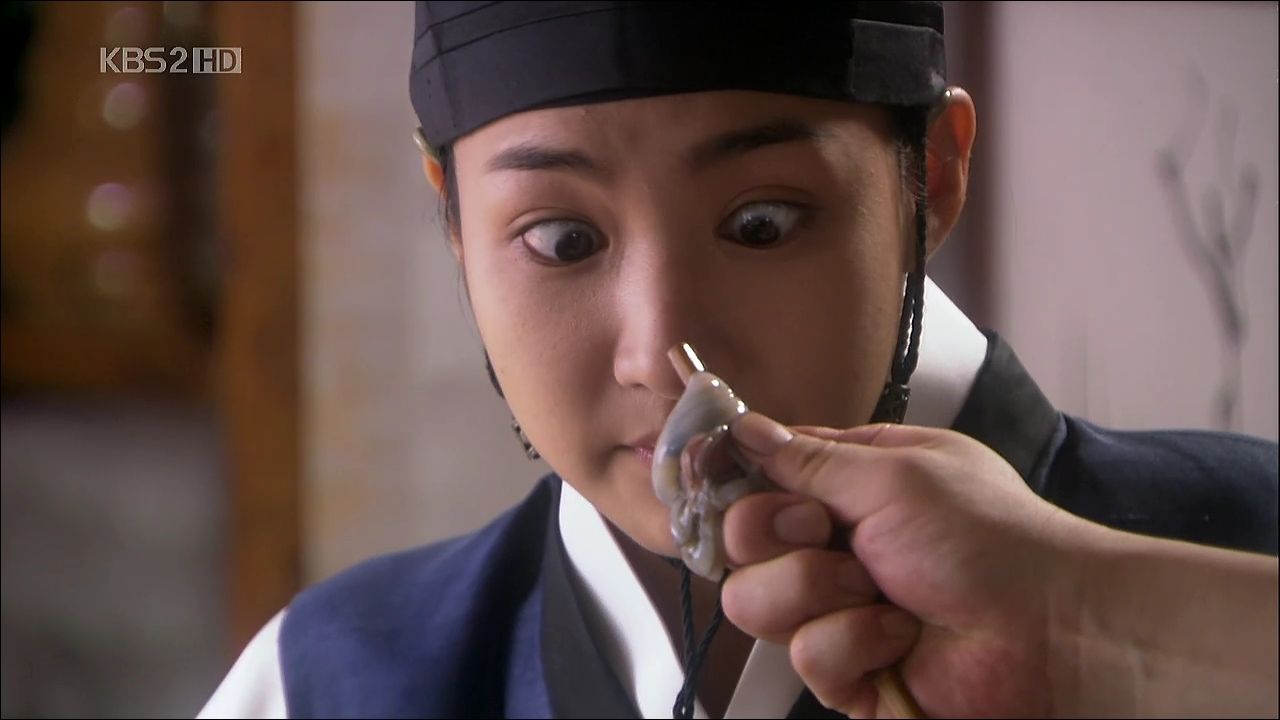 Then she's pressured into eating raw octopus. She's chewing diligently when she spots the bookshop owner Hwang gesturing to her.
Basically Hyo-eun wants to hire Yoon-hee to write a love letter for her, something that isn't too trite yet not too desperate either. Yoon-hee understands immediately: "In other words, she's mad for this guy but doesn't want him to know, right?"
Hyo-eun's hiding behind the bookshelves, and in her stead, her servant girl asks if Sun-joon is in the banchon as well. She's heard of his illustrious reputation, that he is perfect physically, mentally, has a talent in writing and has sound judgment.
Yoon-hee smirks. Unfortunately, he's SO perfect, he'd never show up to drink like the others.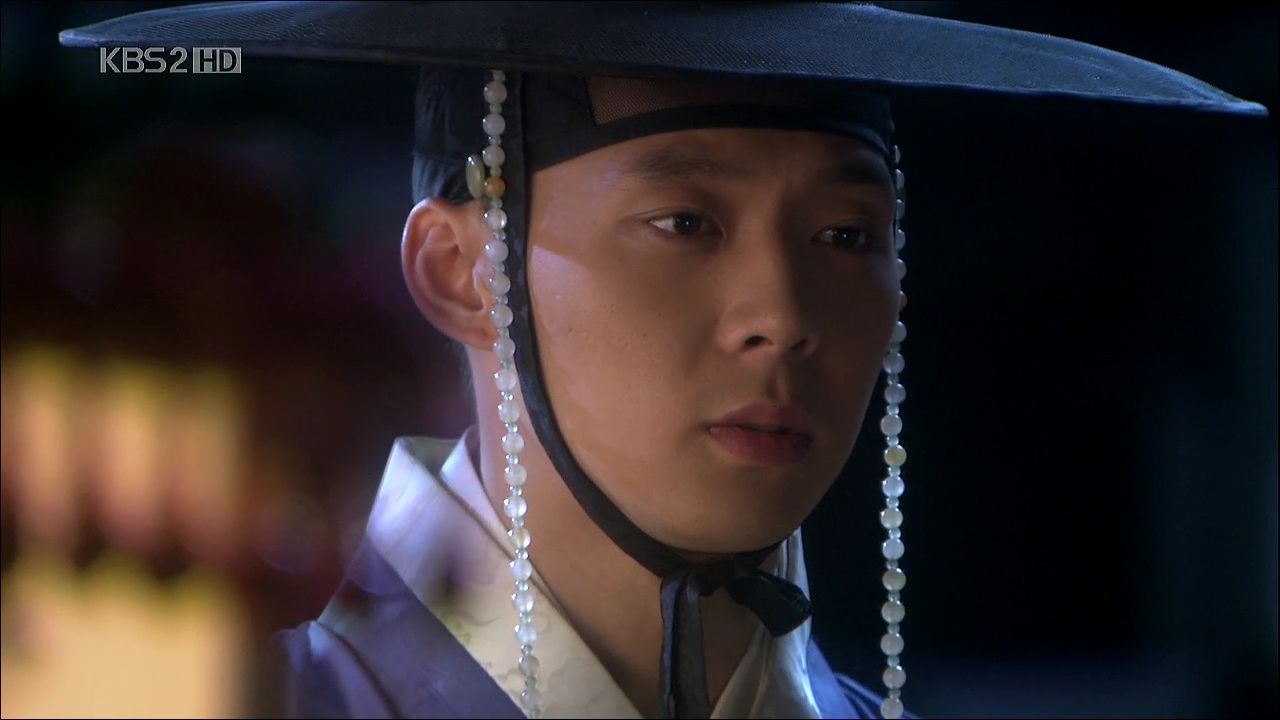 Said Mr. Perfect is diligently studying in the library, but he can't get over Jae-shin's taunt that he's no different from the other Noron guys. He ends up outside the bar, hesitant to go in, especially when he overhears the other guys trash-talking him. He probably doesn't like these guys either, but even so, it's gotta sting.
But Yoon-hee calls the guys out on their disgraceful behavior. She calls them cowards, pathetic and shameful. If they're unhappy about their no-pass grades, they should've gone to Professor Jung. Or better yet, study their butts off and show up Sun-joon. (I love you, Yoon-hee. You're pretty darn awesome as a guy.)
The other guys are taken aback; they thought Yoon-hee hated Sun-joon.
"I do hate him. More than you can possibly imagine. Even so, this isn't right. He did nothing wrong today. You guys know that better than I do." (Did I mention that I love her?)
Woo-tak spots Sun-joon outside when he goes out to pee. Yoon-hee is surprised that he came, but she invites him to join them. Of course, she can't help taking a little jab at him, "Didn't you say you hate solving altercations through alcohol?"
But see, he has this principle about joining in extracurricular activities. That boy and his principles.
But first he has to drink a shot in a single gulp. Only what should be a bowl looks like a basin. He isn't one to back down so he chugs the whole thing, impressing everyone there. For the first time, he's accepted by the others.
I told myself I wouldn't spazz too much while writing this recap, but how adorable is his little burp after drinking?
In sharp contrast, In-soo is at the gisaeng house, fuming that Cho-sun refused to meet him. She's supposedly ill, but she's actually chatting with Yong-ha in the other room (who isn't he close with?).
Yong-ha warns Cho-sun not to piss In-soo off too much. After all, In-soo's the school president and the son of the war minister.
But Cho-sun isn't impressed. She replies that as a soft-hearted person, Yong-ha should understand how she feels. Men can buy sex with their money and power, but never love. See, even gisaengs wish to be faithful.
Yong-ha correctly guesses that Cho-sun has feelings for Yoon-hee, something he definitely didn't foresee happening (and very "Painter of the Wind").
In-soo overhears their conversation, and he throws the gauntlet. He's willing to bet that his power will be greater than her so-called faithfulness. Oh, do I smell even more trouble for Yoon-hee in the future?
Walking side-by-side for the first time like friends, Sun-joon tells Yoon-hee that he'll keep his promise and move to the west dorm. He was a bit touched when she stood up for him, especially since he thought she didn't approve of his passing grade. But she actually questioned his grade because she was curious about Professor Jung's thoughts and the truth he spoke of. Her eyes are starry as she talks about this being the first time she was ever taught by a teacher in a classroom full of classmates. And she has Sun-joon to thank. In gratitude, she takes back her wish so that he longer has to switch dorms.
Sun-joon's face twitches a bit, which Yoon-hee mistakes as him being touched by her words. But actually, he just needs to puke. Which he does. There goes his perfect image.
The inebriated freshmen hurry back to the dorms in order to meet curfew. They don't tell us what the punishment for breaking the curfew is, but it's implied that it's something terrible.
But Sun-joon is out cold, leaving Yoon-hee to carry him back (I love this role reversal – we hardly ever see the girl piggybacking the guy). Drunk Sun-joon is adorable and useless as he falls all over the place. Gotta give Yoon-hee props for not ditching him.
Knowing that Yoon-hee isn't back yet, In-soo orders the gates to be closed. She throws Sun-joon aside (ha!) and runs, but it's too late.
Fortunately for our heroine, an adorably inebriated Yong-ha shows her a secret entrance, and she and Sun-joon are in time for the curfew check. I think Yong-ha's already nearly won over by both Yoon-hee and Sun-joon. Can't wait until the Joseon F4 become official.
Yoon-hee thanks Yong-ha profusely, but he says there's no need since he's simply untying the knot that he himself created. She doesn't understand, but we do: he's the one who decided on Yoon-hee's mission, which was to send her to Cho-sun. That's precisely what sparked In-soo's jealousy and this little cheap trick for revenge.
Yong-ha mischievously reminds Yoon-hee that it'll be just her and Sun-joon in the room tonight since Jae-shin probably won't be home. And just as he expected, this freaks Yoon-hee out.
So where is the truant Jae-shin? Enjoying an illegal gambling session that's soon crashed by the police. Jae-shin gets caught and is taken to the prosecutor's office (so to speak, in modern terms) and comes face to face with the Attorney General, Moon Geun-soo, his father and the head of the Soron faction.
His father chastises him for his unruly ways, mentioning how his dead brother would be so disappointed. This is clearly a sore spot for Jae-shin because his voice drips with bitterness as he tells his father that he has no right to criticize. He can stand everyone else's pointing fingers, but not his father's.
Kickass fighting skills AND a troubled past? We're in for an emotional rollercoaster with this tortured soul. And we now have a faint idea as to why he hates the Noron faction so much: his family is of the rival faction Soron, and there seems to be some backstory about the dead brother.
Sun-joon feels the heat of the alcohol and starts undressing, throwing Yoon-hee into a deep panic. She ends up rushing out when Sun-joon reaches for his pants. Ah, what the 800,000 Cassies of this world wouldn't give to be in her position.
There's a hilarious moment when Sun-joon wakes up in the morning to find himself nearly naked. He looks absolutely dumbfounded.
Jae-shin comes home to find Yoon-hee sleeping on the porch. He wakes her up, warning her that if she sleeps in the cold, she'll end up with a twisted mouth. ("The Woman Who Still Wants to Marry," anyone?)
Inside, Sun-joon is studying like nothing ever happened, to Yoon-hee's disbelief.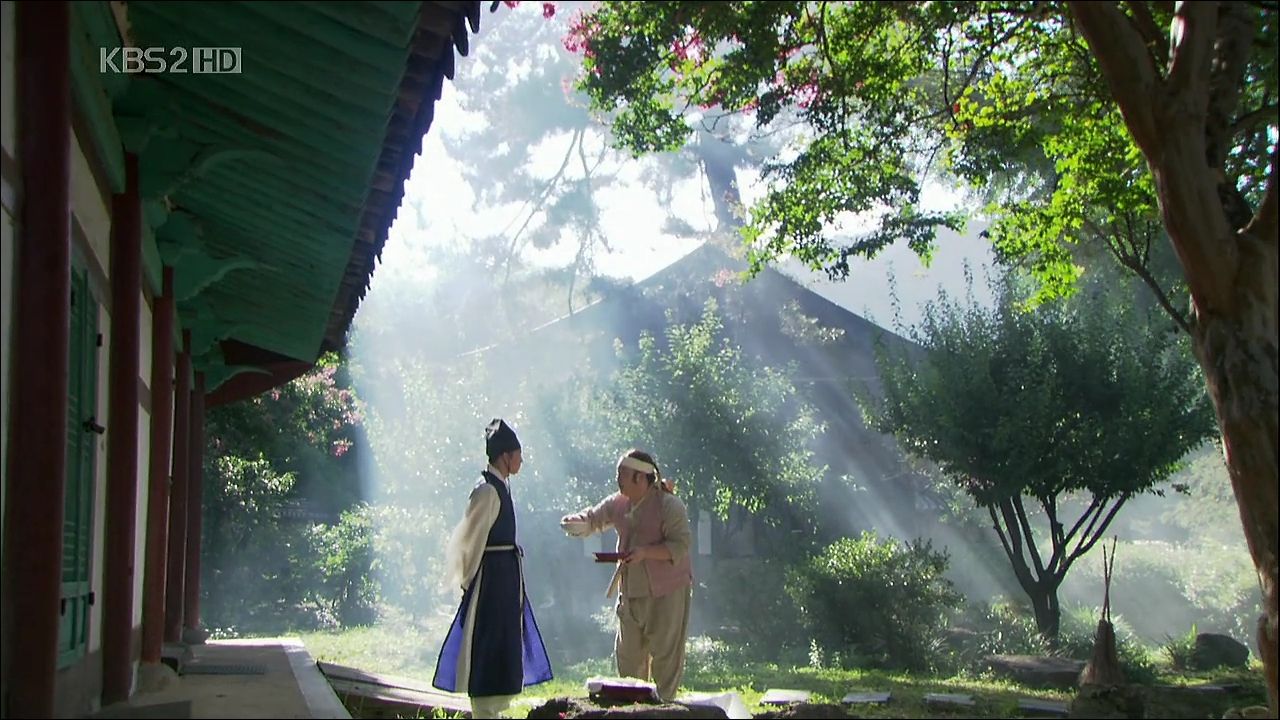 How beautiful is this shot?
Anyway, Sun-joon actually doesn't remember what happened, at least not until his servant tells him that he basically acted like a dog and everyone knows about it. That's when he recalls the details and nearly chokes on the drink his servant brought. So the servant performs the Heimlich maneuver. Such a silly scene with such a beautiful background.
Yoon-hee points out that Sun-joon's principles shouldn't allow him to pretend that nothing happened last night. Sun-joon claims to only remember how Yoon-hee thanked him for helping her get into SKK. Oh, and she also begged him not to switch dorms.
Is that Sun-joon's first mischievous smile? You've won me over, boy.
The king announces an archery tournament at SKK. The winner will receive 50 merit points and liquor issued by the king himself. Anyone who fails the preliminaries will be punished. It's a team effort, meaning that if one person in your dorm room fails, everyone fails.
Yoon-hee's a terrible archer, which leads to Sun-joon teaching her the proper stance and technique. His excuse is that he doesn't want to fail the prelims because of her, but we're not falling for that. We all know he's incredibly grateful for her loyalty and care while he was drunk.
But it's more than that. He honestly and openly admits, "It was the first time that someone wasn't just a classmate. Kim Yoon-shik, you're the first person to ever take my side."
Do I smell love in the air?
Across the yard, In-soo and his posse see Sun-joon and Yoon-hee practicing together. Clearly this means that Sun-joon will not be switching dorms and that In-soo has managed to break neither Sun-joon nor Yoon-hee.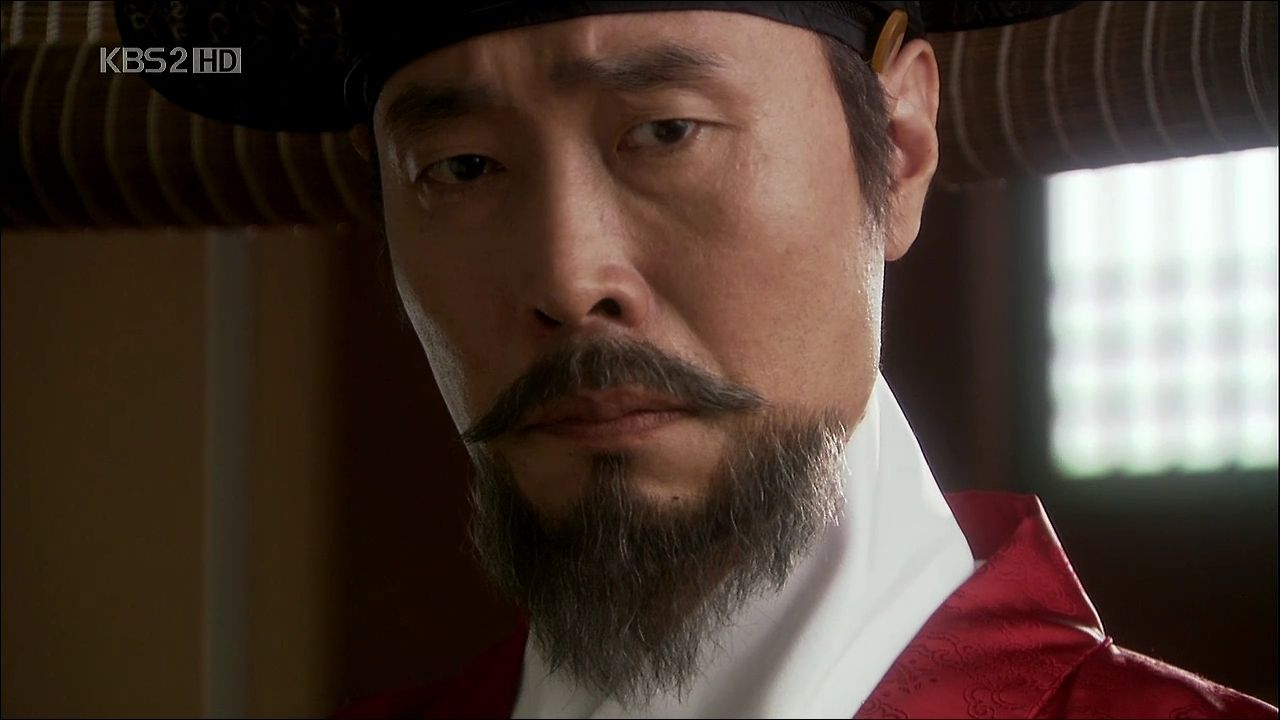 The archery competition has Minister Ha's panties in a bunch. Crown Prince Sado used to love the archery competition at SKK, which explains why it was banned by King Yeong-jo after his son's death. Bringing back the competition suggests that King Jeong-jo (son of the late crown prince) has something up his sleeve.
Minister Lee reaffirms with Minister Ha that the Geumdeungjisa is truly gone. But the uneasy expression on Minister Ha's face tells us that might not be the case.
But Minister Lee doesn't lose his cool. He suggests that if they watch the king and figure out his plan, a solution will come to them naturally.
I was hoping that Sun-joon's father wouldn't be a bad guy, but seems I'll be disappointed. Sun-joon has such respect for his father, I'd hate to see him hurt when he discovers this side to his father.
So what is the king's plan? Jung Yak-yong.
The belongings of the late Professor Kim Seung-hun of SKK were recently sent to the king, and they included a letter of resignation that's actually a coded will. And the will is about the mysterious Geumdeungjisa.
That's the reason the king has sent Jung Yak-yong to SKK, hinting that perhaps the Geumdeungjisa can be found at SKK.
Yoon-hee is practicing alone when she's approached by In-soo and his posse. Dumb and Dumber (aka Byung-choon and Go-bong) tease her for playing lackey to Lee Sun-joon, but she denies this and says she's doing everything of her own will. In fact, she starts expressing that will by questioning In-soo.
Yoon-hee: You claimed that a Noron staying in the east wing is against the rules.
In-soo: So I did.
Yoon-hee: You said I wouldn't survive if I went up against you. You have enough power to make good on your claim.
In-soo: But?
Yoon-hee: But, sir, if it is a grave sin for a Noron to stay in the east wing, why can't a powerful person like yourself change the official rules? If you changed the rules so that each student must stay in a particular dorm according to his political faction, Lee Sun-joon wouldn't put up such a fight.
In-soo: In other words, Sun-joon has done nothing wrong. You're right. I went overboard. I was narrow-minded. Let me make it up to you by giving you some guidance.
And by guidance, he means he wants to shoot an apple placed on her head, a la William Tell. It's a terrifying moment; In-soo's eyes spell murder and Yoon-hee has no choice but to face the arrowhead.
His pretense is that he wants her to overcome her fear of arrows, but we all know that's a bunch of bull feces.
Fortunately, Sun-joon is informed of the situation.
We also have Yong-ha and Jae-shin in the area. Yong-ha is wondering why Jae-shin looks so gloomy when he'll clearly win the competition. He is, after all, the best archer in school.
Sun-joon knocks In-soo's arm just as the arrow is released, and he's too late. But Jae-shin is on time and pushes Yoon-hee out of the way, saving her from a similar fate to that of Saint Sebastian. But it was a close shave, and she faints.
Professor Jung, who's been put in charge of the infirmary during the competition, makes an astounding discovery in the school records: Yoon-hee is the late Professor Kim Seung-hun's son (cough, daughter). And speak of the devil, the unconscious Yoon-hee is carried in by Jae-shin.
Jae-shin looks overwrought with worry, and Sun-joon looks no better.
Yoon-hee wakes up to what seems to be an empty infirmary and is quick to check if she's been undressed. She seems to be missing something and is searching frantically when Professor Jung appears. He appears conflicted as he stares at her. Then he drops the bomb.
"Are you a girl?"
Hana Kimi, anyone?
COMMENTS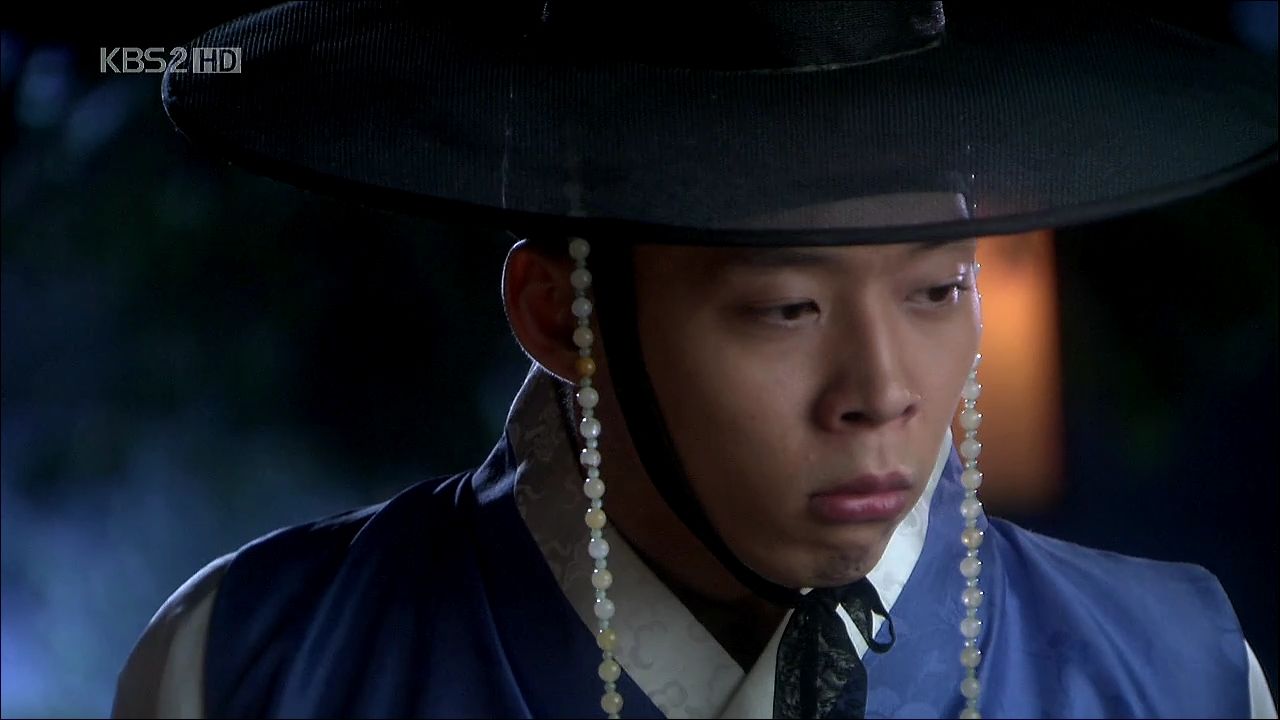 I'll just come out and say it: Yoochun is a pretty good actor.
I had my doubts, particularly since I still remember what his acting was like back in the banjun drama days. But I'm impressed as he seems to get better and better with each passing episode. And while the character Sun-joon could easily draw a tepid and bored response from the viewers (seriously, he would've been majorly ostracized at my high school), it's the little things like him burping and that mischievous smile that hook the heart. At least, it did mine.
The drama is shaping up to be full of mystique and suspense. I have to admit that I thought this would be a fluffy, trendy-drama-placed-in-sageuk-settings kind of series, and I'm happy to say I've been proven wrong. This drama has more depth and intricacies than I expected, particularly for any history buffs out there.
I particularly love the twist that Professor Jung discovers Yoon-hee is a girl right after he finds out she's the late Professor Kim's daughter. He could easily have her expelled (and worse), but now he won't because she's tied to the Geumdeungjisa affair.
Oh, and did I mention that I love Yoon-hee?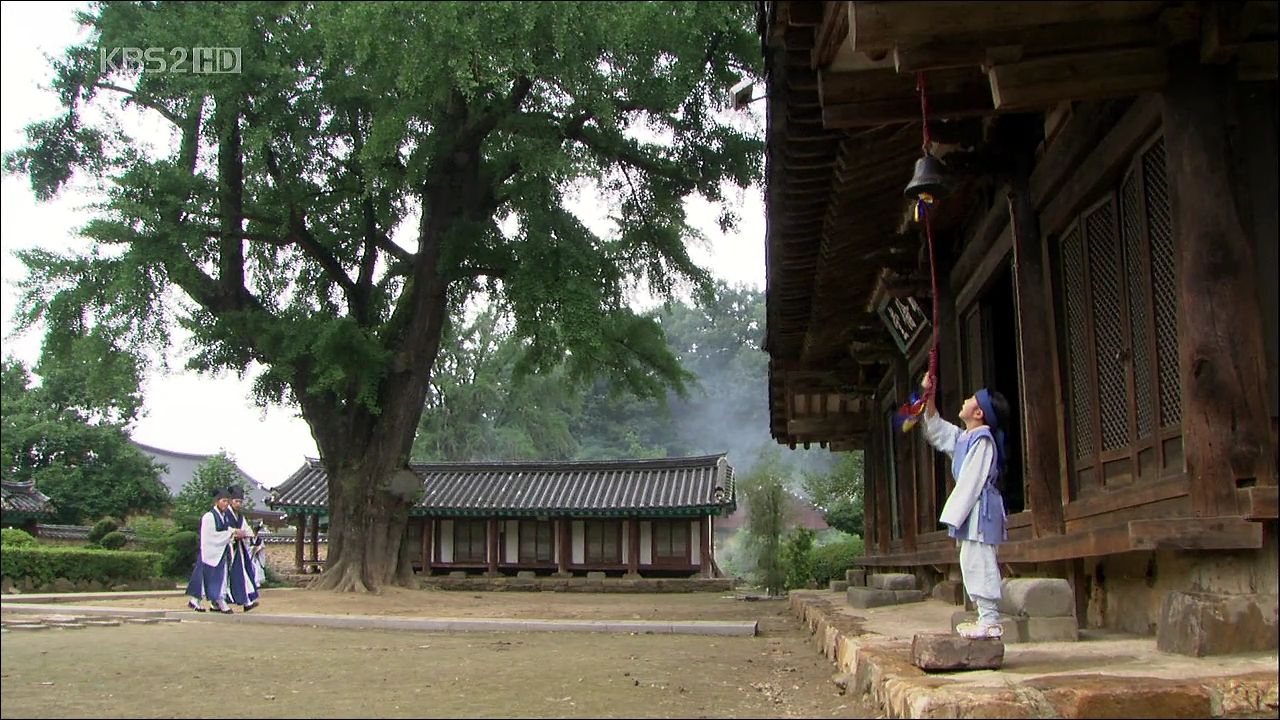 HISTORY LESSON
King Yeong-jo (son of Dong-yi) kills his son, Crown Prince Sado, by ordering him into a rice container, where he suffocates after eight days. For those who have seen "Yi-San" (and as implied in this drama), the crown prince was wrongfully framed of mutinous intentions, most likely by the Noron faction. However, some historians claim that the crown prince was a pervert and sadist, and that's why his father had him killed. Either way, the crown prince's son, King Jeong-jo (the king featured in this drama) spent the majority of his reign trying to clear his father's name.
The Geumdeungjisa is supposed to be memoirs by King Yeong-jo, written in his later years when he regretted what he did to his son. It supposedly claims that the Norons tricked him into believing his son to be mutinous.
RELATED POSTS
Tags: featured, Micky Yoochun, Park Min-young, Song Joong-ki, Sungkyunkwan Scandal, Yoo Ah-in