Mary Stayed Out All Night: Episode 11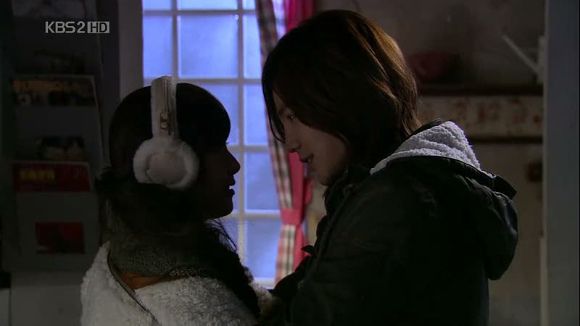 Listen, it doesn't make any more SENSE, but the pace is up and the cute is up, so we're in happy territory. I wish the live-in hijinks had begun eons ago, not only because it made more sense back when the contracts were in effect, but because they add a nice layer of conflict and interaction that was sorely needed. Seo-jun continues to be an energy suck, but Jung-in steps up his game, and now the triangle seems to be back in action. Finally. Now if we could just get all three of them to move in together…

EPISODE 11 RECAP
Mu-gyul lays down the new (completely irrational) gauntlet: they should just play house then. Um…WHAT, now? Like all move in together? And share a bed? I know we made jokes, but…
Oh, that's not what you mean? It's hard to tell with all that charged staring going on between the guys. They don't even know that Mary's in the room, to be honest, let alone consider what she might have to say about all this living-with-two-fake-husbands deal.
Outside, she asks Mu-gyul why on earth he asked for them to get further entangled in this marriage contract by playing house. Yes, good question. He shoots back angrily that he just threw it out there because he was sick and tired of time-sharing his girlfriend, and never in a million years expected Jung-in to agree. But…now you're just going to time-share her with sleepover privileges. Be honest. You just wanted her to spend the night.
Show, If you were going to go the route of extra crazy marriage contract hijinks, then why didn't you do that back when you could've gone all out, at Episode 2? Now it just makes even less sense than it would have before. Sigh. Whatever. It makes no sense, but better crazy roommate hijinks than zero conflict stasis. Bring on the nekkid bathroom run-ins!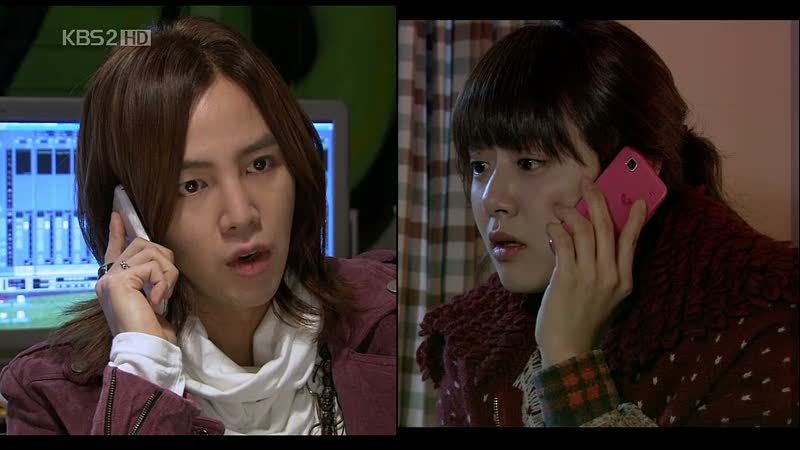 Mary comes home to find that Dad has got the exact same idea in his head too—she's to move out and go to Jung-in's house at once! Convenient that everyone's falling in step. Mary begs for one day to think it over, and Dad reluctantly agrees.
She calls Mu-gyul to say that maybe it's better that they go with his crazy plan, which he balks at. But…you're the one who brought it up! Did everybody have a lobotomy?
Jung-in comes by to get permission from Dad, and Mary agrees to the plan. She asks Jung-in why he agreed to this when he knows how she feels about Mu-gyul. He says that he's helping her in the only way he can, as she helped him. She sets one thing straight: her loyalty to Jung-in is just that—loyalty, and her feelings for Mu-gyul won't change. He says it's okay and she gets ready to move in the next day.
Mu-gyul warns her over the phone that in all the world, the one thing you can't trust is men. Hehe. She reminds him that HE's a man, so is he not to be trusted either? Mu-gyul answers with the phrase most commonly uttered by men, in all languages, the world over: Men are not to be trusted, except for me!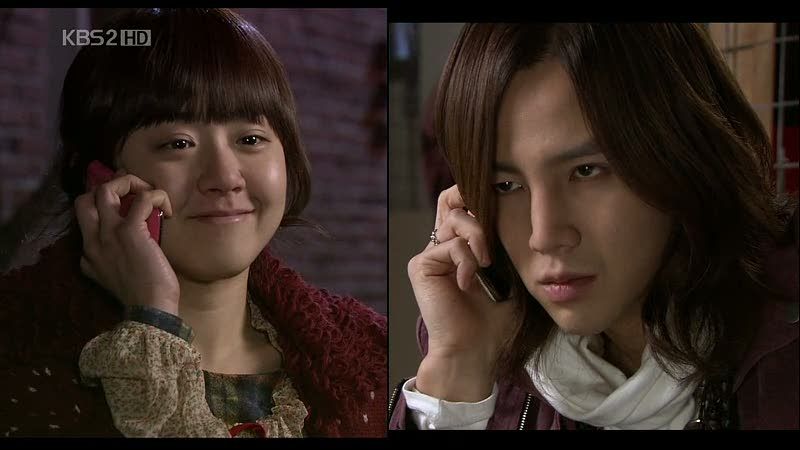 He tells her to check the locks on the bathroom twice every time, and not to wear short skirts. Despite his posturing, she finds his worrying cute, and promises to check in. She packs to leave and has a sweet moment with Dad, who finally lets it sink in that his baby is leaving. Aw. Despite his egregious errors in the responsible parent department, their relationship is cute. She gives him a proper bow before she leaves, and she ends up worrying more about Dad eating properly without her.
She arrives at Jung-in's house, and he shows her to her room, which he's basically built into the library, so that she can sleep amongst the books. She takes one off the shelf and notices a handwritten post-it note from Jung-in addressed to her, and finds one in book after book: his thoughts on the theme of the book, and a personal note to her. OMG that's the cutest thing ever. I'm totally nerd-swooning right now.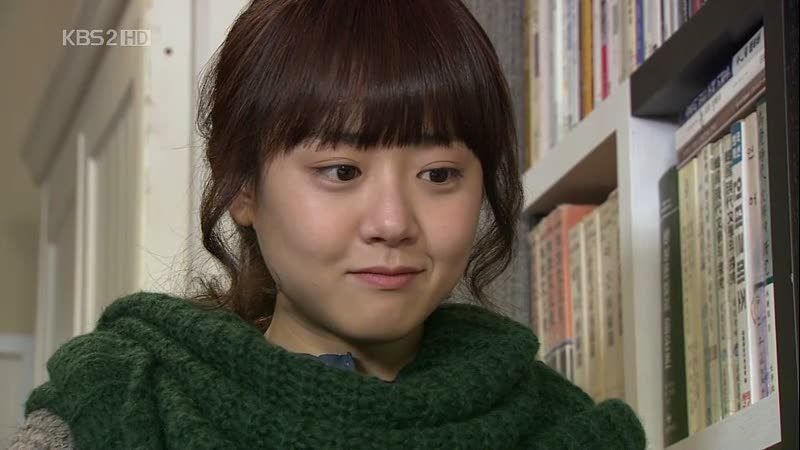 Mu-gyul waits all day for her call to no avail, and false-starts a few angry text messages before giving up, so as not to appear petty. Heh. Your cover's blown, buddy. You should just own it.
Mary and Jung-in have dinner with his father, who over dinner calls her "baby," not in the romantic sense (ew), but like a parent would call his own child, saying that he just wanted to call her that once. Then, he tops it off by giving her a present…an engagement ring the size of Kansas. What the…?
Who gets an engagement ring from her father-in-law-to-be? And that's not even factoring the double ick of that ring probably having been intended for her mother, who happens to look just like her…oh, gross.
Jung-in complies and puts the ring on her finger, making Mary feel awkward that they have to keep up the act in front of his father. At home she tries to return it, but he asks her to keep it at least for the duration of the contract, since it's a sign of affection from his father.
On the other side of town, Mu-gyul's friends and Mary's friends call Mu-gyul out for drinks, knowing that this is Mary and Jung-in's First Night together. They joke that despite their trust in Mary, they know nothing of the other guy, who can't possibly "just be sleeping." Plus, they say, if he romances her with candles, she's done for. It's enough to drive Mu-gyul to drink, and then leave in an aggravated huff.
He goes home and stews in his jealousy, long enough to let his mind wander to an imaginary scenario where Jung-in wines and dines Mary with over-the-top candles and music…enough to bring her over to the dark side.
His phone startles him out of the reverie—it's Mary, and he answers with: "What are you DOING that you aren't sleeping right now??" Hahaha. She's been knitting his sweater, so she answers that it's a secret, just hitting his raw nerve even more: "You have secrets? That you're keeping from ME?"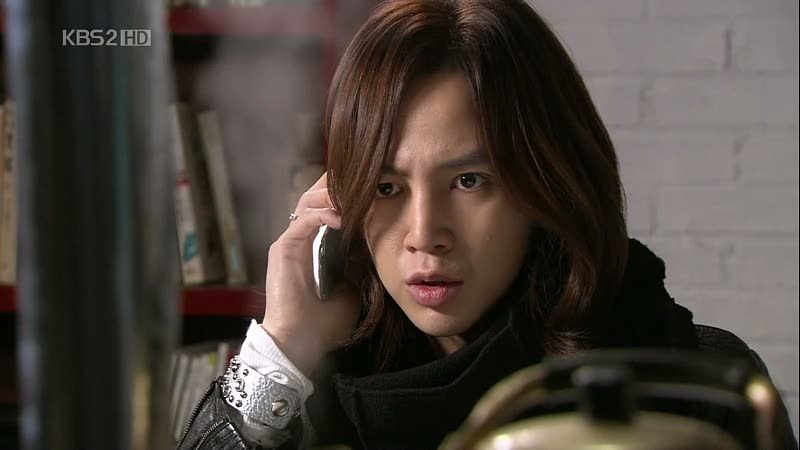 She tells him that Jung-in turned the library into a room for her in a pleasant tone, adding that it's not as bad as she thought—being here. That just sends him over the edge: "Really, then if it's that great, just live there then. Don't come back tomorrow, and just stay there forever!" I do love a jealous Mu-gyul. So cute.
Mary stays up all night to finish knitting Mu-gyul's sweater, and comes out to find Jung-in setting the breakfast table. He adorably sits down to practice what he's going to say to her, and how he's going to act, which just makes him extra sweet in Mary's eyes, and mine for that matter. It echoes his dorky moment trying to leave that note for her at his father's house. She catches him in the act, making him do a spit take in embarrassment, but he coolly recovers and greets her as if nothing happened. Ha.
Jung-in goes in to work that day and greets a sullen Mu-gyul, who's back to work on the OST. Jung-in asks if he might know where Seo-jun disappeared to, but Mu-gyul tells him to keep him out of all things Seo-jun related.
He asks if anything…happened last night with Mary, and Jung-in sees the opportunity to jab at his nerve. Jung-in: "Are you curious about our First Night?" Mu-gyul: "No! I'm not curious IN THE LEAST." Jung-in: "Perhaps it's best if you hear about it directly from Mary-sshi." He gives his best eyebrow arch and leaves with a saucy smile, as Mu-gyul stews in his jealous soup.
Mary arrives to find Mu-gyul's mom deep in the throes of breakup/finance angst, and she makes the giant mistake of showing her the engagement ring that she got from Jung-in's dad. Mom tries it on and swoons, thinking all her problems could be solved with just the one bauble…
…leading her to ask Mary in haste if she can borrow it. Mary hardly hears her and just says "Yes" without realizing what she said, but Mom runs out before she can stop her. Oh, geez.
To make matters worse, Dad calls, wanting to drop some medicine by Jung-in's house, so Mary dashes out to meet him there. She calls Mu-gyul, whose face falls to hear that she's back at Jung-in's, but she promises that she'll come back no matter what.
Mu-gyul arrives at home to find Mom packing for Paris in delight. He wonders how she took care of her debt, and she tells him that she basically pawned Mary's ring, which she tells him was Mary's idea. Oy.
Mu-gyul has finally had enough of his crazy mom's antics, and blows up at her for her irresponsibility. She swears that she can pay it back as soon as she lands in Paris, but he doesn't believe her; who could? He lays into her for all the times she's hurt him and left him behind, without a care for his feelings, and tells her this time, never to return.
She doesn't believe him at first, but he's done being jerked around, and with tears in his eyes, he repeats that she should never come back. Heartbreaking. Mu-gyul's mom is the epitome of the flighty narcissist, and even as she fights back tears, she STILL goes.
Mary gets stuck at Jung-in's place, as Dad stays for dinner and drinks, insisting drunkenly that they call each other yeobo like husband and wife. Mary gets a call from Mu-gyul, who's waiting for her outside.
She sneaks out, and he rails into her for enjoying the good life with a rich heir and taking pity on him—his assumption, of course, thinking that Mary gave his mom the ring. Mary can't get a word in edgewise to explain, as Mu-gyul calls it quits and leaves her in tears.
He goes home to find the sweater that Mary knitted for him, tucked away in his fridge of all places. He holds it to his face and immediately feels like a heel for his hurtful words. He thinks of the skating rink and heads there alone, wearing his new red sweater.
Mary's dad finally dozes off, and she rushes back to Mu-gyul's place. He isn't there, but she sees that he's found his sweater, so she realizes where he must be.
Mu-gyul skates with a long face, and finds himself looking around despite himself. He scans the crowd, and Eskimo Mary appears in the crowd, making him light up instantly. He thanks her for showing up and they hug. Aw.
Commence cuteness! Mary and Mu-gyul spend the evening at the ice rink, doing what they do best—making puppy eyes at each other, melting all the ice around them.
Lee Ahn finds Seo-jun hiding out at a club, where she admits to wanting to be found, but not by him. Manager Bang shows up to ask if she wants to sign with her, which gets her a drink in the face in response. Seo-jun asks if she made a pretty penny selling her scandal pictures, and they end up in an actual catfight. Seo-jun pushes Manager Band against a wall, drawing blood. Whoops. That's the lawsuit-happy lady you just hit there.
Mary and Mu-gyul return home from their date, and without turning on the lights, Mu-gyul draws her in for a hug, and then goes in for the kill…
…which is when their friends flip the lights on and totally kill the mood with a giant banner that reads: Congratulations on your First Night! HAhahaha. Worst way to deliver your intended message, ever. They totally invade their space with their usual round of drinking games, so Mary and Mu-gyul sneak out for some alone time.
Mu-gyul offers to play her a song that he wrote while thinking of her. Oh, dear. Get those smelling salts ready!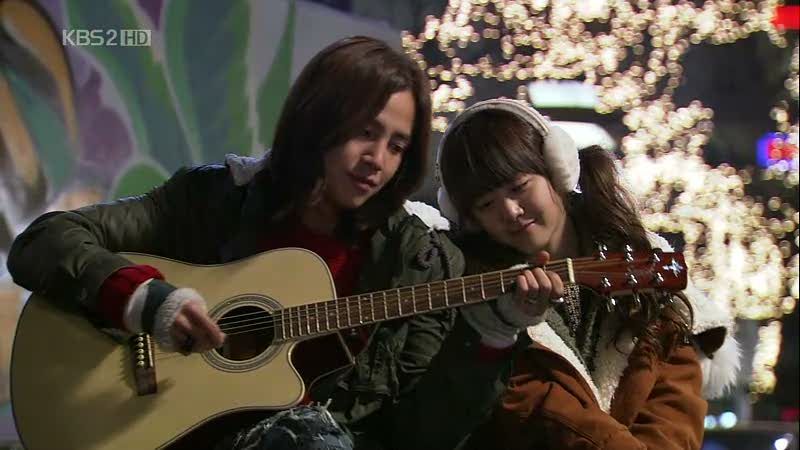 He plays it for her, just humming the melody since he hasn't written the lyrics yet. Mary looks at him the only way you COULD look at your boyfriend who wrote a song just for you, and she tells him that it feels warm, and unlike any of his other songs.
He tells her that it's how she makes him feel (AW) and that it's the first time his music style has changed. I love the implication of that—that Mary has changed him so thoroughly that his music is different now.
Mu-gyul: I want to put lyrics to this song that are expressly for you. How about you write the lyrics yourself? That's how music is completed—music and lyrics meet, and make one song. Like us.
Personally, I'd like lyrics AND a song, if you're ever planning to write me one, Kang Mu-gyul, but I do enjoy the sentiment of each of them bringing something to complete a song together.
They snuggle, all smiles, all the way through the night and back to Jung-in's by morning. They have a near-miss with Dad at the front gate, but manage to go undetected…for now.
Mary works on the song lyrics all morning, and calls Mu-gyul to ask him if what she wrote is okay, but he gets another call from the nightclub where Seo-jun is passed out, asking him to take her home. He ends up going to the club and hauling her home, and when she wakes up, he basically tells her to get her act together, and if she's going to disappear, then to do it after she's repaid her debt to Jung-in (his trust in her) and leave cleanly.
All four corners of the love square show up for work at the same time, making for a lobby entrance with dramatic looks Full Of Meaning, to no particular end.
They get to work recording the OST, with Seo-jun in the sound booth and Mary, Jung-in and Mu-gyul in the studio. Well THAT's not awkward or anything. Seo-jun looks down at the sheet music for the drama's title track, called "Hello Hello," music by Kang Mu-gyul, lyrics by Wee Mary.
That's enough to stop her in her tracks, as she goes over to throw a tantrum that Mary wrote the lyrics to his song. Seo-jun: "Are you asking me to sing a song declaring your love with Wee Mary?! I won't do it. I'll die before I do that!" She tosses the sheet music in the air.
Actresses. SO dramatic.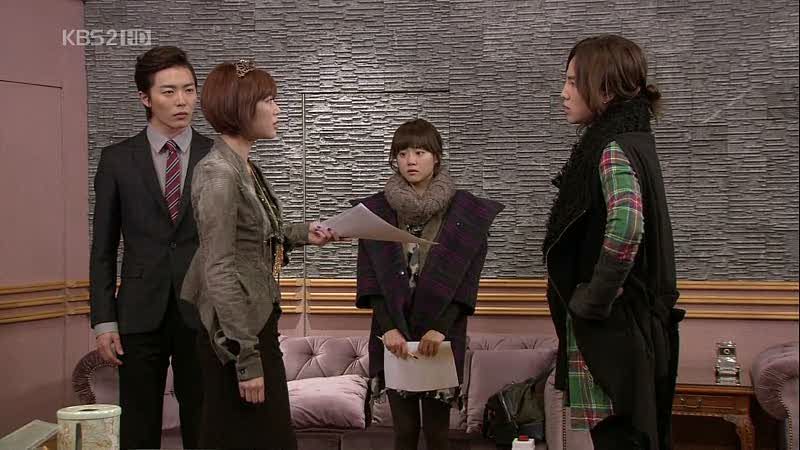 COMMENTS
Well, despite the fact that the live-in fake-marriage thing makes no sense when the initial double contracts are in the wind, it's still a welcome source of internal conflict that the drama was sorely lacking. I was wondering why they didn't do this initially, because in my mind, when I heard "double contract marriage," this is more what I imagined—basically a double-roommate scenario with lots of running back and forth and mounds of petty jealousy.
So although it comes late (and with the writer change) it seems the drama is finally doing some of what I wanted it to, back when it set off on this wacky voyage. With a premise as out there as this one, why not take full advantage of it and go all the way? I say, all or nothing; the crazier, the better.
Now that it's steering itself back to its original premise, I feel like what Mary went through was a bit of an identity crisis. The original writer wanted to do cool-indie-fresh, but forgot that her premise was wacky-silly-fun, and somehow ended up with crazy-hobo-mess.
I'll forgive your past transgressions, Show, if there's more roommate shenanigans to come. See? I'm easy to please.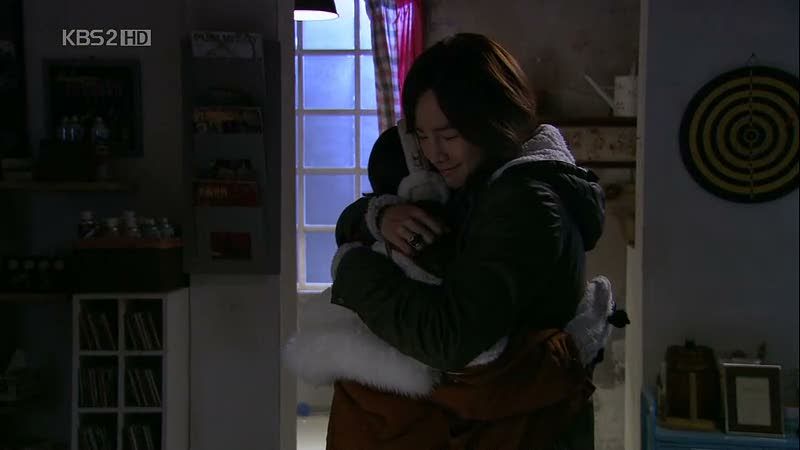 RELATED POSTS
Tags: featured, Jang Geun-seok, Kim Hyo-jin, Kim Jae-wook, Mary Stayed Out All Night, Moon Geun-young