Mary Stayed Out All Night: Episode 12
Pro: The episode had some fluffy, light, funny beats, which I've been missing lately.
Con: This show has LOST ITS MIND. The plot makes no sense at all.
Pro: At least the nonsensical plot is moving?
Con: But there's no consistency to the characters!
Pro: How 'bout that awesome taunting look on Jang Geun-seok's face above?
Con: Yeah, you got me there. But the plot! The story! The laws that govern human actions and emotions!
Pro: …Yeah, you got me there.
Con: I win! Oh god, I'm talking to myself. This show has driven me insane.
SONG OF THE DAY
Byul – "기억이 안나" (I Don't Remember) [ Download ]
Audio clip: Adobe Flash Player (version 9 or above) is required to play this audio clip. Download the latest version here. You also need to have JavaScript enabled in your browser.

EPISODE 12 RECAP
Seo-jun throws a hissy fit about the song, refusing to sing something inspired by Mary and Mu-gyul's love, calling it sickening. Mu-gyul seethes to have his work thus debased, while Jung-in goes after Seo-jun.
Mary unpacks her luggage at Mu-gyul's place, balking when Mu-gyul takes the blanket over to the bed. He assumes they'll be sharing his bed, while she assumes nothing of the kind. She wants to buy another bed, the alternative being him sleeping on the couch, a choice he rejects due to his bad back. I think Mary's missing the obvious solution: SHE sleeps on the couch.
(I hate when the ladies in dramas are such princesses, automatically assuming that the men will give up their beds for them and pouting if they don't. You know what they say about assuming things…)
They compromise by splitting the bed down the middle, deciding that a flimsy curtain will keep them apart. Mary shrills at him on how to hang it up, complaining that he's giving himself the larger half, and he pricks his finger in the process. Thankfully that's enough to get them to stop carping at each other (bickering = cute, sniping = tiresome) and she rushes to his side and sucks the blood from this finger, which I guess is cute, though unsanitary. Mu-gyul suggests a kiss to commemorate the occasion, and I think Mary has officially gone insane because she declines.
Instead, she is preoccupied with questions of his relationship with Seo-jun and asks how things ended. He gives the vague answer that he told her to meet someone cooler than him, though there's clearly more to it.
Jung-in asks Seo-jun the same question — about the breakup — which takes us to a flashback. She had been working on a film when she had been pulled aside by the fiancé she had just broken up with. He was a rich businessman, which suggests this was an arranged match brought about by her family, and he had been angry at the rejection.
Mu-gyul had arrived on set just in time to see Seo-jun emerging from the man's car shaking off the grip he had on her wrist. He'd assumed the worst, that the man was her "sponsor." (A sponsorship to an actress is one of those dirty open secrets in the industry, not unlike the casting couch. It's akin to a mistress relationship; an actress sleeps with the sponsor, who in turn promotes her career.)
Mu-gyul had gone off and gotten drunk with another girl, and that was the end of that.
Lee Ahn joins their table at the restaurant to tell Seo-jun that he just barely managed to dissuade Manager Bang from suing her for assault. Jung-in picks upon on Ahn's interest in Seo-jun and comments that he's a good guy for Seo-jun, though she scoffs at that.
Jung-in tries to give Lee Ahn a sincere warning about Manager Bang, but Ahn has his own loyalty to preserve and waves that aside.
When Ahn leaves the table, he reports to Manager Bang that he was unsuccessful in convincing Seo-jun that the tabloid leak didn't come from her.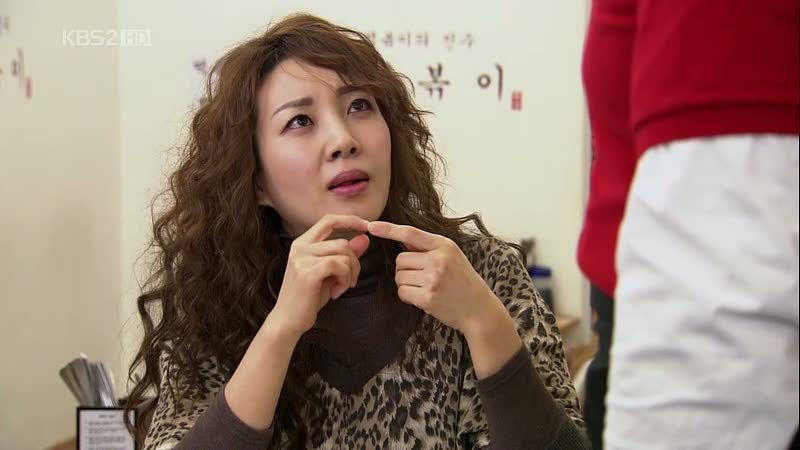 Dad's snack shop has an unexpected customer in the form of Mu-gyul's mother, who is there with her luggage in tow. She hasn't gone to Paris after all and feels guilty about the whole ring fiasco, so she apologizes to Dad about it, though he has no idea what she means.
While settling in to Mu-gyul's studio, Mary finds the pawnshop claim ticket for her diamond ring, awed at how expensive it is. She asks hopefully if his mother will keep her promise to pay back the money, but Mu-gyul can't quite lie and assure her of that, so he says he'll pay it back instead.
When Dad calls Mary to ask what this ring business is, he's upset to hear that Jung-in's father gave her a ring, which Mu-gyul's mother then pawned. He threatens to come right over and give Mu-gyul a good talking to, so Mary and Mu-gyul hurry to leave so they're not home when Dad gets here.
Or, you know, you could just LOCK THE DOOR.
But no, they rush outside just as Dad turns the corner, and in a bid to remain out of sight, they decide to hide. IN A TRASH DUMPSTER. I kid you not.
Dad bangs on the garage door and yells a few threats, although he doesn't barge right into the studio which just proves my point that the couple should have just stayed put. But if you prefer to hear the tirade from the inside of a trash can, who am I to stop you?
Dad hunkers down outside the door to wait for Mu-gyul to come home, forcing the couple to remain huddled in the freezing dumpster.
The smell of Dad's ramyun wafts over to the hungry kiddos, although how anything wafting into their nostrils can smell appetizing is beyond me. You're sitting IN A TRASH CAN.
Mary gets an idea and calls Jung-in, asking him to call her father away so she and Mu-gyul can go home. Jung-in does just that, and Dad reluctantly gives up his watch to hurry away.
Finally, Mary and Mu-gyul are free to go home and warm up in front of the heater. However, when they head to the bathroom to wash the garbage smell off, they find the pipes have frozen.
As Dad leaves his shop for the night, he finds Mu-gyul's mother waiting for him outside. Without a place to go, Mom gives her luggage a pointed look and shoots Dad her best pathetic-puppy-dog look, trying to appeal to his sympathy.
Dad ends up offering her his spare room, but it comes with strings: Until she can repay the 10 million won needed to claim the ring, she will work at his snack shop. Also, she will help him break the kids up.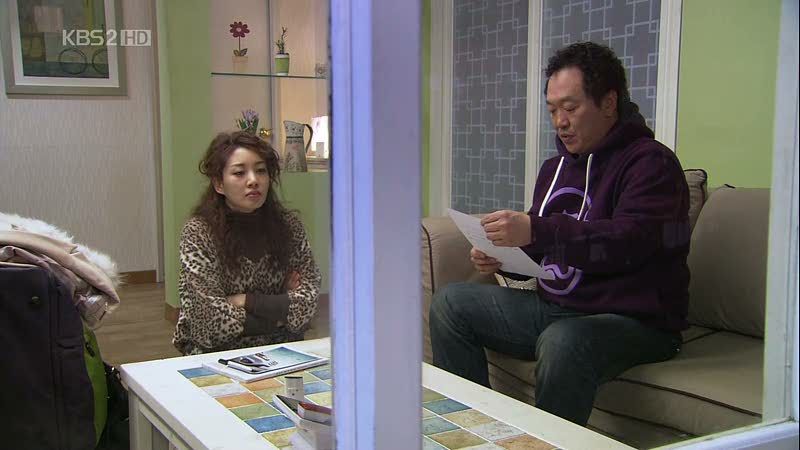 Mom briefly considers that her son won't like her meddling in his relationship (you think?), but figures there's no harm in signing, as there's no guarantee that the adults' efforts will break them up.
Yet when she hears that Mary has a fiancé with whom she is supposedly living at present, Mom grows offended for her poor baby. Oh, are we playing the "I can hurt my own son but nobody else can" game now?
Mom warns Dad not to fall for her, and the two assure each other that they are not each other's types, thereby sealing their fates — no way they're escaping a loveline of their own now.
Mu-gyul braves the cold weather to collect water for washing from an outdoor faucet, which is when Jung-in calls to confer about the title song. However, Mu-gyul's panting and impatience to hang up spurs his imagination into overdrive, and he tries to prod Mu-gyul into telling him what he's doing without asking. Mu-gyul has no idea the wayward turn Jung-in's thoughts have taken, particularly as he half-squeals (from the cold) and grunts (from the exertion of hauling water) and barks out a dismissive, "Mind your own business!"
At home, he warms up the water and washes Mary's face and hands with a towel, then settles in to his half of the bed. He can't resist sneaking a peek over to Mary's side, smiling as he watches her sleeping for a few moments.
In the morning, Mu-gyul walks Mary over to Jung-in's house for the husband trade-off, and narrowly escapes being seen by her father. Dad's there to scold Mary for giving the ring to Mu-gyul's mother, calling her foolish for believing that she'd pay her back right away — turns out Mom got scammed (again) and wasn't able to go to Paris after all.
Manager Bang drops by to meddle some more, offering to let Lee Ahn back into the drama (again)… if they get rid of Seo-jun (again). Jung-in isn't going to let himself be manipulated like that, but Manager Bang warns that "If I die, I'm taking people down with me." Earth, prepare to be scorched.
Jung-in takes Mu-gyul with him to scout out a location for the showcase, and as they drive over together, Mu-gyul makes a show of reading a text message from Mary. He coos over it excessively, getting all lovey-dovey, shooting Jung-in taunting glances while the latter sits there uncomfortably.
Jung-in gets his petty revenge, though, by slamming on the brakes. Mu-gyul pitches forward with the momentum, and Jung-in gets a childish sense of satisfaction — he even has to look away to hide his smirk. Getting his expression under control, Jung-in turns back to face Mu-gyul, asking innocently, "Are you okay?"
OH YOU TWO. Can we just have the Mu-gyul and Jung-in Comedy Hour, please? I'd forgive the lack of plot or logical character development if we could just see these two being petty and jealous and silly all the time.
The two men arrive at the venue, which Mu-gyul doesn't like, suggesting a guerilla concert instead. The idea grabs Jung-in's interest, but a phone call cuts this short and now it's payback time: Seeing the caller's name, Jung-in smiles widely and answers loudly, "Mary!"
Now it's Mu-gyul who fidgets impatiently while Jung-in takes his time talking to Mary, making the conversation a lot more cozy-sounding than it actually is. For instance, he asks if she's making dinner, and she says no. Ignoring the logical flow of conversation, he replies anyway, "I look forward to tasting your cooking," which puzzles her. She has no requests for dessert, but Jung-in answers (for Mu-gyul's benefit), "I'll make sure to bring home the cake you like."
At dinner, President Jung has another gift for Mary, which turns out to be concert tickets for the whole family. Jung-in spies the photo occupying the place of honor in his father's wallet, which naturally strikes him as odd since it's Mary's mother, who looks just like Mary. That association just makes it creepier that President Jung requests Mary come to the concert with the ring, as he wants to see her wearing it. Gah, I swear this gothic plot is straight out of a VC Andrews novel.
Jung-in starts to put two and two together, and he asks Mary about their fathers' friendship. She answers that they go back a long time, and that President Jung knew her mother before she met her father.
The most pressing concern is getting the ring back, and Dad assures Mary that he'll get right on it. He orders Mu-gyul's mother to retrieve it immediately, so off she goes in a huff to prove that she's a woman of her word. Sort of. She buys a cheap ring to pass off as the diamond and gives it to Mary, who accepts it with a huge sigh of relief.
Battle of the Faux Redheads: Manager Bang confronts Seo-jun to take issue with the latter's refusal to apologize. Come now ladies — one of you tarnished the other's name and public image, while the other drew the other's blood. How 'bout we call this one a wash?
Manager Bang urges Seo-jun to drop out of the drama, or get on her knees to beg forgiveness. Yeah, good luck holding your breath on that one.
Mu-gyul presents his bandmates with the score for the new song "Hello Hello," and one glance is enough for them to declare him a sell-out. Where's the "rock spirit"? This is total mainstream pop fluff — "Hyung, I'm disappointed in you." Really, now? Is that the right thing to say to the guy whose coattails you're riding?
Jung-in steps in to throw his weight behind Mu-gyul's decision in writing a song to appeal to the mainstream, given that a drama OST should appeal to the mainstream.
Off to drown sorrows in drink. The boys glumly declare that Mu-gyul has abandoned rock and crossed over to the dark side. Mu-gyul joins them and says he'll be making rock music till he dies, which sounds like the title to a bad rock song in and of itself. Unconvinced, the boys ditch him.
Rather unsporting of the oh-so-authentic rock musicians who don't even write their own songs, yeah? Dude(s), you don't make the music anyway — all you do is PLAY the stuff Mu-gyul writes. Also: This is hardly the stuff we'd expect of the guys who acknowledged that they had no talent and were considering quitting music in the first place. I think the Character Development Fairy must be drunk along with half the characters.
Seo-jun joins Mu-gyul at the table, apparently having turned on her Mu-gyul Homing Signal. She finds him adrift, mentally, unsure of what anything is anymore.
Perhaps she's feeling sorry for him or maybe she realizes what a brat she was being earlier, but Seo-jun says she'll sing the song after all. She's his fan, whether he makes rock music, ballads, or dance songs.
An ultimately pointless but adorable exchange: On the morning of concert day, Jung-in and Mary come out of their rooms in various states of disarray — he's just out of the shower, she's just woken up and sports massive bedhead — and they stammer awkwardly around each other until they flee for safety.
The family dines that evening before the concert — Mary, Jung-in, The Worst Father In the World, and The Worst Father In the World Minus One.
Dad has been suspicious of how easily the ring was returned, and realizes it's not the same one just as President Jung asks to see it. Though Mary doesn't understand Dad's rising anxiety, Jung-in clocks the unease on his face and clues in to the problem as President Jung takes a look and immediately knows it's the wrong ring.
Jung-in smoothly offers up the explanation that Mary had found it too burdensome to wear such an expensive piece that he'd had an imitation made.
That spares them President Jung's fury, but it also means a certain Worst Mother In the World is still at large, and it's no great surprise that Dad finds that she has high-tailed it out of there. Sins of the mother get transmuted into sins of the son, so he goes off to take it out on Mu-gyul.
Jung-in drops Mary off at Mu-gyul's that night, and she apologizes for not telling him about the ring. With his usual generosity, Jung-in doesn't ask for an explanation and says there was probably a good reason for it.
Mu-gyul doesn't love hearing Mary speaking fondly of Jung-in, but it's true he did save her tonight, and therefore their three-way ruse. Mary explains about the fake ring, which upsets Mu-gyul because he'd told her he would take responsibility for getting it back.
Just as Mary explains that she didn't know it was a fake until too late, an angry pounding sounds at the door. It's Dad, and he's fuming mad. Mary and Mu-gyul dash around like chickens with their heads cut off, trying to hide while Dad raises the (unlocked!) gate to barge in.
Oh, this again?

COMMENTS
So now we're recycling plots from within the same episode? Are they running out of ideas or what?
Here's the thing about the new writer/writing style. It's different. It's not glaringly obvious, but I think for those of us who are following each episode fairly closely, it's pretty clear that a significant change occurred between Episodes 10 and 11. There are good and bad aspects of the shift, and I suspect the way you feel about the change may hinge upon which you find more important: movement versus consistency.
For instance, I actually liked Episode 11 a lot more than the previous ones, and felt like the drama finally figured out how to tell a decent hourlong story. Stakes were raised and more stuff happened, propelled by a zippy, sorta-wacky spirit. The problem is, people were suddenly acting way over the top and out of character from their established personalities, but that was the trade-off: More conflict and speedier plot, but not necessarily a smooth transition. That means that the characters in Episode 11 and 12 don't feel like the same characters of Episodes 1 through 10 because they're suddenly acting and reacting in weirdly exaggerated ways, which can be jarring since we've had 10 hours to get used to how they used to be.
Perhaps it might help to forget — as best as we can forget — what they USED to be like and just go with the flow, because I don't think there's an easy way to reconcile everything in a cohesive way.
Still, as much as I complain about the silliness of what happened, I'm sort of glad that at least there's something to comment ON. For a while there I was bored silly because the drama felt so flat, but now we're at the other extreme where things happen for no reason. But at least I'm not as bored as I was before.
RELATED POSTS
Tags: featured, Jang Geun-seok, Kim Hyo-jin, Kim Jae-wook, Mary Stayed Out All Night, Moon Geun-young