1 Night 2 Days scores star-studded guests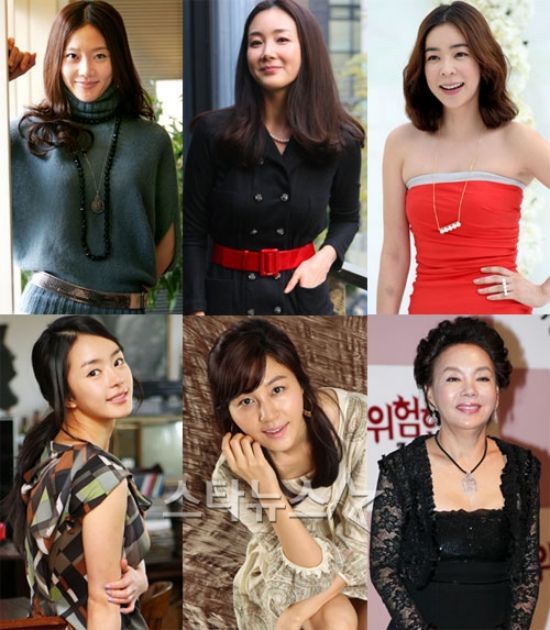 Well THIS should be interesting. Variety program 1 Night 2 Days has scored a rather impressive lineup of stars for its upcoming Actress Special. (Every other week is a "special" of some sort, so that's not anything new, but a six-star guest roster IS.) So who will be joining the boys on their next outing?
Clockwise from top left, we have: Yeom Jung-ah (Royal Family), Choi Ji-woo (Actresses), Lee Hye-young (Queen of Housewives), Kim Sumi (I Love You), Kim Haneul (Road No. 1), and Seo Woo (Flames of Desire).
PD Na Young-seok stated that there wasn't anything special planned in their honor, reinforcing the fact that they'd really be just participating in an otherwise typical 1N2D shoot. He said, "The actresses will play games, possibly starve, sleep outside, and go into the water, just as the members always do." Heh. Hehehehe. Leave it to Na PD to be a hardass in the best possible way.
I just hope the boys will follow suit, because if they're too concerned with politeness and treating them well, it'll be no fun. The whole point of 1N2D is to see how people react to their basic rights for food and shelter being put on the line in a schoolyard-game-turned-monumental-fight-for-survival.
Na PD said that the ladies have been calling daily, asking "What do we do?" excited and up for anything. Sure, they say that now, but what will the likes of Choi Ji-woo do when told to trade pants with Kim Haneul?
Okay, that's probably not going to to happen. But wouldn't it be awesome if it did? Come on, Na PD. Don't disappoint.
They'll be filming the trip this coming weekend, and it'll air two weeks later, on May 22 and 29.
Via Star News
RELATED POSTS
Tags: 1N2D, Choi Ji-woo, Kim Haneul, Lee Hye-young (2), Seo Woo, Yeom Jung-ah