Miss Ripley: Episode 10
I think the most significant development to come of recent events isn't even actual fallout from Miri's lie, but the fact that she starts caring. About people only to a (teeny, tiny) degree, but mostly about how far she's come, which makes her desperate to protect her achievement.
In previous episodes, she's been like a feral creature, rabidly protecting herself from immediate harm and uncaring of the cost to her conscience or morals. Now that she's found some degree of comfort, she starts to feel pangs of getting here the wrong way. To paraphrase one famous realityshowgoer: You're gonna need your soul one day, and you won't have it.
SONG OF THE DAY
8eight – "그대는 정말 대단해요" (You're really amazing) [ Download ]
Audio clip: Adobe Flash Player (version 9 or above) is required to play this audio clip. Download the latest version here. You also need to have JavaScript enabled in your browser.

EPISODE 10 RECAP
With the tidbits of truth floating around him, Myung-hoon tries to arrange them in some sort of order. He has the gist of Miri's background, but doesn't say a thing to her when they run into each other at the hotel, for what will surely become an escalating series of Most Awkward Elevator Rides, Ever.
Hee-joo and Chul-jin track down the hotel sand pool design plan to Hankook University and meet with Miri's boss, Professor Park. He asks for time to confirm the details, wanting to tread carefully since it's quite an accusation to make against a Tokyo University graduate. Based on the facts at hand, one could point as much to Hee-joo stealing the design from Miri as the reverse.
Chul-jin's ready to jump down his throat (which warms my heart a little), believing 100% that Miri stole the design, saying that Hee-joo's the one who graduated with a degree in architecture. Hee-joo asks him to calm down, and agrees to let them look more into the situation.
The gossip rags are full of speculation over Yoo-hyun's secret girlfriend, and while a number of them don't know who she is, there are a few that identify her by name. Scary Stepmom calls Yoo-hyun in to chide him about the media uproar.
I find this relationship fascinating, because these two are so scrupulously polite to each other, while their smooth words mask the hardened purpose underneath. Particularly for Yoo-hyun, who is so nice on the outside and yet won't let himself be pushed around. Will this steely side ever come out with Miri, I wonder? What bargain do I have to strike to get that to happen?
He says firmly that he's prepared to face this kind of public scrutiny at some point, because his mind's made up. He gets in a barb (kindly stated, of course), that he's sorry he wasn't able to "calculate" his feelings in order to match his marriage to the company image. Ooh, nice one, to not let her forget how she got where she is.
As soon as he's gone, Lee Hwa gets on the phone to check in with Mr. Han, the minion assigned to Miri-background-check duty, wanting an immediate report.
Yoo-hyun, however, is wise to her ways and asks his secretary to look into what "project" Mr. Han's working on these days — without Stepmom finding out that he's finding out. Man, I love it when a drama's characters are smart. Between this and City Hunter, I'm thrilled that people can put two and two together. Possibly even four and four. And they're usually so sucky at math.
Myung-hoon arrives at Flower Blossom — the location listed on Hirayama's business card — and asks Hirayama to meet. He presents the other card from Club Hana Urara (meaning Flower Blossom) bearing Miri's photo, and asks for an explanation.
Hirayama warns that although he can supply him with the answer, "The truth hurts — because roses have thorns. Those thorns are its appeal." It's not just a metaphor for Miri, but practically an overt statement since her name contains the word for rose (jang-mi).
Hirayama writes down a Japanese address, and leaves Myung-hoon to deal with it as he sees fit.
Miri goes to the opera with Yoo-hyun and his father, and then to dinner. President Song is just about as smitten with Miri as his son is (though not in that way — thanks be, this is not that kind of drama!), and he gives her a huge honkin' pendant as a surprise gift. He explains that on the day she'd brought him lunch and prepared his favorite crab dish for him, he'd thought wistfully he'd like to make her his daughter-in-law — and then, lo and behold, his son brought her home.
He has another gift for the couple: their official engagement date, set for July. Yoo-hyun's touched, since it means Dad is fully onboard and ready to proceed with his marriage, despite Stepmom's protests that they're not ready for that step.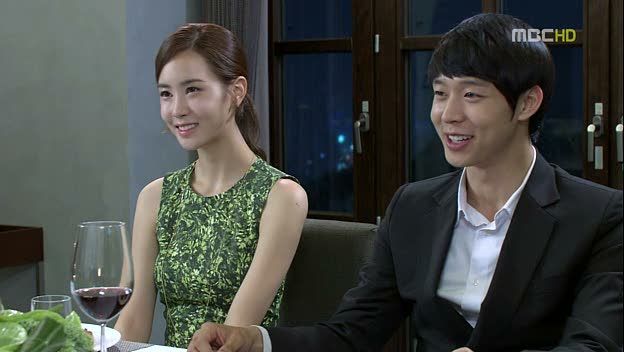 Lee Hwa calls after hearing about the engagement date, her tone pleasant as agrees to go with her husband's plan, but she cautions him to make the public announcement carefully.
(Okay, this music is getting weird again. Who decided Chopin's Funeral March would be appropriate to express Lee Hwa's displeasure? It's so on-the-nose that it turns a serious moment comical.)
It's nice imagery to place Lee Hwa in her darkened office while her men are off frolicking with the impostor, and she mulls over her newly acquired information regarding Miri and the way she was hired at Hotel A. Moreover, she learns that the name Jang Miri was created upon her adoption, and muses, "It doesn't seem to be the person I know." Hmm, interesting! And yet, potentially aggravating: Are we actually going the birth secret route after all? (Also: More faux-incest? Groan.)
Hee-joo also sits in the dark, mulling over her stolen designs, and I deeply, deeply hope this signals an embracing of her dark side. Pretty please?
Yoo-hyun sees Miri home, giving her a chaste kiss on the forehead in goodbye. The moment Miri steps through the door, Hee-joo faces her angrily and flings her designs in her face. And slaps her. "Was stealing my diploma not enough? Is that why you stole this too?"
Miri fesses up readily, almost defiantly, saying that she stole the designs Hee-joo was never going to do anything with anyway: "And if I showed your father's designs to the world, shouldn't you be grateful to me?"
Whoaaaa. Unbelievable. That argument is so warped it's almost got its own space-time continuum. Miri argues that Hee-joo doesn't have the ability to see her father's designs through, but Hee-joo informs her that this design is currently in production at Mondo Resort — which shuts Miri up in shock. Hee-joo adds that Mondo is facing a construction shutdown, and if that happens Yoo-hyun would have to deal with extreme damages, all because her sketches are online under Miri's name.
Hee-joo has had enough and declares that she's going to reveal the truth, unless Miri comes forward herself. Miri's suddenly all tears — how does she do it? She goes from haughty self-righteousness to fear, seemingly genuinely, in the span of split seconds — and stammers, "I d-don't want to. W-why should I?"
Hee-joo is stunned: "You're a frightening one." Miri counters, "It's the world that's frightening, not me." Hee-joo asks how long she's going to live like this, and Miri grinds out, "Until I die. So that nobody can ignore me or trample me, I'll do whatever I have to to climb even higher."
Hee-joo: "So are you happy? Living in a world made of your lies — does that make you happy?" Miri looks startled, as though she hadn't thought of it that way: "It doesn't matter. I can turn those lies into reality."
Hee-joo asks her not to continue lying to Yoo-hyun at least, but that's a thought that horrifies Miri, who admits that while she was faking her feelings at the outset, "Now they're for real."
Miri allows that this will sound hard to believe (ya don't say!), but because she truly wants to be with him now, it makes it even more impossible for her to come clean. I don't doubt this is true, since this relationship comes with all his attendant riches, so the real question is how much of that desire is motivated by his character, and how much by his position in life.
I like this turn: Previously she was going after everything she could get her hands on, hardly caring who she hurt in the process, because she had nothing to lose, perhaps not even herself. But now she's got something she can't bear to lose, and that scares the hell out of her.
So, unbelievably, she begs Hee-joo to help her, to turn a blind eye to the lie. Wow. This woman redefines the word shameless.
Hee-joo shakes her head no, breaking free of Miri's grasp as the latter desperately pleads with her, running away as though Miri's turned into a monster. Which is kind of true.
Hee-joo thinks back to their childhood at the orphanage, her desire to do what's right warring with her sympathy. Oh, no, that way lies pain! Don't cave in, Hee-joo! Miri has this genius for wringing sympathy, both through manipulation and for real, and it captivates the other person like a Medusa (Don't look her in the eyes!), making them want to do everything to save her. Even at their own expense. Even if what she needs, maybe, is to be saved from herself.
Lee Hwa presides over a press conference to address the growing press scrutiny over Yoo-hyun's love life. She denies the rumors, saying decisively that there are no plans to marry.
Chul-jin doesn't understand her move when the President has already consented, but Yoo-hyun says grimly that it's because Miri doesn't measure up to Mother Dearest's demands for the absolute best in everything. Hee-joo overhears as Yoo-hyun starts to head off angrily to face off with Stepmom directly, declaring that she was the one who turned this issue from a personal one into a company one. But Chul-jin entreats him to cool down, and consider alternatives to handling this, and that makes him reconsider.
Armed with that address provided by Hirayama, Myung-hoon arrives in Fukuoka. At the hotel, Miri overhears about his trip with some anxiety, though nobody knows the reason for his sudden departure.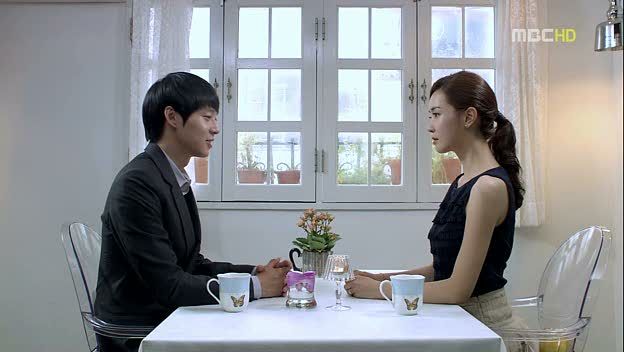 Miri meets with Yoo-hyun, who warns her that things may become difficult for them for a while, which she prettily accepts as one of the complications that comes with loving him. She turns this around brilliantly on him, taking the long-suffering pure heroine route, saying that because he keeps apologizing to her, she worries that he feels a distance between them. That has the effect of gaining his reassurance, as planned.
He tells her that he wants to reveal their relationship soon, and prepares her for the craziness that will follow. They won't be able to go on ordinary dates anymore under all the scrutiny, and the pressure has been known to break up other couples. He adds that photos of her will circulate, and people may dig around her past — can she handle that?
Ooh, I hadn't considered that, and it looks like Miri hadn't, either. She looks a little nervous as she admits that it scares her. He, of course, interprets that in the ordinary way, while Miri is likely thinking of more of her dark past resurfacing.
She supposes that this is something she'll have to encounter at some point, which is a statement that works both ways — he hears it as their relationship issue, but it also works in reference to her lie. She says hesitantly, "Even if our relationship goes in a different direction than I want, even if I end up losing you, this is something I have to face once. Isn't it?"
She starts to ask, "If, by some chance, something about me unexpectedly surfaces—" He cuts her off, saying he doesn't care, because it's all a part of who she is. Which is incredibly sweet, but perhaps short-sighted. But I guess it's that unconditional nature of his love for her that has Miri so tied up in knots, and he tells her to trust him.
Professor Park shows the copied pool designs to Myung-hoon's hyung, and both men are aware that if they're stolen designs, they're facing a world of scandal, especially if they gloss it over now and it comes to light later. They try to contact Myung-hoon, but he's out of touch .
Hee-joo makes her decision, and asks to take the official line that her design sketch was a collaboration between her and Miri. It doesn't make sense and she knows it — as does Chul-jin — but she requests him to take that stance anyway, which makes me sort of admire her generosity, but mostly want to hit her upside the head for being such a pushover.
Chul-jin refuses to help her, which I love. It's like he's the only character who's avoided looking into Medusa's glare and is running around wondering why everyone else is turned to stone. He says that if Hee-joo insists, she can do this herself, but that he won't be dragged into this farce.
However, she makes an important point: That if they don't do this, Yoo-hyun will be damaged and Mondo will have to shut down construction. Okay, I'm a leetle mollified that Hee-joo's motivated more out of protecting Yoo-hyun than sympathy for Miri, even though it's aggravating that she argues, "If he knew about Miri, he'd be even more hurt." Chul-jin calls her a fool. He's not wrong.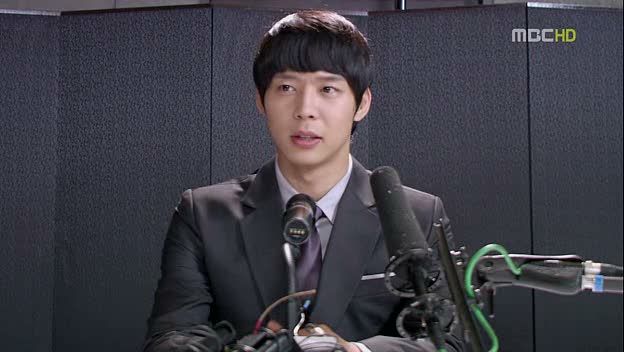 Yoo-hyun's plan to counter Stepmom's statement is to call a press conference of his own, but at Hotel A. He agrees to answer all questions honestly, including personal ones, which gets reporters asking about the woman he's been rumored to be seeing, whom Lee Hwa denied existed.
Yoo-hyun confirms that he is currently in love with a woman he is considering marrying, and gets up to scan the crowd for the hotel employees gathered on the side. Calling out for Miri, he sees her shocked face and holds out his hand to her, asking her to join him.
That sets off a flurry of camera flashes, and he leads her to the front of the room, where he links his fingers through hers and smiles encouragingly. Together they make their bow to the room and to the public, while Stepmom watches from her office, and an amused Hirayama from his.
At dinner, Yoo-hyun expresses his relief that she wasn't angry with his public reveal. She admits that while she was surprised, it made her happy that for the first time in her life, someone was proud to claim her publicly like that. She says with some regret, "If I'd known things would turn out this way, I would have lived differently." She thanks him, and he toasts to their future, of days when she won't have reason to cry anymore.
Meanwhile, Myung-hoon arrives in the red-light district of Nakasu and locates Club Hana Urara, taking in the seedy neighborhood and the circumstances of Miri's background.
Once inside, his suspicions are finally confirmed when the sign in the club lights up — illuminating Miri's face as part of its promotional photo. Stunned, he walks out in a daze.
Miri meets with Hee-joo, wanting to thank her for confirming that the sketch was their collaboration, as though she wants to start straightening all the crooked paths she's left in her wake. But she's gone too far with Hee-joo, who tells her flatly that she didn't do it for her, that she did it to prevent Yoo-hyun from being hurt. She gets up immediately, saying she can't stand the sight of her these days.
Yoo-hyun calls Miri to say he's got someplace he'd like to take her, while looking over photos of her as a child. His secretary confirms the location of the orphanage where she'd stayed, and while her old records have since been lost, there's one nun still alive from that time. Uh…oh… Why do I have a bad feeling about this surprise?
Hee-joo sits in an empty baseball stadium, thinking of better days with Yoo-hyun, and submits her resignation. She declines to elaborate, stating only that it's personal — but without an explanation for her decision, Yoo-hyun won't accept her letter.
Chul-jin scolds her for her actions, pushing her to tell the truth and admit to Yoo-hyun that she loves him, and to warn him not to trust Miri. Hee-joo can't do that to him, and says bravely, "I can just endure it myself." Argh! She is fast becoming the queen of one step forward, two steps back.
Myung-hoon finally arrives back at the hotel, and requests Miri's personnel file, which he looks upon with new eyes.
Lee Hwa is not pleased about her stepson's announcement, but she puts on her charming facade and assures President Song that she's happy for the kids. He suggests moving up the engagement ceremony, seeing no reason to delay now that the news is out, and she readily agrees.
She then calls Miri for a meeting, having received more information from Mr. Han about her past at the orphanage, although he's finding it difficult to find out about her life before that. Included in the latest report is the unconfirmed tidbit that Miri and Myung-hoon were rumored to be dating.
Miri apologizes prettily for not arriving at the restaurant first, and Lee Hwa maintains that perfectly polite tone as she delivers the veiled setdown that not everybody anticipates a meeting with the same forethought. (As in: If you were more courteous you'd have arrived first, but you're not, and that's fine.) If ever a person could draw blood with a word, it's Stepmom.
It's intriguing to see Miri finally put off her guard by somebody else, because Lee Hwa takes the reins of this conversation and keeps her on the defensive, managing to seem generous and yet also frightening.
And with a simple, "I called you to discuss something," the episode ends. (Er…? What a weirdly anti-climactic place to cut this out.)

COMMENTS
I've read the comments that are unhappy that the Miri/Yoo-hyun has been so chaste thus far, which I can kind of see, given her speed with Myung-hoon. But to be honest, I like what they've done, and I think it fits the story — this is not a drama that benefits from fanservice, however much we might want to see a little lip-smacky action, which would get in the way of the thematic arcs.
It's particularly in this episode that I see Miri moved by Yoo-hyun's love, but not the romantic kind of attachment — not hers, and not his either. She's so brand-new to the experience of love that I'm not even sure she's delineated the different types, but in any case it's the pure, unconditional nature of Yoo-hyun's love (and Myung-hoon's) that moves her. Like she tells Yoo-hyun after the press conference, she found it touching to be claimed by a person out in public — which, by the way, is something Myung-hoon never did, which is another way in which Yoo-hyun beats him. Granted, Myung-hoon was abiding by Miri's wishes, but Yoo-hyun is proving that despite his gentle demeanor, he has a strong will of his own, and what he wants, he goes after. So he's able to hold her up proudly as his love, and it's that kind of care that stirs her, not romantic dates and libido action.
By the way, I think the bed scene with Myung-hoon was pretty shrewd timing on the drama's part, which isn't always the case (bed scenes are just as often about ratings and promotional hype than about narrative relevance). I think it was key to have Miri advance her relationship with Myung-hoon to a sufficient degree before she found out the truth about Yoo-hyun's background, so that there was an actual "Oh, shit" moment when she realizes she wants to switch teams. If she'd just been flirting, or dating Myung-hoon chastely, that moment isn't as dread-inducing than it is now that she's advanced to a sexual relationship.
I didn't really expect the drama to tease the Miri/Mom connection, and I confess that I'm a little disappointed if it turns out to be the case. We've got a story that's plenty tense and suspenseful without that, and it feels like it's pushing the connection a step too far, like the sisters revelation in 49 Days.
But if that's where they're taking this, I suppose it's interesting to have drawn these two women along such parallel lines. Like mother, like daughter? It's like the opposite of Cinderella's Sister, where Daughter witnesses all of Mom's misdeeds and hates it, but finds herself lashing out in similar ways because that's just the way she's been brought up. So by comparison it's ironic, to a certain degree, that Miri didn't turn out like (potential) Mom by modeling her behavior, but through her abandonment.
RELATED POSTS
Tags: featured, Kang Hye-jung, Kim Seung-woo, Lee Da-hae, Micky Yoochun, Miss Ripley