Kissy stills from Scent of a Woman
Lots of Scent of a Woman stills these days, not that I'm complaining because I have high hopes for the weekend SBS show, heroine-with-a-terminal-illness premise notwithstanding. Plus, I'm a big fan of both leads, Lee Dong-wook and Kim Sun-ah, shown here in Okinawa almost kissing (but not quite — curses!).
Not to be a downer, but they're not really heading for a kiss in the scene, although surely we can dream on. Ji-wook (Lee Dong-wook) is actually fastening a necklace around Yun-jae's (Kim Sun-ah) neck, which she receives as a gift after participating in a beer-drinking contest.
Scent of a Woman is an upbeat romantic comedy about an ordinary woman who decides to enjoy her life when she finds out there's not much of it left. Eom Ki-joon and Seo Hyo-rim play spoilers in the main couple's romance, but judging from the stills so far, our leads look like they've got some great chemistry going. Ain't no second leads about to take them down, am I right? As for the sickness storyline, I'm actually pulling for a Joe Versus the Volcano scenario here, where the death issue is resolved with humor and satisfaction. (Hey, it's a good movie. No, really. Don't judge.)
The drama premieres July 23.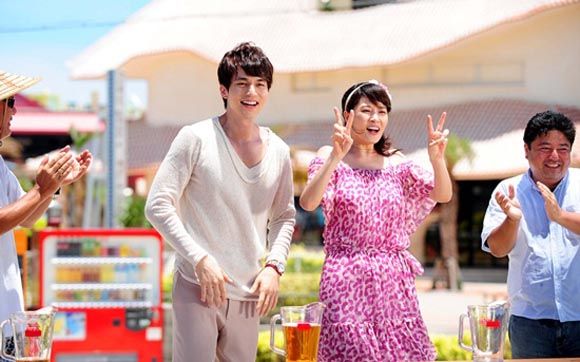 Via E Daily
RELATED POSTS
Tags: Kim Sun-ah, Lee Dong-wook, Scent of a Woman