Man of Honor begins shooting with Park Min-young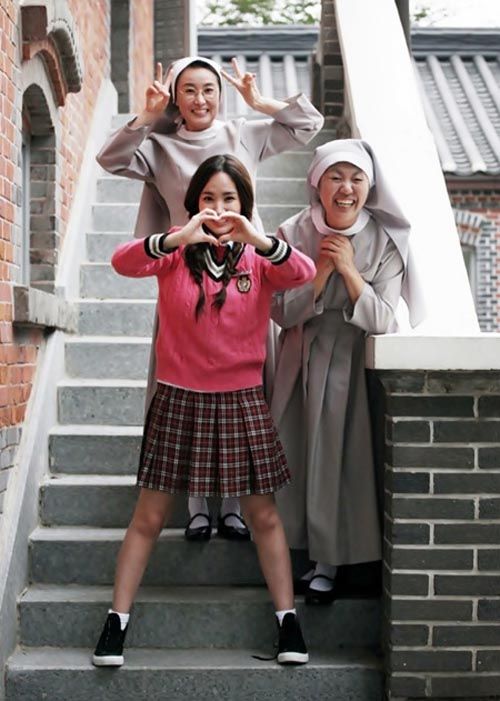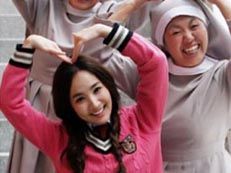 First shoots commenced with this scene of KBS melo-sports-romance drama Man of Honor, which stars Chun Jung-myung and Park Min-young. Funny how the "man" part of the title refers to heroine's character rather than the hero; the Korean words used in the title happen to be a puntastic take on the leads' names, Young-kwang (Honor, played by Chun) and Jae-in (Park).
In these stills, Park is dressed as 18-year-old Jae-in, in high school uniform, who grows up poor but plucky who then becomes a nurse's aide as an adult. Jae-in grew up at an orphanage in her childhood, which pings my birth secret radar; has an orphan in a melo ever not grown up to lots of Sturm und Drang about said orphan status and its attendant abandonment issues? Jae-in seems to have done all right, in that she grows up bright and cheery, and developed close bonds with her nun caretakers. (I had quite a different picture in mind when I first used the term "nun on piggyback," but I guess this works too.)
Man of Honor, which reteams the PD and writer of Baker King Kim Tak-gu, hopes to follow up that mega-smash hit with this drama, which premieres on October 12.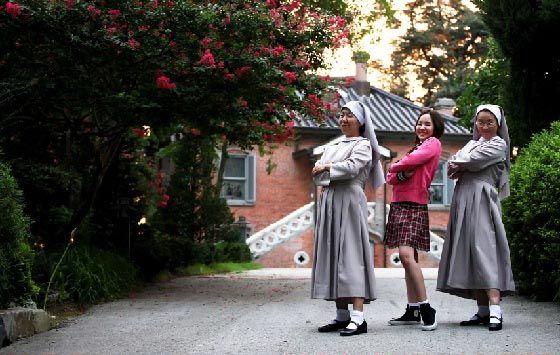 Via Osen
RELATED POSTS
Tags: Man of Honor, Park Min-young