My Name Is Kim Sam Soon: Episode 10
Names are important, not just in a family sense but because there is community in a name. And names can be just chock full of meaning, both to the giver of the name and the one who wears it. But changing a name is something else entirely. Changing one's name is a pretty big deal because all the things that went with the original name are now being tossed into the garbage.
Still, Sam Soon has always wanted to change her name because her name didn't sound cool. But was that the only reason? Well, what does "Sam Soon" actually mean? Her name spelled in Korean: 삼순. But since there are a lot of meanings for 순 (Soon), like sprout, purity, gentleness, order and martyrdom, you can't know what her name means without knowing the Chinese characters. Sam Soon reveals that her name is spelled out in Chinese like this 三殉, which literally means, "Third Martyr." Gee thanks, mom and dad. Of course, she could lie and tell other people her name means "Third Sprout," but I guess she has extra incentive to wanting to change her name.
Episode 10 – My Name Is Kim Hee Jin
Jin Heon watches Sam Soon leave Bon Appetit. There's a heaviness in the air, a finality. Kids can screw around but once parents step into the ring, that's it. For better or worse, Kim Sam Soon's career at Bon Appetit is most likely finished. Now that her mom has said her piece, Sam Soon would be making a fool out of her mom if she came back to work for Jin Heon.
Jin Heon closes the restaurant for the night but stops at the pastry station where Sam Soon worked. He turns on the lights and puts himself in the position that Sam Soon was in. For the first time, Jin Heon tries to understand Samsoon.
He finds Sam Soon's notebook and flips through it. He smiles as he reads Sam Soon's notes on baking and comparing herself to dough that rises without help from quick rising yeast. The no-yeast dough may not rise as quickly as the other dough, but maybe there is something special about that too.
Jin Heon texts Sam Soon with entreaties of a 10% raise, and then a 20% raise. Has he not heard anything that Sam Soon has said? Well, maybe it isn't that he didn't listen. Maybe Jin Heon doesn't have much he can offer Sam Soon other than money. And what Sam Soon wants, Jin Heon either doesn't know how to give or is unwilling to give. Hey Jin Heon. What happens if Sam Soon decides to come back? How will you take responsibility for her, or haven't you thought that through yet?
Sam Soon's immediate response to the texts is to delete them, but then even more than that, she goes to her closet and pulls out the outfit that Jin Heon had bought for her to wear, when she first went meet Jin Heon's mom. Sam Soon takes the dress and the dried roses, the two things she received from Jin Heon, and tosses them. The longing is over. It's time to begin anew.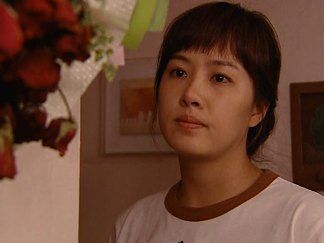 For Jin Heon, though, the longing seems to just have started.
Jin Heon's morning begins with the stuffed animal Samsooki (not me – I'm samsooki lower case, the pig is Samsooki) calling out to him in Sam Soon's voice. A freaked out Jin Heon quickly throws the stuffed animal out of his apartment despite Samsooki's protests. Jin Heon walks back inside but the pig has beaten him back inside and flies at Jin Heon with Sam Soon's vegetable peeler! I'll peel you like a potato! Jin Heon wakes with a start, it was only a dream… until he rolls over and finds the pig staring at him. FREAKY.
Sam Soon begins her morning with a determined face and attitude. At breakfast with her sister and mom, she recites all the unfortunate (but funny) names that she found in the National Name Registry, like Go Yang Yi (cat), Kang Ah Ji (dog) and even Ahn Tae Na (antenna). Yi Young wonders at the cruelty of parents who name their child "antenna." Sam Soon notes that there's one such cruel parent sitting at the breakfast table now.
Note: Korean names are generally 3 syllables long: a one-syllable surname followed by a two-syllable first name. Given the lack of diversity in surnames (the five most common surnames make up about half of Koreans), it is understandable that individualistic tendencies might want to throw in an unusual first name. But since females generally keep their names even through marriage, a silly name given at birth is something that will last for a lifetime.
Sam Soon's mom impassively glances at Sam Soon, who is staring back. Sam Soon, who spent her childhood begging for a name change, declares she is going to change her name to Hee Jin. Sam Soon's mom says 'do whatever you want,' which causes a start in both Yi Young and Sam Soon. WHAT? Sam Soon's mom explains the change of heart. Sam Soon is 30 now, and if changing her name means that she'll change her life for the better, then so be it. Sam Soon is beyond excited, and guess what? She's going to start going on blind dates again! Aja! Kim Hee Jin!
Jin Heon needs to change his life too. He starts by trying to throw away Samsooki (nooooooooo!) but the pig is saved when a garbage man notes that Jin Heon hasn't bagged it properly (whew!). Jin Heon's next effort is to give it away to a little girl but the little girl is far too plucky and a pissed Jin Heon tells the little girl to go and grow up like Sam Soon. Hehe! A little girl could do worse, no?
You know, I'm a huge fan of movies where the hero gets his ass handed to him and then he has to go back and re-think things, get stronger, get more skilled, be smarter. The Rocky movies (I, II, III and IV), which are the single greatest collection of guy movies of all time, were all based on this single premise. What makes this premise so attractive is that it has universal application. Fail a test? Study harder. Lose your job? Improve and then kick ass at a competing firm. Lose at love? Get on the treadmill, eat right, get a new haircut and find your destiny.
Sam Soon has taken that to heart and she's all about change. New clothes, new hair style and color, new attitude and a new name. Oh, and no caramel syrup in her coffee. Aja AJA! Kim Hee Jin!
Jin Heon, Hee Jin (the Yoo kind of Hee Jin) and Mi Joo are toy shopping before Mi Joo's play therapy session. Mi Joo points at things and Hee Jin buys them for her. Hee Jin suggests a play-hospital set to purchase and Mi Joo is agreeable, but Mi Joo also wants kitchen bakery set. Hehe!
Mi Joo, this ain't no Big Love scenario, you can't have both the doctor and the baker! After shopping, Jin Heon, Hee Jin and Mi Joo arrive at the play date therapy. Hee Jin and Jin Heon watch as Mi Joo plays with other special-needs children.
Hee Jin: How long has Mi Joo been coming here?
Jin Heon: It's been about two years now.
Hee Jin: And you've taken her every time?
Jin Heon: Just about.
Hee Jin: Must have been a burden since these play-dates are twice a week. No small feat.
Jin Heon (absent-mindedly): Yeah, but now I have you here to help, Sam Soon. You and I can start taking turns, and it will all work out okay.
EEEEEEEEEE! Hee Jin is alarmed but realizes that Jin Heon hasn't caught his Freudian slip. This is a quandary for Hee Jin. If she brings it up, Jin Heon will pass it off as a mistake and then watch what his says from then on, and so Hee Jin might not be able to trust what he says. If Hee Jin doesn't bring it up, she may never find out why Jin Heon was thinking of Sam Soon would switch off with Jin Heon in taking care of Mi Joo.
In the car driving home, Hee Jin casually asks about Sam Soon, probing until Jin Heon tells her that Sam Soon quit Bon Appetit. Hee Jin wonders aloud if Sam Soon quitting has anything to do with her. Jin Heon is immediately on guard and pulls a Hyun Woo and answers a question with a question, "why would you think that?" Undaunted, Hee Jin asks the questions that she's probably had since Jeju:
Hee Jin: …did something happen between the two of you?
Jin Heon: Mm? Nothing, really. You shouldn't concern yourself about her.
Hee Jin: Does… Kim Sam Soon like you?
Jin Heon: Mmm, that's hard to say. I wouldn't know for sure.
TRICKY! I'm not saying this is a good thing, mind you, but technically, Jin Heon is NOT lying. Sam Soon said that she had fallen for him back on Jeju. BUT, right before Sam Soon crashed her bike, Sam Soon took back those words, cancelling them. So, technically, Jin Heon is telling the truth. I guess. Feels wrong though, since he's not telling the whole story. Jin Heon, this is a line that should not be crossed, because once you cross it, there are no more lines after that – just degrees of justification. Lying by omission is still a lie, and a lie to protect another's feelings is still a lie.
Ohhh, disappointing! That is hopeful blind date she told her mom about? The dude is less than advertised. Unattractive Blind Date Guy is also rude, which brings out the 6-shooter mouth in Sam Soon, which leads to the Unattractive and Rude Blind Guy just walking away from the table.
Awww, sorry. But just remember, there are plenty of bullfrogs in the swamp. Best of luck to you! Sam Soon seems to have gussied up for nothing.
But then another man calls out her name. Kim Hee Jin? OMG IT'S GOOD LOOKING BLIND DATE GUY! I love that guy! Yay!
Good Looking Blind Date Guy has also just been rejected (who would reject Good Looking Blind Date Guy?!) and asks if he might sit with Kim Hee Jin. Ho ho ho ho! Of course! Ho ho ho! The two get to talking, and Sam Soon fills him in on what's happened between her and her evil boss.
Meanwhile, Jin Heon hears about Sam Soon being on a blind date from a gossipy Chae Ri, who was passing by. Jin Heon rushes over from the restaurant and spots Sam Soon overdoing her "ho ho ho ho" cute thing. Jin Heon interrupts the date and tries the "you promised not to date other men!" but that doesn't work. Jin Heon then tries the "but what about our baby!" but that doesn't work. So Jin Heon tells Sam Soon that Sam Soon's former helper In Hye burned herself and is seriously injured.
Sam Soon rushes over to Bon Appetit but In Hye's burn is nothing but a small boo-boo. Sam Soon charges into Jin Heon's office and Jin Heon is waiting for her. Jin Heon tries to engage Sam Soon in banter about her new clothes and hair, but Sam Soon is not having any of it.
Sam Soon leaves the restaurant but Jin Heon grabs her wrist, stopping her. Sam Soon's eyes warn Jin Heon to let go and then Sam Soon walks away. Jin Heon follows her AGAIN, even getting on the same bus. Yes, Korea is a free country and so Jin Heon can travel where he wants to, but this has got to be close to the text-book definition of stalking.
Meanwhile, Hee Jin is sitting at Henry's place and pondering the events that have led this point. Clearly, she asked one fewer question than she should have. The additional question Hee Jin needed to have asked Jin Heon, is whether he likes Sam Soon. Isn't that the question? Maybe Hee Jin was too incredulous to believe that that could be the case, or maybe she was too scared of the possible answer to ask. Either way, now Hee Jin is sitting in Henry's apartment, pondering the unknowable – whither Jin Heon's heart?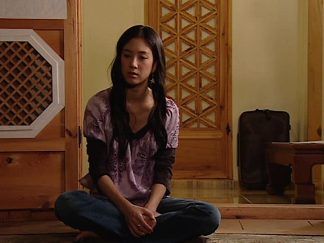 Hee Jin and Henry grab dinner together, and Hee Jin tries to makes small talk. Henry notes immediately that something is up, because Hee Jin always laughs as a cover when something is wrong. Some things can't be so easily translated into English, and so Hee Jin talks in a parable-like fashion – things can shine at first, but then as time passes, the shine can fade until it isn't there anymore. And Hee Jin thinks that she doesn't shine anymore. Dr. Henry Kim, the 6'2 chiseled surgical oncologist, screws his face up for a while as he concentrates, before finally saying, "You still shine." Thanks Henry.
Sam Soon arrives to her neighborhood and starts walking up the road to her place. Jin Heon is still following her. Finally, right before her house, Sam Soon whirls around.
Sam Soon: Back at the hotel, that man I was sitting with. Do you know what that man means for me?
Jin Heon: …
Sam Soon: Do you know how unlikely it is to meet the same person on a blind date twice? That first time and even again tonight, we were doing so well together. But what's your point? I liked him and he liked me, and what do you think, I can find ANOTHER man like that again? Because of you, everything got ruined. You might have chased away the last chance I'll have!
Jin Heon: Why do you always think he could be the last chance?
Sam Soon: It looks like you still want to play games with me.
Jin Heon: Men even better than the man you were with tonight… you can find whenever you like.
Sam Soon (sarcastically): Whenever I like? WHENEVER I LIKE?!
Jin Heon: Yes.
Sam Soon: …
Jin Heon: You have so much charm. And the fact that you don't even know how charming you are adds to that charm.
A pause, then Sam Soon smiles ruefully. Sam Soon says that she won't be tricked again. He tricked her once in Jeju, and then he ran off, leaving her on the side of the road. Let me hear you say this shit is bananas, b – a – n …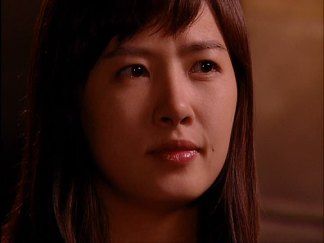 Jin Heon says nothing for a bit, just standing by his words with conviction.
And then:
Jin Heon: Don't meet with other guys. And don't go on any more blind dates.
Comments.
I translated just about the entire conversation at the end because I think it's important to get more or less a verbatim account of what was said. Despite multiple watchings, I really don't know what's going on inside Jin Heon's head.
Jin Heon never says that he likes her. He just says that she is charming. Oh, and he also tells her not to see other men. Is he making her wait for him? It's SO not fair for Sam Soon though. Sam Soon is 30 and in just a few years, she might have a greater chance of being kidnapped by aliens than she does of getting married. How can Jin Heon take responsibility for that? If Jin Heon truly loves her, wouldn't Jin Heon do the k-drama male lead thing and sacrifice his own feelings for what would undoubtedly be the safer path for Sam Soon?
Does Jin Heon love Sam Soon? What do you guys think?
RELATED POSTS
Tags: Daniel Henney, featured, Hyun Bin, Jung Ryeo-won, Kim Sun-ah, My Name Is Kim Sam-soon