Bachelor's Vegetable Store: Episode 1
Another premiere! Bachelor's Vegetable Store, which premiered today on Channel A, is both more than I was expecting, and less.
I was hoping it would be light and heartwarming, which it is. There are some truly aww-inducing sweet relationships, with characters you can imagine yourself falling in love with, with conflicts clearly established for the future. On the other hand, there's also a dramatic thread running through it that veers melo, in a way that works with the story but isn't really my cup of tea.
Basically, it's Bachelor King Tak-gu's Vegetable Bakery. I don't know if it'll get as crazy-makjang as Baker King did, and perhaps it's more like Baker King's sweeter, calmer cousin. Or maybe it'll expand on the hint of Makjang Things To Come and be just like it.
I'm sticking with it for now, because what Episode 1 does accomplish is getting you to care about these characters and make you eager with anticipation to see how they grow up.
SONG OF THE DAY
Healing Me – "별볼일" (Not much) [ Download ]
Audio clip: Adobe Flash Player (version 9 or above) is required to play this audio clip. Download the latest version here. You also need to have JavaScript enabled in your browser.

EPISODE 1 RECAP
2000, Winter. In a crowded marketplace, a cabbage stand owner spies two children sweeping up fallen cabbage leaves and accuses them of stealing. The younger sister is indignant and sassy, but her older brother puts on a smile and charms the man, pointing out that the cabbage they're taking is just going to get thrown out. The stand owner starts to drag off the kids to the police, but stops when confronted by a frazzled grandmother.
Seeing that her troublemaking grandson has been at work, she thwacks him with her cane and bemoans her fate — her daughter dead, no-good son-in-law abandoning their two children, those kids always crying about being hungry. She's so mean to her grandkids that the bystanders murmur in sympathy, and even the cabbage man relents.
And so, the two kids walk away carrying cabbages with a spring in their steps. Ha! Grifter family! Love it.
At home, Granny checks to make sure the boy's not hurt — not likely, since she's sewn a layer of fluffy padding into his pants. The kids' names: oppa HAN TAE-YANG (to be played in adulthood by Ji Chang-wook), sister HAN TAE-IN (to be played by Lee Se-young).
Tae-in is game to try her acting skills at the butcher's tomorrow, but Tae-yang feels guilty for turning Grandma into the bad guy. He says glumly that there's nothing he can do to provide, but Granny tells him that everybody's capable of doing something, if you look for it.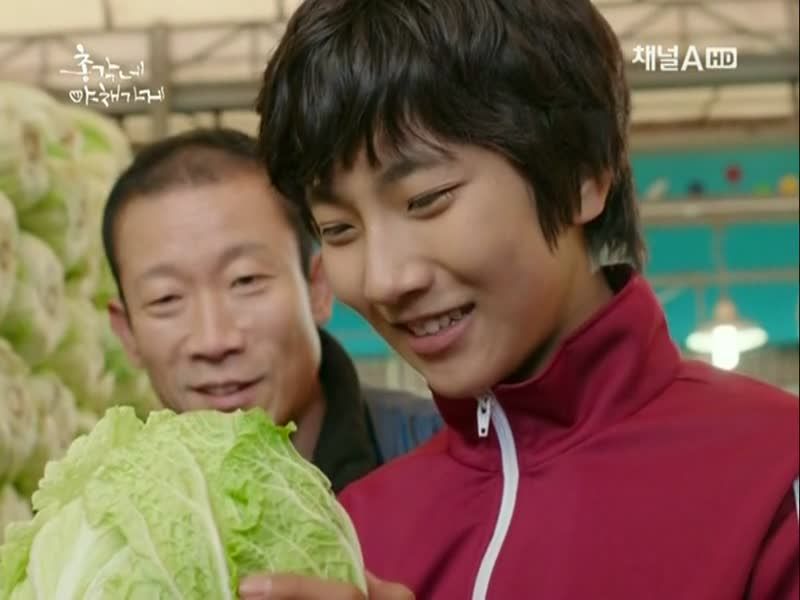 The next morning, Cabbage Man finds Tae-yang at his stand, talking to the vegetables and standing them upright. Tae-yang cheerily explains that he's here to express his thanks, and that the cabbages in the back take longer to sell and therefore wilt; by bringing them out and standing them up, they'll stay fresh longer. Happy cabbages, happy customers.
A dream sequence shows us the wishful thinking of a girl, JIN JIN-SHIM (to be played later by Wang Ji-hye), who falls asleep in church: She imagines having a mother with whom to share picnic lunches and wear matching hairclips. When she wakes, we see that the mother in her dream is actually the mother to another girl, who wears the clip she'd dreamed was hers. They catch Jin-shim staring, and she rushes out of the chapel, embarrassed.
Jin-shim seeks solace in her hideaway, a beat-up old ice cream truck. Tae-yang finds her there and holds out a taste of his new batch of cabbage kimchi, made 'specially for her. Aw, he's adorably bashful; clearly he has a crush on her.
He and Jin-shim read comics in the car while Tae-in sleeps in the back, one small, happy makeshift family.
At school, two teachers argue over who is more deserving of financial aid, Tae-yang or Jin-shim. They mean well, but their words get overheard by a crowd of curious students, who now know that Tae-yang's father ran away and that Jin-shim's a penniless orphan. The kids mock them with that special brand of schoolyard cruelty, sniffing, "If you told us how horribly poor you were, we could've helped, you know. [smirk]"
Some boys mock the two and say they should date, since they'd make the perfect Dirt Poor Couple. They lead the crowd in chants ("Date! Date!") and Jin-shim surprises everyone by stepping right up and planting a kiss on Tae-yang, right then and there. Jaws drop. Ha, crowd effectively shut up.
Tae-yang walks Jin-shim home carrying her schoolbag. Oh, so cute. Jin-shim tells him that she did it because she didn't want to be remembered years later as those needy kids. Now, the kiss will be first thing they think of. Aw, see, this is how you combat pissy people in the world: Make better memories.
Adorably, Tae-yang has to get one last bit of confirmation, though: "Even still — it was because it was me, right? You kissed me because it was me, Han Tae-yang?" She smiles, he smiles, I smile.
Tae-yang goes to sleep thinking he ought to buy Jin-shim some kind of present, to commemorate their big day. When his classmate shows him the pager her oppa-boyfriend got her (when it beeps, she thinks of oppa), it gives him an idea.
Jin-shim lurks outside of a posh girl's dress shop owned by that dream-mother, CHOI KANG-SUN (Hwang Shin-hye). Her daughter, GA-ON, catches Jin-shim loitering and invites her inside for an awkward tea party. Daughter's kind of a brat, but Mom's gentle and warm, and tends to her when Jin-shim cuts her hand on the cup she breaks.
Ga-on explains to Jin-shim that she's a loner 'cause she goes to private school (Jin-shim: "It's not because of your rude mouth?" hee). But this is something of a bonding experience, since Ga-on confirms that Jin-shim is a good student, then takes that as her cue to declare that Jin-shim will henceforth be her homework helper and playmate.
Ga-on invites Jin-shim home to play, and this time she's friendly. Mom Kang-sun approves.
In the ensuing days, Tae-yang busily joins the ajusshis in the field harvesting vegetables to earn beeper-buying money. He wheedles his budding-actress sister into singing, attracting a crowd, then declares that Tae-in's singing pipes come from his wondrous parsley.
Tae-yang constructs an entertaining story about the properties of the plant, charming the listeners. They don't necessarily believe him but find him adorable. As do we all.
With the proceeds, they ponder taking the next step up the business ladder: raising chicks. Brother and sister giddily count their chickens before the eggs they will hypothetically lay have hatched, dreaming of egg-farm riches. When they've sold more vegetables, they can start the chick phase.
Their earning power attracts the attention of a bully, however, who blackens Tae-yang's eye and makes off with his cash. We can see the siblings' differing personalities in their responses to the incident: Tae-in says he was going to get robbed either way, so don't bother with the getting hit part. Tae-yang argues that being cowardly is worse. Grandma says worse than losing a fight is running away in fear. Tae-in retorts, "Winning is still best!" Ha, I don't think anyone's arguing with that point, honey.
Tae-yang continues working in the field, and the same bully comes by to steal his harvest, leading to a chase through the streets. Running fast and pumped up with fury, Tae-yang throws his shovel and almost hits Kang-sun and Ga-on, who do not accept his apology graciously.
Jin-shim is worried that Mom may turn against her for being friendly with Tae-yang, so when Ga-on invites her along, she's quick to ditch Tae-yang to join them, relieved to still be in their good graces.
She finds him at the ice cream truck later, though, and tends to his roughened hands with lotion. She apologizes, and he lets it go easily. The girls have gotten close by now, calling each other best friends and writing a diary of secrets to each other.
The same bully reappears days later to swipe more of Tae-yang's cash, only this time they're interrupted by neighborhood ajummas who quickly size up the situation, ready to come to Tae-yang's aid. But one ajumma's daughter recognizes the bully — Bin — and he immediately bows his head self-consciously. So Tae-yang lies and assures them that Bin wasn't stealing from him, he was just scolding him as a hyung.
Bin roughly drags Tae-yang down the street, knocks on a door, and hands over the tub of parsley to the woman who answers. He adds gruffly that the lady — a restaurant owner, looks like — should get her parsley from Tae-yang from now on, and walks off before his pride shrivels too much in the face of having done a kindness.
Bin mutters a thank-you for covering for him, and Tae-yang explains that he understands how he felt. There's this girl he likes, see, and he wouldn't be able to stand looking bad in front of her. But, he adds, hyung had better grow up into a really cool guy, "Otherwise I'll be too sorry for that noona who believes in you." Oh, he is too cute. Bin fidgets and twitches, before accepting that with a smile.
At Kang-sun's store, her ajumma friend reads a magazine and comments on the chaebol divorce in the news. Kang-sun grabs the article to read that a chaebol, MOK IN-BUM (Jeon No-min) is divorcing his wife after being unable to have children. Kang-sun's strong reaction tells us this is important news, and a flashback shows us that they were once together — until he, the executive director of Mok Young Group, announced his engagement to another chaebol.
Mok In-bum had been willing to give up his position to be with Kang-sun and their daughter, Ga-on (born with a telltale star-shaped birthmark on her wrist), but she'd resisted. Instead, she argued to take their daughter, live in quiet and raise her properly as befits her status. Then they could reunite as a family later, presumably once Dad grew some balls and could stand up to his chaebol family without being disinherited. Because without his fortune, it's not worth it, apparently. I'm pretty sure we can hate her right off the bat.
So when Kang-sun calls In-bum that night, he's expecting her and asks to see his daughter. With the divorce, presumably the three can be together now and Kang-sun and Ga-on can come out of hiding. Does this make sense? Not totally, but since it's a crucial point, we must go with it. (I'm assuming that the parents feel that his chaebol family will be more willing to accept the secret not-wife and child now that Dad's put on his big boy britches. Whatever.)
This explains Mom's insistence on Ga-on's endless lessons — violin, ballet, horseback riding — and now she ups the intensity, wanting to polish her up as much as possible. Kang-sun tells her the time has come to meet her father.
Tae-yang finally earns enough to buy the pager and rushes to the ice cream truck to find Jin-shim, only she's with Ga-on, to his disappointment. With Jin-shim becoming closer and closer to her new friend, he feels his place next to her shrinking, and it makes him cranky.
Ga-on joins them in their streetside vegetable-selling endeavors, playing the violin while Tae-in sings. Kang-sun happens by and blows up, accusing her daughter of making herself a spectacle. Ga-on doesn't understand Mom's hypersensitivity and accuses her of wanting to ingratiate herself to the man who left her, earning her a slap.
When Jin-shim drops off Ga-on's violin later and apologizes, she's shocked to hear Kang-sun no longer intends to let the girls associate. Ga-on was born with "very special" blood from a very special background, and was fed, given, and dressed in the very best since birth. Jin-shim isn't fit to be her friend.
Jin-shim is hurt and baffled — but Mom was so good to her. Kang-sun replies coldly, "There is no need for me to be a good person to you. I just need to be a good mother to Ga-on." Jin-shim replies that she's right, "But I don't think someone who can't be a good person can be a good mother."
Sadly, Granny starts feeling ill, though she hides it from the children. Tae-yang goes to the doctor who wrote Granny's prescriptions to ask what's wrong with her, and the kids come home in tears. Tae-yang takes out his fear on Grandma, asking accusingly how she could keep it a secret. How could she die on them, and before their father has a chance to come back to them?
Granny tells them she was looking for somebody to take care of them before telling them, to keep them from the orphanage. She cries that she couldn't die in peace if the kids were separated — "How would I be able to face your mother on the other side?" She entreats them to stay together, no matter what.
Tae-yang comes to the truck and cries, telling Jin-shim — who's crying in the front seat — not to look at him. So they sit there, sobbing to themselves over the families they've lost.
Once they've had their cry, they sit together and talk out their situations. Apparently the orphanage where Jin-shim lives can't take Tae-yang and Tae-in, being full as they are. He vows not to split from Tae-in, or to leave this neighborhood: "Because you're here." Finding their optimism again, they urge each other not to lose hope.
Ga-on wonders why Jin-shim is avoiding her now; Jin-shim has heeded Angry Mom's words and now pretends she's weary of being friends. To get the point across, she throws insults at her, telling her to hang out with her mother instead.
At least Ga-on is sharp enough to suspect more to the story, and she accuses Mom of interfering with her only friend.
Tae-yang, Tae-in, and Jin-shim do some research into prospective adopters, asking them to take them in. Oy, they're so cheerful about it and yet it's heartbreaking, to hear little Tae-in piping up about how useful they'll be.
The first couple they approach is open to the idea of taking Tae-in, but that doesn't work for their needs, and the three children deflate.
Tae-yang drags his sister out although she resists. The older kids are of the mentality that she's too little to understand the situation, but hilariously, Tae-in bursts out that people need to have a few tricks up their sleeves, geez! Since the couple liked her, she was strategizing of ways to wriggle her way into their affections and then convince them to take oppa, too. Haha. And awww. Frustrated, she accuses oppa of ruining everything and sighs that she'll have to take their fates into her own hands, like a little grown-up.
The next time he heads to the truck, Tae-yang's annoyed to find Ga-on there instead of Jin-shim. She's anxiously waiting for her friend and asks him to pass along their shared diary, emphasizing that it has to be before tomorrow.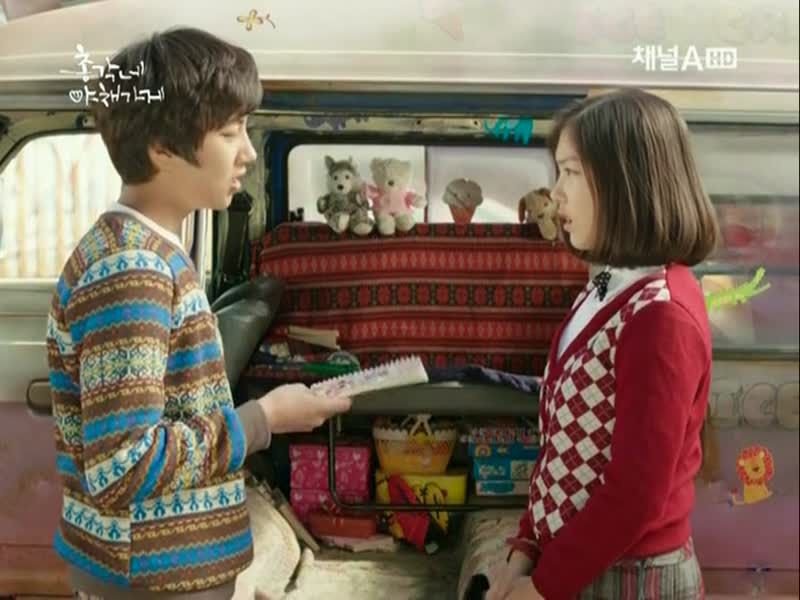 She doesn't much care if he takes a look since he won't understand it. The reason becomes clear when he opens the book, dying of curiosity — they've written in a sort of nonsense code. (Actually, it's just written in backwards syllables, but at first glance it's nonsense. This like ten writ tence sent a like.)
Thus when he finds Tae-in giggling over the diary, he first scolds her for reading it… then asks, "Can you read what it says?" Haha.
Armed with the code, Tae-yang reads through the diary, which includes little mundane stories but has an entry where Jin-shim talks about him and describes him as "Mom, Dad, heart, home." I love his tortured response to this — she thinks so highly of him, yet here he is, stealing a glance at her diary.
Apologizing to Jin-shim and promising to stop after this last look, he reads Ga-on's last message. Then he races to find Jin-shim at school, full of anxiousness and fear, insisting, "Don't go anywhere." He doesn't hand over the book.
In Ga-on's note, she tells Jin-shim that she's going away, but that she wants to ask her father to let Jin-shim live with her, "Because I want to make a family for you too. Since you're my precious friend. If you have faith in my feelings, I'll wait for you after school at the car. I'll wait."
Struggling with himself, Tae-yang rips out the last page. He eyes the clock anxiously that night, worrying that Ga-on is still waiting, telling himself she can't be.
She is, and the car is accosted by teenage hoodlums with fireworks. They leer menacingly, taking enjoyment in her reaction, prompting her to run away. The boys chase her to an old shut-down carnival, where Ga-on climbs into an operating booth and hides.
The boys spot her, and in her fear she bolts again, this time climbing up the roller coaster. The boys laugh and chase her up the side railing, and she backs up fearfully, crying… and falls.
Worried that her daughter hasn't come home, Kang-sun calls Jin-shim looking for her, and they head out to search for her. Running into Tae-yang, they ask if he's seen her, and he mumbles, "Is she still waiting?"
He hands over the diary page, admitting that he was afraid Jin-shim would read the note and follow Ga-on away. They head to the car, finding it empty, and hysterical Kang-sun blames the children for the disappearance, just as they find the doll Ga-on dropped.

COMMENTS
I loved the first half of this episode, which put a smile on my face and warmed my heart. The kids are adorable, their interactions so sweet and true to life as a young adolescent, and the tone so chipper — these were kids facing some pretty downtrodden lives, but always ready to perk up at the end of the day and take a positive outlook. They didn't have much, but they had each other, and that was enough to make them feel secure and safe.
And then the second half came along and slapped a bunch of chaebols and gold diggers and secret babies on us, and I was about ready to shake somebody for turning a cute story into a makjang melodrama, with the evil lady with the evil eyes stirring up all sorts of trouble. I don't think it's much of a spoiler to say that Jin-shim is persuaded to assume Ga-on's identity and grows up as a chaebol's daughter, with only our core group of characters knowing otherwise. URG. I mean, I get it: She wants a mother, and Mom wants money. It works. But still: Blerg blerg blerg!
What makes me groan about this setup is that it's not even about our bachelor hero, so what is the point? Isn't the draw of Bachelor's Vegetable Store… the bachelor's vegetable store? And the motley crew of bachelors in the Six Pack who come together to run it as a team and turn a tiny shop into a nationwide franchise? Isn't it a success story about our resourceful, industrious hero? Why, drama, why?
We have Baker King and Man of Honor and East of Eden and The Duo and Cinderella Man and a whole host of dramas covering the chaebol-switched-babies premise. Et tu? I mean, I highly doubt Coffee Prince or Flower Boy Ramyun Shop would've been all that much more compelling if one of the characters was a secret orphan or a secret chaebol.
BLERG.
So I'm of two minds about this show. I'm still in it because we have yet to see the adult cast, and as much as I enjoy the child actors, I'm eager to get to the grown-up story. I want to see how Tak-gu — er, Tae-yang — gets started in his business, and how he assembles his crew. We've seen his affinity for vegetables already — though, thankfully, he's not some vegetable genius or anything — so how does he make the leap into business owner?
Tomorrow, I think, will be the deciding factor.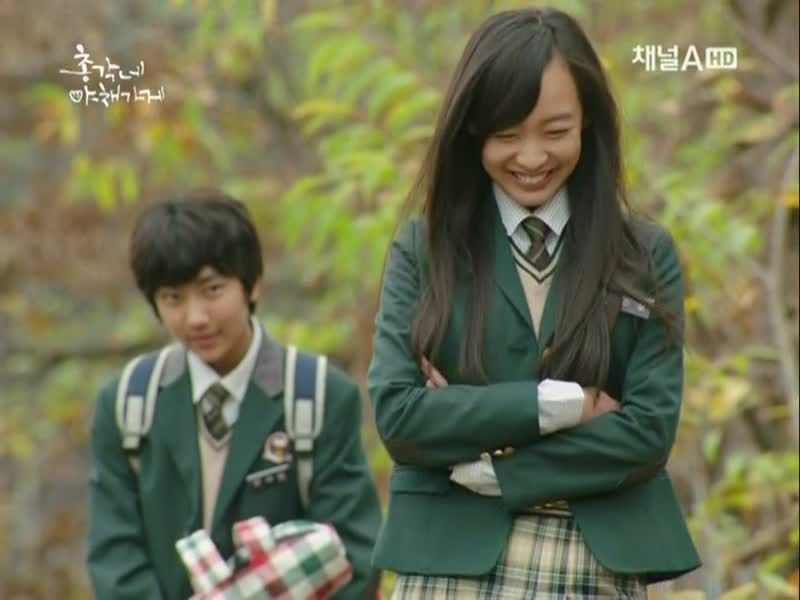 RELATED POSTS
Tags: Bachelor's Vegetable Store, featured, first episodes, Ji Chang-wook