Me Too, Flower: Episode 9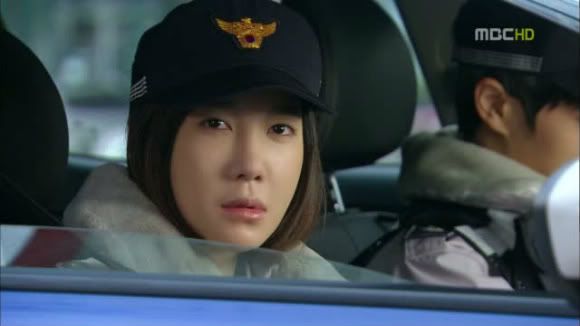 The dramatic reveal has finally taken place and I welcome the shift in power dynamics between the characters. The cute has virtually dissipated and we get way too much of the big bad Hwa Young, which makes this episode the least engaging so far. The cat fights dial up in intensity and Dal is pulled, but not totally sucked into, the dark side.
SONG OF THE DAY
Me Too Flower OST – "눈물이 많아서" (So many tears) by Suzy [ Download ]
Audio clip: Adobe Flash Player (version 9 or above) is required to play this audio clip. Download the latest version here. You also need to have JavaScript enabled in your browser.
Jae Hee finds Hwa Young in the room where the launching party will take place and he asks her how she feels about tomorrow. She replies that she has a good feeling, which counters her intial disapproval towards Jae Hee designing bags.
He asks her why she invested her time and money to help him in his business venture, and she tells him that he would have kept trying to pursue his dreams without her help anyways. His strongest and weakest asset is his stubbornness.
He smiles and asks if she gave an invitation to Bong Sun and she nods. Doesn't he want the person he loves to see his art? He responds that he plans to inform Bong Sun about his work when the time is right. Hwa Young's eyes shift around to indicate that she has other plans.
The next morning, staff members scurry around to finish party preparations as Bong Sun dolls herself up. Jae Hee takes a moment between parking cars to call Mr. Bae, who insists on skipping the party. As they hang up, Bong Sun walks up to Jae Hee and his eyes widen. Hee. He compliments her prettiness and she shyly replies that she hasn't worn a skirt in a long time.
Young Hee bounds up to Bong Sun when she enters the building and grabs her into a hug. Bong Sun shakes her off, saying that defended her from the crazy customer as out of etiquette. They're still not friends. It wouldn't be Bong Sun without her porous wall of denial.
Young Hee tells Bong Sun to sign the guest list and gives her a gift bag. She advises Bong Sun to mingle with the other guests and elegantly drink champagne instead of scarfing down food. She scans Bong Sun's outfit and gives an approving nod; she should dress like this more often. Bong Sun starts to head inside but Young Hee yanks her back. What relationship does she have with that parking attendant?
Bong Sun sarcastically replies that they went to Hong Kong together and Young Hee gasps. She can't settle for just any man, no matter how desperate she is! Bong Sun pushes her away and Young Hee muses that her friend's life is such a tragedy. Lol. I can't wait to see how green she turns when Jae Hee's identity is revealed.
Bong Sun snacks on a cracker as she scans the room and pauses when she sees Mr. Bae's picture on one of the posters. Her unexplainable nervousness ticks up a notch when she spots Hwa Young speaking English with another guest. The two women lock eyes and Bong Sun quickly turns away. Oh, the tension.
Jae Hee slips into the security room and watches the party scene as the diamond bag is presented. A willowy model daintily holds the bag in her glass box. Bong Sun stares at the model more than the bag, sensing some odd familiarity. The model turns and Bong Sun gapes at the sight of a blinged-out Dal.
Bong Sun approaches Dal and comments that she's impressed. Dal is actually doing something other than complaining. She calls her a professional and allows Dal to use the foot bath when she gets home…for ten dollars.
Bong Sun downs a glass of wine as Hwa Young sidles up to her and says that drinking less than two glasses is proper etiquette at these types of events. Bong Sun sarcastically apologizes, and when Hwa Young asks what she thinks about the party, Bong Sun replies that it's distasteful.
She calls Hwa Young out for being hypocritical and brazen; she's far from the cool woman that first impressed Bong Sun. Hwa Young coldly advises that Bong Sun go back to her seat as she hands Bong Sun the wrapper from her half eaten cookie. Unfortunately, Bong Sun's too drunk to reject the wrapper/smack Hwa Young over the head with her police baton.
Bong Sun decides to head out but the lights dim and Hwa Young announces that she has someone she would like to introduce to everyone. Oh crap crap crap. She informs the audience that this person is a longtime friend and business partner who has been vital to the company's success. Jae Hee snaps to attention and he stares at Hwa Young's picture on the security screen. Uh. DO SOMETHING?!
Bong Sun starts to move towards the exit but a nosy journalist cuts her off. She asks for some inside gossip because she seems to know a lot about the "noise marketing" incident. Bong Sun replies that she's a police officer who was involved in the situation but that she's not going to reveal anything.
She tries to walks away but freezes in her tracks when Hwa Young finally drops the bomb that Seo Jae Hee is her co-founder. Dal and Bong Sun stare at the overhead pictures of Jae Hee working at the factory. Jae Hee, who's still in the security room, directs his attention towards Bong Sun. She stands shell shocked and struggles with overwhelming feelings of hurt.
Jae Hee bursts into the launching party and security guards hold him back, claiming that he needs an invitation. Uh, are they blind? Doesn't this guy look exactly like the person on the screen? In any case, he struggles with them until Hwa Young notices him. She states that her partner has unexpectedly arrived and flashes Jae Hee a challenging "whatcha gonna do" look as people crowd around him. Someone punch her face please.
He stalks out in search of a missing Bong Sun but later returns to the party room after the guests have left. Hwa Young commands the remaining staff to leave and then turns her attention to the fuming man-child in front of her.
She explains that she simply needed him to come out of his secret world. If she didn't do anything now, he would have never revealed himself on his own. He inquires whether she thinks he's a tool that she can use to obtain any level of success and chucks a wine bottle at the glass case the bag was in.
Just then, Dr. Park calls Hwa Young and she shakily answers. She pleads for him to come in quickly and he enters the room to find Jae Hee raging at Hwa Young. He calls her stunt cheap and yells that she should have informed him first. She can't jerk him around without a good reason. With that, he storms out.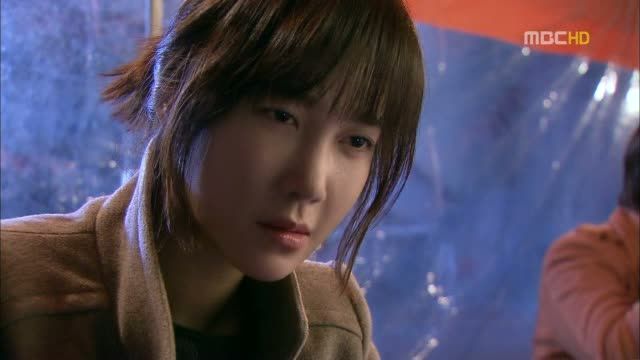 He heads to Bong Sun's house but rings the doorbell in vain. She 's currently downing shot after shot of soju in a street stall. She recalls Jae Hee's curious assertion that he could be a designer at the ramyun restaurant and scoffs at the irony. She begins to laugh when she remembers his speech about believing in him, which causes the street stall owner to stare at her in disbelief.
Bong Sun tells the ahjumma that her boyfriend isn't dirt-poor after all. He's actually a rich scumbag who owns a successful company. She muses that she must have saved the country in her past life. Isn't she lucky? She tells the other customers that she'll pay for their food and drinks.
Hwa Young paces her office and Dr. Park tells her that she was in the wrong. She should have continued to coax Jae Hee into revealing himself rather than throwing him into a pit of paparazzi. He tells her that Jae Hee has a social phobia that keeps him from interacting with the rest of society. Jae Hee, despite his tough outer shell, fears the outside world and its people because he grew up in harsh conditions as an orphan. The car accident added to his distrust in others and himself.
This new information rattles Hwa Young, who expresses her disbelief. The Jae Hee she knows is afraid of nothing. Dr. Park replies that she probably only saw what she wanted to see. He presses her be careful around Jae Hee. It seems that she has feelings for him.
He reminds her that she needs to respect Jae Hee and his personal decisions above anything else. They're both adults, right?
Jae Hee waits outside Bong Sun's house for hours, but eventually leaves. Bong Sun trudges home with Dal close behind her, who finds a note on the ground. She finds Bong Sun hunched over the porcelain throne and she reluctantly drags Bong Sun to her room. She throws the note at Bong Sun after reading it out loud. "I'll explain everything. Turn on your phone. See you tomorrow. From J."
"J" sits in his room at the factory and drinks as Mr. Bae shakes his head at Hwa Young's surprise event. She enters the room and takes a shotglass. She extends it towards Jae Hee but he pours another glass for himself. Hint hint….
He tells her that she can use him; after all, he used her money. She bristles at that comment and responds that she invested in his company because she believed in his talents. He fires back that then she should have continued to trust in him and waited for him to make a final decision. She cries that he never would have done anything on his own will.
He shoots her a glare and she immediately relents. She apologizes, saying that she didn't realize that this would catch him so off-guard. Liar liar pants on fire. He coldly laughs and replies that he's been through worse. He learned from a young age how greedy and disgusting people get when money is thrown around. After all, his own family divvied up his father's company and assets without any regard for Jae Hee's future.
Being betrayed is nothing new. He's more disappointed that Hwa Young is the one who pulled this selfish act. He trusted her.
Later that night, Hwa Young  embraces Ah In and starts to share a story. When she was younger, Ah In's grandfather had bought her pretty dress made of silk and lace. She wore it only once for fear that she would ruin it and just admired it from afar. But one day, her younger cousin came over and took the dress away.
Apparently, her parents thought she didn't like the dress because she never wore it. She confesses that she cried for days because she wanted it back, and Ah In asks why she didn't reclaim it. She tells him that her cousin had already worn the dress multiple times and it suited her. Ah In exclaims that this is a sad story.
She agrees. Her parents didn't know how much she treasured the dress. Even if she couldn't wear it, she didn't want it to be taken away. She still doesn't want "it" to be taken away.
Jae Hee shows up at Bong Sun's doorstep and ends up getting smacked around. He follows her as she walks towards the bus stop and even drives his bike next to the bus. At the police station, she tells him that she'll shoot him the next time he shows his face to her. Lol.
The other store employees gossip about Jae Hee and fawn over how rich he is. Young Hee tells them to back off; he already has his Cinderella. The girls scram and Young Hee laments that she shouldn't have prejudged him. Keke. Everything is always obvious in hindsight.
Jae Hee's parking attendant colleagues alternate between calling Jae Hee "that bastard" and "that person" as they read the news. Their boss declares that Jae Hee is in for a beating when he arrives for making him look like a total fool. Only, when Jae Hee does arrive, the boss adds honorifics and quickly hands over the heater when Jae Hee claims that he's cold. Puhaha. This reversal of power is going to be delightful to watch.
Hwa Young meets Dal and presents her with a deal. If Dal breaks up Jae Hee's relationship with his new girlfriend, Hwa Young will provide Dal with every material good she wants (minus Jae Hee). Dal asks why Hwa Young needs her help, to which Hwa Young says that Dal wields a special weapon. She doesn't inform Dal what the weapon is but mentally gloats that Dal and Bong Sun are sisters. Meh. I really dislike where this is going.
Dal again questions what benefit Hwa Young will receive if she breaks the couple apart and Hwa Young tells Dal to curb her curiosity. She doesn't get the luxury of interrogation. Hwa Young briefly states that Jae Hee's girlfriend isn't good enough for him. Their relationship will hurt the company, which is something Hwa Young has to fix.
Dal rejects Hwa Young's offer and offers a piece of advice: understand a person before trying to control them. She's not easily controllable and she has a fierce sense of pride. Hwa Young throws a car key onto the table and tells Dal that this is just the beginning. She can become Cinderella in an instant. The last tidbit makes Dal hesitate and she finds herself staring at the bribe car.
Jae Hee meets up with Dr. Park who asks if he knows what ophidiophobia is. It's the fear of snakes and Dr. Park lets him in on the secret to overcoming the phobia: keep touching the snakes. Afterwards, he throws an autographed baseball at Jae Hee and explains that the famous baseball player had a philosophy for playing the game: "hit the ball in order to overcome the fear of it."
A baseball that is pitched at 100 kilometers a minute is frightening. It can cause a lot of physical pain if it's thrown incorrectly and hits someone. The only way to deflect the ball is to hit it; only then can you can run to first base. With practice, an amateur player can become a homerun hitter.
Dr. Park tells Jae Hee that he can hit homeruns soon if he practices. Jae Hee rolls his eyes at Dr. Park's analogies and asks for the main point. Dr. Park suggests that he accept the consequences of Hwa Young's mistakes. He can make the most of this situation. Jae Hee brushes his concern off and throws the ball at Dr. Park.
Dr. Park dodges the ball and it ends up shattering a flower vase. As they clean up the ceramic pieces, Dr. Park asks if Jae Hee has a girlfriend. Jae Hee gives a small smile and admits that he does, but they're still in the early stages of the dating game.
Maru and Bong Sun arrive at the police station and Jae Hee yanks open the passenger door. He demands that she get out of the car as she turns towards Maru to grab his gun. He refuses to give it to her and Jae Hee states that a police officer shouldn't go around shooting her lover because of a fight. Yo, not the best time to be a smart-ass.
She stomps into the police office and grabs her colleague's gun. The men try to stop her and Jae Hee steps in to point the gun at his head. He tells her that she can kill him. He doesn't want to abandon her and die, but she can do it if she really desires.
The chief comes in and scold Bong Sun for acting so rashly with a gun, and I find myself agreeing with the crotchety, bland man. He's not so useless after all. Jae Hee grabs Bong Sun's hand and makes her kneel with him in front of the chief. He declares that he made a mistake that is only punishable by death.
And that, my friends, is the end of a very lackluster episode.
Comments:
Grah. This episode just dragged on and on and I found myself unable to watch it in one sitting. It was just so boring. There were some fun bits, like when the prideful parking boss groveled at Jae Hee's feet. I'm also liking Young Hee because her shallowness is amusing. I snapped to attention when Jae Hee's identity (after close to 30 minutes of dillydallying) was revealed and I credit the actors for displaying a complex mixture of confusion, shock, and betrayal.
But nothing really happened after the party. Bong Sun's mad, Jae Hee's mad, Hwa Young's upset that Jae Hee's mad, and Dr. Park just watches the three run around in a circle. We're barely past the middle of the drama and I'm already sick of Hwa Young's sneaky manipulations. I understand that she doesn't want to give Jae Hee up, but her explanation for her actions is absurd. It's like she's proud of the fact that her maturity level is the same as a five-year-old.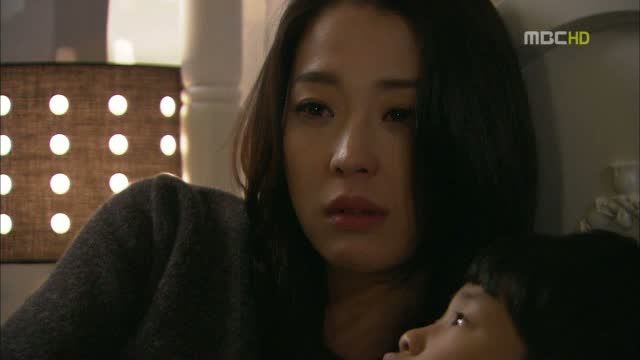 She compares Jae Hee to the silk dress she got as a child. Pft. Okay. Maybe she thinks that she owns him because she invested money in his company but he's not some soulless toy. Jae Hee was never hers to begin with. Thus, nobody's stealing anything. Also, she's stuck in the same selfish mindset from when she was a child: I'm going to raise hell until I get what I can't have. Ugh. I can't even imagine how bratty she was as a kid.
I love to hate Hwa Young and her bitchiness gets me hopping mad, but Bong Sun is also a professional self-esteem slayer. It's refreshing to move past the fake politeness and see the two go at it. Add Dal to the mix and you get a trio of pretty-looking vicious cats.
The last scenes didn't particularly move me in any way possible because they were overly dramatic. A mistake punishable by death? Please. That makes him sound so egotistical. Instead of making loud declarations to the police chief (who doesn't even give a damn about them), he needs to:
A. Stop man-handling her. She's not a rag doll.
B. Give her time to cool down.
C. Coax her into having a conversation with him, instead of using brute force, which does the opposite of calming her rattled nerves.
I highly doubt Jae Hee would have pointed the gun at his forehead if he thought Bong Sun would actually shoot it. He's constantly jerking her around (both literally and figuratively) and I want her to become strong enough to hold her own ground against him. She and Jae Hee bicker, but he always seems to have the upper hand. Now, he has to beg for her forgiveness and she better not give in to those puppy eyes right away.
An interesting characteristic of this drama is Bong Sun's refusal to become "Cinderella." Her fierce independence makes her coolly different from Dal. Dal, Young Hee, and the other store girls all want some chaebol to whisk them away into a slick modern castle full of the finest luxury goods.
Conversely, Bong Sun prides herself in her career and the ability to fend for herself. She values abstract ideas like justice more than expensive bags and perfume, which is why she suddenly feels alienated from Jae Hee. He's not the person she thought he was; now he's a stranger who lives in a world of fashion, wealth, and appearance.
I'm still irked that Jae Hee didn't tell Bong Sun but whatever. At least one of the big secret is out in the open. I sincerely hope that Jae Hee follows Dr. Park's advice and face his fears head-on. He needs to actually DO something before telling others to trust in him. Hwa Young's stunt was 99.9% for her own benefit but it's also high time for Jae Hee to take some responsibility for his company and for Bong Sun.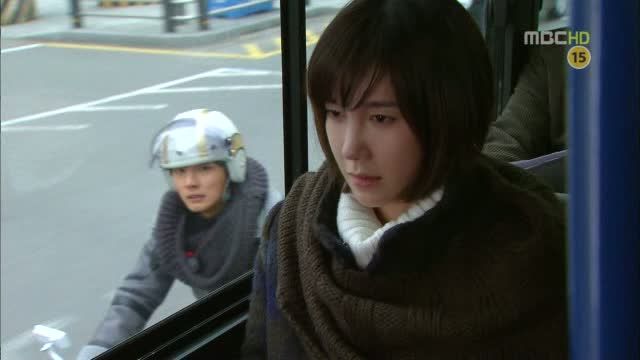 RELATED POSTS
Tags: featured, Han Go-eun, Lee Jia, Me Too Flower, Seo Hyo-rim, Yoon Shi-yoon