Saturday Night Live Korea premieres tomorrow with host Kim Joo-hyuk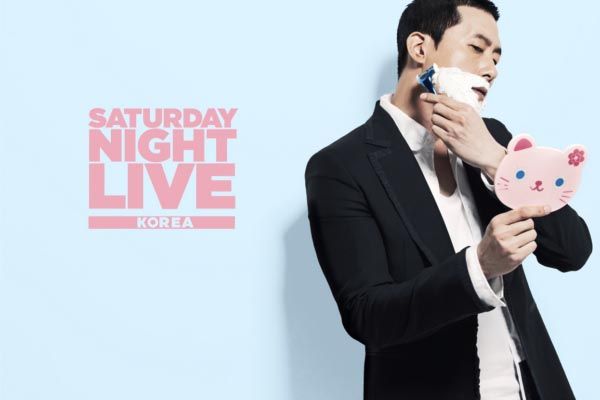 Cable channel tvN was one of the first cable channels to really step up its original drama programming to compete with the Big 3 broadcasters, and now it's bringing the live sketch comedy format to Korea with Saturday Night Live Korea. Hosting the inaugural program tomorrow night (December 3) will be actor Kim Joo-hyuk (Fighting Spirit, Bang-ja Chronicles), featured in these promo stills, along with hip-hop artists Dynamic Duo as the musical guests.
It's not a mere rip-off of the concept, but an actual extension of the SNL brand. I'm anticipating that it'll be quite similar to the long-running American fixture, with its fixed cast, live broadcast, and format — celebrity host, opening monologue, sketches, and musical performers. Even the styling of the celebrity guest promos here closely resembles the stills in the American show.
Not gonna lie, I'm actually pretty excited about this. SNL has always been an uneven show, but it holds a special place in my heart. (For how many drunk/bored/insomniac college students does the show stir memories?) Granted, I haven't seen the show in ages now, and even when I did it seemed like you always had to qualify the episode as, "Well, it used to be much better…" but there was usually one sketch that made it worth it. Like Canteen Boy, or Debbie Downer, or Alec Baldwin's Scwheddy Balls, or Dick in a Box. And Weekend Update was always the highlight no matter the anchor, although Tina Fey will always be my favorite.
Granted, this show may be a monumental flop. Does the Korean sense of humor translate to the American-style sarcasm and satire? Will the monologues actually be witty? Will people break character and crack up, Jimmy Fallon style? Or will they be rock solid as in the days of Chevy Chase? Who knows? It's a big question mark, and that makes me excited.
The SNLK crew boasts 16 members, some of them relative newbies and others being much more recognizable to frequent drama-watchers, like:
Jang Young-nam, the fabulous actress with equal command of comedy and drama (Hello Ghost, Vampire Prosecutor, Man of Honor) who will always be, in my mind, Crazy Wife from Dal Ja's Spring;
Jung Woong-in, who was off-the-wall wacky as the persistent ex-fiance in Coffee House (also of Ojakkyo Brothers and Last Scandal of My Life;
and Lee Han-wi, from dozens of dramas and movies, among them the neurotic _ in Beethoven Virus, neighborhood ajusshi in Coffee Prince, and the plastic surgeon of 200 Pound Beauty (also: Baker King Kim Tak-gu, Chuno, Athena).
The show's director is movie director Jang Jin of films Good Morning President and Public Enemy Returns. SNL Korea will air on Saturday nights on tvN at 11pm.
In order of the photos below, the SNL crew comprises:
Lee Han-wi,
Kim Won-hae (Sunny),
Jung Woong-in,
Jang Young-nam,
Lee Hae-young (Rude Miss Young-ae),
Lee Chul-min (Mr. Idol, On Air),
Lee Sang-hoon (Tree With Deep Roots, I Love You),
and Park Joon-seo (Strongest Chil Woo, theater production of Return To Hamlet).
And below:
Kim Ji-young (Good Morning President),
Kim Ji-kyung (Sunny),
MC/host Kim Bin-woo (Mom Is Pretty Too),
gag comedienne and host Ahn Young-mi (Comedy Big League, Infinity Girls),
Min Seo-hyun (On Air, Music Bank),
Han Seo-jin (Dream High, Queen of Reversals),
Go Kyung-pyo (Jungle Fish 2),
and Kim Seul-gi (theater production of Return To Hamlet).

Musical guests Dynamic Duo: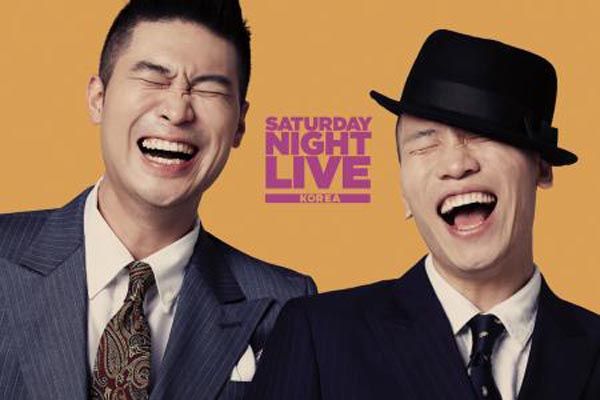 And host Kim Joo-hyuk: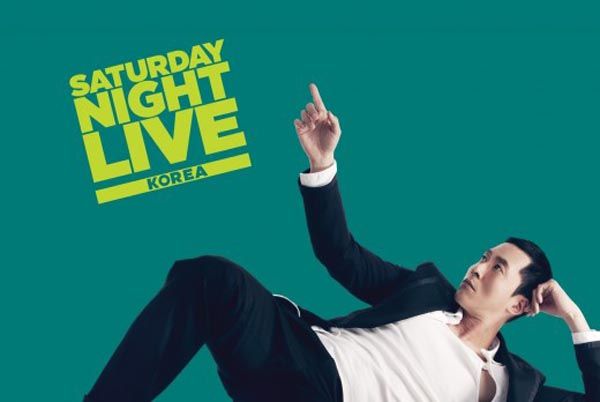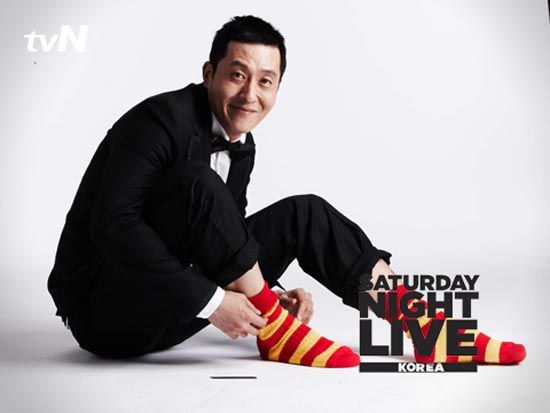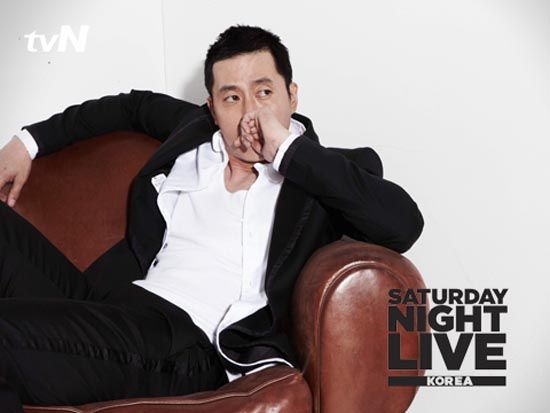 Via Sports Chosun
RELATED POSTS
Tags: cable programs, Jang Jin, Kim Joo-hyuk