So Ji-sub and Shin Mina as a jet-setting couple
Here's a new series of shots for an ad campaign for Giordano starring Shin Mina (My Girlfriend Is a Gumiho) and So Ji-sub (Only You), looking every bit the celebrity couple making a secret weekend getaway. Apparently they looked so real that netizens flipped out thinking they were really dating (and probably exploded a few heads), but COME ON… Who's looking at these pictures going, What great picture quality from an iPhone?
The concept of fashion-photographer-as-paparazzi isn't anything new, but I like this execution because the actors sell it with the stare-down. I guess the pompadour fad isn't going back to the grave anytime soon, but I have to say, So Ji-sub makes it look casual and undone, if such a thing is possible with that much mousse.
I love these pictures. Or maybe I just want to BE in these pictures, looking like I woke up late for my transcontinental flight because my gorgeous boyfriend had to put two cans of mousse in his hair, but I still just happen to look this way. *flips hair*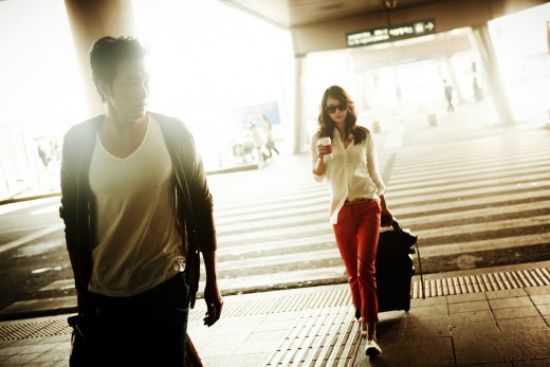 Via Sports Khan
RELATED POSTS
Tags: photo shoots, Shin Mina, So Ji-sub