Running Man: Episode 103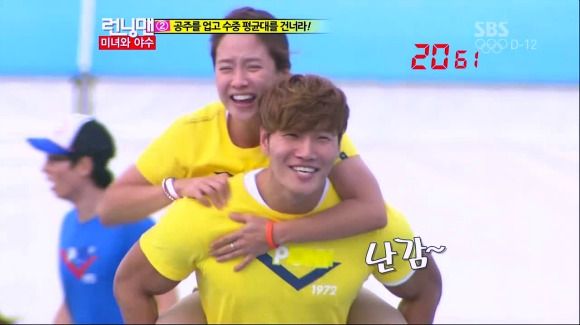 This week it's Beauty and the Beast on Running Man and it is not your happy Disney fairytale. Wait a second, are you sure there's only ONE Beast? 'Cause I think Spartakooks easily falls under that category.
EPISODE 103. Broadcast on July 15, 2012.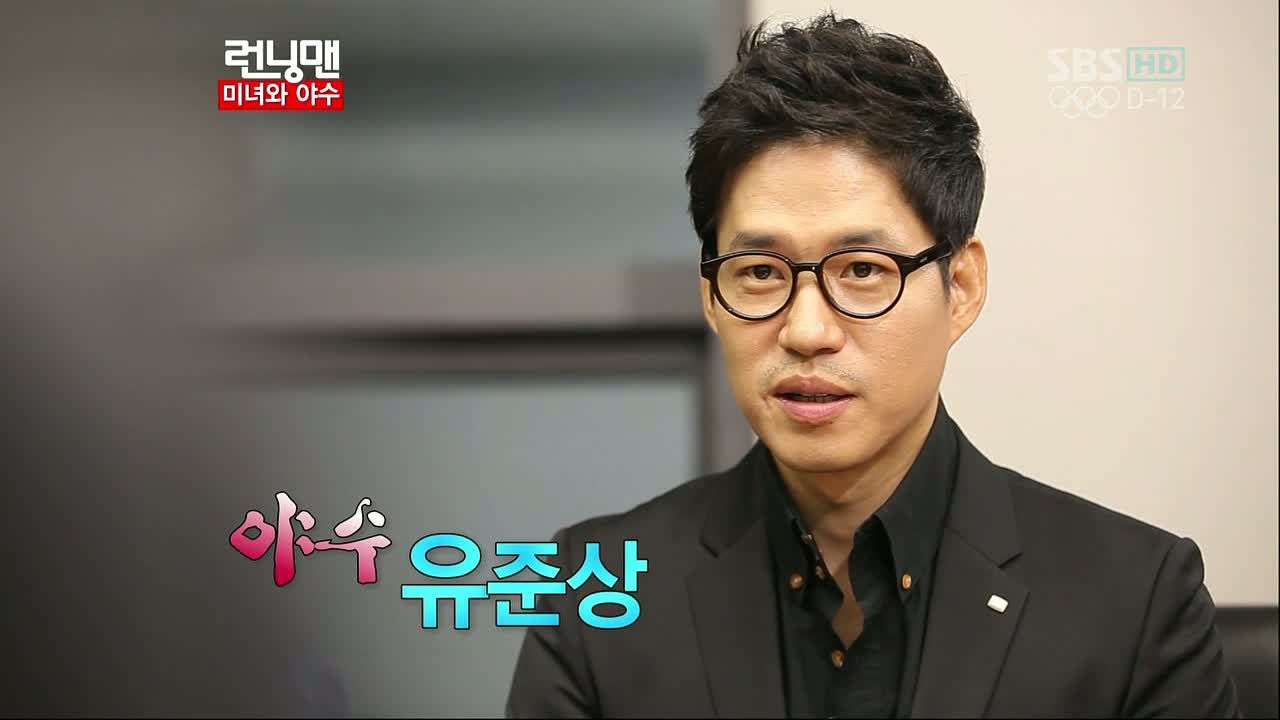 Right away we're introduced to the Beast: musical and film actor Yoo Joon-sang (You Who Rolled in Unexpectedly, Moss) who oh-so-awesomely takes off his jacket so the staff can attach his name tag. I personally haven't seen him in anything prior but be still, my heart.
He'll be behind the scenes for now, so we'll check in on him later.
Elsewhere, our cast gathers by the Han River and we're off with a bang because Mr. PD introduces today's mission as a "Princess Race." We pan up to a sea of parasols where our princesses (including Ji-hyo) await their princes to collect them.
Lest you think the parasols are empty, they're filled with staff members, like Haha's stylist ("Do your job!"). Haha and Gary take a peek under one umbrella… and then move on, pretending that they didn't see our first guest, Noh Sa-yeon.
Then our Reason Brothers (Lee + Yoo = Ee-yoo = Reason) hit the jackpot: returning guest, Shin Se-kyung. All the boys start scrambling for her to join their team (thank goodness Jong-kook drags Suk-jin away) and after thinking a good long minute, she chooses… Gary and Haha.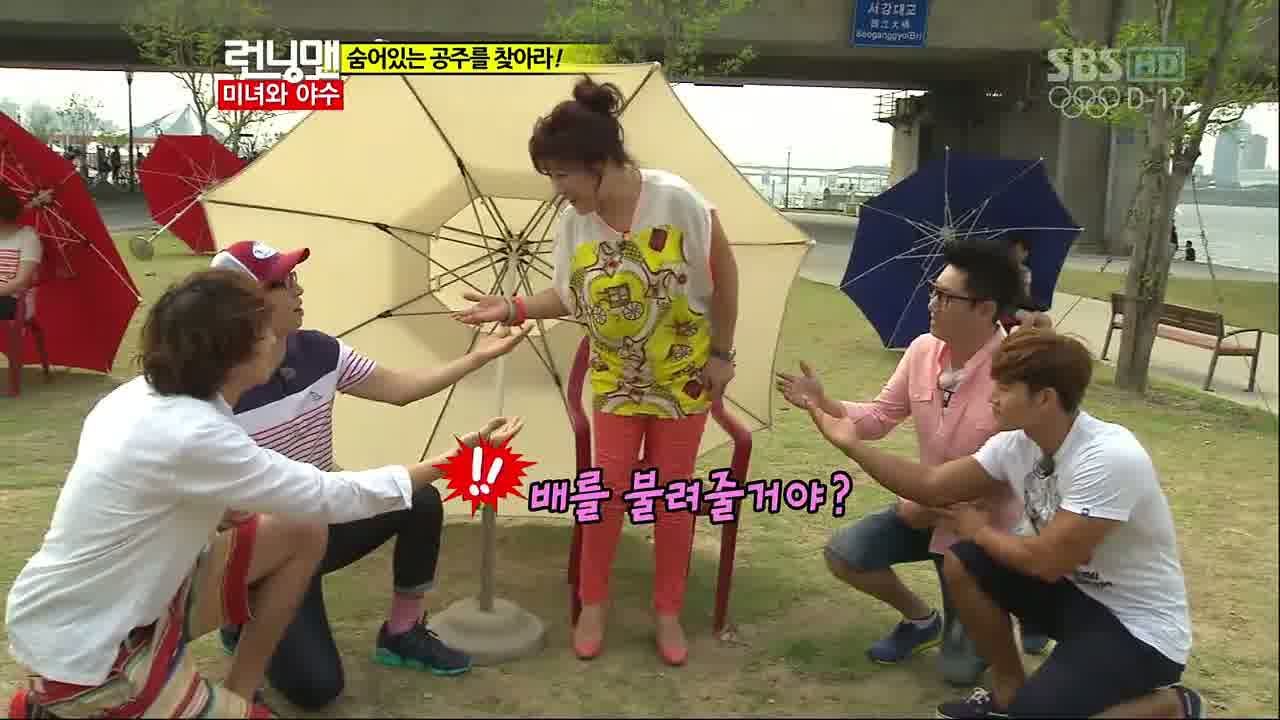 At least the boys go back to Sa-yeon to extend the same offer, getting down on one knee. I love it how she's like, "What are you going to do for ME?" and Kwang-soo yelps that he'll be like a little puppy. And then she calls him a sad-looking puppy. Aww.
She grabs Jae-suk and Kwang-soo's hands and says it's because of him to make amends. Only that she calls Kwang-soo, "Gary," instead. Whoops.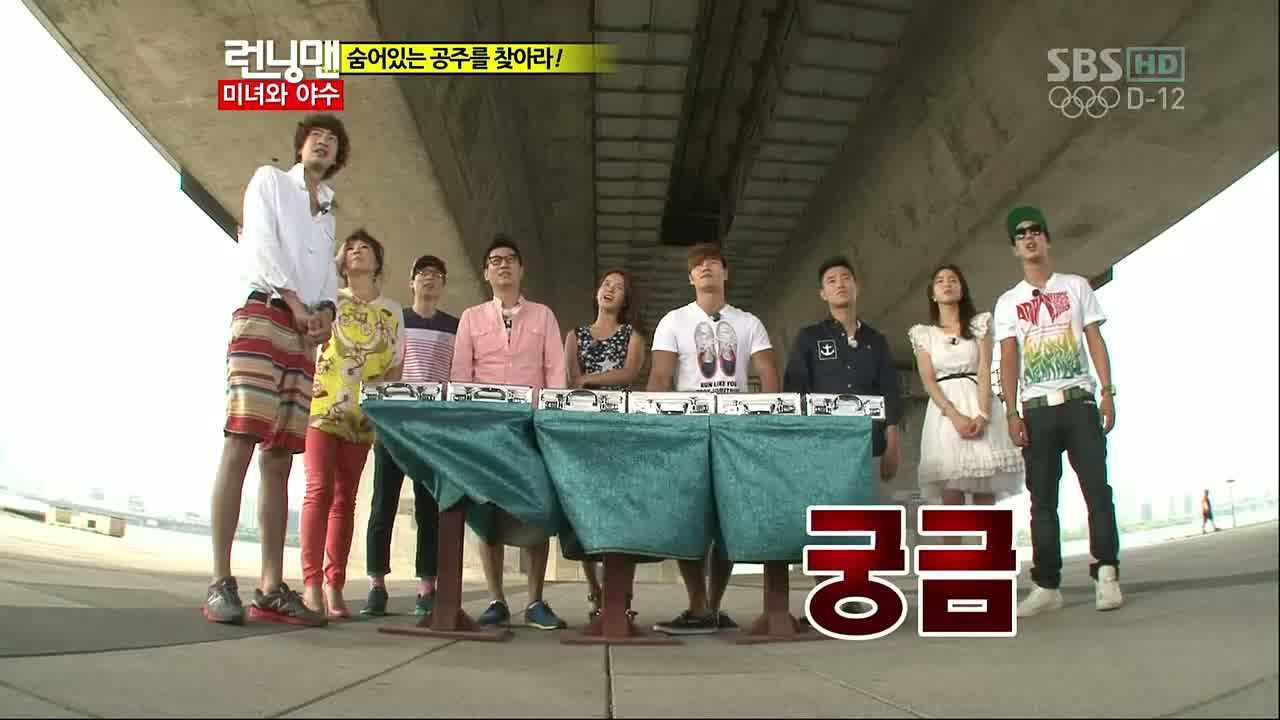 Mr. PD explains the rules of the game where the men will have to escort our princesses around while doing missions. The catch is that the team who comes in last place will have to hand over a briefcase carrying one of their name tags. Ji-hyo's team has to hand one over right off the bat and she slaps the boys' hands, telling them that she'll be doing the choosing.
Haha: "It'd be hilarious if it was Ji-hyo's…" Lo and behold, it is. We don't know how the staff will use these just yet but for now, they head out.
In the car, Sa-yeon's suspicious about Kwang-soo's IQ since they were having trouble understanding Mr. PD's explanation of the rules earlier and Jae-suk tells her that it's about half his height (190 cm). Kwang-soo: "Are you saying my IQ is 80?"
Her ears perk up when the boys tell her that lately the prizes have been gold. With new determination, she vows that they have to win, "no matter what, even if the world ends."
Se-kyung gives a look of Really? at Haha's welcome to the flower boy (pretty boy) team. She adds that she'll need to curb her competitive spirit because last time, she resembled a crazy wildcat.
While they smile about how they'll do their best to win anyway, the captions tell us that they're driving in the wrong direction. HA.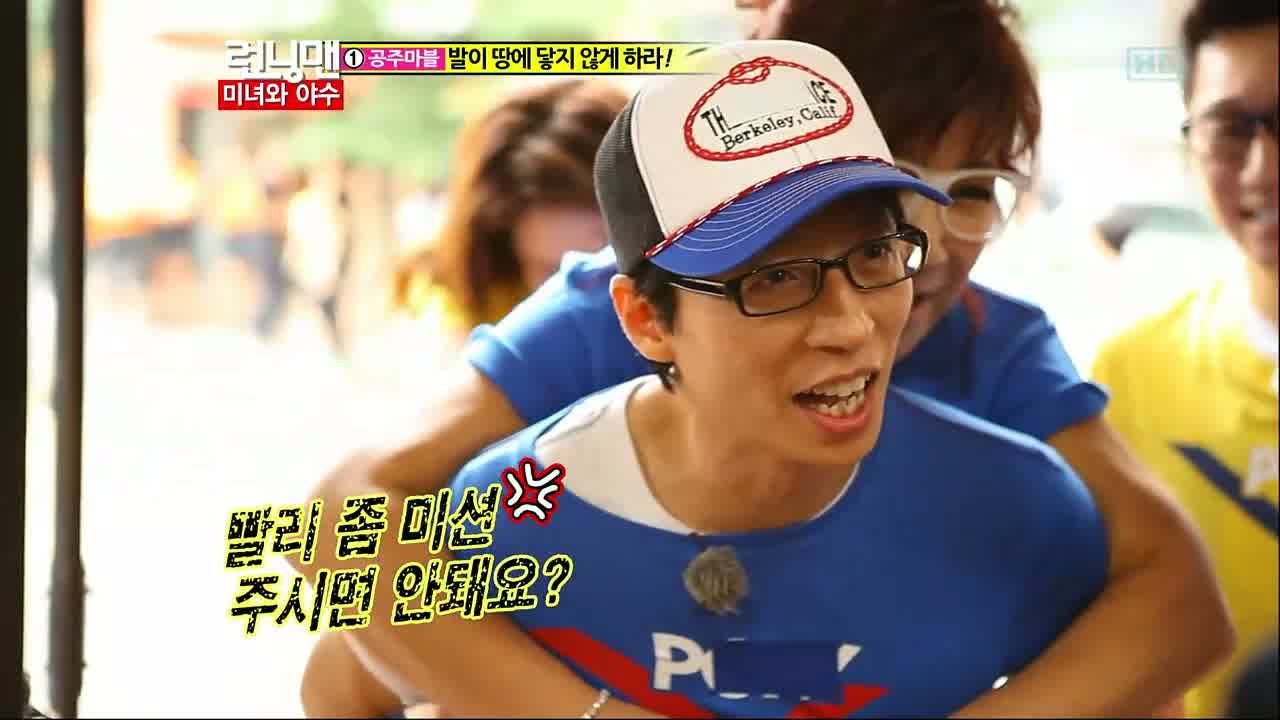 How cute – the princess' name tags have crowns attached. Here at their first mission location, they'll need to finish five mini-mission stations to move on. Then they hear the kicker that they'll need to carry their princesses and Jae-suk goes straight to grab Myuk PD by the collar.
That task turns out to be harder than it looks and Jae-suk struggles to piggyback Sa-yeon whilst Jong-kook easily carries Ji-hyo. Mr. PD thoroughly enjoys watching the cast suffer a little and ssslllooowwwlllyy explains the mission, much to Jae-suk's annoyance. Then when he tries to hoist Sa-yeon up to get a better grip her butt hits Jong-kook square in the face. HAHAHA.
They'll need to choose one of three stews which will indicate how many stations they can skip to get to the finish line. Both teams dig in to travel to the second station and like before, Jae-suk and Kwang-soo have the most trouble.
The Ace Princess is of course the strong-headed one and when her minions tell her that she can feed herself, she threatens to touch the ground. When Sa-yeon's team finally join them, Suk-jin comments that Kwang-soo's face has gotten red.
Sa-yeon can't help but notice the boys' nervousness and as they eat, they wonder if they'll get a -1 which means they'll have to move backwards. And then they hear that Haha's team who arrived last picked +2 and are on their way to the third station.
The nail in the coffin comes in the form of the bottom of their bowl: -1. Back to the first station it is.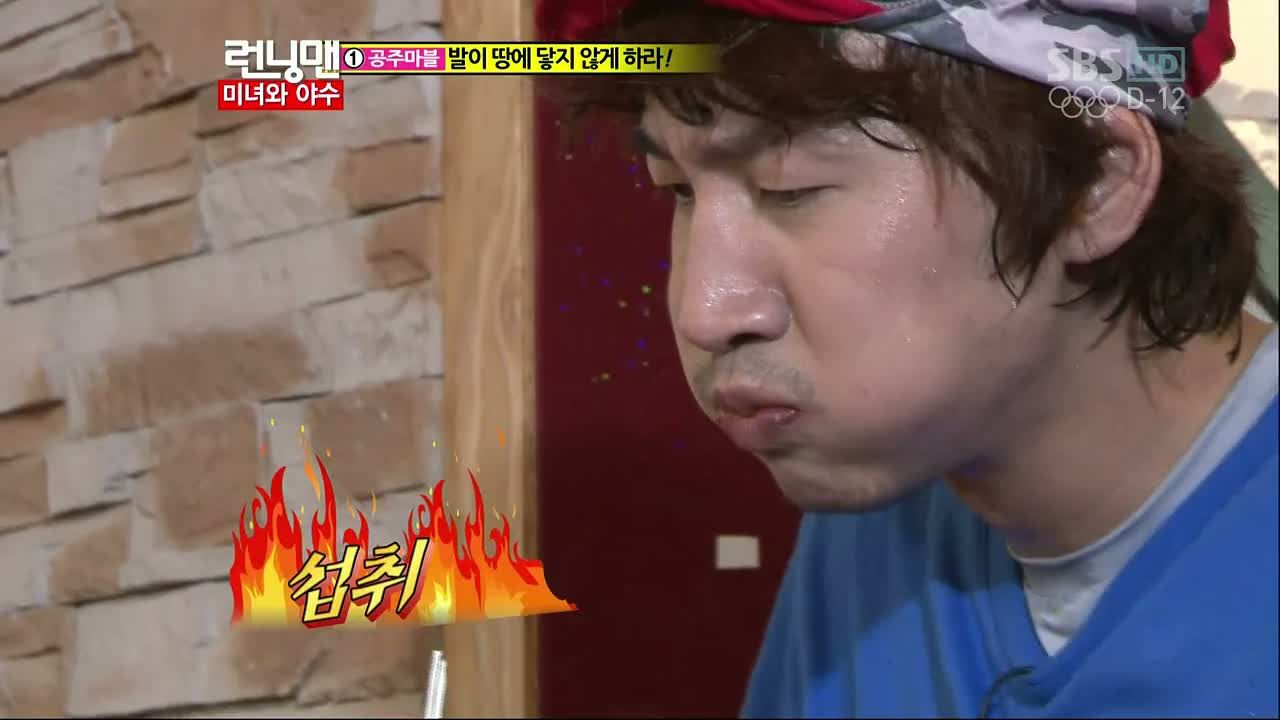 Ji-hyo's minions don't have much of a tolerance for spicy foods but I love it how Ji-hyo's like, "Eat another! There's rice! You get hiccups when you eat spicy food? Have another!" They all endure the pain together, at least.
Sa-yeon doesn't seem to have too much trouble but poor Kwang-soo's sweating bullets as he eats. Then he's forced to down the rest of the spicy sauce. Aww, you're taking one for the team! Both teams get to move on to the next station.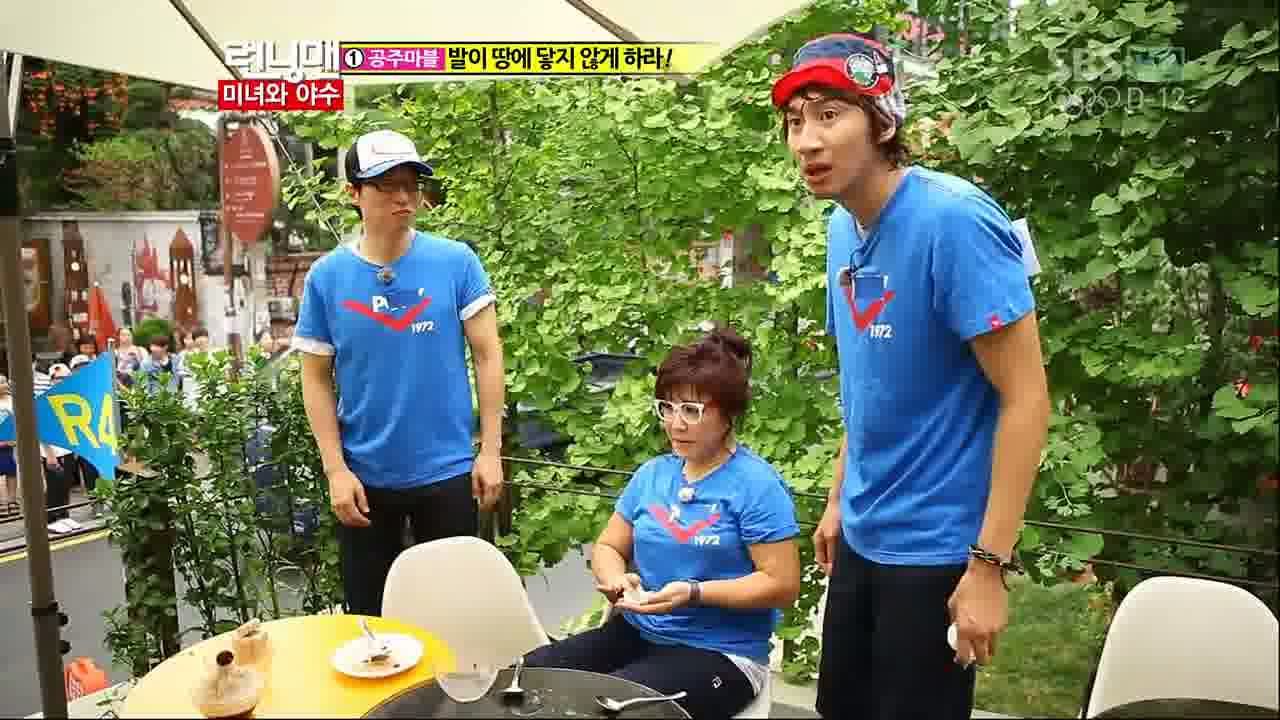 Thankfully the fourth station is patbingsoo (shaved ice with red beans) and it looks mighty refreshing right about now. After Ji-hyo's team gets to move on, Suk-jin digs that they've got the -1 and Sa-yeon threatens, "You want that to be your last words?"
Today has got to be the unluckiest day ever because Jae-suk stops mid-swallow and spots the -1. He lies, "We haven't seen anything. Can we eat another?" Caption: No.
Just thinking about the spicy squid they left behind leaves Kwang-soo in utter shock.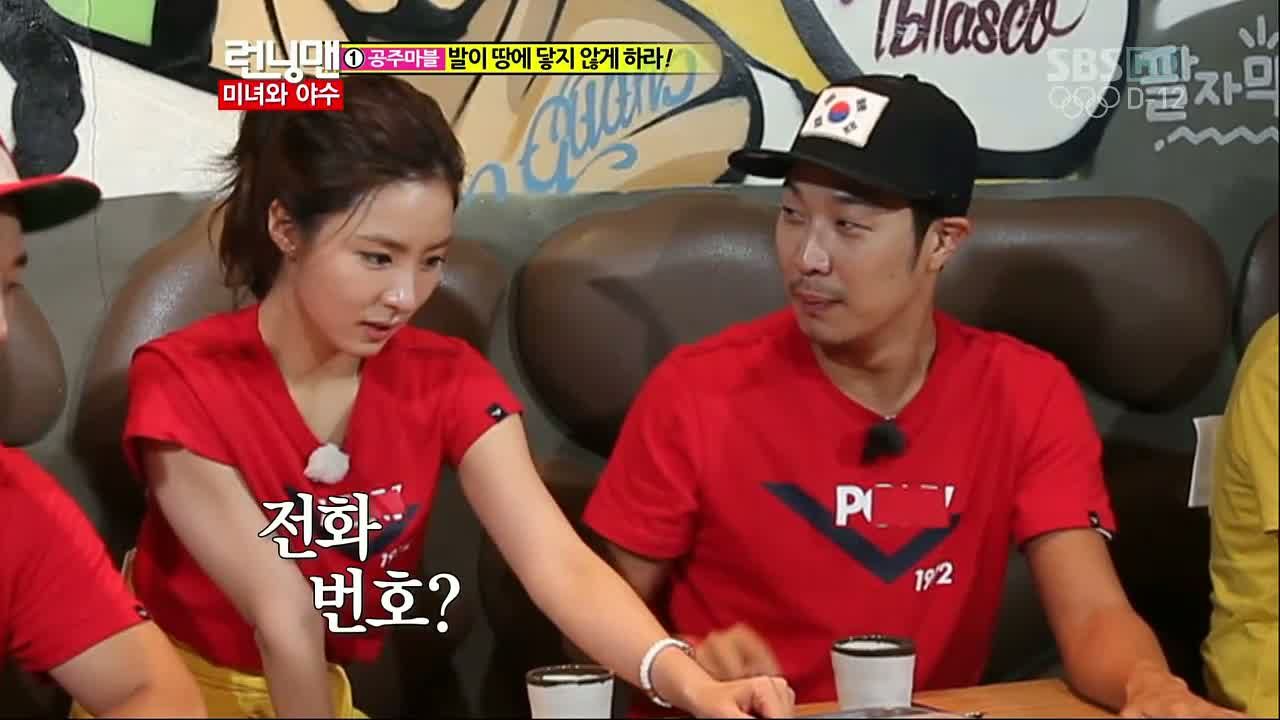 Se-kyung's team have a bit of fun with their seaweed as they trudge through the spicy squid and catch up with Ji-hyo's team (And yes, that is Haha's restaurant). Se-kyung eeny-meeny-miney-moes the lunchboxes and Haha joins in, "What-is-your-phone-number? 010…"
…and then Gary joins in calling out his actual number. So does Haha and wait with anticipation for Se-kyung's response. She chooses the lunchbox instead.
Jae-suk rushes towards the final station with Sa-yeon on her back. He wonders why people clap for them as they rush past and then stick their tongue at Ji-hyo's team who are back eating patbingsoo for the third time.
Se-kyung's team succeeds first and the remaining team that doesn't choose the +1 will automatically be declared last place. Both teams dig in, leaving the center untouched. When they uncover it… Sa-yeon's team get to move on.
Ji-hyo's team is forced to give up another name tag and this time it's Suk-jin's.
Se-kyung's team arrive at the mission location first where they'll have to carry their princess across the pool within 30 seconds. Oy, that's a lot of carrying in one day. Surprisingly, Ji-hyo's team shows up and Jong-kook breaks into laughter at Haha's '90s Kpop hairstyle with those even 50:50 parted bangs.
It's no surprise that Se-kyung's team fails but what I'm really here to see is SpartAce ruling at this game. Even Jong-kook gives a little smirk! They blare the horn… and he barely gets an eighth of the way before the flotations start to give under his weight. Um well, crap.
But you're Spartakooks!
The Reason Brothers pretend that the water is boiling or hot lava to rev themselves up. Jae-suk gets across just fine and as soon as Kwang-soo hoists Sa-yeon on his back, Haha predicts that they'll fall in within 3 seconds… and they do.
But it seems like karma is out to get him because as soon as Haha carries Se-kyung, they both drop into the pool.
Kwang-soo falls into the pool just shy of making it across in time but he lifts Sa-yeon over the pool much like a fish caught on a hook. Frustrated, Sa-yeon volunteers to piggyback Kwang-soo instead – only that's not THAT great of an idea because they both end up in the pool. And just when you think that Suk-jin is about to win it for his team, his legs collapse from under him and both he and Ji-hyo end up wet.
Speedy and steady seems to be the secret weapon here and the man who runs on water, aka Gary makes it across just under 2 seconds to spare. Jong-kook crosses the finish line with about 0.6 seconds to go which leaves Sa-yeon's team to celebrate that they don't have to walk across again. Hahaha.
Now we check back with Joon-sang whose mission is to eliminate all the cast members and the Princesses. Hints about his mission are hidden beneath the Princesses' name tags and of course, he'll be sent to jail if he is captured first.
With a hearty laugh, Joon-sang asks, "What floor is the jail on?"
Mr. PD finally clues us in that if Joon-sang finds the briefcases with the name tags, then those cast members are automatically eliminated.
He flies out the door once he's told the location of the three briefcases and he's so eager to find them that he gets ahead of his VJ. Whoops!
He gets to work but finding those briefcases is going to be tougher than he thought because the floors are rifled with fake briefcases as well. He finds Suk-jin's and Ji-hyo's name tag even before the race begins…
The cast members enter the final mission location and realize that they'll have to hunt down the Beast to win but the identity of that Beast is hidden beneath the princesses' name tags. Huh, interesting way for the teams to stay competitive but also keep their eye on the prize.
Heh – Sa-yeon just nods along and then admits later that she didn't understand the mission at large.
Joon-sang, you could just stuff the briefcases in a corner rather than trying to carry them around with you.
The cast soon realizes that the place is full of these similar-looking briefcases and find that some of them are fakes. Sa-yeon gets so carried away that she picks up an employee's actual briefcase, "Look!"
Bad news bears because Joon-sang has been spotted by the cast members. He makes a dash for it before they can recognize him and his decoys follow suit. It sends the entire place to utter chaos.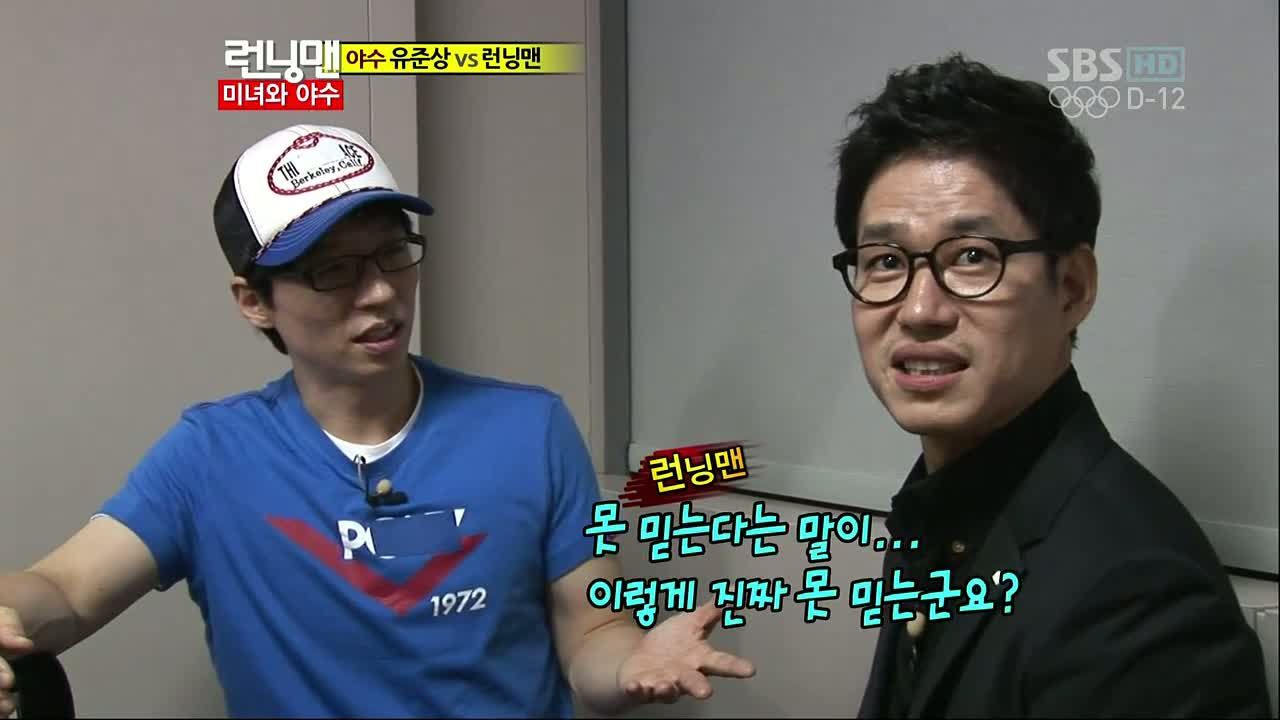 Jae-suk finds himself separated from the others and then out of nowhere, Joon-sang runs on a freakin' table to scare him. The first thing that's out of his mouth is, "Do I have to do this?" Turns out he's a nice Beast and also a tired one because he wonders how hard this hiding and chasing people business is.
He almost gets away with telling Jae-suk that he doesn't have a name tag but when Jae-suk calls him on his bluff, he's all, "Well I guess I have to take you out then."
Joon-sang tells him upfront that all he has to do is to remove Jae-suk's name tag from the briefcase to eliminate him and Jae-suk asks to see it with his own eyes. Joong-sang: "So they really don't trust you huh?"Jae-suk: "We don't even trust each other, hyung."
Joon-sang uses this upper hand to his advantage and tells Jae-suk that if he doesn't want to be eliminated, he's got five minutes to rip someone else's name tag off. Smart, smart – having some else to do the grunt work.
He clarifies that Jae-suk's got 10 minutes to eliminate someone and 15 to get back to him. At every little peep, Joon-sang's like, "What? What did you say?" and then makes a gesture to rip Jae-suk's name tag out of the briefcase. AHAHA.
Joon-sang just sits back in his chair… waiting his lackey to return to him.
Worst luck ever. Jae-suk peruses the halls to find someone to eliminate just so happens to run into Jong-kook. Gulp.
Jong-kook is rightfully suspicious and notes that it's always the one who quicken their steps and act all defensive who have something to hide. Jae-suk turns himself in anyway, figuring that he's as good as dead which just confuses Jong-kook more.
But as always, he reaches a fairly accurate educated guess that whoever has their name tags has some control over them. Suk-jin gets on board on Jae-suk's suggestion that they eliminate Se-kyung's team but Jong-kook notices how flustered Jae-suk gets. Jae-suk: "It's always nerve wracking when I'm against you 1:1!"
Just when Suk-jin correctly deduces the mystery behind the briefcases, the speakers announce that there's one minute remaining. Gotta get on that name tag ripping, Jae-suk! At least Joon-sang hyung gave you a warning.
Jong-kook is still hung up on the, "I'm going to die anyway" line and chases after Jae-suk who in turn chases after Haha. With 30 seconds remaining, Joon-sang clicks open the briefcase as Jae-suk pleads with Jong-kook…
… and the speakers announce Haha's elimination and Joon-sang carefully sets down the briefcase next to him. Now Jae-suk's got 5 minutes to get back. The others note his obvious terror; that's he's even more worked up than meeting Min-soo hyung.
That little "break" doesn't last for long because Joon-sang sends Jae-suk running to fetch another name tag. Jae-suk: "I'm [Yoo-ruce Willis] not the type to work beneath someone."
Even Kwon-ryul, Jae-suk's VJ sniggers at the situation and admits, "He's cool. Joon-sang is."
Looks like Joon-sang won't be sitting this round out as he grabs the suitcases and relocates. The other cast members chat about Jae-suk's strange behavior when the bell rings… and Ji-hyo's elimination is announced.
Someone whistling in the distance alerts Kwang-soo to check out the situation and then chases after Joon-sang. Both he and Suk-jin get cornered into the bathroom and Joon-sang shows them a glimpse of the name tag inside.
Suk-jin picks up on the hint right away and tears off Kwang-soo's name tag and then asks why Joon-sang gave him a shot. He answers, "Because you're always eliminated so early…"
Jong-kook asks if it also means an elimination if he rips off Jae-suk's name tag. It does and Sa-yeon calls out, "Don't do it…" She doesn't quite understand that wearing the same color automatically means that you're still on the same side and she spooks herself into thinking that Jong-kook made a move to take her out of the game.
Then Jong-kook rips off Jae-suk's name tag, the announcement goes out, and Joon-sang abandons the now worthless briefcase.
As Sa-yeon comes to the off conclusion that the Beast's lackey is Jong-kook, who should arrive but Joon-sang himself. He fails to successfully attack Jong-kook and gives Sa-yeon a fright in the process. She quickly recovers though and begins to fan herself in front of the Beast. Don't say I blame ya.
Joon-sang reminds Suk-jin that he's got 3 minutes to which Suk-jin eliminates Sa-yeon and they both dash from the scene. Just a minute later, Gary appears and is shocked to hear who the Beast is and that he missed him by mere seconds.
They set out to find Se-kyung and Jong-kook asks to recall where Gary had last seen her. Gary: "I don't remember…"
We cut to Se-kyung, all alone and then she jumps as the Beast approaches…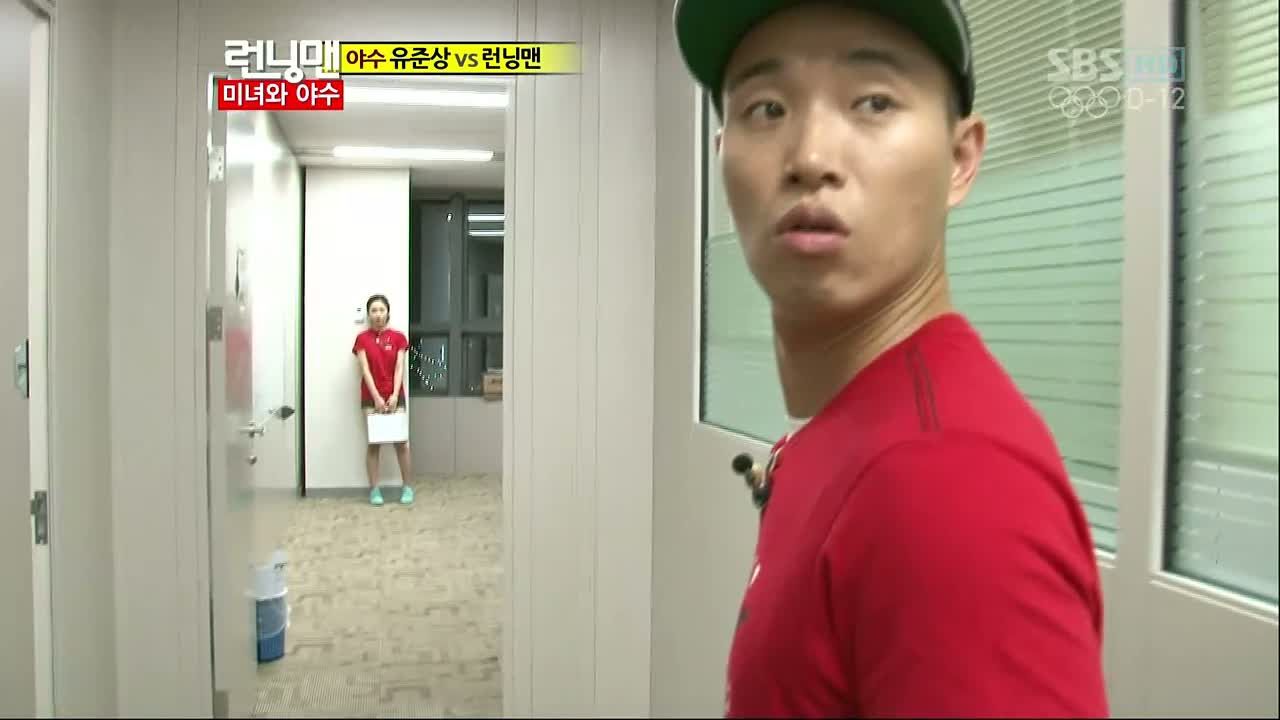 Gary finally finds Se-kyung who keeps her back to the wall. She tries to warn Gary not to come in and he carefully checks the corner. The Beast jumps from the other side (Gary greets him properly) and Joon-sang grabs Gary's back.
And then Se-kyung bolts? What the-? Your teammate needs your help! In the midst of desperately holding onto his name tag, Gary sends a SOS to Jong-kook but alas, Joon-sang manages to rip off the name tag anyway.
She runs straight into Suk-jin and keep her guard up long enough for Jong-kook to arrive and eliminate the Beast's other minion.
Joon-sang rolls his sleeves to meet up with the remaining players. Jong-kook calls him out that this Beast character is a far cry from his doting "Nation's Husband" image. But Joon-sang counters that he's been given a mission and his kids are watching. Can't let them down, can he?
They strike a deal to take each other on via an arm wrestle but Joon-sang pulls Jong-kook to the ground and soon gains the upper hand. Jong-kook manages to push Joon-sang off of him. He and Se-kyung corner him into a wall and as Joon-sang's shirt begins to rip (rawr) Jong-kook manages to tear off the Beast's name tag.
When they gather together again (Jong-kook hands Ji-hyo the Beast's name tag), Sa-yeon looks at him with wonder, "You look much better in person." I'll say.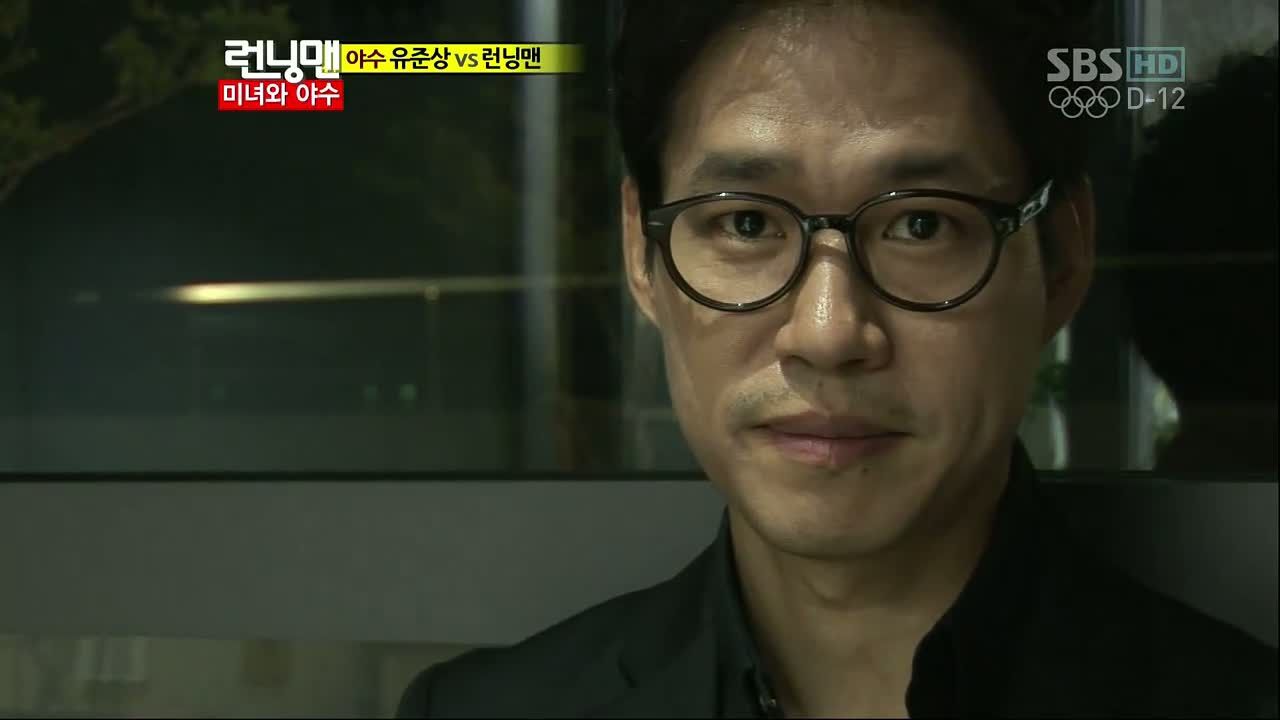 RELATED POSTS
Tags: featured, Haha, Ji Suk-jin, Kang Gary, Kim Jong-kook, Lee Kwang-soo, Running Man, Song Ji-hyo, Yoo Jae-suk