Arang and the Magistrate: Episode 14
Woohoo, tons of advancement in this episode. Dots are connected, motivations explained, and true identities revealed. Eun-oh stands firm about his feelings and twists our hearts just a little bit more (and oy, they're already twisted pretty painfully), while a voice of reason clears one big obstacle out of the way. Plus, some questions are cleared for our hero… just in time for a whole slew of new ones to confront him.
SONG OF THE DAY
Lim Jae-bum – "재회" (Reunion) [ Download ]
Audio clip: Adobe Flash Player (version 9 or above) is required to play this audio clip. Download the latest version here. You also need to have JavaScript enabled in your browser.

EPISODE 14 RECAP
About two seconds after Eun-oh pours out his heart to Arang and slays us all with his wounded eyes, Joo-wal drops by. What timing.
Eun-oh can't stand by and watch Arang go off with him, so he steps back in and glares at Joo-wal, quite possibly mentally setting his effigy on fire. He orders Joo-wal to scram, then pulls Arang away. She casts a look back, and I actually feel quite sorry for Joo-wal in this moment. He's all but quaking in fear over Evil Mom, but to Eun-oh, all he sees is the man she used to love a lifetime ago, hovering around her again.
Once they're at the other side of the estate he stops and leaves her there—he's noble enough to not press himself on her, but not so much that he could stand leaving her with the other guy.
Arang sits in her room for hours thinking it over, then comes out to tell Eun-oh that it still can't work with them. But this time he doesn't accept things so easily: "Even as I knew you were lying about how you felt, acting like I understood, acting like I accepted it, acting noble—I won't do it." Yay!
And yet, her counter isn't wrong either: "What are you suggesting we do? You said it was complicated, but it's not complicated at all. I'll leave, and you'll stay." Her eyes fill with tears and she walks away.
Eun-oh runs after her, and sweeps her in his arms for a back-hug.
Eun-oh: "This is what I'll do. When I want to hold you, I'll hold you. If I want to grab onto you, I'll grab onto you. If I want to see you, I'll see you. And if there's something I want to say, I'll say it all. Dammit. Whatever follows, I'll think of it then."
Tear. Arang lifts her hand to his… and pulls his arm from her. Without looking, she walks away. Damn. I totally understand why she would, but that lost look on his face just does me in.
His words stay with her (who could forget them?) the next day as she tries to convince herself that his way will just lead to more pain: "He's acting like he's so smart all on his own, but why doesn't he know that? Dummy."
Arang arrives outside the Choi household, wondering where their ghost crew went. Joo-wal emerges from the gate and is immediately awash in panic, asking why she's here. They relocate to a pavilion, where she apologizes for the other night.
He says he'd gone to tell her something, and works up the courage to say it now. Stammering, he asks, "Could I ask you for your heart? If you could, I… I… I think I could live a little differently." Oh, my heart squeezes for you. Don't get me wrong, I'm firmly with Eun-oh in this whole love triangle, but Joo-wal's actually trying to fight off the evil overlord, and love is his motivation. It's all just so tragic.
She asks why he's saying this all of a sudden, and he replies that it's not sudden: "It's that I've now realized what it is I must do."
Rattled, Arang says she'll pretend she never heard his request, and excuses herself. He asks if she's upset about his former fiancée. He already told her the truth about that, and he never opened his heart to the other woman. Which is, sadly, not the reassurance he thinks it is.
Bang-wool ransacks her room looking for the book that'll identify the demon-jar. Dol-swe drops by bearing another gift of meat, which I find both hilarious and sweet. His arrival has her both flustered and huffy. After primping and complaining that he only comes when she's a mess, she takes him to task for flapping his mouth about the whole Arang's-a-ghost bit.
Bang-wool has him slumping in regret and says he only ever thinks about his young master. He doesn't give a thought to other people, such as how spreading that talk would make her look. Dol-swe sighs that he's sorry too, after hearing that Arang is bound for the hereafter—what'll that do to Eun-oh, being left behind?
Bang-wool's shocked: "She's going to the afterlife?"
Arang walks along, thinking what an unlucky lot Seo-rim had in life to fall for a man who now asks for Arang's heart, "And I have none left to give him." She apologizes to Seo-rim.
She shows up at Bang-wool's house and asks her to do her best to solve the jar mystery quickly. Bang-wool understands now why she and Eun-oh are in such a hurry, and mutters that if the gods were going to send her back, they should've sent her for good. Arang adds that she should've known from the start, calling them twisted old fogeys.
Bang-wool doesn't know what Arang and Eun-oh are so busy seeking, but it's her advice that they stop: "Isn't your remaining time precious?" If Arang is acting this way because she's afraid of leaving Eun-oh behind, she should know they're not the only ones who have to part ways. It's something everyone encounters: "What's the point in being so scared of leaving and being left behind that you can't do anything at all?"
Thank you, voice of reason! Bang-wool adds that if Arang really were looking out for Eun-oh, she'd do what she could to leave him without regrets. The same goes for her, so Arang can endure her afterlife.
Thankfully, those words hit their mark. Arang mulls them over as she walks home, hearing Bang-wool continue:
Bang-wool: "You think that if you put your hearts out there and then separated, you wouldn't be able to handle it afterward, don't you? Well, you draw on that strength and live on. You think if you leave, he'll be inconsolably sad, don't you? Being able to live with that sadness is what being human is. That's love, and memory, and what becomes remembrance. You only need one of those things to give you the strength to live out the rest of your life. Now, if you had absolutely nothing—then you really couldn't live on."
Truer words. Listen to the quack shaman, Arang! Words I never thought I'd say.
Mom heads into her dungeon (she calls it a shrine, but you know, I'm going with dungeon) and realizes she's missing a jar. Oh no! I'd hoped she'd had so many she wouldn't notice the loss of one little container… although perhaps it's better that her demon army isn't so vast that she can afford to lose one. She gasps—how could anyone have gotten in?
Joo-wal is equally stunned. This makes no sense, and he reminds her that she made it so that nobody could enter. Then a memory hits him, of seeing Arang loitering outside that night. He says it must be the new magistrate's doing; he saw the talismans when he came to see Lord Choi.
Mom flies into a rage, but Lord Choi is prepared for it and counters by revealing that he knows that Arang is immortal. He angles for a deal, chuckling that he's not the useless old man she took him for.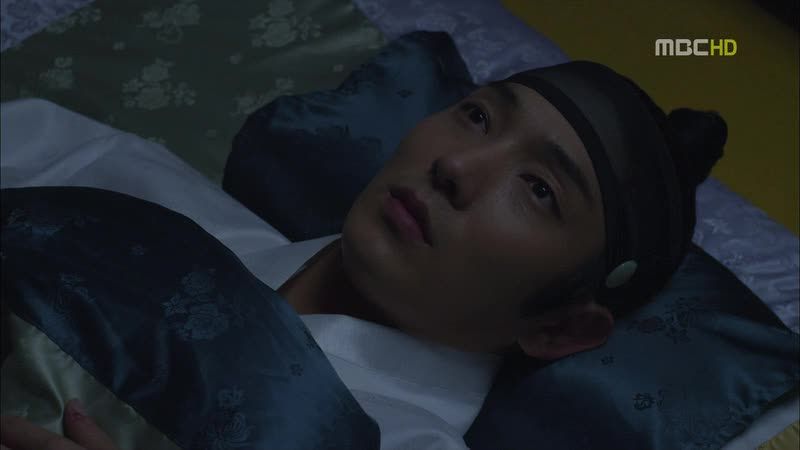 Mom returns to her dungeon and orders three demons to retrieve the missing jar—quietly. She wonders how Eun-oh could have entered that door, which shouldn't open for any ole human.
Late that night, the demons materialize in the magistrate's house. One hovers in Eun-oh's room before moving on, and Eun-oh opens his eyes, aware of the presence. The demon moves on to Arang's room, and he leaps out of bed.
The three demons emerge empty-handed. They hear Eun-oh's approach and vanish into smoke before he spots them. But it's Arang he's concerned about, and he peers into her room to make sure she's fine. She sleeps, none the wiser, and he relaxes.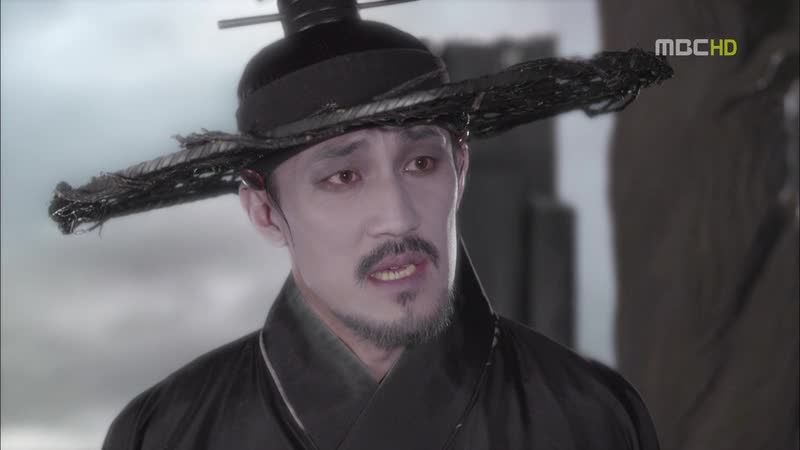 Mu-young's encounter with his sister weighs heavily on his mind, as well as her accusations that he ruined everything for her. Jade Emperor tells him he won't blame for the failure to kill Mu-yeon.
Mu-young asks what will happen to Mu-yeon now. Jade Emperor replies that she'll continue to kill innocent humans to keep living as a human, or she'll take on Arang's body to become immortal. If she becomes immortal, she'll become immeasurably stronger.
Damn. So that means there's a chance the gods can't defeat her? Mu-young points out how dangerous it was to send Arang as bait, but Jade says he had no choice—if Mu-yeon continues unchecked, the very structure of the living world and the afterlife will start to fissure. Whoa. It would destroy the current world and threaten heaven as well.
Mu-young protests that Mu-yeon doesn't have that power. Jade agrees: "But it's not her power; it's the power from the destruction of the world's order."
Mu-young can't wrap his head around the Jade Emperor putting his faith in a human like Eun-oh to prevent Mu-yeon from possessing Arang's body. Jade: "I trust him because he's human, but you said you don't trust humans. Mu-yeon will feel the same way. The human I trust is Kim Eun-oh, and the human Mu-yeon trusted was you. That couldn't be helped, because she was your blood kin."
Then he dismisses him, saying that there's no more for Mu-young to do. Aw, it's harsh but true.
In the morning, Arang dresses and heads out, only to find her door stuck. Puzzled, she pushes at it, but it's like the door's been locked, or blocked off.
On the other side sits Eun-oh, having fallen asleep with his back to her door. Oof, that's so sweet, it kills me. Was he that scared she'd be threatened in the night? Arang shoooooves her way through, knocking him aside.
He figures she spent all yesterday outside because she was avoiding him, and says that he won't take back what he said: "But I will wait. Because you're someone who does things when she's ready." I love him for remembering that.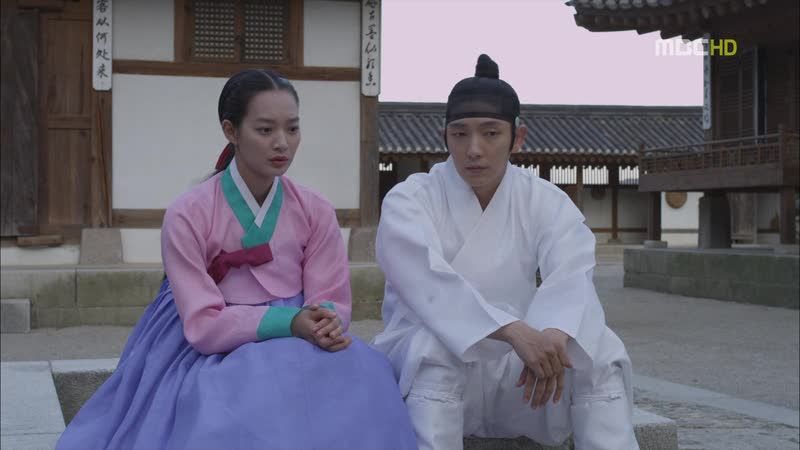 He says he sat there all night just so he could say this to her before she went off avoiding him again. Which is a total lie—I know you were worried! Don't deny!
Arang tells Eun-oh that their hired ghosts have disappeared. It's unlikely that they solved their grievances and moved on to the hereafter, so what could explain their sudden absence? Would Lord Choi have done something with them, suggesting he has powers of his own?
Eun-oh points out that Lord Choi's not the only suspect, though Arang dismisses Joo-wal as a candidate. He would've caught on to her true nature if he'd had supernatural powers. Considering that he confessed his feelings, he can't know she's a ghost.
Eun-oh bristles. Confess? Arang assures him she didn't accept, waving aside his little jealous reaction. (Cute.) They decide Lord Choi is equally lacking in the powers department, which makes them wonder if there's somebody else in that household…
Eun-oh starts by looking into the servants. To his surprise, Lee-bang informs him that there are only a handful of servants, and they get dismissed at the end of the day to go home. Which means that most of the time, it's just father and son alone in that house.
Just then, another Bang comes tearing into the room, exclaiming, "We're in trouble! We have to deal with this before the magistrate finds out—" and then pulls up short to see said magistrate sitting right there. Ha.
They go out to the yard to find it teeming with men, here to enlist for the magistrate's patrol. The Bangs nervously offer to send them away since they can't all be picked and they'll have come here for no reason. Eun-oh replies, "Really? Then pick them all."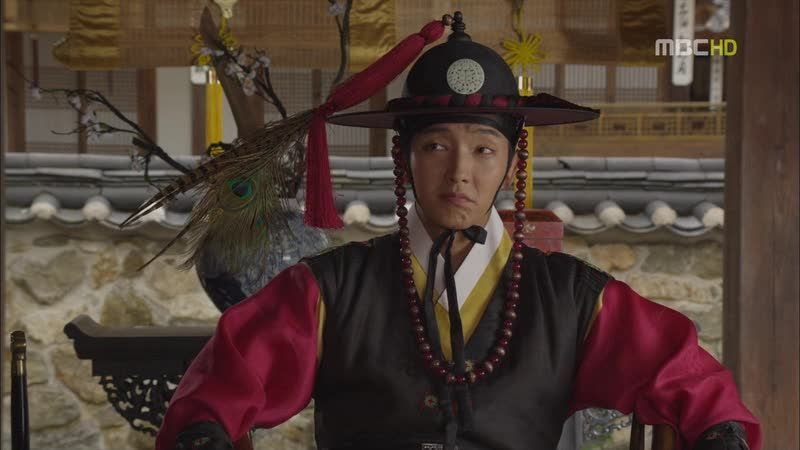 Soon there are lines and lines of neatly arranged men, dressed in their patrol uniforms. The Bangs protest that they can't use such scrawny, underfed men, to which Eun-oh replies, "Really? Then from now on, feed them well." I love that look of satisfaction on his face.
Eun-oh addresses his new recruits, telling them that they have three duties: protect the office, protect the village, and not stand idly by when witnessing injustice. He finishes that with: "And standing behind you, there's me."
He puts Dol-swe in charge of training the men. Just then, Arang comes walking by, and in unison every man's head swivels in her direction. Eun-oh's included. He orders them not to look at her, and to treat her like a ghost. The men, hitherto enthusiastically shouting their agreement, now comply glumly.
Lord Choi sends Seo-rim's former nurse to the magistrate's office, and asks if Arang resembles Seo-rim. He threatens harm to her daughter if she doesn't answer, and the nurse timidly replies that she looks so much like Lady Seo-rim that she almost called her Lady. That's enough to confirm it for Lord Choi, who sends her away with his servant as escort. But first, he trades ominous looks with the servant, which makes me think granny's not gonna make it home. Eep!
As suspected, while they're traveling on the road, the servant takes out a dagger and moves into action.
Mom and Lord Choi strike a deal after all, and she gives him a talisman that will cure him of his ailment. He asks when she'll get rid of Joo-wal and the magistrate, and she says soon.
Lord Choi enjoys having the upper hand (which I'm thinking is likely to be his downfall), and chuckles over a story he'd like to share. About Joo-wal's former fiancée, which Mom had so protested that she put an end to the engagement. But right afterward, the fiancée disappeared, which sent the village into a tizzy and he covered with the rumor that she ran off with a servant. Then there was that night three years ago, during the full moon of the leap month…
Mom's eyes narrow, growing irritated with Lord Choi's talk. But she looks surprised as he reminds her of the girl in the shack that "went wrong"—and identifies her as Joo-wal's fiancée, Lee Seo-rim, and Arang. All rolled into one.
Mom heads to her dungeon sniping about the troublesome old man. Sure, he may have secured his safety for the moment, but I'm pretty sure she's just biding her time to snuff him out. She faces her magic mirror—the one that reveals Mu-yeon's true face—and smiles triumphantly. This means she knows what the girl must want, because if she died and came back, she must be out to find who killed her and get revenge.
She dismisses Joo-wal from the situation entirely, telling him she's found out what Arang wants and no longer needs him to do anything. Uh-oh. That look of terror on his face, oof. I don't know whether he's more afraid for himself, or for Arang. Or perhaps those are inextricable worries.
Dol-swe enjoys his position of authority, telling the new patrolmen that he'll be instructing them on how to fight. Just then Bang-wool enters and looks at him curiously. He starts to wave at her like a goof, but pulls his arm back and puffs up with bravado as he tells the men to attack. As they fling themselves at him, he tosses them aside easily, then looks up expectantly: female adulation, go! Only… Bang-wool isn't there anymore, HA.
She's inside with Eun-oh and Arang, having found out what the jar is. She launches into this whole extended history of the shaman ancestor who wrote the book, only to have Eun-oh cut her short. What's the short version?
Bang-wool calls it a jar to house a spirit, meant to provide a safe and comfortable rest for a wandering soul that somehow wasn't able to travel to the afterlife. Thus it's likely to be an ancestor of the Choi family, and they might want to reconsider opening the jar since it's not polite to wake him from his rest.
Eun-oh tells her impatiently to do it anyway. Eek! Do you have your magical fan on you? Bang-wool speaks an incantation and pulls off the seals, opening the lid. Out floats a black mist, which materializes… into a demon.
Arang and Eun-oh recognize it and spring up in alarm. Eun-oh fights it and orders the women out. The demon seems to recognize Arang for what she is, his eyes flaring greedily, and it intercepts Arang, rasping at her, "Give me your body!"
Eun-oh grabs his fan and slashes at the demon with it. Poof. It disappears into a wisp of smoke.
He rushes to help Arang, who's weak from the shock. Dol-swe bursts in to see Bang-wool knocked out from the demon's blow, and calls out to her.
In her lair, Mom senses the loss of another minion. "This can't be," she exclaims. "What is that magistrate?" She clutches at her throat like she's in pain… and a soul separates from the body. It's Eun-oh's mother, and it looks like she's struggling to break fee from this body.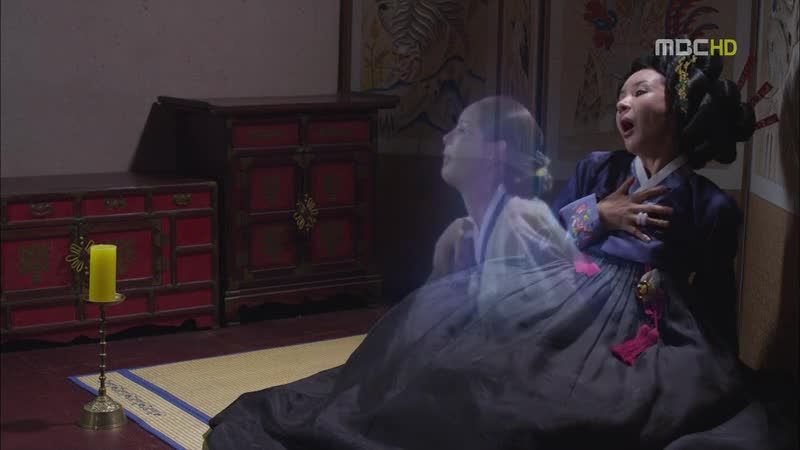 But the soul falls back into the body, and Mom wonders if it's trying to burst out because of Mom's weakened state, having missed her last leap-month meal. She tells herself to hang on a little longer—once she has Arang, all will be well.
Arang wonders why the demon would want her body, and recalls the strange words of the liver-eating demon in the cave—he'd asked what she was, and guessed that if she was the thing he thought she was, she'd be in big trouble. Arang huddles on the ground, wondering what she is.
Eun-oh, meanwhile, wonders what Lord Choi is up to. Can he call demons now? He takes out his fan and asks himself if his teacher anticipated something like this happening. He asks Arang what the demon said to her, but she says it was nothing.
Arang asks about his teacher, and he replies that he doesn't know much about him. The man was a wandering guru, whom he'd met when Eun-oh had been in a nomadic phase of life. He'd been trying to win his mother over only to have her push him away. So he traveled around, and happened upon a man who offered to teach him how to fight off ghosts. Huh, was his teacher Jade?
Flashback to Eun-oh's training days. Ah, I do love when a drama casts actors who can actually fight (he's a third-degree black belt)—although I suppose the more salient point is that you need a director who can edit it well.
Enter the teacher (cameo by Jung Bo-seok), who fights with him constantly. Eun-oh loses each time, but appears to be improving. Finally, his teacher hands him the fan with the warning that he's not to open it anytime. The fan has the power to send those spirits to a place they can't return from, so only when he encounters someone deserving of that fate is he to use it.
Eun-oh asks how he's supposed to be able to tell. His teacher says the day will come when he will know. But as for now, he's off, because he's a busy man—he's got badook games to play, and goats to water. Aha! You ARE Jade!
Eun-oh protests, not wanting his teacher to leave. Jade Guru tells him, "Eun-oh-ya, there is nothing in this world as a useless life, or a worthless death. There will come a day when you will remember our connection."
He gives him a parting gift that will help him win his mother's heart—the red hairpin we've come to recognize, engraved with "mother's heart pin." Jade Guru adds that in his life, there will be a time that is most desperate: "When that time comes, remember my words: All questions begin with you.'"
Arang asks whether it's possible to find that teacher now. Eun-oh says it'll be difficult, and she sighs that it's too bad because he seems to have known a lot. Eun-oh scoffs, saying that the day he gave her that hairpin, she disappeared.
Arang starts to tremble thinking of her possible fate, and she can't hide it from Eun-oh. She confides that the demons want her body, her fear rising up as she wonders why they made her this way and sent her back. She decides she'll have to meet Mu-young.
Mom fumes at home, wondering what Eun-oh is. She only now realizes that she was so fixated on Arang that she didn't bother wondering at the magistrate, who must know that Joo-wal stabbed Arang to death. Which also means he must know she's not a normal human. So what is he up to?
She demands information from Lord Choi, who tells her of his father. The name seems to ring a bell.
Bang-wool finally wakes up, only to wish she hadn't when Eun-oh asks how they can meet the grim reaper. (He doesn't much like her response: "You die." Ha.)
So that night, Arang starts yelling Mu-young's name up at the sky. Eun-oh suggests using a ghost to call him, and I'm guessing it works, because the next thing we know, Mu-young materializes in the yard. Eun-oh gets to the point: What did they do to Arang? What are they up to?
Mu-young answers that Mu-yeon wants her because Arang is immortal, and if she can take her body she can become immortal. It's a fact the other demons and ghosts recognize. He tells him, "Protect Arang well."
Eun-oh tells him that they'd better clear all those spirits out, because that's their job.
Eun-oh returns to the Choi household, jumping over the fence and making his way to Mom's shrine. The gatepost talisman has his fan vibrating in his hand, which Eun-oh uses to "slice" at the wood. The talisman evaporates into thin air. Rinse and repeat.
Mom senses the disturbance, and orders two demons to check it out. Eun-oh arrives outside the house and enters the main room, peering past that red curtain. The room is empty, since Mom's in her dungeon, so he heads back out.
The two demons materialize and attack Mu-young, who has arrived at Mom's house. Eun-oh joins him, and they fight two on two. After taking out their respective attackers, they head back inside.
Eun-oh uses his fan to open the trap door, and shoots the side-eye at Mu-young: "You're wondering who gave me this fan, aren't you? It was my teacher."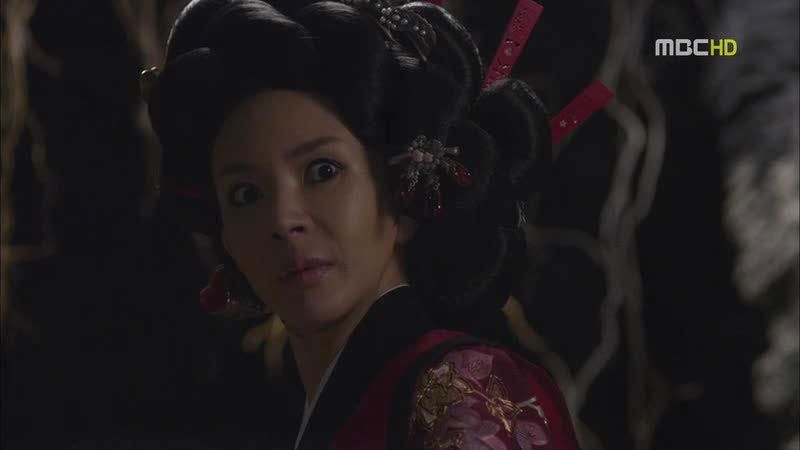 Mu-young corrects, "It was the Jade Emperor." He heads down the steps first, ignoring Eun-oh's shocked expression.
Eun-oh chases him down, ready to argue with him for more details, but stops short to see Mom standing at her altar. His eyes widen. He recognizes her.
"M-Mother!"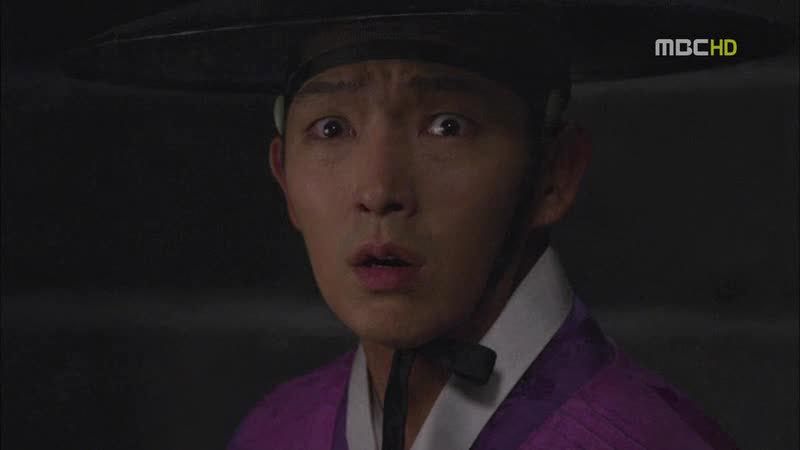 COMMENTS
Oof, well that's gotta suck. I was itching for him to come face-to-face with Mom a couple episodes ago, but there's no softening this blow, is there? Actually, it may be worse now that he knows what Mom is and what she's after, although perhaps the one silver lining in this is that he may see it as the evil being possessing his mother, rather than being her.
It was interesting to see that moment of Mom's soul fighting to leave Mu-yeon, which makes me wonder how much of the soul she inhabits is still sentient in that body. I always thought of it as Mu-yeon "eating" the soul, for lack of better imagery, but in that case Eun-oh's mother should be long gone. Also interesting is the image of the human soul trying to leave its own body, but perhaps Mu-yeon's power is just that overwhelming that it makes sense that Mu-yeon would be the one staying behind. Her spirit's so dark and dense it's got its own gravity.
I do wonder at the mechanism of body-possession, because it seems like Arang has some element of control over it. The demon asks her for it, but doesn't try (as far as we can tell) to claim it by force. Granted he hardly had time to even if he wanted. But it rings true with Mu-yeon's hunt to find Arang's deepest desire, since one assumes that would be the trade to make the host body willing to give up its shell.
And the Jade Emperor! Tricky tricky. Y'know, he might be an evil genius after all. Er, maybe not strictly evil in the Mu-yeon sense of the word, but let's just agree that Arang had it right in calling him twisted. I had figured he was up to some kind of elaborate plan all along, using Arang as his pawn to fight the untouchable enemy. But Eun-oh too? For some reason I'm not that fussed about him using Arang since she was already dead and he's giving her a second chance at heaven, but steering Eun-oh and grooming him for years to be his ultimate weapon? For some reason that seems… shrewder. Smarter. Meaner.
Perhaps it's justified by Eun-oh's near-death experience, which I'm betting was an actual-death experience. Is this his second chance at life too? Heck, he's the ruler of all heaven so hell if he can't do as he wants with dead souls, but Jade's definitely got sides that he's covering up with his teasing, flirty ways.
Our relationship made a huge step forward in the episode, but I'll confess to being disappointed that Arang didn't come around more quickly. I'm going to be patient (ish), and tell myself that this means we're all set up for the next episode to give us major romantic developments. But I do wish it had happened in this one. Major brownie points to Bang-wool for speaking sense, though, and getting past Arang's wall of defense. I was just hoping that with that big hurdle out of the way, Arang would… oh, I dunno, maybe tackle Eun-oh with kisses? IS THAT TOO MUCH TO ASK FOR.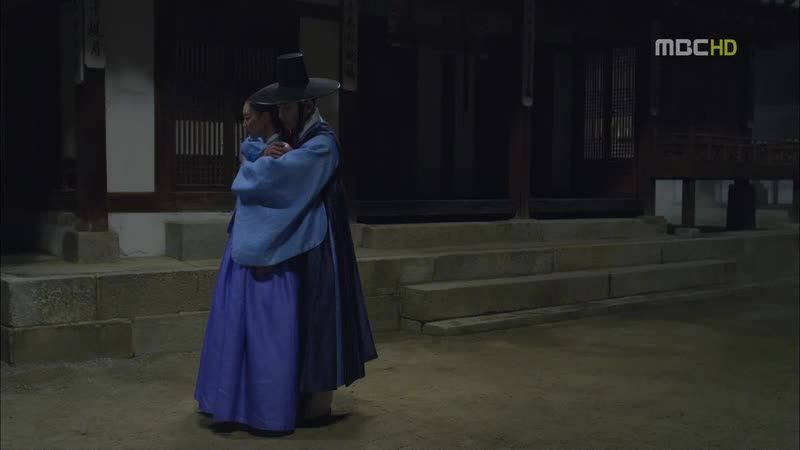 RELATED POSTS
Tags: Arang and the Magistrate, featured, Lee Jun-ki, Shin Mina, Yeon Woo-jin