49th Grand Bell Awards
'Tis the season: Awards time is upon us! And beware of the massive photo-dump that awaits you.
Here we are with the red carpet of today's (er, yesterday in Korea) 49th Grand Bell Awards (Daejong Awards), one of the big film ceremonies of the year. Coming up later this year is another of the big ones, the Blue Dragons, while springtime is host to the Baeksang Arts Awards. Not to mention all the year-end broadcaster awards for dramas, music, and variety television programming.
Phew. That's a lot of congratulating. Then again, Chungmuro and dramaland are prolific beasts, with lots and lots of material pumped out every year.
You wouldn't know that from this winners list, however, seeing as how it was heavily skewed—crushed, dominated—by one film. Just take a look for yourselves:

WINNERS LIST
Best Picture: Gwanghae, The Man Who Became King
Director Award: Chu Chang-min (Gwanghae, The Man Who Became King)
Actor Award: Lee Byung-heon (Gwanghae, The Man Who Became King)
Actress Award: Jo Min-soo (Pieta)
Supporting Actor: Ryu Seung-ryong (Gwanghae, The Man Who Became King)
Supporting Actress: Kim Hae-sook (Thieves)
New Actor: Kim Sung-kyun (My Neighbor)
New Actress: Kim Go-eun (Eun-gyo)
New Director: Choi Jong-tae (Hand In Hand)
Actress, Short Film: Choi Ji-yeon (Woman)
Special Judges Award: Kim Ki-duk (Pieta)
Film Advancement Achievement Award: Kwak Jung-hwan, Go Eun-ah
Screenplay: Hwang Jo-yoon (Gwanghae, The Man Who Became King)
Popularity Award: Lee Byung-heon (Gwanghae, The Man Who Became King)
Cinematography: Lee Tae-woon (Gwanghae, The Man Who Became King)
Lighting: Oh Seung-chul (Gwanghae, The Man Who Became King)
Editing: Nam Na-young (Gwanghae, The Man Who Became King)
Music: Mogg, Kim Joon-sung (Gwanghae, The Man Who Became King)
Planning: Im Sang-jin (Gwanghae, The Man Who Became King)
Art Direction: Oh Heung-seok (Gwanghae, The Man Who Became King)
Visual Effects: Jung Jae-hoon (Gwanghae, The Man Who Became King)
Sound Effects: Lee Sang-joon (Gwanghae, The Man Who Became King)
Costuming: Kwon Yoo-jin, Im Seung-hee (Gwanghae, The Man Who Became King)

See what I mean? It was basically a Gwanghae massacre, with only a few non-Gwanghae nominees able to steal in there to claim trophies. Yet despite the big (huge, enormoriffic) night for the movie, its lead star Lee Byung-heon wasn't around to accept his award—he's off in the States busy with filming. Sort of anticlimactic to have the face of the film absent, perhaps?
On to the red carpet!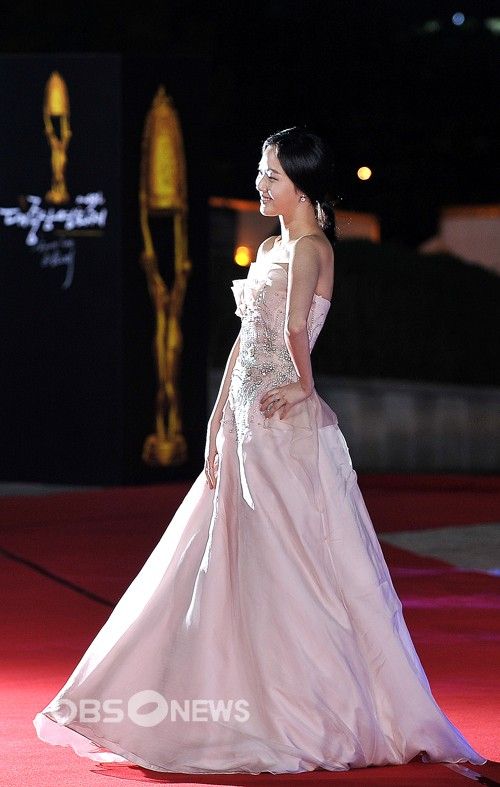 This was basically Kim Go-eun's big come-out party, I think. The 20-year-old took the lead role of Eun-gyo in the melodrama Eun-gyo, which was her debut role, and earned lots of praise for it, culminating in a New Actress award here. I had wondered whether she'd lose out to more high-profile actresses, but the word of mouth has been solid for her film and you know she's good when she's nominated for her first movie in both New Actress and Best Actress categories. It's always nice to welcome a promising new talent; I'll be keeping an eye out for her future roles.

Jo Min-soo was one of the very few entries to sneak past the Gwanghae wall of awards, and nabbed Best Actress for her role in the darkly dramatic Pieta. I love Jo Min-soo, who can be feisty and commanding at once.

Speaking of Pieta… What will Kim Ki-duk make films about, now that he can't complain that he never wins any awards? The whole basis of his experimental piece Arirang was a diatribe on how he's unappreciated in his homeland… but you don't bring your country its first Golden Lion at Venice and then get ignored for that. In fact, I'm betting that the Grand Bell Awards created that Special Judges Award just to give him some recognition, since Gwanghae was going to run away with all the big ones, including Best Director for which Kim Ki-duk was also nominated.

Im Soo-jung was nominated for her movie All About My Wife. She didn't win, but she still looks like a queen. I love the deep blue of her gown and the shape and silhouette; we don't see Im Soo-jung out much so it's nice that when we do, she's rockin' it.

Her All About My Wife co-star Ryu Seung-ryong was actually nominated twice in this Supporting Actor category, and I'd wondered if that would split his vote. But when one of those movies is Gwanghae, you're golden.

Uhm Jung-hwa was another nominee for Dancing Queen, which earned lots of money at the box office and laughs for her meta-hilarious turn as an ajumma who turns into a pop star. Her glitzy golden shimmer seems perfect for her, as K-pop's eternal glam queen.

Hwang Jung-min seems like he's on these lists every year, doesn't he? There's no way he was going to win for his heartwarming comedy act in Dancing Queen when all his rivals were up for big dramatic pieces (the other Best Actor nominees were Kim Myung-min, Ahn Sung-ki, Choi Min-shik, and of course the winner, Lee Byung-heon). But that's the thing about being Hwang Jung-min; he'll be back on this list in no time.

Choi Min-shik also seems a fixture on nominee lists. He was up for his crime film Nameless Gangster: Rules of Time, which was another of the year's big movies.
Well, that dress is a winner. Suzy has made something of a habit (a signature? a statement?) of wearing all-white to just about all her awards appearances. Here she is rocking short white party dresses at this year's Baeksangs, last year's Baeksangs, and last year's KBS Drama Awards. Normally I'd say I'm sick of white and that she needs a new gimmick. But I'll make an exception for Suzy since this one's the first full-length formal evening gown of the bunch, and she's here representing a movie where she became a symbol of first loves everywhere. Pure, fresh innocence is the whole theme.
I did think Suzy had great chances at taking the New Actress award she was nominated for, given how much of a hit Introduction to Architecture was and how much that boosted her career/reputation/image as an actress, rather than idol singer. But like I said, Kim Go-eun was up for multiple awards and given that she didn't get Best Actress, it makes sense they'd give her the rookie award instead.

Jo Jung-seok is probably better known on Dramabeans for The King 2 Hearts, but he mostly owes Introduction to Architecture for his newfound fame; it's where he stole scenes and created catchprases (which earned him the nickname "Napdeuki," based on a particularly droll scene in the movie where he coaches a hapless Lee Je-hoon on how to win Suzy's heart). I was so sure he was going to get the New Actor award (he was also nominated for Supporting Actor, but I figured he'd lose that to bigger names). He did not win either, but I'm pretty sure he's gonna have a big boost in his career in the coming years.

Daniel Choi! So awkwardly adorable. He was Jo's fellow nominee for New Actor, which is probably silly given Cyrano and all, but again, I didn't expect him to win for Traffickers. I love him, vaguely Harry Potter look and all.

Kim Sung-kyun is the man who took that award out of their reach, and was another of the night's double nominees. Actually, triple—he won New Actor for My Neighbor, beating out himself in the same category for Nameless Gangster, which is also the movie for which he was nominated as Supporting Actor. Phew.

Ha, I'm surprised The Thieves is being nominated for awards at all, given that it's really a fluff action caper meant to be an entertaining blockbuster. I mean no disrespect, since I happen to love fluff action caper blockbusters. But when you break records and become the all-time top box office hit domestically, I suppose some congratulatin' is in order. If someone from the movie was gonna win, I love that it's Kim Hae-sook. She's with the director, Choi Dong-hoon, who was also nominated. She looks awesome in that royal blue, which was a popular color of the night.

I had to look up which film Park Hae-il was here for, because he is one of those actors who is in everything, and nominated for everything. Deservedly so, since he's awesome. (Love him! I've said that enough, I know, but what can I say? I'm just full of love tonight.) He must be here for Eun-gyo. I love him in pinstripes, all confident and relaxed. Sexay.

I haven't seen Pace Maker, but perhaps the human drama about marathon-running will have to go on my list. Kim Myung-min was nominated for it, but that's no surprise; it's Go Ara's nomination that makes me take notice, because while I quite like her, I've never thought her acting was anything to write home about. She's endearing and has a cute bubbly personality, but if she's developing some acting chops as well, the world really isn't fair. I've never thought of her as statuesque, but in this gown she's looking regal and tall.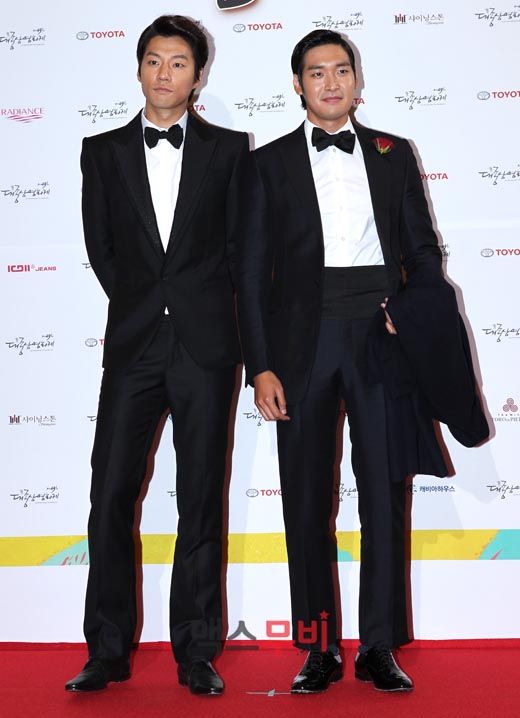 Ha, it's Lee Chun-hee (The Thousandth Man) and Jung Kyeo-woon (History of a Salaryman), looking like dapper twins. The thing is, they're both styled exactly the same, and dressed the same… but why is the effect so different?
Chunderella looks sharp and pulled together, and Jung Kyeo-woon looks… greasy. What happened to his charisma, his charm? Does this just show that every hard-bodied heartthrob is just one oil-slicked hairstyle away from hotness?

Park Bo-young (Wolf Boy)! I love you and you're talented and adorable and sweet and… you need a new dress. Are you just taking the same one and dyeing it for each awards show? Or did you just decide this was going to be your signature look? Far be it from me to begrudge a girl who sees an awesome piece of clothing and decides to clean out the store of multiple versions, but… surely she can wear a new dress now? I have seen this one so many times. She's worn a pink version before, at 2010's Baeksang Awards, and then there's the white version she also wore. That doesn't even take into account all the times I've seen it on other actresses.

Choi Jin-hyuk (Panda and Hedgehog). Mmm. Sharp tux. Tall, lean lines. A happy smile. I'm happy.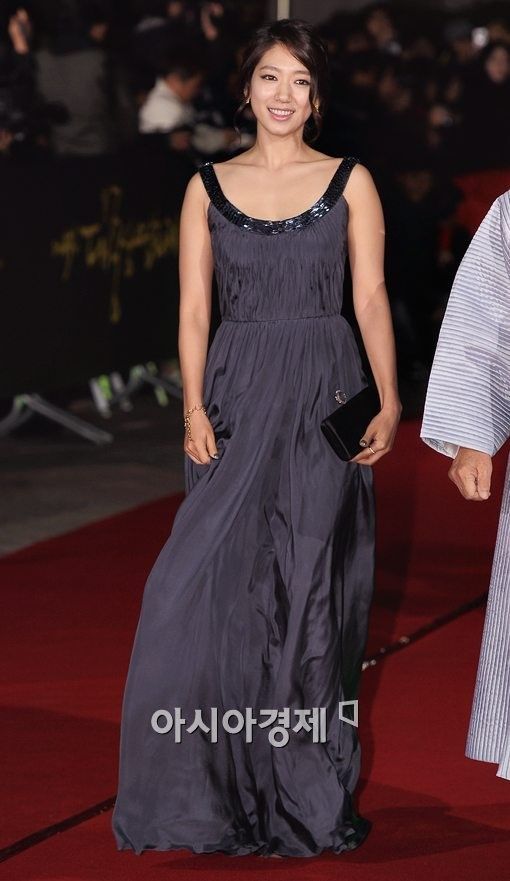 Perfection. This is perfect, right? I can spot no flaws.
Park Shin-hye (You've Fallen For Me) is one of my favorite looks of the night, with her perfectly fitted gown that's flowy, elegant, classy, flattering… just, she looks awesome. Glowy and bright.

Erm, not quite as much a fan of Joo Sang-wook (Ten) with that velvety purple tux jacket. I suppose it's all right. He's a handsome man and he pulls it off, but I don't love it.

I love that for a man who has been in this industry for over half a century (seriously, he debuted in 1957, at the age of 5), Ahn Sung-ki is still rocking that excited just-happy-to-be-here energy. He was nominated for his based-on-a-true-story courtroom thriller Broken Arrow, where he played a man who fights back against a crooked judicial system.

I wish there were photos of Jung Yumi (Rooftop Prince) without the jacket. I was just about to comment on the interesting mix of textures and fabrics with the leather top, but then realized she appears to be wearing separates. I actually like it, though I think there's weirdness with the slit and the shorter layer underneath it.

The Oohlala Spouses arrive together: Shin Hyun-joon and Kim Jung-eun are no strangers to award shows, and I'm torn on this look. Mostly it's 'cause I dig his patterned suit with the patterned shirt and bowtie—it's geek chic, a look for the nerdy sophisticate—and hate everything about her look. The matronly gown, the material, the hair, the accessories. Kim Jung-eun can look adorable and glamorous, but this is not her night for that.

Is this a case of a Monet, and did I just date myself with that reference? I love how Jang Shin-young (Empress) looks from a distance in this bold red gown, but then I look at its features up close and it looks all wrong. Like she tied a huge bow around her boobs. It's too bad that top part looks so Minnie Mouse, because the her styling and the overall silhouette is awesome. And the shoes are fab, of course.

How hot is Nam Goong-min (Can You Hear My Heart)? He looks pulled-together and sleek, and totally at ease. It's a little more "shark businessman CEO" than red-carpet ceremony, but who's quibbling?

Erm. Byun Jung-soo (Hooray For Love) is well-known for her fashionista sensibility and she's got an incredible figure, but she also has a tendency to walk that line bordering on tacky. Definitely loud. Maybe this is a reverse Monet, because up close and individually, I like the parts. The pattern is okay, the accessories are not bad, her makeup is flattering… but it's a case of Too Much, Everywhere.

Aw, Jo Sung-ha (Return to Base, Five Million Dollar Man). I find he can be quite the chameleon, whether he's playing badasses or cuddly ajusshis.

Kang Eun-jin is a face I don't know, even though she was reportedly in Bow: The Ultimate Weapon, but she may be one to watch as well; she was nominated in the New Actress category for Pieta, and also for Supporting Actress. I'm okay with the dress, which is flattering, but I don't love it or hate it.

Choi Ji-yeon won an award for a short film Woman. I dislike much about this ensemble. It just looks like she didn't try. No makeup, nothing with the hair, a flowy dress that sort of reminds me of a bathrobe, and plain white shoes. Meh.

Aren't these two cute together? Nam Bora (The Moon That Embraces the Sun) came to the awards with Julien Kang (To the Beautiful You). She had another of the deep blue gowns, and basically I'm a fan of all of them. It's got a nice touch of sparkle with the waistline, and the pair of them look smart and classy.

Okay, so I don't love all the blues. Just the royal blues, maybe, because this light blue getup worn by 22-year-old Yoon-ju (Bad Blood) looks like a mess. Maybe it's the bad fit, or the flow, because it just looks sloppy.

Moon Jung-hee had a hit movie this year with the sci-fi-adventure-thriller Deranged, which gave her a Supporting Actress nomination. I guess that shiny silver seems appropriate for sci-fi, but all I can think of is how unforgiving that kind of satin is. Wrinkles everywhere!

Another fellow Supporting Actress nominee was Ra Mi-ran for Dancing Queen. As you can see, there was a lot of white at this red carpet, with her empire-waisted gown and the Grecian (sorta?) styling.

Jung Ae-yeon (Two Weddings and a Funeral) goes in the opposite direction with her white number, opting for a structured dress that makes me think of '80s power suits. Thankfully without the shoulder pads.

More white for Jo Ha-rang, a singer-actress who was in the JTBC drama To My Beloved and will reportedly be in the upcoming Jeon Woo-chi (along with Beloved co-star Hong Jong-hyun). Hm. All of a sudden, I'm a lot more interested in Jo Ha-rang. Even though I really dislike her dress.

The other big trend of the night was black, and Seo Young-hee (Cold City) utilizes both. Ehh… not really feeling the lace, cap-sleeves, or straight sheath skirt. Or the pearl earrings. She just seems so much older than her 33 years, like she's about to call out to Jeeves to bring her some tea while she plays bridge with the old biddies. Okay, maybe not grandma-old. Maybe just snooty-spinster-aunt old.

Now onto the black looks. It took me a moment to decide, but I do like Im Jung-eun (Equator Man) in her flowy halter-top gown. The dress seems plain, but the slit is interesting with its bias cut and the draping is nice. Plus, she looks cheery and comfortable. So my vote is yes.

Jang Young-nam (My Neighbor) does black dress and red lips with slit. Three of the night's trends. I like, though not love, the overall look. Which is fine since I love her and all the zillions of dramas and roles she acts in.

I'm gonna vote no on Yoo So-young (Dream High 2), even though she looks perky and chipper and even kind of like Park Bo-young from some angles, because essentially it looks like she ran out to the party in her negligee. Those wee little arm-sleeve-things? They make me want to rip them off.

Eh, another pass for Lee Hyun-ji, who doesn't seem to have any credits in years. Is that right? Is she suddenly gearing up for work again? Maybe I should cut her some slack for the dated look, then… but I can't, because it's so ugly. Puffy, ruffly sleeves mixed with a weird fabric that looks like vinyl snakeskin, and chunky jewelry that drags it all down. Nope.
On the other hand, there's Han Chae-ah (Oohlala Spouses, Gaksital). Va-va-voom.
The red lips can be quite dark and heavy, but I suppose I'm used to it as Rie's signature look. I'm going to ignore the side view that seems to suggest the dress is a bit short on her (or maybe she went to fittings in flats?) and the bowtie-train-bustle at the rear, because she looks so awesome up above. Or maybe it's that I love the framing of the photo itself, and less the dress. In any case, I think she totally pulls it off.

…unlike Jo Yoon-hee (Traffickers). Um, no. Just no. I get that she cut her hair to play a tomboyish role, so I can't hold the unfortunate bowl cut against her. I can, however, hold her entirely to blame for that awful peach thing that looks like something the '70s disavowed and tried to forget. No no no.

Thankfully, I'd say on the whole the night was marked by many more successes than failures, with a TON of stars showing up (seriously, so many. This post took forever, yo) and looking pretty great. And doing a whole lotta winking.
Via Newsen
RELATED POSTS
Tags: Ahn Sung-ki, awards, Byun Jung-soo, Choi Jin-hyuk, Choi Min-shik, Daniel Choi, Go Ara, Han Chae-ah, Hwang Jung-min, Im Jung-eun, Im Soo-jung, Jang Shin-young, Jo Jung-seok, Jo Min-soo, Jo Sung-ha, Jo Yoon-hee, Joo Sang-wook, Julien Kang, Jung Kyeo-woon, Jung Yumi (2), Kim Go-eun, Kim Hae-sook, Kim Jung-eun, Kim Ki-duk, Lee Chun-hee, Moon Jung-hee, Nam Bora, Namgoong Min, Park Bo-young, Park Hae-il, Park Shin-hye, Ryu Seung-ryong, Seo Young-hee, Shin Hyun-joon, Suzy, Uhm Jung-hwa