Vampire Prosecutor 2: Episode 7
Why do I always get the scary episodes? Either the Big Bad is leaving a trail of bodies in his wake to get our hero on the hook, or Tae-yeon is just getting better at catching up to him. Whichever it is, it's certainly working to keep me on pins and needles. Meanwhile, someone from Tae-yeon's past comes back and throws everybody's objectivity into question for the case of the week: Is Jung-in blinded by jealousy? Or is Tae-yeon blinded by trust?

EPISODE 7: "Stalker"
A young woman comes out from the shower to greet her boyfriend… Red Eyes. Oh no. She coos that oppa is so awesome, and that she feels safe now from that creepy stalker she had.
He asks what was so bad about the stalker, and if she likes him… what the difference is. She gasps. He says that everyone always has that same face in the end. Red Eyes: "You should smile. You're prettier when you smile." He chomps down on her neck.
Opening credits. Tae-yeon arrives at a crime scene – it's the one Red Eyes left behind. He can tell with one blood vision that it's Red Eyes, and barks at the detective to hand this case over to the prosecutor's office if he doesn't want to die.
Ha, I know he means that Red Eyes will kill him, but he basically just said it like he'd kill the cop if he didn't hand the case over.
As soon as he steps outside, he senses Red Eyes watching him. But when he turns around, no one's there.
Another woman comes home late at night, quivering in terror as she checks her security footage. She recognizes her stalker immediately, walking around in her house… and then the video shows her own entrance just seconds later. Okay, that sent a shiver down my spine.
She turns around, and screams. Cut to Tae-yeon and Soon-bum standing over her dead body. Soon-bum starts to ID the victim, but Tae-yeon says he knows who she is, since she's a famous actress. Soon-bum ooohs that Tae-yeon would know anything remotely pop-culture-related.
Tae-yeon keeps his blood vision to himself, where he sees one crucial clue: the killer stabbing her with his left hand. He notices the security camera, but Soon-bum says the footage has been erased.
Tae-yeon guesses that she put the cameras up because she had a stalker, and turns to go. Soon-bum: "Aren't you gonna do that thing?" Tae-yeon: "What?" Ha, I love that he's playing dumb. Soon-bum: "You know, blood gulp-gulp, and the eyes flare open."
Tae-yeon just continues to play dumb: "Here? Why?" Soon-bum confesses that he kinda likes it when Tae-yeon drinks blood and keels over. Tae-yeon stares… "Are you a pervert?" HAHAHAHA. Well, to be fair, you're the one who makes o-faces when you drink blood.
He goes back and dips his finger in the pool of blood, and Soon-bum watches full of anticipation… and then Tae-yeon turns around, "Don't feel anything!" He tastes, and doubles over.
Soon-bum asks what he saw, but he doesn't share, and then answers a phone call. On the other end of the phone: "Oppa, it's me." Huh? Who else calls Tae-yeon oppa other than his little sister?
Back in the office, Soon-bum and Dong-man gape and fight over a better view of movie star Park Hae-ri, who's currently sitting across from Tae-yeon. Jung-in takes one look at Tae-yeon smiling and wonders what their relationship is.
It turns out Hae-ri and Tae-yeon grew up together in the same orphanage, and she asks after his little sister and they reminisce about how he used to defend Hae-ri from getting picked on by the other kids. Aw, you were a little hero even back then.
He cuts through the social niceties right away though, and asks why she came to see him, after ten years. She says shakily that the actress who just died, Joo-hee, was from her agency, and she thinks she knows who killed her.
They've been stalked by the same person for months, and that the killer is "among those people." In flashback we see Hae-ri being stalked by a man in a hat, getting a call from an unknown stalker, being told by a street vendor lady that she should eat this and die, and then a cab driver who tells her it's too bad she didn't die in a car accident.
Soon-bum hears the details afterward, and argues that they can't just go after these people without any proof. But Tae-yeon puts on his puppy eyes, "Hae-ri is my past. She's the one remaining person in my life who knows me before I was a vampire. I want to trust her."
Soon-bum says the only thing he believes in is Tae-yeon, and asks why he won't share his blood vision with him. Tae-yeon promises he will, but not yet, and begs Soon-bum to just trust him and follow his lead.
He sighs, clearly not liking all this secrecy from Tae-yeon lately, but agrees to let it go for now and trust him. I just love these two and the way they smile at each other.
Tae-yeon's stumped for once on where to begin, because it's his first stalking case. I suppose anything involving a victim who's still alive is pretty new for him. Soon-bum suggests they call in an expert, and in walks Agent J, private investigator who specializes in stalking cases.
Ha, he's like used-car-salesman-meets-Men-in-Black, and Tae-yeon just looks him up and down, "He's supposed to be an expert?" He's silly, but he does seem to know what he's talking about, as he describes an old-school method of employing a network of people to terrorize one target everywhere she goes until she's scared of everything and everyone.
We watch as Hae-ri's situation escalates just like he describes, until finally Hae-ri stops in her tracks and tells one of the stalkers, "I think that's enough." He turns around, only to find Tae-yeon looking back at him. Nice.
The rest of the team is off catching the others, and they all get hauled into interrogation. But there's just no pinning anything conclusive on a bunch of people who simply counter that they've been going about their lives. With no proof and her word against theirs, it doesn't amount to much.
Tae-yeon asks Hae-ri why someone would be after her and the other actress who was murdered, and she hesitates before saying she doesn't know. He asks if she's hiding something from him, and she hugs him, swearing that she could never hide something from him. But her eyes tell a different story.
Jung-in watches the intimate moment through the glass, and reels. She confirms with Soon-bum that the killer is left-handed, and runs to the hallway to ask Hae-ri for an autograph on her way out.
They all watch with bated breath as Hae-ri takes the pen with her left hand, and signs. As she does, Tae-yeon watches from his office, and then we finally see his blood vision: Hae-ri, peering into the victim's eyes just before she died. Oh noes.
The autopsy doesn't reveal much new information, but Dr. Jo says that there were traces of a Jasmine perfume that they confirm wasn't the victim's own, and the blade used to kill her was army-issue.
Jung-in jumps to the conclusion that it's far more likely a woman killed her, while Tae-yeon argues that it's just as likely that a man killed her. She takes the argument into his office, where she asks why he's doing this, and accuses him of ignoring any evidence that points to Hae-ri as the killer.
He gets defensive: "Do you want Hae-ri to be the killer?" Jung-in: "Do you want Park Hae-ri to not be the killer?" She storms out, and stops to add, "Don't be swayed by a happy past. People all change. I do, you do, and Park Hae-ri too."
She catches up with Dong-man down in the parking garage while he's loading the case files into Tae-yeon's car, and I love that she badmouths Tae-yeon in banmal when he's not around, now that she's mad at him.
Her phone rings, and a scrambled voice on the other end asks if Hae-ri came playing the victim, and calls himself someone who has been harmed by her lies in the past. Jung-in asks to meet in person to discuss it, but he threatens to hang up.
So she keeps the call going while gesturing at Dong-man to track it. The man names two other actresses who died, and says all three victims have something in common: a role that then went to Park Hae-ri after their deaths.
Meanwhile Dong-man traces the cell signal… and finds that the caller is right on top of them. A car zooms past. Jung-in gives chase, but the other car vanishes into thin air.
Hae-ri arrives home, not thinking anything of the man and woman who ride the elevator up with her, until she realizes they're stopping at her floor. She quickens her step, and they do too; she stops, and so do they.
She finally starts to run, but trips in her heels down the long hallway, and they run at full speed… right past her. They disappear down the other end of the hallway. But by the time she reaches her front door, they appear again. Oh creepy.
She fumbles with the lock as they get closer and closer, and barely manages to get inside just in time. They bang on the door and twist the handle, as she screams.
And then she stumbles inside her apartment to find it vandalized, and her puppy murdered in cold blood. Augh. Why, Show, why?
Cut to: Jung-in asking her what on earth happened, because her story doesn't match what they see. The apartment has been wiped clean and there's no sign of a dog. Whaa?
Tae-yeon stops Jung-in with a hand to the shoulder, and asks Hae-ri calmly what happened. She says, shell-shocked, that the police came and told her it wasn't safe here, and took her downstairs. When she came back, it looked like this.
Tae-yeon says there's no record of police ever coming here. Soon-bum roots through the bathroom, and finds a perfume. He sprays; it's jasmine. And then Dong-man shouts from the kitchen.
Everyone joins him, as he opens the microwave, and takes out the bloody murder weapon wrapped in a towel. Jung-in doesn't waste a second and cuffs Hae-ri.
She interrogates her fiercely, scoffing at Hae-ri's tears like it's an act for Tae-yeon's benefit. She's clearly as biased as Tae-yeon is the other way, but in Jung-in's defense, this is how she treats all murder suspects. It just feels harsh because we know she's jealous.
Finally Tae-yeon comes in to take over, and Jung-in refuses. But he softens his tone and asks her, so she can't do anything but leave the room and watch with Soon-bum. Tae-yeon asks if she's the killer, and Hae-ri asks what he thinks. He says honestly that he wants to believe her.
Crying, she says she didn't know it would come to this, and asks Tae-yeon for one more day, and she'll explain everything. And then to his team's utter shock, Tae-yeon agrees. They're like What in the what?
He tells them to let her go, and he'll take responsibility, leaving them slackjawed. Jung-in fumes. Dude, I would be pissed.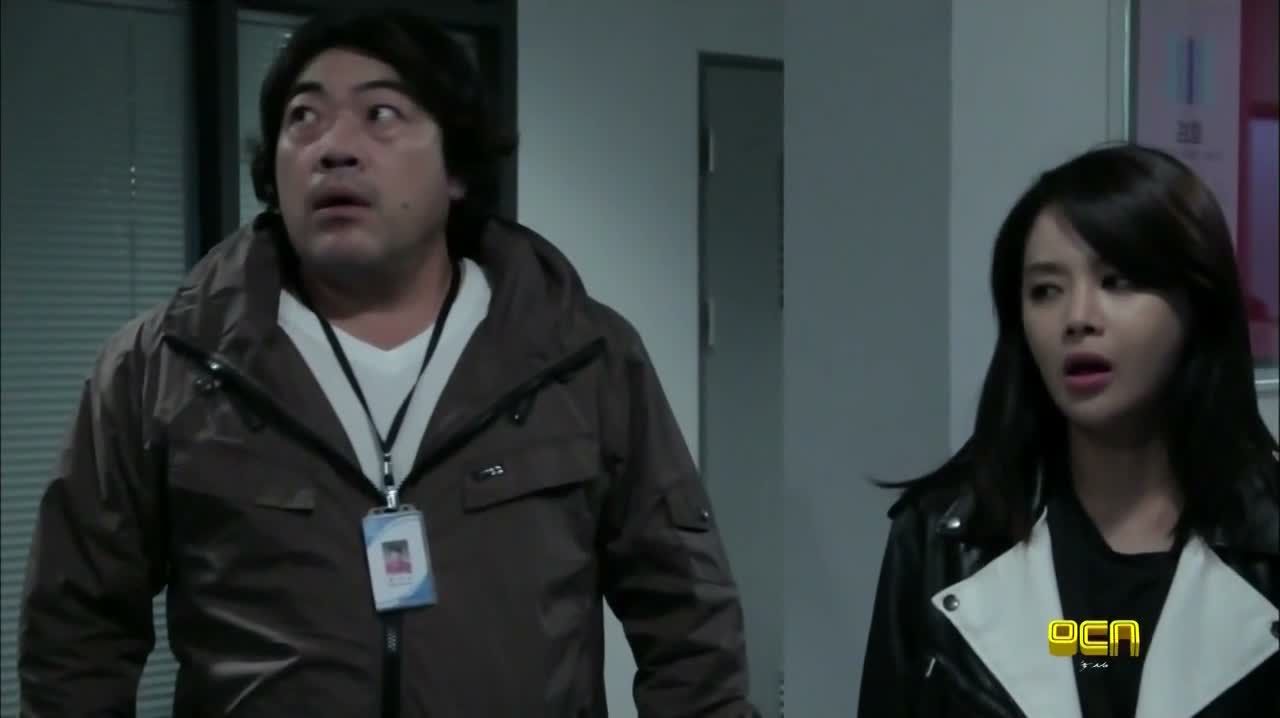 Soon-bum gets a call from Agent J, who reports that this is no ordinary small-fry operation. He poked around only to discover a massive group—maybe thirty people or more—who were professionally organized to stalk and terrorize Hae-ri.
He says they'll go as far as kidnapping and murder, as we see Hae-ri being followed that night, and one of her stalkers showing up behind her with a wire…
The team scrambles to locate her, and then finally Tae-yeon gets a call from Hae-ri. They head out, and Tae-yeon says they have to take Dong-man's car because the rest of them might be under surveillance, and Dong-man looks up nervously.
They're like, you always brag about how awesome your car is… and Dong-man stops sheepishly at his old beater. I just love the half-second the team takes to raise an eyebrow at Dong-man before squeezing into his tiny car.
They arrive at a remote house, and Hae-ri comes running up to hug Tae-yeon, as Jung-in scowls behind him. Soon-bum can't even get his seatbelt off (thank goodness they're not chasing a bad guy), and when he insults the car, Dong-man asks if it's not because of his big belly. You knuckleheads.
They finally all gather in the house and light candles for some reason (sudden séance?) and Hae-ri finally tells them the whole story. And we see in quick flashback that she had a had a taser on her, and zapped the guy with the wire to get away.
She says that her friend Joo-hee was killed because she kept a list. They understand right away what she means—a sponsor list, meaning their agency sent her out as a glorified call girl to the rich and powerful in exchange for stardom.
Joo-hee had confided in Hae-ri, that she showed the list to their agency president with the naïve expectation that he'd stop sending her out to such "meetings," but then the stalking began. After months of this, they agreed to hell with fame, they'd rather get justice. So they planned to hand the list over to a journalist.
But then Joo-hee was murdered. We see in flashback that it was Hae-ri she called that night, who rushed over and found her dead—Tae-yeon's blood vision. Soon-bum asks now why she didn't just say all this in the first place instead of being accused of murder. Hae-ri says shakily, "I was there too, that night."
She takes out a tape recorder where she kept her own evidence of being sold out to sponsors, and plays it. But Jung-in presses pause and tells her she can stop there, and holds her hand comfortingly. Aw, and that's why we love you.
Tae-yeon disperses his team, and it cracks me up who gets which task: Dong-man sets up a press conference, Jung-in goes after the baddies, and Soon-bum acts as a decoy Hae-ri.
The baddies set a trap down the road from the house and bash Dong-man's car in, only to find Soon-bum inside, pretending to cower in fear and threatening to call his insurance agent.
Prosecutor Joo gets a call alerting her to Tae-yeon's extracurricular activities, and storms into their office to find the place empty.
Tae-yeon takes Hae-ri somewhere by bus, and fends off an attacker. Can you just climb onto a bus and start knifing people? Not that it matters, because the bus pulls away from its next stop, leaving three unconscious men in its wake. Hee.
They get to the building and a scary-looking thug gets on the elevator with them. Jung-in calls to say she found Joo-hee's killer, and sends Tae-yeon a photo… of the man standing right behind him.
The killer takes out a knife and Tae-yeon swings just in time to take a knife to the hand. Ow, ow. (That must be the scene that sent Yeon Jung-hoon to the hospital, though the production reported he went in, got stitches, and came right back to set. What a badass.)
Tae-yeon shoves Hae-ri out, and keeps the fight contained in the elevator until they get to a different floor. This guy is intense and makes Tae-yeon work for it.
He gets knocked to the ground and almost looks like he's winded, but he gives the guy a pounding until he goes down. Hae-ri finds him with a bloody hand and wraps it in a scarf.
He takes her to see Prosecutor Joo, who asks them if they know what kind of powerful people will be implicated in this case. Are you threatening Hae-ri to back down because the bastards who used her have money and power? I'm not surprised, but you are the devil.
Tae-yeon just tells her that he'll respect her choice whichever way she wants to go. The press conference starts, and Hae-ri hesitates at the mic. The team wonders what's going on, and Tae-yeon goes up to start answering some of the questions about Joo-hee's murder.
Hae-ri looks up at him, remembering what he did to protect her, and says she's made up her mind: "I'm going to make my own opportunities from now on." She takes the microphone and tells the whole story.
With the case closed, Tae-yeon relaxes at home with a glass of blood, but when he takes a sip, he senses someone behind him. Oh crap.
He swings, but not fast enough, and Red Eyes stabs him in the gut. He twists the knife until Tae-yeon hits the floor, doubled over in pain. Red Eyes warns that he told Tae-yeon to stay away. "You should know—is it wrong for a vampire to drink human blood?"
Tae-yeon: "You're a murderer." Red Eyes: "People have to die for me to live. Is there another way? If I want to live I have to kill. And you're the same."
Tae-yeon isn't deterred and vows to keep coming after him, but Red Eyes just laughs—it's not himself he's worried about, but the people around him. Oof, the look of fear in Tae-yeon's eyes just kills me. We just never see him quake in terror like that.
Red Eyes runs a hand down Tae-yeon's cheek as he tells him to keep at it then, and they'll see who gets hurt.
Tae-yeon asks whom he meant the last time—the other vampire who isn't a prosecutor—and Red Eyes just licks his hand to taste Tae-yeon's blood before walking out.
Tae-yeon yaaaanks the knife out and winces in pain.

COMMENTS
Urg, I hate that he didn't even get any answers in exchange for that horrible knife to the gut. I just feel so helpless when it comes to Red Eyes, who has both strength and speed on Tae-yeon, and knows everyone he loves. I mean, the guy can just waltz into his house any time he wants! If the other guy has nothing to lose, and Tae-yeon has to protect his people AND go after him, the odds are just cruelly stacked against him. Obviously all good things dramatically, but he's never been so exposed and vulnerable before, and it's making me nervous.
I love what bringing in someone from Tae-yeon's past does, in throwing the team off balance. It seems perfectly in character for Tae-yeon to want to trust Hae-ri, and be the protective oppa the way he was with his little sister. It's just that Jung-in and Soon-bum are used to being the people he trusts and favors, so when he's doing that for someone else, and seemingly turning a blind eye to major clues that she could be the killer, it makes sense they'd put up a fight.
I enjoyed watching Jung-in's jealousy flare up the most, because she has no outlet to express her feelings for Tae-yeon in the traditional way, so every barbed accusation or attack on Hae-ri was kind of adorable, even though the moments themselves were tense. So much of the tension in this episode simply came from Tae-yeon not sharing what he knows with Soon-bum or Jung-in, and it's only going to get worse with Red Eyes. Soon-bum's already suspicious, and asking all the right questions. I know Tae-yeon wants to protect them, but I fear for the sense of distrust that's slowly building—if they keep feeling like they're out of the loop, they start acting on their own. Add Red Eyes to that equation, and they'll be picked off one by one. Can we maybe just start having the whole team sleep over at Soon-bum's house or something?
The few moments of honesty from Tae-yeon really did get to me though, like when he told Soon-bum that Hae-ri was the only person who knows Min Tae-yeon the man, before he was a vampire. It turns out he hasn't changed at all from the kid who told all the bullies to mess with him instead of picking on Hae-ri, but I like that it matters to him. And with Red Eyes questioning his humanity against his baser instincts to kill and feed, he's going to need those human connections more than ever. I just hope he doesn't shut them out completely in an attempt to protect them, because that just seems like something a big ol' hero would do. I know you're a hero, but do you have to be such a HERO?

RELATED POSTS
Tags: featured, Lee Young-ah, Vampire Prosecutor 2, Yeon Jung-hoon