Flower Boy Next Door's first script read
Whee, production is underway for the next installment of tvN's Oh Boy series: this time we have Flower Boy Next Door, starring Park Shin-hye as a lonely girl locked away in her room, where she spends her days peeping at her hot neighbor. Hey, girl's gotta have hobbies. I'm picturing a comedic Rear Window setup, where Park Shin-hye is Jimmy Stewart, and there's a little less murder and a lot more eye candy. Huh, come to think of it, isn't there a Miss Lonelyhearts in that movie too?
The drama is based on a popular webtoon called I Steal Peeks At Him Every Day, and Park Shin-hye stars as a girl who shuts herself away in her house because of an emotional scar. But her hottie neighbor Kim Ji-hoon catches her eye (and how could he not?), so she starts spending her days peeping on him.
Problem is, she gets caught red-handed by another neighbor (Yoon Shi-yoon), and thus begins the real love story, face-to-face and (hopefully) not requiring any binoculars. True to the flower boy franchise, our heroine will be surrounded by a gaggle of pretty flower boys everywhere she turns, which is just the way we like it. Go Kyung-pyo rounds out the flower boy gang as Kim Ji-hoon's assistant and freeloading friend, and Kim Yoon-hye (Woori) plays Yoon Shi-yoon's best friend and first love. Eek, a tough combo to beat.
The drama is described as fresh and fun, which is exactly what I expect from the franchise and in particular from the director of Flower Boy Ramyun Shop, which pretty much felt like a comic book come to life, in all its silly, crazy, and adorable glory. The premise sounds cute, the franchise has pedigree in my book with two for two fantastic shows under its belt, and with this cast assembled, I'm just checking my watch every five minutes till premiere. Are we there yet?
Flower Boy Next Door hits the air January 7 on tvN.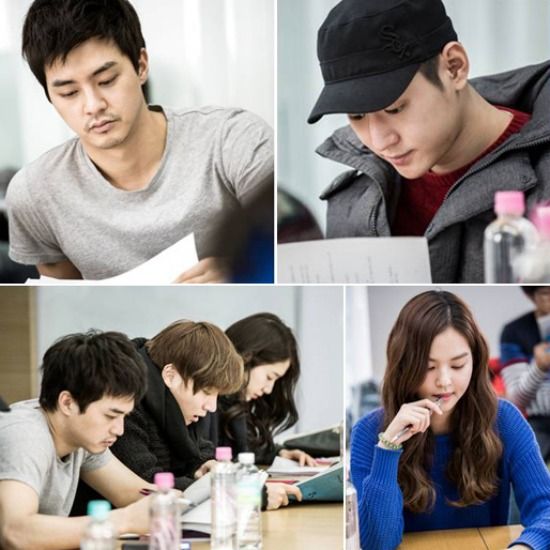 Via Eto.co.kr
RELATED POSTS
Tags: Flower Boy Next Door, Go Kyung-pyo, Kim Ji-hoon, Kim Yoon-hye, Park Shin-hye, Yoon Shi-yoon