Vampire Prosecutor 2: Episode 11 (Final)
Badass. So badass, in fact, that I immediately want to watch it again. I sort of wonder if they saved all their eggs for the finale this season, instead of doling out the awesome little by little, because the final episode is considerably better than the past ten. It's go-go-go from start to finish, and I'm still reeling from the heart-pounding thrills. They drop everything but a grand piano on our hero in the final hour, and even still, I'm waiting for that piano to drop.

EPISODE 11: "Return of the Vampire"
Tae-yeon races to go save his team before it's too late. Well that's what happens when you let yourself get tied up by your former bartender/hyung/informant/doctor, leaving the humans to fight the vamps without you, while you have ambiguously kinky time.
Red Eyes (We find out from the "Previously On…" that he's called L, but gee the final episode sure is a great time to finally tell us his name, Show.) has Runa by the throat. He says goodbye, but she ekes out that she can feel his past.
"Why do you use the same method that was used on you, to cause pain to others?" Glimpses back to Ji-ae's drowning take him back to his own torture as a human—someone repeatedly holding his head underwater as he screams, "Save me, save me!"
And after the torture—by two scientists, one of them Dr. Jo's father—he is given a syringe full of vampire blood with the choice to live or die.
Back in the present, Runa pleads with him to stop, and to use his strength to protect those precious to him. And then we see Red Eyes' first moment of human weakness, shaken up by her words.
…or so we thought. He raises his head with a sneer, "Do you believe in stuff like that? I don't." His eyes glow red and he gets ready to snap her neck, when Runa reaches for something in her pocket and cuts him in the face.
It's a lighter—is it Tae-yeon's lighter? She falls to the ground and says under her breath, "Please stop him. I believe in you, Prosecutor Min…"
The cut heals over in seconds, and Red Eyes grabs her in a fury, ready to chomp down. Opening credits. Aaaaack.
Dr. Jo comes back to the car to find Runa missing. He tears down the road, which Jung-in sees on her way towards Soon-bum. She whirls around to follow him.
She calls Soon-bum, but he doesn't answer, because Dr. Jo has left him in a horribly mangled heap. Oof, it hurts to look at him this way. I can't. He's supposed to be the big fluffy teddy bear. Why is he lying on the ground in a bloody heap?
He manages to reach a bloody hand out to answer his phone, and ohthankgoodness it's Tae-yeon on the other end. He freaks out to hear Soon-bum's voice that way and asks what happened.
Soon-bum can barely get the words out: "I thought… I could handle it. I wanted… to help… I'm sorry, Tae-yeon-ah." Nooooo, stop saying deathbed things!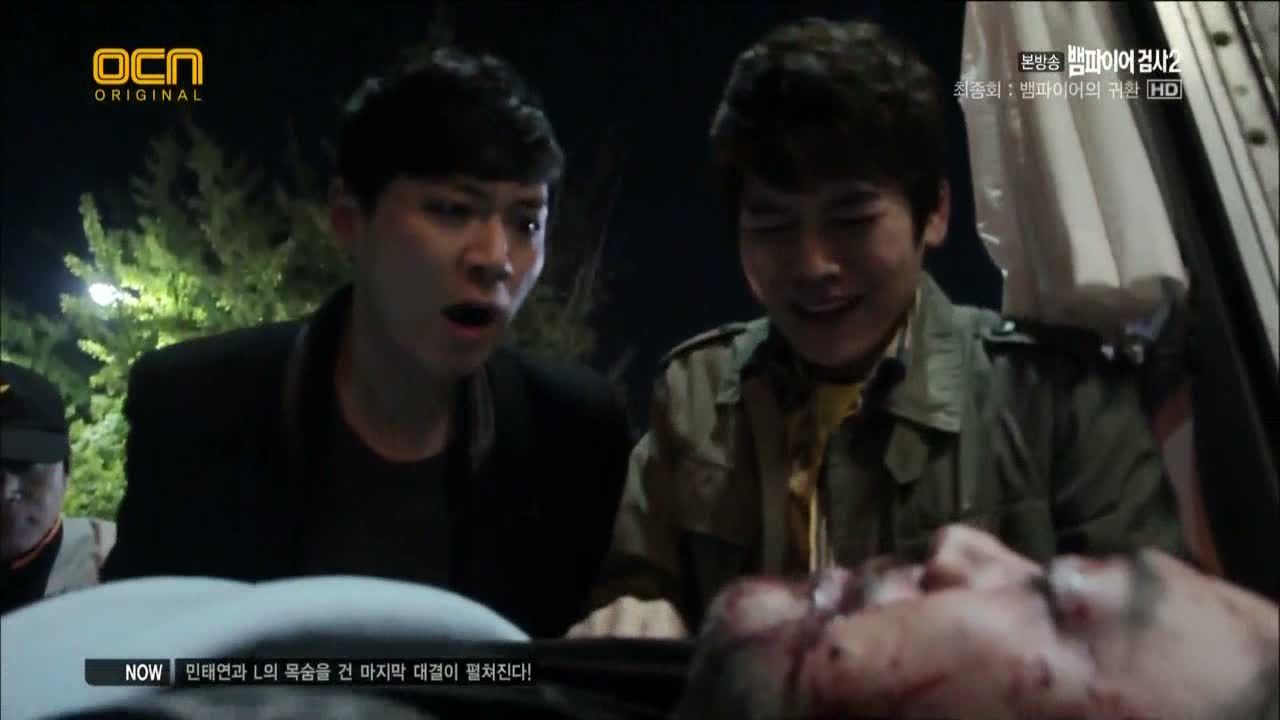 "Dr. Jo… vampire…" and then the line goes silent. Tae-yeon, "HYUNG!" Soon-bum lies on the ground, unconscious. Please don't be dead. Please don't be dead.
Dr. Jo uses the last baddie's cell phone to call the boss of the kidnapping operation, and warns him that he's going return all the children to their parents. Clearly his intentions are in the right place, yunno, minus the whole uncontrollable killing thing.
Dong-man wails, "Soon-bum-ie hyung!" as Soon-bum gets rolled out on a stretcher. Tae-yeon runs up, terrified, but then Soon-bum wakes up. OH PHEW.
"Hey Ddong-man [poop-man], why am I your hyung?" Hee. They both let out a sigh of relief and smile. Dr. Blood is there too? How'd he get here?
Soon-bum swears he's in tip-top shape, and takes Tae-yeon's hand. He apologizes for not being able to help, and says that Tae-yeon is the only one who can handle Dr. Jo.
He asks Tae-yeon to take care of his hyung (awwwwww) with a squeeze of his hand. It kills me that he's still worried about Dr. Jo after he nearly beat him to death minutes ago.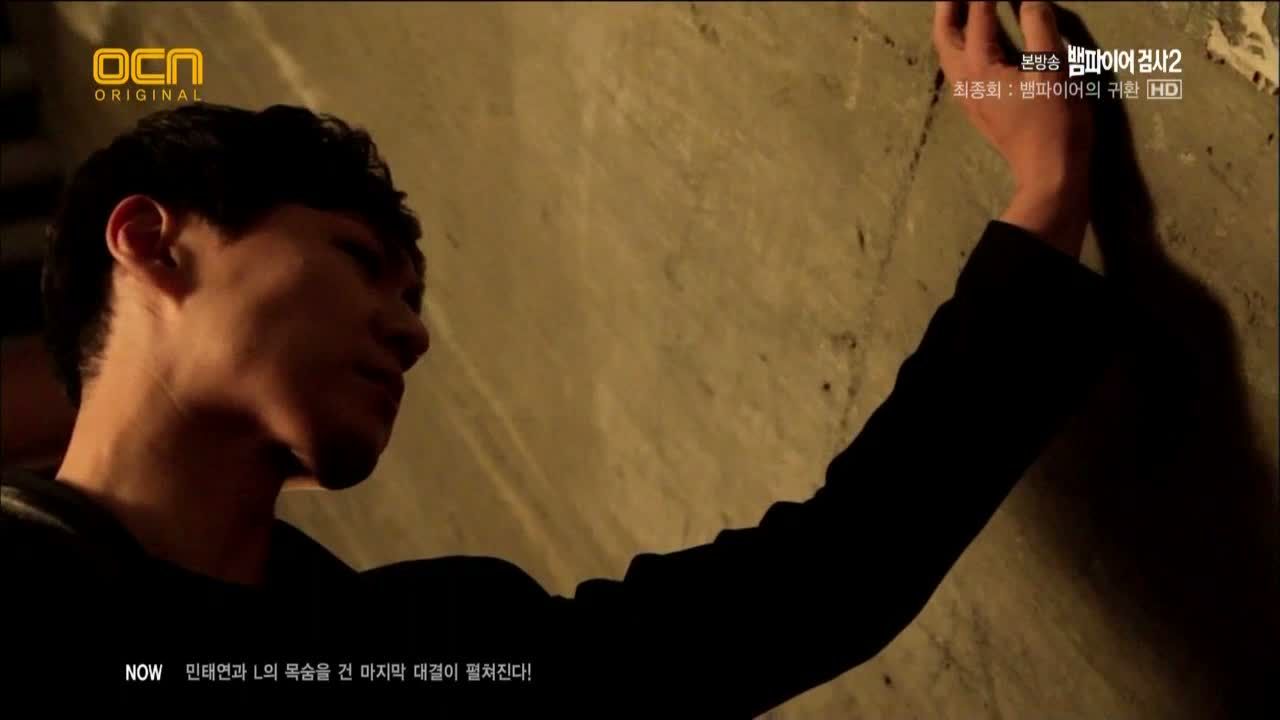 Tae-yeon sends him off to the hospital, and then turns down the street—something catches his eye. Or no, it's his nose, because it's the alley where Runa was, and she's left behind a pool of blood.
He reaches out and sees her final moments… pleading for him to come, and Red Eyes killing her with a bite. Aw man, why'd she have to die?
He tastes the blood, and it's like an instant download of Red Eyes' past, which Runa felt moments before her death. A tear rolls down his cheek as Tae-yeon comes out of the vision, and Dr. Blood catches up with him.
Dong-man calls to say that Jung-in is chasing Dr. Jo, which sends Tae-yeon into another tailspin. He turns to go, and Dr. Blood tries to stop him. Tae-yeon: "Hyung, I can't watch another one of my people get hurt. I'm going to catch him myself… Bad Blood."
Dr. Blood offers to help, but Tae-yeon asks him to do something else—to check out the bunker where he first met Red Eyes, to see if there's any evidence that Little Sis Yeon-ji is the other non-prosecutor vamp he was talking about. He asks through tears, which you just can't say no to, ever.
He calls Jung-in and warns her not to act alone, and to wait until he catches up to her. She wonders what the hell is going on, and Tae-yeon shouts that he doesn't have time to argue, and to just do what he says. I know the situation is terrible, but his panic is so sweet.
Dr. Jo enters a warehouse, where the kidnapper talks to him over the PA system like he's the wizard of Oz or something, and then unleashes his minions.
Dr. Jo shoots? (Does the vampire need a gun, really?) and bests them all. It leaves him bloody though, and he limps away in search of the boss.
Jung-in waits and waits, and gets antsy of course, and takes out her gun to go in anyway. I honestly didn't even hold out hope that you'd wait that long.
But as soon as she steps out of the car, Red Eyes shows up behind her. Eeep! He asks where Tae-yeon is. She raises her gun at him, and he just laughs as he grabs it and presses it up to his temple with a smile.
He tells her to go ahead and shoot, and then snatches it out of her hand. He takes out all the bullets but one, and then presses the gun to her temple for a game of Russian roulette.
He asks where Tae-yeon is, and she grits her teeth to answer that she doesn't know—once, twice, three times. He warns that it's her last chance, and asks again.
But this time she grabs the barrel and presses it up to her forehead, "If you're gonna shoot, shoot, but don't scare me with this crap." Bad. Ass. I love her so. Even a villain's gotta have some love for that kind of gumption, right?
Dr. Jo is bleeding profusely and losing his strength, but gets it together when the kidnapper offers to trade Ji-ae, and puts her on the phone. He heads up to find her.
Meanwhile, boss lady Prosecutor Joo arrives on the scene with a SWAT team, and orders them to kill Dr. Jo on sight. Seriously? She actually says the words, "That would be less embarrassing for me."
Tae-yeon calls her, from what looks like inside the warehouse. He asks her to call off the team and let him handle the matter himself, but she just mocks him and decides he's next once she's taken care of Dr. Jo. At least in Tae-yeon's case she means losing his job, not so much the killing, but in any case, she's not going to let him handle it quietly his way.
Tae-yeon: "Then I guess I have no choice." Cue action music. Hell yeah. Now I'm glad she said no. He takes down the SWAT team with one swift move after another, and then finds the trail of Dr. Jo's blood.
Dr. Jo finally reaches the room where the baddie is holding Ji-ae hostage, and the guy offers him a trade: his life for Ji-ae's. He agrees, and Ji-ae is set free. She runs into Ajusshi's arms and they each check on the other, and then he tells her to run.
She shakes her head, crying that she doesn't want to go without him. They're killing me. This little girl is so good. He promises that he'll be right behind her (LIES!) and then finally picks her up over his shoulder to make her go.
Tae-yeon gets closer to the top, when the two lead agents show up behind him, guns drawn. He just turns back at them like he's annoyed at the buzzing flies, and then in one motion, he grabs both guns out of their hands, drops the cartridges, and tosses them aside. *Rewind*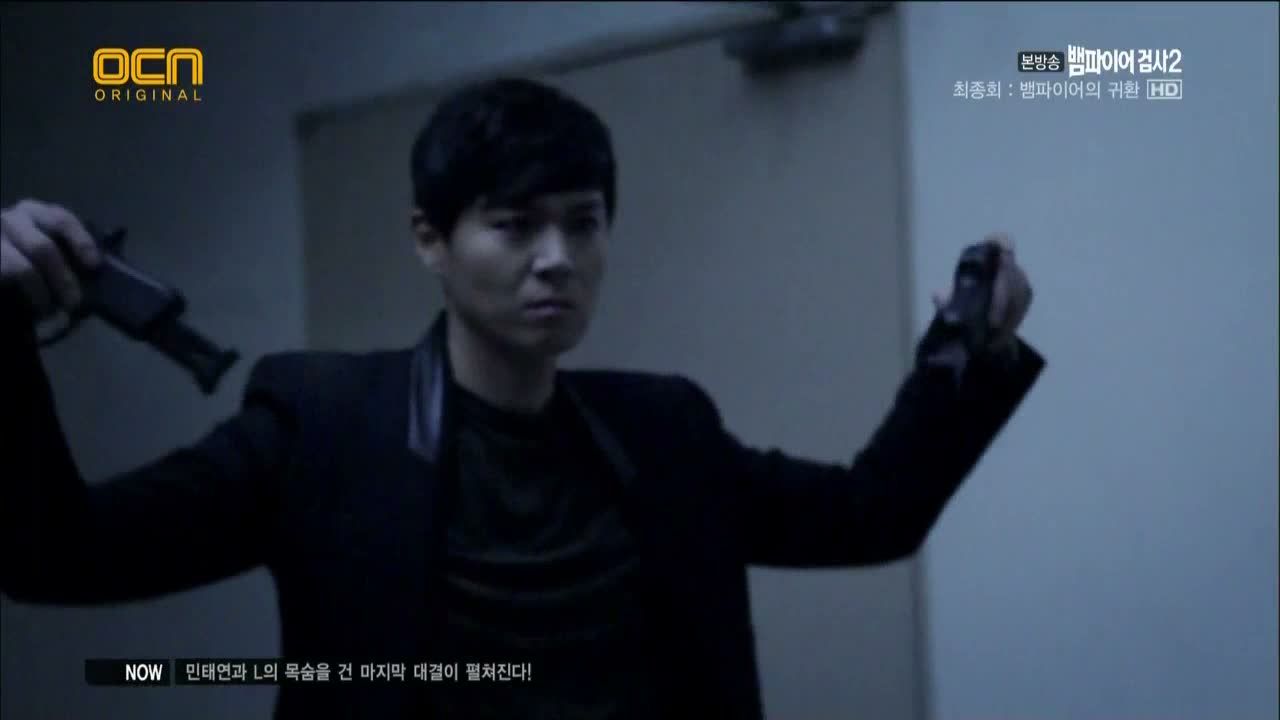 They're not so easily deterred though, and give him a good fight.
Dr. Jo tells Ji-ae to go and that he'll come home to her no matter what. She cries and cries that she won't go without him, and he yells at her to make her go, and locks the door between them.
She bangs on the door with her tiny little fists, and on the other side, he whispers, "I'm sorry, Ji-ae-ya." He hears her cries growing faint.
And then the baddie comes and knifes him in the gut, laughing that he'd fall for such a stupid ploy. He fully intends to kill Dr. Jo and then just kill the little girl anyway, which duh, but he also doesn't know about Vamp 1 in front of him, and Vamp 2 just a few floors down.
Sure enough, Dr. Jo kills both his minions and then overtakes the boss. He reaches up with his… wait, has he been killing people with a scalpel? Pffft, that's funny.
At the same time, Tae-yeon finally reaches the top floor and finds Ji-ae huddled in the corner, crying. She points to the room where Ajusshi is, and Tae-yeon runs in just in time to stop Dr. Jo from killing the last baddie.
He says it's over, but Dr. Jo says he's come too far, and that this trash needs to be taken care of. Tae-yeon promises that he can start over, and he starts to hesitate, but argues that he can't.
That is, until Ji-ae's voice rings out, "Ajusshi!" He lowers his weapon with a pang, and turns to face them.
But in that split second when he turns, the SWAT team shows up, and suddenly Dr. Jo's chest is covered in laser points. Oh no.
Tae-yeon turns around in slow motion, screaming, "Nooooo!" But it's too late, and one shot takes him down.
Tae-yeon and Ji-ae run to his side, and Dr. Jo returns to his old self, smiling up at Ji-ae and promising that he'll always be looking out for her, till she's twenty, and thirty. He turns to Tae-yeon and leaves Ji-ae in his care, and dies in their arms.
Ji-ae cries and cries, breaking my heart all over again, and Tae-yeon slowly reaches out a hand to comfort her.
He gets held up by Prosecutor Joo in the aftermath, and the only reason she lets him go is because they find out that Dr. Jo didn't kill Runa after all.
Tae-yeon had insisted the same, and she asks now if that means he knows who the killer is. She lets him go and puts agents on his tail.
As he runs out, we get a flashback to the moments following Dr. Jo's death. Tae-yeon gets a call from Jung-in's phone, but it's Red Eyes, who says he has Jung-in.
Tae-yeon loses it and growls into the phone, "What do you want from me?!" Red Eyes just gives him a location to meet the next day, or Jung-in dies.
He races there now, and it's… the middle of a shopping mall? He's tailed by agents all over the place, but I'm thinking Red Eyes doesn't much care one way or the other. He suddenly appears behind Tae-yeon. Can we get this guy a bell? So creepy with the appearing out of nowhere.
He's clearly decided to up his game, because this time he's armed with a remote detonator for a bomb that's wired to go off in Jung-in's face. It's timed as well, for three hours from now.
Tae-yeon grabs him by the collar, "What do you want?!" Red Eyes: "You." Get in line, buddy.
Tae-yeon asks if he has Yeon-ji too, but Red Eyes continues to be vague about it. He orders Tae-yeon to protect him if he wants Jung-in and Yeon-ji to live, and then gives himself up to the agents on Tae-yeon's tail.
They run up to arrest him, so Tae-yeon has no choice but to fight them all off. Aw crap, now he looks all guilty and shit. He grabs Red Eyes and they run to the car, only to have Soon-bum show up and put a gun to his head, asking for Jung-in.
Red Eyes lies that he already killed her, and Soon-bum just about goes crazy with rage. Meanwhile Tae-yeon has to calm him down if they're going to get out of there before the agents catch up, and I'm freaking out right now.
Tae-yeon panics and tells Soon-bum that Jung-in will die if he kills the bastard, but I don't know if he can even hear him over his own ragey thoughts. But Tae-yeon finally gets through to him, and Soon-bum makes him promise to save Jung-in before sending them off.
Standing ovation for Soon-bum in this episode. Man, he doesn't have much to do by way of screen time, but damn is he killing it every second he's onscreen.
Commence high-speed chase, which Red Eyes seems to be enjoying like it's a picnic. He actually hangs his head out the window like a dog on a sunny day.
They nearly get caught, but Soon-bum and Dong-man show up to interfere, giving Tae-yeon a chance to slip away.
They stop somewhere, and Tae-yeon asks why he's doing this to Jung-in. Red Eyes reminds him that he warned he'd hurt the people around him if Tae-yeon kept chasing him. "Is that why you turned Dr. Jo into a vampire?"
Red Eyes says no, actually—he dug into all his team members' files, and discovered that Dr. Jo was the son of the man who "made me what I am." Ah, so it WAS a calculated revenge. I figured he had to have known.
He finally shares his backstory, as we see the young man captured over labor union battles of all things, tortured, chained up, given more and more blood and kept in a cell for years. Geez, no wonder he's a psycho.
He says that Dr. Jo Sr. was the one person he thought understood his pain. He pleaded for his help, but the guilt-ridden doc said he couldn't, because it was the only way to find a cure for his son's illness.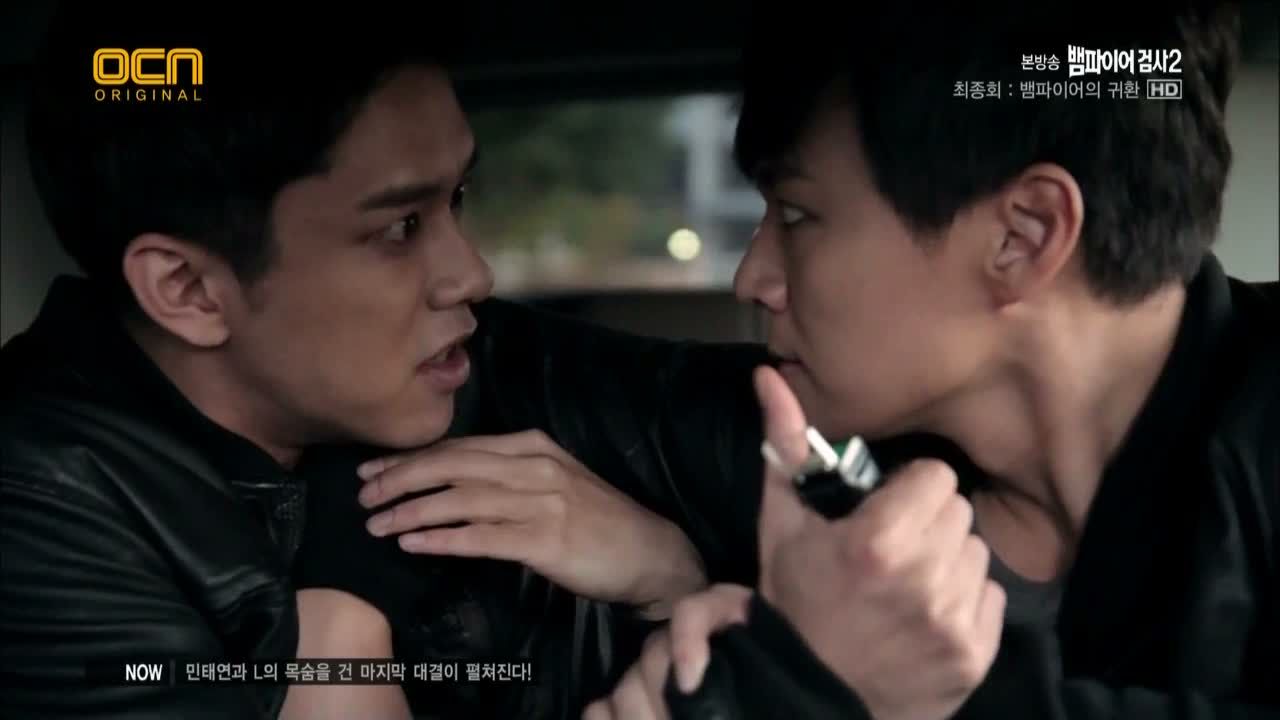 "And that's when I found out that there's no such thing as a good person in this world. Just people who pretend they are. I hate people like that the most. They make a person confused."
He says that Dr. Jo was the same in the end. We see in flashback that it was Red Eyes who hired the kidnapper to go after Ji-ae. He says that human beings are all the same, and that he caved to his baser instincts when all was said and done.
Red Eyes: "Do you think I haven't tried to live like you before? But the world isn't that kind a place. You just live, taking another's to protect what's yours."
But Tae-yeon surprises him: "There's one thing you can't deny—the reason Dr. Jo let you go." Red Eyes wonders what tricks Runa played in sharing his past, and acknowledges that he was set free.
Tae-yeon asks if that wasn't Dr. Jo Sr.'s choice because he wanted to give him a sliver of hope. Red Eyes scoffs as he says sure, hope is all good and well… and then a flashback takes us to him returning to his family's home after everything, and finding it all destroyed and his family gone.
"Living with the belief in that hope… is what made me this way. I'll show you what the end of hope is."
The clock is ticking down, and they have an hour left as the sun starts to set. They reach the warehouse and Red Eyes sends Tae-yeon in alone, which can't be good. He runs inside, and is greeted by this:
Whoa. And who should step out in front but that mob boss from the first case that brought Red Eyes onto the scene. (He proved to be harmless in that case, and was actually friends with a cop.)
Red Eyes saunters past Tae-yeon and tells him to fight his way through them, and he'll be waiting at the top. Did… you just slap his ass? Hee.
Tae-yeon yells at the gangsters to get out of his way, and the mob boss swears he doesn't want to do this, but Tae-yeon doesn't know what kind of monster that guy is. I'm pretty sure he knows. I love Tae-yeon's slow-motion sigh, followed by his imma-have-to-kick-your-ass-then glare.
He makes his way down the longest corridor known to man, through the biggest group of mobsters ever—they're like zombie-mob big—putting them down left and right.
This. Is. So. KICKASS.
By the time he gets to the last one, the floor is covered in bodies, and he has to step around them to do his hero walk-away, out of breath but with laser focus on getting to Jung-in.
Omgaaaaawd, I love this. Hold on, I need to watch that again.
He runs up to Jung-in, where Red Eyes is ready to make things interesting, and starts a fire. With Tae-yeon's lighter? Give it back!
They fight, and then Red Eyes takes out Jung-in's gun with that last bullet in the chamber. Damn. This guy really likes his circular poetic send-offs, doesn't he?
He shoots, and Tae-yeon goes down in front of Jung-in's eyes. His eyes light up blue and he vamps out as he reels from the pain. I can't tell how much of it is visible to her, with all the smoke and mirrors (literally) and with her strapped to a chair.
And then of course comes Red Eyes' final choice. He really is a one-trick pony with this obsession, isn't he? He tells Tae-yeon that he can drink Jung-in's blood and walk away, or they can die together.
He tells him to hurry it up, with that droll tone in his voice that says he'll do what everyone else does, per his mantra. He throws her down next to Tae-yeon, and adds another carrot to the deal: if he kills Jung-in and gets out of here, Red Eyes will tell him where to find his sister. You ass.
A tear falls as Tae-yeon listens to him ask if Yeon-ji isn't more important to him than his own life. But he won't kill Jung-in, so Red Eyes says he'll help him along. Oh no.
He grabs Jung-in and vamps out… Tae-yeon screams… and Red Eyes bites her. Crap crap crap crap.
He asks if he's going to live or die with her, and Tae-yeon looks up at the bomb, with three minutes on the clock. Red Eyes turns to go, but Tae-yeon gets up and says he's the one who feels pity, for the guy who has never truly had hope.
Red Eyes grabs the nearest pipe and starts to beat the lights out of him, when Tae-yeon sees his chance to throw him to the ground.
He vamps out and takes a GIANT crunch out of Red Eyes' neck, wails on him, and then freaking REBARS him by lifting him up like a giant vamp skewer. Holy crap.
With thirty seconds on the clock, Tae-yeon limps over to Jung-in, and picks her up. "Jung-in-ah, I'm sorry, for letting you go through this." He holds her… over the ledge?
He hesitates, and then lets her go. She falls in slow motion and lands on the pile of trash down below. Dead? Alive?
Soon-bum and Dong-man arrive, calling out her name.
Red Eyes drags his bloody, mangled self across the floor, and Tae-yeon grabs a chain. Oh my, I'm terrified.
He wraps the chain around his neck and whispers, "This is my choice." He yanks on the chain, and looks over at the bomb as it counts down 3… 2… 1…
Boom. The explosion engulfs them.
Fade to black, and then some unknown time later, Dong-man eats ice cream in the park with Ji-ae. He asks her what she wants to be when she grows up, and she says, "A doctor, because if there are fewer sick people in the world, people can live together a long, long time." Oof, this little girl kills me.
Soon-bum rides along with Dr. Blood, going over how weird it is that he can't find a single trace of Tae-yeon at the scene of the crime. He takes out the photo of Red Eyes and mutters, "This guy must've been there too…" Wait, does that mean you couldn't find either of them? That's the definition of good news/bad news.
He asks Dr. Blood—this is the same guy right? Dr. Blood glances at the photo and says he's never seen that guy before. Wait. WUT. Soon-bum: "You said you've seen him! Bad Blood!" The car comes to a screeching halt. He grabs the photo, "No. That's not him." OH MY GOD. Bad Blood is someone else??
And then, someone walks into a room and uncloaks someone held captive. Oh thank goodness, it's Tae-yeon.
He lifts his head… his eyes go wide.
And with the closing credits, we get bits and pieces of dialogue from previous episodes, cut together to give us cheeky clues: "Isn't that game over?" "Is that the end?" That's not the end, is it?" "That's not the end."
"Where's Prosecutor Min?" "Where'd he go?" "Is he hibernating?" "Where would he go at a time like this?" "Where is he, Min Tae-yeon?"
Cut back to Tae-yeon, wide-eyed at his captor (Or savior? Both?), who cloaks him again. Dun dun!

GIRLFRIDAY'S COMMENTS
Okay, that was fun. Overall this second season didn't have the flair of the first for whatever reason (perhaps because it was less shiny and new), but the finale alone was a great hour. Before this episode, I was rather ambivalent about a third season for this show, but now I'm intrigued. Probably because they didn't answer any questions (sigh), but I suppose that's one upside to being cryptic. Though the downside might be that I wonder if you'll EVER answer any.
I wish the entire second season had been this taut and action-centric, but I think there was a bigger disconnect this year between the murders of the week and the overarching mystery, or perhaps it was just that we've come to know that the weekly murders have less impact on the overall story, so there's more of a tendency to skip past that stuff, or watch with a less attentive eye till we get to the meat and potatoes of the central conflict. With such short seasons to begin with, I would've much rather pared down a lot of that, and gotten more backstory with Park Hoon, Dr. Blood, or Red Eyes.
There's one thing they really did get right this time around though, and that was in Red Eyes as the villain. I loved his darkness, his anomie, his one-track obsession. He was a really rich character, and if there is a third season, I hope he survived the blast. If there isn't, I suppose I'd sleep better at night thinking he died… but I know better—if Soon-bum didn't find a body, then he's out there somewhere.
We did confirm that Red Eyes was a prisoner-turned-lab-rat and made into a vampire, (which we pretty much guessed), but from whose blood remains unexplained. Is he the first vampire literally born of science? Or was his blood transfused with existing vamp blood? This is really the qualm I had with this season, though it's really this show's tendency from the beginning—to ask way more questions than it ever answers. I just always want them to be more forthcoming than they are, because you have to reward us with some narrative payoff when you engage us with these twisty (and twisted) stories.
Where we do get payoff is with our main characters and their relationships, because this show does a great job of always getting at the heart of the prosecutor team's found family, and Tae-yeon's connections to all of them. And I liked the finale because it was Tae-yeon being the big hero and the papa bear, running in to save his people, win or lose.
I'm sad that we lost Dr. Jo, who was a really warm addition to the team. I do wish that his final vigilante arc didn't feel so rushed and forced, because it was a little hard for me to believe that a guy who was SO kind could turn on a dime like that. And it wasn't like he had flipped a switch and completely lost himself or anything—he was still Dr. Jo, but killing people, and it was all a bit abrupt. It's the kind of arc that I think could've gotten an entire season rather than a pair of episodes, though on the upside, the faster version delivers more punch.
OCN is really taking to the multi-season show, with series like Vampire (and God's Quiz), still the rarity in a primarily single-season dramaland. It still feels like an experiment in many ways, though that's interesting in and of itself. I don't know if they'll be back with a Season 3, but all I know is: If they killed Jung-in, WE WILL HAVE WORDS.

JAVABEANS' COMMENTS
On the other hand, I was decidedly unimpressed with the finale, and the season as a whole. I've been trying to pinpoint all season long what about it wasn't getting my attention the way the first did, and I still don't have a definitive answer, though I have a few ideas.
Perhaps it was the extra emphasis given to Red Eyes, which split the focus between the hero and the villain, whereas last year Tae-yeon was on an intensely personal trajectory. His sister was the huge trauma, his enemy was his boss/hyung, and he had some personal demons to fight. This year, there were huge stretches where Tae-yeon was offscreen, just reacting to stuff. And while Red Eyes has a really tragic backstory, I had a hard time connecting this present-day villain with the guy in the flashbacks (mostly since we barely saw the flashback version, and were not privy to the extent of his misery until this episode)—so basically the series afforded a tremendous amount of story time to a sadistic fuck who liked to toy with people.
Or perhaps it was the way this season seemed determined to outdo everything about the first season, and in so doing turned up the technical trickery. The show had a PD switch, but I don't actually think there was much of a difference (or a dip) in the directing; to me it felt like the same show in tone, mood, and visual style. Even the types of crimes of the week weren't very different from last year—we had comic cases alternating with serious ones, with some heart-tugging moments slipped in every now and again. In fact, this year's overall crime arcs may have been better plotted than last year's—Season 1 had more variety, but tended to be more all over the place. Surely Ji-ae and Dr. Jo's connection trumps last year for weekly cases that had emotional impact. It was just that there was an overall attempt to out-gore itself, and go darker and bloodier.
That particularly applies for this finale (along with that torture-fest of a premiere), which had so many dead bodies left in its wake that I just stopped caring. There was so much torture and stabbing and growling "Where is she?!" that I mentally checked out from the repetitiveness. It felt like I Miss You, the dark-action version—lots of pain, more pain, how about some more pain? Bored now.
To be honest, after everyone just kept dying there was no more shock factor for anyone else because it seemed the show was just going to keep killing. After Dr. Jo and Runa, I wasn't expecting any hope for Jung-in or Tae-yeon, so I was checked out of the big bomb countdown. It's like a Tarantino movie; once you realize everyone's likely to die, you're not very invested in them staying alive. I did think of Tae-yeon's suicide maneuver as fitting more than sad, which was a nice touch. (Though if he lived, then there's no guarantee Red Eyes died, and then where does that leave us?)
I did enjoy the season as a whole, and there's no question this is a slick, well-produced franchise with lasting potential. It's just… perhaps the novelty has worn off, but wasn't replaced with extra heart or brain or cleverness. Which means I got what I expected, but nothing more in the way of emotional payoff.
It seems obvious the show is planning a Season 3 with that tantalizing twist so I won't complain about the cliffhanger nature of the finale. It did, however, strike me as willfully cryptic, which is annoying. Something designed to say, Tune in next year! Well, maybe girlfriday will. I'm not so sure that goes for me.

RELATED POSTS
Tags: featured, Lee Young-ah, Vampire Prosecutor 2, Yeon Jung-hoon