Running Man: Episode 127
Time to kick off the new year with the Running Man cast and four idol boys who come to join in on the fun. They'll need to use their noggins to figure out who the Snake is as they run around making a fresh start for themselves. If this is the kind of hilarity we're going to be served every Sunday, then it's sure to be a bright year ahead.
EPISODE 127. Broadcast on January 06, 2013.
Morning breaks in Busan and Mr. PD instructs early riser Jae-suk to give his New Years greetings to the audience. Jae-suk does so in a still-sleepy, groggy voice, complete with a deep bow.
As for this morning's mission, the boys will choose whose team they'd like to join: Ji-woo or Ji-hyo. The staff ask Ji-hyo who'd she like on her team and she answers, "As long as it isn't Haha."
The decision is far from easy – do you choose your longtime cast member or the actress you deceived yesterday? For Jae-suk, the answer is Ji-woo.
Kookie must have taken some kind of aegyo energy drink this morning as the camera PD asks off-screen, "What's with him this morning? What'd you feed him yesterday?"
Poor Ji-hyo looks all lonesome in her room all by herself but never fear – Gary's voice rings outside. Ji-hyo looks relieved though she's busting a gut. Gary steps inside and tells her, "We're making a fresh start in 2013!"
Is that a couple wave dance? Cute.
The other boys are starstruck at Ji-woo's bare face and I love it how Ji-woo automatically scolds Haha, "Why are you here?"
Everyone gathers outside and Mr. PD explains that there are a few extra guests to balance out the uneven team division. Currently, these guys are hiding in a life-size pouch, chattering their teeth in the freezing cold, "Why is it so cold? Why are they talking so much?" Ha.
And 2013 really does start out with a bang as we get four idol boys today. Returning guest, Jung Yong-hwa with his CNBlue bandmate Lee Jong-hyun, Simon D (Supreme Team), and Lee Ki-kwang (B2ST).
Ji-hyo bows in gratitude for her New Years surprise and Ji-woo immediately gripes towards her teammates, "Why did you come [join me]!"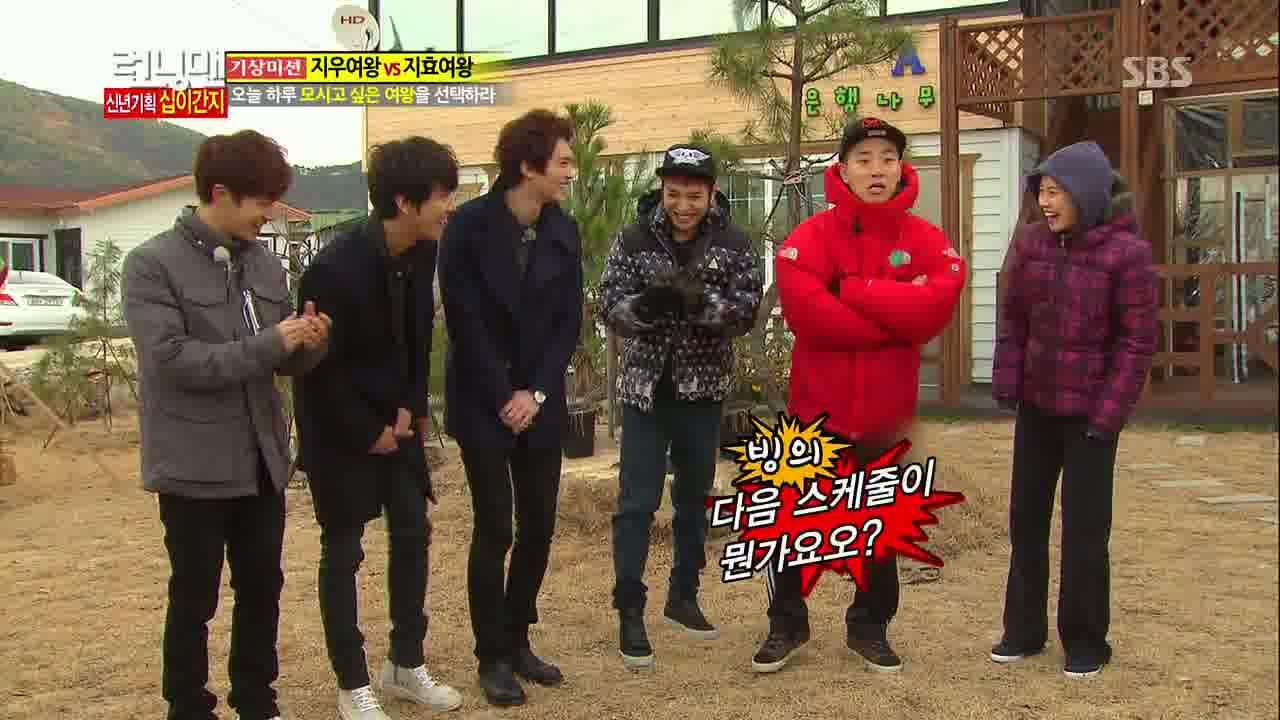 Ji-woo doesn't even try to hide her disappointment at the missed opportunity (I mean, can you blame her?) and the boys defensively cry out that they can look just as good as the idol boys do. They protest, "Let us get our makeup done too!"
Today's F4 is here because they all hail from Busan (apart from Ki-kwang, who's from Gwangju) and the boys joke that Gary looks like the boys' manager. In fact, they disagree that Simon D is a F4 at all, "If Gary isn't there, then Simon D looks like the manager!"
Simon D defends that he's still in his 20s to which Kwang-soo cries that he's still young too. The look of genuine shock on Ji-woo's face is priceless. Couple Kwangvatar's age with the fact that he's good buddies with Song Joong-ki (both 1985-ers) and her face reads, No way…
Haha asks why they don't have any female guests today and Ji-woo bursts, "I'm right here! Is that not enough?!" Omg, I could watch her spit fire all day.
2013 marks the Year of the Snake and today's race is entitled the Chinese Zodiac Race. Everyone will assume a different zodiac sign and the goal is to eliminate the Snake. The clues in today's mini-mission games will help the team members find out who that is.
No one knows who it is, so the teams make guesses on how they'll identify the Snake. Gary postulates that whoever it is, they'll work extra hard to win so that no one else picks up a clue. In the other car, Suk-jin rests assured because they've got Spartakooks on their team.
Yes yes – but what if HE'S the Snake?
The teams playfully banter in Busan satoori by the seashore prior to the start of their first mission. It's a relay race where they'll need to piggyback the other team's female teammates. Yong-hwa looks positively excited in Ji-woo's presence, "It's a celebrity!"
It's the ladies' job to make the piggyback experience a living hell for the other team, but how can you when Yong-hwa calls you 'Noona' ? Ji-woo blushes.
HA – and then Yong-hwa cries out the famous Stairway to Heaven quotes, "[True] love comes back!"
Ji-hyo's simply amazing. She hangs her legs and kicks the back of Haha's knees to buy her team some time. Then she covers Kwang-soo's eyes and shouts out orders and leads them… into the sea. HAHAHA.
For the other team, poor Simon D is completely exhausted and Ji-woo is so tall that Ki-kwang panics for a second, "Wait, why can't I lift you up?!"
It's down to Jong-hyun versus Jong-kook and the ladies do their best to stall the guys. Ji-woo falls off of Jong-hyun's back while Ji-hyo yaannnks on Jong-kook's hair.
Because Ji-hyo's so uncooperative, Jong-kook shifts his position and carries her like cargo, so the Ace pulls out her last card… and pinches him, mere inches to the finish line.
Did… Ji-hyo just throw Jong-kook off of her? Dying. of. laughter.
Jong-hyun is completely spent by now and his teammates roar about how the former judo champion can't even move the Hallyu star six more inches past the finish line. So the boy gets on his knees, begging for her help. Ji-woo's like, "[My heart] wants to!"
He musters up the last bit of his strength and then carries Ji-woo past the finish line.
Ji-hyo's teammates, who now affectionately call her 'Leader Song', scratch their heads at their first hint: Kim Yuna.
Yong-hwa guesses that the clue might be about him because he recently mentioned that the figure skater was his ideal woman. But then the others are like, "We're fans of her too!" Maybe not so much then.
Gary on the other hand, wonders, "Is it someone that Kim Yuna likes?" Yong-hwa: "Me!"
There's something strange going on in the tiny village of their second mission location. Dozens of ajusshis and ajummas roam the streets dressed in tan-colored coats and hats.
Each team will designate a "Yogurt Goddess" and the first team to take off the rival goddess' hat will be the winner. Ji-hyo's team starts to strategize and decide on Ki-kwang, who looks mighty pretty with his pink lipgloss.
Ji-hyo starts to berate the boys as Yong-hwa and Simon D joke around with the afro wig. But she can't help but burst out laughing the very next minute – Gary in that same wig, spittin' out rhymes.
Looks like Suk-jin is the Yogurt Goddess for the opposing team as he's flanked by two staff members.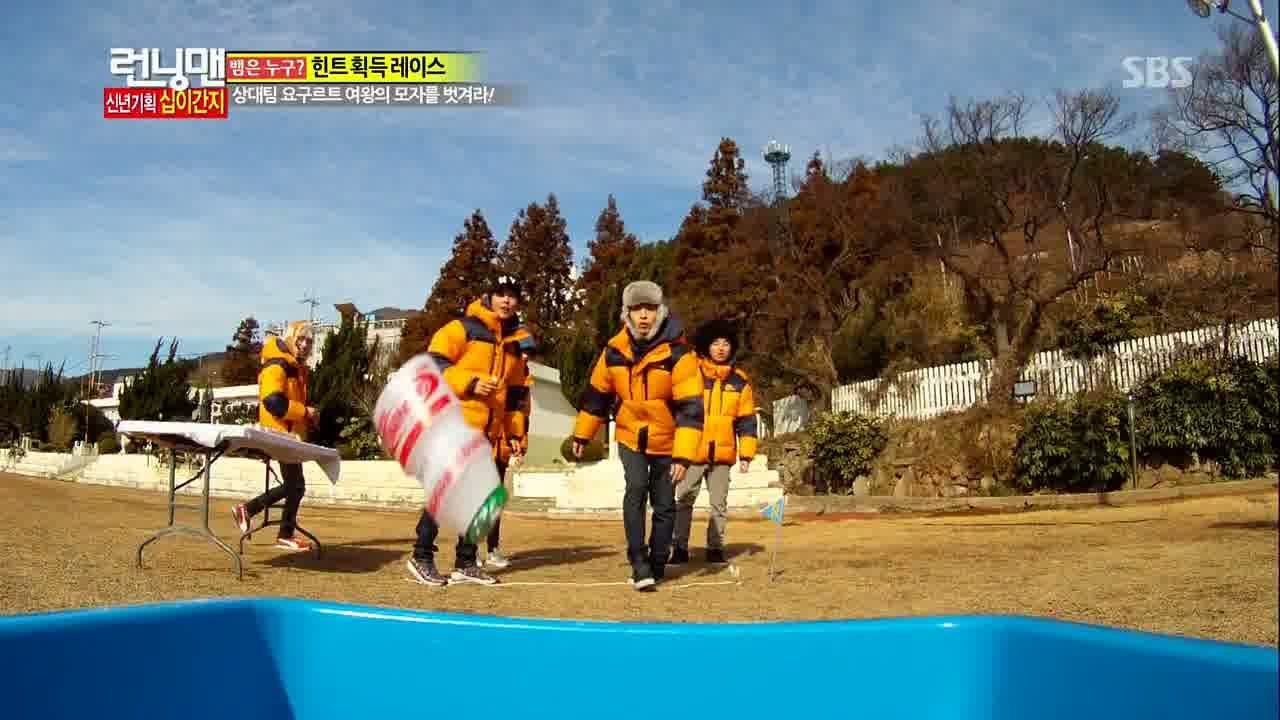 As for the others, they'll need to throw their empty yogurt bottles into a bin before they can head out. It should come as no surprise that this task is harder than it looks and they down bottle after bottle after numerous rounds of failed attempts.
How cute is it that Yong-hwa naturally slips back into his Busan dialect when he's with Simon D? Yong-hwa asks the staff to write in the caption (for post-production), "A man born to be in Running Man!"
They comply… but it's written as if spoken in satoori. AHAHA.
The members head out one by one, and suddenly Ki-kwang makes a run for it. He whispers that he just saw Jae-suk, who starts to give chase in his direction. But then Jae-suk calls out in disappointment, "Oh, it's you, Yong-hwa." Whew.
Ki-kwang nervously roams the streets and runs into Jong-hyun, who hurriedly instructs him to hide. Too bad that Haha's caught this interaction and makes a mental note.
It's pretty adorable how Jong-hyun clams up and awkwardly attempts to lie in front of the Master of Deception aka Haha. Though he may be the world's worst liar, Jong-hyun does manage to hold Haha back just long enough so Ki-kwang can run away.
Damn, Haha is on a roll today. He calls attention to the sound of dogs barking in the distance and Jong-kook runs over to investigate. At the opportune moment, Ki-kwang makes a run for it, leaving his VJ behind for the second time.
He's got all the boys on Ji-woo's team on his tail with only Jong-hyun to protect him. But soon, Jae-suk chases Ki-kwang down and Haha removes the goddess' hat.
What about the other team's "goddess"? Cut to: lonely Suk-jin who wonders why no one's coming for him.
In the car, Ji-woo's team analyze their hint, "Yoo-jin" and Ji-woo guesses, "[Jung] Yoo-jin from Winter Sonata?" (Her character name in the drama.)
They toss out a few more guesses, which include Simon D's real name (Jung Ki-seok), but none get them any closer to figuring out who the Snake is.
Their third mission is a dodgeball game and the boys will have to protect the ladies from the opposing team. But what makes this an interesting game from your classic playground game is that the eliminated members can surround the playing field and still play.
One by one, each team member is eliminated and now only Haha remains to guard Ji-woo, who doesn't look all that reassured (Haha can't be tagged out until Ji-woo is eliminated first.).
Gary is left to protect Ji-hyo for the other team and he whips around, doing his best to evade the oncoming attacks.
The tables turn when Gary takes possession of the ball and it hits Haha square between his legs. Ouch.
When the ball is back in his hands, Haha calls up his "Short Height" power and launches it at Kwang-soo… but the ball flies over his head. Whoops. Lucky for them however, that Jae-suk throws the ball between Gary's legs and it hits Ji-hyo. They win the first round.
Jong-kook warns everyone that he'll be going straight for the ball as soon as the whistle blows. That's exactly what he does… it's just that no one else runs towards the center. Heh.
Jae-suk is lightning fast with his attacks but hides behind Kwang-soo as soon as the ball leaves his hand. As I watch the ball go back and forth between the teams, I realize how truly athletic the Running Man cast is.
I'm particularly impressed with Gary, who catches the ball and turns right around to throw it at his next target.
But let's check back in with the game as Suk-jin gapes, "I'm the last one left?" Uh-oh. I'm torn between guilt and laughter watching Suk-jin protect Ji-woo, especially when he gets hit in his nether region.
Turns out Suk-jin's a fairly good human shield (though I'm sure the constant attacks have got to hurt). Jong-kook and Kwang-soo try out a "lightning" throw (but fail), and when everything is said and done, Ji-hyo is eliminated and Ji-woo's team acquires the last hint.
Expending all that energy is bound to bring on the hunger pangs for the cast (and myself) and Ji-woo's team ponder over their final hint: actress Min Hyo-rin.
They continue to hypothesize in the car and find that a few simple internet searches lead to Ki-kwang as a likely suspect. In the other car, however, Simon D deduces that there was an ice skating scene in Stairway to Heaven. Ji-woo, perhaps?
Mr. PD outlines the rules of the game at the final mission location. With an hour on the clock, their job is to protect the Snake if they're on the same team or if not, to eliminate the Snake. The staff affixes everyone's astrological sign beneath their name tags.
The opposing teams strike a deal to exchange hints (since they're all so vague anyway). With that added information, Ji-woo's team are more confident than ever that Ki-kwang is the Snake.
Gary belatedly regrets informing the other team of their one and only hint (Gary: "We're screwed!"). But in any case, they decide to focus their attention on Ji-woo.
With 40 minutes left on the clock, Ji-woo and Jae-suk finds themselves surrounded by Ji-hyo's team. They slowly back away and lead the other team into an ambush.
It's utter chaos as the members reach for each other's backs and both Haha and Ki-kwang's name tags are ripped off. To Ji-woo's team's complete surprise and disbelief, Ki-kwang… isn't the Snake.
Kwang-soo forgets himself and lets slip a hint ("Min Hyo-rin") which Ki-kwang immediately relays before he's carted off to jail.
Half an hour has passed and no one has any idea who the Snake might be. Ji-hyo asks for an equal chance to figure it out but even with all the hints, it's virtually impossible.
Just then, Ji-woo's team all set their eyes on Ji-hyo. That instigates another chaotic mess of rip, rip, rip and once the dust settles Ji-woo, Jong-hyun, nor Kwang-soo are the Snake.
By now, each team has all three clues and Gary truthfully admits, "I don't know." But then, Ji-hyo gasps, "My character names?"
One of her character names was "Kim Yuna" in the film Late Blossom and she played "Min Hyo-rin in Goong. As for "Yoo-jin," it was her character name in the film Some. Eureka!
Ji-woo's team have just come to that same conclusion as well (so have the jailed, ha). Gary and Yong-hwa start strategizing the best way to protect Mung Ji-hyo, who has a blank expression on her face. "How did I not know it was me?"
Time is of the essence because now there's only 15 minutes remaining.
Both teams face off as the clock continues to tick down. Ji-hyo's team reaches for Jae-suk who extends his arm towards Ji-hyo's name tag. The boys flock to protect her while Yong-hwa tries to stall Jong-kook.
Hands reach for each other and both Gary and Jae-suk are eliminated. Gary: "Am I the 'dog'?" Jae-suk: "Nope, that's me."
There's less than five minutes left and the teams agree to face off 1:1. Jong-kook and Yong-hwa circle each other as a worried Ji-hyo stands by the sidelines.
But Suk-jin slowly inches towards the two men and so Ji-hyo and Simon D rush to hold him off. Once Suk-jin is eliminated, Jong-kook turns on his A game and hurries to rip off Yong-hwa's name tag…
Rrrrippp! Oho – but it's Yong-hwa who holds Spartakooks' name tag in his hand. Did Jong-kook really pick "Tiger"? How fitting.
Yong-hwa returns the honor of eliminating Jong-kook to his parents and Ji-hyo's team is declared the winner. Ji-woo sighs that she didn't come out as the victor both days.
As for today's prize, the show donates 100 bags of rice to the local nursery schools.
Happy New Year Running Man!
RELATED POSTS
Tags: featured, Haha, Ji Suk-jin, Kang Gary, Kim Jong-kook, Lee Kwang-soo, Running Man, Song Ji-hyo, Yoo Jae-suk