Thing vs. Thing: Comic book heroes of sageukland
javabeans: If American comic book-dom is perpetually confronted with the question "Who's better, Superman or Batman?" then dramaland is equally confronted with the question… "Who's better, Superman or Batman?" Because really, they sorta all fall into those archetypes. Just also wearing hanbok and manes o' glory. Okay, with a fair dash of Robin Hood sprinkled in.
girlfriday: The most famous heroes in Korean folklore are all Robin Hoody types, really. There's a whole lot of thievery goin' on among the good guys, though it's all to restore the balance and punish the corrupt, of course.
javabeans: Because they are all Robin Hood, we almost have to strip away that layer (mm, stripped hero layers) to do any comparing, since that's just going to be a built-in trait. But who's got the best cover? The niftiest tricks? Whose revenge cuts deepest?
girlfriday: Who's got the best girlfriday? The flowiest hair?
javabeans: So many Things, so many other Things to compare them with.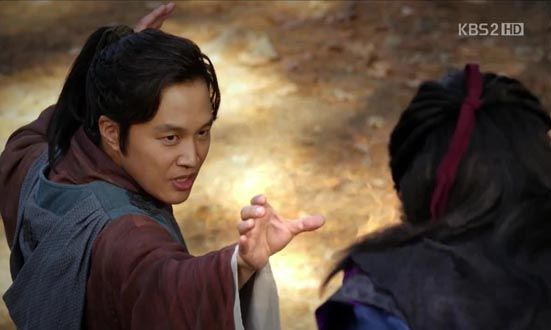 girlfriday: Okay, let's start with the superhero basics: Powers. Who's got the best chops around? While Iljimae (and the other Iljimae) have the best fighting skills, it's hard to beat the wizards.
javabeans: Do we even stop to consider a magic-less Jeon Woo-chi, or is that defeating the purpose? Because once you slap a talisman on him, suddenly he's just another prisoner up for some torturing.
girlfriday: But without his tricks, Woo-chi's just… a giggly troublemaker.
javabeans: Without his tricks, one might argue he wouldn't be much of either. Whereas Iljimae (Lee Jun-ki's version) would've retained his playful personality. And Hong Gil-dong (Kang Ji-hwan's version) always had that swagger, no matter the situation. I could even argue that Hong Gil-dong gets props for becoming a hero completely accidentally—does that make him even more of one, since he was actively trying NOT to be one and then it just happened?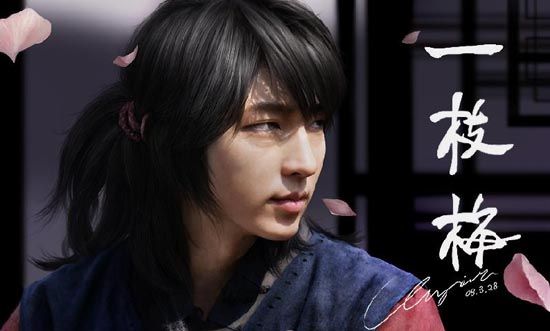 girlfriday: Or less of one because he sort of tripped and fell into it?
javabeans: It wasn't merely a case of accidentally being heroic—he would pull all these stunts purely for selfish reasons, and then they got interpreted as heroic, and he got this reputation he didn't mean to get. HA. On the other hand… dude DID establish his own egalitarian nation. Can't sniff at that.
girlfriday: If Hong Gil-dong and Jeon Woo-chi were to fight, just for shits and giggles, who would win?
javabeans: WHAT. Woo-chi would have to be possessed by some major evil mojo to turn on his hero's hero like that.
girlfriday: Well of course. This is just hypothetical!
javabeans: And are we talking about the Hong Gil-dong in Woo-chi's world, or the Hong Gil-dong in Kang Ji-hwan's? 'Cause if we're talking Cha Tae-hyun versus Kang Ji-hwan, then Kang Ji-hwan would be dead in two seconds flat. With a smirk on his lips, maybe, but totally dead.
girlfriday: Lol. I'd pay to see that battle.
javabeans: On the other hand, in Woo-chi's world apparently Hong Gil-dong knows the secret of bringing back people from the brink, so maybe he could self-medicate and use some of his own spells. Also, he could ground Woo-chi's honey, like, forever.
girlfriday: That's just petty. I like it. But our conclusion can't possibly be that Woo-chi would beat all these guys, can it? He's powerful, but the others are so badass.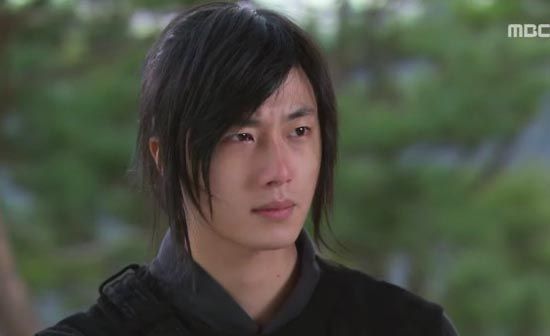 javabeans: Then we'll have to turn to other criteria… 'cause he definitely loses on the hair front. And the cool ninja costumes.
girlfriday: Iljimae wins all those things.
javabeans: The Jung Il-woo Iljimae, we mean. Important distinction!
girlfriday: YES.
javabeans: He also wins on the heartbreaker front, since basically every woman he met fell in love with him. And that was without even trying!
girlfriday: Well can you blame them?
javabeans: You mean like how he was aloof and emotionally unavailable and always, oh, leaving?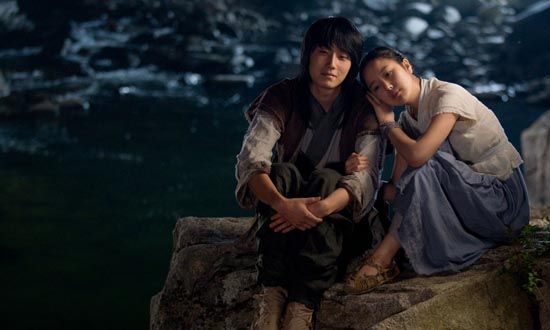 girlfriday: Because he was saving people! And stuff! Okay, he was a bad boyfriend, I'll admit.
javabeans: Yes, he probably wins worst boyfriend. Though all the heroes kinda have abandonment issues. In that they were always abandoning.
girlfriday: Ha. Woo-chi actually had the opposite problem and was so single-mindedly obsessed with saving his girl that he did nothing else for quite a while.
javabeans: Woo-chi might win for worst girlfriend, actually. Sure, she's not evil anymore… but there was that whole period where she killed people and stuff.
girlfriday: Aw, but rehabilitated, she's very nice. Not so much with the killing anymore.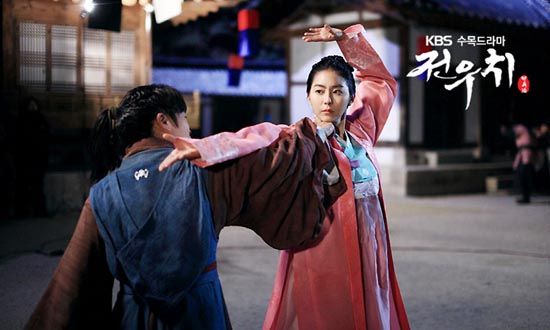 javabeans: Not so much with the anything anymore, is she? I know she's technically Butterfly, but for a secret hero she doesn't really do much.
girlfriday: I actually think they should've killed her in the first arc.
javabeans: Ooh.
girlfriday: Right? And then he could be all scarred, and then Hye-ryung could be his new sidekick.
javabeans: Uh, I think that would have been way too dark for Jeon Woo-chi. He's the giggly imp, not Gaksital! Who, by the way, actually does win for worst boyfriend. Scratch that part about Iljimae. He can be runner-up.
girlfriday: Oh, yeah. No contest. Torture is pretty much a clincher in that category.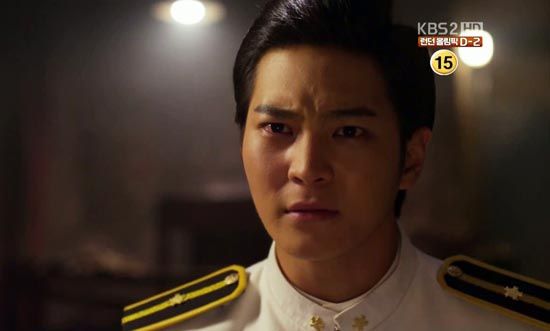 javabeans: Woo-chi does have the best cover identity, though. Clark Kent with a direct line to the royal grapevine? Bingo.
girlfriday: True. Lee Kang-to had a good one too.
javabeans: He couldn't change his face at will, but I suppose fraternizing with the enemy was a good way to throw off the scent. And he had more names.
girlfriday: Funny how more names doesn't actually mean more cover identities. Iljimae should get hero points for his signature plum blossom. I always thought it was so cool that he reforged the gold himself. It skips that money laundering step and adds artistic flair. Woo-chi just leaves notes.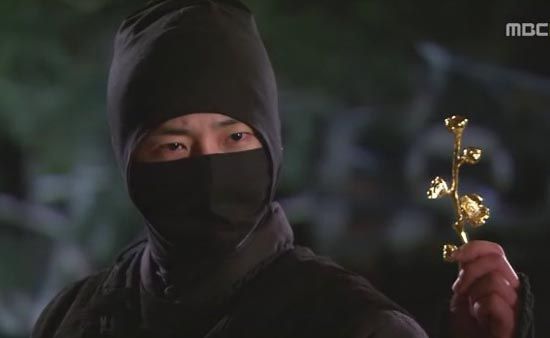 javabeans: What about Gaksital slashing a letter into your dead skin? Okay, that's not better. But maybe he gets creativity points? Admittedly, he wasn't unique — the Strongest Chil-woo villain did the backwards Z's, too. And technically lumping Gaksital in with the sageuk heroes is a bit of a stretch. But speaking of Chil-woo, can he win for worst mask? And worst hair? Because really, Zorro Jesus isn't a look we should be pushing.
girlfriday: And worst horse?
javabeans: We all know who gets the best horse award.
girlfriday: HORSITAAAAAAAAAL.
javabeans: Hard to believe he doesn't win for most kills on his scorecard, though. I'm not sure whether Chil-woo gains or loses points for the fact that he was the only hero who really seemed to enjoy killing. They were all bad guys, but still. That drama never made any moral arguments for the fact that he was an assassin for hire. They got downright creative with it. (Horse acrobatics and flaming bullwhips, I kid you not.)
girlfriday: I can't tell if that sounds upsetting or ridiculous. Imma go with ridiculous.
javabeans: Let this be your answer: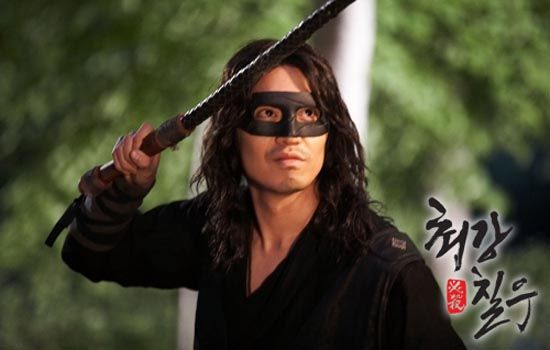 girlfriday: Hm, who had the best moral dilemmas? Gaksital had the most dramatic ones, but I think Iljimae posed the thoughtful questions about what it means to be a hero.
javabeans: I did really enjoy Iljimae's transition from angry young teenager to thoughtful hero. Return of Iljimae did a really lovely job of growing his character, in a way that was more organic than Gaksital.
girlfriday: Yes, it had the best hero's journey, by far. Gaksital certainly gets points for darkness, because I don't think any of these other guys got to be a hero by killing their own brother, but it also skipped a lot of the kind of development I wanted.
javabeans: Best posse? Here Iljimae definitely loses, since he kept leaving them and drove one to near-suicide. Whoopsy.
girlfriday: Again, bad boyfriend. I guess Woo-chi has the best Scooby Gang.
javabeans: I like their division of labor the best. Hong Gil-dong didn't do so badly himself, setting up his own little commune of righteous bandits to go raiding with. They weren't as diverse in skills as Woo-chi's, but they got the job done. And I do wish Gaksital's buddies didn't all keep blowing themselves up.
girlfriday: Talk about a bummer. And his best friend's the bad guy.
javabeans: So's Woo-chi's.
girlfriday: Oh yeah. These guys have terrible taste in friends. Or they drive all their besties to evildom.
javabeans: It's sorta chicken-and-egg, isn't it? Iljimae addressed this problem by not having any friends. I'm not sure that's better.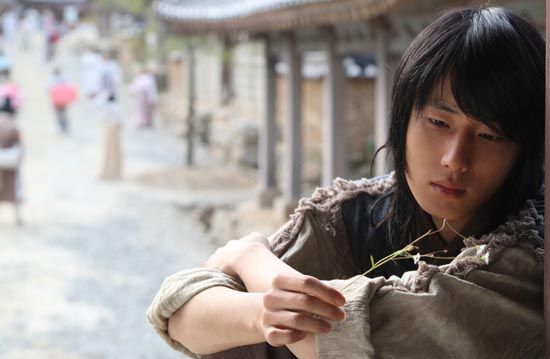 girlfriday: It sure is antisocial. But it nips the problem in the bud.
javabeans: He had the loneliest hero path, in a wistfully romantic sort of way. You know, the kind of romance that's only appealing when it's not you.
girlfriday: You mean when you're not the one left waiting for him to come back, for years at a time? Yeah, I'd say.
javabeans: What about the guy with the best heroic ending? Uh, I guess that goes to whichever one's still alive at the end, huh?
girlfriday: Depends. It's usually one extreme or another: go down in a blaze of glory and sacrifice, or live forever and be a hero in every generation.
javabeans: See, that's not so much the dilemma with me: LIVE FOREVER, of course! Which is probably why Batman is way more blaze-of-glory awesome than Superman, but Superman's the one left standing at the end of the day.
girlfriday: Well, that and he's an ALIEN. That opens up a whole new can of worms.
javabeans: What, is the next Thing vs. Thing gonna be Superman and Vampidols, you mean? One can keep saving the world, but the other one will sing and dance forevah. K-pop FTW.
girlfriday: So, what's our verdict? Heroes are cool, just don't date them?
javabeans: Superheroes might have that extra kick of awesome, but they'll give your heart an extra kick of misery. At least we can admire from afar.
girlfriday: Let the mane-o'-glory-gazing commence.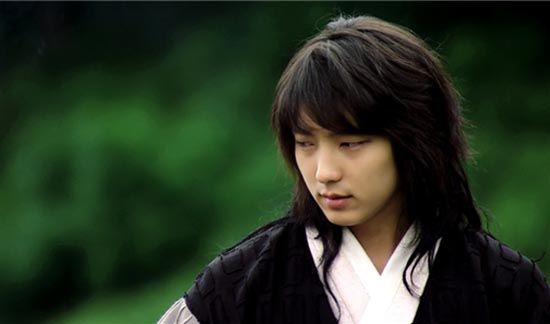 RELATED POSTS
Tags: 1 show to rule them all, conversation post, featured, Gaksital, Hong Gil Dong, Iljimae, Jeon Woo-chi, Return of Iljimae, Strongest Chil Woo, Thing vs. Thing