Incarnation of Money: Episode 11
Sometimes one must go to great lengths to get a case assignment, especially if there's a large sum of money on the line. Our prosecutor must find a creative route to infiltrate a corrupt institution where everything looks sleek and refined on the outside but covers a large secret that will risk one's sanity to uncover. It's easy to fall into an unknown well, but to get out of one is another obstacle in itself.
EPISODE 11 RECAP
As Cha-don arrives for his disciplinary hearing, Se-kwang can't help but take another dig at the dead man walking. Ignoring Se-kwang's advice to admit to the litany of charges against him, Cha-don calmly denies the bribery allegations to the committee.
After an initial round of questioning, Se-kwang suggests to the committee to hurry with a decision, eager to indict Cha-don for his corrupt practices. This is coming from the man who dipped in bribery himself in his early days in law. Oh, the irony.
But at that moment, the head of the committee receives an urgent call and takes a short break. As the men wait, a call to Se-kwang from Prosecutor Kwon helps clarify the situation. It turns out that Cha-don has friends in high places, including political circles, and Prosecutor Kwon tells Se-kwang that they're biting off more than they can chew.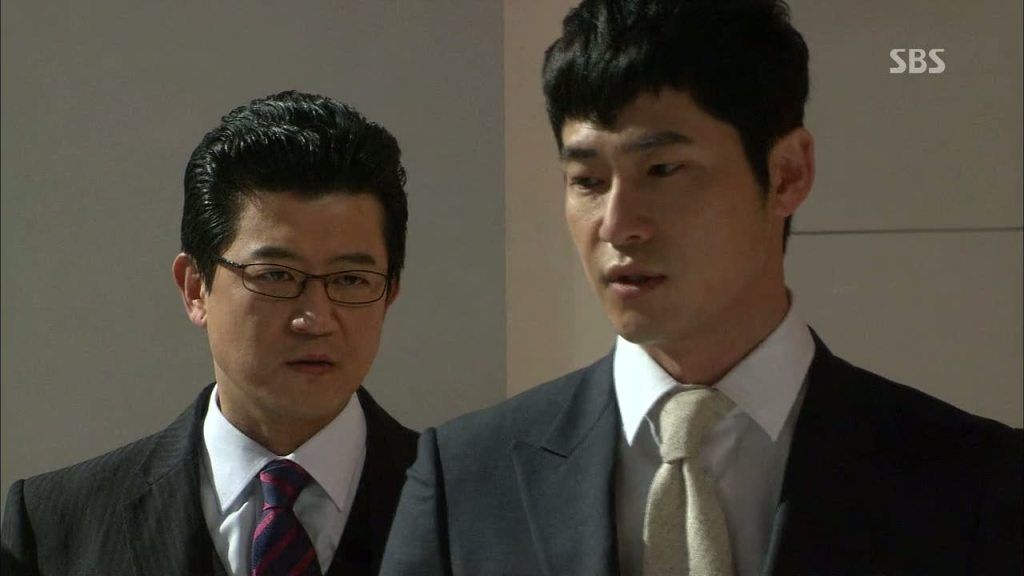 Se-kwang isn't willing to budge on Cha-don's indictment, especially after all the trouble he went through to arrest Mayor Jung. But Prosecutor Kwon barks at him to let Cha-don go: "Don't you think I have a good reason to ask you for this favor?" Though I'd venture that a possible job promotion may have something to do with the change of heart.
Having put two and two together, Cha-don starts to walk away, but Se-kwang has a few icy words left, biting that Cha-don is a bigger fish than he initially thought. Cha-don retorts: "Going after the larger fish and letting the small fry go.. isn't that what we do here?"
The committee reconvenes and as expected, Se-kwang votes in favor to charge Cha-don. The votes tied, the committee head votes against the motion and suggests they accept the prosecutor's resignation.
Se-kwang shoots Cha-don a hateful glare.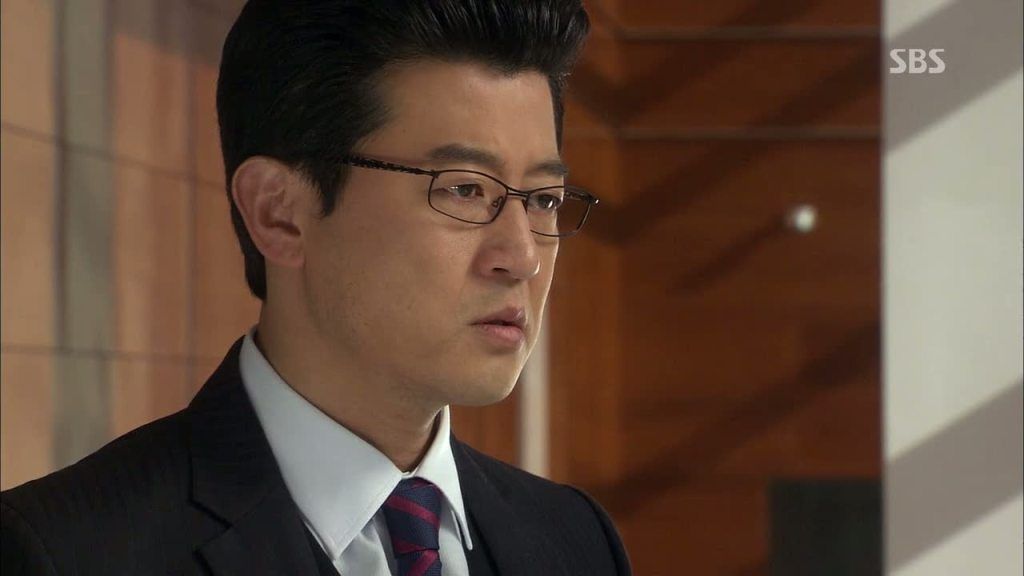 Cha-don emerges from the room and nearly passes by Se-kwang, whose back is turned. Now Se-kwang finally opens up about his past – how his father was a driver for a rich man, got sent to prison in his place, and died of an illness in prison while the rich man continued to get richer.
So he studied hard to become a prosecutor to avenge his father's death. He turns to Cha-don, and tells him that the rich man eventually died a tragic death. "That's what I believe justice is. Where the bad guy gets punished."
Seeing a crook like Cha-don become a prosecutor would defy his definition of justice.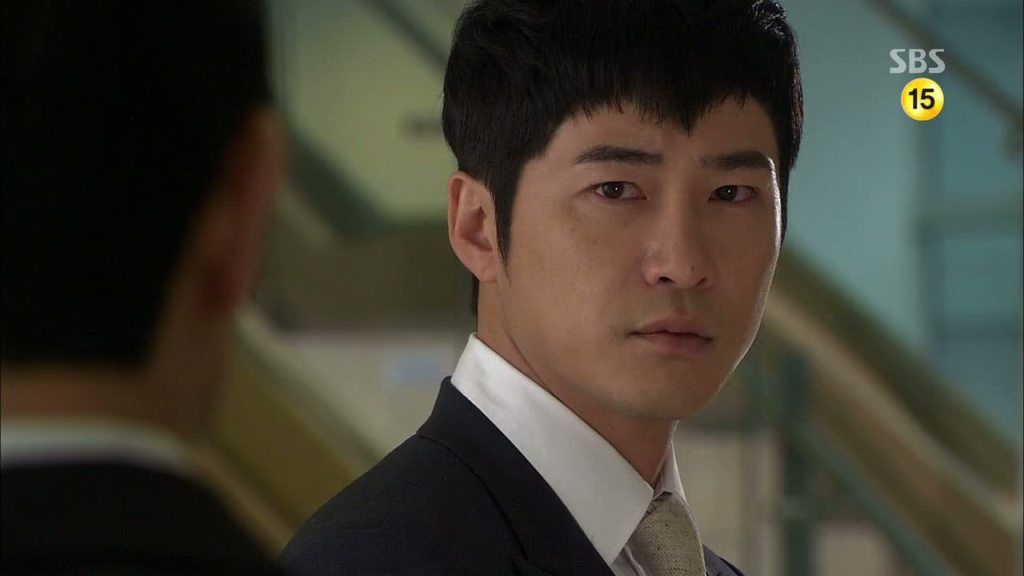 Now it's Cha-don's turn to share a childhood story: A scary neighborhood dog chased him when it ran loose one day. He ran away as fast as he could but hit a dead end. Suddenly filled with sadness that he would die a horrific death on top of everything else, he bit that dog.
Se-kwang reads between the lines and asks if Cha-don intends to bite him. Cha-don answers: "That's what justice means to me. That I won't stand to be wrongfully accused. Even if I don't have the strength, I'll continue to fight the dog coming after me to the end."
Boss Bok doesn't leave her daughter with a choice when Jae-in still refuses to work in the loan shark biz. She's paid off her daughter's debt, so Jae-in can either (1) see her restaurant ruined should Boss Bok retract the money or (2) learn the ropes of the family business. Jae-in chooses the latter.
Jae-in grumbles at her first lesson to learn Debt Collection 101 from Assistant Kim. Who goes around to collect in person anymore? He tells her that Mom has done the job the ol' fashioned way for decades now and worries that Jae-in may not be able to handle the customers.
But as it turns out, Jae-in's straightfoward nature works in her favor and she quickly gains the debtors' support by allowing them to just pay interest. Soon, there's a line out the door and Assistant Kim happily relays that Jae-in is a natural and Boss Bok is genuinely impressed.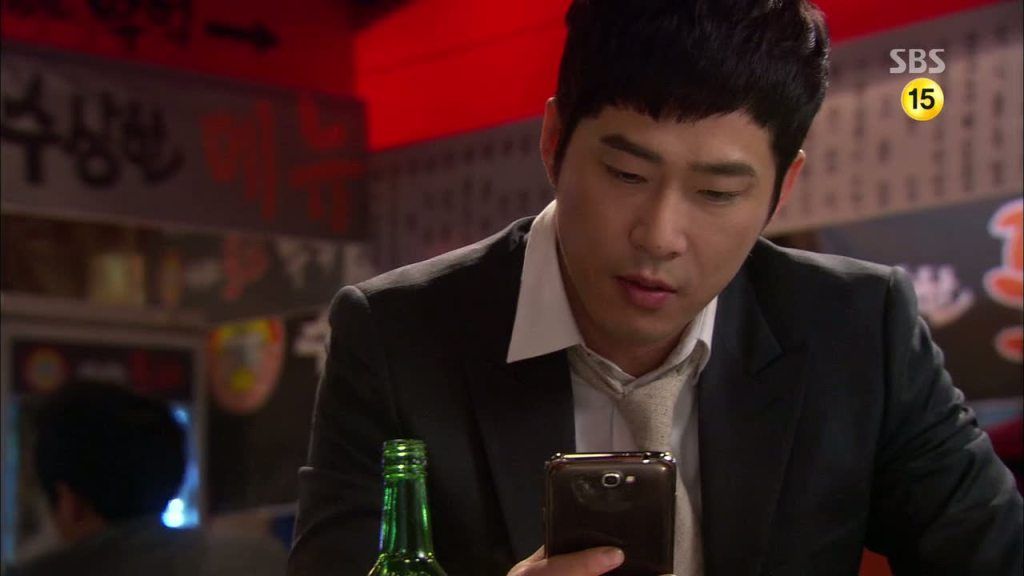 At least Cha-don isn't alone as he grumbles to his Team Shudal members about the moldy smell in their shabby new headquarters. Drinking his woes away with soju, he contemplates whether to call Ji-hoo to join him.
But it's Jae-in who ends up getting a drunk-dial call to pick him up later that night. She flusters when he calls her an affectionate "Jae-in ah" and though she tells him off in an annoyed voice, she rushes over anyway.
Cha-don is one rowdy drunk and loudly announces her arrival, much to her embarrassment. Once he quiets down, he slurs that he has good news. She asks what it is and tells him to spit it out when he drunkenly teases whether to say it or not.
As he downs another shot, he tells her that they needn't pretend to be a betrothed couple anymore because he's been fired as a prosecutor (and thus disqualified as Boss Bok's son-in-law).
The admission floors her and she hides her tears by joining him in a drink. Then Cha-don admits that he's a bit sad over the situation: "Because I like you."
Jae-in sits  amazed and starts: "I like you too–" but he cuts her off with the rest of his confession: "If I had a younger sister, I wish it were you." He falls face-flat onto the table.
Her voice trembling, trying to tamp down her disappointment, she warns him that she'll leave him. In his drunken stupor, he mumbles that it's fine because his parents have already abandoned him. Aw.
Jae-in drags Cha-don back to the office and tucks him in. As she watches him sleep, she recalls when he first woke up at the hospital. She smiles, "I won't ever give up on you. I'm going to make you like me one day."
To preserve her pride, she tells him she won't contact him for the time being. She leans in, as if to kiss him, but pokes him on the nose before heading out.
The following morning, Chief Yang wakes up an extremely hungover Cha-don to suggest an idea: They'll become the legal representation for the large sum of money that belongs to Lee Kang-seok.
That money is on everyone else's minds as well, including some of the Traitagon. The incentive: The legal fees are a cut of a minimum 20 percent, which amounts to 2 billion won. Problem is, they'll have to find where Mom is first and Cha-don instructs him to look into the hospitals and asylums.
As for Mom, she spits into the doctor's face and vows that she'll make sure to see vengeance for their wrongdoings before she dies. The doctor leans in and whispers that he'll make sure she stays alive or else his wallet will get much lighter. Ugh.
I like that Mom has grown a spine now but she's still affected when the doc declares a patient who is barely hanging onto life that she's doing much better.
Chief Yang reports back to Team Shudal about Mom's whereabouts but curiously notes that there are no records of her stay. He dishes about the senior doctor whom we saw Mom spat at earlier. Beloved by both the public and the patients, the doc used to work at an anti-Communist office notorious for torture.
He adds that virtually all of the patients have mysteriously handed over their estates to their relatives. Cha-don ponders this information and dismisses the idea to incriminate the institution since they don't have enough proof.
Instead, he proposes to assume an identity (his assistant's brother's) to infiltrate the asylum as a patient.
We catch up with Angelina who is currently being interviewed by Reporter Go for the booming success of her apparel brand, Silver Rain. He keeps the conversation until he starts shooting questions on her lovelife and she stops the interview.
Angelina soon receives a call from Jae-in who thanks her for sending her employees to eat at her restaurant. Neither of them recognizes each other over the phone and when they hang up, Jae-in marvels over how angelic Angelina seems.
However, we see that Angelina has something else up her sleeve and orders a background check on Jae-in. Then she confides in Reporter Go that Jae-in is a major shareholder of the Yellow Sea Savings bank and she intends to acquire Jae-in's shares.
Looks like Boss Bok is using the same tactic against Angelina and berates Assistant Kim when he suggests that they involve Jae-in. She scolds him that if you throw a fish into the ocean before it's ready, it'll get eaten.
She then gets a call from one of her debtors who thanks her for her graciousness in forgiving his debt. This is news to Boss Bok (Jae-in collected the interest in exchange of canceling the debt) and Assistant Kim panics for a moment before she bursts out laughing.
Amused and impressed with Jae-in following her orders to the letter, Boss Bok declares that Jae-in is ready after all.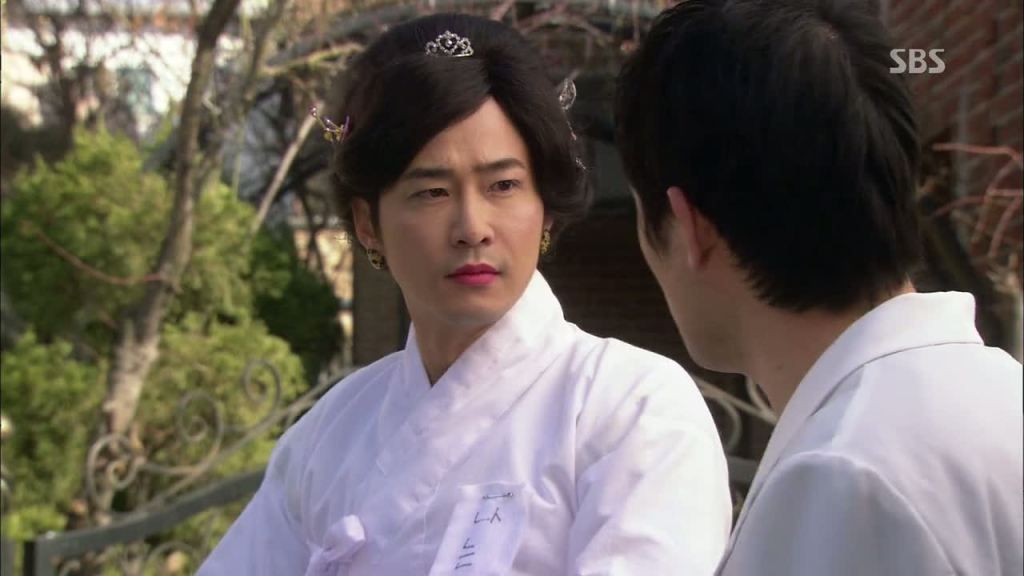 Meanwhile, Cha-don walks out in the middle of the day dressed in a white hanbok with a small tag that identifies him as "the Empress of Joseon." Basically a posterboard that he's not right in the head, and an ambulance promptly arrives to pick him up. It's both strange and amusing. Or is it strangely amusing?
At the asylum doctor's office which is adorned with civic awards, Se-kwang instructs him not to follow up on Mom's deteriorating health. The unethical doctor is reluctant to have a black mark on his record should Mom die, but a high enough price is enough to convince him.
When Se-kwang turns to leave, the doc asks why Se-kwang would resort to such corruption to keep Mom in this state. But that's the final straw for Se-kwang and he angrily knocks over the awards and warns the doc to back off.
Cha-don is dragged inside and hides his face from view as Se-kwang storms out.
Cha-don calmly sits on the floor in the doc's office as the doc asks a few initial questions about his condition. Then he steps over and directly asks Cha-don: "Are you crazy?" Looking at him straight in the eye, Cha-don denies it.
But the doc notes that most patients cannot maintain eye contact and asks if this is a trick. Cha-don thinks fast and violently grabs the doc in retaliation before he's immediately dragged out to be hospitalized.
Cha-don starts to legitimately panic when the staff holds him down with restraints and a nurse holds the biggest needle ever, assuring him that it'll all be better now. Fear washes over his face before he goes under.
At the prosecutor's office, Ji-hoo sighs to Se-kwang that she feels partially responsible for Cha-don's demotion to lawyer. She's then debriefed on Lawyer Hwang's call history – the last incoming call came from a phone whose call history has already been wiped. And interestingly enough, she sees Cha-don's name listed on Lawyer Hwang's call history.
The four remaining Traitagon members discuss the peculiarity over dinner and Reporter Go asks if any of them carried such a phone with them. That would mean that one of them betrayed their own (though we shouldn't be surprised if it's true) and they all glance at each other suspiciously.
Ji-hoo sits in her office, wondering why Cha-don didn't mention that he spoke with the victim on the day of his murder. She tries calling but of course gets no answer.
Cha-don wakes in a clean, brightly lit room and keeps up the empress act speaking in the olden Joseon language. The staff allows him to go outside to get some air and he spots the staff 'round the corner.
But by the time he catches up with them, they've seemingly disappeared and he scratches his head in confusion. Then we see the staff descend in an elevator that leads to the mangy part of the asylum where Mom continues to take her meds.
As the days tick by, Cha-don remains on the lookout for Mom while Chief Yang does his part by working at the asylum pretending to be a simple-minded janitor. Chief Yang slips into the reference room to rifle through the institution's blueprints and discovers evidence of a secret basement level.
He's nearly caught by the head nurse but manages to relay the existence of the secretive ward. When Cha-don declares that he'll have to gain entry, Chief Yang lets out a small frightened gasp.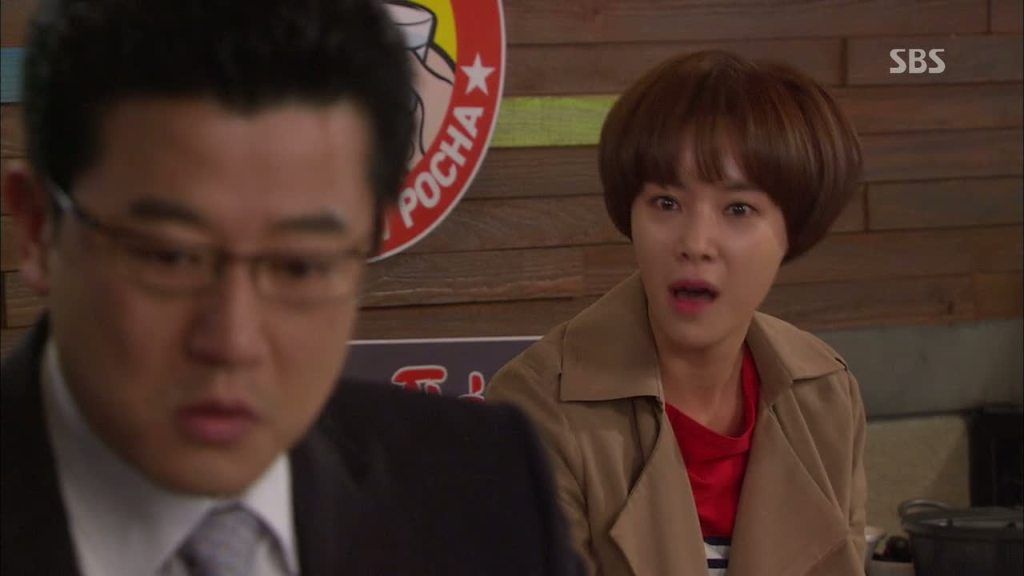 His assistant moves forward with that plan and sits down with the doctor. Telling him that her "brother" is faking his condition to keep his inheritance, she asks for the doctor's help. The doc sullenly answers that they don't participate in illegal activity but his eyes flicker awake when she offers a share in the profits.
Elsewhere, Jae-in sits amid a number of empty soju bottles at her table. Her fingers hovering over Cha-don's number, she contemplates whether or not to delete it.
She decides to call him one final time and when he obviously doesn't pick up, she loudly screams curses into the phone. The entire restaurant turns their heads, including Se-kwang, who recognizes her and tries to look away.
It's too late because Jae-in has already recognized him and she drunkenly accuses Se-kwang for following her. He nearly spits up his water.
Everything goes according to plan as Cha-don is promptly led into a cell in the basement floor of the psych ward. Restrained by a straitjacket, he can barely get a sense of his surroundings before the speakers blare the tortuous screams of another patient.
The head nurse tells him, "Just wait. You're next." Cha-don scuttles to his bed and we see Mom trying her best to block out the screams. What's worse is that we see the doctor dine in his office and orders the staff to turn up the volume. What the – so it's a pre-recorded scream? That's sick and horrifying.
In the morning, everyone is instructed to step outside for the doctor to make his rounds. Everyone except Room 7 and a staff worker orders Mom to step outside. She gathers herself and slowly shuffles to the door, coughing.
And outside in the hall, Cha-don waits.

COMMENTS
Overall, this episode felt like it set the stage for a possibly much more thrilling upcoming episode. With little vignettes to check in on all of our characters, nothing else apart from Team Shudal's decision to infiltrate the sanitorium drove the plot much further. That made this episode feel much shorter as a whole and dropped us little clues along the way. And now that a part of our premise (where Cha-don ends up in an asylum) is finally being set into motion, it's like Drama is telling us, "The story starts now."
This asylum is a hellish and frightening place run by a corrupt and rotten doctor. It sickens me how ridiculously unethical he is, swayed by bribery and to see him wine and dine in his office with various certificates and awards that honor his community service. To think that Mom has suffered through over a decade of this habitual treatment day in and day out earns more of my respect for her. Her display of resilience and strength despite being thrown back in for a second time is seriously commendable and it breaks my heart to see her so affected by the screams that are sure to haunt her. Not only that, the doctor's interactions suggest that there are so many more like Mom, placed unjustly in this place where no records are kept.
It therefore felt both strange and uneasy to watch our characters try to role-play what mental illness and developmental delay looks like. They're caricatures for sure, and even our evil doctor hung a lantern on how odd their behavior was. And yet, I couldn't shake off how uncomfortable I felt once we were in the asylum since the show touches upon deeper injustices built upon stereotypes played up for humor. This is where the tonal bell strikes off-tune – it's as if the show is telling us that acknowledging its existence is enough of a reality, though honestly, it paints a translucent veiled shadow that barely skims the surface of the issue. So what happens if you strike a large, bellowing bell with a tiny wooden mallet?
Though now Cha-don is subject to the hands of his corrupt caretakers, he has still much to learn how dark and awful of a well he decided to jump into. How much more injustices will he has to see, how much more swindling, and how many more ethical rules must he bend before we see a turnaround?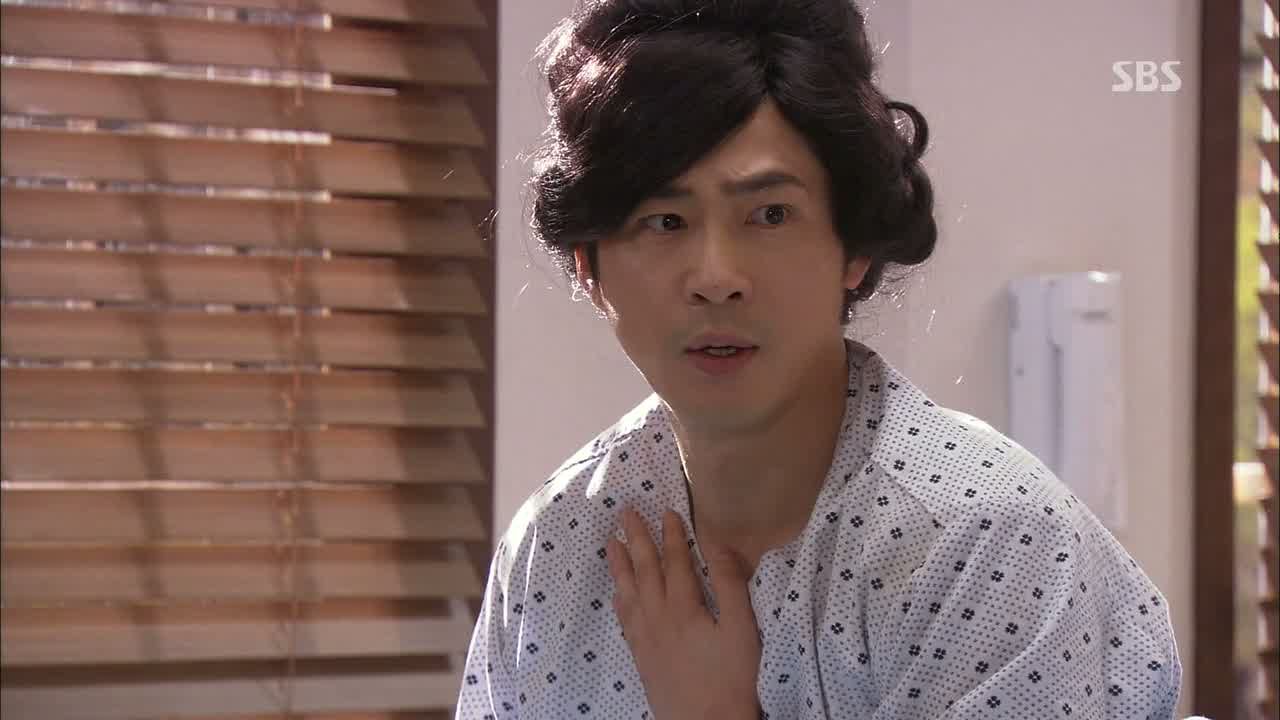 RELATED POSTS
Tags: featured, Hwang Jung-eum, Incarnation of Money, Kang Ji-hwan