Rival and love interest added to period drama Basketball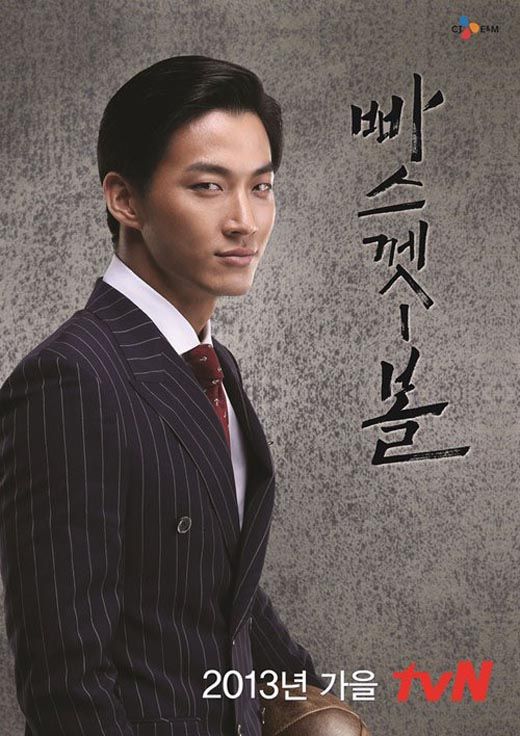 A few more cast members have been added to tvN's basketball and 1930s/40s period drama Basketball, following the casting of Do Ji-han (Incarnation of Money) as the lead, and are featured in their own character posters. Both these actors are relative rookies, which I actually find promising; I like that the show is staying low-key and not aiming for stunt casting.
Do Ji-han plays the main character Kang San, who grew up poor in a tiny village and finds success through basketball; he makes it all the way to the historic 1948 Olympic team that advanced to the quarterfinal round in Korea's first and last single national team, just a few years before the peninsula divided. Playing Kang San's rival is Jung Dong-hyun (pictured above) in the role of Min Chi-ho, a basketball star enjoying nationwide popularity. With his fame, he inspires pride and spirit in his compatriots in the midst of the difficulties suffered during the Japanese Occupation.
Naturally, the two boys also fall for the same girl, Choi Shin-young, who is played by a newcomer whose name I think is spelled Lee Elriya. (Apologies for errors; I was only able to locate one iffy source using an English spelling.) Even with a relatively fresh story, I suppose there are some fixtures you just can't get away from in dramaland, and the hero-rival love triangle is one of them. Another fixture: poor hero, rich rival, rich love interest. Shin-young comes from a rich family in Kyungsung (now Seoul) and attended school in Japan, after which she returns to Korea and begins working as a magazine reporter.
So far this drama sounds fascinating; it's got so much interesting stuff going on and a director who knows how to set a beautiful tableau. Basketball comes from Chuno and Runaway Plan B PD Kwak Jung-hwan and will air on tvN in September.
RELATED POSTS
Tags: cable programs, Do Ji-han