Dating Agency Cyrano: Episode 13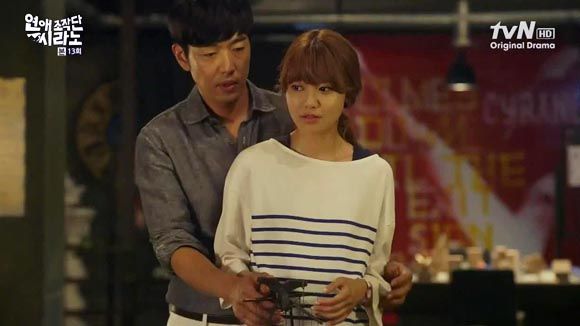 Despite a pretty expected progression into our final arc, the path to romance is populated with enough meddlers, interlopers, and busybodies to make the trip a fun one. What's the point of being the brilliant boss-man when everyone's out plotting behind your back? It's a tangle of intercutting motives and motivations, but fun in a sweetly bumbling way.
SONG OF THE DAY
The Black Skirts – "좋아해줘" (Like me back) [ Download ]
Audio clip: Adobe Flash Player (version 9 or above) is required to play this audio clip. Download the latest version here. You also need to have JavaScript enabled in your browser.

EPISODE 13 RECAP
Min-young admits that she likes Byung-hoon, just moments before an ambulance pulls up to the curb, sirens on. Paramedics rush into the workshop, and they see that Yi-seol is clutching a bloody hand in a towel, looking shaken.
She says it was just an accident while sculpting, but there's certainly more to it based on the way she loses her composure refusing to go to the hospital: "I don't want to go there again!"
Byung-hoon must understand what her fear is, because he just cradles her comfortingly while she cries. He talks soothingly about the injury being no big deal, calming her down. There's no space in the proceedings for Min-young, who leaves quietly.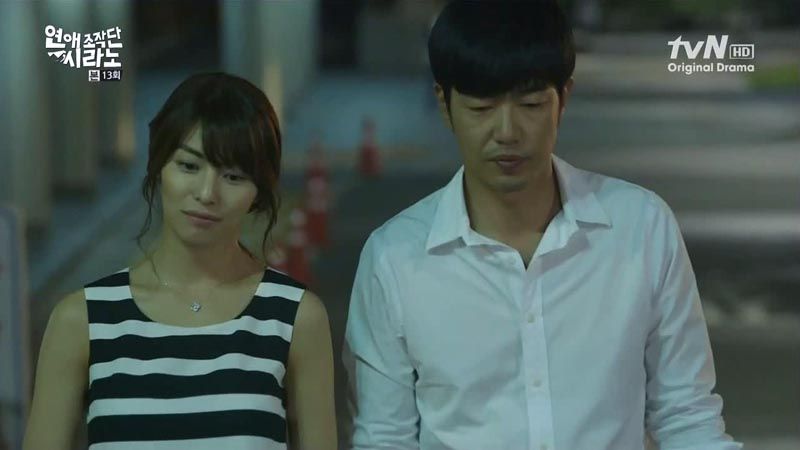 Byung-hoon gets Yi-seol to the hospital, where the doctor informs him that it was caused by a flare-up of her neuritis. Byung-hoon understands that the threat is eventual paralysis of her hand, and that this condition was caused by the accident. Ack, more guilt to shoulder. The doc advises that Yi-seol ease the use of her right hand and quit sculpting altogether, lest she injure herself further.
As they leave the hospital, Yi-seol is much calmer and admits that although she'd pretended her hand was all better, that was mostly out of hope that it would heal. The doctor had advised her in the past to quit her work, but she says she has nothing without it. Plus, everyone's so busy pitying her that she doesn't have anyone to hang out with.
Byung-hoon says he'll stay with her, "So don't do any work that will hurt you."
He returns to the agency, where Min-young is waiting to ask whether he intends to pretend he didn't hear her confession earlier. Points to her for being straightforward about that—it drives me nuts when characters make the grand statement, then negate their actions immediately.
Byung-hoon dismisses her feelings as sentimentality spurred by the firefighter-nurse couple, which, boooo. She refuses to accept his patronizing words about how she'll realize eventually that she's confusing herself. She knows herself, and it's Byung-hoon who's fooling himself. His inability to admit his feelings is why Yi-seol chose his friend to begin with, she points out.
Min-young challenges him to be honest with himself, even if that leads him to Yi-seol instead of herself. She leaves, and just around the corner, we see that Moo-jin has heard the whole thing. Aw, is the robot genius going to meddle? Go forth and meddle!
Seung-pyo grows impatient at Byung-hoon's lack of an answer about his case, and his muttering goes heard by his doofy sidekicks. Seung-pyo tells them not to go around behind his back doing pointless things, and the doofs grin that looking after hyungsoo-nim (hyungnim's woman) doesn't count as pointless. One glower from Seung-pyo is enough to shut them up, but the thought of Min-young being a hyungsoo-nim makes him smile.
Junior Goon takes Seung-pyo's words at face value, but Senior Goon says that what he really meant by "don't do anything stupid" was to continue to advance his suit with Min-young. I don't actually know if that makes him dumber or smarter than he looks. Still, it's sweet of them.
The next day, Moo-jin tells Arang that Min-young might not come in to work today because of the confession that got rejected. Arang's disappointed, though not surprised, since both boys know that the boss regularly ignores his feelings.
True enough, Min-young waits at the bus station with suitcase in hand. Her absence has Byung-hoon fidgeting a bit, and when Moo-jin wonders if she'll quit he shoots him a look.
But then, it's time to meet (finally) our mysterious Hawaiian-shirted man, who puts in his first appearance at the agency. There is a distinctly creepy vibe to him, I've gotta say, from his vacant gaze to his vaguely menacing air. He pokes his nose around and Byung-hoon asks him to leave, calling him Hawaiian Shirt, and the guy gives his name as Jung Il-do. Is it pure coincidence that we have another Il-do in this show?
All he does is hover creepily and tell them to remember his name. Then he leaves with a random smile and Byung-hoon wonders, "What's up with that unpleasant guy?"
Min-young doesn't leave after all and ends up rolling her suitcase in to work. Let it be noted that a worried-looking Byung-hoon suddenly lightens up to see her, though he puts the gruff face back on. As explanation for the suitcase, Min-young says she'll be living at the theater now, saying that she forgot to pay rent and she got kicked out.
Her cheerful face is back in place, so when Byung-hoon calls her out for lying about her apartment, she just says she wants to be closer to him. Did he forget her confession already? It's rather hilarious how alien this whole process is to him of saying what you mean, and he wonders how she can be so shameless. Well, at least one of you is!
She tells him that she's not shameless, she's just honest: "So you get used to me." Ha. I knew I liked her for a reason. Or he could just be clear, she adds—say, tell her distinctly that he wants her gone. She smiles at his non-response: "I see you can't do that."
It would be better if he just said he likes her, she says, and Byung-hoon is so taken aback he just looks at her in confusion.
Hye-ri calls Moo-jin out, and he gives her a snack with a little note, on which he's written a quote from a book. Aw, you romantic robot you. The quote reads, "Life is a first time for everyone. The world contains hidden gifts of turning points. If we can turn those into opportunities, we can live a life without regrets."
Hye-ri hears about Min-young moving into the theater, which she relays to Seung-pyo. That just reconfirms his suspicions that she likes Byung-hoon, which puts his frowny face on.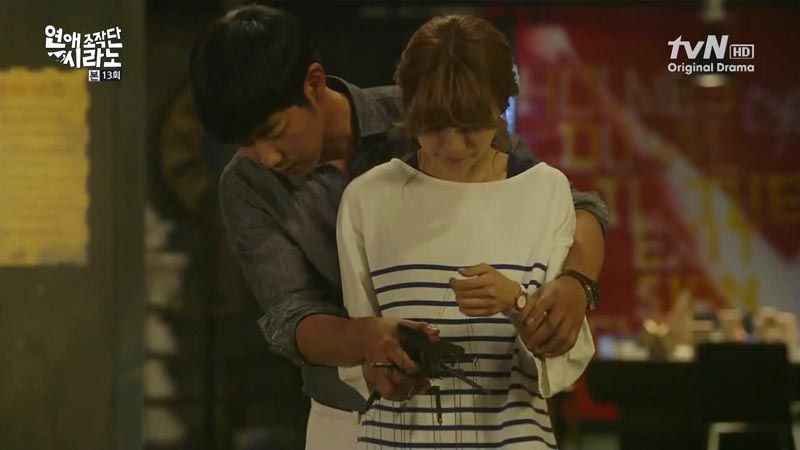 Min-young does some organizing of boxes and finds an old marionette. Byung-hoon grumps at her, per usual, though today she sighs that his annoying ways just look cute now. Then he shows her how to operate the puppet strings in romancelandia's time-honored tradition of putting your arms around the girl when a simple hand gesture would suffice. Not that she's about to complain.
Then as he turns to leave, Min-young purposely rocks the wall of boxes and exclaims in concern, and Byung-hoon goes rushing at her to take the brunt of the falling boxes. HA, did she purposely stack a bunch of empty ones to prove a point? She grins from ear to ear while he gapes that she did it on purpose. He can't exactly be mad, though; she points out that she's a perfect fit for this job and has taken to engineering situations herself. Lol.
Min-young tells him to stop just staring after Yi-seol and try seeing her appeal. He lashes out and says she can't compare to Yi-seol, and that being this transparent about her feeling is both unattractive and the reason she keeps getting dumped. Ouch. That hurts, and is compounded by the fact that he then takes a call from Yi-seol.
Byung-hoon meets Yi-seol, and she muses that she once quite liked him—but before he could figure that out, she'd fallen for Do-il. She wonders, "If you'd recognized how I felt then, how would we have turned out?"
He answers that nothing would have changed—he hadn't been unaware of his feelings. "But I pretended not to know, and didn't act. It may have been because of Do-il. But we would have ended up as friends, like now." He clarifies that when he promised to stay with her, he meant as friends.
She smiles and notes that he's changed a bit—she's never heard him be so open about his feelings.
Then he asks if she knows anything about Do-il's younger brother, and Yi-seol guesses, "So you did know about Seung-pyo." DUN DUN. Well he does now.
Min-young takes a jog by the river that night, feeling down about the Yi-seol comparison. The goons note her gloominess and decide to head into their next matchmaking phase, which consists of jumping into her path and offering her a soju juice box with sippy straw.
A short while later, they send Seung-pyo a text with a photo of Min-young drunk by the river, hinting at impending trouble. He mutters, "What have they gone and done now?" and heads to the river, where he finds the three of them singing loudly at the waterside.
The goons take off the minute Seung-pyo arrives, leaving him to play the gallant hero. She calls him cool and handsome, and he wonders why she won't accept his feelings if she thinks so. She wonders the same thing, and laments liking the weird money-grubber instead.
Min-young falls asleep in his arms like that, and he resists the urge to kiss her anyway. Instead, he carries her on piggyback to the agency, where Byung-hoon bristles to see them thus.
Seung-pyo puts her to bed and heads out, just as Byung-hoon stops him by asking why he hid that he was Do-il's brother. Seung-pyo lets his disgust show, calling Byung-hoon the cocky bastard who betrayed his friend for his personal fame, leaving him behind and in the lurch. "You all but killed hyung yourself," he says.
Byung-hoon tells him to believe that if it'll make him feel better, which just raises Seung-pyo's hackles further. Fuming, he stalks out.
Byung-hoon checks on Min-young, clearly wanting to accept her feelings but feeling blocked. He says that being with him will only bring her trouble, which is either nobly idiotic or an excuse. I suppose it could be both.
Then he heads next door to continue the conversation with Seung-pyo. His question: Are Seung-pyo's feelings for Min-young completely separate from their issues? And can he be responsible for those feelings through the end? "I want to make sure her feelings aren't hurt," he says.
Seung-pyo bristles at the line of questioning, but assures him that he doesn't hide or fake his feelings. So Byung-hoon decides, "I'll take your case."
And so, Byung-hoon gathers the team sans Min-young and fills them in. Arang and Moo-jin immediately refuse, knowing Min-young's feelings, but Byung-hoon declares that he'll go forward without them. And to keep her out of their hair, he's put her on a decoy case: a stakeout of a supermarket clerk. Ha. She stands there yawning, watching the endless tedium.
Byung-hoon sets the boys on the task of finding what'll move Min-young's feelings. Moo-jin mutters that he's cold and asks straight out why Byung-hoon can't accept Min-young himself. Byung-hoon says, "It's for her own good. Master is much better for her than I am." Oh, except for the part where feelings matter. But that's a lesson for him to learn.
Arang and Moo-jin are both opposed to the mission, and tell each other they won't be participating. Not when they know the couple likes each other. Moo-jin makes a suggestion: Byung-hoon will be working to get Master and Min-young together… so can't they work to get Byung-hoon and Min-young instead?
Arang nods, and they agree: Their target will be Byung-hoon. Muahaha. "We'll use his operation against him," they decide.
So in the debriefing meeting where they report on Min-young's background, the boys make hilariously dry (but straight-faced) comments about her at every turn. And Byung-hoon takes the bait, feeling appropriately outraged on her behalf for the bastard first love who used her feelings to hook up with her best friend instead. ("What a jerk," he mutters.) Then there's the boyfriend who cheated on her ("Why would she get hung up on a damned bastard like him?") and spread some nasty rumors that dogged her till graduation.
Byung-hoon grumbles, "She really has no taste in men!" Moo-jin: "Not now, either." Byung-hoon: *shoots glare*
Seung-pyo comes up to Min-young as she arrives outside the agency that night, and she thanks him for his help the night before.
Meanwhile, the boys chime in to talk up Min-young and shoot each other these cute knowing glances. Byung-hoon decides his plan of attack: create an awesome romance for her. Mission title: "The Best Romance of My Life."

COMMENTS
This episode's plot moves probably come as a surprise to nobody, and some of the motivations for behavior are a little eye-rollingly predictable ("It's for her own good" and "She's better off without me"), it's true. What keeps it interesting for me is the number of romance operations going on at once, which is like this big meta whirl of plotting and double-plotting and counter-plotting and maybe some more plotting on top of that. It's like the rake gag—you step on a rake once, it's mildly amusing. Twice, less so. But then you keep it going and going and going, and it becomes so ridiculous that it's funny again.
So we've got the main operation: Byung-hoon engineers Seung-pyo's romance with Min-young as the target. The two goons have their own blockheaded plot to get Master his girl. Min-young is working her own mini-gig to advance her suit with Byung-hoon. And unbeknownst to everyone is that Arang and Moo-jin are undermining Byung-hoon's mission to change up the love triangle's legs. C'mon, that's funny, right?
I don't buy the excuse that Byung-hoon doesn't feel good enough for Min-young, but the secondary reason holds a little more water—that he's indebted to Seung-pyo. I liked that he didn't seem to believe the accusation that he's responsible for killing Do-il, because that's a whole level of misplaced blame I don't want to see—I get it coming from the little bro, but would have little patience for Byung-hoon blaming himself. He's doing as much as he can to live with himself in the aftermath by trying to revive the theater, and that's enough for me. Still, his attitude changed upon finding out who Seung-pyo is and finally understanding the underlying source of his animosity; the butting heads and antagonism has faded and now it's solely coming from one direction. I don't think he's fulfilling the request to make things up to Seung-pyo, but there's got to be an element of that mixed in.
And it's sweet that Byung-hoon's driven to concoct this amazing romance to end all romances for Min-young, to create for her what she never had in real life. Misguided, yes, but also really sweet. I can see how he might feel that he's being selfish taking it for himself when he could "do better" as the engineer, not the subject. It still drives me a little batty when grown people sacrifice (and make decisions for other people based on what they assume is better for them), but as a final-arc setup, I can roll with it. Especially since it basically amounts to everyone running around undermining Byung-hoon. He may be the genius director, but it's everyone against you, buddy.
RELATED POSTS
Tags: Dating Agency Cyrano, featured, Hong Jong-hyun, Lee Chun-hee, Lee Jong-hyuk, Sooyoung