Mi-rae's Choice: Episode 7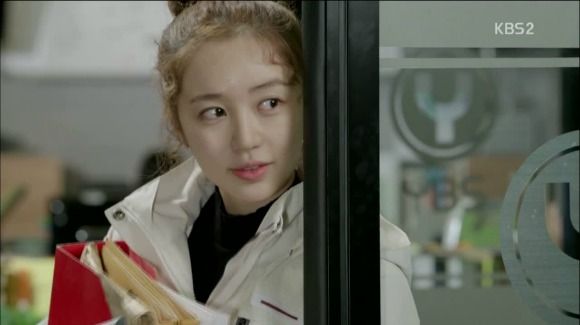 Things get more complicated in the present as a confession is made and misunderstood feelings stand in the way of the truth. Our time-traveler continues to interfere with the present for our heroine's sake, who would rather live her life as it comes, day by day. There are cute and adorable moments in this hour, but they're also paired with some heartbreaking ones that make you wonder if some relationships can ever be repaired.
SONG OF THE DAY
Melody Day – "혼자만 (Only Me)" for the OST [ Download ]
Audio clip: Adobe Flash Player (version 9 or above) is required to play this audio clip. Download the latest version here. You also need to have JavaScript enabled in your browser.
EPISODE 7 RECAP
Shin walks out to see Se-joo and Mi-rae looking chummy in the hall. Despite his disappointment, he invites the two to rejoin the festivities.
Inside, Yoo-kyung hones in on her target, then slliiiidddess into the booth to deliberately sit next to Se-joo, whispering to him that her lips are sealed. Her achievement bubble bursts when Mi-rae walks in, however, and all three men (Se-joo, Shin, and Oppa) offer her a seat in swift succession. HA.
Mi-rae chooses the far end of the table instead, and both boys immediately tend to her, something that Yoo-kyung doesn't miss. Elsewhere, we see Ajumma Mi-rae sneak into an empty amusement park's grounds.
Their merriment comes to an abrupt stop however, when they get a call from the News Director, who chastises them for covering the arson incident. He then rounds on Shin, telling him how he should be covering happy puppy and rainbow stories that befit his announcer position. Did he think that a little journalism would get him his anchorman job back? Oof.
Disheartened, they wonder how nice it'd be if they could create their own program. Mi-rae asks why they can't, to which she's told that you must duck your head and do as you're told in order to survive in this biz.
She doesn't like the idea that they're just toilets for the higher-ups to flush as they please. And to that, Shin suggests that they might as well go all-out to show their bosses a thing or two.
So they pitch the idea to Chairman Lee and get shut down as expected. She gives a them a talking-to for listening to some quack fortuneteller and overstepping their boundaries into the news department. Does a bit of newfound popularity put them in a position to make demands?
Oppa backs down immediately, but Shin uses a bit of reverse psychology on the chairman, saying how they'll produce their own show on their own terms in the countryside. He then turns to Oppa to further explain the idea, ignoring the chairman's offers until she finally relents. Bingo.
It's a trial run however, she says, and they'll have a month to crank out the pilot. Naturally, if they get enough viewers, it's a go.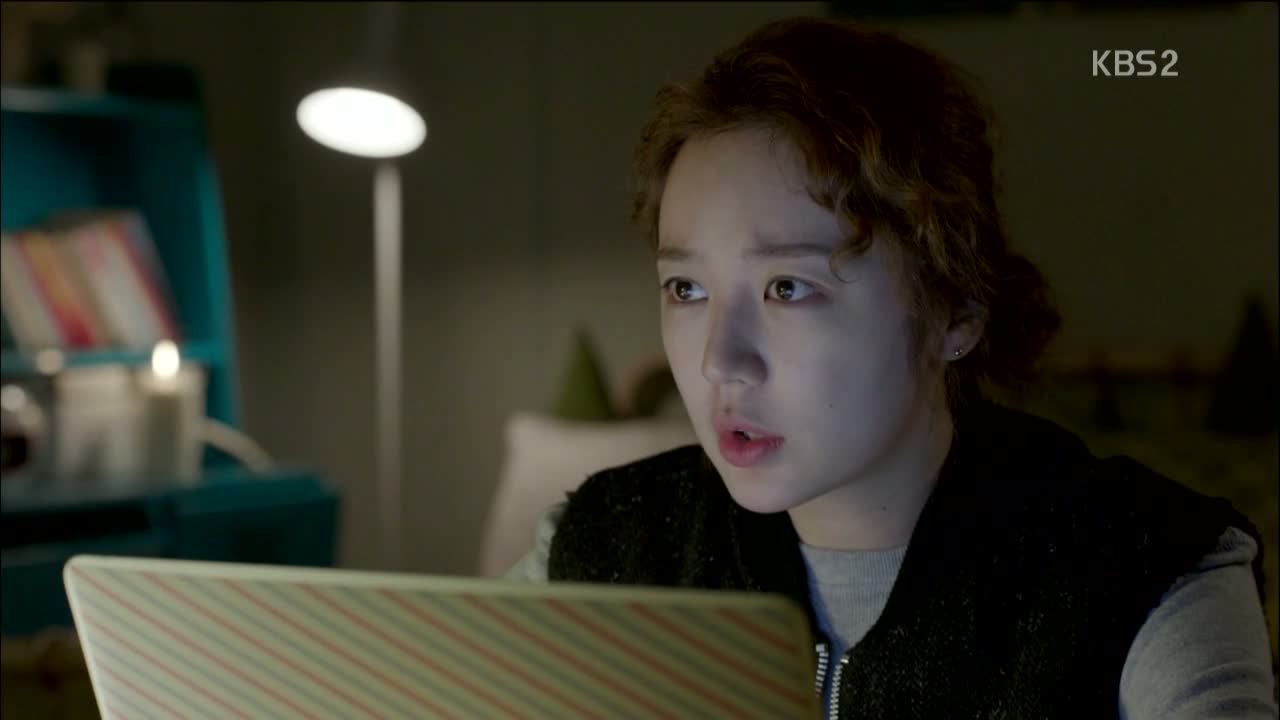 The production crew prepares their new office space with new fervor. Even Shin has a little fun by pushing Mi-rae in a chair along the floor with this big ol' smile on his face. Cute.
Mi-rae stays up working later that night, but finds herself utterly lost trying to come up with an innovative concept. That's when she recalls Shin's offer to teach her the basics, and she sneaks outside to make the call.
Ajumma Mi-rae lays out dinner for Oppa with all of his favorite foods as a belated apology for the subway arson mix-up. She assures him that they'll get to see more of each other soon, which Oppa misinterprets as usual. But she lights up when he says the food tastes just like how Mom used to make it.
Both Mi-rae and Shin contemplate whether to call the other before they call each other simultaneously and get busy signals at the other end. It's so cute how anxious they both are, clearing their throats in preparation. Aw, he even has her saved as "rookie" on his phone.
Mi-rae gets through and asks if he's free tomorrow. She deflates when it sounds like he'll be busy, and Shin hilariously answers no, no he's not busy. He lights up when she says she'd like a lesson, and he literally counts off the seconds with his fingers "to check his schedule" before telling her that he's free.
Ajumma Mi-rae picks up the tail-end of their conversation, having gone out for groceries, and asks Mi-rae if she really intends to keep seeing Shin when he's the reason why the person she loves ends up dead.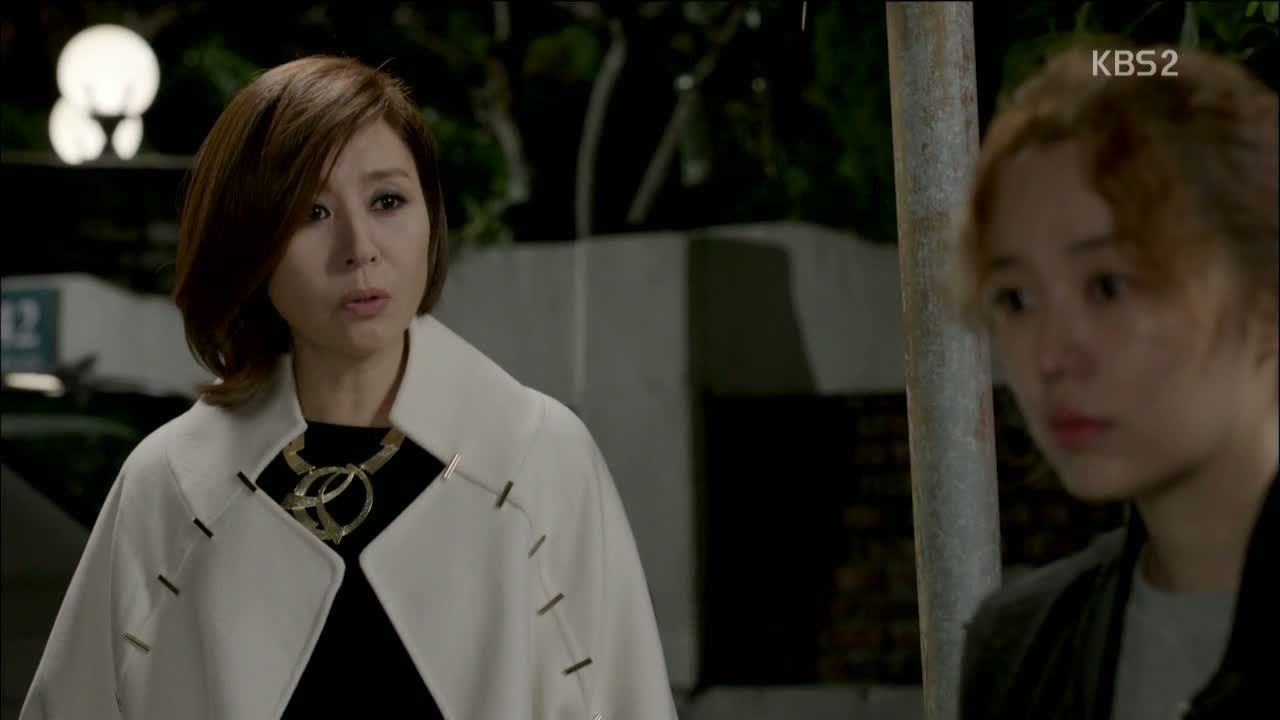 Mi-rae asks who that is then, and when Ajumma can't give an answer, she figures that part's a lie too. It doesn't matter anyway since she and Ajumma are two different people.
The "I'm you" argument won't work anymore, Mi-rae defends, because she's neither as materialistic, snobby, or as shallow as Ajumma is. Although Ajumma agrees with that assessment, she counters, "I was like you at your age."
She used to be pure, passionate, and full of dreams like her younger self, but Mi-rae interjects to ask if she still blames Kim Shin for her woes. Though it may be hard for her to imagine what it'd be like to be poor, Mi-rae vows not to end up as bitter as her future self.
They could be words that Ajumma has heard (or perhaps even said) before, but they still hurt, and she stalks off, crying.
But her moment of solace is cut short when she notices a shadow approaching. Ajumma turns around with a fright to see the Black Man, who also jumps in surprise. Pfft, you're the one chasing her, remember?
He gives chase down the hill, which is when another black car pulls up, yanks Ajumma inside, and drives off. The man inside is wearing a suit and shades too, and when Ajumma swears up and down begging for forgiveness, he tells her that they're off to see Chairman Lee.
Then we cut to Oppa sitting alone hungry at the array of food before him, waiting long past the "five minutes" it would take Ajumma to return. Ha.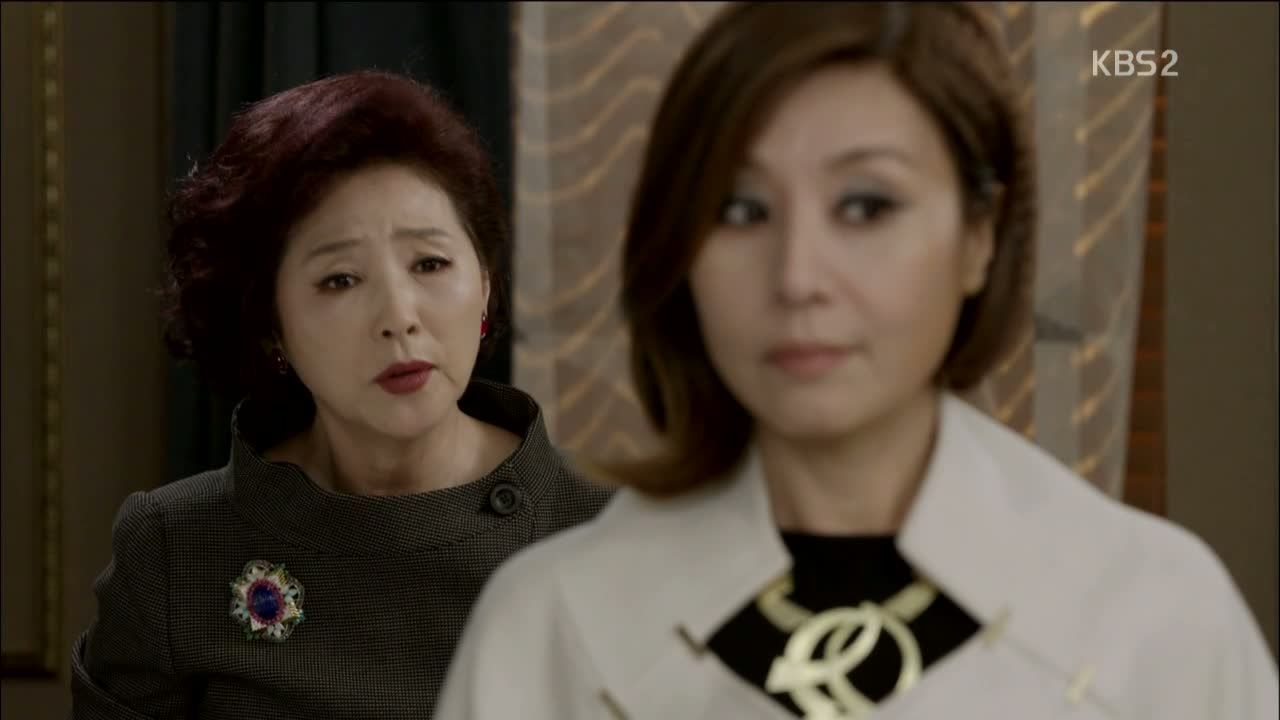 Chairman Lee asks if Ajumma Mi-rae is being chased by someone, and Ajumma deflects the question. Then Chairman Lee wonders why Ajumma has taken such an interest in Shin by saying how he'll be ruined to having him transferred to working as his informant. Is he a long-lost son to her or something, perhaps?
That's far too makjang for Ajumma's taste, and she repeats dreamily that she did see into Se-joo's future. It's enough to reel the chairman back in, and Ajumma even gets a place to hide and crash in the deal. Her grandson mustn't marry a reporter, Ajumma predicts. Plus, he already likes someone else.
The next morning, Oppa wakes his sister to comment on how the crazy ajumma said she'd be leaving for a while. He tells her to accompany him this morning, and Mi-rae says she already has plans.
Mi-rae surprises Shin outside, who's wearing—what else?—shades and a mask, and I almost want to tell him that he's not THAT popular yet. She points out their matchy outfits today, and when Shin gets recognized, he curses back that he doesn't know that Kim Shin jerk. Hahaha.
They're out for some fresh air, he says, but Mi-rae frowns when she hears they're also here for work to scope out new trends for their show. Then it's his turn to frown when she runs over to fawn over a poster of George Clooney (can't say I blame ya!), only to smile again when she points out some similar facial features between them. Hee.
She gets a call from Se-joo, who invites her over to his place. He asks who she's with, and her silence is enough of an answer.
So Shin and Mi-rae spend the day having fun touring the streets, taking pictures, and enjoying each other's company. As they sit in the park, Mi-rae asks what Shin initially thought of her when they first met.
He honestly answers that he thought she was trying to scam him, but now she's a maknae writer. He turns the question on her, and when she mentions how he's "someone she should have avoided" again, he asks what she means by that.
Mi-rae turns to look at a nearby couple to avoid the question, and flusters when Shin leans in close to look at them. Quickly changing the subject, she remarks how pretty it is outside. Looking at her, he agrees, "It is pretty." Aw.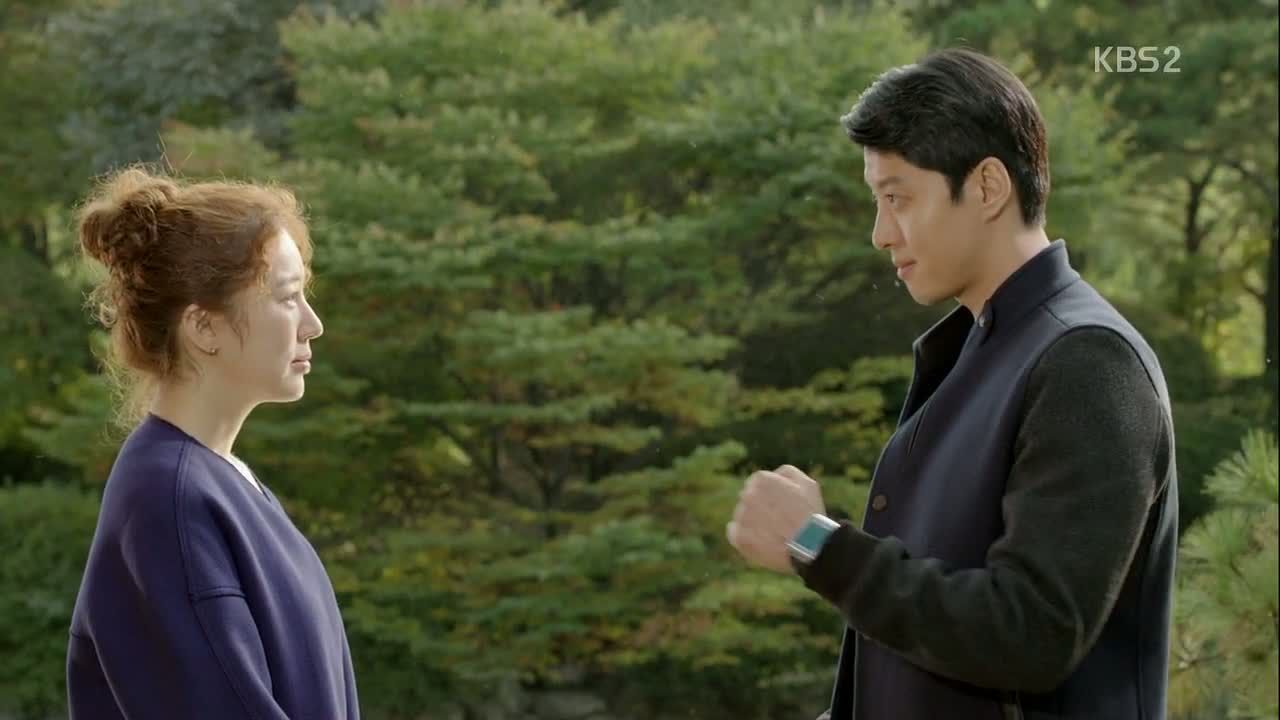 They spot another couple taking their wedding photos in the distance, a sight that troubles her. She rises just then and asks when their next lesson will be, you know, when they get to watch a movie and eat together. Aww, you're asking him out on a date!
That brings a smile to Shin's face, and he promises to set a curriculum for next time. D'awww.
As for Se-joo, he sits with a sigh at the quaint, romantic rooftop spread set for two. He invites Yoo-kyung over instead when she calls, and she momentarily gasps at the surprise before realizing she was his second choice.
He figures that Mi-rae is out with Shin, and in an effort to lift his mood, Yoo-kyung lies that they must be in a team meeting. Se-joo bursts that bubble, saying that Oppa PD is still at home.
As they eat, Se-joo comes clean about how he used to be cold-hearted to all the girls who chased him for his money. He never had to worry about rejection before, but now he doesn't know what to do since Mi-rae only knows him as a VJ.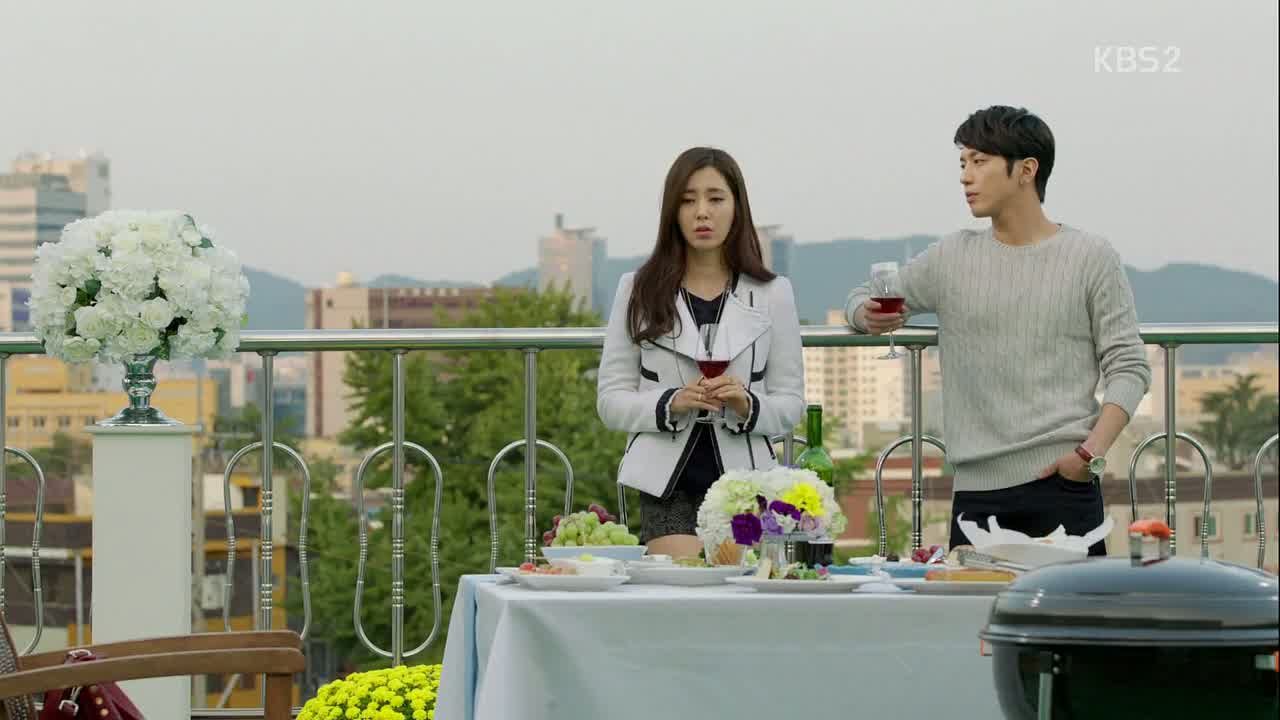 He asks if it's because he's not charming, to which Yoo-kyung answers haltingly that he is. She encourages to confess his feelings to Mi-rae properly, but he doesn't like the idea of preparing some big, grand romantic gesture to do so. And this rooftop lunch is what now?
Yoo-kyung asks what Se-joo has done for Mi-rae to make her feel special then. Noting that his little gestures are no more than a polite formality, now's the time for him to trump that. Se-joo asks if she'll help him then, and she agrees.
Ajumma Mi-rae returns to work, and the cleaning ladies take note of her security detail. We jump back to the earlier conversation with Chairman Lee, who'd demanded to know with whom her grandson will end up with.
She had promised to tell the chairman at a later time in exchange for protection. The Black Man reports back about the obstacle and gets an earful.
Se-joo spends his evening watching romantic comedies for inspiration, only to cringe instead. "I have to do that?" He texts Yoo-kyung that Mi-rae doesn't seem the type to like romantic gestures either.
Yoo-kyung pouts in agreement, thinking to herself that this is the only way for Se-joo to give up on Mi-rae and for her to step in. She calls him up to argue that Mi-rae's a woman too, and all women love sweeping romantic gestures, so he has to set that pride of him aside if he really likes her.
She gets carried away with her embellishments, but Se-joo gets the picture and says he'll do it, but it'll be really simple. Yoo-kyung hangs up with a smile, but then scolds herself.
Mi-rae is more than happy to run into Ajumma at work and apologizes for her harsh words earlier. Ajumma says they're on course for Project Se-joo, but before she can elaborate, Yoo-kyung comes running over to invite Mi-rae out for a drink that evening.
Ajumma doesn't miss an opportunity for a chat and asks Yoo-kyung what she's up to. When Yoo-kyung doesn't let slip, Ajumma says she had a dream about Yoo-kyung's future too, and she knows who her future husband will be.
Then when Ajumma runs into Shin a little later, she informs him of how Mi-rae wants to see him tonight for a drink and notes that she's in high spirits lately. "She must really like you." Shin actually smiles at that. Aww.
Realizing that Yoo-kyung is banking on Se-joo to be rejected in one blow, Ajumma whispers that she's relying on Shin's short temper to counteract that and get them together instead. Sheesh, who's the manipulative one now?
Yoo-kyung thinks back to her earlier conversation with Ajumma, who had told her that her future husband would be Shin. She'd been skeptical about Ajumma's prediction, especially about how she and Shin went to see a fortuneteller together. The thought weighs on her mind.
She steps out into the bar where Se-joo and his friends are finishing up preparations, and there's a moment when Yoo-kyung looks longingly at the decorations as if wishing she was the recipient herself.
When Mi-rae arrives, she's met with confetti, balloons, and movie posters, and while they're all things fine by themselves, the combination looks like a page from What Not To Do When You're Confessing. Yoo-kyung has to drag Mi-rae forward, where Se-joo appears with a bouquet of roses.
He admits that he's not really into these things himself, but figures he should confess properly. "I like you, Mi-rae." And the group of friends applause in celebration behind them. Ack, she hasn't said anything yet!
Se-joo holds out the roses expectantly, which is when Shin walks in to see her take them. Ohhh noes, this is gonna be awkward.
It's Shin who breaks the tense awkward moment between them to clarify that he was invited here by Mi-rae. Then he covers his hurt by saying she must have wanted an audience for the occasion. Oof Shin, don't be that guy.
He lifts up a fork like a mic to interview the couple, neither of them aware of how Shin knew to come here. It takes all of Shin's composure to give them an empty congratulations before walking out. Mi-rae follows after him, setting the roses down before she leaves. Eek, well that's a no.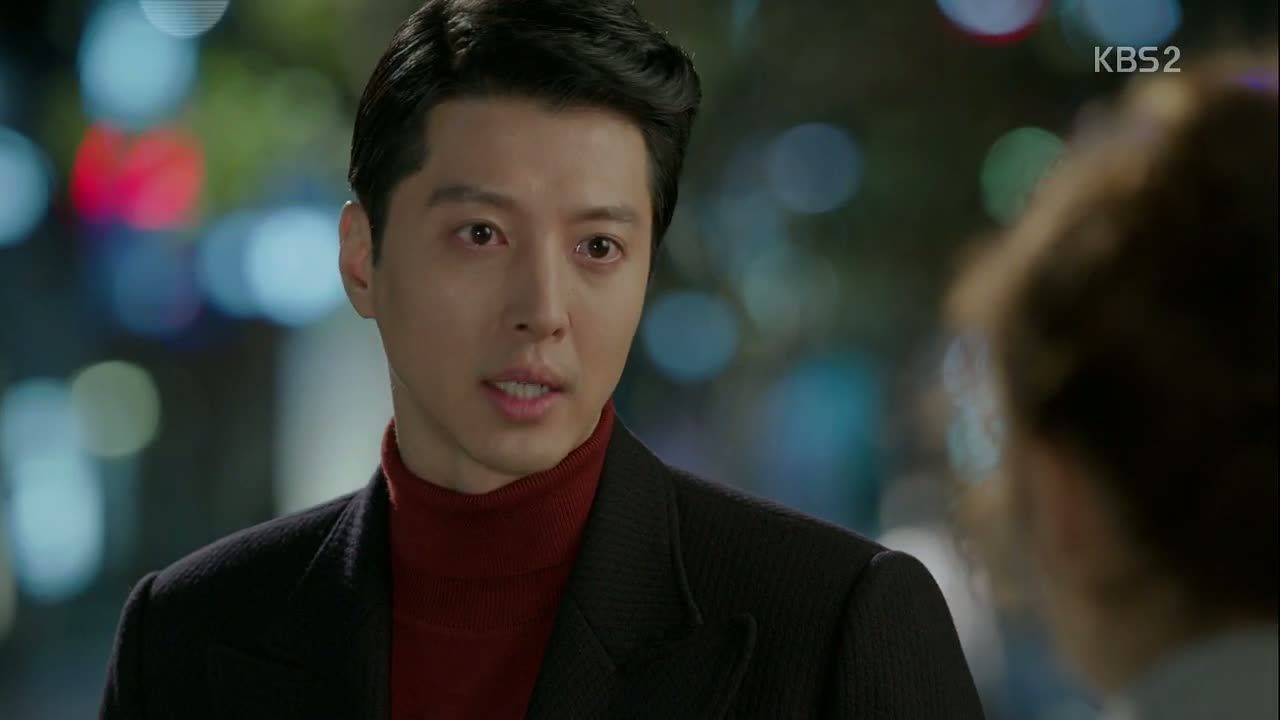 Mi-rae catches up to Shin, who immediately turns on her, angry and hurt. He asks if she wanted to flaunt his popularity or if he really was stupid enough to walk in on a romantic confession.
He barely lets her get a word in to explain herself, ripping into her instead for inviting him out here to make him jealous (omo) when she should have known better not to. Mi-rae yells that he won't even listen to her, and he bites back that he's better off not listening to someone like her.
She asks why he offered to teach her then, and Shin calls himself stupid for not seeing her true nature. Her eyes brimming with angry tears, Mi-rae says she now realizes why Ajumma was so dead-set against him.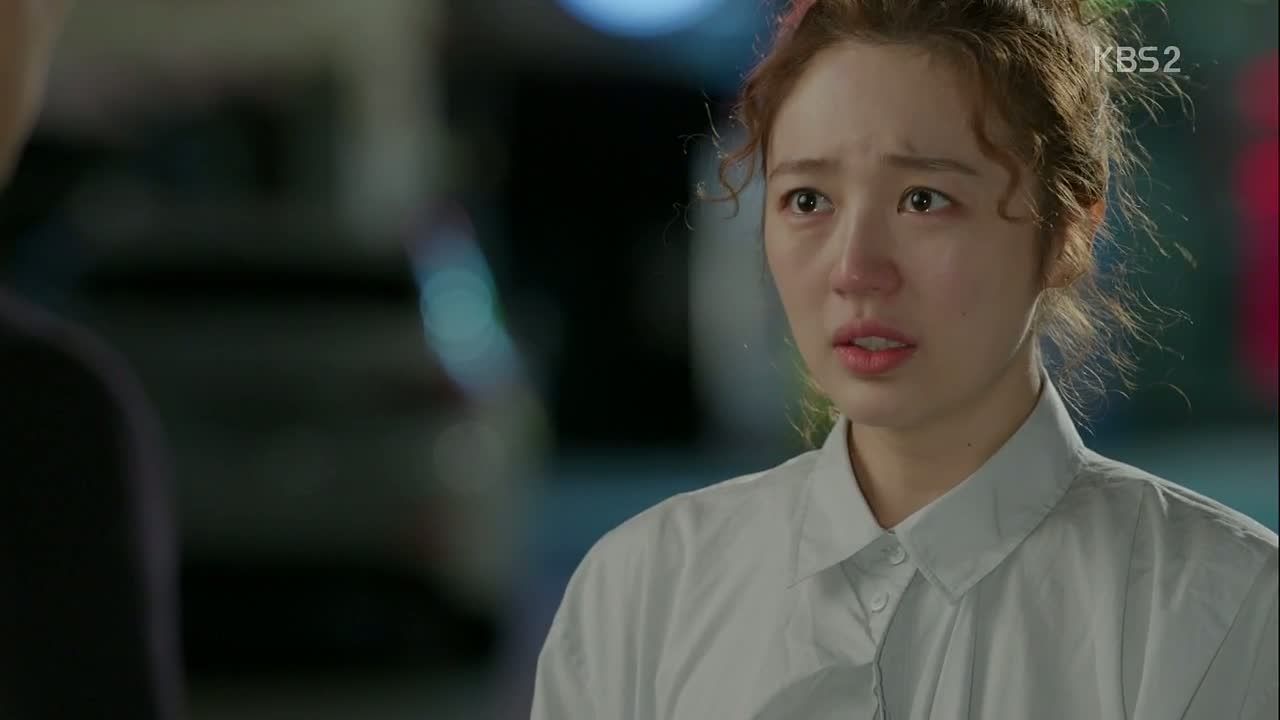 To that, Shin tells her to stop blaming others when she's the one who did all of this. Exasperated, Mi-rae finally yells, "How many times do I have to say it wasn't me, you bastard!"
That effectively stops them from verbally ripping each other apart, and they walk their separate ways.
Se-joo drowns his rejection in drink as they take down the decorations. When one of his buddies offer to introduce him to a real babe next time, he bitterly remarks, "That sounds great for someone at your level."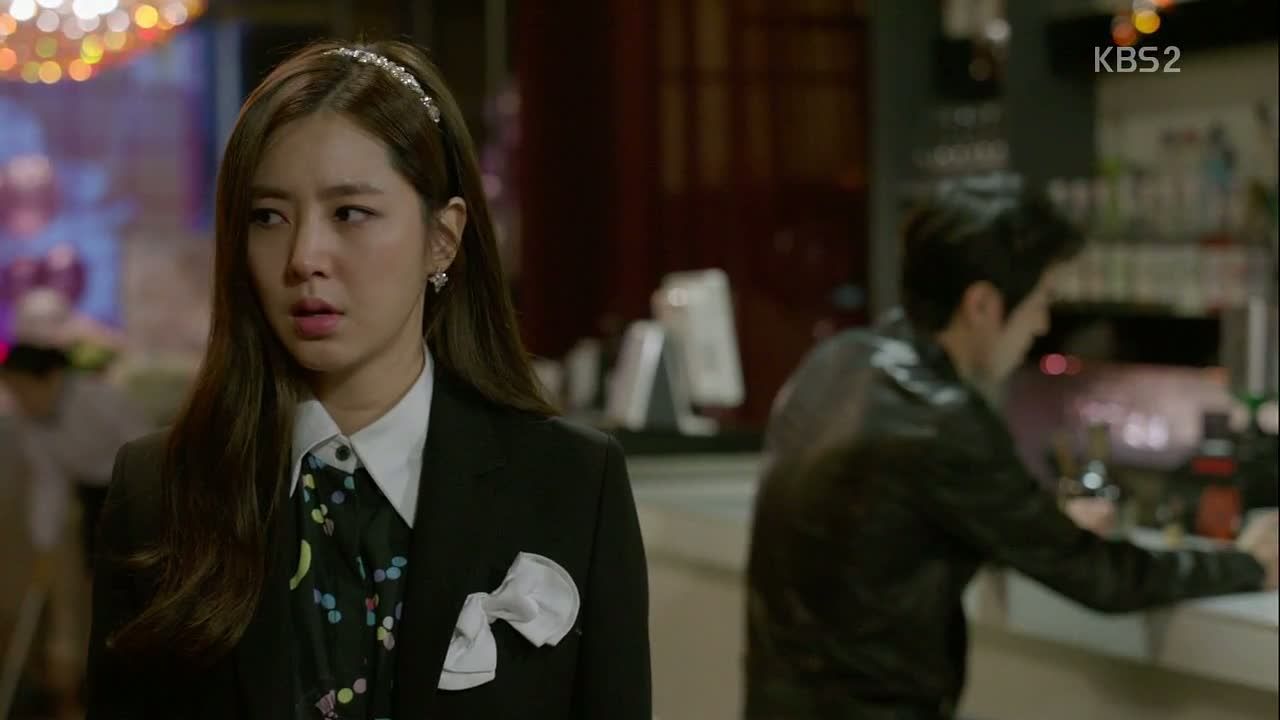 After his buddies leave, Yoo-kyung apologizes for what happened. Mi-rae calls in just then to speak to Yoo-kyung, asking her to relay how sorry she is. Se-joo asks for some time alone after she does, and she leaves, blinking back tears.
Then Yoo-kyung drives up to the bus stop in her car, where Mi-rae stands waiting. They relocate to chat, and Yoo-kyung demands to know why Mi-rae had her play messenger rather than talking to Se-joo herself.
Mi-rae asks to borrow her phone to do so, and as Yoo-kyung hands it over, she tells her to clear things up with him once and for all.
At the same time, Se-joo meets with Shin outside, and he asks why Shin is so upset when he was the one who took Mi-rae away. Shin argues that Mi-rae walked out of there voluntarily, to which Se-joo says it must be nice that the woman he likes went after him.
Shin denies having any feelings for Mi-rae, calling her someone who would follow anyone with a romantic confession. Se-joo takes offense with how dismissive Shin is talking about her, and when asked why he likes Mi-rae, he answers, "Can an announcer and a VJ not like the same person?"
Mi-rae calls at that moment to apologize for walking out on him, but Se-joo hangs up before she can get in another word.
Se-joo then turns back to Shin and suggests that he try doing things his way: hold parties, drink, and take her to his place. Shin pauses at the last bit, and Se-joo asks why they must do everything his way.
Shin offers some advice as a sunbae that he isn't in a position to criticize someone who has a little more life experience than he does.
Se-joo laughs, then asks, "What would you do if our places were switched?" What difference would it make if he, say, happens to own YBS?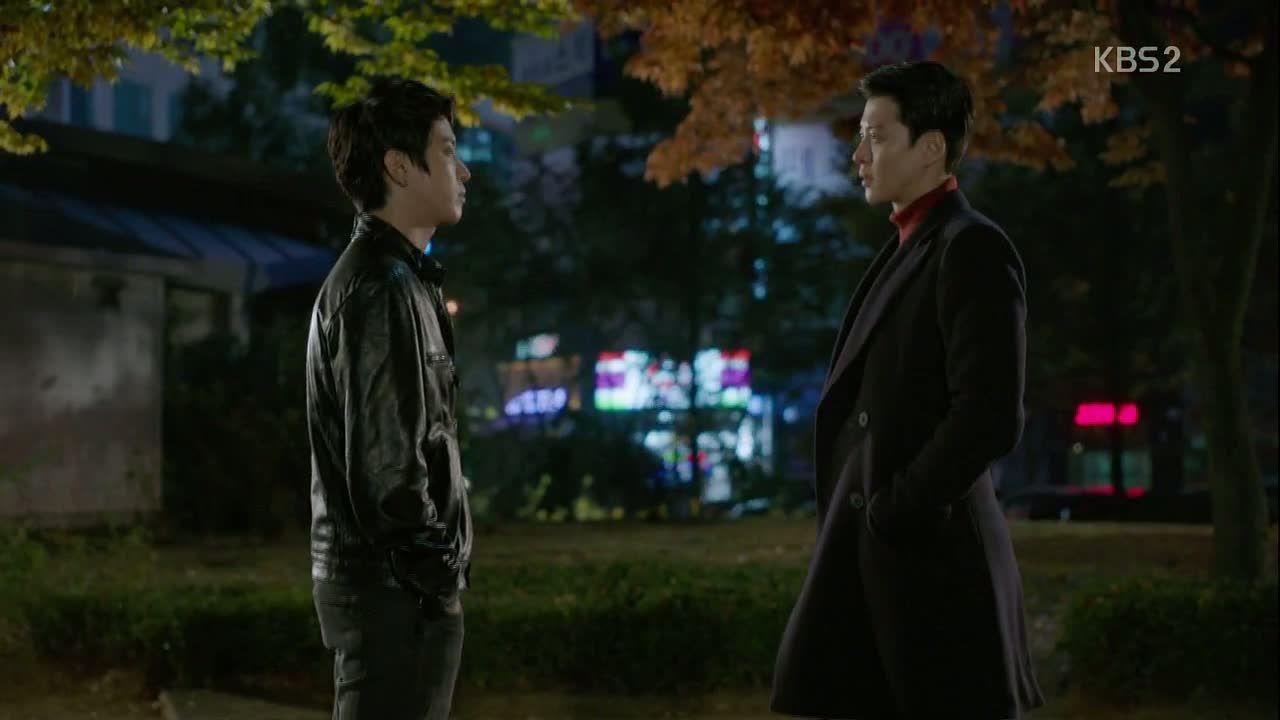 COMMENTS
First thing's first: the Black Man/Time Cop is the slowest, least-threatening time-travel authority I've come across in a long time. I was excited at his introduction and looked forward to how he would shake things up because his character meant real risks with real consequences to meddling with the present. At this rate, we're going to get to the future before he actually catches the One Time-Traveler in Seoul.
Speaking of whom, Ajumma Mi-rae continues to interfere rather freely and her heart-pounding warnings seem oddly absent in this episode. I assume this health condition will swing in and out as needed as we move on, to drive the stakes higher at a later point in the series. It's a minor point, but I do wonder what Ajumma was doing at the amusement park late at night and why she was in such a hurry.
To her credit, I like that we're still somewhat in the dark about her motivation to journey back to the present. I wish that we would know a bit more than "Se-joo is the man you're supposed to marry" bit, along with her fueled hatred towards Shin and Yoo-kyung at this point in the series, and I've entertained the thought that perhaps Ajumma hasn't thought past that one motivation. If I could ask for anything, I wish we would get more peeks into Ajumma's life that help explain her situation (and therefore offer up some sympathy for the viewer) or the other fantastic dream-like sequences that link Shin and Mi-rae together.
Yoo-kyung continues to fascinate me as a second lead. Her developing friendship with Se-joo is both refreshing and honest, and I like that Se-joo is able to confide in one person, though, that one person also likes him. We've all felt that disappointment of feeling second fiddle to someone's heart at one point or another, and I like that her motivations and actions to pursue Se-joo are blurred, like the guilt she felt after lying that Mi-rae likes romantic overtures. Relatively speaking, it seems less manipulative and conniving than some of the things that Ajumma Mi-rae has done in the past, and I do like how she instructed Mi-rae to clear up her feelings about Se-joo in the open. I'll be interested to see if Ajumma's assessment of Yoo-kyung stands as is or another part of her skewed, biased perspective.
As we hit our first angsty bump of the series, it's a big episode for our two male leads. Let's start with Se-joo, whose rejection I expected given Mi-rae's growing attraction for Shin. It makes me wonder if she would have turned him down, tacky balloons or not, and he's slowly slipping into second-lead territory as his friendship with Yoo-kyung develops. I still wouldn't place him out of the running just yet, and his hesitance certainly adds to some frustration. The same could be said for Shin, who on the one hand, allows himself to express his fondness for Mi-rae, and on the other hand, that barrier to fully admit it to Se-joo, to Mi-rae, and himself keeps everyone discouraged. His shout-off against Mi-rae was particularly hard to watch, since these two work so much better as a team. What I would give to watch them curse the world than at each other.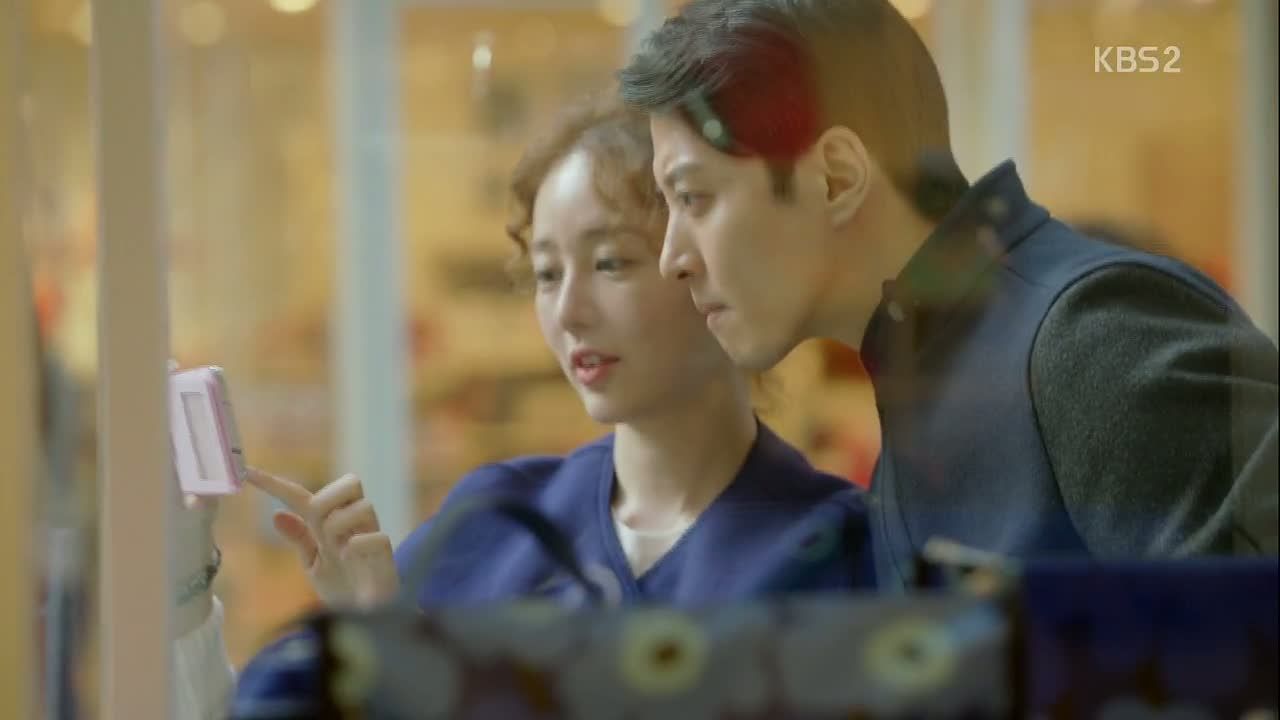 RELATED POSTS
Tags: featured, Han Chae-ah, Jung Yong-hwa, Lee Dong-gun, Mi-rae's Choice, Yoon Eun-hye