Gap-dong: Episode 2
Gap-dong turned in another solid episode, full of shady characters and tension between its good-guy protagonists—although I'm a little wary of calling our assy chief detective Chul-gon a full-on protagonist just yet. With our main characters' storylines established, this episode gave us a chance to see more of the secondary characters, namely the psycho-on-the-rise Tae-oh, who takes to his new freedom with murderous gusto.
I found this episode similar in tone to the first, which may assuage the fears of horror-phobes out there (wimps of the world, unite!)—the show does have its violent moments, but it's not scary, or nerve-racking. I see it more as a mystery/whodunnit, which makes it more watchable than I'd worried it might be.
SONG OF THE DAY
Philtre feat. Younha – "잊혀지겠지" [ Download ]
Audio clip: Adobe Flash Player (version 9 or above) is required to play this audio clip. Download the latest version here. You also need to have JavaScript enabled in your browser.

EPISODE 2 RECAP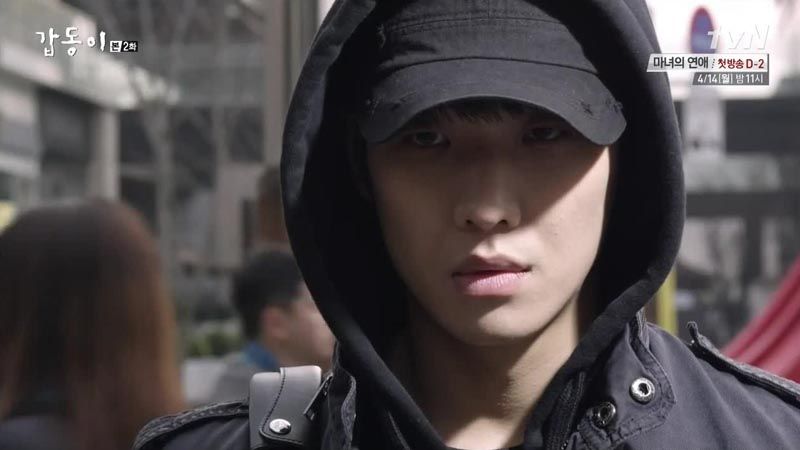 We open this episode with Ryu Tae-oh, the mysterious patient who was just released from the prison-hospital. He wasn't our stabber from the last episode, but he arrives at the same shopping center—coincidence? Something tells me there are few coincidences in this drama.
He scopes out the scene, looking intently at the shoppers walking by. Specifically the women.
Next he submits his resumé for a barista opening at a cafe. (Is it significant that the cafe is the one he specifically noticed that Dr. Maria frequented?) Tae-oh is working a deceptively meek persona—when the manager asks why he has no job experience, he shyly answers that he just did a lot of studying ("this and that, about things I like"). The bashful kid-next-door routine works like a charm and he gets the job.
Maria takes a shower, which allows us a glimpse of a birthmark on her left shoulder. Her clothes are stained with Mu-yeom's blood, following his intervention in the stabber incident. The sight of that blood—or maybe it's the memory of Mu-yeom collapsing from his stab wound—deeply rattles her.
Flashback. We're back to that night in 1996, when Gap-dong kidnapped that little girl. He says, "Rock, scissors, paper"… but now we see that he wasn't playing the little girl for her life—he was making the two little girls play each other. Damn, that's messed up. Several times in a row, the girls play the same hand, growing increasingly scared as Gap-dong forces them to keep going until there's a loser.
So Maria was Jae-hee, the traumatized survivor. The memory still has a powerful hold over her and she fumbles for her medication, gulping it down.
It's Christmas season of 2013 in this drama's timeline, which is significant since Gap-dong's very first victim was killed twenty years ago—Christmas Eve, 1993. Tae-oh works at the cafe passing out flyers, and his good looks and smiling face make it easy for him to scope out the scene, taking particular note of ladies carrying cake boxes.
Tae-oh's interest in several potential targets wanes when he sees that one has a boyfriend and another is a mother, but then his eyes land on a promising choice: Ji-wool, dressed in high school uniform, carrying a cake box. Perfect.
He approaches with a flyer, but before he even needs to do anything else, Ji-wool's eyes widen and she looks at him intently. "Would you like to be a sketching model?" she asks. She exults when he agrees, and he thinks to himself, "Got it!"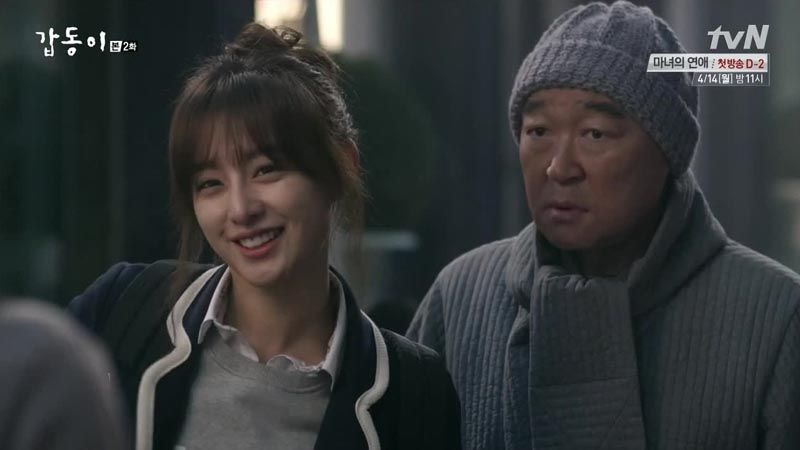 Ji-wool gets interrupted by that grumpy monk from the temple, who pulls her away. She makes sure that she can find Tae-oh at the cafe before leaving, way too excited about her discovery.
In his hospital bed that night, Mu-yeom mulls over the odd case of the doctor with two sides: the angelic caretaker at the prison, and the tough-as-nails badass.
Maria lives in a cozy trailer, and that night is poring over patient files when she hears a sound from outside—like something being knocked over by someone who shouldn't be there. She tenses and grabs her taser before looking outside, and gets startled by a cat. She relaxes.
She gets a call from an unfamiliar number, which turns out to be Mu-yeom from his hospital bed. He tells her that she's responsible for sticking him the hospital and owes him a visit, then makes plans to meet her somewhere.
Ji-wool and the monk pay Mu-yeom a visit, though he groans that Ji-wool is not compatible with the doctor's orders for rest. It's seeming more and more that the temple folks form a sort of makeshift family—I'm recalling that young Mu-yeom had a shorn head and wore monk-like clothing, and his nickname among officers (Ddol-joong) is Crazy Monk.
When the older monk calls out Ji-wool for flirting with a boy, it's cute how quick she is to insist it's only about work, not wanting Mu-yeom to get the wrong idea. You know, to safeguard for the day (in her dreams) when he'll fall for her.
Ji-wool complains about that "strange woman" who was responsible for Mu-yeom getting stabbed, but when he says he's going to demand she pay his medical bills, Ji-wool gets even more huffy: "You're going to meet her?!" Her jealousy is so cute.
Maria goes to the cafe to see Tae-oh, presumably for a check-in, but he apologizes and says he's too tired today. In a timid voice, he says he wishes he could return to the facility because it's so hard for him to be out here, looking the very picture of a scared lost lamb.
So when she gets a text from Mu-yeom, who's waiting for her to show up, she texts back that she'll have to see him another time. Today she has a more pressing patient to see.
Later that night, a woman stands outside a cafe in a less populated part of town, waiting for her ride. We recognize her as the victim from yesterday's episode, and she's carrying a cake box. A motorcyclist rides by and sizes her up.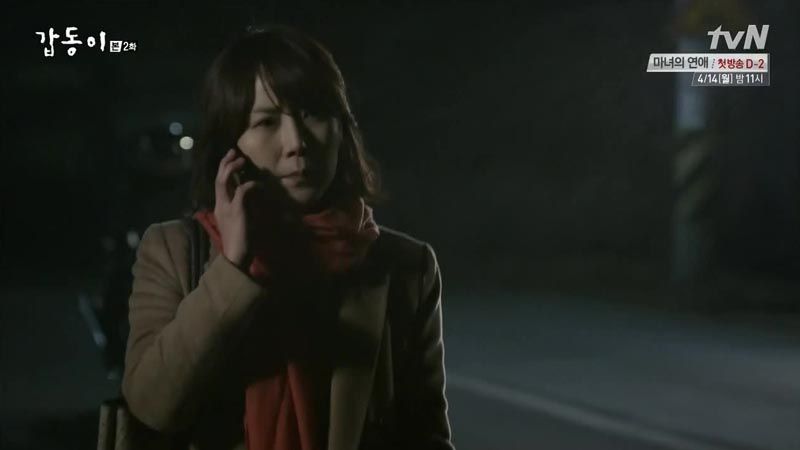 Now we're back at the scene that ended Episode 1. The woman hurries her steps when someone starts whistling nearby, but as we know, she's not long for this world. The assailant leaps at her, then drags her prone body through the field.
In the morning, Maria is out for a jog while children play in the snow. The sight of a particular snowman gives her an eerie feeling and her mind flashes to Gap-dong's first victim, discovered buried in the snow, though she shakes it off.
But her hunch was right after all: It's not long before the area is crawling with police. The body has been discovered in a bank of snow, and wife-partner Hyung-nyun puts in a call to Mu-yeom. The snowman detail is enough to get him heading over immediately, stab wound and all; Mu-yeom hurries to the scene still in his hospital gown.
The forensics team is busily cataloguing the evidence, and Mu-yeom takes note of the way the victim's hands are bound in a familiar fishing knot. "So you were alive," he growls, "Gap-dong."
Maria drops by the shop and finds Tae-oh much cheerier this morning. He thanks her for her help last night and takes her order, throwing in a coffee card that he stamps nine times, saying it's because he's in a good mood today. Why exactly are you so happy, Tae-oh?
Maria declines the stamp card, but Tae-oh tells her it's fun. The air turns eerie as he counts, "One, two, three… nine, ten. The feeling of completion is satisfying." Perhaps it's not irrelevant to note that Gap-dong murdered nine times. For what it's worth, Maria seems to sense something off about Tae-oh, though so far she has no reason to be suspicious of him.
Mu-yeom isn't granted access to the body being inspected but combs the rest of the crime scene. He picks up a detail that has gone overlooked: the cake box buried under a layer of snow by the side of the road. He recalls the cake box found in a prior case, and his mind quickly connects the dots.
Mu-yeom re-enacts the attack in his mind, imagining himself in Gap-dong's place as he ambushes the woman and takes the cake box ribbon to tie up her hands. It's an effectively creepy device to have Mu-yeom acting out the role of the killer, even if it's just in his mind. Ack.
After the victim is tied, Mu-yeom/Gap-dong prods her awake, and she begs him to spare her life, promising to do anything he asks. He wraps her scarf around her neck, then stuffs a sock into her mouth to silence her. Her garbled sobs grow more desperate as he grips the ends of the scarf, and then he yanks violently.
Our chief detective Chul-gon arrives on the scene and is briefed on the details. Everybody's thinking this is Gap-dong's work, but they're also wary of jumping to conclusions and treat it as an independent case.
Mu-yeom tries to get a look at the corpse but finds his way blocked by an officer, who was given strict instructions not to allow anyone inside. So he has to try to confirm his suspicions secondhand, asking the forensic expert whether the victim was gagged with a sock or tied with a fishing knot. The expert jokes that Mu-yeom could be the culprit, teasing him about making sure to have an alibi.
Chul-gon issues instructions, including telling Mu-yeom to go back to the hospital. Mu-yeom asks to be allowed to see the victim, wanting to see whether Gap-dong's signature is real or faked. The tension mounts—as it always does with these two in a showdown—until Mu-yeom is dragged aside by the others.
Chul-gon confirms the details with the forensic expert, and wonders how Mu-yeom could have known the facts without seeing the body. The expert points out that he was fairly obsessed with catching Gap-dong.
Mu-yeom waits to catch Chul-gon after his inspection of the victim, and asks if it's really Gap-dong: "It's the least you could do for the son of the man you killed after wrongly accusing him of being Gap-dong."
Chul-gon answers noncommittally to everything, but Mu-yeom can tell by his response that he does think it's Gap-dong, and that he's feeling disturbed by the case despite his calm exterior.
Mu-yeom points out that it could be a fake Gap-dong, and that so far this isn't a serial killing. "Don't worry just yet," he says, "I won't cut that finger off right away."
At the hospital, Maria plays a game with the inmates where she is blindfolded and the others circle around, dodging her hands. It's fun times for all but one, as our wimpiest inmate hovers at the outskirts, afraid of being caught. He's the one who was afraid of his poop being traced back to him, which means that until he's given a name, Poopy it is.
As Maria feels around for their hands, her voice-over recites Gap-dong's physical traits, including the description of his hands being "as soft as a child's." (That tidbit must be her own witness account, from when he forced her to play rock-scissors-paper.) She gets hold of one inmate's hands, but they must not be what she's looking for because she declares that she won't rest until she finds the nicest pair of hands.
The inmates notice that Poopy's trying to go unnoticed and shove him to the front for the doctor's perusal. He twists and jerks back until he falls to the ground, then darts off muttering, "I almost got found out."
Tae-oh walks through a luxurious apartment, swaying along to some music (always the classical music for our dramaland baddies) and settling back to enjoy his comfortable surroundings. Okay, what is your deal? Are you a genius barista psychopath chaebol now?
Mu-yeom unlocks an old storeroom on the temple grounds, which has gone neglected for years, by the looks of it. He takes out a box, inside which is a photo of himself with his father. The rest of the box is filled with Gap-dong files, with police photos he must have gotten his hands on somehow. Recalling how his father was bullied and accused, and how he vowed to capture the criminal as a child, Mu-yeom puts in a call and requests a return to duty.
Chul-gon predictably opposes having him included on the case, even though the more sympathetic Section Chief Cha argues that he deserves the chance since Gap-dong was the reason Mu-yeom became a cop in the first place. But the police chief leaves the decision to Chul-gon, who wants Mu-yeom left out.
Mu-yeom visits Profiler Han on a fishing outing, and wonders why Gap-dong chose a fishing knot for his victims. Profiler Han answers that a fishing knot is sturdy, and becomes stronger the more you yank on it.
Mu-yeom wonders why the criminal would come back now, and also what that hospital graffiti message meant. Profiler Han supposes there could be a lot of possible answers, but the worst possibility? "A copycat."
But how could a copycat know about the fishing knot when it was kept out of the official records? Profiler Han speculates that perhaps the new killer was so in tune with the old killer that his thinking took him to the same wavelength. Mu-yeom scoffs at that, telling Profiler Han that he always skews off in the wrong direction at the last moment, which is why he's always getting excluded from cases. Profiler Han admits it, and asks Mu-yeom not to share his thoughts and get him cut from all cases entirely.
Mu-yeom grumbles about being kept off the investigation, especially with the "Gap-dong's son" specter hanging over his head. He sighs that he ought to have pretended to toe the line more, and Profiler Han tells him it's not too late to beg. Or, you know, he could just cling to his pride and watch from the sidelines while Chul-gon nabs the criminal. Mu-yeom hates both options, but the second rankles worse.
So he decides what the hell. Assuming his Bruce Lee stance ("Don't think of fear" was the message), he shrugs that he'll do just that.
After Mu-yeom leaves, Profiler Han puts in a call to Maria. Hm, how does he know her? He doesn't say much, and in fact hangs up rather quickly after saying he was just bored and wanted to give her a ring.
At the station, the detectives assemble for a briefing on the case. The agree that Gap-dong's a pro, being careful to use the victim's own belongings in the murders to leave little trace of himself behind. The autopsy is the next step, to see whether they can pick up additional clues.
Mu-yeom finds Chul-gon observing the autopsy, and readies to make his appeal. Before he can, Chul-gon is presented with the autopsy results, and a notable detail is that the victim wasn't raped.
Mu-yeom asks to be allowed back to work, offering to kneel down or cut off his arm if necessary, but Chul-gon finds his sudden change more suspicious than ingratiating. He says that the guy who destroyed evidence for his father may well become a suspect in this case.
Well, that attempt at humility went nowhere; Mu-yeom takes back the offer to kneel. But as he turns to check his phone, he drops his case notebook, which Chul-gon picks up. Uh-oh. But he doesn't notice right away, busy with Ji-wool's nagging text about wandering about when he's unwell. (He texts back, "I told you not to do stuff like this. I already have a wife!")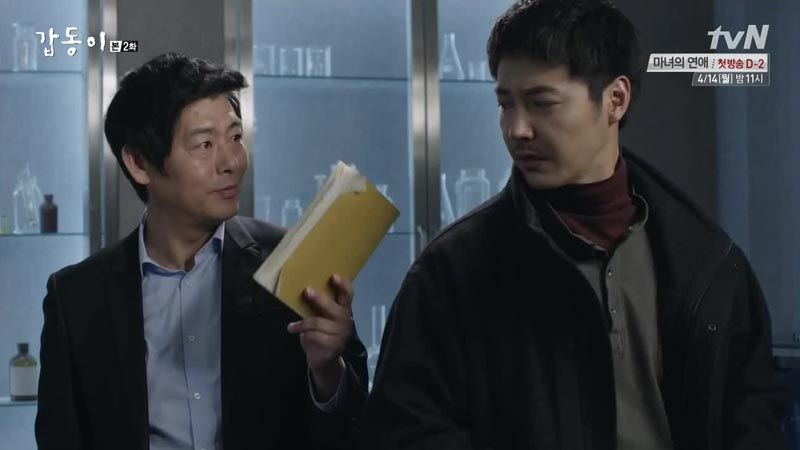 Chul-gon takes the Gap-dong notebook as confirmation of his suspicions, calling Mu-yeom "Gap-dong's son" and saying that he must be out to resume Dad's work. To me it makes perfect sense that Mu-yeom would have collected all the information he could over the years, but Chul-gon's mind doesn't go that way, seeing it more as a scrapbook of Dad's work. (I guess it's because Mu-yeom isn't supposed to have access to those files as an officer.) At this point there's just no changing his mind, which frankly makes him the scariest (and worst) kind of police officer.
Our motorcyclist heads out into the city, and this time we see his face, confirming that it's Tae-oh. (On the other hand, we never got confirmation that the motorcyclist was our Christmas Eve killer, though it's certainly suspicious.)
The motorcycle zooms by a field where a woman loads up her truck with straw and asks the farmer to hold the rest for her. She drives off with her load, but at the stoplight she looks over at the motorcycle stopped near a bus stop. Tae-oh is trying to straighten the bike but struggles with one arm in a sling, and looks at the woman with sad eyes, angling for sympathy. She appears to consider the possibility of stopping, but drives on when the light changes, and Tae-oh glares in disappointment.
But then the woman has second thoughts and backs up her truck, bringing a chilling smile to Tae-oh's face.
And wouldn't you know, that bus stop is the same one pictured in the Gap-dong notebook from the old case. Seeing its photo prods something in Mu-yeom, who drives there on a hunch.
Tae-oh accepts the woman's offer of a ride, and his flattery keeps her relaxed and unsuspecting. He marvels at her straw handbag and asks where to buy something like that, perhaps picking up on the fact that she makes them.
So instead of dropping Tae-oh off directly at his house, she stops somewhere else, presumably to show him her work at her studio. This also means they're now in a conveniently secluded location, and Tae-oh looks like he's readying to make his move.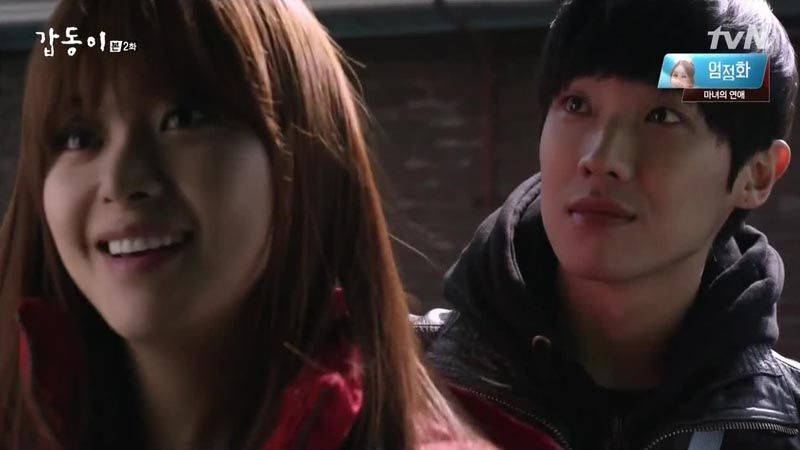 She invites him inside her workshop, which is full of woven handicrafts. He comments on how out of the way this studio is, then suggests playing the "zombie game," a type of tag game. She points out that he can't with his arm injured… at which point he removes the sling and unwraps the bandage, saying he feels better now.
She starts to clue into something strange when he offers the bandage as a blindfold and tells her to choose: "Do you want to be the zombie, or the one who runs away?" She uneasily decides, "The person?"
He tells her, "That's too bad. You made the wrong choice. If you wanted to be the zombie, it would have been easier."
The woman looks at him with fearful eyes. He breaks into his wide grin.
Maria arrives at a university building and lets herself in to someone's office—it belongs to Profiler Han, with his wall of Gap-dong photos. He's not there, and she digs through files in his desk until she finds the Gap-dong folders. Ah, I bet Mu-yeom got his Gap-dong evidence photos from Profiler Han, since the same photos are in these casefiles.
Maria takes particular note of the photo of the bus stop we just saw, whose caption tells us that this was the place where the victim was last witnessed. She gets out her phone and starts snapping photos.
That night, Ji-wool looks over her webtoon drawings, which depicts events we're already familiar with and features a character that looks just like Mu-yeom. (Mu-yeom prays at the altar, a killer attacks a victim, and the like.) She tries to call him, but his phone is off.
He's out at that bus stop, looking over his files. With the murder in the snow so closely mimicking Gap-dong's first killing, his hunch has led him here to the site of the second victim's murder, despite his words earlier about not worrying because this wasn't a serial case (…yet).
Meanwhile, Maria takes a bus out to that stop, reviewing the photos she snapped of the casefiles.
Mu-yeom notices the motorcycle left to the side and steps up for a closer look. Alas, his cell phone is out of juice so he calls the station from a pay phone to look into it, since the bike has no license plates.
While the officer on the line chats with him and sympathizes with his situation with Chul-gon, he doesn't see Tae-oh arriving to collect his bike, looking all tired out from some activity. A helmet bashes him on the head from behind, and Mu-yeom goes slumping to the ground, not knowing what hit him.
Tae-oh replaces the phone receiver, hanging up the call, and makes a call of his own.

COMMENTS
Now that the story is in motion, I feel confident that Gap-dong will continue to be a well-produced, skillfully directed, and smartly executed series. It doesn't feel like it's fumbling around in any way, and doles out its story with a confident hand. It's nice to watch a show where you can sit back and be assured that the people in charge know what they're doing and how they're going to achieve what they've planned. Perhaps I'm not in love with it yet, but that's okay since the show is entertaining and keeps my brain engaged.
I can see a familiar theme emerging, which is apt in a whole crop of thrillers these days: Trust no one. The show is effective in painting everyone as questionable in their own way, so whenever there's the tiniest possibility of a character being linked to Gap-dong, my mind immediately leaps to suspicion. Like our Poopy inmate, for instance, though I would argue that he seems too obvious to be the real culprit. If the show is pointing us in his direction from Episode 1, surely he's merely a red herring, right?
It's how I feel regarding Tae-oh as well, who is doing a great job being a creepy (probable) killer, but is so obviously our bad guy that I wonder if he's got any relation to the original case. Is he just another distraction? Granted, a distraction who kills is a distraction worth stopping to take down, but ultimately I wonder whether he has a place in the original killings, or whether he's just a really enthusiastic copycat.
But we've also got peripheral characters, including inside folks at the police station like Section Chief Cha (he's so nice—is he too nice?) and Profiler Han, who seems to be a sweet, bumbling guy. But if he has a history of bungling a profile at the last step, who's to say it's not intentional?
Maria is an interesting contradiction, and today's revelation was pretty eye-opening. I'm intrigued at the combination of victimization and survivor's guilt she bears, because she was spared a gruesome death but has to live with knowing that it could have been her. And also, she must feel tremendously guilty over winning that rock-scissors-paper game, even if the alternative would have been to be gutted. It goes a long way to explaining why she's alternately fearful and bold. I'm curious to know if she entered into her profession as a mere profession, or if she, like Mu-yeom, is operating on a hidden agenda to track down Gap-dong. After all, her job is an awful lot like profiling, and she gets close access to inmates. That makes her pretty ballsy, but I wonder what her goal would be in that scenario. Or rather, what is her motivation? Is she driven by a need to deal with her personal trauma, or is it a more outward goal of vengeance?
So there are a lot of interesting questions to keep us occupied while the show unfolds, and I appreciate that. I do have to admit to not finding the actual case as gripping as I expected, because (and I recognize this sounds horrible) a simple rape-murderer doesn't necessarily provide us much in the way of plot twists or surprise motivations. As in, are we going to get an explanation of Gap-dong's actions that go beyond "he killed because he was a psycho who liked killing"?
Right now it's too early to know how well everything will be unveiled, but I do sorta feel like it's a rather simple mystery and want a little more complexity. Not that it has to pull a full M. Night Shyamalan and twist everything so that what we thought was true was nowhere near the true situation at the end, but I'd like some kind of twist—not only in who the culprit is, but also his motivation. Perhaps I'm influenced by the way God's Gift has managed to keep us on our toes and kept the story changing at every step of the way. God's Gift isn't a perfect show either and its approach has its own detractors (like TOO many twists, maybe), but I won't deny that it's more fun to watch a show that keeps moving its target than one where the target is rather fixed the whole way through.
But I suppose that's more of a quibble than an outright complaint, because there's enough about Gap-dong that is very good that I'll be happy watching it unfold. And by happy I might also mean a little creeped out. That's a good thing, right?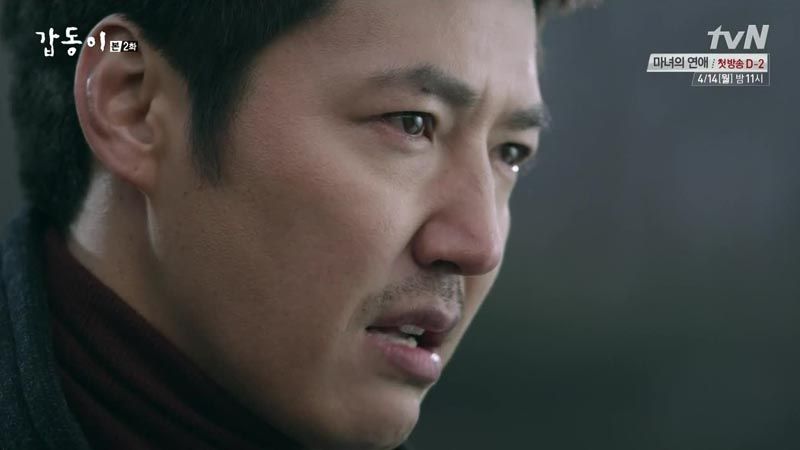 RELATED POSTS
Tags: featured, Gap-dong, Kim Ji-won, Kim Min-jung, Lee Joon, Sung Dong-il, Yoon Sang-hyun