Gap-dong: Episode 13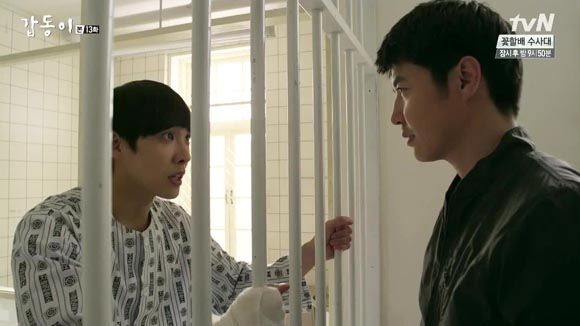 Now that we know the who of the matter, it's time to turn to the why of things. Giving us the identity of the killer with so many episodes to go was a risky choice, but this drama has always been more interested in plumbing the psyches of its characters, so I expect to delve a lot further into the question of what drove Gap-dong, and why he's lain dormant all these years. Because as our characters find in this episode, the question driving everyone crazy isn't how he pulled it off, but where he disappeared to.
SONG OF THE DAY
Every Single Day – "Rush" from the Gap-dong OST [ Download ]
Audio clip: Adobe Flash Player (version 9 or above) is required to play this audio clip. Download the latest version here. You also need to have JavaScript enabled in your browser.

EPISODE 13 RECAP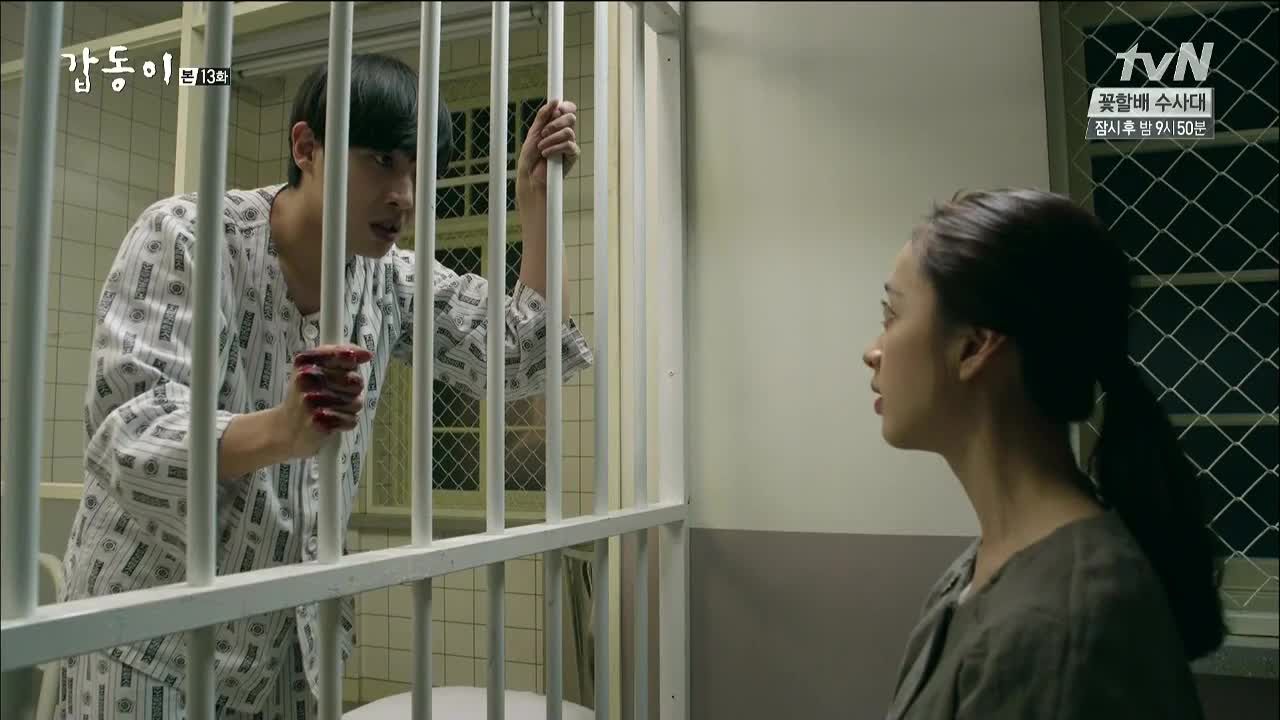 Tae-oh reaches a breaking point and insists on seeing Maria, who arrives to find him in a sad, scared heap on the floor of his prison cell. He tells her, "When I met Gap-dong, I was happy. I thought I might learn the secret of how to stop a monster like me."
That's why he'd felt Gap-dong was his god—he was the rare psychopath who found the way to stop himself, and he wanted to know how to do that. But when he killed the flight attendant on the plane, he realized that he couldn't be stopped. The murders he'd found exciting started changing, particularly when the victim in the greenhouse had sobbed and asked what she'd done wrong. Tae-oh replied that she hadn't done anything. "In that moment, I felt strange. Why am I doing this? Even so, I had to keep doing it."
He explains that Poopy, whom he'd believed to be Gap-dong, had told him to surpass him: If Tae-oh completed all nine murders, he would know the answer. But now Tae-oh realizes that Poopy didn't know either, and he despairs of never knowing.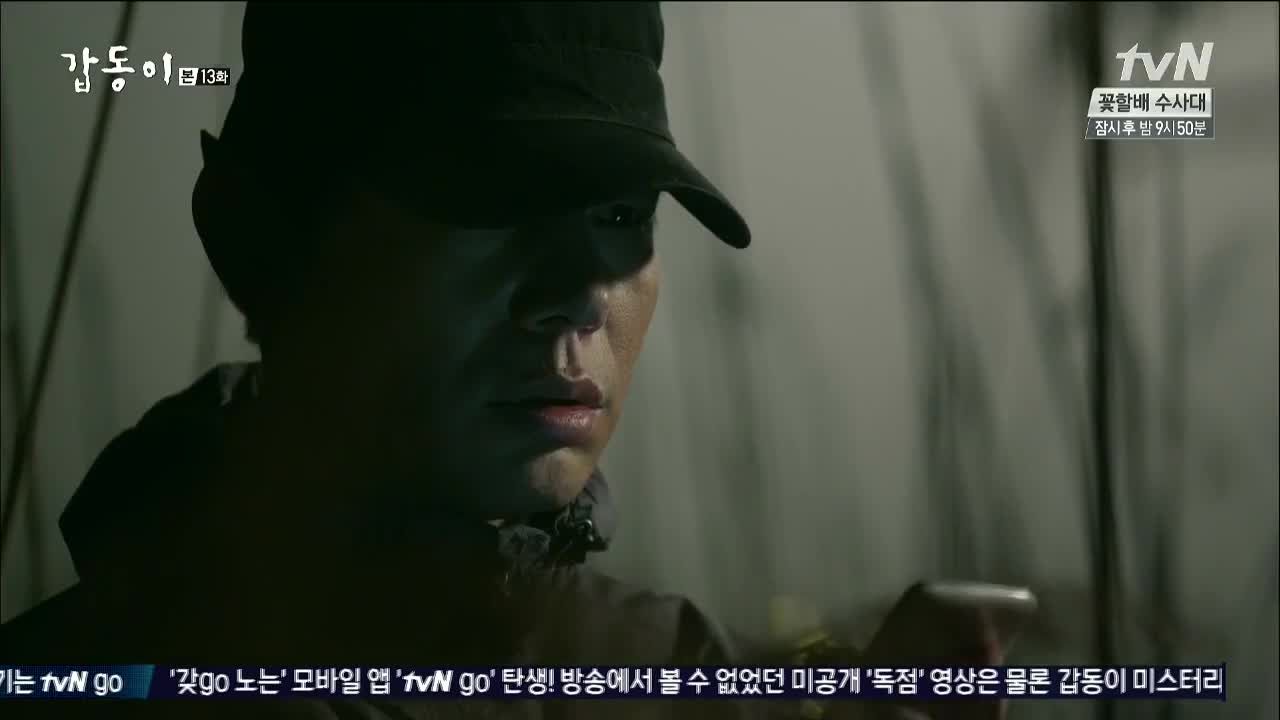 Section Chief Cha is revealed to be the original Gap-dong when he heads out to the field of reeds and starts whistling Gap-dong's tune. Mu-yeom calls him from outside the prison hospital, asking for his help in handling the Tae-oh situation. Mu-yeom isn't authorized to join Maria, but the longer she's inside, the more on edge he becomes.
Tae-oh asks Maria desperately to tell him the secret of the ninth murder. Perhaps with some pity, she agrees to tell him, but on a condition: First he must tell her in full detail what he did to victims one through seven.
Maria listens with a horrified expression as Tae-oh describes his murders laughingly, and up through the fifth case that involved Ji-wool, he had no problems. The doubts began with the sixth incident, after he'd found out that Poopy wasn't the real killer—if he had left the country believing that lie, he may have been able to convince himself that he could stop the psychopathic impulse. But instead, he found himself welling up in uncontrollable rage during the flight: "I knew I would be caught but I couldn't help it—I felt like I had to do something."
Dully, he admits, "The seventh killing wasn't planned, like Ha Mu-yeom said." He wonders what the true Gap-dong looks like, but advises Maria to give up her hopes of catching him: "He's dead." Tae-oh now believes that people like himself can't be stopped short of death—ergo, Gap-dong must be dead.
Section Chief Cha pulls up to the hospital and meets Mu-yeom there, his presence allowing both of them inside to watch Tae-oh and Maria talking via security camera. Tae-oh asks for the secret of the ninth murder now, and Maria starts her explanation by saying that the victim was her best friend.
Section Chief Cha starts to go in to join them, but Mu-yeom holds him back, saying that Maria is the one person who might get Tae-oh to talk openly. They can't risk ruining that by interfering, and Maria is strong; she can handle this.
Their talk lasts into the morning hours, and it's daylight as Maria explains that the secret is that nobody knows why Gap-dong disappeared. She tells Tae-oh that he did a good ting in speaking up, and that he can call her whenever he wants to talk again.
Mu-yeom is waiting for her as she steps out, and she smiles in relief to see him, just before her fatigue takes over and she slumps. He catches her before she falls, and waits until she awakens a bit later, telling her to rest.
But Maria fixates on her bigger concern—Tae-oh's conviction that Gap-dong has died. Could that be true? Mu-yeom wipes her tears away and says he doesn't believe that, and holds her while she sobs. Section Chief Cha arrives in the doorway of her office and clocks the scene, leaving quietly.
The footage of Tae-oh's confession is turned over to the police, which allows them all to breathe a big sigh of relief now that the copycat case is over (and prosecutable). The officers note that despite their beliefs to the contrary, Tae-oh has actually had no contact or connection with the original Gap-dong.
Ji-wool is working at the station when she overhears detectives watching Tae-oh's confession and hurries outside, upset and conflicted. Mu-yeom follows her out and asks whether she liked Tae-oh, and at her denial (and reminder of who she does really like), he's satisfied.
But Ji-wool challenges, "If I don't like him, does that make everything fine? I was hoping that Ryu Tae-oh was human, that he wasn't walking the beast's path. Is it wrong for me to hope for someone to be human? Just as long as I don't like him?"
Ji-wool sobs that she's a fool for having mistaken the beast for a human, and that she hates herself for it.
The focus of the investigation shifts to gathering proof of Tae-oh's involvement in each of the murders. But while everyone on the team is in high spirits over the break in their case, Mu-yeom and Section Chief Cha remain subdued. Mu-yeom suggests seriously to Cha that they not stop with the Tae-oh case—they should go after Gap-dong too.
The expiration of the statute of limitations had been the source of a bitter realization for Mu-yeom: that Gap-dong will have gotten his ticket to freedom, but the rest of those traumatized by him would live the rest of their lives being punished. And because of the expiration, Mu-yeom can't really do anything now either. Chief Cha asks what he intends to do, and as he waits for Mu-yeom's response, we see his mouth quirk upward into a creepy smirk.
Mu-yeom misses the look, though, and Cha just advises Mu-yeom to let Gap-dong go, like the wise hyung he is. It's advice Chul-gon agrees with, and he tells Mu-yeom to take it.
A grisly discovery is made at a construction site, when human remains are dug up. The police are called in, and Mu-yeom takes in the details: the long-buried skeleton, the tattered clothing, the whistle found next to the bones. Tae-oh's words ring in his ears about Gap-dong being dead, but first they'll have to investigate the remains. Off the bones go to the lab, where the forensic examiner suggests that they have the face reconstructed using the skull.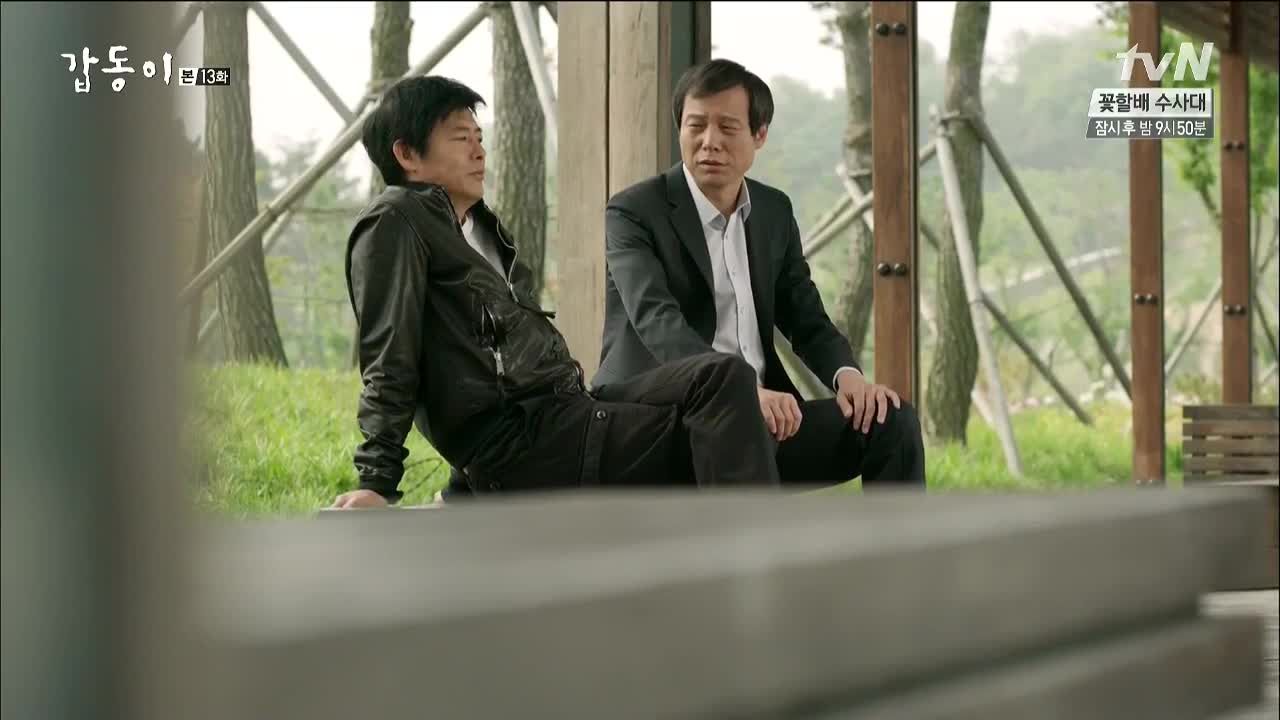 Chief Cha tells Chul-gon apologetically that he hasn't been able to get him restored to his position. Chul-gon takes it in stride, saying that he can entrust the Gap-dong case to him. Outwardly it sounds like he's ready to let go of the case, but I think we can expect Chul-gon to persist on his own. He goes to Profiler Han next and asks for a job: "I'll make copies or fetch coffee—just as long as we can talk about Gap-dong."
Tae-oh's mother calls in her high-powered lawyers to buy Tae-oh a way out of his mess. They hit upon affluenza as a potential excuse, where extreme wealth adversely affects somebody to the point where they don't feel emotions. They cite the case of a young Texan who used affluenza as his defense and was able to evade a prison sentence, getting probation instead. Mom likes this idea.
In the prison, Poopy's eyes grow frenzied as he spots Tae-oh being escorted down the hall. He leaps at him, calling him a phony and demanding, "How dare you copy me?!" It looks like his Gap-dong delusions are only growing stronger.
Tae-oh meets with his lawyer and seems to find the affluenza defense absurd, or at least amusingly far-fetched. But he sits up in surprise to hear that his mother has called Ji-wool, and is in the process of persuading her… to marry him. WHAT.
Mu-yeom gets the update and heads to Tae-oh's cell, derisive of the defense tactic. Tae-oh admits to not liking it either, but says it's his mother's doing. But Mu-yeom is here for another reason, and asks what Tae-oh thinks of his new theory: that Gap-dong didn't actually stop himself.
Tae-oh leaps up hopefully at that, asking if there's proof to support that. Mu-yeom declares that Tae-oh is the proof—Tae-oh couldn't stop himself, so isn't it strange to think that Gap-dong could? Instead of thinking that Gap-dong is rare for being able to stop himself, consider the opposite, that he wasn't rare and didn't stop.
Ji-wool mulls over the proposal, seriously considering it (and the 5 billion won she was offered to marry Tae-oh). I suppose it's crazy, but she does have a crazy amount of compassion for Tae-oh and a warped sense of responsibility over being his Sonya…
She visits the monk to drop off food from her mother, and hears that Maria hasn't been feeling well. So she stops by to see her and the mood is subdued, with both ladies being weighed down by their thoughts.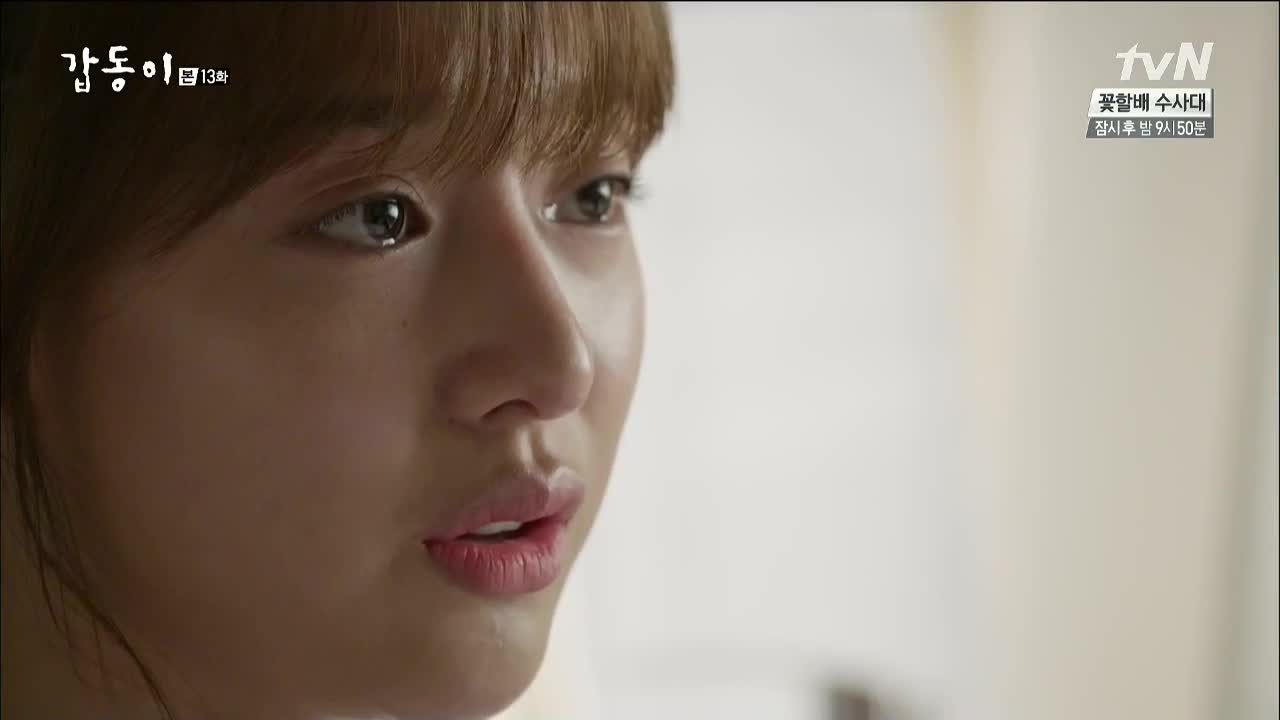 Ji-wool asks, "Why are we like this? I'm poor and powerless, and can't receive love from the one I like. I've never bullied or hated anyone. All I've done is like someone. I'm only nineteen. What sin have I committed in a past life? What have I done wrong?" Maria tells her sympathetically that she's done nothing wrong, but it's not much consolation.
Ji-wool says that she knows Maria has been through more than her, and that she knows Maria almost died at Gap-dong's hands. "How did you endure it?" she asks.
Maria is shaken at the reminder. In a flashback, we see Maria's friend asking her the same question, and suggesting that they run away. Ah, so that's why Maria (Jae-hee) had been dragging along a suitcase when she was attacked, and when her friend arrived to meet her, she was taken too.
Mu-yeom visits Profiler Han and Chul-gon to discuss the new (old) case of the discovered remains. There are no immediate signs that this is Gap-dong's work, lacking both his signature knot and his habit of displaying his crimes—this body had been abandoned. Profiler Han isn't ready to dismiss the idea of Gap-dong's involvement, though, postulating that it could have been a "hidden crime"—in that case, hiding the corpse would negate the need to mark it with his signature. Or maybe he was in a rush. "Or this was a failed work," Chul-gon theorizes.
Profiler Han shows the other two a computer program he's been working with, into which he has entered the details of Tae-oh's killings. The satellite map shows an interesting pattern, where each of the killings occurred within a certain radius, at the center of which was Tae-oh's apartment. So he ran the old Gap-dong case through the same program, displaying a similar plotting of dots… with the temple at the center. Omo.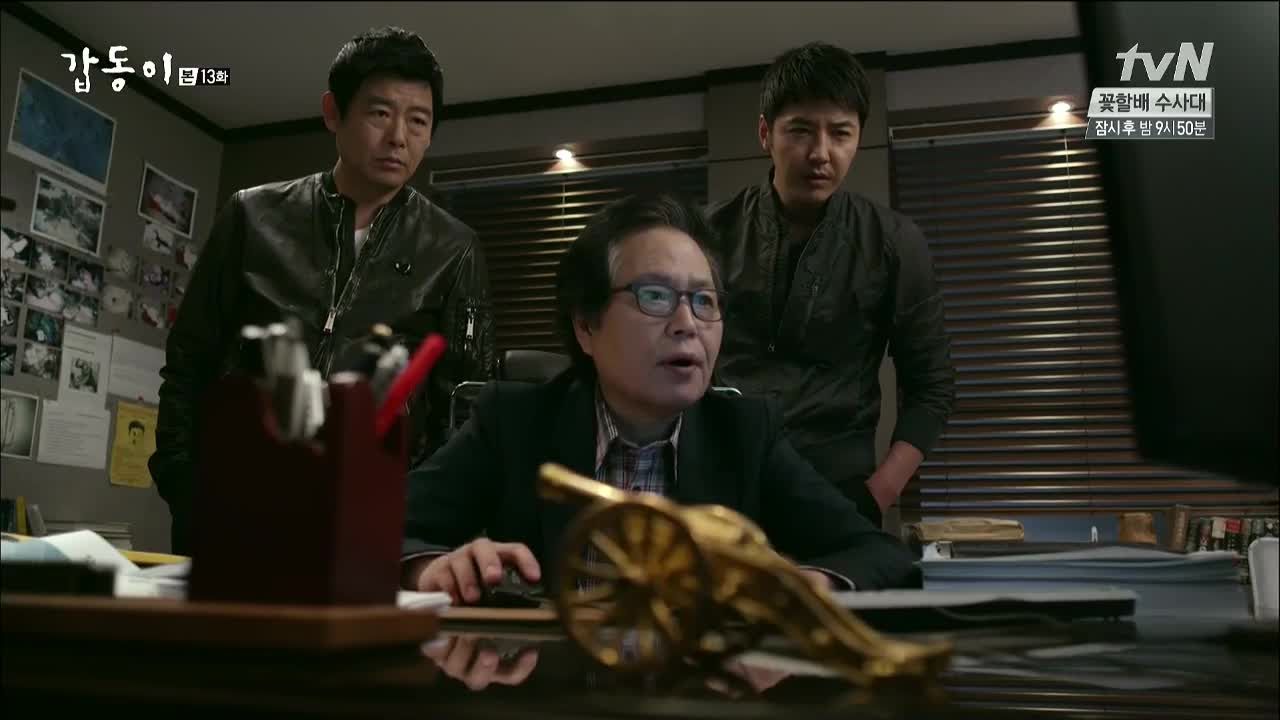 Flashback to 1995, after the eighth murder is discovered. At the temple, teenage Mu-yeom sits with a detective and takes notes on the latest murder. He asks about the victim, a female officer, and the detective says that she wasn't the type to shoot—her nickname was Crybaby. (Hmm, so was that old letter not about Mu-yeom at all, but from the first Gap-dong case?) The monk faux-grumps about all the detectives hanging about, who are boarding here at the moment. It's hard to tell, but is one of them a young Cha?
Mu-yeom scoffs at the idea that the monk might be suspected, but Profiler Han doesn't mean him—he means the detectives. But even he's not confident, and sighs, "It can't be, right?"
Chief Cha offers Ji-wool a ride home, which she gratefully takes. He asks about her webtoon, and she says she's working on a new one. Hearing that it's about a detective who's the criminal, he jokes that she should write one about a good guy this time.
Mu-yeom posts up notices of missing persons on the bulletin board, which is when he spots the love letter posted nearby. He assumes it's about him (scoffing at his popularity), but the sign-off "Crybaby" catches his attention, and he racks his brains trying to remember why that sounds familiar. He grabs his notebook, which contains the notes he'd jotted down twenty years ago, and there it is: Victim No. 8. But it's such a stretch, and he tells himself it can't be.
Chief Cha arrives and takes a look at the board—and he recognizes one young woman who went missing in 1995, which gets him sweating. His eyes get shifty, but he keeps his cool as he asks Mu-yeom about it. Mu-yeom explains that with Tae-oh caught and everyone telling him to drop Gap-dong, he's going to focus on these unsolved cases. Section Chief Cha does not look pleased.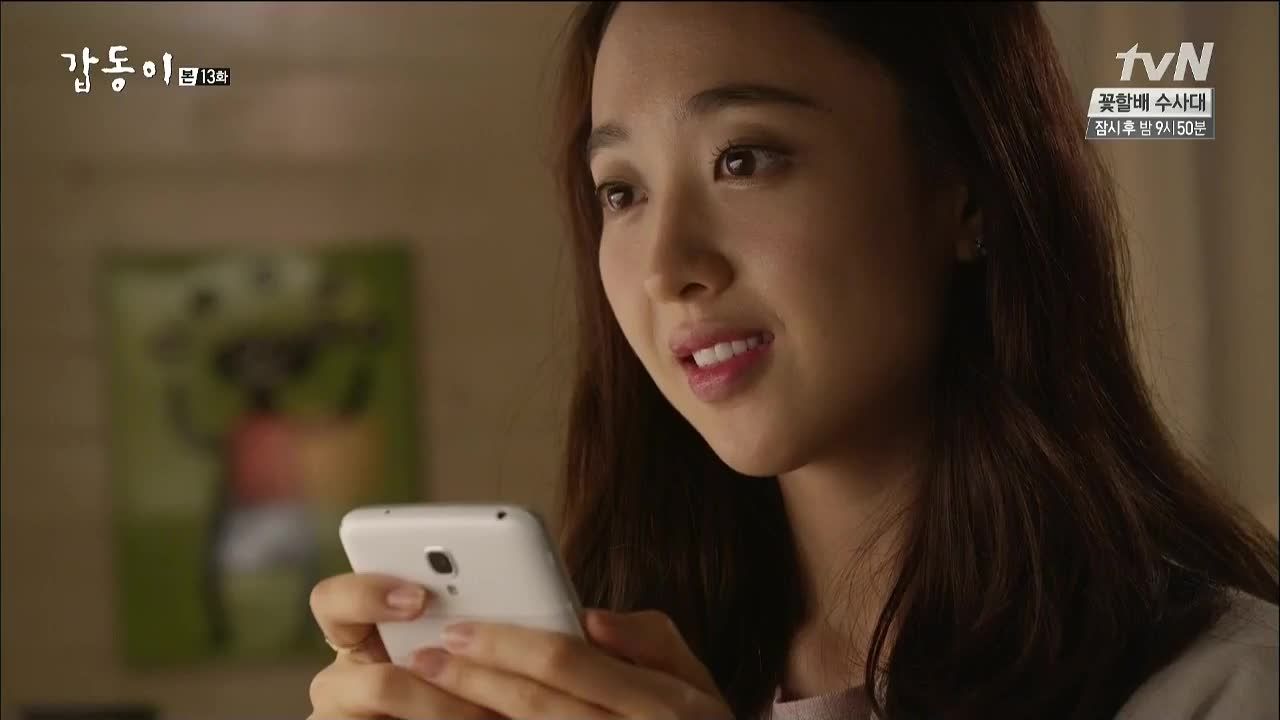 Maria texts back and forth with Mu-yeom as she gets ready for a date, but as her gaze falls on her old photos with her dead best friend, the smile dies on her lips. "Is it okay for me to be happy alone?" she wonders. "What can I do now? What do I have to do now?"
Meanwhile, Tae-oh rattles the bars of his prison cell, growing more and more agitated the longer Maria remains away. The guard assures him that he left her a message, but Tae-oh is losing control, muttering to himself that he was lied to.
Maria does eventually show up, but her gaze is far from friendly. She's not quite Vixen Maria today, but she's in that in-between stage with the edgy jewelry and hard look in her eyes. Tae-oh blubbers that he's going crazy, and she replies, "Why? Because you can't kill anyone in here?"
Tae-oh says, "I confessed. Now kill me or something." He says that prisons are suffocating and asks to be killed. Maria tells him that his freedom is over now: "The freedom to steal people's lives, and also the freedom to die as you wish."
Tae-oh begs her to stay just a little longer, desperate to cling. She asks if he has more to confess, adding, "I'm sure there was more, just like I didn't tell you the full story." Tae-oh looks stunned and hurt, but she says, "I don't know the full story either."
Maria's detour means she misses her date with Mu-yeom, who calls Profiler Han to check. Profiler Han wonders, "Could she… have gone there?"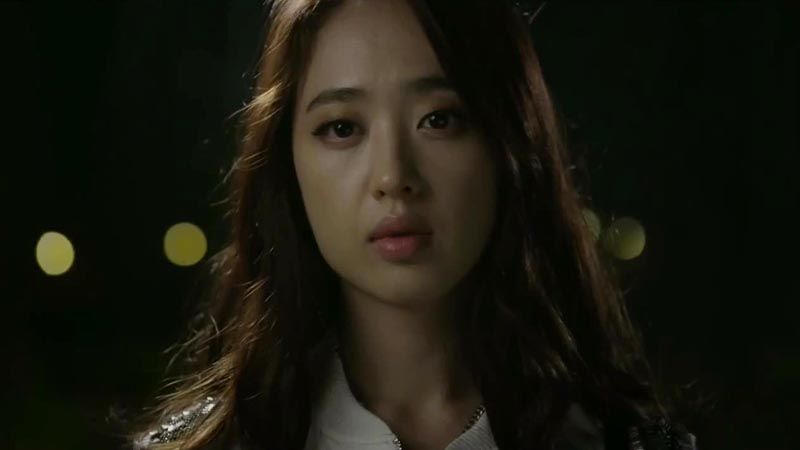 The next thing we know, Maria is walking along a familiar deserted road, armed with her tough outfit and tough face. She revisits that night from her childhood, stopping at the scene of the old crime. She faces the darkened field and recalls being captured by Gap-dong and begging for her life.
Young Maria asks why he made her play rock-scissors-paper if he wasn't going to let her go, and Gap-dong answers that it was to decide who would die first. So he ties her up and gags her mouth, and rips her shirt. Gap-dong pauses at the sight of a birthmark on her shoulder, and then hears footsteps—it's Young Mu-yeom walking nearby, toying with his nunchaku. Gap-dong leaves.
Maria thinks to herself, "I won't run this time. I'll show his face to the world." So she closes her eyes and forces herself to think back to her encounter with Gap-dong—and this time, she sees his face.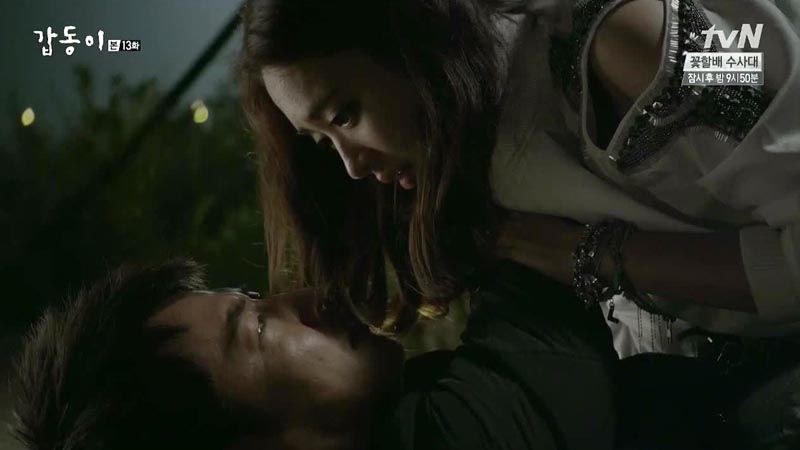 It's then that Mu-yeom finds her here in the road and reaches out to tap her shoulder. Maria goes into self-defense mode and takes him down, only to realize belatedly who it is. Maria looks at him with teary eyes, telling him, "I remembered."
She's also remembered that it was Mu-yeom's nunchaku that sent Gap-dong away and saved her life.
At the station, Ji-wool asks Officer Young-ae if she wrote the love letter, only to be told that the letter came from her own book. Detective Ki-ri has seen the CCTV footage showing the letter originating from her stack, which completely flummoxes her. The others think she's lying, but she declares she'll get to the bottom of it.
She takes a look at the book in question, and finds the title page inscribed with the name Do-hyuk (which is Section Chief Cha's name). The accompanying note reads: "Is a perfect crime possible?"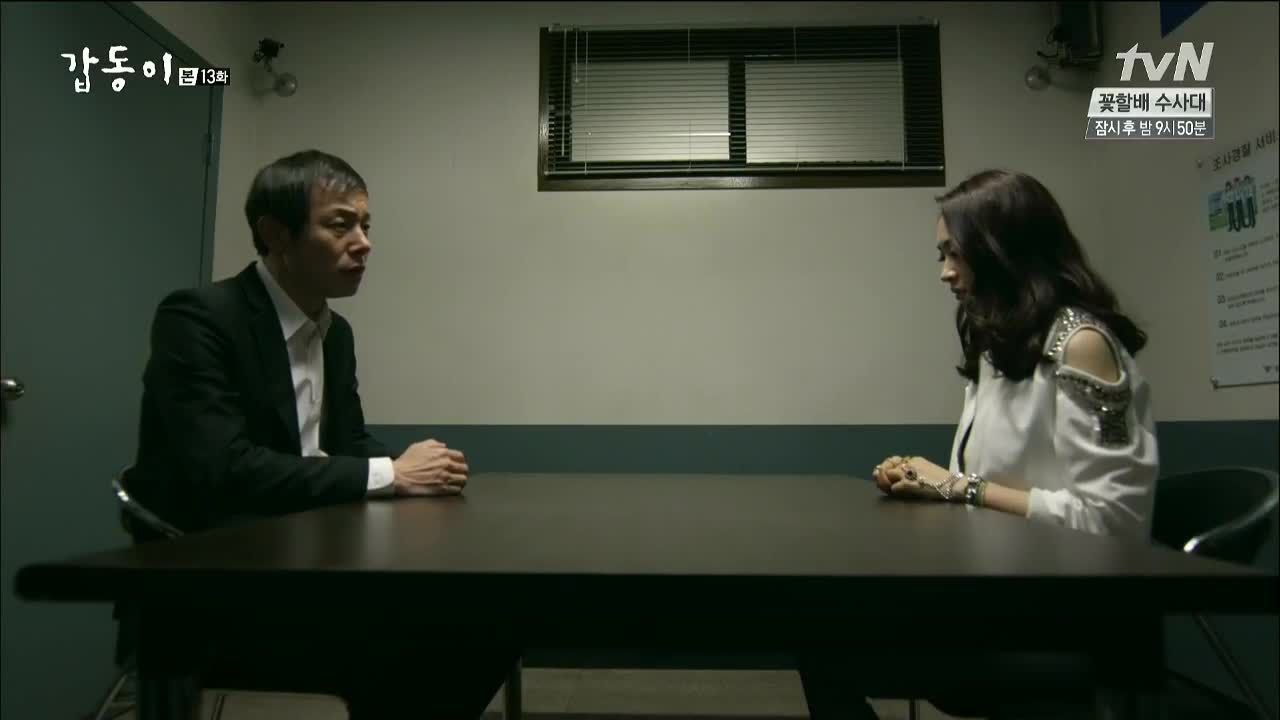 Cha is at home with his wife and young daughter, the very picture of family harmony, as they mention their plans to move abroad. But a call from Mu-yeom has him rushing back to the station with a worried face—Maria has remembered the criminal's face.
Mu-yeom brings Maria to the station to meet Chief Cha and to have the police sketch drawn. While they talk, the monk peers at the wall of missing women and recognizes one picture—the same one that put Chief Cha in such fidgets.
Cha watches Maria closely as he asks how she remembered and what he looks like. She searches for a way to explain it, saying, "It's like I've seen him before somewhere…"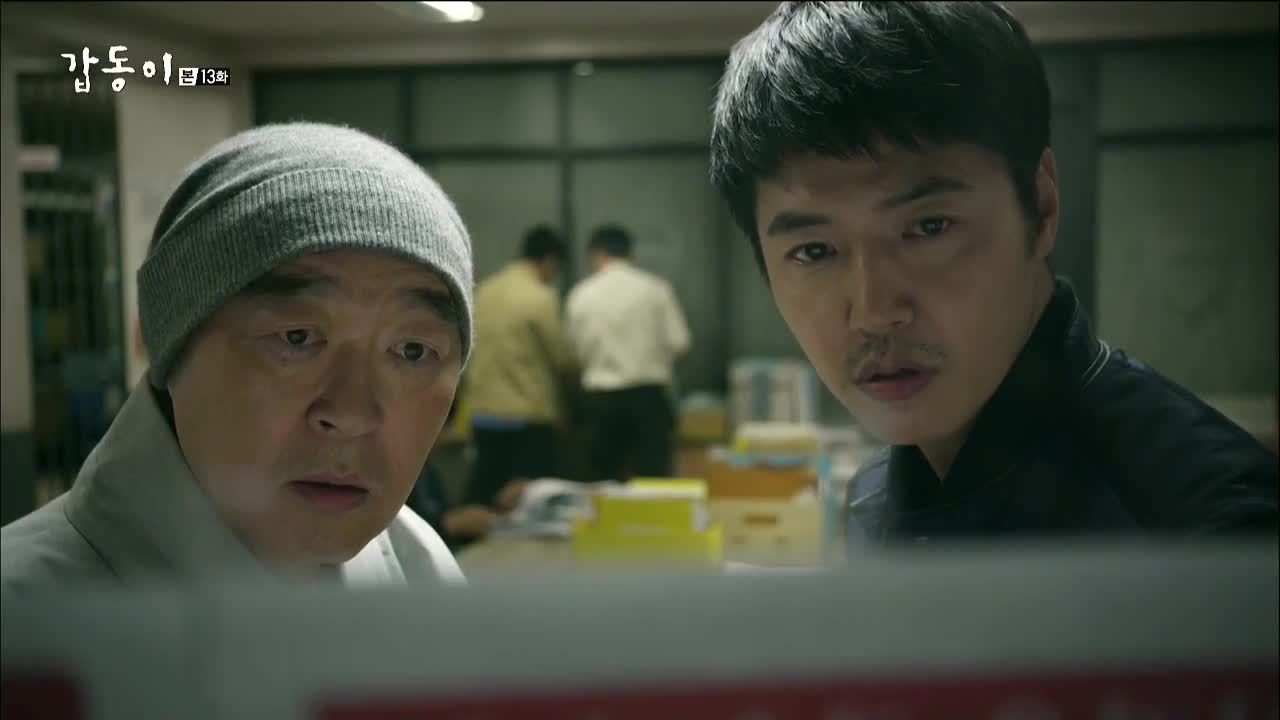 COMMENTS
It doesn't appear that the Section Chief Cha reveal was a fakeout, and the show is proceeding with him as our original Gap-dong. I suppose they could still be leading us astray, but based on its pattern of storytelling thus far (and the way the show handled the unveiling of Tae-oh), I'm going to go ahead and presume that Cha is our man.
This means that our main question is the why, and the how. If Gap-dong is a psychopath, how could he have transformed himself into a seemingly upstanding law-abiding citizen (inasmuch as he doesn't appear to have continued to kill), and tamped down his impulses? Did Cha settle down with the wife and kid and change himself from the inside out? Is he a monster in sheep's clothing? Or is there something else going on?
If we accept Mu-yeom's hypothesis and base it on Tae-oh's experience, the killer instinct isn't suppressible, which means that Gap-dong may have continued to kill. As far as we can tell the latest discovery actually dates back two decades (so, around the time of the other Gap-dong) murders, so it doesn't suggest that Cha kept murdering throughout the years and just hid the victims. But that's one possibility—that while the Gap-dong of 1994-95 seemed to cease his activities, perhaps the man behind Gap-dong kept killing, just using a different set of tools/markers/protocols.
Is Gap-dong a man who merely escaped capture? Or is he just one persona represented by a man who killed in other ways? Or is there something special about that missing woman that resulted in a different treatment than the rest?
I think it's safe to say that Maria's memory will sufficiently imperil Chief Cha, because if we're to go by flashback, it seems pretty clear that the young officer at the temple is our Gap-dong. The reveal itself was a little fumbled, in my opinion, since obviously we knew that the Gap-dong we'd seen thus far wasn't anybody we recognized, and so the first time the camera lingered on a new face it was pretty obvious why it was doing so. But in terms of narrative, this puts Cha on the hook in a way that he hadn't anticipated, which will be interesting to watch since I want to see him squirm a bit.
The more interesting question (to me, at least) is what motivated Chief Cha. Maybe he'll end up being depicted as a random crazy guy who just liked to kill people, and in that case there's no arguing for rationale because he's just insane. I'm hoping for something more psychologically nuanced, however, and have hopes the show will explore that with some depth because that's what the show likes to do. In fact, that's what the show DOES do at the expense of suspense and mystery, because it gives us the culprit up front and then takes the long way around to explaining why they did what they did. I mean, we just spent twelve episodes on Tae-oh, and he's not even the guy in the title of the show. (I do think they did a good job fleshing out Tae-oh, although the marriage bit has me rolling my eyes. Sure, you can argue that he was in love with the girl he kidnapped, but I don't see how that gets you out of the time you killed six people.)
On one hand, we have that woman who wrote the love letter, and it seems safe to assume that Crybaby was writing to Cha, who was immersed in the Gap-dong case at the time (for obvious reasons). We know she was an officer, but is she at all connected to the woman who went missing? Why would Cha kill someone who knew him, when his other victims appeared to be strangers? Was he out to become Gap-dong out of some sick desire to pull off the perfect crime, as he wrote in the book flap? (I still contend that Crime and Punishment is a flawed analogue since I can't see any way you can psychologically connect Gap-dong to Raskolnikov, other than the fact that they both thought they were better than society. In that way the Sonya allusion is a better fit for Tae-oh, but not for Gap-dong himself. But fine, I suppose it offers a neat literary reference.) In which case, he's just about to find out the answer to his question, and it's not gonna be pretty.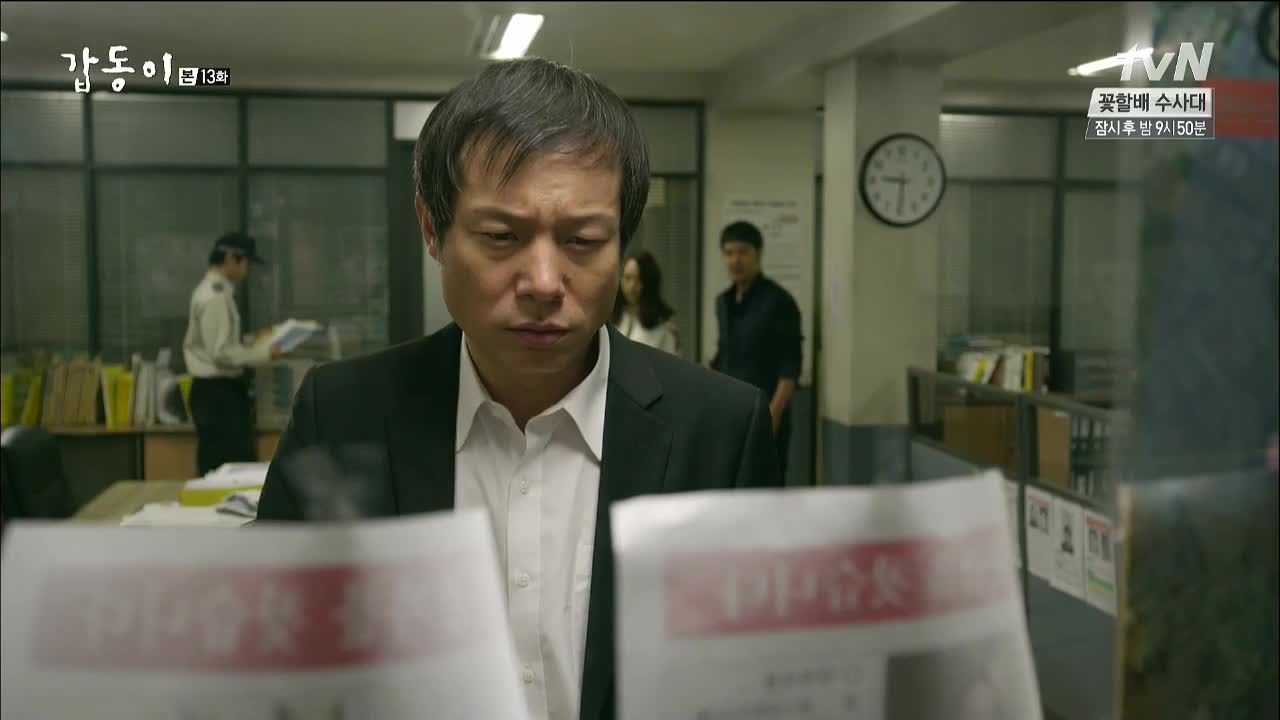 RELATED POSTS
Tags: featured, Gap-dong, Kim Ji-won, Kim Min-jung, Lee Joon, Sung Dong-il, Yoon Sang-hyun