Fated To Love You: Episode 9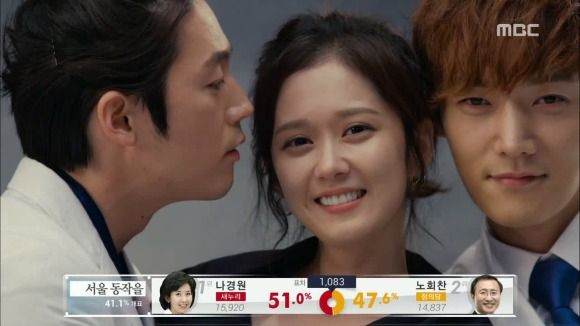 Just when I thought that Fated To Love You could be too good to be true, that this show couldn't be any more charming than it already is, Fated goes ahead to prove me wrong again. Never has watching two people dote upon each other day in and day out felt more like having my cake and eating it too, and let me tell you, that cake is scrumptiously sweet. Mi-young is truly a diamond in the rough, and Gun needs to do something about that latest 'do he's sporting—stat.
As for our weekly check-in at the ratings table: Fated To Love You hit a 10.2% with this episode. Its competitors Joseon Gunman took first place again at 11.2% and It's Okay, It's Love came in at 9.1%.
SONG OF THE DAY
Say Yes – "꿈이 아니야 (Not A Dream)" [ Download ]
Audio clip: Adobe Flash Player (version 9 or above) is required to play this audio clip. Download the latest version here. You also need to have JavaScript enabled in your browser.
EPISODE 9 RECAP
We pick back up at Lee Manor where Gun climbs into bed after Mi-young and asks if she's sleeping. She isn't, and neither can she suppress a smile at his adorable ramblings of how he-was-just-trying-to-kiss-her-tears-away-and-that-seeing-a-woman-cry-makes-him-momentarily-loses-his-senses. Uh huh, sure.
They bid each other goodnight, and Gun has to fight the constant urge to sneak over to her side of the the bed, even in his sleep. Mi-young finds this far too adorable and tucks him in before she lies down to watch him sleep. "Would it be okay if I'm greedy about you?" she muses aloud.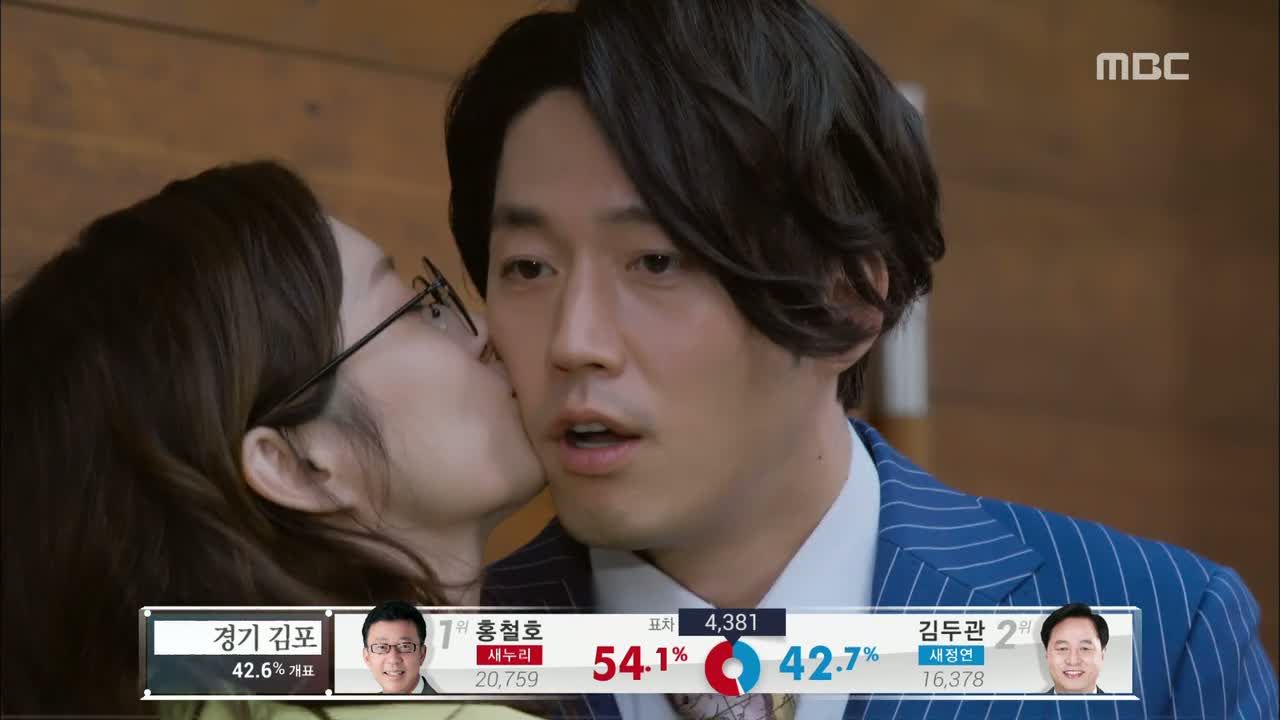 As Mi-young sees him out the next morning, Gun doesn't miss an opportunity for a little sugar before work and motions at his cheek. Mi-young doesn't pick up on the hint right away, but just as Gun turns away, slightly disappointed, she plants a kiss on his cheek.
She buries her face in her hands, embarrassed, and Gun literally teeters, unable to pull it together. Look, I haven't had my morning coffee yet—you two can't be this sweet already. His grin grows even wider when she suggests having lunch together; he's totally on Cloud 9.
But then Gun is strangely depressed when we see him next with Doctor Moon. Although there's no guarantee that his genetic disease (the one we know hardly anything about) won't flare up, Gun has got a fighting chance to live a normal lifespan if he's still healthy by the time he's forty.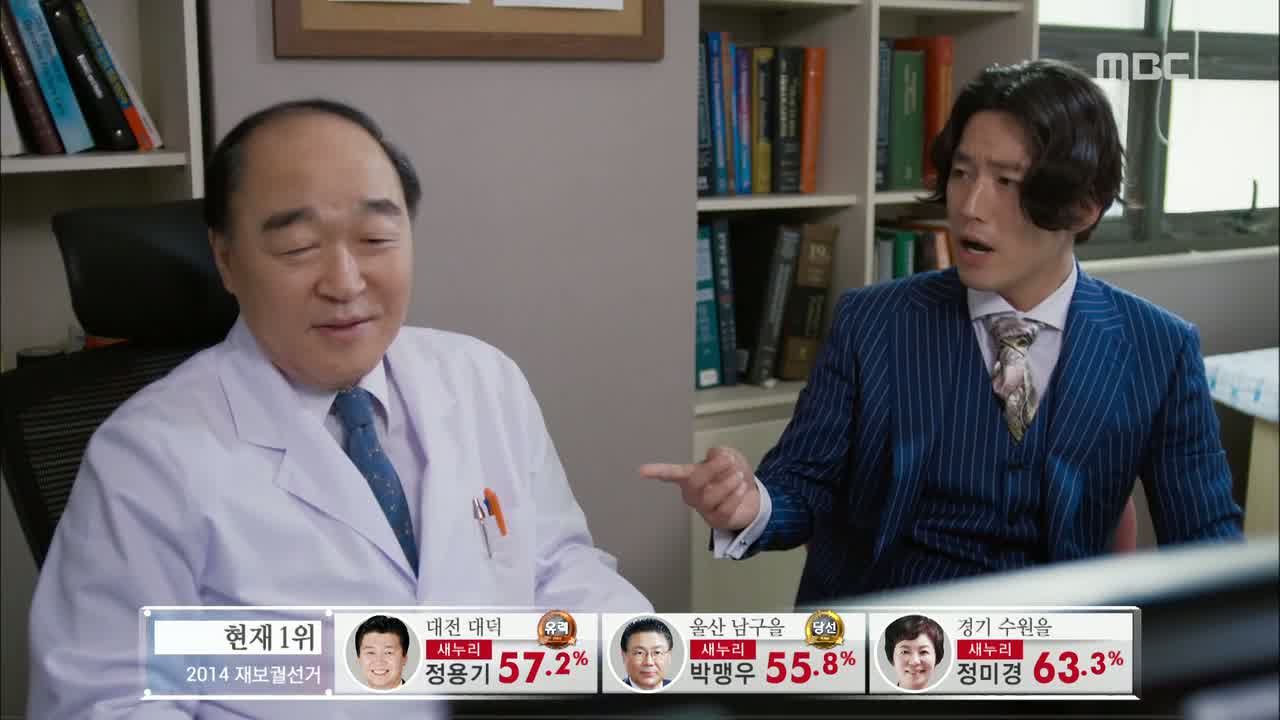 Gun wants to at least make sure he lives another two decades, and when asked why, he answers, "If I want to protect our Keddongie, I think I have to take care of it for about twenty years." He'd be less worried once his child is grown up, and then Doctor Moon barks at Gun to get to work already.
Gun and Daniel sign off on their collaboration at work, then pose together for the press. I love how they awkwardly put an arm over each other to show just how friendly they are, only to exchange terse words through their teeth. Daniel: "I desperately want to give you a seal of approval. As Mi-young's husband." Gun: "I'll take care of it, so you needn't concern yourself."
When the photographer asks for another pose, Gun places his fist near Daniel's jaw: "How about this?" Ha. Nearby, the head elder gripes over how Gun managed to avoid his dismissal this time by securing that deal with Daniel, but he won't give up.
As expected, Mi-young shows up to Gun's office with a homemade lunch, and omg—the rice is decorated with their faces on them. That's both cute and sort of weird, but Gun gawks in amazement all the same. She says they'll eat the ones with their own faces, and he asks if they can't switch. 'Cause, you know, it's kinda scary eating his own face. Hee.
He offers to eat hers, and Mi-young asks naively, "Isn't that weirder?" He just wants to share (and maybe eat you up)! Let him! So Gun starts off by eating her "sweet nose," which is just as sweet as he expected.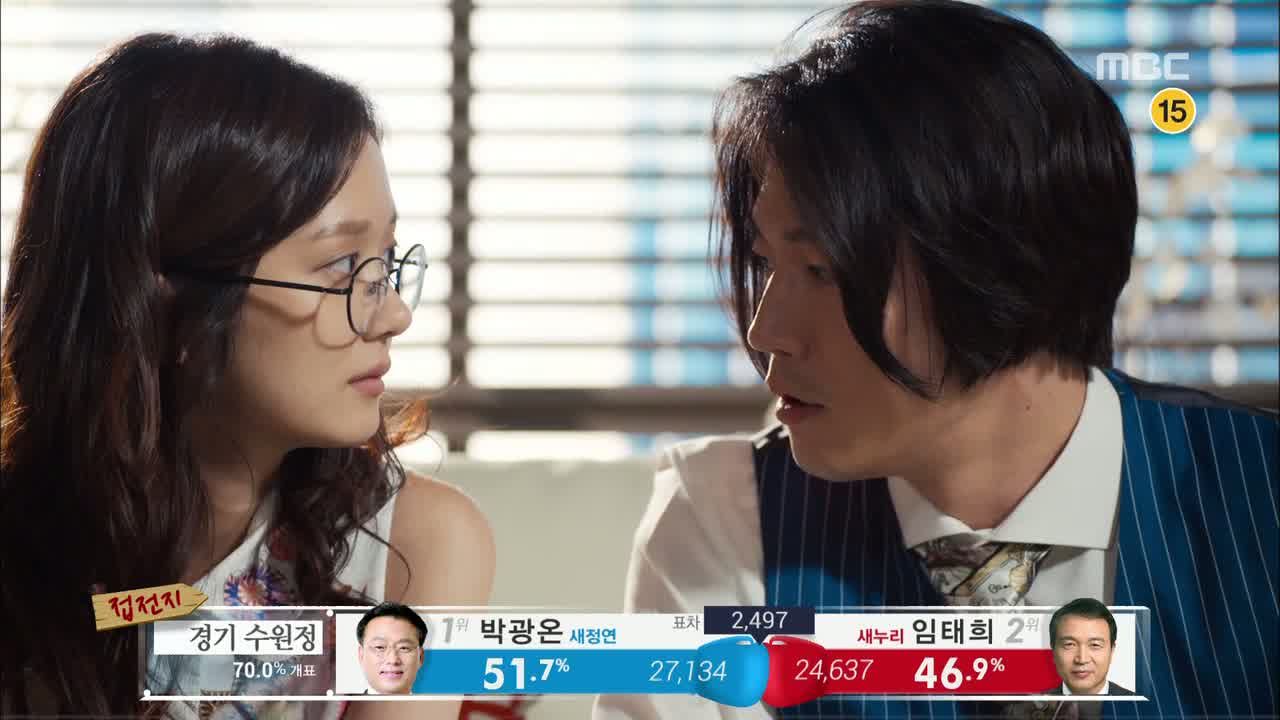 Then Gun's eyes fall upon Mi-young's lips, and he slowly draws towards her… but she pulls back and Gun winces in disappointment. I love the sad violin playing over this right now. He tries again, but Mi-young just blinks back at him blankly, so he mutters resignedly, "I'll just eat the lips," before picking up and eating the vegetable.
When he says Mi-young is quite different these days like those people on TV, she says he always told her to be. Now she's going to live her life as Keddongie's mother, not just a post-it. "You're not going to be superglue and just live as Keddongie's mother?" he asks. "You can't not be superglue." With that, they dig in happily.
Apparently Mom has moved her tiny seaside restaurant to a much bigger space in the city, since they were able to buy the property quite cheaply. Methinks Gun had something to do with it. Mi-young worries that her mother will miss leaving their hometown island, but Mom insists that it's far better being close to family—she'll get to see Gun more often, too. Aw.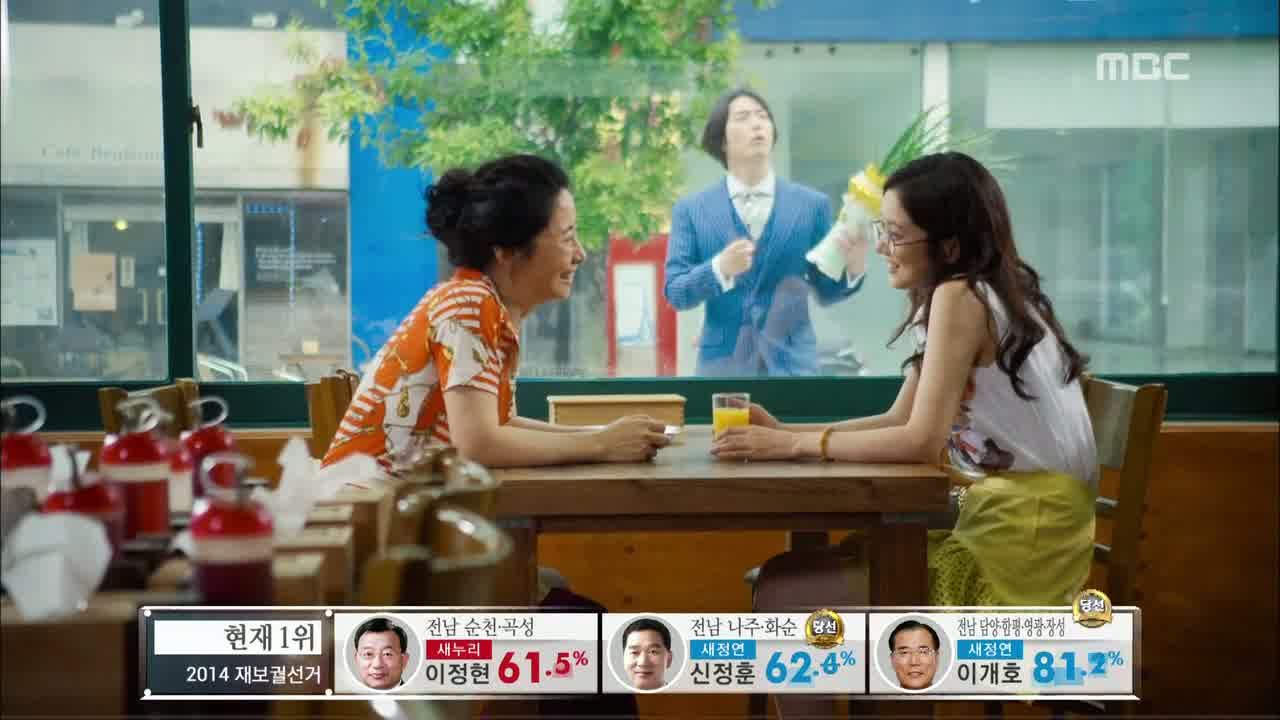 Mi-young asks if Mom really regards Gun as a son, citing his strange laughter. Ha, I love that the show hangs a lantern on that quirk. Mom admits she found him weird at first, but Gun becomes far more lovable the more she got to know him. Preach it, Mama.
While they both smile over how kind Gun is, we see him stumbling around outside carrying a gift, then banging on the window excitedly in greeting. Business is booming at the restaurant, and everyone does their part, including the newlyweds. Aw, even Manager Tak shows up with eldest unni Mi-sook (who notably speaks like a Seoulite, ha).
It's sweet how Gun takes care of the heavy lifting because Mi-young is with child, and Mi-young responds in kind by wiping off the sweat from his face. Gun wraps a hand on her waist "for strength," and Mom has to break up the lovebirds, though she too grins at how hard he's working.
Mom: "Where do you find a husband like that nowadays?" Mi-young: "He's someone I'm really grateful for."
Mi-young works on a scrapbook for Keddongie at home, affixing the baby's first sonogram and the floral bandaid Gun placed on her arm. She writes her first letter to Keddongie, recording how happy she was that she and Daddy (meaning, Gun) worked at the restaurant together today. "Mommy and Daddy are slowly becoming…"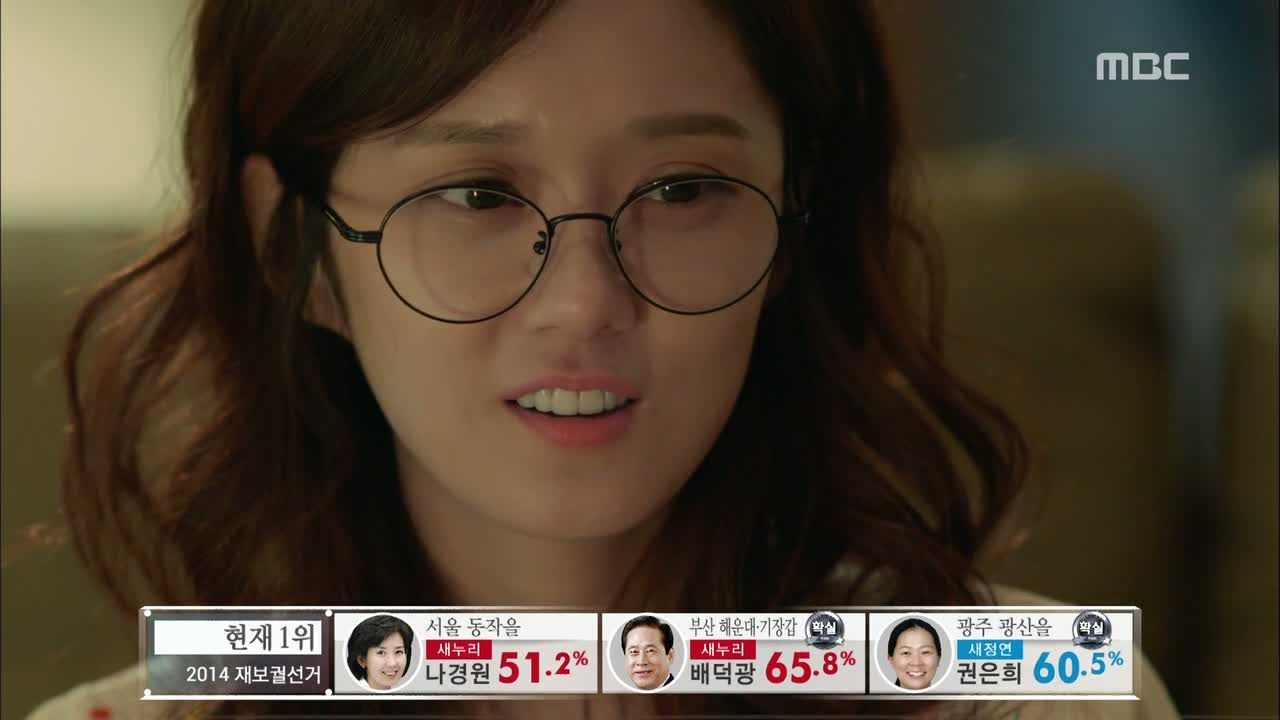 "…a real family," she finishes aloud, setting down her pen. She breaks into a wide smile.
Meanwhile, Se-ra frowns over her pictures with Gun, only for her evening to get even more depressing when her mother shows up unexpectedly.
Gun isn't at all thrilled about the idea of participating in a promotional photoshoot with Daniel. Evidently Mi-young will be featured as well, per Grandma Wang's orders, and Gun tsks over how they can't even pay for the contract termination fee so that Daniel's literally out of the picture. Manager Tak tells him not even to mention that termination fee (whihakgeum) because it makes his stomach (whi) flip. So punny.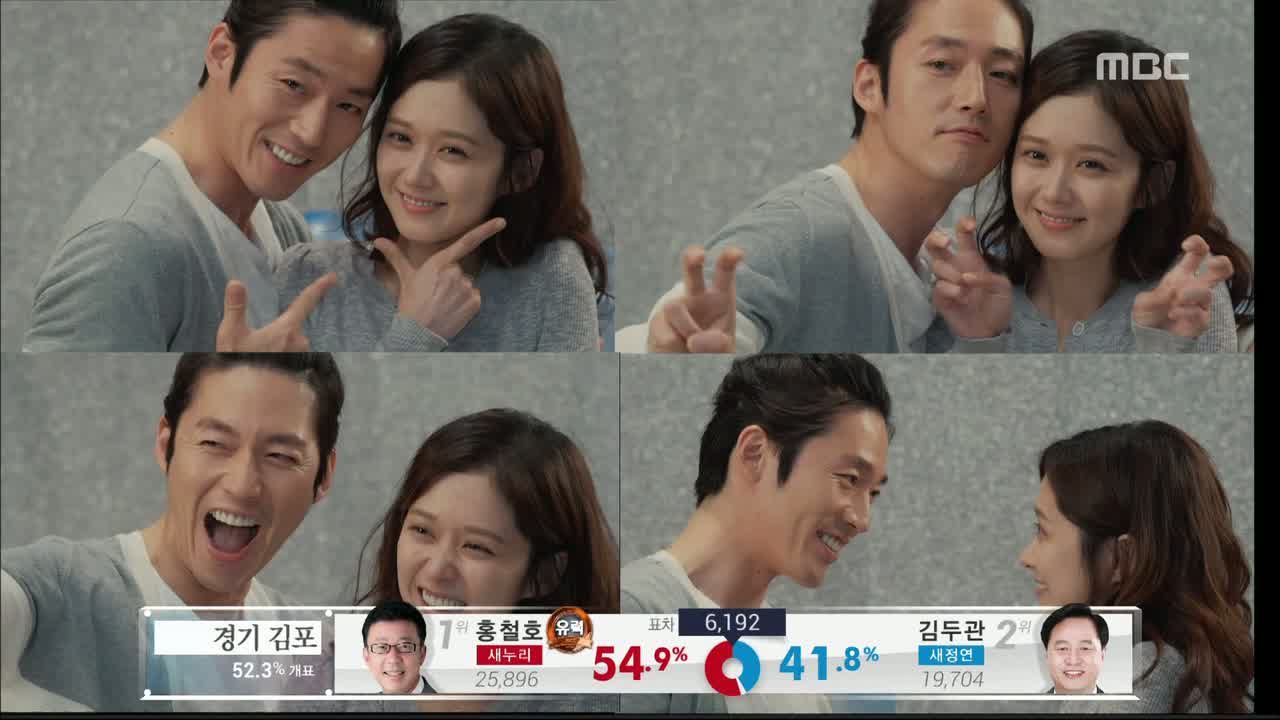 So Gun and Mi-young take their couple shots first, and needless to say, it's lovey dovey and just plain adorable. I especially love the moment when the two break into candid laughter. Gah, I wanna save all of the shots—I've never been so mad at election tickers until right this very second.
Baby-faced Yong catches Ji-yeon's eye, and she introduces herself as a life consultant, adding a flirty wink for good measure. The cheery atmosphere on set suddenly drops the moment Daniel arrives, and Gun lectures him for arriving late. Daniel answers, "I was so excited about taking pictures with Mi-young that I couldn't sleep, so I overslept. I'm sorry."
Gun immediately turns Mi-young towards him when he catches her smiling at Daniel. He tells her to stop smiling, and then wraps his arms around her for another picture.
The trio takes their next set of pictures on a couch, and it's hilarious how both men inch towards Mi-young and one-up their affection for her with every click. Gun places his head on her lap… and Daniel quietly slides the pillow away to cover Gun's face instead. Then Gun deliberately pushes his face between them and leans against Mi-young.
Later on, he slaps Daniel's hand away and covers his face. The best part about this entire photoshoot is that Jang Nara doesn't seem to mind that both men are fighting to get a picture with her. At all. And honestly, who would?
The one-upmanship continues as Gun takes Mi-young's hand, and so does Daniel. So when Gun kisses her hand, Daniel places both hands on hers, and both men try to pull her towards them.
Things get awkward again when just the men have to be photographed together, and are forced to sit closer. When Gun latches onto Daniel's arm, Daniel returns the favor and squeezes Gun's arm. Hard. HAHAHAHA.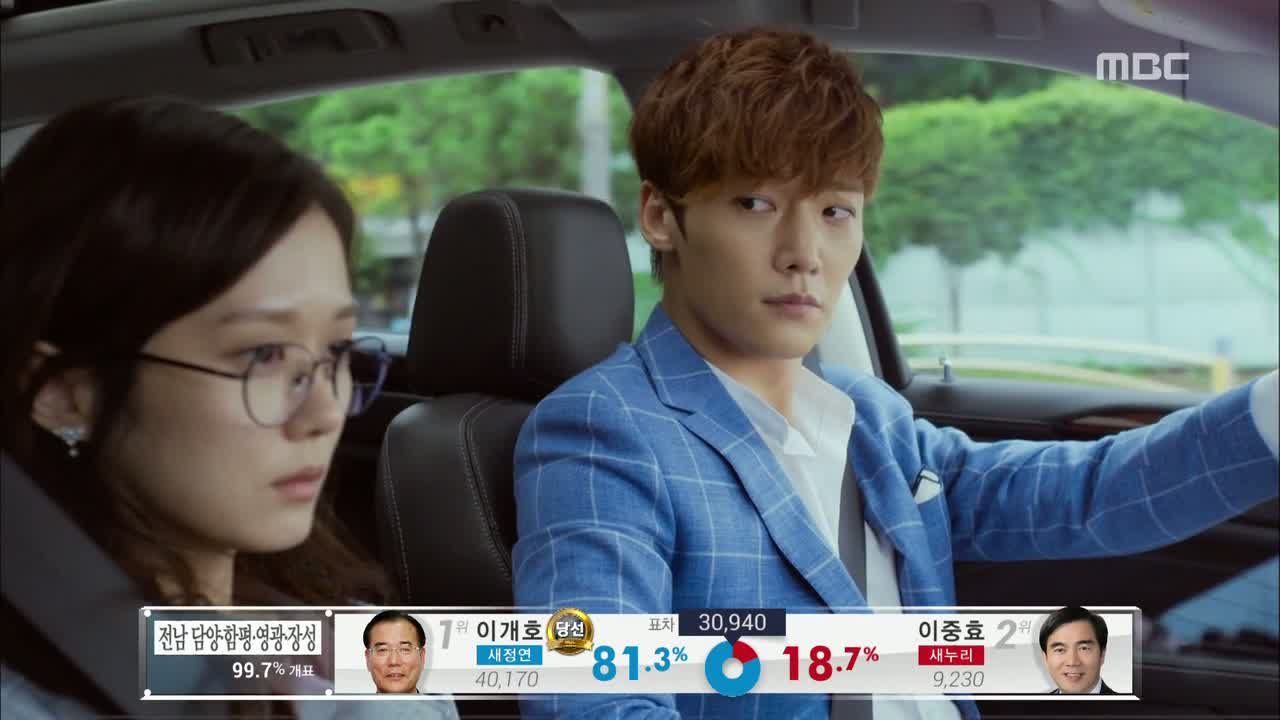 Daniel happens to see Mi-young on a mysterious call that worries her, so when Mi-young declines a ride from Gun, he offers to take her instead. Gun doesn't like this idea one bit, but Mi-young insists that it's only for today.
In the car, Daniel notes her worried state and offers to drop her off wherever she needs to go. He asks if he shouldn't ask what it's about, and respects her answer of no.
It turns out that Se-ra was the one who called Mi-young out, and it's sad how she can't bring herself to look Se-ra in the eye. And Se-ra cuts to the chase: "Do you love Gun?" When Mi-young hesitates to answer, Se-ra says that Gun told her last time that he felt responsible for Mi-young and that had to stay with her as the mother of his child.
No matter how much she thinks about it, she can't understand why two people would stay together out of responsibility for a baby, Se-ra says. "What's the meaning behind that when there's no love involved?" Ouch.
"Are you okay living like that?" Se-ra asks, tears welling up in her eyes. Mi-young can hardly hold back her own tears as Se-ra continues, "I for one, would hate it and be miserable. It's probably the same for Gun."
As the ladies walk out, Se-ra asks that Gun doesn't know about this meeting. Mi-young agrees. Se-ra bumps into Daniel (who had been waiting the whole time) accidentally, and the camera rests on a scar on her shoulder. He asks Mi-young who that was and asks if she's all right, and Mi-young slaps on a brave face.
It isn't any easier for Se-ra, whose mother slaps her right across the face upon greeting. "Does it hurt?" she asks her daughter, then scolds her that they have to get to the airport. Mi-young and Daniel happen to witness the exchange, and Se-ra bows out in shame, fighting tears.
Back at Daniel's cafe, he tells Mi-young that she'll only have a more difficult time with Gun in her current mood. She'll bottle her feelings again, and it's always been on her to deal with issues in their marriage inwardly, Daniel points out.
He doesn't know exactly why he's getting so angry, but he is—angry with Gun for putting her in these situations and also himself for being completely helpless. Mi-young says it's nobody's fault. Daniel insists that she stay and eat before she leaves, or else he'll be upset with her as her neighborhood oppa.
But when Daniel returns with food, he finds Mi-young passed out, asleep. "Why do you keep trying to take the difficult path? I want to stop seeing you get hurt."
Later that evening at Lee Manor, Gun calls out for Mi-young and checks every nook and cranny, only to find the house empty. Awww, he even calls her an affectionate "Dal-peng-ah!" (Snail). When his calls go unanswered, he wonders if Mi-young is still with Daniel.
Even Gun's imagination taunts him as he envisions Mi-young dancing close with her "neighborhood oppa" Daniel, who sends Gun a thumbs-down sign.
Infuriated, Gun rises from his seat: "Neighborhood oppa! Surrounding oppa! All the oppas she knows—must get rid of them all!" HA. Once he calms down, he notices the painted mug of Keddongie on the table.
Mi-young arrives home to see Gun waiting for her outside, pacing with worry. Reminded of her conversation with Se-ra, Mi-young slaps on a smile. When Gun starts yelling at her for making him worry and staying out so late, Mi-young wraps her arms around him.
It catches Gun off-guard, and he asks if this is some aegyo tactic to soften him 'cause it won't work. But Mi-young latches onto him and apologizes—she had some business to attend to. "I won't make you worry again."
Gun says he can't give in this easily, but then hugs her back anyway. Awwwww, you softie.
After making rounds at the laboratories regarding their potential new collaborative project, Gun and Daniel go out for drinks, where they go shot for shot and make their dislike for each other crystal clear. Today's that day they're going to hash out their beef with one another, and Gun says there's a boundary one must never cross. "I'd like for you to draw a clear boundary between you and my wife."
"What am I to do?" Daniel returns. "I think I already stepped on that line." Gun warns that Daniel could lose a leg at this rate, to which Daniel says that Gun should have treated Mi-young better before he crossed that line 'cause it's too late now.
With that, both men go shot for shot again, and I'm sitting here thinking, "You don't drink Scotch." But Gun downs the glass, albeit painfully, before Daniel does.
How adorable—Gun is practically giddy at the thought of having lunch with "our snail," only to be slightly confused when it's just plain rice today. He's hardly disappointed, though, and tells Mi-young that he'd like for her to accompany him to the company auction tomorrow, promising to treat her to dinner. Oh, and there's something he'd like to give her, too.
Mi-young runs into her old boss (and Gun's lawyer) Lawyer Hong, who cautiously tells her that he knows about the divorce papers. To be frank, he's about to meet Gun because his client wants to revise the contents. Again, Mi-young puts on a brave face and thanks him for his concern.
While cleaning up at home, Mi-young stumbles upon the cufflinks given to Gun by Se-ra. She hastily puts it back when Mama Yong swings by and scoffs over the baby's name of Keddongie. She tells Mi-young that it's fine to go empty-handed to tomorrow night's auction since Gun will bring something expensive anyway.
Alone again, Mi-young receives a text from Lawyer Hong saying that she should go ahead and sign the revised divorce papers once she gets them. Seeing the message is disheartening, but if Gun's earlier meeting with his lawyer is any indication, I think we can hope that he's made some positive revisions instead.
Mi-young arrives at Mom's restaurant in time to hear her rip into Mr. Choi for accepting money from Gun to pay for this property. She can hardly believe what she's just heard, and Mr. Choi doesn't see taking money from a rich relative as such a big deal. Plus, he and Mi-young are happily married, right?
Wrong. Hearing this is the last straw for Mi-young, who bursts into tears right then and there. "No, it's not right! How could you accept that money from that person? There's nothing more I can take from him—no, I can't! What am I supposed to do if you accept that money?"
Mom asks if something's the matter, but Mi-young cries into her mother's arms, tears streaming down her face. Poor thing. Then Mi-young takes out the original divorce papers in Gun's man cave, a pen in her hand. Oh no—don't sign those!
Mi-young arrives at the company auction that evening, where she's tapped on the shoulder by none other than Daniel. He asks where her escort is tonight, and she says she's okay without one. She insists that she's fine when he asks if something's wrong, and so Daniel personally offers his arm, saying that she'll draw attention to herself if she heads in alone.
The auction begins inside, as bids fly left and right for the various items. Somewhere in the back, Mama Yong muses at how Mi-young doesn't know a thing. Uh oh, a thing about what?
And then the host announces that the next item was provided by Mi-young herself, to her surprise. Just then, her painted mug of "Keddongie" is brought in, which sparks murmured whisperings and laughter among the crowd. Adding to the humiliation, the starting bid is at a measly 10,000 won (as compared to the millions of won the other items have fetched).
Needless to say, this is all Mama Yong's doing, and so the bidding process begins. Mi-young is simply confused, and Gun looks back at Mama Yong. Then the first bidder calls out: "One million won."
It's Daniel, who introduces himself to the audience and says that cup has a refreshing charm about it. Much like how a charming actress is adored more than someone who's just a pretty face, Daniel claims that this is the kind of art that moves people's hearts, hence why he wants it.
Gun applauds the speech, and adds his own two cents: "I know that artist personally, and that person is very considerate to others, meticulous, and a very kind person. When you look at that piece, you can see the artists' feelings in it. And on that note… we'll start with 3 million won."
It's an astonishing amount (around three thousand dollars), but that gets the ball rolling and the bids steadily rise. And then Daniel calls, "Five million." Not if Gun has anything to say about that, as he returns, "Seven million."
Now this bidding war has turned personal, and Mi-young urges Gun to stop. But he won't let their Keddongie fall into someone else's hands, and ends this back and forth with a final bid: "30 million won."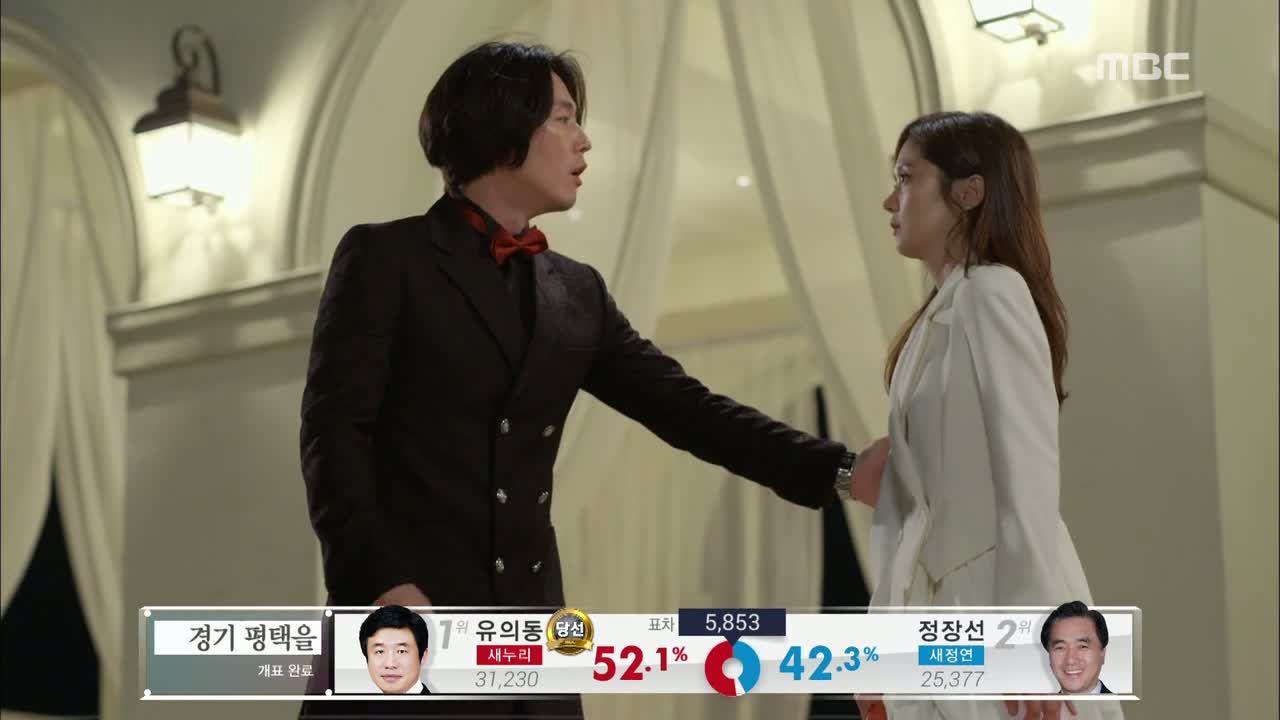 And although winning back the mug should make her happy, Mi-young looks even more dejected than before and walks out. Gun catches her outside and asks what's wrong, picking up on the sadness written on her face. "I felt like a fool," Mi-young replies.
He thinks it's because they nearly lost that Keddongie mug, and promises to hunt down and punish the ones who put it there to humiliate her. Aw. "It was the first time I thought I wanted to be greedy," Mi-young confesses, tears in her eyes.
Mi-young: "The better you treated me, I unknowingly became greedier. As we kept living like this, I somehow thought that I'd be able to remain by your side with Keddongie, so I wondered if it was okay to dream for an ordinary kind of happiness like others have. Just like that, I started dreaming of an impossible dream on my own. But I think I know for sure now—that I was only like an unwelcomed guest in your life, always causing you trouble. Lee Gun-sshi… let's stop."
Oof. Gun's expression remains stoic throughout Mi-young's entire speech, his jaw tense. When Mi-young turns to go, he grabs her arm and pulls her back. Now there are tears in his eyes too, as he responds: "Kim Mi-young, Kim Mi-young, since when were you so selfish?"
"What about me?" Gun asks softly. "What about my feelings? The more you tell me not to care, the more I do. I feel uneasy if I can't see you. When you laugh, when you cry—what about my heart that laugh and cries along with you?"
"Don't you get what I'm saying?" he asks, but Mi-young shakes her head no. "But you've always made me confused. Because you always treat me so well, I keep forgetting the fact that we'll part." Mi-young replies.
In the softest whisper, she adds, "I'm scared… that I won't want to leave you; that if it isn't you, it can't be. Then I… it can't be…" And then Gun swoops in to kiss her.

COMMENTS
HELL YES. Somebody pinch me and tell me I'm not dreaming. I'm honestly amazed at how Fated continues to floor me with each passing episode showing something even more magical than it did beforehand. As much as I loved the romantic fireworks display in the previous episode, I love this kiss even more than the last one (it also doesn't count in my book) to the point that I'm seeing fireworks. *fans self*
In that regard, this episode felt like a bungee cord as we watched Mi-young let those doubts about her relationship with Gun slowly creep into her mind; that everything about this marriage could be too good to be true. How Prince Charming felt obligated to stay with the commoner because of their equally ordinarily-named unborn child, and not out of love. It almost felt too easy that Se-ra's words affected Mi-young so, but then I recalled how Mi-young was already fearful about how great Gun was and is to her. Because no hero could be that perfect of a husband and soon-to-be father, right?
But the thing is: Gun is that perfect and continuously showers our heroine — his snail — with affection and devotion. I giggled whenever Mi-young failed to pick upon his tiny hints, and their blissful married life left me grinning from ear to ear. His adoration for her is so plainly written on his face, that it was painful to see Gun so hurt by Mi-young's request to end things between them. And because he so wants to make her happy and be there with her through thick and thin, he doesn't even know why Mi-young is upset again.
Which brings me to Mi-young's tearful confession at the end of this hour. There were times in this episode where I was nearly felt frustrated with Mi-young whenever she bottled her feelings in for everyone else's sakes but hers, trying to convince herself that everything was fine when she we wasn't. Hearing her speak the words broke my heart all over again, especially what Mi-young yearns for is something so simple: happiness with Gun and their child. What I loved about this turn was that unlike last time, Mi-young mustered up the courage to open up to him about her confusion, of her fear that they might part.
I find myself replaying the moment Mi-young whispers just how much her feelings scares her—there's something so vulnerable about that moment that I can't help but admire about Mi-young. But then I rest assured that whenever she tries to be the post-it that could eventually fall away, Gun reminds her to be the superglue forever bound to him.

RELATED POSTS
Tags: Choi Jin-hyuk, Fated To Love You, featured, Jang Hyuk, Jang Nara