Running Man: Episode 208
What would you do if you had a throng of adoring fans waiting on you hand and foot? Our resident Giraffe gets a taste of what it's like to be a Hallyu star, only to learn that it's not all it cracks up to be. But I guess when you're competing against someone like Suzy, then it's a little understandable that your ajusshi fans would be a wee cranky. Can a star still exist without any fans? We're about to find out.
EPISODE 208. Broadcast on August 10, 2014.
We start today's Hallyu Star Race early this morning as our cast members are given the choice between two celebrities waiting on opposite ends of the Han River: Hallyu Rabbit or Hallyu Giraffe.
I love everyone's reactions to the obvious Giraffe = Kwang-soo connection ("Why is he a Hallyu star?" "Giraffe? Our Giraffe?"), and Jae-suk runs through all the Running Man Animals to try and identify the Rabbit. When Suk-jin says he'll be choosing the cuter (gwiyeo-oon) animal, Gary misinterprets it and repeats, "What? Ji-hyo?!"
Speaking of whom, Ji-hyo apologizes to the nearby student studying whom she mistook for a staff member. "We start [our filming] like this," she says laughing. Who studies at a coffeeshop so early in the morning? After making their decisions, the cast heads out from their various locations to meet their Hallyu star.
Because Jong-kook changes his mind to Rabbit, Jae-suk is the only one to greet the Giraffe. Across the river, the others wait excitedly to meet today's guest: Suzy, who's appeared on this show on numerous occasions.
While the boys can barely contain themselves, Jae-suk has quite the opposite reaction to see Kwang-soo on the piano. He greets the Asia Prince with a slap, and Kwang-soo cries, "Hyung! It's a Hallyu star special today!" Kwang-soo is ready to roll out the golden treatment for his sole fan, but Jae-suk's not having any of it, twisting Kwang-soo's arm when he waves to his invisible crowd.
Kwang-soo: "But it's MY fan meeting!" Jae-suk: "I'm not your fan!"
Both men stand agape when they hear that the others went over to the Hallyu Rabbit, which means they're stuck together today. Jae-suk all but throws another fit when he hears that Suzy's here today, and claims that he has to go see her because he needs to reply to one of her text messages.
So it's the Giraffe and Grasshopper vs. Everyone Else in today's race, where the teams will utilize public transportation to complete their missions in Seoul. The team who succeeds first may exchange team members or keep the arrangements as is.
As Suzy and her entourage head down to the subway, her oppa fans warn her not to film a kiss scene in her movie. Jong-kook is the sensible fan with his "Let's understand that it's just work" approach. Meanwhile, Kwang-soo and his one fan head out to the bus, and the real-time comments crack me up: "Stay… strong."
The real-life ones are hilarious, too: Jae-suk: "Aren't you going to treat me to a meal?" "You'll be alone if you send me to the other team!" "Can a star exist without any fans?"
Once they're on the bus, it's pretty sweet how they offer to take pictures with some young fans—though, Jae-suk's the one ordering the Hallyu Giraffe around. The girls don't seem interested in taking a pic with Kwang-soo, and he keeps asking them if they're okay with that.
Suzy holds up her promise to her "fanclub" and buys her teammates ice cream after they get off the subway. But it's Kwang-soo and Jae-suk who arrive at the park first, where they must find the cameras hidden in the area and take paparazzi photos of the other team.
Although they're in a disadvantage (2 vs. 6) Jae-suk and Kwang-soo quickly use time to their advantage and both discover cameras. If only they knew how to work it, ha. They get into prime position by the entrance, though the duo gets found out right away.
Suzy and her crew run from the paparazzi brothers, who snap a series of blurry shots. They get one good shot of Haha before Jong-kook charges at them, keeping his head down while he grabs Kwang-soo in a headlock.
Ji-hyo warns her teammates about the paparazzi duo from up above, so Kwang-soo and Jae-suk switch gears to catch the Mungry Bird instead. Jong-kook is close behind, however, and it quickly turns into a paparazzi stand-off with both sides snapping photos of each other.
I love the angry, blurry, ghost-like photos we get out of the mix, and Kwang-soo finds himself pinned to the ground. He seriously looks like he's in pain and Suzy goes on a photo spree. She takes it to the staff, who acknowledge Kwang-soo's photo.
Meanwhile, the others are busy snapping away photos of Kwang-soo before turning on Jae-suk. Kwang-soo smushes his face to prevent the shot (since only a face must appear on its own for a valid picture) but the other team gets their final pic.
Exhausted, Jae-suk asks, "Do you have any debt? Are they chasing you around because of that?" They meet up with the other team in time to see their photos get assessed, and Jong-kook happily shows off his prize "Grasshopper In A Headlock" masterpiece.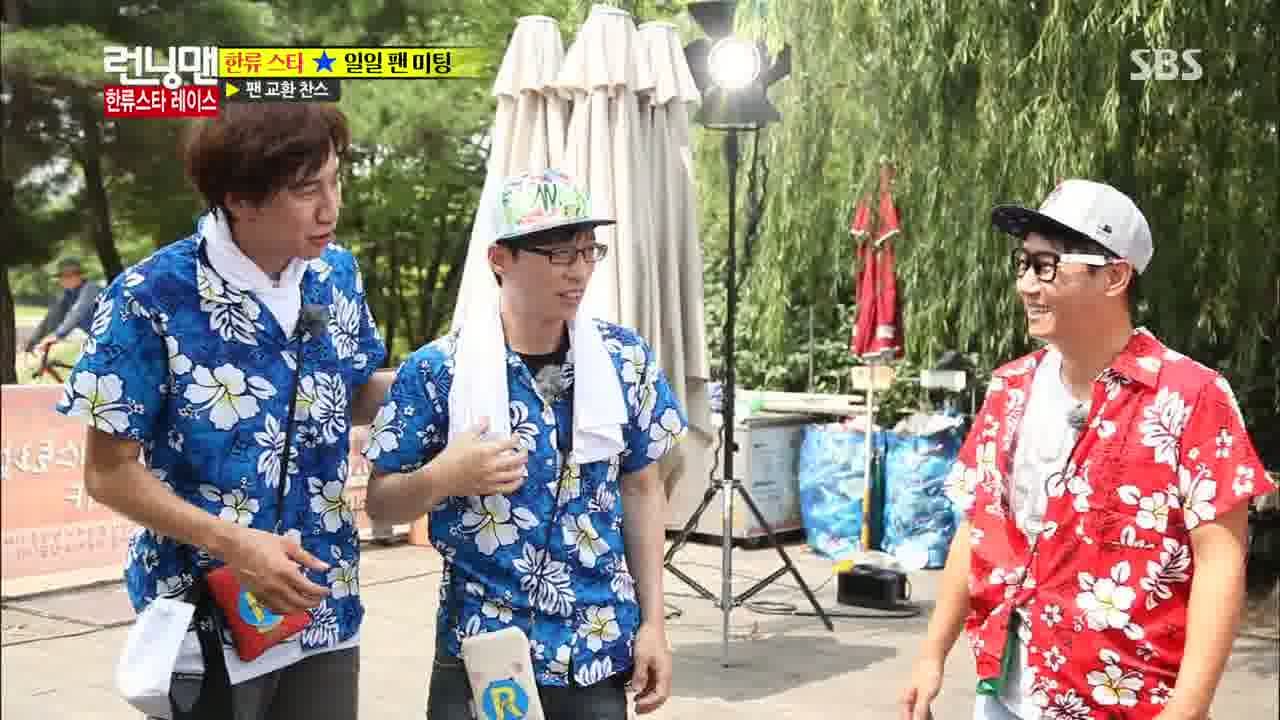 So the Hallyu Rabbit Team wins it, and Jae-suk complains that his celebrity is dirt poor. Suk-jin: "Then you take care of your celebrity as a fan!" Jae-suk says he thinks the mat-hyung will be joining them soon enough.
Suzy wonders what will really happen if she takes Kwang-soo's one and only fan. Jae-suk answers that for her: "Then Kwang-soo will really be ruined." She whispers her choice to the other team, who stay behind to induct their newest member and VP of their fanclub. To sweeten the deal, they're told the new kid will foot the bill for their meal.
Suk-jin gets upset when he's told to step aside. Twice. He and Jong-kook make up some quick acrostic poems about Suzy as the last men standing, and it's Suk-jin who joins the Kwang-soo fanclub ranks.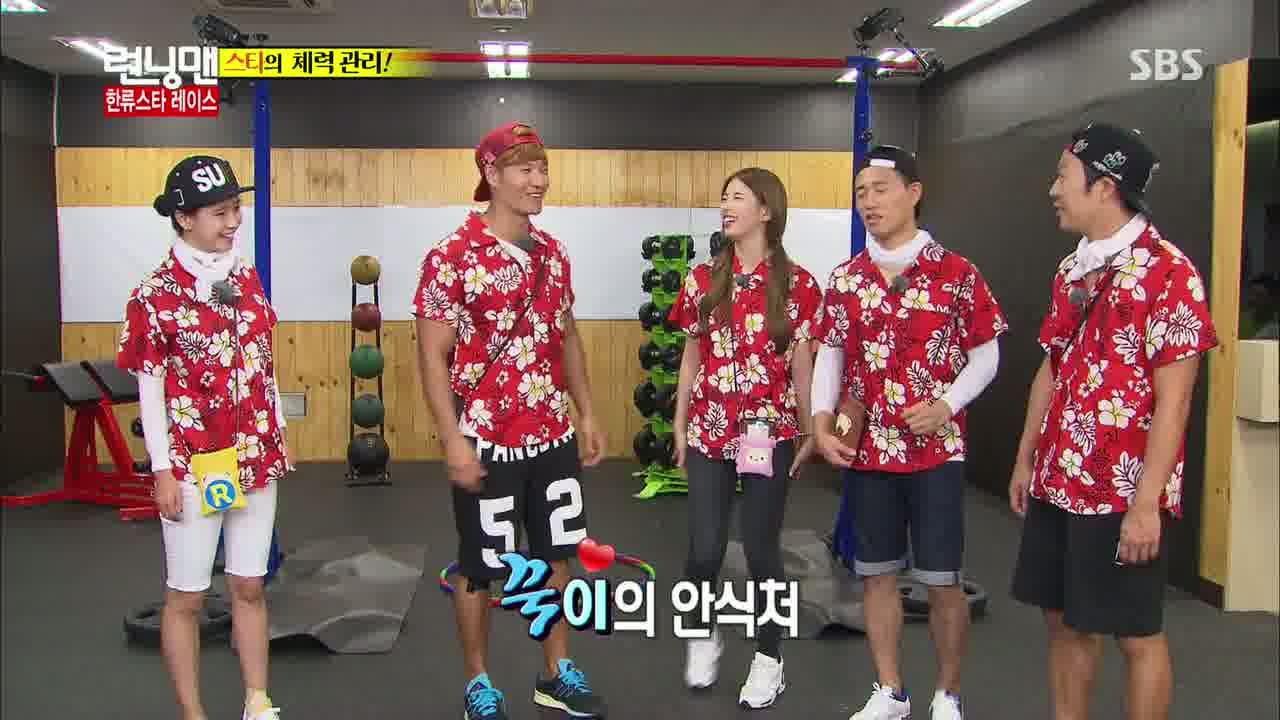 Jae-suk jokes that they'll send Suk-jin back to the other team if they win the next game. But with the mat-hyungs on his team, I can't help but think that Kwang-soo will be the one ordered around today.
The first rule in Hallyu Giraffe's Fanclub is that there's no age hierarchy, which means they don't offer Suk-jin a seat before sitting down themselves. Meanwhile, Suzy & Co. arrive at the gym first, and Haha congratulates gym rat Jong-kook on the new place like they're at his housewarming party or something. Lol.
The mission here is no joke: hang from a bar and collectively hula hoop for at least one minute. That's… possible? Apparently it is, because Jong-kook can somehow do it. He hangs on for about ten seconds, though.
No one from Hallyu Giraffe's team is particularly very good at hula hoop, and Kwang-soo asks, "We can send someone over [Suk-jin] if we win, right?"
Jong-kook gets embarrassed while swinging on the bar, and watching him makes it awkward for everyone else. When it's Suzy's turn, Kwang-soo has a slip of the tongue and says that watching Suzy isn't any better either, which earns him sharp glares from Suzy's fans.
Kwang-soo looks to his hyungs for defense, only to hear them say, "Well we live our own separate lives."
Gary asks for some music to groove to, and it really does seem to help as he bounces along with the beat. For about four seconds, that is.
There's no teamwork among the Hallyu Giraffe team however; they can barely go three seconds without bickering. And Kwang-soo is SO tall that he can hula hoop with two feet firmly planted on the ground. He lasts a good while, and when Haha makes a remark about their team, Jae-suk threatens to recruit him.
Kwang-soo makes the mistake of whipping around the hula hoop with such force that it hits Jae-suk accidentally. Ha. Jae-suk starts getting into a groove and bounces like the grasshopper he is until he finally falls.
Both teams start over again, and Coach Kookie rips into Haha for not getting his groove. But when Suzy adds another two seconds to the count, the boys cheer her on anyway. Well all of them except Coach Kookie.
Jong-kook continues to decline help despite being unable to hula hoop and jump at the same time until finally Haha bursts, "Listen to what we have to say for once!" HA. Jong-kook finally gets his rhythm though, but it isn't enough to succeed.
Jae-suk puts in an impressive 25 seconds for his team, and I oddly love this dubstep remix playing in the background. Kwang-soo puts in 33 seconds, which leaves the mat hyung with the final two seconds. Suk-jin pulls through for his team.
Team Hallyu Giraffe contemplates who to bring over: Haha, whom they can order around, or Jong-kook, who will order them around? Haha's their pick.
Everyone heads over to the SBS building where they must find R-stickered boxes and bring them out for a handprint, just like the stars. Gary wonders if they'll mean they each have their own plaque here, to which a staff member calls out: "You won't!" Worth a shot anyway.
Jae-suk and Kwang-soo get spotted with a box, and the Tiger quickly gives chase. Jong-kook steals the box away, and is told to sit the rest of the game out. Luckily for Kwang-soo, he finds another box and stuffs it under his shirt. Again.
So Kwang-soo gets his box stolen from Gary this time. Again. Haha comes running with his box, and Kwang-soo sets off again. Suzy finds a box in the editing room and gets spotted by Suk-jin. She refuses to give it up, claiming that he stole a pillow from her last time.
Ji-hyo comes to her rescue, but then Suzy runs into Jae-suk. Suk-jin suggests they play rock-paper-scissors for it, but steals it anyway and runs off. Suzy gives chase while Ji-hyo calls out Jong-kook and Gary's names, unaware that they're already outside.
Kwang-soo finds yet another box and tries to act natural when he sees Ji-hyo lingering outside. He's understandably upset that he might get his third box stolen from him now, but Ji-hyo doesn't take pity on him.
Both Jae-suk and Suzy run outside, which leaves Kwang-soo to fend for himself against Ji-hyo. So he bites her, and she repays the favor in kind. Ji-hyo manages to make off with the box with Kwang-soo in hot pursuit, and gives Hallyu Rabbit Team the win.
The Hallyu Giraffe members start volunteering themselves, including Kwang-soo himself. Ha. Then Suzy surprises everyone by choosing Suk-jin and has to repeat herself to be heard.
Both teams run to their final mission location: a department store across the street. What awaits them is something familiar: All-Kill Hide-and-Seek with Bells. It turns out Suzy's never participated in the nametag rippin' game despite her numerous appearances, so today's her day.
Each team will get a chance to be hiders vs. seekers, and the team who eliminates the other in the fastest time will be our winners. The Hallyu Giraffe fanclub members take their frustrations out on their celebrity as Seekers in the first half, while the Hallyu Rabbit members strategize on how to buy as much time as possible.
The cast is limited to four floors as the timer ticks down the final seconds. When the VJ accidentally flicks on the camera light, Jong-kook snaps at him: "Are you joking around right now?"
Haha runs down to the fourth floor where Suzy is currently hiding and walks past her. The haunting sound of bells send chills down everyone's spines be it rookie or veteran in this game, and Ji-hyo says she feels like she's experiencing an auditory hallucination.
Gary wonders if he should just hide in the elevator and traverse between floors. He'll stay and greet everyone who comes in then. But what if you run into Jae-suk?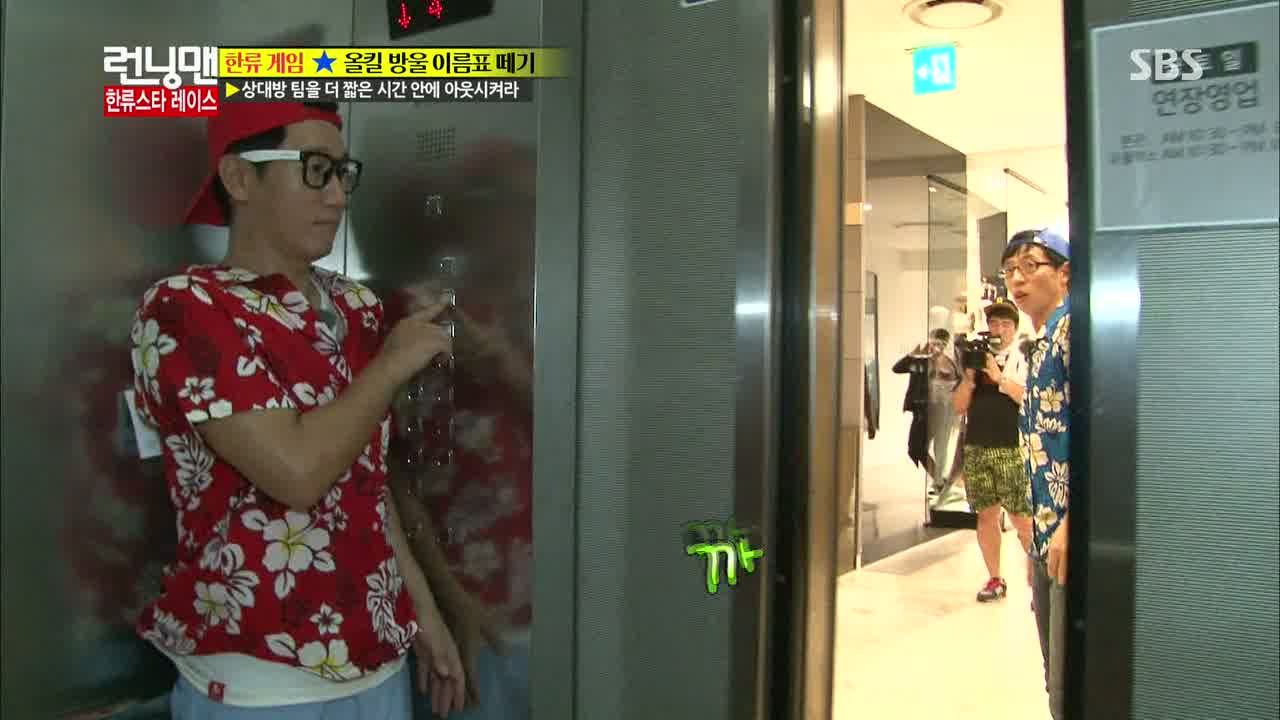 And that's exactly what happens to Suk-jin, who's also in an elevator. Jae-suk and Kwang-soo spot the VJ, though, which tips them off that someone's around. Poor Big Nose Hyung doesn't even stand a chance. Race Start, everyone!
It's been over three minutes now, but everyone else is nowhere to be found. Haha pokes his head into a dark room, unaware that Ji-hyo is inches away. But then Kwang-soo checks too and nearly jumps a foot to see Ji-hyo hiding in the darkness. She's eliminated.
It's past the six-minute mark now, and Jong-kook has taken refuge in the stairwell. Team Hallyu Giraffe quickly gives chase, and they're more surprised to see HIM than vice versa. But then the Tiger attacks all three men and holds them off on his own. I love the caption here: It's… 3:1, right?
Jae-suk: "D'you know what makes me feel the worst about all this? It's all real." Hahaha.
Somehow, they manage to rip Jong-kook's nametag off at the expense of their (and my own) racing heartbeats.
At the nine-minute mark, Suzy takes her chance for a getaway when Jae-suk walks past, only to be spotted by Kwang-soo instead. Suzy initially tries to hide, then lies on the ground. With endless apologies, the Hallyu Giraffe oppa fans eliminate her.
Now only Gary remains at the thirteen-minute mark, and Haha notices that one of the fitting rooms is "occupied." Darn technology! Despite Gary's efforts to pretend no one's inside, the others force the door open. And ha—Gary had no idea that the sign had betrayed him.
Suzy tries her hand on her nametag rippin' skills, and then it's time for the second half. Haha tries to hide from the oncoming side of bells but decides to face his opponent head on. Gary's basically waiting for him with open arms.
After Haha's elimination broadcast, Suzy stops at the sixth floor where Jae-suk and Kwang-soo are hiding. She spots them and chases them into the elevator, then quickly calls for backup.
Kwang-soo tries to escape on his own, but Jae-suk doesn't let him, and both men make a run for it. With Jong-kook's help, Suzy eliminates Jae-suk, her first nametag elimination.
Just over the ten-minute mark, we find our Hallyu Giraffe hiding in a storage room. Suzy and her fanclub retrace their steps and Gary discovers Kwang-soo in his hiding place. Gary actually seems amused and guides him outside, though Kwang-soo takes the first opportunity to run.
Hiding under the table, Kwang-soo apologizes to his fanclub that today's their final day together. Suzy notices that something's amiss when she sees a closed door that was definitely open earlier.
She and Gary keep the door closed and wait for Jong-kook to arrive. So then Jong-kook holds him down while Suzy rips off Kwang-soo's nametag.
Everyone gathers together again to hear the results: the Hallyu Giraffe fanclub were eliminated in 14:16 whereas the Hallyu Rabbit club were eliminated in 19:08. That means the Hallyu Rabbit club were faster, making them today's winners. She's given a golden trophy and tells her fans: "Let's grow old together!"
RELATED POSTS
Tags: featured, Haha, Ji Suk-jin, Kang Gary, Kim Jong-kook, Lee Kwang-soo, Running Man, Song Ji-hyo, Yoo Jae-suk