Plus Nine Boys: Episode 10
There's a whole lot of squeeing going on in this episode, most of it coming from the boys (and me, let's just be honest). They finally get their chances to show their ladies how they feel, with differing results — and now that we've seen things from the women's perspective, it's fun to watch them all start to fall in love. But things are a bit too happy for my comfort, and I worry that a storm cloud is approaching that could threaten everyone's newfound happiness.

Track 10: "Celebrating you"
Jin-gu is so surprised when Se-young tells him not to answer Go-eun's call, that he just stares at her for a moment, then grins and slips back into his teasing mode to joke that she must have been really touched by the seaweed soup he got her. Se-young waves him off, flustered by her own outburst, and walks him to his bus stop. She thanks him for the soup and he jokes again, but he looks a bit disappointed that the moment got glossed over.
Jin-gu visits his friend Han Gu to parse out what happened, and Han Gu's conclusion is that Se-young must like Jin-gu and is jealous of Go-eun. He advises Jin-gu to just kiss her already, but Jin-gu groans that if he tries that a second time, she'll never be his friend again. Han Gu then tells him to use his favorite method and feel out Se-young's feelings, but Jin-gu waves that idea off too — the usual stuff won't work on her.
But his friend is optimistic anyway that things will work out, which gives Jin-gu hope. He thinks to himself that everything besides the woman he likes seems insignificant, as we see Da-in meet Kwang-soo at the theater, and Min-gu happily drawing in a handmade book. Jin-gu narrates that that's when he discovered a new side to himself, and that that moment is when guys fall in love.
The next morning, Se-young walks into work in a dress, looking like a completely different person with her hair down and wearing the makeup that Go-eun gave her. Jae-bum goes a little glassy-eyed, and Jin-gu literally can't stop staring and smiling at the pretty. It's cute how he has to cover his mouth with his hand so as not to give himself away.
As soon as she sits at her desk though, he hides behind his "teasing oppa" facade and pokes at her for dressing up, but he can't help but ask if she has a date. She says she doesn't and he becomes hopeful that she dressed up for him. He looks online for signs that a girl is into you, then watches Se-young all day to see if she displays any of the behaviors listed on the site.
He gets excited when Se-young brushes her hair behind her ears (30% proof she likes you, according to the site) and openly beams when she crosses her legs towards him (50% proof). He has to take deep breaths when she flips her hair to show her neck (80%!) and starts actively trying to encourage the final 100% bit of proof — casual touch.
Jin-gu sidles up to Se-young while she's talking to Jae-bum, loudly complaining that he thinks he's running a fever in the hopes that she'll feel his forehead (the boy has no subtlety — he's practically bonking her in the face with his head). Hilariously, Jae-bum is the one who checks his temperature, earning a frustrated eye-roll.
Da-in's first cafe customer that morning is a cheerful Kwang-soo, and today she actually looks him in the eye and even smiles a little. Baby steps. Kwang-soo heads straight for Da-in's daughter Eun-seo who's off school today, and the two of them play with some animal toys. Kwang-soo asks Eun-seo if she wants to see real animals, and they make puppy-dog eyes at Da-in and try to talk her into agreeing to a trip to the zoo.
At work later, Young-hoon is frustrated that Kwang-soo plans to take Da-in's daughter on a date with them, pointing out that Da-in never even responds to his calls. But Kwang-soo says that he's waited ten years for her, so another few days is no big deal. He thinks to himself that at 39-years old, the time for playing hard-to-get is behind him — now he has to be easy to get.
Su-ah's friends laugh that Min-gu now knows her real name, but lucky for her, Min-gu only thinks the name Bong-sook is cute. She says for the bonkzillionth time that he really has fallen for her, but this time when she says it she's beaming rather than scoffing. Girl's got it bad. Her friends remind her that if he knows her name, he'll find out her other secret soon and dump her.
Min-gu's friends find the love book he was making for Su-ah, and see her real name written inside. Min-gu giggles at how cute it is, but when his friends' laughter turns a little mean, he yells at them for making fun. Min-gu takes some selcas with the love book and sends them to Su-ah, telling her that he's got big plans for their twenty-second day of dating.
The kids' acting teacher announces that Baek-ji landed a main female role in a movie, and that they're casting for the main male role next. Dong-gu looks on forlornly as Baek-ji wishes Min-joon luck at the audition, but he stays positive. Later in the hall he stops her to give her a Pororo ring, but he's shot down when she tells him she doesn't like Pororo (a children's cartoon character) anymore because she's no longer a child.
Dong-gu asks Baek-ji to be his girlfriend again and she turns him down flat, saying she likes Min-joon better because he's cute, and nice, and a better actor than Dong-gu. Ouch, but HAHA at the OST song from My Name is Kim Sam-soon in the background, as Dong-gu vows to get that movie role with her and become her leading man.
Se-young updates Da-in on the Jin-gu situation but swears she's not dressed up to impress him or anything, not at all — she just wanted a change. Uh-huh. Da-in says she should date while she's young because she can't later, saying that she's not interested in dating anymore and all she needs is her daughter. Kwang-soo texts her about the zoo trip, and Se-young zeroes in on how weird Da-in is acting, suspecting a new love interest.
Kwang-soo can't work through the agony of waiting for an answer, and calls her. Da-in declines and hangs up, but he calls again to ask if 10am is a good time, like he didn't even hear her refusal. She turns him down again so he calls back until she picks up, and he says sadly that now he understands how she must have felt ten years ago. He figures it must have been even harder for her, always waiting for him, and that he knows how lonely she must have felt.
Finally speaking to her sincerely, Kwang-soo swears he won't ever make her feel that way again – he wants a chance to make it all up to her. He asks her one last time to go to the zoo with him, but she says she has to go and hangs up. Kwang-soo leaves her alone this time, but a few minutes later she sends him a text that she'll see him tomorrow. Success!
Jin-gu and Se-young both stay late working again, and they're both still there a couple of hours later, hard at work playing games online just to stay a bit longer in the other's company. They just happen to finish their "work" at the same time and walk to the bus stop together… well really it's more like they iiinch to the bus stop together, stretching out the evening as long as possible. Jin-gu breaks the silence and asks her to take him home because he's scared and she's tough, which gets him hit but also gets Se-young to smile.
He fake-fusses at her for hitting him, complaining that she likes skinship way too much for only a friend, and offers to take her home. Se-young obliquely asks why he should take her home when he's not even her boyfriend, which is a giant flashing neon sign of a hint if I ever heard one, and she frowns when he doesn't take the bait.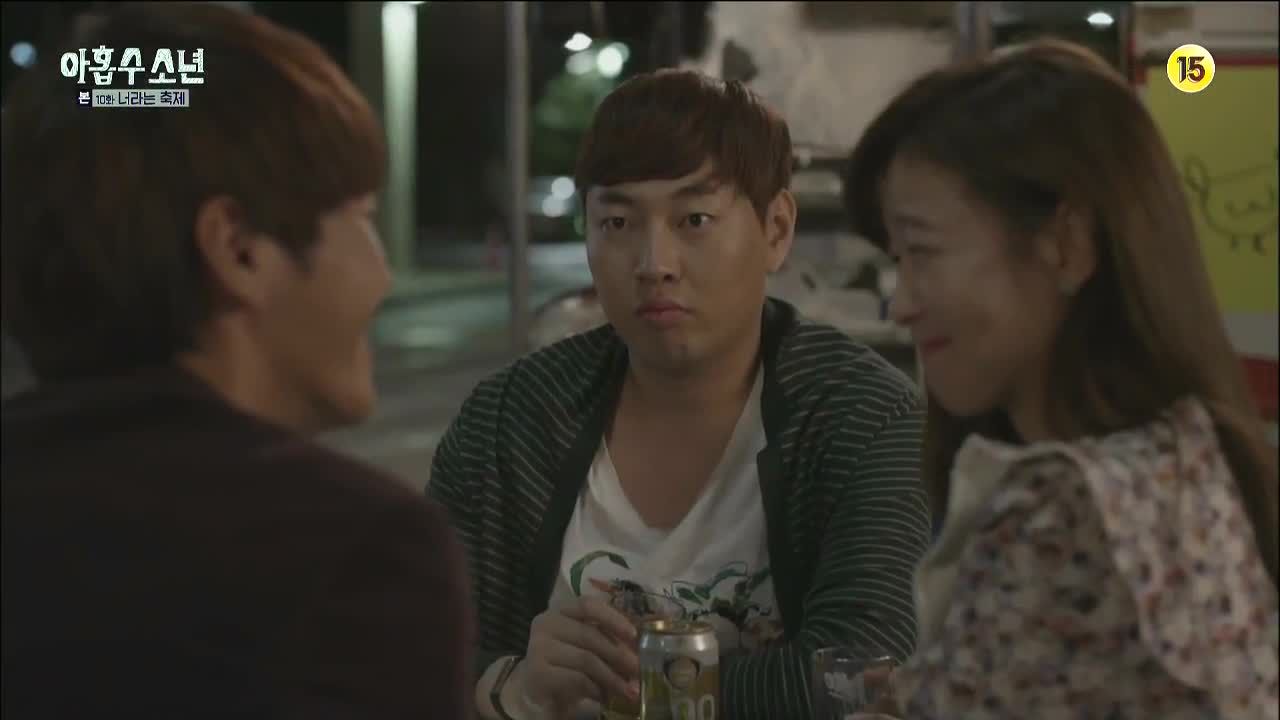 Waiting at the bus stop, Jin-gu asks if Se-young is hungry, knowing full well that she's always hungry. They head to Han Gu's little restaurant and drink with him, and Han Gu immediately notes that they aren't sniping at each other like usual. That sets them to sniping at each other like usual, but they quickly switch to making cutesy faces as their friend boggles at them.
Jin-gu heads for the restroom, and Han Gu wastes no time telling Se-young that Jin-gu likes her and only ever talks about her. He gripes about how much alcohol it's cost him to console Jin-gu over her, which sobers her up, and he leaves right as Jin-gu skips back to the table and gives her a big dorky drunk-grin.
Without the buffer of Han Gu, Se-young plays with her phone and tries to ignore Jin-gu as he stares at her, too drunk for once to guard his besotted expression. His gaze fixes on her lips and he starts to unconsciously lean in, but he stops himself just in time as he remembers the rainy kiss and slap from last spring.
Jin-gu shakes himself a bit more sober and takes a chance, asking Se-young to a movie with him tomorrow. He makes out like he's doing her this big favor since she has no friends, which gets him rejected. But Se-young looks up movie times anyway, totally just curious to see what's showing, you know. Somehow they manage to make a date without actually making a date, and Jin-gu grins like the giant lovesick idiot that he is.
In the morning, Mom folds laundry as Dong-gu practices his crying for the movie audition. Jin-gu and Min-gu both fuss at her because the shirts they want to wear on their dates are stained or missing, but when Kwang-soo comes to complain that his sweater shrunk in the wash, she loses her temper and tells him to go get married. But suddenly it dawns on her — he must have a date!
All three guys get spiffed up for their big day and run out the door, leaving Mom to celebrate that Kwang-soo is finally dating. In the elevator, Min-gu demands 22,000 won from each of them in honor of his 22nd day of dating Su-ah, and Kwang-soo pulls rank and makes Jin-gu pay the entire amount, ha.
Kwang-soo hand-details his car, having even bought a car seat for Eun-seo, which is just so sweet. Da-in plays it cool, saying that she's only here because Eun-seo begged, but seeing the car seat makes her a bit uncomfortable and she insists on taking her car. HAHA, she even makes Kwang-soo sit in the back with Eun-seo. He makes the best of it, singing and dancing in the backseat to Eun-seo's music, managing to charm at least one of the ladies and making Da-in smile.
Jin-gu waits for Se-young at the movie theater, and when she walks in looking even prettier than the day before, he goes literally slack-jawed. He pulls himself together and teases her as usual, then seriously tells her that she looks really pretty.
During a scary scene in the movie Se-young buries her head in Jin-gu's shoulder, which makes him so happy that he pretends that it's still scary just so she won't lift her head. They both reach for the drink at the same time and end up with his hand on hers. When she tries to pull away he bravely holds tight, and they both look nervous as they watch the movie, kind of holding hands.
Su-ah waits for Min-gu for their date, where she's approached by a remote control car carrying the love book he made for her. He takes her to a place with an amusement park ride, promising to protect her when she balks at riding it. Halfway through the ride the announcer says that he recognizes Su-ah, and asks if this is another new boyfriend, not taking the hint to shush when she frantically shakes her head. Min-gu yells back to the announcer that he's wrong, and Su-ah looks upset as the ride continues.
Kwang-soo, Da-in, and Eun-seo have a fun day at the zoo, where Kwang-soo focuses most of his attention on the adorable little girl and gives Da-in her space. At one point Da-in leaves Eun-seo with Kwang-soo for a minute, and when he takes a short call from Mom (asking Da-in's birthday so she can get their relationship fortune told, haha), Eun-seo wanders off.
Kwang-soo panics because there's a group of school kids in the park all wearing a similar yellow sweater and backpack that Eun-seo happens to be wearing, but ohthankgoodness, he finds her pretty quickly. Poor Kwang-soo nearly cries in relief as he hugs her, then he ties a giant balloon to her so she won't get lost again.
They go see the monkeys and Kwang-soo makes them all wear silly glasses, explaining that monkeys don't like it when you make eye contact. Riiight. Later Kwang-soo takes a map out of his pocket of all the good places he researched to eat, but he finds that Dong-gu has drawn over it in big red letters that he wants to crush Min-joon. Okay, that's going to be a problem.
It starts to rain and they run for cover, and there's a sweet moment where Kwang-soo helps Da-in get a leaf out of her hair. He heroically walks off into the rain, but it's stopped raining by the time he comes back soaking wet and sheepishly carrying two new umbrellas. Awww, he looks disappointed to have his gallant gesture thwarted. Eun-seo is tired now, and Da-in suggests that they head home.
Jin-gu and Se-young walk home after the movie, and Jin-gu teases Se-young for eating again, saying that he feels sorry for her future husband. You mean, the future husband that you hope is you? He suggests a walk, to work off the food she ate of course, not to spend more time together at all.
Their hands bump as they walk but Se-young pulls away, and Jin-gu takes off his jacket to give to her. He stands disarmingly close to button it up for her, then when she's not looking he ties the sleeves so that her arms are trapped. Hee. He messes up her hair and calls her ugly then moves in close to fix it again, but he switches gears again to squish her face between his huge hands and call her ugly. His lightning-fast changes of tone are understandably confusing to Se-young (and probably to himself as well, as he obviously wants to be romantic but keeps reminding himself to keep it friendly).
She tells him to stop it and he mimics her tone and facial expression, and they do this back and forth until they both suddenly realize how close their faces are and that their puckered lips are only inches apart. Jin-gu stays that way for a long moment, then with Herculean effort he slaps back on his teasing smile and lets go of Se-young's face. He walks off leaving her to toddle behind him, still strapped tightly into his jacket.
Min-gu brings Su-ah to a pork belly restaurant to cap off their date, catching on that she's bothered by something. Some kids ride by on a motorcycle and scream a rowdy "Bong-sook-ah!!" but Su-ah pretends she didn't hear them. Min-gu isn't convinced, but she drags him into the restaurant.
Kwang-soo shivers and sneezes in the backseat on the way home from the zoo, even as he valiantly assures Da-in that he's perfectly ~ACHOO~ fine and can drive if she likes. A minute later he's sound asleep, head in Eun-seo's lap. Awww.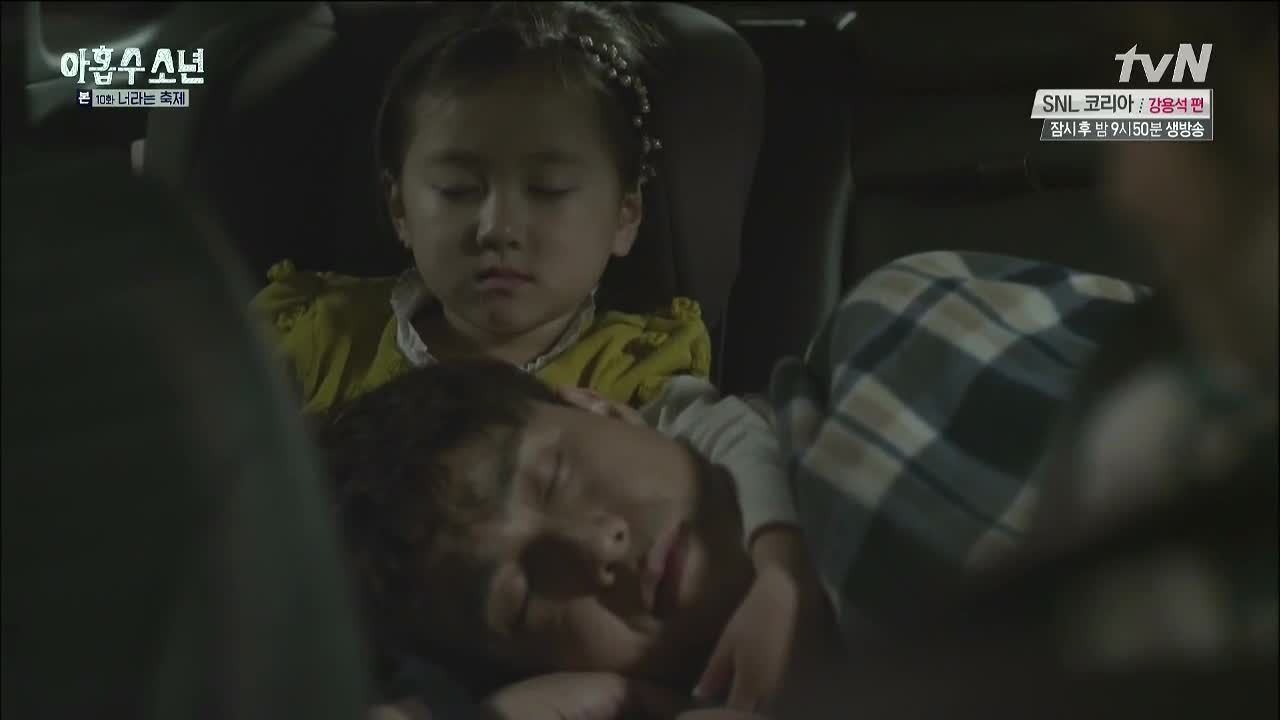 Even though he feels horrid, Kwang-soo carries a still-sleeping Eun-seo for the walk back to the building, and Da-in thanks him for today. That simple statement makes his (literal) decade, and he can't stop himself from beaming at her, finally getting a smile in return. Da-in lets him take her hand, and they walk together looking like a family.
When they get to Da-in's floor she asks for Eun-seo, but Kwang-soo says seriously, "I don't want to let go," the statement layered with meaning. Just to make himself clear, he says he's waited ten years to hold her hand again and he's not ready to let go, and asks to just stay like that for a moment. But Da-in's not quite ready to open up completely and takes her daughter inside. Kwang-soo watches their door for a moment, thinking to Da-in that she can take her time, so long as she comes back to him.
Se-young is freed from Jin-gu's (straight)jacket and gives it back to him. She starts to say something but he interrupts her, saying, "Let's stop doing this." Se-young's face falls, but then he continues, "I lied to you. Wanting to be friends… that was a lie." He admits that he never wanted to be friends with her in the first place, but was only being patient and waiting for her because she was having a hard time.
Jin-gu: "So… let's stop being friends." She doesn't say a word which embarrasses him, because he's pretty sure he just confessed while she's trying to figure out what he meant by all that. Jin-gu starts to babble nervously until Se-young hauls off and kisses him full on the mouth. It's a quick peck but it floors him, and he can only stare at her.
Now the embarrassed one, Se-young turns to go but Jin-gu manages to snap out of it and he pulls her back. He draws her in for a long kiss, and her eyelashes flutter closed. Jin-gu narrates that he may regret this later, but he doesn't care.
Kwang-soo lies on his bed smiling at the pictures he took of Da-in and Eun-seo at the zoo, as Da-in does the same thing at her place. Kwang-soo narrates that sometimes you know full well that you'll regret it, but you can't help it, as we switch to Min-gu and Su-ah adorably feeding each other lettuce wraps.
Jin-gu and Se-young stand in the park kissing, as Jin-gu concludes, "That's love." The next day, Mom peeks in on Kwang-soo who's wearing a skin mask and listening to sappy music, and she claps her hands and whispers that she knew he had a girl, and thanks the stars that the fortuneteller was right.

COMMENTS
I'm so happy for the boys that they're finally making some progress with the ladies (well, all except Dong-gu) because it was getting really difficult to watch them all dragging around being pathetic. I think it's great that we got to see the women's side of things before getting to this point, because it gave us a bit of insight as to why Se-young and Su-ah (if not Da-in) were hesitating to give their guys a chance. So when they finally come together, it makes more sense because we know the fears and hesitations on both sides, and what it's costing them to make themselves vulnerable again.
I'm most invested in Jin-gu and Se-young's story, because I also love the best-friends-fall-in-love trope. It's so sweet to watch a couple of people who already have a comfortable and valuable relationship risk it all in the hopes of something more. It's riskier than when strangers fall for each other because the strangers have nothing to lose if it doesn't work, and they can afford to take bigger leaps in pursuit of love. Which is exciting and all, but when you could ruin something you hold dear if it doesn't work out, it adds another dimension to the story. When you want to preserve the friendship but still stick your neck out just in case it could be more, you have to calculate your moves a lot more carefully and things can be a whole lot more precarious.
Which is why I loved watching Jin-gu "feel out" Se-young, because he walked a very wobbly tightrope between letting her know that he sincerely wants more with her, and playing it close to the vest in case she got the hints but wasn't interested. He practically gave me whiplash switching back and forth between the joking insults and sibling teasing they've always done, and the tiny serious moments when he would say something real, then quickly shift back to the teasing if she didn't pick up on them. Poor Se-young obviously didn't know what to think, because it all came off as joke-flirting, but she clearly wanted to read more into the genuine beats Jin-gu was giving to her. It's just that he backed off of them so fast, she was left wondering if she really interpreted things correctly, which kept her holding him at arm's length.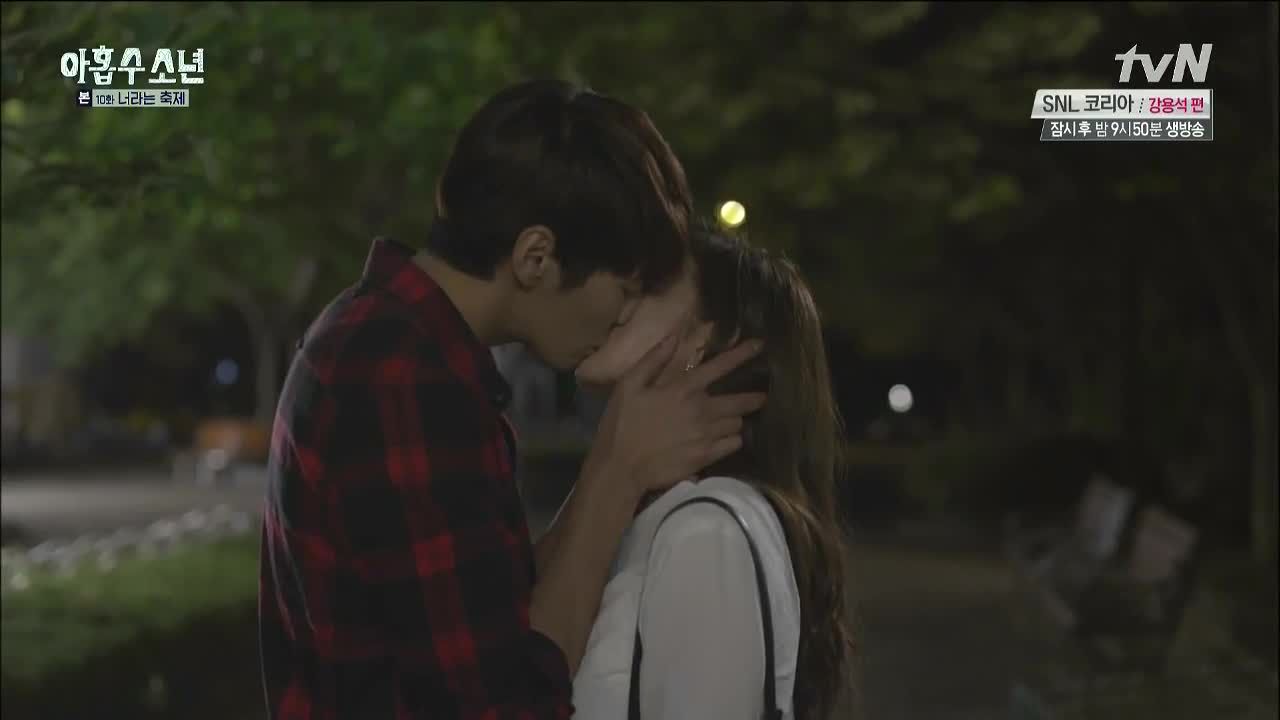 Then when Jin-gu finally laid it all out there and said he no longer wanted to be friends, he nearly flubbed the whole thing by almost making Se-young think he didn't want anything to do with her. Thank goodness she's a straightforward kind of gal and just told him how she felt in her own way, otherwise I could see the not-really-dating non-flirting going on forever. I'm looking forward to a lot more cuteness as they figure out how to speak the same love language.
I'm concerned for the future of Min-gu and Su-ah — not so much because I think Min-gu would hold her past against her, but because I can see Su-ah letting it bother her so much that she tries to make his decisions for him. She could very well try to leave him out of fear that he might leave her. I can see that Min-gu is maturing and learning to treat Su-ah as a person rather than a goddess on a pedestal, and I hope that newfound maturity holds fast when her rough past (and her big secret) come to light.
But I'm the most worried about Kwang-soo and Da-in, mainly because Da-in still hasn't said a single word about why she left him ten years ago. It's wonderful that he's figuring it out himself, and that he's told her so, but I just wont't feel like they have a snowball's chance of making it until they sit down and talk about it. I think it's a huge mistake to start over without having an honest discussion about what happened between them back then. No amount of cute zoo dates and bonding with her daughter will make up for the fact that they still don't feel comfortable having a conversation about the past. They're starting off on shaky ground and it's making me nervous, as is Mom's premature celebrating that Kwang-soo will be getting married soon. If he couldn't do it back when things were pretty good between them, then it will never work now without the two of them getting painfully real and finding a way to not just cover up the past, but truly move on together.

RELATED POSTS
Tags: featured, Kim Young-kwang, Kyung Su-jin, Oh Jung-se, Plus Nine Boys