Moon Chae-won plays Lee Seung-gi hot and cold in Today's Love
I've been looking forward to this romantic comedy for a while, but it looks even funnier than I'd hoped. The first teaser is out for the movie Today's Love, starring Brilliant Legacy costars Moon Chae-won (Good Doctor) and Lee Seung-gi (You're All Surrounded) as friends who ride that confusing line between just friends and something more. The swear-filled teaser is a cute introduction from Seung-gi's point of view, about the girl who refuses to date him, but won't let him go.
The rom-com comes from director Park Jin-pyo of My Love By My Side and You Are My Sunshine, and tells a very contemporary story about two friends who are stuck in that "some" kind of relationship that's undefined and noncommittal. The teaser opens on elementary school teacher Lee Seung-gi's very smitten expression as Moon Chae-won smiles back at him, while a student asks him in voiceover, "Teacher, have you seen Introduction to Architecture? Is your girlfriend a bitch too?"
We're told that no, she's not his girlfriend, but then we watch as he carries her on piggyback while she drunkenly swears like a sailor, bites him, and wails that she doesn't understand what love is. The copy reads: "Why do you drink with me, but date other guys?" Cue: special guest appearance by Lee Seo-jin (Wonderful Season) here to get the girl, much to Seung-gi's ire.
One night when she cries that she misses this other man, he finally throws her off his back in anger. He complains to his buddy, "While I'VE been standing right behind her for eighteen years!" LOL, they totally made them friends for eighteen years entirely for the pun — ship-pal nyun ("eighteen years") to shibal nyun ("fucking bitch") — and even pause on her face for effect.
We see him carrying her purse, holding her umbrella, basically anything on command like a good little puppy. He points out that he's not easily angered, and he's considerate and thoughtful. So isn't he a catch? She whispers, "No. Ultimately, you don't arouse me." HAHA. Poor buddy.
Today's Love premieres in January. Can't wait!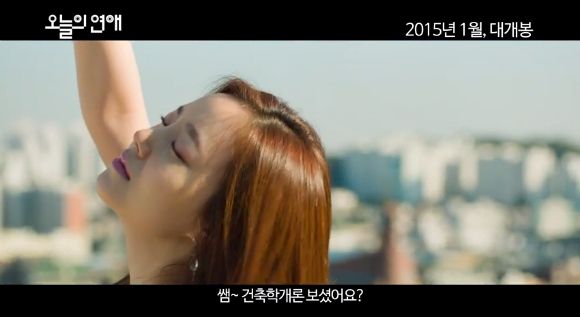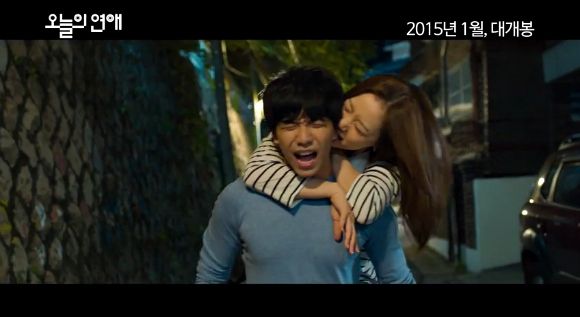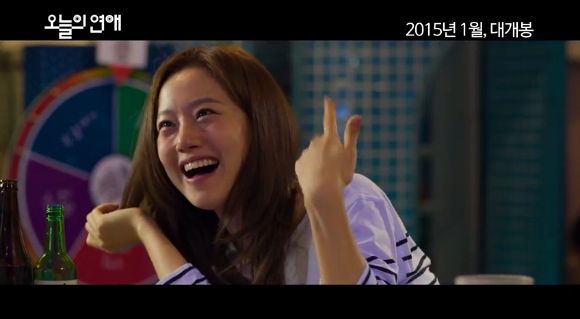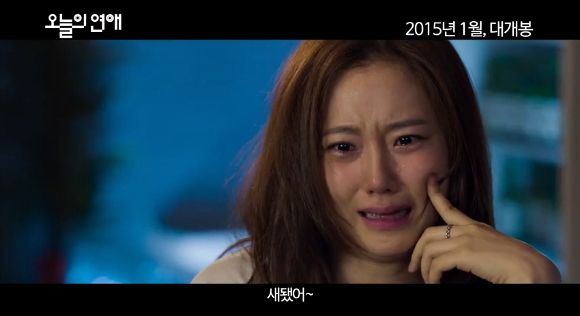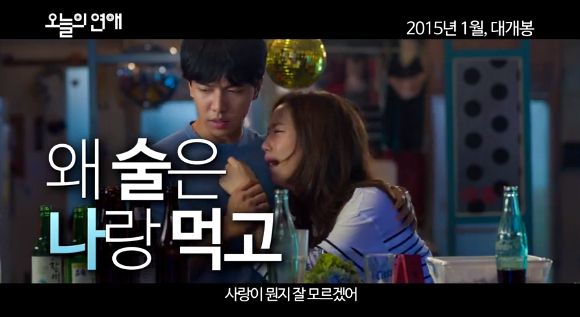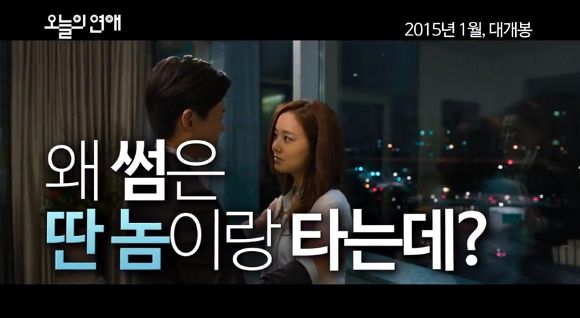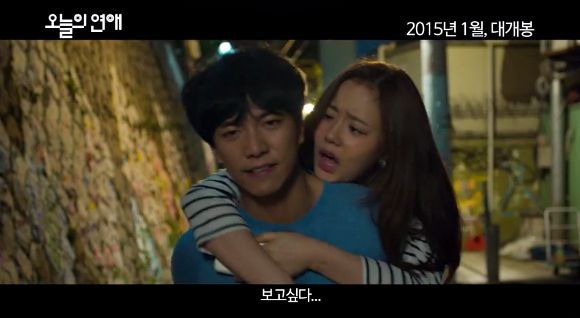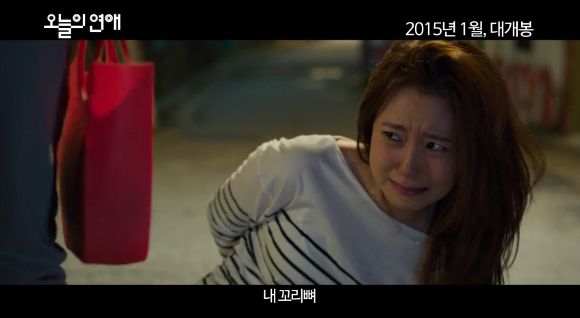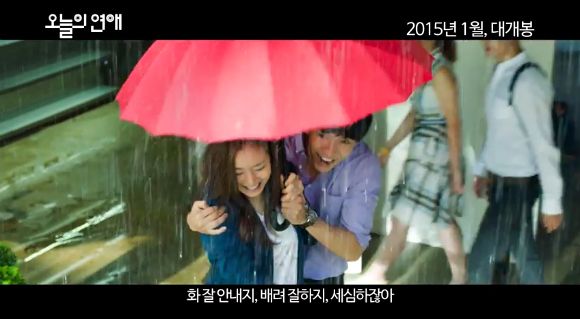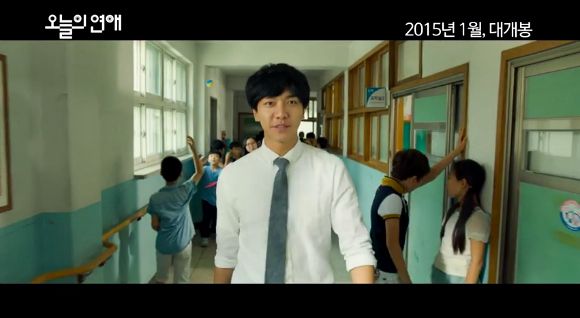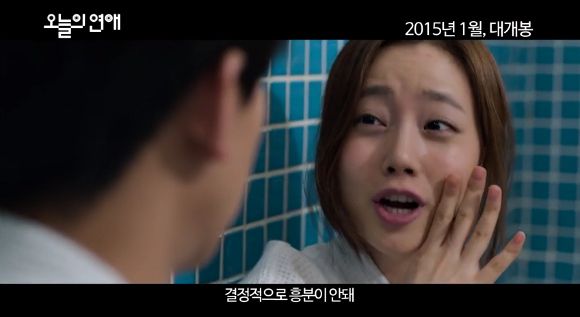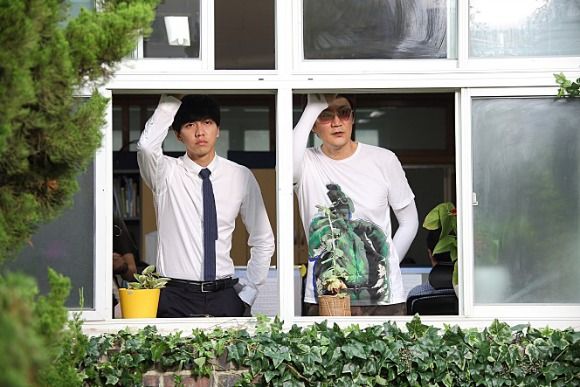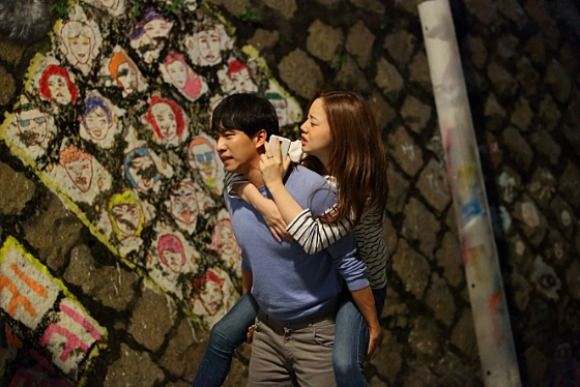 Via My Daily
RELATED POSTS
Tags: Lee Seung-gi, Moon Chae-won