Big 3 consider cutting back weeknight prime time miniseries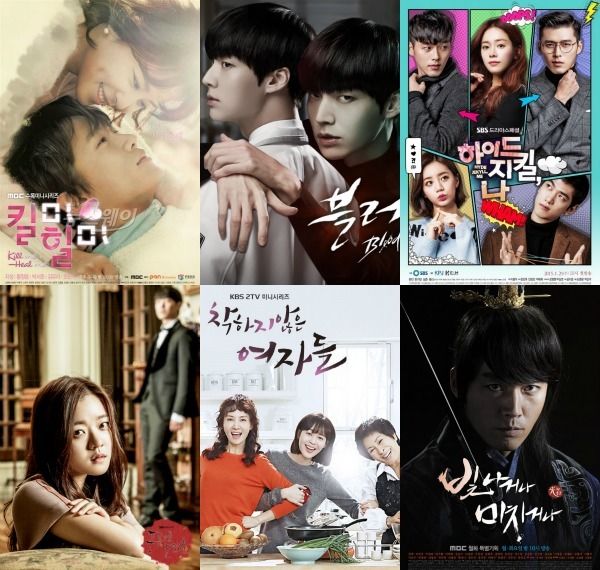 There's a possibility that we'll be seeing fewer weeknight dramas on the TV timetable in our future. The Big 3 broadcasters — KBS, MBC, SBS — are reportedly in talks to discuss programming alternatives to the current prime time drama schedule, ranging from adjusting the 10 PM drama hour, to cutting back on the number of shows aired per station every week. While far from being conclusive, the discussion is indicative of the general trend of ever-sinking ratings that we're seeing across the board.
These days, even the 20% drama is a rare bird on weeknights, and while viewer expectations have adjusted to first-place shows regularly scoring 10% ratings, the problem is that drama production costs just keep rising, and advertising for low-rated shows isn't bringing in enough revenue. It probably doesn't come as a surprise that the highest cost goes to the lowest-rated shows: prime time weeknight miniseries (16 to 24 episodes), which are still the marquee programs for the Big 3. Yet the reality is that long-run weekend or daily dramas are far more cost-efficient and have bigger viewership to boot.
One source stated, "One miniseries episode costs at least 300 million won to produce, but advertising revenue falls short of that. Even if a miniseries succeeds, the network sees a deficit. Changing the miniseries time slot is one way to escape the deficit." Another source offered, "We're considering a system where MBC would air [a miniseries] on Monday-Tuesday, and KBS and SBS would air on Wednesday-Thursday, something like that."
That seems like a much bigger change than adjusting the airing times, and difficult to negotiate when there are an odd number of networks. The Big 3 are sticklers for rules when it comes to competition, and they enforce all sorts of regulations to ensure that all dramas air at the same hour and aren't allowed to go past the set running times, otherwise they're seen as messing with the ratings game and get slapped with fines. Coming up with a system for less competition somehow doesn't seem like a viable solution. I just can't picture networks that won't budge on one minute suddenly giving up whole days of the week to the competition.
While cable networks have their own share of drama programming woes, the article mentions the influence of the Answer Me franchise as the ideal drama production scenario that the Big 3 are chasing: low budget, pop-culture cachet, high returns. Incidentally, the Friday-Saturday drama slot that tvN gave birth to with Answer Me 1994 plays its own part in the uphill battle — it's created even more hours of original drama programming slots for everyone and their mother to fill every week.
I don't think we're going to see any huge changes to the drama output soon, but the truth is that the drama landscape is in flux. SBS has been struggling on weekends for a while now, and plans to cut weekend dramas by the middle of this year. And we're seeing more and more attempts to succeed with multi-season dramas and spinoffs. So it just might be the new normal for networks to experiment with different airing schedules from here on out. Okaaaay, just don't screw with a drama addict's fix too badly. You know what they say about messing with the bull.
Via TV Report
RELATED POSTS
Tags: drama production